Are you in the mood to find a new lesbian ship to obsess over? In this article, I will tell you all about the 37+ best lesbian ships.
As a queer woman, it's often really difficult to relate to straight relationships on television and in film. So when two women in a TV show or movie express some interest in each other, we often start shipping these women immediately.
I mean, what's better than watching two women slowly figure out their feelings for each other? Get together? Or get married!
There really is nothing better than seeing yourself represented in the media. You can dream that one day it could be you to find the love of your life, just like these lesbian couples.
Sadly, some shows of these ships have already ended, but there's plenty of new WLW ships in this article that will have you wanting more! This lesbian ships article includes lesbian movie couples and lesbian couples on TV!
The Hottest and Best Lesbian Ships
But before I continue, what are lesbian ships?! 'Ship' comes from the word relationship and gained popularity in the world of fandoms. Fans of books, movies, and shows started using the word to discuss relationships between fictional characters and celebrities.
It's a way of saying you really want two people to get together. You are rooting for them! Ships can be impossible or realistic, it's all about your imagination!
These lesbian ships mentioned in this article are of two women getting together, who are already in a relationship, or who we want to see getting together!
Lesbian ships are incredibly popular, especially in the online world. Probably because we all want to see more lesbian relationships, everywhere!
Without further ado, here are the best and hottest lesbian ships.
Riley and Greta (Luoreno), Genera+ion
My new favorite lesbian couple on TV at the moment are Riley and Greta from the new HBO Max show Generation (stylized as Genera+ion)! Generation is a show that focuses on a group of high school students in Orange County, California.
All the students explore their orientation and gender identity in their own ways. The show beautifully depicts what it's like being a gen Z teen in 2021.
At the start of the show, Riley and Greta are classmates and Greta has a big crush on her. The two quickly become closer, and Riley realizes she might also have feelings for Greta.
Since both of them are awful at communicating, they keep getting into conflict. Luckily, slowly throughout the season, they try to be better at talking to each other.
I won't spoil it too much, since the show is so new! But I absolutely love it and I highly recommend it. So many moments are so relatable, even for this millennial.
Sadly, there won't be a second season of Generation, as it's canceled.
Lexa and Clarke (Clexa), The 100
It's not an article about ships if these two aren't in it, am I right? The lesbian ship that completely broke the internet back in 2015/2016.
The 100 is a post-apocalyptic show which we included on our list with lesbian Netflix shows to watch!
The only survivors after the destruction of Earth live on a spaceship called the Ark. 100 youth delinquents on The Ark have to go back to Earth to find out if it's habitable again.
When they get there, they find out that actually people have been living on Earth all this time.
The leader of these people is Lexa. Clarke, the leader of the people from the sky, and Lexa have incredible chemistry. The two started out as enemies, but that didn't last long.
When the two become allies, they become more than that. The two share a kiss! Sadly, Lexa betrays Clarke shortly after that, but in season 3 they make up and make out. Only for the show to… well, you know what happened.
Even though it's years later, they are definitely still one of the hottest and best WLW ships that have ever existed!
Amy and Hope, Booksmart
Booksmart is always going to be one of my favorite lesbian movies of all time. This hilarious comedy follows high school superstars Molly and Amy. On the night of their graduation, the two realize they should've partied more and studied less.
So they come up with the one and only solution: they try to let loose as much as they can on that one night.
Amy is a lesbian, and also probably the best human embodiment of a lesbian panic attack I've ever seen in a movie ever. Because Amy has many. So many.
When she tries to talk to her crush Ryan, when Gigi makes some semi-flirty comments, and especially when she and Hope end up in that bathroom together.
The love scene between Amy and Hope was one of the most awkward but also most authentic lesbian love scenes I've ever seen.
I can't be the only one who wants a Booksmart 2 just to see what happened to these two. Or how about just a sequel solely about them?
Villanelle and Eve (Villaneve), KiIIing Eve
KiIIing Eve is about MI6 agent Eve and assassin Villanelle who are as equally obsessed with each other as the fans are with this WLW ship.
From the start of the show, there has been an indescribable tension between the two. Right after the moment they lay eyes on each other, which was only for a few seconds, they can't stop thinking about each other.
You just have to watch it to see how gay these two are for each other. At the end of season 1, in an unfortunate series of events, Eve ends up stabbing Villanelle. Unsurprisingly, this only makes Villanelle love Eve more.
In season 2, they actually end up working together! The tension was way too much sometimes. The number of times I've screamed at the screen because of these two.
Sadly, in season 3 they are apart most of the time, until the final end, which once again had many of the fans screaming!
In 2022, we got the fourth and final season and while I'm sad it's over, I absolutely love these two. It's one of my absolute favorite lesbian shows!
Casey and Izzie (Cazzie), Atypical
The LGBT Netflix series Atypical follows the life of teen Sam, who is on the autism spectrum. Sam has a younger sister, Casey, who is a track star athlete. Because of this, she gets a scholarship to transfer to a private school.
On her new school's track team, she meets Izzie. These two go from enemies to friends to lovers, because Casey and Izzie do not get along in the beginning at all. Casey and Izzie start talking to each other in detention, when they are forced to.
They both open up about their difficult situations at home and then drink a little too much together. The two become friends and there's definitely something going on between them. However, both of them still have boyfriends. This also causes some drama.
Atypical's fourth and last season came out in July 2021 and if you love happy endings (I mean, who doesn't?!) you should definitely watch!
I want to give a little side note and say that Atypical does harbor some ableist views on autism.
But it can't be missed on this list with lesbian ships because the relationship between Casey and Izzie is handled beautifully!
Shelby and Toni (Shoni), The Wilds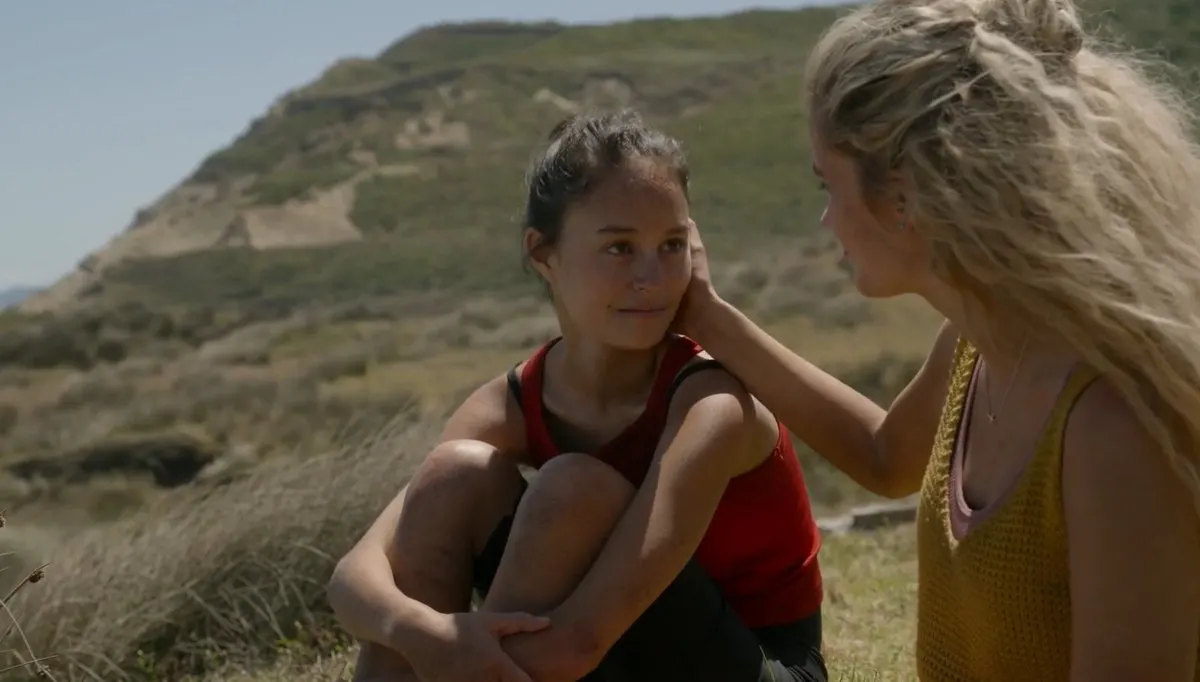 In The Wilds, a group of girls is stranded on a deserted island after a plane crash. However, nothing is like it seems. Unaware of what is happening to them, the girls are actually part of a social experiment.
Shelby and Toni are definitely not the only lesbian ship of the show. With 8 girls, there's a lot of shipping to do. But for now, they are the only canon ship on the show.
Shelby and Toni both come from very different backgrounds, which very quickly shows in the first moment they meet.
They absolutely cannot stand each other in the beginning; these two are enemies first, who turn into lovers. And when I say that, I mean Toni absolutely hates Shelby. But let's be real, most of that was definitely some hidden attraction/love.
When they get into yet another argument, Toni tells Shelby she should take advantage of the island without any expectations from home.
Shelby takes this in a very good – gay – way, and she kisses Toni. I will let you watch for yourself to see what happens between this lesbian couple in the rest of the season.
The Wilds is currently (mid-2021) in the middle of filming their second season, and I really can't wait for many more lesbian scenes.
You can watch The Wilds on Amazon Prime.
Want to watch lesbian movies on Amazon Prime too? Get ready for our article about the best lesbian movies on Prime!
Waverly and Nicole (Wayhaught), Wynonna Earp
Wynonna Earp follows the life of badass demon fighter Wynonna Earp and her family and friends. The last season aired in 2020.
The show depicted a truly beautiful lesbian relationship between Waverly Earp, Wynonna's little sister, and Nicole Haught, one of the town's cops.
Throughout the seasons, the two go through a lot of ups and downs. There even was a moment where Nicole got shဝt and lesbians all over the world once again were afraid for another Lexa drama.
But creator Emily Andras said she would never do that, hinting at how The 100 made a huge mistake with Lexa. The entire focus of the last episode of the show is their lesbian wedding. And I tell you, I cried so much.
Beautiful lesbian relationships like this on television are rare, and lesbian weddings that are at the center of an episode are even rarer.
Abby and Riley, Happiest Season
Okay, are you team Riley or team Harper?! This is the lesbian ship debate everyone talks about since the movie's release on lesbian Hulu at the end of 2020.
If you haven't seen the movie yet, and you don't want to read any spoilers, stop reading now! Sadly, Abby and Riley don't end up together. Abby stays with her girlfriend Harper instead. And many people are so furious about it!
In my eyes, Riley treated her so much better, and Aubrey Plaza (Riley) and Kristen Steward (Abby) are such a hot lesbian ship together. Their chemistry on-screen is on fire!
Want more reasons they are perfect together? Riley truly appreciates Abby for the woman she is, they have lots of fun together, they understand each other, are both out and proud, Riley supports Abby, and they both experienced the same heartbreak.
Let's hope, or dream, for a Happiest Season 2 with this lesbian ship?!
Sara Lance and Ava Sharpe (Avalance), Legends of Tomorrow
This show is based on the DC Comics with the same name.
Time traveler Rip Hunter has to recruit a team of heroes and villains to prevent an apocalypse that would affect all of time.
Sara Lance is the Canary, leader of the Legends, and captain of the Waverider. Ava Sharpe is a lesbian clone from the future that works for the Time Bureau and becomes the director of it later on in the show.
This lesbian TV ship is also a good example of enemies to lovers. This seems to be a very popular trope among lesbian ships.
Throughout the seasons, the two have gone on to become the cutest domestic couple. Avalance gets engaged in season 6! Ava was on a mission to save Sara, who went missing. When they are reunited, Sara goes down on one knee.
Will we get to see another married lesbian couple in season 7? As of October 2021, you can see it yourselves!
Elena and Syd (Sydlena), One Day at a Time
I'm still very sad that One Day at a Time has ended. On the show, a Cuban-American family show their everyday struggles and different lives.
This show talked about so many important and current issues in an easy and funny way, that made it great for everyone to watch. Some of these important topics included orientation and gender identity.
Elena, the daughter of the family, comes out in season 1. In season 2, she meets Syd, who is non-binary*. It's very entertaining, relatable, and oh so sweet to see these two awkward teens try and figure out their feelings for each other.
And later, they really grow into their relationship. And even though this show may have ended, these two will forever be one of the most important lesbian ships.
*lesbians can be non-binary too!
Dani and Gigi (Gini), The L Word Generation Q
I can't be the only one who was super excited about a new series of The L Word! The original show was definitely groundbreaking for its time, but it was problematic sometimes.
The L Word: Gen Q is trying to change that. For example, the show is a lot more inclusive than the old series.
Just like with the old show, there are many lesbians to ship with each other, but after watching season 2 we all agree on the fact Dani and Gigi belong on this lesbian ships list, right?
The two officially meet in season 2, become friends, and slowly more happens. I love their relationship buildup and their hot scenes. Both are incredibly beautiful women and I can't wait to see what season 3 will bring for them.
Season 2 ended with a huge cliffhanger, so now our only option is to wait!
Willow and Tara (Twillow), Buffy the Vampire Slayer
We got comments that Willow and Tara, lesbian ship Twillow, had to be on this list with the best lesbian ships, and we totally agree, so here they are!
Buffy the Vampire Slayer is a series that broadcasted from 1997 until 2003. It's a supernatural drama TV series about Buffy who battles against demons, vampires, and other forces of darkness. And she doesn't do that alone, but together with her friends!
One of those friends is Willow, who's a lesbian! In the 4th season, broadcast in 1999 and 2000, Willow meets Tara and their lesbian ship became one of the most popular lesbian ships of that time.
They are an iconic and groundbreaking lesbian couple, especially for a time when we couldn't see as much LGBTQ+ on television as we can now.
Sadly, their love story doesn't have a happy ending, they are still one of the greatest lesbian TV couples, ever.
Annalise and Eve, HTGAWM
Lesbian power couple alert! HTGAWM is a legal thriller TV series from the USA, which is pretty queer! Also, diversity is very much normalized in the series – in many ways.
Viola Davis plays Annalise Keating and is the main character of the series. At some point, she gets into a relationship with Eve. Eve is a lawyer and Annalise is a Black, high-profile defense attorney.
It's a match made in heaven. Or should I say lesbian shipping heaven?
Scarlett and Ruby, American Horror Stories
Ryan Murphy's newest show American Horror Stories tells a new story every one or two episodes. For the American Horror Story fans, the first 2 episodes take place in the original house!
A family moves into the house, this time knowing that it's a haunted house and wanting to use that to their advantage for tours and a bed & breakfast.
The daughter is Scarlett, closeted but well aware of her orientation. She also happens to be a psychopath. Her two dads try to intervene, but to no avail.
Scarlett falls in love with Ruby, a ghost living in her house. The two love kiIIing people together. Ruby is very protective of Scarlett and wants her to stay with her forever in the house.
This would mean that Scarlett has to become a ghost too. She's not ready for this commitment yet.
What happens next I won't tell as I don't want to spoil too much. Even though this isn't the most conventional relationship, these two are an adorable lesbian couple to ship!
Deena and Sam, Fear Street
The Fear Street trilogy came out on lesbian Netflix in July 2021! In the films, a witch cursed a town called Shadyside. Every few years, someone in the town goes crazy and goes on a kiIIing spree. This is all due to Sarah Fier, the witch who placed the curse.
The first film is set in 1994, the second in 1978, and the third in 1666.
Deena is the main character of the film, and she's a lesbian! In the first film, we learn that she has just recently broken up with her closeted girlfriend, Sam. However, neither of them are over each other.
After a brawl between Shadyside and the nearby town of Sunnyvale, Sam is taken to the hospital. When Deena comes to confront Sam's boyfriend in the hospital, the two are quickly forced to work together to save Sam's life.
These two are absolutely adorable together and one of my new favorite lesbian ships. Seeing good lesbian representation in horror is also something quite new. I'd love to see more of such lesbian stories.
Santana and Brittany (Brittana), Glee
Glee was the queer musical show that definitely was problematic at times, but it was also ahead of its time. Ryan Murphy created many queer characters during a time when in other shows there weren't many yet.
It was a show that many queer kids desperately needed. The show focused around a glee club. Two members were Santana and Brittany. The two friends sometimes made out, even before they were dating each other.
Throughout the seasons, the two go through a lot, including a break due to long distance. However, in the end, they only came out stronger. And got married!
Back when Glee aired, a lesbian wedding on television was basically unheard of. Today, and especially in the last year, we've seen multiple lesbian weddings on different shows.
I think Santana and Brittany's wedding really paved the way for some of today's television.
Are you looking for the best lesbian proposal ideas? Are you planning your engaygement soon? Read our article with 21 heartwarming lesbian proposals, stories, and tips from real-life queer couples!
Raelle and Scylla (Raylla), Motherland: Fort Salem
The supernatural drama series Motherland: Fort Salem follows three witches. The witches are conscripted into the US Army. The show takes place in a world where women dominate the world.
Instead of harming witches, the United States are letting them protect the people with their powerful spells. The witches fight against the Spree, who are against the conscription of witches.
One of these witches is Raelle, a lesbian. In the very first episode of the show, Raelle's eyes fall on Scylla, a second-year cadet at Fort Salem. Both seem to be very interested in each other, and the show creators are not afraid to hold back.
There are already some lesbian scenes in the first episode! Sadly for the viewer, this relationship is tainted from the beginning. We know that Scylla is part of the Spree.
However, throughout season 1 we clearly see that Scylla is starting to change and that her feelings for Raelle might actually be real.
It is very clear that neither are over each other, and they will find their way back to each other eventually!
Rue and Jules (Rules), Euphoria
Euphoria has been widely praised for its raw portrayal of mental health issues in teens. The show about a group of high school teens also deals with a lot of things or issues that teenagers struggle with.
One of the main characters on the show is Rue. She's an addict but wants to be clean. Outside of a house party, she meets Jules. From that moment on, the two are basically inseparable.
It's clear that Rue has feelings for Jules, but Jules is not quite there yet, at first. However, when they do get together, they're the absolute cutest WLW ship.
There's just one problem: there's a lot of issues they need to work through. At the end of season 1, they separate. But in the extra lesbian Christmas episodes, Rue did show up at Jules house. Only to run away again.
Let's hope that in season 2 these two get better at communicating and will be less toxic for each other, because they're definitely super cute together!
As of January 2022, you can watch the second season on HBO.
Luce and Rachel, Imagine Me and You
Imagine Me and You is one of not many cheesy, funny, and sweet lesbian romance movies. I think we can all agree on the fact we don't need more lesbian period dramas, but more lesbian happy movies! So more lesbian movies like this one, please.
The lesbian movie starts with Rachel's wedding day, which is also the day she meets Luce – it's a love at first sight situation.
Luca and Rachel immediately share a bond and well, you guess it: it complicates Rachel's marriage. Rachel begins to question her orientation and while she tries to get rid of her feelings for Luce, they only grow stronger and stronger.
Yes, there is a happy ending, making this one of the best lesbian ships!
Do you like watching videos on YouTube? Make sure to subscribe to these lesbian YouTubers!
Delphine and Cosima (Cophine), Orphan Black
There really is no other show like Orphan Black out there. This science-fiction show about clones is still popular today, and rightfully so.
The group of clones fears for their life. One of the clones is Cosima, the cool lesbian science nerd of the group. In season 1, she meets Delphine, who poses as a student at Cosima's university.
In reality, Delphine is supposed to monitor Cosima. However, as time passes, she actually falls in love with Cosima and starts helping her out.
Throughout the seasons, these two grow an incredible relationship. You can clearly see how the two grow together and how intimate and deep their relationship is by the end of the show.
Also, even though it happened off-screen, these two got married!
In the serial box audiobook series, which takes place about 8 years after the show has ended, this lesbian couple has been married for 7 years!
Ava and Beatrice (Avatrice), Warrior Nun
Warrior Nun follows Ava, a quadriplegic orphan who accidentally gets supernatural superpowers. Because she has the powers, she has to join an ancient order of warrior nuns. All of these nuns are just incredibly badass.
One of these warrior nuns is Beatrice. She is quite reserved and very intuitive. Ava is all over the place and quite reckless. That's why the two make a great team.
Beatrice helps Ava train for when they need to invade the Vatican. Ava is also the first person Beatrice tells that she's a lesbian.
Even though nothing has happened between the two yet, there have been so many looks and little smiles that make your heart melt.
The creator of the show has said that they are going to explore their relationship further in season 2. I absolutely can't wait to see what will happen between these two!
Maya and Carina (Marina), Station 19
Station 19 is a spin-off from Grey's Anatomy. It follows the lives of the firefighters of Station 19 in Seattle. A familiar face for the Grey's fans is Carina. She used to have a relationship with Arizona.
On Station 19, Carina gets involved with another firefighter, her name is Maya.
The two first meet when Maya runs into the ER with someone's nose. That same night, they see each other at a bar and start a conversation.
From there, the two hit it off. There are definitely some ups and downs between the two. There's even some cheating going on, which is once again a bad representation of bi women that we sadly still see in today's television.
But in the end, this is a really cute WLW ship that makes it worth watching another one of these first responder shows. Also, they get married!
Piper and Alex (Vauseman), Orange Is the New Black
There are so many great lesbian ships from Orange Is the New Black! But this was the relationship that was focused on the most throughout the seasons.
Orange Is the New Black focuses on the lives of a group of women who are behind bars. Piper and Alex, who had a lesbian relationship before being locked up already, meet again. Since it's Alex's fault that Piper is there, they obviously don't hit it off from the start.
However, these two just can't be apart. During the seasons they go through a lot. Like, a lot. But in the end, they realize that they can't live without each other.
They might not always be good for each other, but these two are soulmates. They even get married before Piper gets released!
Piper then vows to wait for Alex until she gets out too. I'm so glad they gave the fans the happy ending they deserve!
Emily and Sue (Emisue), Dickinson
If you still haven't watched the lesbian series Dickinson, what are you waiting for? This hilarious show takes place during Emily Dickinson's era, but with a modern twist.
Among other things, the show uses modern music and modern language to tell this story. The series shows the constraints of society of that time that Emily had to live through.
Emily is in love with her best friend, Sue. And her best friend is in love with her too. But Sue gets engaged to Emily's brother, since it's definitely not acceptable to be gay at that time.
The two try to find their time alone together and sneak in a few kisses here and there, but it's definitely difficult. However, that doesn't make this lesbian ship any less cute together!
Even though Dickinson has such a unique interpretation of that time, Emily and Sue's relationship existed in real life too. That makes it even more worth the watch!
Anne and Ann, Gentleman Jack
Just like Dickinson, Gentleman Jack is based on real life. Using the diary from Anne Lister, who lived in the 19th century, the show tells the story of her lesbian life.
She wrote almost 5 million words and her diaries reveal a lot about life back then. Anne had a lot of affairs with women, but the one she truly loved was Ann Walker.
The show starts when the two first meet. Anne immediately shows interested in Ann, while Ann is a little hesitant at first. However, the two quickly become intimate. Sadly, not everyone accepts this.
When the news comes out, especially Ann's family tries to make sure they can't be together. But the two get married at the end of season 1! This lesbian couple just can't stay away from each other, and they love each other too much to care.
I can't wait to see what's in store for this married lesbian couple in season 2! Which premieres on April 2022.
Looking for lesbian books to read? Check our article with the best lesbian books and lesbian novels!
Alice and Dana, The L Word
I know, you probably wanted to see Bette and Tina on this list. But I especially loved Alice and Dana! The two had been friends for years before the show even started. Then they showed us that it is possible to go from friends to lovers.
Their attraction and relationship with each other grew so naturally. The way they set rules since they didn't think it was real, to just not being able to keep their hands off each other because the tension was too much.
One thing I never understood was why the show made them break up and have Alice go absolutely crazy. It was clear that they should've been together the whole time.
And yes, I was devastated by Dana passing. That really was the saddest thing ever, and this lesbian ship deserved better.
Lena and Stef (Stena), The Fosters
I'm honestly surprised The Fosters wasn't more popular. The show follows the life of the lesbian family of Stef Foster and Lena Adams.
The two are the parents of Brandon, who is Stef's biological son from her previous marriage. They also raise the adopted twins Jesus and Mariana.
At the start of the show, they take in two foster kids, Callie and Jude. Later in the show, they end up adopting them too.
The Fosters showed a happy and healthy lesbian marriage, something that is rare on television. On top of that, they're also raising a bunch of kids.
With its many diverse storylines and the portrayal of this couple at the forefront, the show was groundbreaking, and it really deserved more hype around it.
Alice and Vera, Summerland
I'm also not sure why not more people are talking about this lesbian movie, because gosh, it's an amazing one! And it has such a unique storyline.
It's hard for me to tell you about this movie without spoiling the plot. Let me just say that Alice tells the story, who is looking back on her interracial lesbian love story with Vera (played by Gugu Mbatha-Raw, you might know her from the lesbian episode of Black Mirror?).
The movie has 3 timelines, one that she's old and writing a book, one that she's a young woman and lives by the sea, and one period in which she is a student and is together with Vera.
The period that she lives by the sea by herself is the main timeline. Alice hates kids, but a kid from London changes everything.
Summerland tells an interracial lesbian love story like it hasn't been shown before.
Jamie and Dani (Damie), The Haunting of Bly Manor
Something that I've seen quite recently in horror movies and series is the "love story with some horror". The Haunting of Bly Manor seems to be the one who kinda started the trend in 2020.
The second season of the Haunting series was not just focused on the horror aspect, it also gave us a beautiful lesbian love story between Jamie and Dani. And it became one of my favorite lesbian ships!
The two meet when Dani moves to London to take care of two children at the Bly Manor. Jamie is the gardener who works there. At first, the two seem a bit hesitant around each other, but this doesn't last long.
Dani makes a move and the two begin to fall in love with each other. The two even get married after they leave Bly Manor!
They live the cutest life ever together until they no longer can. Even though this one has quite a sad ending, it's also really beautiful.
Petra and Jane Ramos (Petramos), Jane the Vlrgln
In Jane the Vlrgln, Jane Villanueva accidentally gets pregnant, but well, she never slept with a man. She then gets confused, love triangles happen, there are scary twins, and much more.
The show is a telenovela on meta-level! And the best (aka the queerest) comes in season 4.
Petra is one of the main characters on the show, and she starts liking her female lawyer, named Jane Ramos. Fans already wanted Petra to fall in love with a woman since the start of the series, and it finally happened.
While many were rooting for a lesbian ship with Jane Villanueva (yes, confusing multiple Jane's), Petra falls in love with Jane Ramos. They start dating after their case is closed, or well, they think the case is closed!
I love how the bi orientation and self-discovery is portrayed of both characters. And it's amazing to see Petra found someone who's as smart as she is, as complicated, and as layered. Yes to Petramos!
Franky and Bridget (Fridget), Wentworth
You gotta love women, and lesbians, who are locked-up! Besides Orange Is the New Black and Vis a Vis, Wentworth is another lesbian series in the same niche.
OITNB is American, Vis a Vis is Spanish and Wentworth is Australian (and actually came first!).
Franky is one of the women locked up in Wentworth and has a couple of romantic lesbian relationships during the multiple seasons. And the most popular of all is the one with Bridget, making them the lesbian ship Fridget!
Bridget is a psychologist working at Wentworth, and there's always lots of drama and chaos going on between the two.
Sadly, when everything went well, they have to separate. My heart broke a little when Bridget says goodbye and drives away from Wentworth for good.
Catra and Adora (Catradora), She-Ra And The Princesses of Power
This lesbian show is a reboot of the 1985 animation. Prior to the series' release, the creators said they would include a lot of LGBTQ+ representation. And they did not disappoint.
The love story of Catra and Adora is maybe one of the greatest, and most important, lesbian love stories ever. They go from best friends to enemies to lesbian lovers, and it is truly revolutionary for an animation series. And it's for everyone, no matter how old or young you are!
It's especially important for children to see such relationships normalized, and shows and storylines like this really help with this!
Yes, their relationship is super complex, but real relationships are complex too.
Marianne and Héloïs, Portrait of a Lady on Fire
This is one of the most amazing lesbian movies recently made! And I'm not the only one who's a fan, as it's a favorite among many lesbians.
The buildup between Marianne and Héloïse is just so beautifully done. And the chemistry between the two stunning French women is amazing.
In Portrait of a Lady on Fire, Héloïse's mother hires the female painter Marianne to paint Héloïse, who is to be married off to an Italian nobleman against her will. The movie is set in the 18th century.
Queer female director Céline Sciamma makes it about the female gaze – literally, the two women look at each other a lot – and it's not only 'oh I feel pretty when you look at me like that'.
It's about looking and really seeing each other. There's no feeling of audience/creepy watchers, it's purely about desire and intimacy between two women. And it's so hot to see the two women fall in love with each other.
Some say the ending is sad, while others say it's super powerful. Watch the movie and this lesbian ship and decide for yourself!
Freya and Keelin (Freelin), The Originals
The Originals is a spin-off of the television series The Vampire Diaries! And because of Freelin, the series is on this list with lesbian ships. Freelin is the lesbian ship name of the lesbian couple Freya Mikaelson and Keelin Malraux.
Some are still debating about the fact their lesbian ship name should be Keya instead of Freelin, but I go with Freelin!
One is a witch and one is a werewolf, and both are smart, strong, and hot women simply made for each other. There are many ups and downs, and their relationship isn't always the healthiest one.
But they have so much chemistry that they simply had to get together. Fans were waiting for a long time for this to happen.
And it's a happily ever after story, with a wedding included!
Besides the lesbian shows and movies mentioned in this lesbian ships article, there are many amazing lesbian short films to watch too!
Ronit and Esti, Disobedience
A lesbian match made in heaven, don't you think?! Rachel Weisz and Rachel McAdams are both starring in Disobedience, and they are amazing actresses.
The movie tells the story of forbidden love between the two, and it gets very steamy and tragic at the same time.
Since 2017, the lesbian community has been divided over one specific spitting scene in the movie. Was it hot or not at all? But even if you weren't a fan of it, you can't deny that the rest of this scene is still incredibly hot and beautifully shot.
The ending of the lesbian movie isn't a very happy one, unfortunately, but it could be worse!
Arizona and Callie (Calzona), Grey's Anatomy
With 18 seasons, Grey's Anatomy is one of the longest-running television shows. It already started back in 2005!
The medical drama television series is about the professional and personal lives of multiple surgical interns and their supervisors. There's lots of drama, trauma, life-changing decisions, tragic stories, and love included in the series.
And lesbian love! Dr. Arizona Robbins and Dr. Callie Torres are two of the main characters on the show, and they got together. A lesbian ship that melted every lesbian heart around the world.
A little spoiler as they aren't together anymore, but it was one of the longest relationships on the series. And who knows what will happen in the future?
Lorraine and Delphine, Atomic Blonde
You can't call Atomic Blonde a lesbian movie, but it includes a very hot lesbian scene. I remember seeing this movie in theaters, not knowing that a steamy lesbian scene was in it. Well, my mouth fell wide open.
Lorraine is an MI6 spy who comes across French rookie agent Delphine Lassalle on one of her missions. Even though she is wary of her, the two develop a romantic relationship.
In the scene I was talking about, the two meet at a club. At first, they circle around each other for a bit until they both realize their tension is too much.
Sadly, it's the only lesbian scene the two share in the movie, but we can all wish for more things to happen between this lesbian ship, right?
Also, Charlize Theron plays Lorraine, and she's simply amazing!
Mildred and Gwendolyn (Mildolyn), Ratched
The show Ratched (2020-) is the prequel to One Flew Over the Cuckoo's Nest (1975) about iconic nurse Mildred Ratched.
She wants to work at Lucia State Hospital to get her foster brother, Edmund, out. Edmund is locked up at for kiIIing multiple priests.
In the psychiatric hospital, Mildred meets Gwendolyn. She is the press secretary and campaign manager for governor George Wilburn, who showed interest in the hospital.
It's Gwendolyn who takes Mildred out on a date, which Mildred accepts. But when they arrive at a women's club, Mildred is offended that Gwendolyn thinks she is a lesbian. And thus, she leaves. Luckily, her anger doesn't last long and the two quickly form a beautiful connection.
What's so great about this lesbian ship is the fact that two queer celebrities play the characters!
There will definitely be a season 2 of Ratched! However, the question is when. Ryan Murphy is incredibly busy, and so is Sarah Paulson. Let's hope it's soon!
Enjoy watching everything available about these lesbian ships!! What are your favorite lesbian ships? Let us know in the comments!
Want to chat with us? Find us on Instagram, Facebook, YouTube, or comment below!
Make sure to share this best lesbian ships list with all your friends.
MORE TO READ:
MORE TO READ:
PIN THIS ARTICLE