We can all use some romance in our lives, right? Especially lesbian romance?! So get ready for these lesbian romance movies you have to watch.
Luckily for us, there are more and more lesbian movies and lesbian romance movies! We have all seen many straight romantic movies, and now we want to see lesbian love and lesbian relationships in movies. And preferably ones with a happy ending.
If that's the case, then you've come to the right place. You have to watch these romantic lesbian movies; movies that offer more than just a token lesbian kiss or some experimenting.
From hot scenes in Room in Rome, lots of staring in Portrait of a lady on Fire, interracial love in Summerland, to teenage love in The Incredibly True Adventure of Two Girls in Love, we cover it all.
Perfect for many romantic movie nights. Enjoy watching these lesbian romance movies.
Best Lesbian Romance Movies
What's a list of lesbian romance movies without Imagine Me & You on it, right? This lesbian romance movie is a light-hearted lesbian romantic comedy.
It's a sweet, funny, and fresh love-at-first-sight lesbian movie. With a happy ending! Which, in our eyes, is very important.
We've seen too many lesbian movies, lesbian shows, lesbian short films, and lesbian storylines without a happy ending, so we deserve it!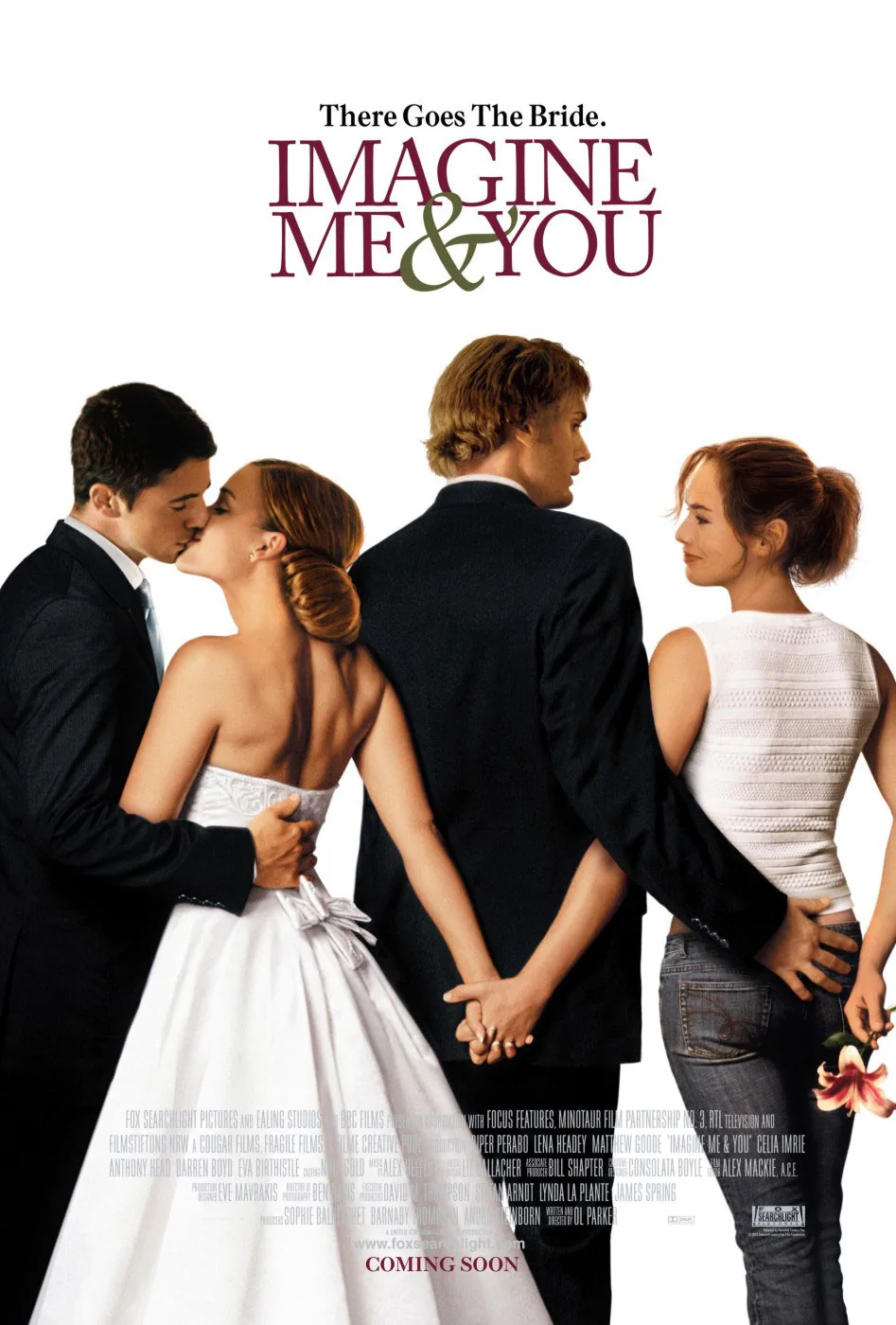 Imagine Me & You is about Rachel, who is getting ready to marry her longtime boyfriend, Hector, also known as Heck. But everything changes when she meets the beautiful wedding florist Luce.
The wedding preparations, and Rachel's life, turn upside down when she falls in love with Luce. Rachel then starts questioning her orientation and wants to deny her feelings for Luce, but they only grow stronger and stronger.
Summerland is one of our favorite new lesbian movies! This beautifully made cinematic lesbian movie tells an even more beautiful lesbian love story. Not all lesbian movies are of high quality, but this one definitely is.
We don't want to spoil too much about the movie, you just have to see it yourself, otherwise, we will ruin the plot! But let us tell you a little about what the movie is about.
The main character, Alice, tells the story. She looks back on her interracial lesbian love story with Vera. Gugu Mbatha-Raw plays Vera, whom you might know from the epic lesbian episode of Black Mirror!
There are 3 timelines in the movie: one that Alice is older and writing a book, one that she's a young woman living by the sea, and one that she is a student in a relationship with Vera. The period of Alice living at the sea is the main timeline.
During that period, a kid from London is assigned to her to take care of. Alice doesn't like kids, though, this kid changes her life!
Yes, to more beautiful lesbian romance movies like this!
This is an oldie, but a lesbian romance movie that can't be missed! As the name already says, this lesbian movie is about the incredibly true adventures of two girls. Two very different high school girls fall in love with each other.
One is the popular girl, while the other is the uncool yet funny lesbian girl. They bond over music and books, and it's all classic teenage stuff.
And you probably recognize one of the girls from The L Word and The L Word Generation Q! Laurel Holloman plays tomgirl Randy Dean in The Incredibly True Adventure of Two Girls in Love. And you probably know her as Tina Kennard.
The lesbian movie dates from 1995, but it's still a sweet, tender, and charming movie to watch. It's groundbreaking for queer presentation for a time when there weren't many lesbian movies.
And especially not about lesbian interracial love.
Tell It to the Bees is both a cheesy and heavy lesbian love movie. The British romantic drama movie tells the story of single mother Lydia, who lives together with her son Charlie, after just being abandoned by her husband.
When Lydia has to bring her bullied son Charlie to the doctor, she meets the small village's doctor, Jean. The two connect, and Jean offers them to stay in her home when Lydia and Charlie are evicted.
Charlie and Jean bond over the bee colonies in her garden. And soon, Jean and Lydia start building a friendship too. Plus, much more happens!
However, it's the 1950s in rural Scotland, and the conservative small town doesn't accept the two women being in love with each other. That's when the heavy part of this lesbian period drama starts.
Especially the first parts of Tell It to the Bees are very moving and adorable. When the two women flirt with each other, gaze, and fall in love.
Tell It to the Bees is based on the lesbian book of the same name, by Fiona Shaw.
Looking for more lesbian movies? Make sure to also check our best lesbian movies list! Which includes movies like Loving Annabelle about a boarding school teacher who falls in love with a student, Princess Cyd, and Disobiedence about a lesbian Jewish woman.
Crush (2022)
Crush is such a cute lesbian romance movie about teenagers in a high school. And a very new lesbian movie, which premiered in 2022. Plus, it stars the amazing bi-actress Auli'i Cravalho.
Maybe best of all, the movie isn't about hiding in the closet, there's no anxiety about coming out, but it's a story about queer JOY, love, relationships, and crushes.
Already excited to watch it?!
In Crush, Paige joins the high school track team to get closer to her crush. She isn't into sports at all, as her passion is art.
While doing her best and getting extra training, she falls in love with an unexpected teammate. She then discovers what real love feels like! It's all so cute!
You can watch Crush on Hulu or Disney+.
An Asian lesbian romance movie! YES! Directed by lesbian director Alice Wu, and she rocks. Besides Saving Face, she also made the lesbian Netflix movie The Half of It (which we love too).
Saving Face is about the brilliant Chinese American Wil, who's juggling life as a surgeon and being part of a close-knit Chinese family who doesn't acknowledge her being a lesbian. But then Wil falls in love with the ballet dancer Vivian, whom she kissed when they were both little.
While the movie focuses a lot on Wil's relationship with her mother too, it's a heartfelt story about many topics! It touches on the topics of coming out, lesbian love, the relationship between mother and daughter, the struggle between Chinese and American culture, among a lot more!
It's a lesbian film you definitely have to check out, as there aren't many other lesbian movies like this.
Rome has a special place in our hearts, as our very first trip was to Rome! And it was SUPER romantic (read our own lesbian love story). Rome is one of the most romantic cities in the world, and we can't wait to go back one day.
Room in Rome is set in, surprise, Rome. The lesbian romance movie takes place in a hotel room over the course of one night. And if you are looking for a steamy lesbian romance film (like Blue Is the Warmest Colour), this is the one! Yes, this one has many hot lesbian scenes.
Two women, Alba and Natasha, meet while they are on holiday in Rome. They decide to spend the night together, exchanging stories about their pasts.
It's passionate, intimate, and hot. Alba and Natasha are probably more unclothed in the movie than they are clothed. Be prepared!
Jessica is in search of finding the man of her dreams in New York City. But after many awful dates with men, she decides to answer an ad in a newspaper from the 'Women Seeking Women' section.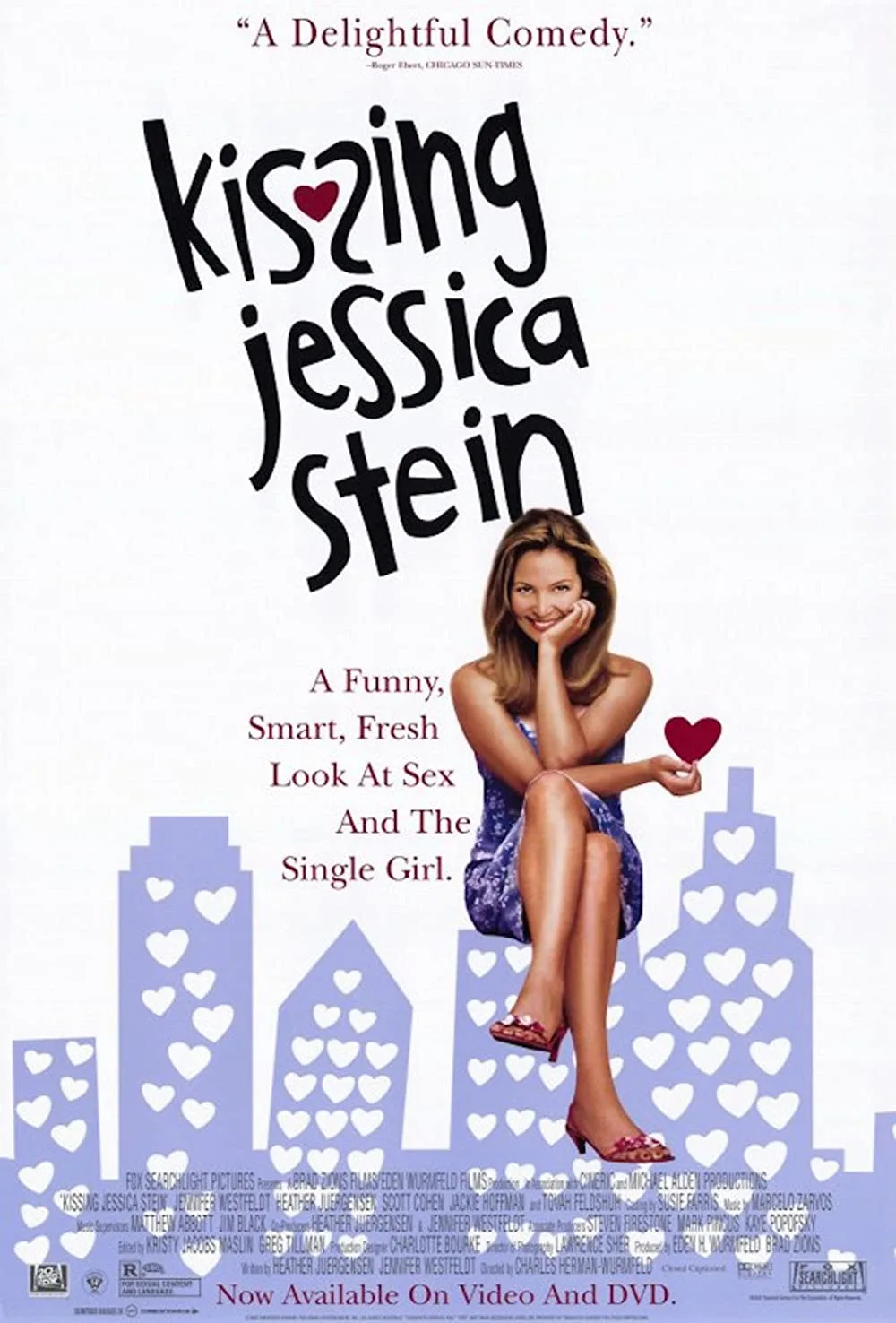 The two women go on a date together, and while they have a rough and pretty awkward start, they get a relationship.
Jessica turns from an uptight woman into a happy, confident, and carefree woman! She's in love! People close to Jessica notice there's something different about her, though Jessica didn't tell she's in love with a woman (yet).
It's a cute lesbian romance movie, with a bi lead! And while we had rather seen a different ending, it's (luckily) not horrible either.
You either love or hate this lesbian romance movie. So it's definitely not a movie for everyone!
Duck Butter is an intense lesbian movie which is about Nina and Sergio, who decide to spend 24 hours together after they just met. They skip the whole getting to know each other part and go straight for the real relationship phase.
The two make out (once an hour, which makes for great lesbian scenes), create art, laugh, cry, fight, and discuss their feelings on life and previous relationships.
It's an experimental lesbian movie, which is fresh and honest, has a surprising storyline, complex characters, and two great lead actresses. You need to watch the movie with an open mind, as not all movies are made the same way!
One of the classic lesbian movies on this list. And one of the most ground-breaking lesbian movies which was made quite some years before I was born.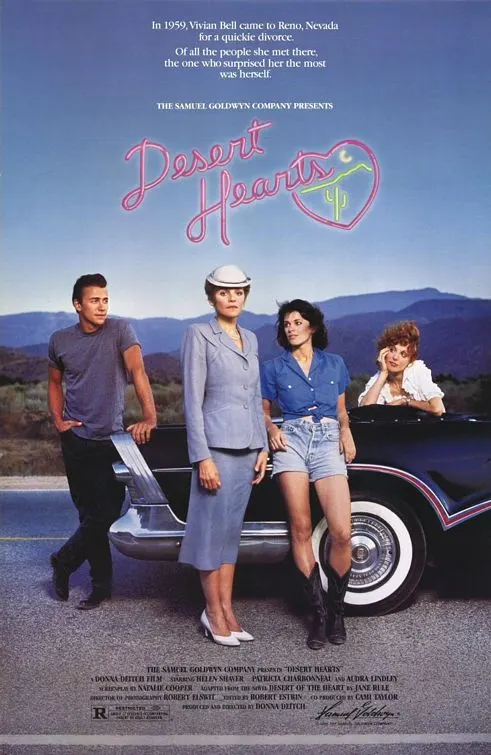 Desert Hearts is made in 1958 and is especially groundbreaking for that time. There weren't many lesbian movies back then. And especially not ones that didn't involve a man in the love triangle or a tragic ending.
It's a love story about a woman who is out, and one that isn't. But will they get their happily ever after? It's a pure lesbian love story that is still worth the watch after those many years.
Extra special: a queer woman directed Desert Hearts, in a time when there weren't many female directors!
For a long time, this was my absolute favorite lesbian romance movie. And I had this DVD for quite some years in my collection before I figured I was a lesbian. I know, HOW could I not know?!
The story of Kiss Me in short: Mia is engaged to Tim, but she falls in love with Frida. Yes, it's complicated. Especially since Mia's dad and Frida's mom are getting married soon. I told you it's complicated! Falling in love with your soon-to-be stepmother's daughter…
Kiss Me is also called Kyss Mig and With Every Heartbeat. It's a beautifully made Swedish movie with great acting.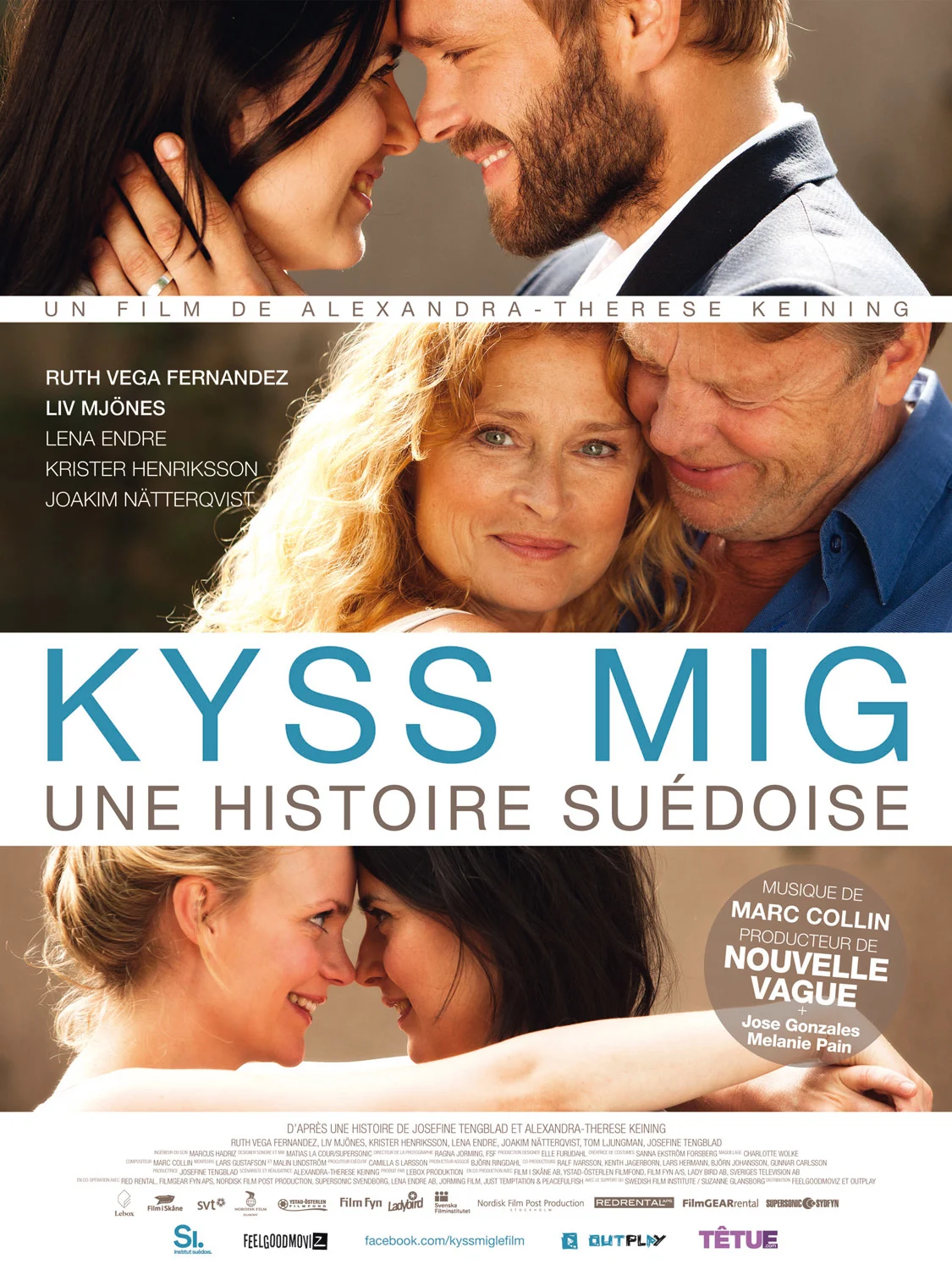 Depending on your location, you can find most of these movies on lesbian Amazon Prime Video.
Like Summerland, Portrait of a Lady on Fire is one of our favorite new lesbian movies! This French lesbian romance movie is about the female painter Marianne in the 18th century.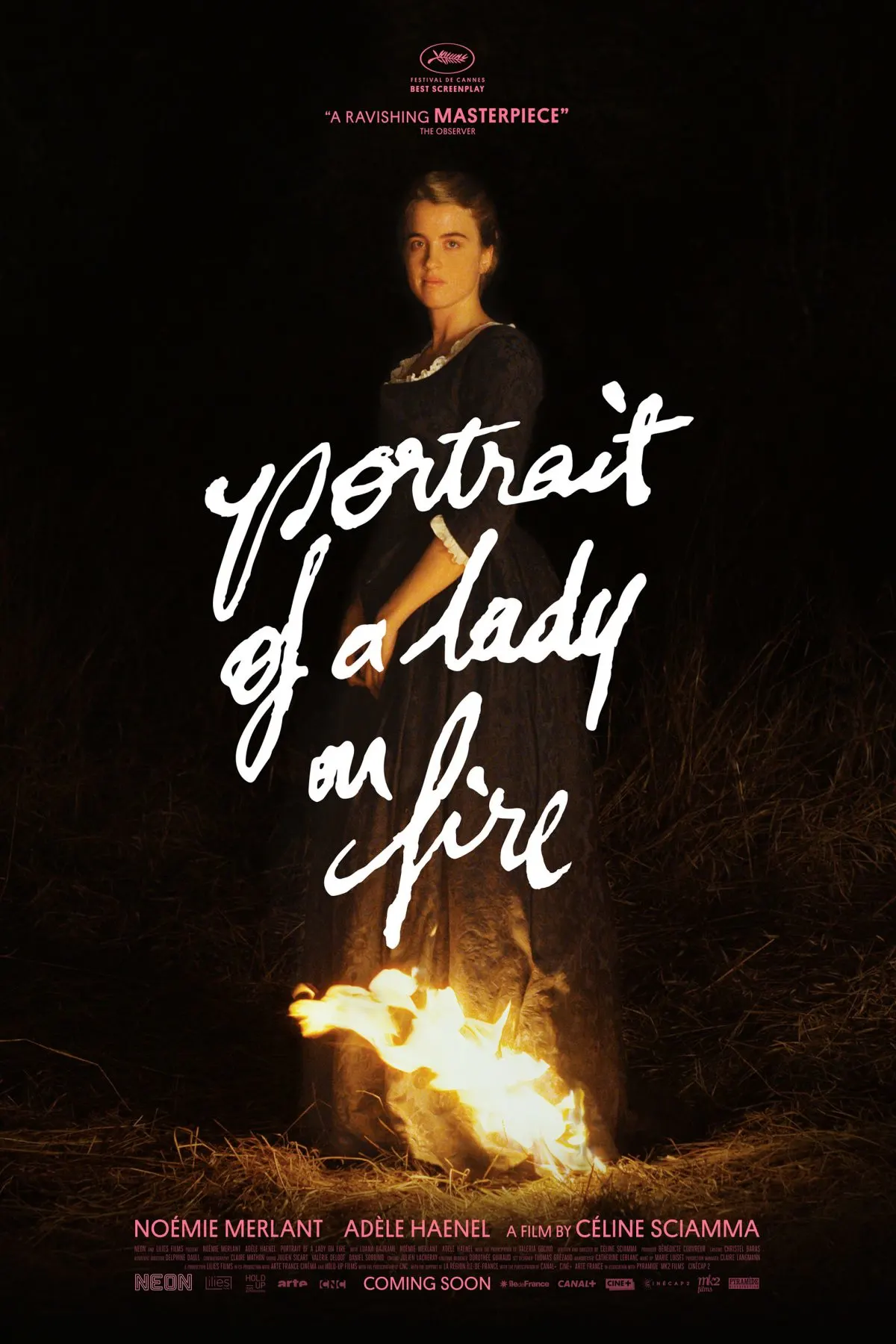 Hëloïse's mother hires Marianne to paint Hëloïse, who is to be married off to an Italian nobleman, against her will.
And you can guess it, after a lot of looking and staring between the two beautiful women, more happens.
But there isn't a lot of explicit intimacy in this lesbian movie. This is very unlikely for a French movie, but it's still super hot.
Portrait of a Lady on Fire is directed by the queer female director Céline Sciamma.
Freeheld stars the amazing Elliott Page and Julianne Moore. And both are great actors. Shortly before Freeheld was released, Elliot came out as a lesbian. In 2020, Elliot came out as transgender.
You might also know him from the LGBT Netflix shows The Umbrella Academy and Tales of the City.
But what is Freeheld about? Laurel, played by Julianne Moore, is a detective from New Jersey. She is sick and fights for her 19-younger domestic partner Stacie, played by Elliot Page, to receive her pension rights.
Lesbian age gap isn't a common movie topic, but we are glad to see it in this lesbian romance movie. It's also a movie about the inequality LGBTQ+ people face.
The movie is definitely worth the watch, though not the easiest and happiest watch on this list of lesbian films. It's based on the true story of Laurel Hester.
Carol was named the best LGBT film of all time in 2016 by The Guardian, and it's clearly a good one.
While we can probably all agree that we don't need more lesbian period dramas, this is one of the lesbian romance movies that is worth the watch.
If only for the amazing Cate Blanchett and Rooney Mara, who got nominated for best actress and best-supporting actress for their roles in Carol.
What is Carol about? It's a lesbian love story about the young aspiring photographer Therese who meets the beautiful older woman Carol in the 1950s in New York City.
The two bond, fall in love, and develop an intimate relationship. But when Carol wants to leave her husband, everything becomes more complicated.
Carol is based on Patricia Highsmith's 1952 semi-autobiographical romantic novel The Price of Salt.
We need more movies about Black lesbians! So imagine the enthusiasm when Rafiki came: a movie about two Kenyan girls who fall in love, directed by a female Kenyan director!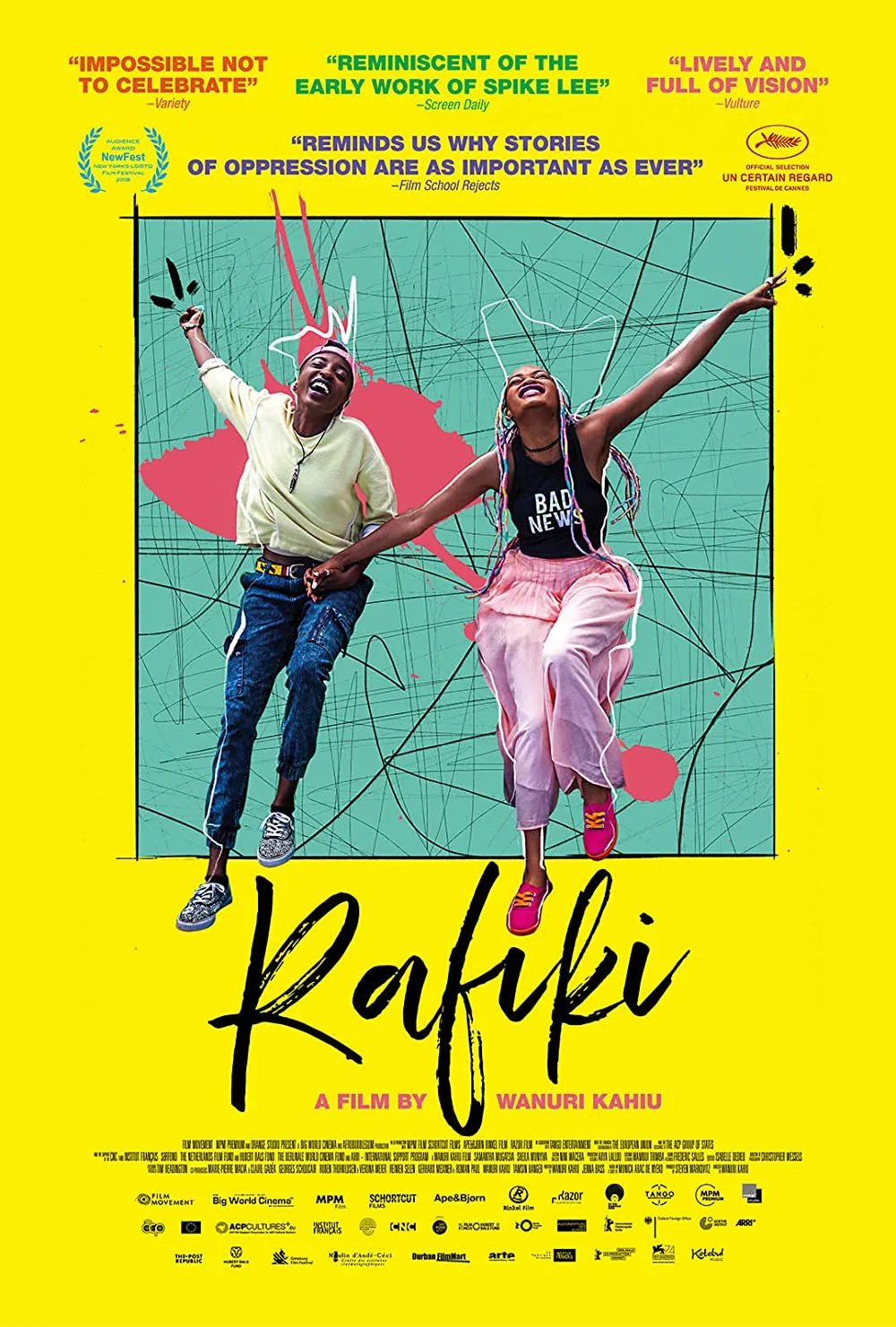 The film has, sadly, been banned in Kenya for its gay theme. They see the film as "a promotion of lesbianism".
The story is about Kena and Ziki, two girls and daughters of two rival politicians who are running for the local elections. They fall in love, but it's a forbidden one.
It's not a very original storyline, but this is such a special movie – an African lesbian love story! You have to see this movie about lesbians in Africa.
'I want to be with someone who 10 years from now makes my hearts jump when I hear her keys in the door'. That must be one of the most romantic lines and lesbian quotes ever, right? And you can hear it in the romantic lesbian movie I Can't Think Straight.
The movie is about the of Jordanian descent, London-based, Tala, who is preparing for her extravagant wedding with her boyfriend. But everything changes after meeting her best friend's girlfriend, the British Indian Leyla.
We love how this lesbian movie is such a classic and cheesy romantic comedy. And while the acting isn't the best, both lead actresses are stunning and have great chemistry.
The first Colombian lesbian film, how exciting! And it's also a lesbian romance movie that we definitely recommend watching.
When Mariana's fiancée passes away on their wedding day (yes, I know, it all starts very sad), Mariana and his sister Lucia find comfort together. They don't know each other at first, but quickly bond over their loss and share stories and memories about the man they both loved.
The start of the movie is sad and centers on a man the two women both loved, but the plot of The Firefly slowly changes in capturing the feelings and new beginnings between Lucia and Mariana.
We love how sweet the movie is, and it's a pretty unique storyline (definitely if you look at the other lesbian love movies). And without spoiling too much about the movie, it has an adorable ending.
Okay, I regretted waiting such a long time before watching D.E.B.S. I thought the lesbian movie would be very silly and not a great movie to watch. And while the movie is a bit silly and often unbelievable, I absolutely loved watching it.
The best part of the movie is the lesbian romance storyline between spy-in-training Amy Bradshaw, played by Sara Foster, and supervillain Lucy Diamond, played by the amazing Jordana Brewster (who you might know from the Fast & Furious sequels).
D.E.B.S. stands for discipline, energy, beauty, and strength. D.E.B.S is a code name for a group of recruited schoolgirls (with very short skirts) who can become members of a secret government agency.
But when they need to find and take down super villain Lucy Diamond, star agent Amy falls in love with Lucy.
It's a silly and funny action comedy with a very sweet lesbian romance as the main storyline. With a happy ending and great chemistry between the main actresses.
D.E.B.S is definitely a very different movie than most wlw movies on this list with lesbian romance movies.
Also, lesbian actress Holland Taylor stars in it!
Do we need more lesbian period dramas? Probably not. There are already enough of those! But we can appreciate some of them! Especially when they are based on real-life queer women.
Vita & Virginia is one of those. Especially if you want to watch some historical lesbian romance. If those kind of movies aren't your thing, you might want to skip this one!
Set in the 1920s, this lesbian movie tells the story of the lesbian love affair between the English writers Vita Sackville-West and Virginia Woolf. The movie is based on the real love letters between the two.
Gemma Arterton plays Vita Sackville-West, remember her from the lesbian romance movie Summerland? We talked about the movie earlier in this article.
We are ending this list with lesbian romance movies with a lesbian movie from Australia.
My First Summer is a sweet, tender, and fragile coming-of-age romance story between two teenage girls, which we highly recommend watching.
We simply don't understand why not more people are talking about this movie!
What is the lesbian romance movie about? The 16-year-old Claudia lives all alone on a remote property, miles away from the nearest town. She hides in the house after her mother passed away, trying to cope with it.
But everything changes when Grace appears in Claudia's garden. The two connect and find support, and love in each other. And it's adorable.
It's an exploration of girlhood, friendship, loss, and first love.
Which lesbian romance movie is your favorite? Did we miss any lesbian love movies on our list? Let us know in the comments!
Want to chat with us? Find us on Instagram, Facebook, YouTube, TikTok, or comment below!
And make sure to share this lesbian romance movies list with all your friends.
MORE TO READ:
MORE TO READ:
PIN THIS ARTICLE