Are you ready for the best lesbian shows?! Over the last years, a lot more lesbian series have emerged. Of course, there's the famous The L Word and the newer show The L Word Generation Q (the obvious to-watch shows).
But there are many more lesbian shows that are amazing to watch, and we will tell you all about them.
We live in exciting times, as there aren't only more lesbian series than ever but also lesbian movies and lesbian short films. And who doesn't want to be swoon away by some queer hotties and drool over lesbian scenes?
Get ready for the best lesbian shows! And enjoy watching these shows about lesbians!
The Best Lesbian Shows
Most of these lesbian shows are on Amazon Prime Video and Netflix.
Hot, exciting, and fun to watch!
KiIIing Eve is about an intelligence investigator trying to find and catch Villanelle. Things go differently when they notice they are more obsessed with each other than they should be.
Eve keeps looking for Villanelle, but not only to catch her…
KiIIing Eve is an amazing lesbian series to watch, and we should warn you: when you start watching, you don't want to stop. It's definitely one of our favorite lesbian shows.
Both actresses, Sandra Oh and Jodie Comer are fantastic.
Gentleman Jack is a lesbian show that premiered in 2019 but is set in the 1800s. It's a lesbian drama series about Anne Lister and the diaries she wrote about her life (and her lesbian relationships).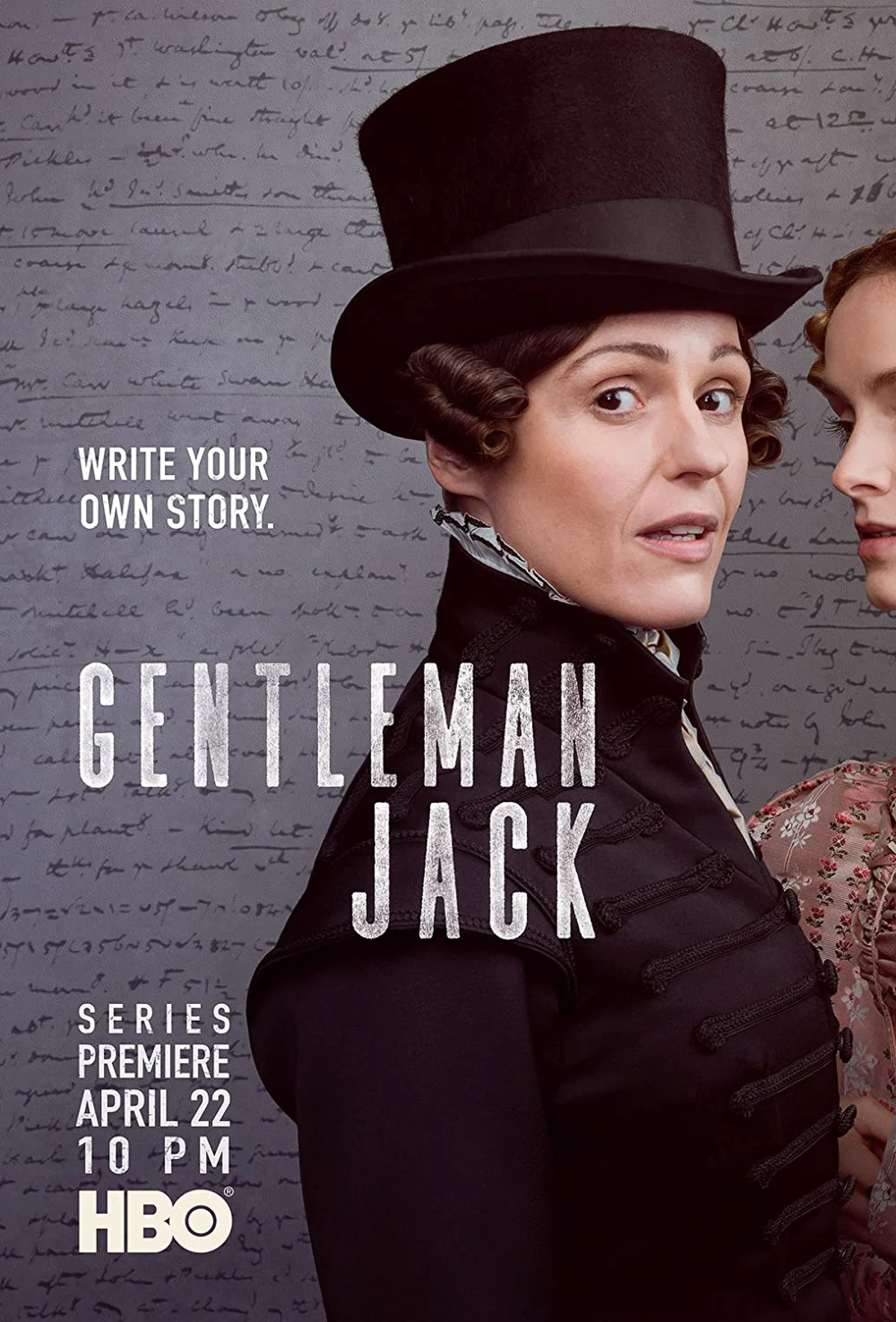 Being (in) a lesbian (relationship) in the 1800s was dangerous, so she wrote everything down in code.
The lesbian series is based on a true story, and Anne has been called the first modern lesbian in Britain.
It's amazing to see the most beautiful costumes and sets in Gentleman Jack.
The series is full of British humor and a very touching lesbian love story.
All lesbians should watch The L Word! So if you haven't, what are you waiting for?!
The L Word is one of the most iconic lesbian shows on this list.
It's an iconic wlw series, as there weren't many visibly lesbian characters in other series and movies, let alone lesbian series and lesbian movies.
The L Word was much needed and is still one of the most groundbreaking lesbian TV shows.
But it also missed the point in many cases (the worst was probably the minimal trans-representation, played by a cis actor).
A decade after the original series finished, The L Word Generation Q premiered at the end of 2019.
Original lead characters like Alice, Bette, and Shane returned, and many new characters joined.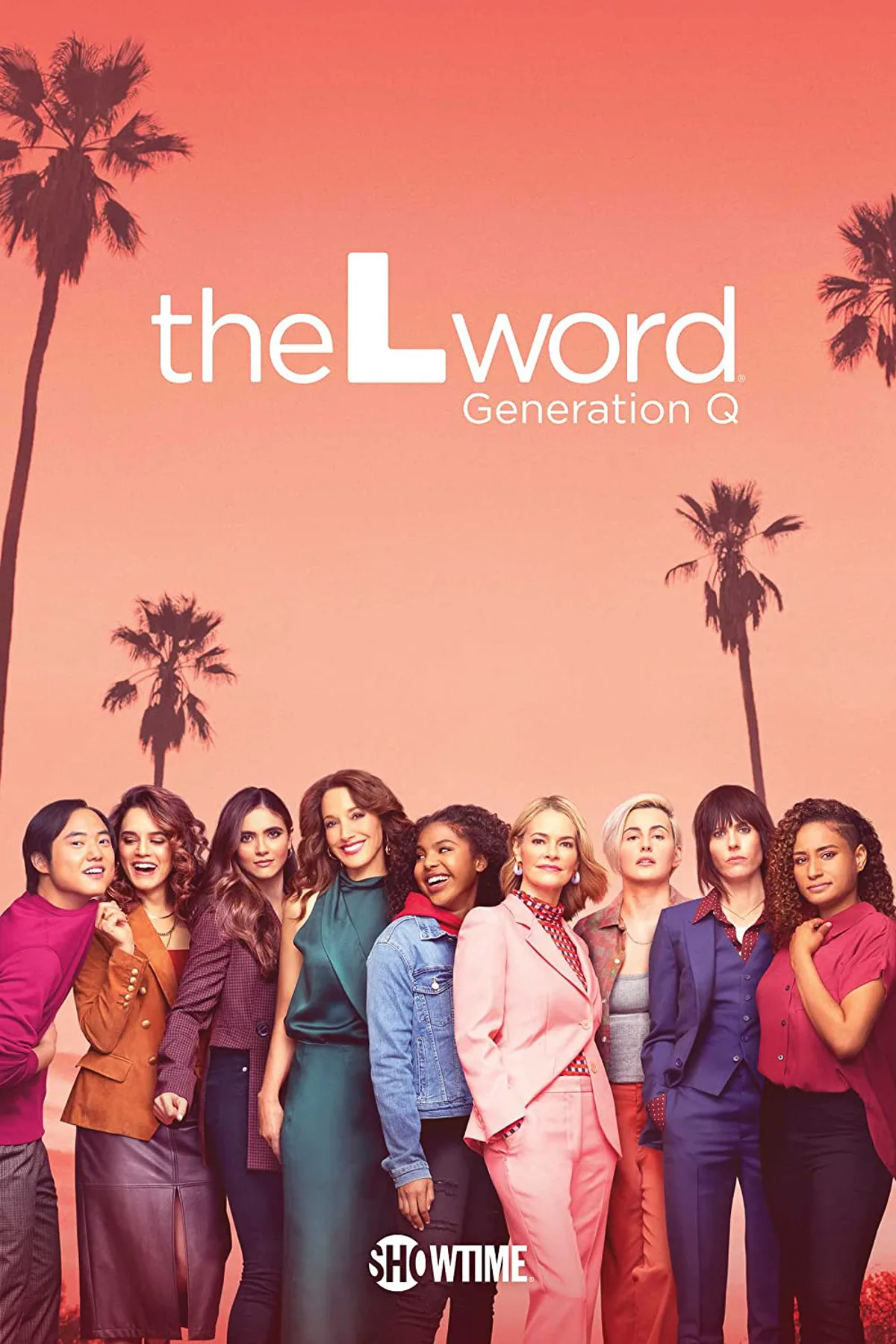 The cast is a lot more inclusive (both ethnic and gender diverse), the series has an overwhelming amount of storylines, the hottest lesbian ships, and amazing lesbian scenes.
We absolutely love this lesbian TV series! And after watching seasons one and two, we can't wait for another season! Season three will premiere on November 20, 2022!
We love this comedy series about a queer black woman in her twenties, living in Los Angeles.
Hattie and her two straight best friends, Marie and Nia, try to make their dreams come true in the City of Angels.
The show is created by Lena Waithe, and she wrote the series based on her own experiences living in Los Angeles when she was in her twenties.
It has love, comedy, triumph, drama, and great actors, and we hope a new season will come soon. Season 1 launched in 2020, and season 2 in 2021. We are ready for more!
A League of Their Own premiered in August 2022 and is one of the newest lesbian shows on this list! And it's one you should watch, as it's funny, well-written, heartwarming, super queer, and has an amazing cast with incredible women.
The lesbian series is an adaption of the 1992 movie of the same name but with new characters and storylines. And in our eyes, it's so much better!
Thank you, Will Graham and Abbi Jacobson, for creating it and including important topics such as racism and being queer. Abbi also stars in it as one of the main characters.
What is A League of Their Own about? The new lesbian series is about the women's baseball team Rockford Peaches in the All-American Girls Professional Baseball League during the 40s.
You don't need to be a baseball fan to watch it (because we aren't baseball fans and still love the show). Follow the women on and off the field!
We can't wait for season 2 (you need to give us more seasons, Amazon)!
Orange Is the New Black is among our favorite lesbian shows on lesbian Netflix (you can watch it on Amazon Prime Video too!)
And we're not alone: for a long time, OITNB was the most-watched Netflix original series!
The show is about Piper, who ends up behind bars, where she gets reunited with her ex-girlfriend.
But the lesbian series isn't just about Piper, it's about many women locked up.
Be prepared for a rollercoaster of emotions, as it's a funny, dark, and hot series. But it's also an insightful series (especially the last season).
And the show fights many stereotypes as it features queer women with mental illnesses, a transgender woman of color (Laverne Cox), and more!
Feel Good (2020-2021)
YEAH, one of the newer lesbian shows on Netflix! On March 19, 2020, Netflix launched the first season of Feel Good.
Feel Good is about Mae (played by Mae Martin), who is a lesbian comedian, and their girlfriend, George. The lesbian series is based on Mae's personal life, who's non-binary and identifies as bi in real life.
The series is both funny and serious. Mae struggles with their past addictions and with their new relationship with George.
It's the 'better queer representation' many queer women hoped for over the past years!
The second and final season of Feel Good launched in June 2021.
Follow the lives of freshmen roommates Kimberly, Bela, Leighton, and Whitney at New England's prestigious Essex College in Vermont.
The 18-year-olds try to navigate their new free lives on campus, which come with many challenges, difficulties, and hormones.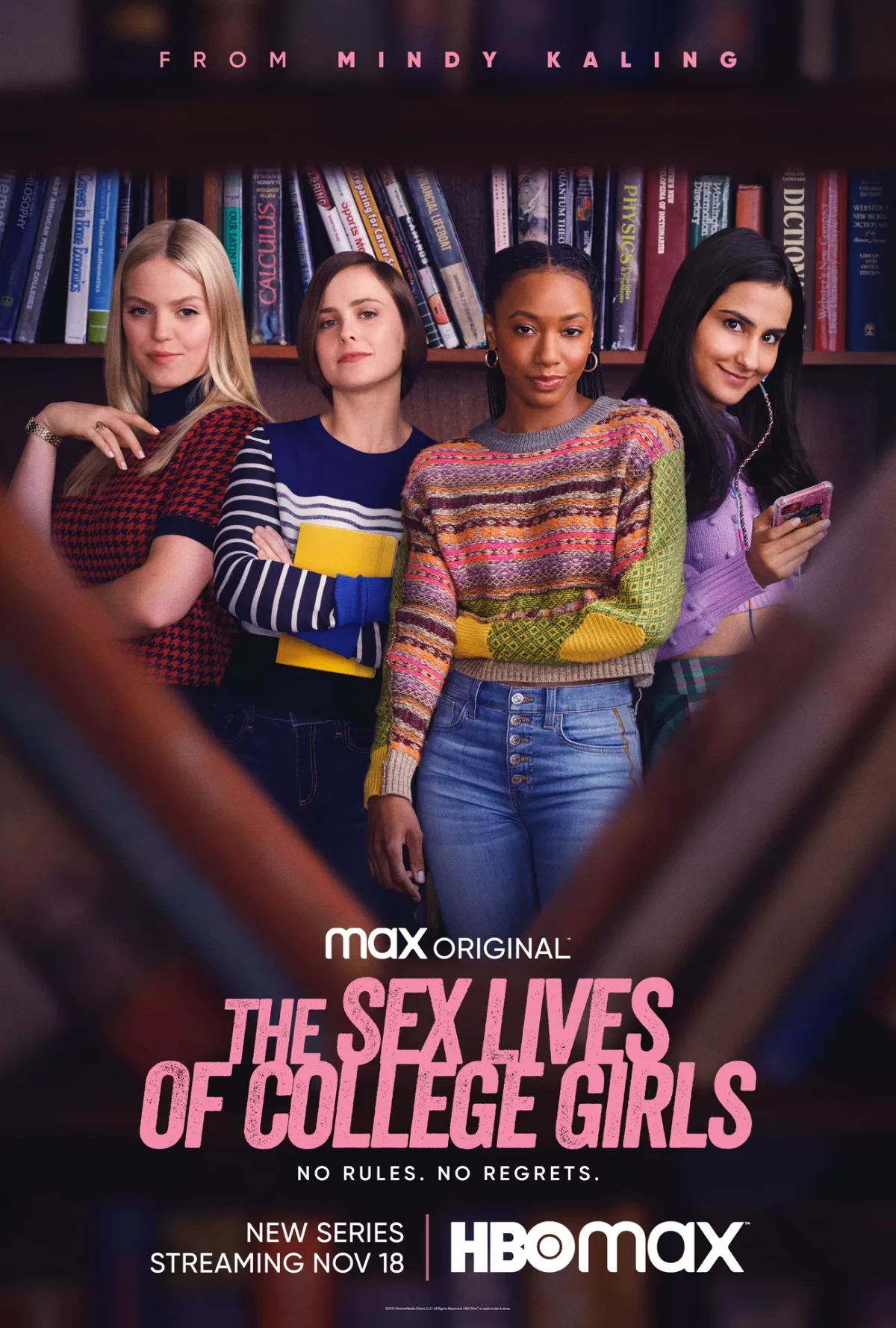 Leighton, played by the amazing Reneé Rapp, is the closeted lesbian of the four, and you see her struggles and coming out in the first season.
But it's not a typical coming-out story, as it's portrayed with compassion and care, it's real, and it's not done in just one episode. Coming out takes time, which the lesbian series shows.
S e x Lives of College Girls is fun, relatable, heartwarming, and easy to watch. You can find it on HBO Max, and season two will premiere on November 17, 2022 (we can't wait!).
Also, did you know Reneé Rapp is a queer artist too? We love her songs!
Sense8 (2015-2018)
Wow, wow, wow, Sense8 is such a phenomenal show. And it's SUPER queer. It's one of our favorite LGBT Netflix shows.
The creators, the Wachowskis (two transgender sisters), are famous for writing and directing The Matrix series and writing V for Vendetta.
Sense8 is about 8 different people from all around the world that are born at the same time.
They are from Mexico, India, Germany, Iceland, the United States, Kenya, and South Korea, and are all connected to each other, they are 'sensates'.
Sensates are human beings that are emotionally and mentally linked.
Nomi from San Francisco is a trans 'hacktivist' and is together with Amanita (played by Freema Agyeman, we love her).
Because of the sensate-stuff, all 8 characters kind of end up having steamy scenes together (or so it looks), making it a whole new level of queer.
Sadly, Sense8 got canceled after two seasons, but it returned with a 2-hour finale episode.
It's one of the must-watch shows on this list of the best lesbian shows.
For everybody that loves to see the supernatural on screen, go watch Wynonna Earp.
This series is different from the other lesbian shows on this list (yay, diversity!).
Wynonna Earp is based on the comic book series written by Beau Smith. It's about Wynonna Earp, who's a demon kiIIer and kiIIs other creatures.
Her sister, Waverly Earp, who's also one of the lead characters in the show is in a relationship with sheriff Nicole Haught.
We love their chemistry, and they are shipped 'WayHaught'. Lesbian YouTube has many videos about their relationship.
The lesbian series is still worth the watch, even if you aren't into the supernatural genre, as WayHaught are the cutest.
Do you like to read? Then check our list with the best lesbian books and lesbian novels!
If you're one of those people who are a sucker for enemies-to-lovers stories, DC's Legends of Tomorrow is the right lesbian series for you! Which you can watch on Netflix!
Sara Lance is a bi, reformed assassin and Ava Sharpe is a lesbian clone from the future.
The two are enemies at first, but then they slowly start working together and also slowly start falling in love with each other. You do have to wait a little for this, though! In season 2, Sara talks about being bi for the first time.
Spoiler: Now, Sara and Ava are a very cute and domestic couple, who even get married (in season 6!). The show seems a bit weird sometimes, but we love to see it!
This sci-fi series is insane! Every episode is different, but the overall theme of Black Mirror is basically technology manipulating the behavior of humans.
The episodes aren't related to each other, but the overall theme stays the same.
Definitely watch episode four of the third season, as it includes a cute lesbian love story.
In all the other episodes of Black Mirror, technology creates a dystopia, yet in this episode, it does the opposite.
And, like every episode, nothing turns out to be what it seems!
You might have never heard about this lesbian series, which isn't weird if you aren't from the Netherlands. We (lesbian) Dutchies are proud that one of the lesbian shows on this list is from the Netherlands.
Originally, it was a lesbian web series, but season two was screened on Dutch television. And now you can watch it on Netflix and Amazon Prime Video.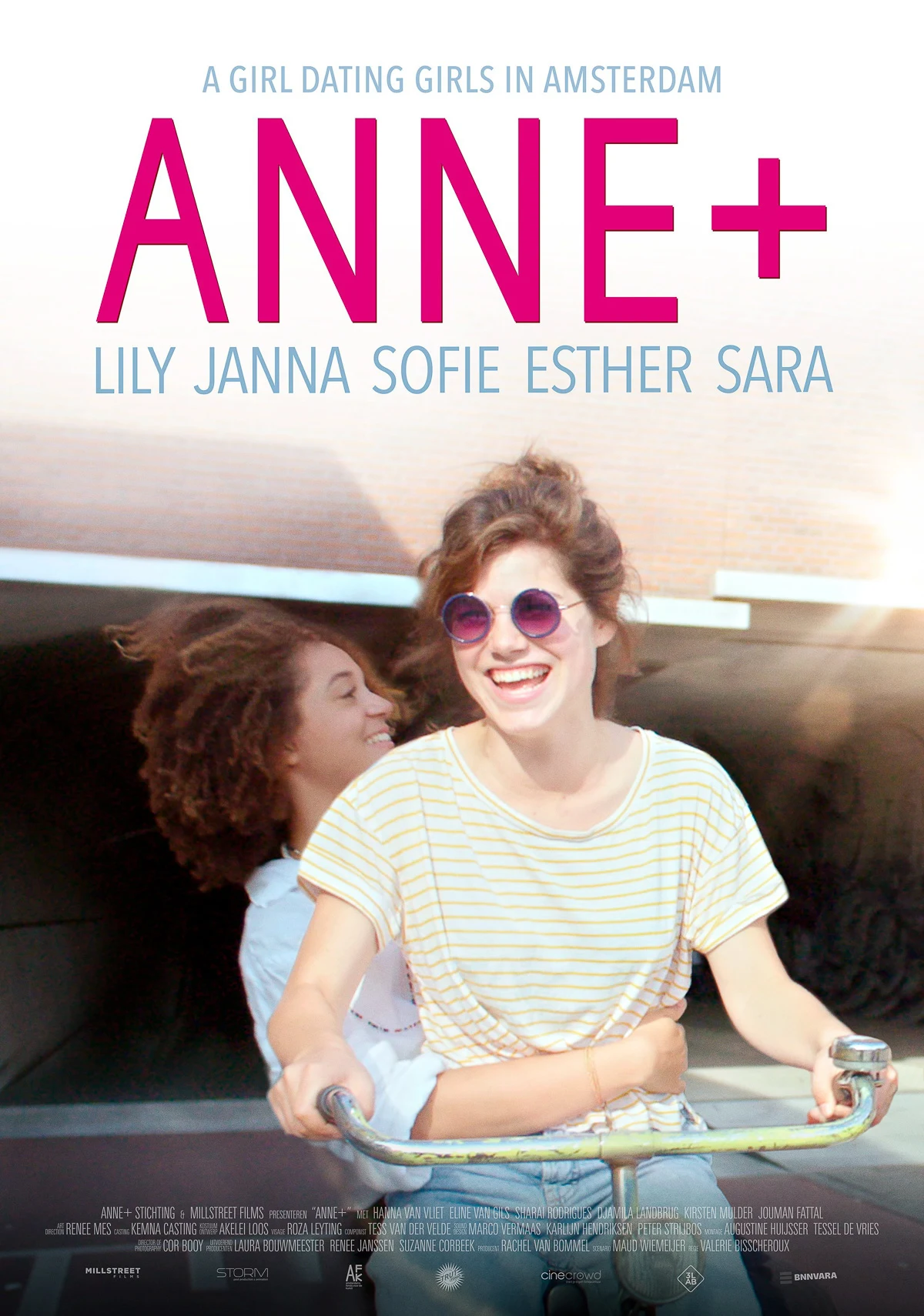 Anne+ is about a lesbian girl named Anne who's in her twenties and living in Amsterdam. Every episode focuses on different relationships between Anne and her girlfriends.
Season 1 has 6 episodes of 10 minutes and season 2 has 8 episodes of approximately 25 minutes. Both seasons are available on Netflix in the Netherlands and Belgium.
Are you not located in the Netherlands or Belgium, but you still want to watch Anne+ on Netflix? Then we have good news for you! With the VPN Surfshark, you can stream the Netflix content you want from other countries. Click here to get a big Surfshark VPN discount!
And we have more good news! In 2021, the Anne+ lesbian movie premiered and is available on Netflix.
Yay for more lesbian movies, lesbian romance movies, lesbian shows, and lesbian short films!
A whole different genre on this list with wlw shows! And a genre that's usually a male-dominated genre.
Hightown is about Latinx actress Monica Raymund who plays the lesbian National Marine Fisheries Service agent Jackie.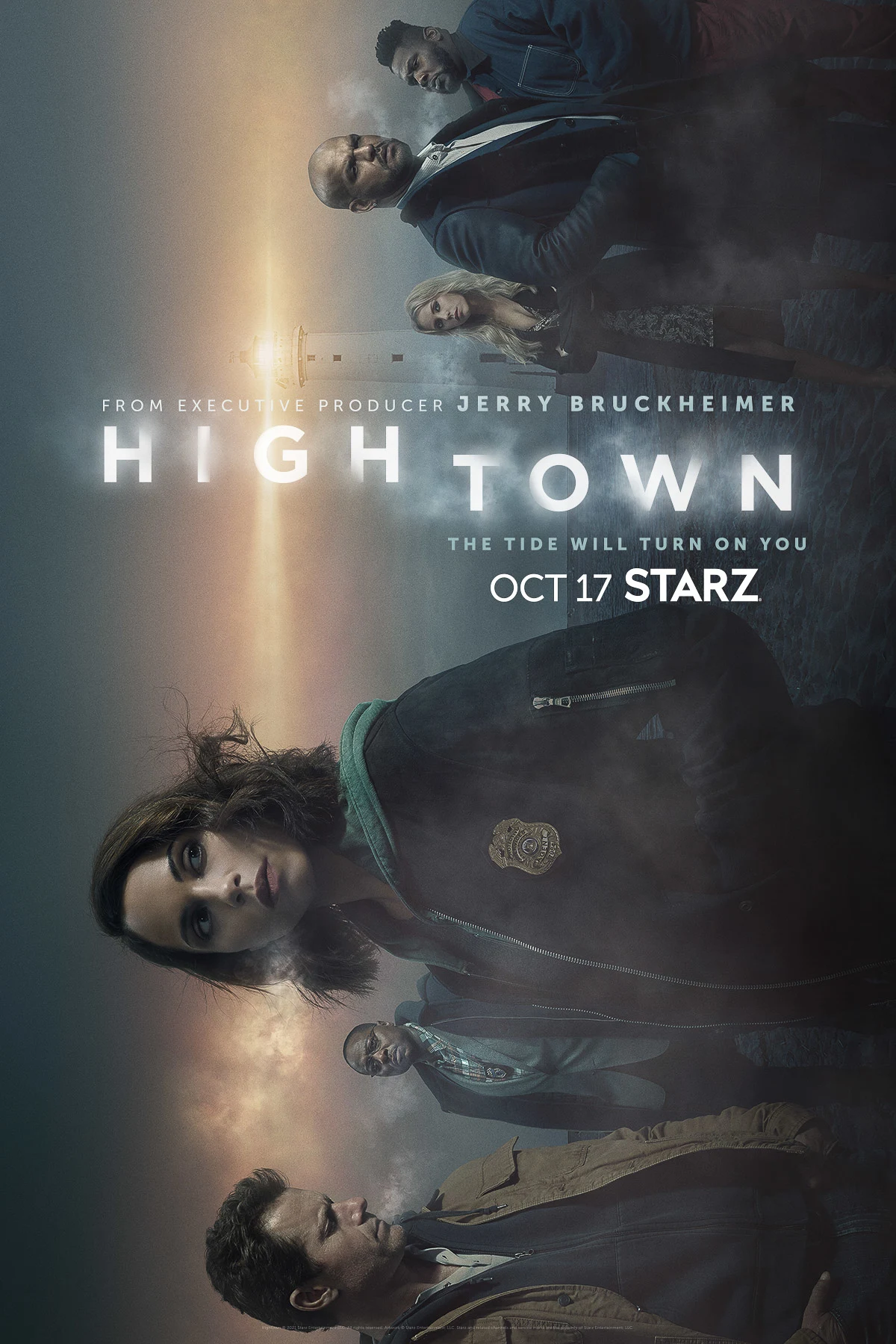 Set in LGBTQ+ heaven Provincetown, Jackie's life changes when she discovers a body of a woman on the beach. Jackie is struggling with addiction, but the trauma of finding the body makes her try to get better.
While getting clean, she wants to solve the mystery of the woman she found on the beach.
We love how the intro of the series is already super queer, and the first episode already shows a lot of one of the most iconic LGBTQ+ communities in the United States.
Dickinson (2019-2021)
I absolutely love this lesbian series! You can probably guess from the title that the show is about the famous poet Emily Dickinson.
It's about the life of Emily with a unique modern twist. It's fun, wild, and weird, and I'm here for it.
Often Dickinson is portrayed as a straight woman while actually, she had a long-term romantic relationship with her childhood best friend and sister-in-law, Sue.
It's a forbidden relationship, but they try everything to stay close together. Even if that means Sue has to marry Emily's brother.
Whatever happens, Emily and Sue are meant to be together. And although they can't be, it's never tragic. While not every episode of every season is super lesbian, I can promise you, season 3 makes up for it!
Also, both actresses Hailee Steinfeld (playing Emily) and Ella Hunt (playing Sue) are the best. Their chemistry is lovely. In March 2021, Ella Hunt came out as queer!
Other than all the other best lesbian series on this list, you can't watch Dickinson on Netflix or Amazon Prime Video, but on Apple TV+.
This lesbian show is a reboot of the 1985 animation. Prior to the series' release, the creators said they would include a lot of LGBTQ+ representation. And they did not disappoint.
Many of the characters are queer-coded from the beginning. They've also included characters with different gender identities.
And the relationship between the main character Adora and Catra has a romantic tension from the start!
This is truly revolutionary for an animation series. And it's for everyone, no matter how old or young you are!
Gypsy (2017)
Gypsy is a psychological thriller about psychotherapist Jean (played by Noami Watts), who obsesses over the people her patients talk about in their sessions.
And then, she falls for the ex-girlfriend of one of her (male) patients. It's creepy, but it's also hot. The lesbian scenes are really hot!
Jean actually has a husband and a kid, so everything Jean does is in secret. Her kid turns out to be queer too (maybe the best storyline of this show)!
Sadly the show got canceled after one season, as it seemed to be a popular new lesbian show on Netflix.
The Haunting of Bly Manor (2020)
We need more scary lesbian shows! The Haunting of Bly Manor is not terrifying, though (in our eyes).
The show's tagline is 'it's not a ghost story, it's a [lesbian] love story'. And we love it! The lesbian love story is so adorable, we had no idea. It's one of our favorite lesbian stories. But we won't spoil too much for you.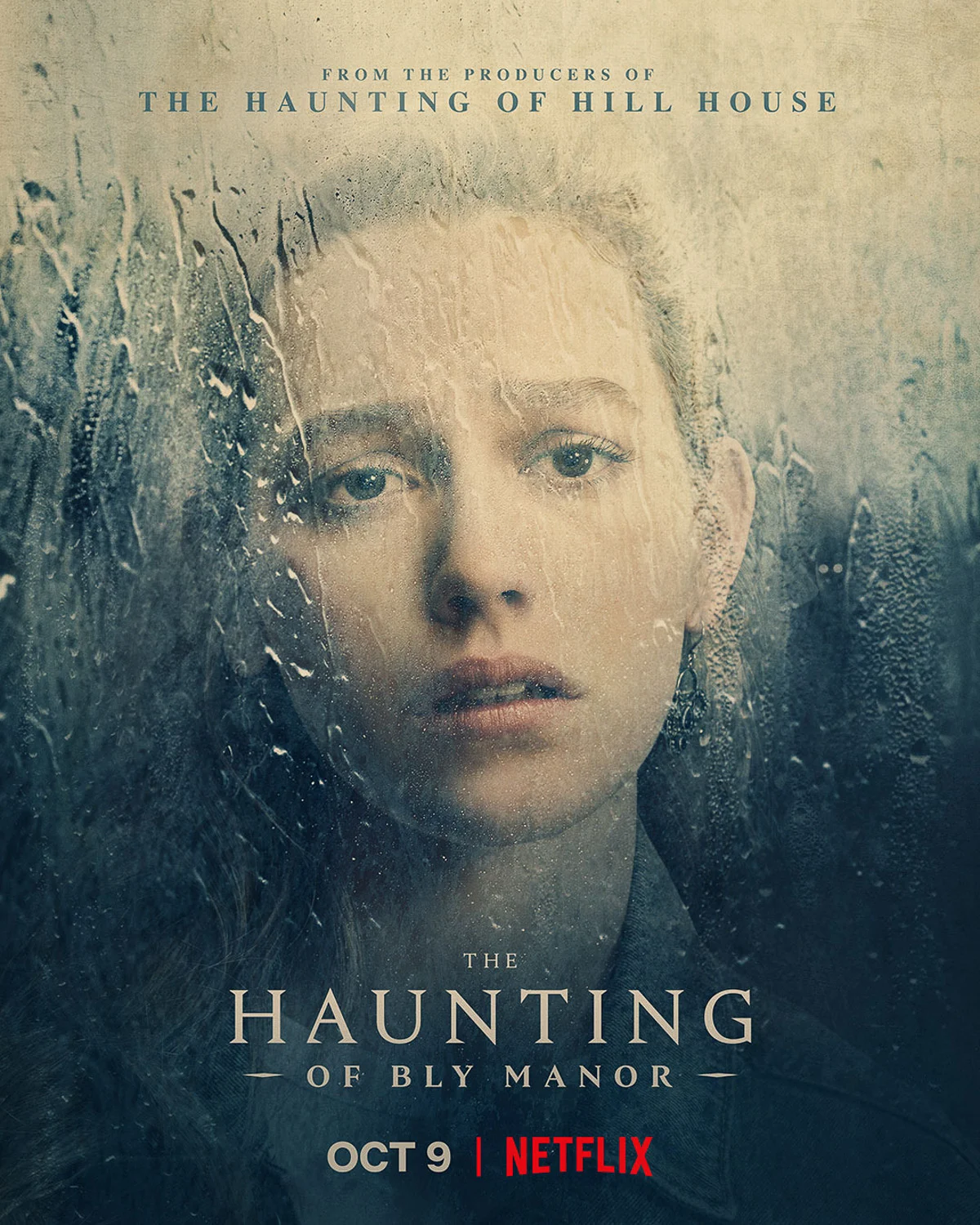 To be honest: the show is a little slow, and it's more of a thriller than a horror.
But when I'm watching shows with my girlfriend, they can't be too scary, or she will keep me awake all night.
Do not get confused with The Haunting of Hill House, while many actors and creators return (plus the name is nearly identical), the stories are not connected.
However, the show about Hill House also has a powerful lesbian storyline – so if you're in the mood, watch both! Hill House is more 'horror' than Bly Manor.
You can watch The Haunting of Bly Manor on Netflix.
This show is the best! If you start watching, you can't stop. It's an amazingly written show, and the actress Tatiana Maslany is fantastic.
Orphan Black is a science fiction thriller about Sara, who discovers that she is a clone. Sara is part of an experiment of cloning, and someone is trying to kiII all clones.
Tatiana Maslany plays all the clones, and she does a great job. One of the clones, Cosima, is a lesbian, and she falls in love with Delphine.
Be prepared for a hot lesbian scientist's romance!
These are the best queer and lesbian quotes to inspire you(r lover)!
Orange Is the New Black, but in Spanish. And with less intimacy and more illegal things happening.
Some say it's even better than OITNB, but you should watch them both and decide for yourself.
This lesbian show about women locked up is full of action, drama, plot twists, amazing actresses, and great storylines.
Macarena, one of the main characters, ends up behind bars after she commits fraud for the boss she's in love with. Locked up, she realizes she needs to become a different person to survive her sentence.
In July 2020, a spin-off of the lesbian series was released, called Vis a Vis: El Oasis. You can watch both on Netflix.
The Foster family is a family with biological, adopted, and foster children, raised by a lesbian married couple!
Stef and Lena are the lesbian moms of this multi-ethnic family and are among our favorite lesbian TV characters.
This lesbian show is funny, special, and very important as it talks about important topics such as coming out, gay marriages, and issues in the foster system (among many other things).
It's no wonder this lesbian series has earned two GLAAD Media Awards (and one Teen Choice Award).
Two trans characters are introduced in the series: this was amongst the first-ever trans representation on TV!
Vida (2018-2020)
Vida is a queer Latinx drama about two Mexican-American sisters, Lyn and Emma. After their only parent, their mother, passes away, they are reunited in their old childhood home in the suburb Boyle Heights in LA.
Surprisingly, in their childhood home, they get to meet their mother's secret wife. But that's not the only secret their mother had, as the building and bar they inherit are in debt.
The two deal with gentrification and each other while also trying to live their own lives. Bad business and romantic decisions come and go. It's fun and charming to watch. And it's also very queer as one of the sisters, Emma, is queer, like her mom, too!
And what more to love about Vida is the fact that the series is written, directed, composed, and edited by a Latinx and almost fully female and queer team!
A show that's fun to watch, with a great queer storyline. Or well, the storyline starts great, but after two seasons, it all gets a bit messy. But without spoiling too much, it ends great again.
It is hot, progressive, and features three badass women as the main characters. This show is one of our absolute favorites on this list of lesbian shows!
The Bold Type is about three millennial women who live in New York City. You get to see everything about their lives, including romantic relationships, careers, and friendships.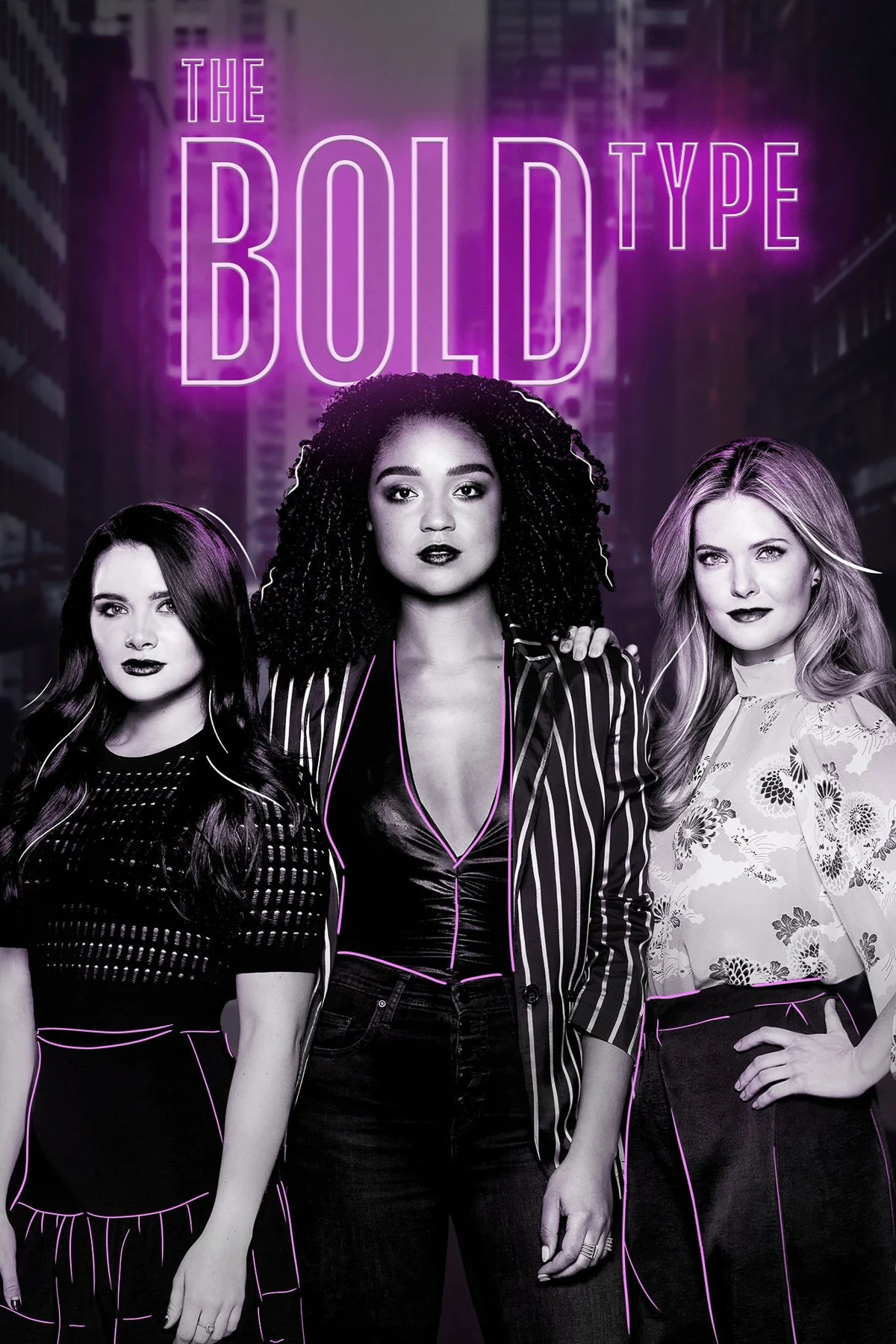 Kat is one of these three badass women. In the show, she starts questioning her orientation and falls in love with the queer photographer Adena.
Kat's coming out story isn't a typical coming out story you get to see in most lesbian shows. Her coming-out story is a casual and open one, which we love to see.
We love seeing her figuring things out on the way; that's something we all try to do.
It's possible to watch The Bold Type on lesbian Hulu, Netflix, and Amazon Prime Video.
You Me Her (2016-2020)
You Me Her stars two female characters that both identify as bi. They are in a polyamorous relationship with a man.
It starts like this: a middle-class couple is missing something in their lives – they want a baby, but biology isn't working in their favor. Also, they miss the 'spark'.
Through some funny events, they end up in a throuple with a younger woman.
You might question why You Me Her is on a list of the best lesbian series when the show is about a polyamorous relationship with a man.
The series is about figuring out your orientation and how to deal with an unaccepting society. That's something many lesbians face too.
The whole series is funny, cute, and romantic. And it's the first polyamorous romantic comedy on television! You watch the series on Netflix.
Easy (2016-2019)
Easy is a series that features a different (love) story in every episode.
In S1E2, S2E7, and S3E3, we see the girls Jo (YES, played by lesbian celebrity Jacqueline Toboni from the L Word Generation Q) and Chase develop a relationship and deal with their struggles.
Something we love about these episodes is that it isn't about coming out. Instead, it's about daily things and maintaining a healthy relationship.
We didn't like watching every episode of Easy, but we loved watching the three with Jo and Chase in it! You can watch Easy on Netflix.
Next on this list of lesbian shows: Harlem. Harlem is a fun comedy series that premiered on Amazon Prime Video in December 2021. In Harlem, you follow four best girlfriends in Harlem in New York City.
The four met while attending New York University, and now they are all navigating life in their thirties. They are trying to balance love, life, and their careers.
One of the friends is Tye, played by Jerrie Johnson, who's a masculine lesbian. And what we love about her is that she's the most financially secure of all. Often, queer characters are portrayed a lot differently!
Tye is the founder of a dating app for queer people of color and is doing really well in her career. But she is having some struggles in her own love life.
The creator of Harlem, Tracy Oliver, created the show because she felt there weren't enough series about black female friendships who were still searching for their path in life in their thirties. And we can't wait for season 2!
Glee (2009-2015)
Glee was groundbreaking and of great importance for LGBT representation on TV. Especially for young people.
It's a show about a high school show choir and a show of outsiders all figuring life out (through a lot of songs).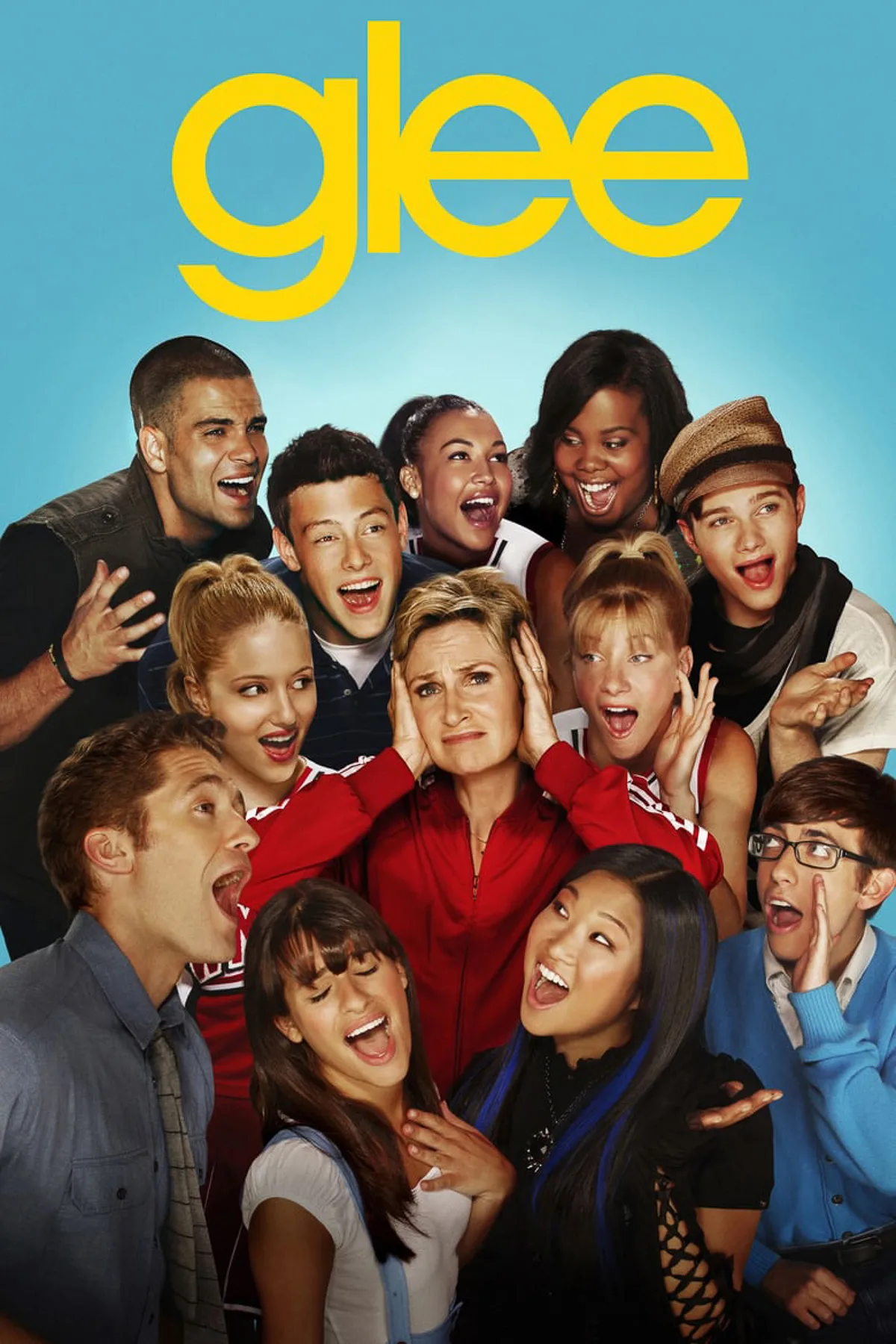 The show features, among other LGBT characters, a lesbian TV couple.
Santana and Brittany are together, and you get to see them making out, dancing, singing, and walking around in their cheerleading outfits.
Trinkets (2019-2020)
It's not every day you find a Netflix TV show where everyone stays alive, no one has superpowers, and has a lesbian lead, played by a queer actress, yet it's not about her coming-out story.
I mean, I think it's the only one there is!
Elodie (played by Brianna Hildebrand) is gay and a kleptomaniac. She's struggling as the new girl at school but makes two new best friends at the Shoplifters Anonymous meetings she has to attend.
Their friendship is adorable, and this whole coming-of-age story is very sweet.
It's one of the lesbian shows that's mellow, relatable, dorky, and it's queer! You can watch Trinkets on Netflix.
You gotta love women, and lesbians, being locked up! Besides Orange Is the New Black and Vis a Vis, Wentworth is another lesbian series about women behind bars.
OITNB is American, Vis a Vis is Spanish, and Wentworth is Australian (and actually came first!).
Don't let the Australian accent scare you away, as this series is great to watch.
Wentworth feels more real, like how life behind bars could be, while OITNB makes life being locked up look more exciting.
There's less lesbian hotness going on in Wentworth, but the writing of the storylines is great.
You'll be on the edge of your seat in every episode.
Euphoria is a really intense, dark show and is definitely not for everybody.
Addict Rue falls for transgender girl Jules (played by real-life transgender woman Hunter Schafer), but the queerness is only a small part of the story.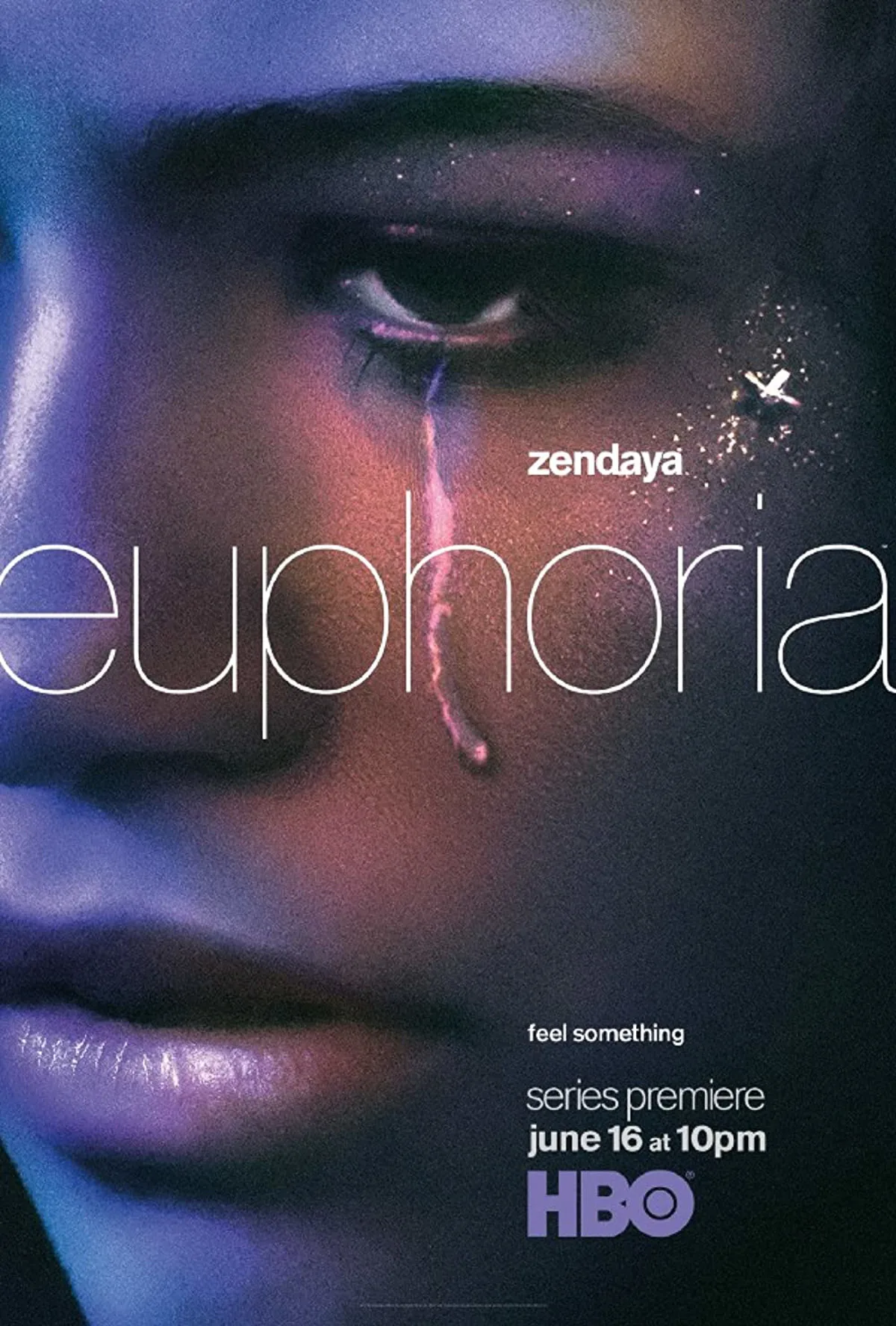 It's freeing to see in a show that orientations can be fluid and open while being raw and real.
This show does get a lot right about Gen Z's queerness. There is so much to unpack in this series, it is so complex. And we're here for it.
Tales of the City (2019)
Not just a lesbian show, but a very queer one with lesbian characters in it. And it's written by queer writers.
Tales of the City is about a group of people living as a family in the same apartment building, 28 Barbary Lane.
The story is told by Mary Anne Singleton, who returns to 28 Barbary Lane after 23 years.
We aren't in love with Tales of the City, but it's definitely entertaining. And as it's mainly about the LGBT community with relevant topics, we do recommend watching it.
Plus, Elliot Page stars in it; who doesn't want to see him on-screen?!
This miniseries on Netflix is based on the novels of Armistead Maupin and has prequels too.
The L Word but the reality version!
This lesbian show is created by the same producer as The L Word. The difference between the two is that in The Real L Word, you don't follow actors, but you get to follow lesbians that really live in Los Angeles and live their daily life.
The Real L Word is the reality spinoff of The L Word.
The show is definitely not great, but it's real and features queer friendships, drama, and intimacy (you gotta love it!).
It's a unique lesbian show!
Women with superpowers, we love it! We know, every woman is a superwoman, but this supergirl has some special ones.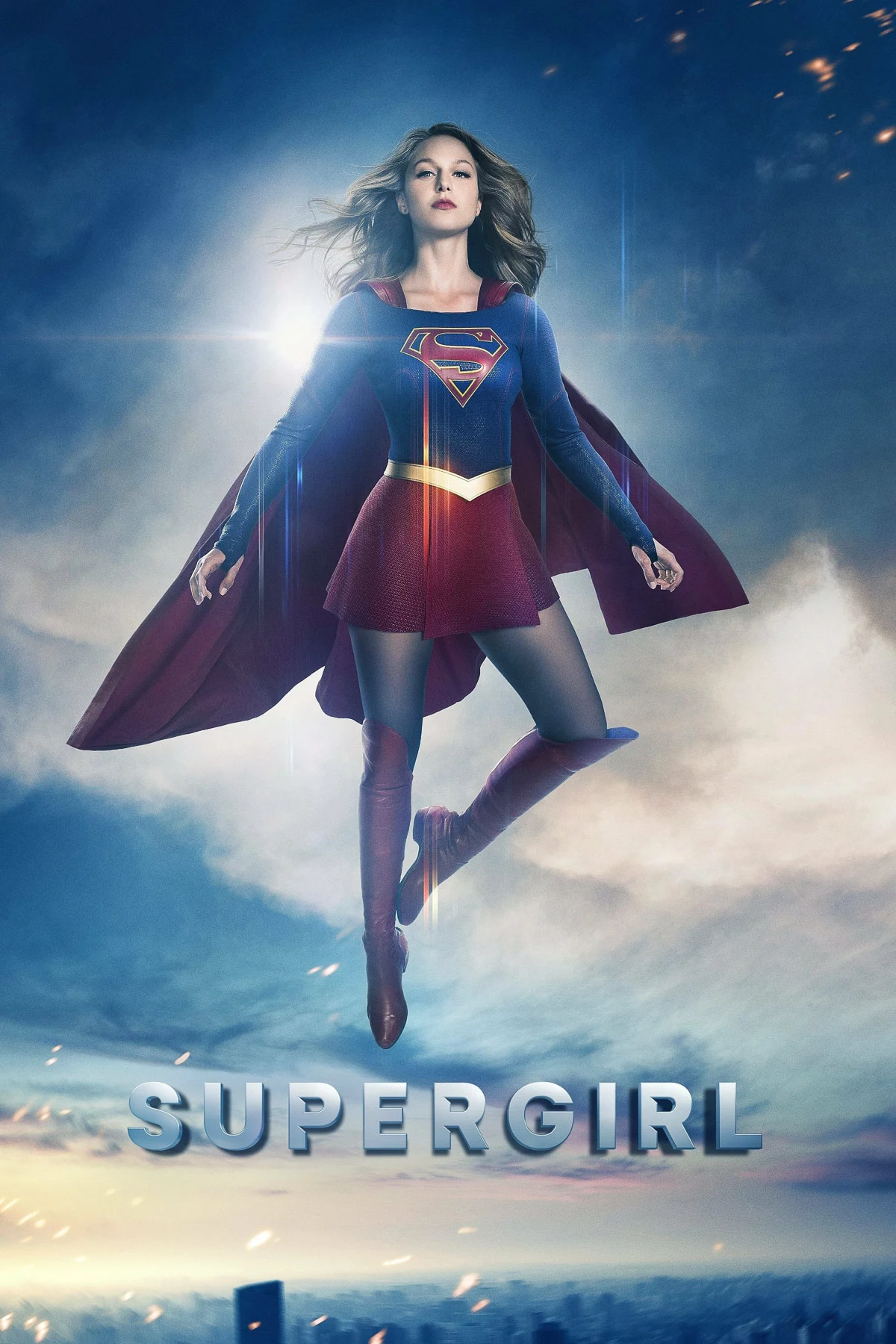 Supergirl is superman's cousin and is a badass. Her adoptive sister, Alex, comes out as a lesbian and falls in love. Alex is one of the main characters in the show.
Supergirl was nominated for the best drama TV show, thanks to its great storyline. And the series also features a transgender superhero; how amazing!
If superheroes are your thing, definitely watch Supergirl.
She's Gotta Have It (2017-2019)
She's Gotta Have It is an important series as you don't often see black lesbian intimacy on screen.
The whole series is about Nola, an out and proud polyamorous, and attracted regardless of gender, who isn't interested in a monogamous relationship.
Especially in season one, it's about Nola and her relationship with three different men. But in season 2, it's all about her relationship with a woman called Opal.
Within the first ten minutes of the first episode of season 2, there's a hot and steamy scene between the queer black women. And it's almost 3 minutes long!
The lesbian series might not be the best series ever, but it's super important as the queer women of color community need to be a lot more visible (on-screen).
She's Gotta Have It is based on the film of the same name, created by Spike Lee.
You can watch the series on Netflix.
In the United States, they had The L Word, in the UK, they had Lip Service.
Lip Service aired on television a lot later (2010). Both the original The L Word and Lip Service aren't perfect, but very important.
Nowadays, there is more queer presentation in series and movies than ever, but back in the day, that was very different.
Lesbian shows like Lip Service were very important for the 'older' generation lesbians.
Lip Service is about a group of lesbians that live in Glasgow in Scotland. There's a lot of intimacy and cheating involved, much more intimacy than in The L Word!
As mentioned before, the series isn't perfect, therefore the lesbian series was received with mixed feelings by the LGBT community.
What a way to end 2020. We started watching The Wilds and simply couldn't stop. Thank you, Amazon Prime!
This is one of the lesbian shows we are wild about!
A group of teenage girls ends up on a deserted island after their plane crashes. Does it get hotter than this, 8 girls stuck on an island?!
The girls need to use their survival skills to survive, but there's something weird about the island. Did the girls end up on the island by accident or on purpose?
Yes, there are big plot twists, drama, and lesbian romance, and we LOVE it.
This lesbian series takes a little to get going, but it's worth the wait! Especially around episode 3, it gets better and better.
The show is well written and uses different time periods (on the island, flashbacks, and fast-forwards to when they are interviewed by the FBI). And yes, one of the main characters, Leah, is (a little) annoying.
But luckily, not every episode is solely revolved around her story. She reminds us of Jenny from the L Word.
Toni is another girl stuck on the island, and she's openly into girls. Another girl is still in the closet and struggles with her feelings.
We can't tell you more, otherwise, we will spoil too much, you simply have to see this lesbian show. It's one of our favorite new lesbian shows.
Sadly, The Wilds got canceled after the second season.
Want to see more teenage girls being stuck in nature after a plane crash?! Then you should definitely watch Yellowjackets!
It's 1996 and the Yellowjackets, a New Jersey high-school girls' soccer team, are on their way to nationals. But on the way, their plane crashes into the wilderness.
After surviving a plane crash, the girls have to survive in the wilderness, with each other. How will that go? Be prepared for many twists, mysteries, (lesbian) love, and nineteen months of survival.
The first season consists of two main timelines, one in 1996, and one in 2021. In 2021, four survivors fear that the truth about their time in the wilderness will come out.
Why do Shauna, Natalie, Taissa, and Misty do everything they can to keep their secrets a secret? We might not get an answer to everything in season 1, but Showtime's Yellowjackets is renewed for a season 2, yay!
Now, a totally different lesbian series on this list: Work in Progress. We sometimes get questions about the fact that most lesbian shows and lesbian movies are about femme lesbians. And not about butch lesbians.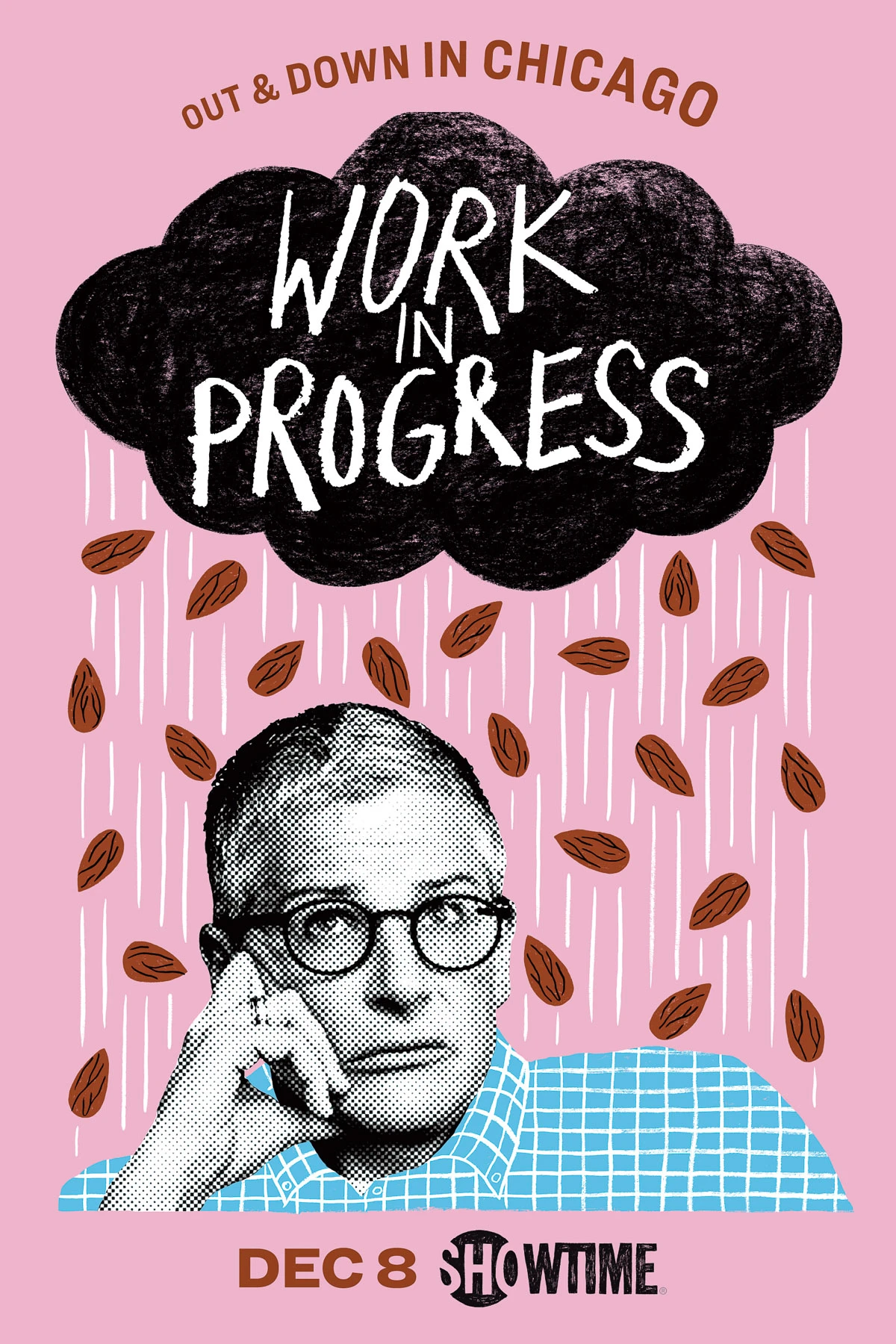 Representation matters, and Abby McEnny knows there aren't many people who look like her on TV. That's why lesbian shows like Work in Progress are important too! Also to include on this list.
Work in Progress is about the self-identified fat, nerdy, androgynous, and queer dyke Abby. The dark comedy includes trans characters and has a refreshing take on body image, mental illness, and gender issues.
The show's goal is to show that there is a life out there without shame. And we are here for it.
While the humor might not be for everyone, try it for yourself. Work in Progress is unlike any other show!
Also, Theo Germaine stars in it, and we love him! Plus, its executive producer is one of the Wachowski sisters, who are also the creators of The Matrix and Sense8.
Gentefied (2020-2021)
Gentefied really needs more exposure! This amazingly funny show is about a Latinx family living in East LA.
While the neighborhood is slowly changing, the family has to come up with ideas on how to save their grandfather's taco shop.
And the best part: one of the main characters, Ana, is a lesbian! She's trying to navigate her life in a world that doesn't represent or support her.
In season 1, Ana is together with Yessika, and they are a super adorable lesbian couple! It's amazingly sweet to see how the family accepts them.
The second season dives deeper into Ana's queerness and what it means for her as an artist of color.
Hacks might be the funniest show on this list! It's not specifically a lesbian show, but a queer one with a bi lead. And in the second season, there's an episode dedicated to a lesbian cruise!
What is the funny show about? Deborah Vance, played by Jean Smart, is a legendary female stand-up comedian who is about to lose her decades-long Las Vegas residency. She needs to reinvent her act, and that's when Ava Daniels, played by Hannah Einbinder, comes in.
Ava is a young comedy writer who is canceled after an insensitive tweet and has been unable to find work ever since. The two reluctantly agree to work together, and despite their many differences, they slowly bond together and notice they are very alike.
The series' writing is outstanding, and the characters are so well-developed and entertaining.
Ava is the bi lead of the series, but she isn't the only queer character on the show!
If reality shows are your thing, you want to watch Tampa Baes. Tampa Baes is about a group of lesbian friends that live in Tampa Bay.
Follow their daily lives within Florida's LGBTQ+ hub, the place to see and be seen!
Be prepared for lots of lesbian drama, parties, friendships, and love. It's messy, fun, and real. There aren't many lesbian shows like Tampa Baes!
It is easy entertainment we lesbians don't have enough of.
Watch it on Amazon Prime Video.
Lesbian Shows with Lesbian Characters
Visibility is so important, also in shows that aren't mainly about lesbian characters, but also when they feature lesbian side characters.
Below, we will tell you a few amazing lesbian shows to watch that feature lesbian characters.
You can find these lesbian shows with lesbian characters on Amazon Prime Video and on Netflix.
One Day at a Time is about the daily life of a Cuban-American family. We started watching One Day at a Time and couldn't stop.
The series is very funny, relatable, has amazing actors, and discusses topics like LGBTQ issues.
One Day at a Time is a remake of the classic Norman Lear sitcom.
Daughter Elena comes out as a lesbian in the first season and gets a non-binary love interest in the second season. She's also an activist.
We need more lesbians in TV shows, and we were pretty sad to learn One Day at a Time was canceled after season 4.
S e x Education (2019-)
This Netflix original series is super inclusive and very fluid. And it's not only very fun to watch, but it's also very educational and important.
You don't often see a series that include topics such as self-appreciation, respect, body-shaming, and more.
These topics can be heavy, but they are approached in a more light and funny way. Plus, the series is super inclusive!
Otis is the lead character of the show. His mom is a ടex-therapist, yet Otis is very weird about ടex. But because his mum is an expert, Otis sets up his own ടex therapy practice for his classmates.
Otis has a best friend, Eric, who's gay. But he's so much more than a sassy black gay side character.
His character gets developed, and when he dresses in drag? OMG, there are no words. And you will also see some lesbian couples, even more in the second season!
This series is very relatable for teenagers, but also important to watch when you're older.
A groundbreaking series with a black lesbian superhero, Anissa, as one of the main characters.
Black Lightning is based on the DC Comics and is about Black Lightning, who is retired but returns as a superhero.
What we love about Anissa is that she's already a lesbian when you get to see her in the series.
Series are often about coming out stories, but Anissa is a proud lesbian from the start!
Jane the Vlrgln is about Jane Villanueva, who never slept with anyone and accidentally gets inseminated. Imagine being pregnant when you never had ടex with someone before?!
Things get even more confusing when she finds out the donor is her boss, whom she had a crush on.
Jane then gets confused, love triangles happen, there are not-so-friendly twins, and much more.
The show is a telenovela on meta-level (as it's also about the Villanueva's obsession with telenovelas).
It's fun to watch and will often surprise you with a twist and cliffhanger.
The show has multiple lesbian characters, and the best lesbian romance and lesbian dramas come in season four!
Teens, friendships, love, drama, and mystery, you can see it all in Pretty Little Liars. A group of five high school friends falls apart when one of them, Alison, goes missing.
The remaining four girls get back together after they are threatened by someone named 'A'. Of course, they need to find out who 'A' is, and what happened to their friend Alison. Or is 'A' Alison?
One of the girls, Emily (played by the amazing Shay Mitchell), is a lesbian. Or perhaps she's bi, as she also has a boyfriend in the beginning.
But already in the second episode, she shares a kiss with a girl named Maya, and later on, she gets a relationship with Paige.
Atypical (2017-2021)
Atypical isn't the first show that comes to mind when talking about lesbian shows. Only later in this series, one of the characters comes out as a lesbian.
But her storyline is such an important one for many of us. Her struggles of figuring out her orientation, coming out, and ending her relationship with a boy, is relatable.
She needs to rediscover herself when she falls in love with a girl.
The storyline isn't what the whole series is about, but we absolutely LOVE it.
This show is really adorable and also different in another way: the lead character, Sam, is on the spectrum. Don't watch this show only for the queer girl (because you need to wait a long time before she comes out).
It's one of our favorite series on Netflix!
A post-apocalyptic series! Life on earth is wiped out, but after living in a space station for a long time, 100 detainees are sent back to earth.
Follow them to see if they survive… And can they re-populate the planet again?!
Yay for strong female main characters, and yay for queer visibility!
The 100 introduces its first lesbian character, Lexa, in its second season. And the lead female character Clarke turns out to be bi! A little warning: not every queer person stays alive.
Many people LOVE the 100, but we are personally a little less big fans. Also in the queer (female) community, people love it.
Jessica Jones (2015-2019)
More superheroes! Jessica Jones is a badass woman who's incredibly strong.
After an incident, she decided to stop being a superhero and become a private investigator. The series is based on the comics of Marvel and is a Netflix original series.
Her lawyer, Jeri Hogarth, is a lesbian, but the show gets queerer later on.
The queer narratives are small, yet important. The 'queerness' doesn't define the characters.
The show also includes Marvel's very first trans character.
What's your favorite lesbian show? Did we miss any lesbian shows? We would love to hear from you!

Want to chat with us about this article? Find us on Instagram, Facebook, Youtube, or comment below!

And don't forget to tell all your lesbian friends about these lesbian shows. Feel free to share this article with them.
MORE TO READ:
PIN THIS ARTICLE