Netflix has added a wide variety of LGBTQ+ content over the years, lucky us! But since there's so much content to talk about, we will only talk about lesbian Netflix movies in this article.
If you're looking for lesbian shows on Netflix, we've another post for your ready to read! More about that later in this article.
Lesbians have always had a rough time in the media. We know that many of us have sat through hours of bad content just to get a bit of representation and luckily that is no longer the case nowadays.
Even though the bad lesbian movies still outweigh the good ones, it has been getting better in the past few years.
In this article, we will talk about lesbian movies on Netflix, stand-up comedy specials, and documentaries. And if you're curious about any lesbian Netflix movies that are coming out later this year, we've got you covered as well!
Note: these lesbian Netflix movies might not be available in all countries, but we have good news for you! With a VPN ( we love Surfshark), you are able to stream Netflix content from other countries. And we have a great Surfshark discount for you!
Lesbian Movies Netflix
This lesbian Netflix movies article is broken down into different categories. It will start with the lesbian movies on Netflix that aren't the best ones, but can be worth the watch!
Like I said earlier, the content has been getting better in the past few years. And hopefully it will get better and better.
Later in this article, you can read all about the best lesbian movies on Netflix, lesbian documentaries, lesbian stand-up comedian specials, and lesbian movies with smaller lesbian characters.
Below Her Mouth (2017)
I guess if you like to watch a lot of steamy lesbian scenes this is a good movie for you! I wasn't such a big fan of it, but I know many people that love watching this lesbian movie.
There isn't much plot or talking in Below Her Mouth, but there's lots of other hot stuff going on.
Two women meet at a bar, fall madly in love, and have a lot of girl-on-girl action in the next few days (in the bathtub, on the stairs, in an alley, in bed, everywhere!). Oh also, one of them is engaged to a man.
I can't be the only one who's had enough of the lesbian cheating trope. Also, I know the movie wasn't about women as lust objects, but it did kinda seem like that.
Elisa y Marcela (2019)
Elisa and Marcela were the first two women to get married in Spain back in 1901. Since gay marriage was obviously still not allowed, Elisa pretended to be a man.
When people found out, an arrest warrant was set out for them and the two fled to Argentina. This biographical film tells this story.
The lesbian film is in Spanish, but there are subtitles!
The Runaways (2010)
The Runaways was the first all-female hard rock band that made it in the industry. The band was active between 1975 and 1979.
In this dramatized movie of the women's lives, the main focus is on the bi Joan Jett and her relationship with lead vocalist Cherie Currie.
Bi Kristen Stewart plays Joan Jett which makes the movie even more fun to watch!
The Perfection (2018)
A lesbian horror movie? Sign me up! That's what I thought at first. As a director who wants to make lesbian horror movies, I was really excited about this one.
However, after watching it I'm not too sure anymore. It starts out great with two musical prodigies hooking up together, but after that shit gets weird. Very, very, very weird.
I guess this is what happens when you give white men the power to write and direct a lesbian horror movie.
What Keeps You Alive (2018)
This is the second lesbian horror movie that came out in 2018. In this one, a woman has to fight for her life when it becomes obvious that her wife wants to get her wife to vanish.
Usually, this is a story that plays out between a straight couple, so I do really love that it's between two women.
On the other hand, I'm pretty sure I now no longer want to get married.
Frida (2002)
The movie Frida depicts the life of Mexican artist Frida Kahlo. She was married to Diego Rivera, but was encouraged by him to pursue relationships with other people as well.
He would have relationships with women on the side, while Frida had relationships with both men and women.
This movie beautifully displays the wild life Frida had.
Blue is the Warmest Color (2013)
This might be one of the most problematic lesbian movies of our time. Blue is the Warmest Color is a French movie and is originally known as La Vie d'Adèle.
I absolutely despise this one, but I've added it to this lesbian Netflix movies list because otherwise everybody will be wondering where it is. But before watching it, it's good to know a few things about it!
Even before the film was released, there was a lot of controversy around it. The cast and crew claimed they worked in very poor conditions.
And don't even get me started on how the straight male director completely exploited the two main actresses during the intimate scenes.
To top it off, this film is just a male fantasy of what a lesbian is. The true intimacy fades away and what is left is just the hot aspect.
A New York Christmas Wedding (2020)
A lesbian Christmas movie! Okay, it isn't the best-made movie ever, but it has a sweet lesbian love story. The movie was made in 14 days with a small budget, all around New York City. That's something you notice.
As her Christmas Eve wedding is getting close, Jennifer is visited by an angel who shows her what could have been if she hadn't denied her true feelings for her childhood best friend. Jennifer gets two days in an alternate reality and is then taken back to her old life.
The movie includes an interracial lesbian wedding, lots of Christmas vibes, love, and so much more (also some weird plot holes)!
The Feels (2017)
The Feels is about a lesbian bachelorette weekend that doesn't go as planned when one of the brides admits she's never had an orgaടm before.
I remember when me and my friends watched this lesbian Netflix movie for the first time, and we didn't love it, because the one cis straight man in the movie seemed to get the most screen time for no reason.
Men really have to ruin everything.
Lez B0mb (2018)
Lauren is a closeted lesbian who goes home to her family for Thanksgiving with her girlfriend Hailey.
She thinks she is going to come out to her parents over the holiday, but then her male roommate randomly shows up and her family thinks they're a couple. Scared to say anything, Lauren runs with it.
Sometimes it gets really absurd, but overall this comedy is pretty funny and has some good moments!
Unfreedom (2015)
When I read the synopsis of this film, I thought it sounded very interesting. Unfortunately, how they made this film is bad and it could have been so much better!
The film follows two storylines, but I will only talk about the lesbian one: a closeted lesbian in New Delhi who tries to flee from her arranged marriage.
She takes her bi lover with her, so they can be together. Unfortunately, the couple is really objectified by the male director.
A Perfect Ending (2012)
A Perfect Ending follows yet another quite typical storyline for lesbian movies. It tells the story of Rebecca, an older woman who is in search of her first orgaടm, even though she's been married for years.
When she meets an escort called Paris, she gets just that as well as so much more. She finds a whole new meaning of self.
Also, one thing Rebecca hasn't told anyone is that she has cancer.
Concussion (2013)
Abby and Kate are a lesbian married couple with a son. One day Abby is hit in the head and gets a concussion that changes her.
She wants new and more ടexual experiences, so she first starts visiting a ടex worker who she falls in love with. On top of that, she becomes a ടex worker herself. Obviously, without telling her wife.
At the end of the movie after a lot of drama, she decides to return to her old life.
Chloe (2009)
Chloe is a steamy thriller directed by Atom Egoyan.
Catherine suspects her husband David of having an affair, so she hires the young and ടexy escort Chloe to test this. However, soon Catherine finds herself attracted to Chloe and the relationship between the two intensifies.
Obviously, things then take a turn. A fun thriller to watch on a Friday night, but don't watch it for the good lesbian representation.
The movie does include great actors: Amanda Seyfried, Julianne Moore, and Liam Neeson!
These queer female and lesbian artists will satisfy your ears
Basic Instinct (1992)
One of the older lesbian Netflix movies! Basic Instinct uses the all too common trope of queer people as villains. Gay rights activists tried to sabotage the filming of the movie in San Francisco by protesting next to the set and using lasers.
When it was released in 1992, it was talked about a lot because of the amount of explicit scenes and brutality that is depicted.
Representation wise, it's definitely not a good movie, but it's also not the worst.
Note: Sharon Stone has stated that she was tricked into doing the infamous scene, which obviously doesn't make the movie better.
Duck Butter (2018)
If you like to see many steamy lesbian scenes, this might be a good movie for you. Two women who are both afraid of commitment do an experiment together to see if they can fall in love in 24 hours.
I enjoyed the beginning of the movie, but then stuff quickly take a turn. Both characters, but especially Sergio, is really problematic in my opinion.
Mater (2017)
Okay, this is one of the lesbian Netflix movies that's a bit too crazy (so perhaps you should skip this one!).
The Argentinian movie is about a young lesbian couple who really want to become a lesbian family together and have a baby together. They're willing to go to the extreme.
They meet a stranger on a night out and make him go to bed with them to make one of them pregnant. If you're wondering at this point if it was directed by a man, yes you're right. It is.
After this absolutely sick and twisted experience, this man decides to start a life with the couple and the baby. I'm sorry, but what?
Good Kisser (2019)
Jenna and Kate decide they'd like to add a third person to their relationship in hopes of spicing up things.
Obviously, things don't work out the way they want it to, because when has this ever worked out well in a movie?
Their date with this strange woman shows the cracks in their already existing relationship.
Salir del Ropero (2019)
So My Grandma's a Lesbian! I'm a huge fan of the storyline of this movie, lesbian stories like this should be told more often.
But it's not one of my absolute favorite lesbian Netflix movies. The humor isn't really my kind of humor. I do love that there are two older women as main characters, that the movie is directed by a woman, and that the story is about the fact that love is love.
What's the lesbian movie about? The successful lawyer Eva wants to marry her boyfriend Stuart, but everything goes wrong after her grandmother tells Eva she's going to get married to her girlfriend too.
The coming out of her grandma brings chaos, especially since Stuart's family is very conservative.
Chasing Amy (1997)
Okay, Chasing Amy actually made some lesbians angry, but some also loved it. And I get why it made some lesbians angry.
The movie is about a guy named Holden (played by Ben Affleck) who falls in love with a woman. But the woman, Amy (played by Joey Lauren Adams) is a lesbian. The two are very close friends, but at some point, Holden needs to tell Amy he's in love with her.
Yes, it's problematic that Amy, who identifies as lesbian the whole movie, 'stops' being a lesbian as soon as Holden tells Amy he's in love with her.
The movie gives men the idea that they have a chance, and that's something we probably all have experienced once.
I do think it's important to say this movie was made in 1997. And especially nowadays people don't like labels and people's orientation is way more fluid. So if you look at it that way, the movie was ahead of its time?
D.E.B.S. (2004)
This is an American action-comedy film about four hot young women who work for a secret agency. D.E.B.S. stands for Discipline, Energy, Beauty, and Strength.
It's a fun spy movie to watch with quite a big lesbian love story in it! The movie could have been named 'Charlie's Lesbians' (can we get a movie like that please?!).
One of the four spies is Amy. She falls for Lucy Diamond, who the spies need to spy on. They kiss and run off together, letting the other spies think Amy's been kidnapped by Lucy. How exciting!
Don't expect a big and epic blockbuster, but it's a fun lesbian Netflix movie to watch. If only for Lucy Diamond, girlfriend goals!!
Lesbian Documentaries and Stand-Up Comedy Specials
Continue reading for the lesbian documentaries and stand-up comedy specials on Netflix!
And afterwards we will tell you all about lesbian Netflix movies with minor lesbian characters and the best lesbian movies on Netflix.
Tig (2015)
Grab your tissues for this one! This lesbian Netflix documentary is about lesbian comedian Tig Notaro who was diagnosed with breast cancer back in 2012.
After she heard the news, she decided to perform some new material at a comedy club in Los Angeles. Her set went viral and directors Kristina Goolsby and Ashley York decided to make this documentary about her life.
In the documentary, we see how Tig deals with her own issues, while trying to have a baby with her new wife, as well as the recent passing of her mother.
A little side note: Tig is married to Stephanie Allynne, who we probably all know from the amazing lesbian show The L Word Generation Q.
A Secret Love (2020)
A Secret Love tells the lesbian love story of couple Terry Donahue and Pat Henschel who, at the time of the making of the documentary, are together for over 65 years.
For years, the two pretended to be friends. They only came out to their family a few years prior to the making of this documentary.
Personally, I thought too much attention was brought to the negative sides of their relationship and everyone around them, and they could have shown more positive things.
But it's a very cute story and definitely one of the lesbian films on Netflix to watch.
Ellen DeGeneres: Relatable (2018)
Famous lesbian celebrity Ellen DeGeneres has been under a lot of fire the last year, and I'd say rightfully so.
However, that doesn't take away from the fact that she's done a lot for our community back in the day. Who knows where we'd be without Ellen's big coming out in 1997.
In her new stand-up special, Ellen tries to be relatable, but it completely misses the point. Let's be real: Ellen is someone far from relatable nowadays.
Hannah Gadsby: Nanette (2018)
Australian comedian Hannah Gadsby talks about a lot of different social issues on this special.
She talks about what it's like to be a lesbian, as well as the mental illnesses that she struggles with.
The special is named after a woman Gadsby met. She thought she could write an hour's worth of material about Nanette. She was wrong, but the name stayed.
Hannah Gadsby: Douglas (2020)
After Nanette's success, Gadsby gained a bigger international audience. To stay within the same theme of names for the shows, she picked another name.
With Douglas, she toured the world. She mostly talks about the same issues as she did in Nanette, but this time she's also made sure her international audiences love it too. For example, she makes some jokes about American culture.
She is one of my favorite lesbian Netflix comedians.
Wanda Sykes: Not Normal (2019)
Wanda Sykes's comedy special is Netflix's first stand-up special led by a black female.
In Not Normal, she addresses the political and cultural climate of 2018, which was definitely not normal. She speaks a lot of 'the orange elephant'.
Luckily we can finally leave that behind us now.
Besides her critique on the world, she balances the heavy stuff with some lighter moments and some personal moments of her wife and kids.
Lesbian Netflix movies with lesbian characters
These lesbian movies on Netflix have lesbian characters and smaller storylines. Nevertheless, they are still fun to watch!
Wine Country (2019)
Wine Country is an American comedy produced and directed by Amy Poehler. A group of friends decides to take a vacation to the Napa Valley as a birthday getaway.
One of these friends is Val, who is the only lesbian of the group. Seems a little unrealistic if you ask me.
Anyway, throughout the vacation Val is desperately looking for love, and she tries to find it with one of their waitresses.
Always Be My Maybe (2019)
Ali Wong and Randall Park star in this romantic comedy about childhood love and finding each other again.
Wong's character is Sasha Tran, a celebrity chef. Her assistant Veronica, who also happens to be her best friend, is played by Michelle Buteau.
Veronica is very pregnant, and it is very quickly announced that she has a wife and that they're having the baby together.
Someone Great (2019)
Someone Great is a great comedy for one of those lazy nights on the couch with a bag of popcorn. Jenny is a music journalist who has just broken up with her boyfriend.
She decides that, before moving to San Francisco to take her dream job, her friends and her should go out and go crazy one more time in New York City.
One of her best friends is Erin, a lesbian who is too afraid to admit her feelings to her girlfriend.
While not everything goes as planned, it's still a fun feel good movie to watch with heartwarming friendship stories.
Let It Snow (2019)
This cute Christmas romantic comedy follows three different storylines.
One is about Dorrie, a waitress at the local waffle restaurant who has hooked up with Kerry, the cool cheerleader who's afraid to come out.
On Christmas Eve, all three storylines collide and a lot of things happen that will change their lives forever.
Dorrie and Kerry are really cute together and this is a really fun movie to watch!
The Tree of Blဝဝd (2018)
This Spanish romance movie is listed as a LGBTQ+ movie, but I don't really feel like it is. Most of the movie plays between the two main characters who are a straight couple.
They visit an old farmhouse that belonged to the woman's family where they find out that their moms got married.
The rest of the movie plays between three generations of relationships. There are many intimate scenes and lots of illegal things going on.
Catfight (2016)
Only Sandra Oh can lay in a coma for two years and look this good when she wakes up! Catfight is a sad, funny, and crazy movie at the same time. It's bizarre but also strangely hilarious.
The movie is about two women, Veronica and Ashley, who know each other from college. Ashley is an artist and in a relationship with a woman, Veronica is a housewife and has a husband.
Veronica and Ashley already hated each other back in college, but hate each other even more when they meet again years later.
It gets worse when Veronica (played by Sandra Oh) ends up in a coma because of Ashley. Be prepared for lots of craziness.
Best Lesbian Movies on Netflix
Now it's time for the lesbian movies you have all been waiting for: the best lesbian movies on Netflix!
These are the lesbian Netflix movies you definitely have to see.
Note: these lesbian Netflix movies aren't available in all countries, but I have good news for you! With the VPN Surfshark, you are able to stream the Netflix content you want from other countries. And we have a great Surfshark discount for you!
Pariah (2011)
Pariah a coming of age story about a girl called Alike, who figures out her gender expression, and how to accept her orientation.
She meets a girl and falls in love, gets hurt, and finally builds up the courage to choose freedom.
Pariah is directed by Dee Rees, a black lesbian, who admitted the movie was semi-autobiographical.
The Half of It (2020)
The Half of It is directed by Alice Wu, who also wrote and directed the lesbian movie Saving Face (which is a must-watch too)!
Since Wu is a Chinese-American lesbian, it's great that her movies are always about Asian American lesbians as well.
In The Half of It, the very smart Chinese-American Ellie earns her money by writing her classmates' essays. One day, Paul comes up to her and asks her to write a love letter for the beautiful Aster.
Little does he know that Ellie has a big crush on her too.
Make sure to also watch these lesbian short films!
Carol (2015)
Carol is back on Netflix! I repeat, Carol is back on Netflix! I'm not sure for how long though, so take your chance to see it before they remove it again.
If you haven't seen it yet, where have you been all this time?
Carol is one of those mandatory lesbian films every lesbian must have seen at least once in their lives. So of course it can't be missed on this lesbian Netflix movies list.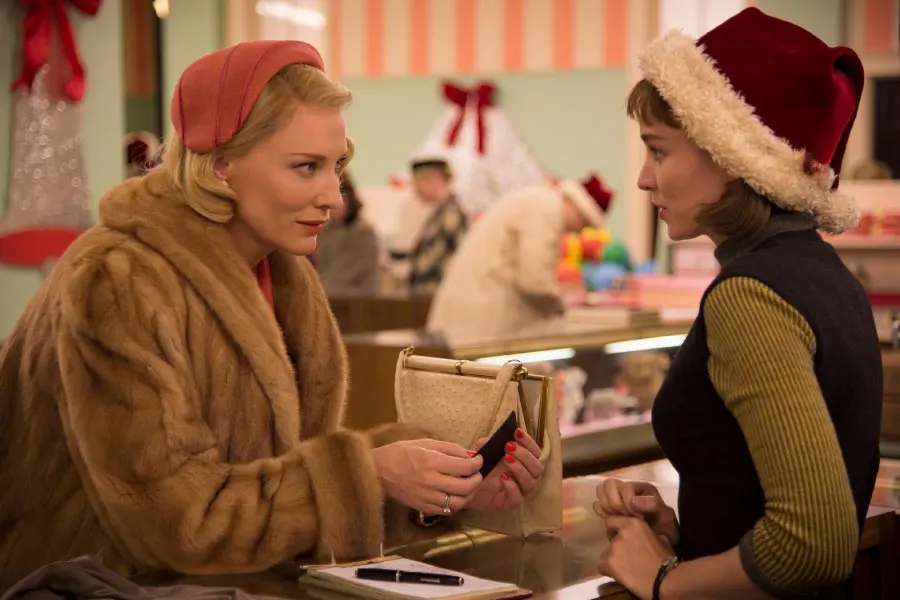 Booksmart (2019)
This teen comedy is everything teenage me wished for! They get the representation right, it is incredibly funny, inclusive, humorous, self-aware, and so cute.
Booksmart is directed by Olivia Wilde and written by four women! The movie is about Molly and Amy. The best friends realize they missed out on a lot of high school stuff because they were so serious about getting A's.
Amy's a lesbian but that doesn't make her character simply 'the gay one'. Molly is straight and their friendship isn't about their different orientations – the movie actually does a great job in making them equally important.
It's such a refreshing movie! One of the cutest and best lesbian movies on Netflix (in my eyes!).
Loving Annabelle (2006)
Even though Loving Annabelle tells the story of a problematic relationship, I still think it's a really enjoyable and maybe also relatable Lesbian Netflix movie.
I mean, who hasn't had a crush on their teacher?
Loving Annabelle is inspired by Mädchen in Uniform (1931) and follows the life of Annabelle who gets send to a Catholic boarding school where she falls in love with her teacher.
Disobedience (2017)
Starring the amazing Rachel Weisz and Rachel McAdams, this lesbian Netflix movie tells the story of forbidden love. A story about lesbian orthodox Jews in London of the 1920s.
After living in New York for many years, Ronit flies home for her father's funeral, where she sees Esti again. The two had a romance in the past, and they pick things up where they left off.
It's all very hot, yet tragic. The ending isn't a very happy one, unfortunately, but it could be worse!
Disobedience is based on the novel from Naomi Alderman.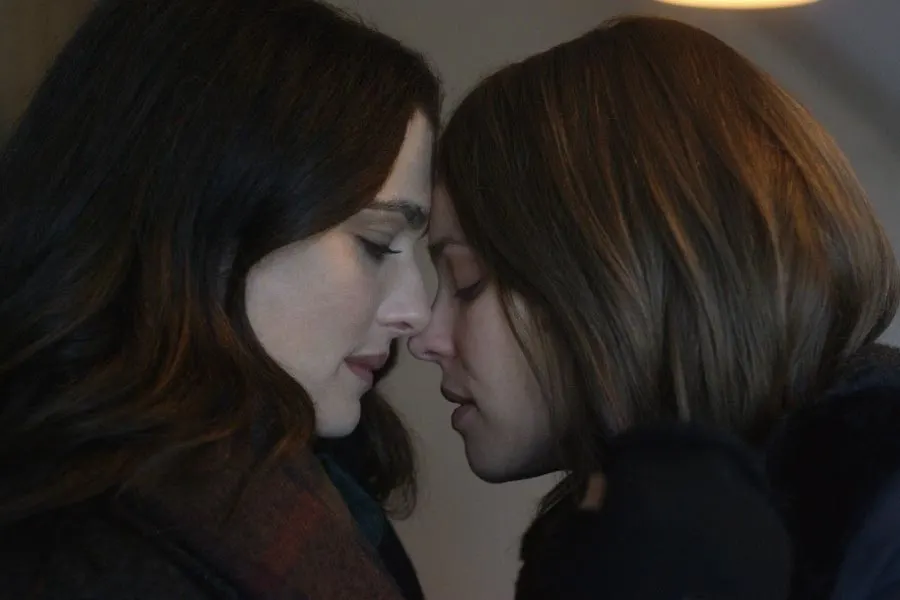 The Prom (2020)
This new lesbian Netflix movie, directed by Ryan Murphy, is pretty fun!
Based on the Broadway musical that is loosely based on different real stories, Emma's prom gets canceled, because she wants to take her girlfriend to prom.
A group of narcissistic failing Broadway stars read about it and figure this is the perfect opportunity for them to seem more caring.
They make their way to Indiana to help out Emma and a lot of funny and endearing moments mixed with a lot of songs is what then follows.
Yes or No (2010)
Yes or No is a Thai romantic comedy that truly sounds like a fanfic writer made it. When Pie goes to college she gets put up with a roommate she doesn't know.
Kim is a total tomboy and Pie is super uncomfortable being around her, because she comes from a family that says being gay is bad. The two don't get along at all in the beginning, until they start to become closer because of a series of events.
This lesbian Netflix movie is super cute and definitely worth the watch! There's also a sequel available if you like the first one. Yes or No 2 continues the story of Kim and Pie.
Lovesong (2017)
Sarah has a husband who is never home and a child she takes care of alone. Sick of her boring life, she decides to call her old best friend to go on a road trip together with the kid.
During the road trip, old feelings and memories are rekindled. Both shocked by it, they decide to stop all contact.
Three years later, they see each other again. This movie is really beautiful overall, but it's just disappointing that there is no happy ending for the two.
Ana e Vitória (2018)
This is basically a lesbian-themed musical. Ana and Vitória are a real-life musical duo in Brazil and the two actually played themselves in the movie!
Throughout the movie, we are taken on the story of how the two met and ended up being a duo together.
Ana is bi and is dating a girl, and there is also some tension between her and Vitória. It's definitely a lesbian movie on Netflix worth the watch if you like music!
Ek Ladki Ko Dekha Toh Aisa Laga (2019)
A Bollywood movie! I'm so happy that I can add a Bollywood movie to this lesbian Netflix movies list. As representation and visibility is so important, all around the world.
Ek Ladki Ko Dekha Toh Aisa Laga, translated as 'how I felt when I saw that girl', is a coming of age romantic comedy-drama from India.
It's about a young woman named Sweety Chaudhary, who's a lesbian (in the closet). She is under pressure from her family, as they are seeking to marry her to a husband.
They do not know Sweety is actually in love with a woman. Sweety tries to come out to her traditional and controversial family, but that isn't so easy!
I love how sweet this lesbian Netflix movie is, and it has a happy ending! It starts a bit slow and vague, but it's worth it to keep watching.
New Lesbian Movies on Netflix 2021
What are new lesbian movies which will premiere on Netflix this year?!
Hopefully more and more lesbian Netflix movies will come. And hopefully not The Perfection quality, but good lesbian movies.
And also, can we get more happy lesbian movies? I think we all deserve that!
I Care A Lot (2020)
Technically this lesbian movie is from 2020, though it was released via streaming on Netflix and Amazon Prime Video from February 19, 2021, depending on your region!
And I'm so happy it got released because it's one of the most interesting lesbian movies on Netflix. This dark comedy thriller is truly mind-blowing. Be prepared for an emotional rollercoaster, but not necessarily in a bad way.
The movie is not about being lesbian but the main character Marla Grayson, played by the fantastic Rosamund Pike, is a lesbian. Rosamund Pike won a Golden Globe for best actress for her role!
Yes, she is a bad person in the movie, but everybody in this movie is bad.
What is the movie about? Marlo Grayson is a legal guardian who takes care of elderly people who can't care for themselves anymore. She is in charge of their finances and everything they own.
And well, she doesn't really care for them. Marla puts them in a living facility and cuts them off from the outside world, to steal everything they have.

When she becomes the guardian of an elderly woman (a 'cherry' with no ties, lots of money), everything goes wrong!
Ride Or D i e (2021)
This is one of the newest lesbian Netflix movies that you can watch already!
It's a Japanese movie and quite an intense one. So don't watch it if you want to watch something easy and happy. With a running time of 142 minutes, it's also pretty long.
Rei is a lesbian and helps her former classmate Nanae, who's been loving for years, escaping her bad husband. The two run away together, but not before something very blဝဝdy happens first.
They end up in a rollercoaster, especially emotionally. Will love Nanae Rei back?
This Japanese lesbian movie is based on the manga series Gunjō from Ching Nakamura's.
The Girls I've Been (2021)
This movie is going to be based on the novel by Tess Sharpe.
In the novel, a daughter of a con artist gets taken hostage during a bank heist.
Millie Bobby Brown will be playing the daughter, and we already know she's bi! Can't wait for it!
Lesbian Shows on Netflix
Besides these lesbian movies on Netflix, there are also amazing lesbian Netflix shows! Feel Good, Orange Is the New Black, Trinkets, Wynonna Earp, to name a few.
Read our lesbian Netflix shows article to read all about these shows, and many more.
And if you want to watch more LGBT Netflix content, check our LGBT Netflix shows article.
Secret Netflix Codes
We're going to let you in on a little secret: Netflix has specific URLs for LGBTQ+ content!
The trick is to use the URL netflix.com/browse/genre/NUMBER – replace NUMBER with the secret Netflix code below!
LGBTQ Movies: 5977
LGBTQ Comedies: 7120
LGBTQ Dramas: 500
Romantic LGBTQ Movies: 3329
LGBTQ Documentaries: 4720
LGBTQ TV Shows: 65263
Enjoy watching these lesbian Netflix movies! Did we miss a lesbian movie on Netflix? Let us know!
Find us on Instagram, Facebook, YouTube, or comment below!
And don't forget to share these lesbian Netflix movies with your friends.
MORE TO READ:
PIN THIS ARTICLE