I have been a massive fan of lesbian podcasts for a long time. When I was first coming out (to myself and others) in 2014, a lesbian podcast was a place I found representation, insights into queer culture, and somewhere I felt less alone.
Now I am an out and proud lesbian, and many years later I still love listening to lesbian podcasts. Whether it's while commuting, chilling around the house, or out on a daily walk. They always put a smile on my face or give me a new insight into our diverse and ever-evolving world.
Whether you're already a podcast fanatic or new to the world, this is a list of the best lesbian podcasts, why I love them so much, and where to find them.
They're listed alphabetically because deciding on a ranking was far too difficult!
Happy listening – and let us know your favorite lesbian podcast too!
The 26 Best Lesbian Podcasts
A Lesbian Affair by Jess Wrangler
Starting the list with the lesbian podcast A Lesbian Affair! It's a long-form conversational podcast brought to you from a basement in London by host Jess Wrangler.
The podcast started in March 2020 and it definitely brightened my days during those difficult times! And it still does, with over 25 episodes and counting.
A Lesbian Affair started as an idea to give lesbian stories and women who have done amazing things a platform.
So every episode there is a different guest and their conversations usually revolve around their life stories, everyday life topics, challenges, experiences, and coming out stories. It's interesting to listen for sure!
Big Queer Book Club Podcast by Amanda and Kendra
Are there any fans of queer and lesbian books here? I definitely am! If you love to read, then it's also a great idea to listen to the Big Queer Book Club Podcast. Perfect to learn about books you still have to read and the ones you already read.
Amanda and Kendra are a couple of queers who want to bring representation to queer books and queer content.
It's a monthly podcast that will review a different book that contains queer content and/or is written by a queer writer.
And each episode they also have a guest on their podcast, and they all discuss the book together! Books they already have covered included "An Untamed Stated" by Roxane Gay, "Call Me By Your Name" by André Aciman, and "The Price of Salt" by Patricia Highsmith.
Breaking The Distance by Tash & Marthe
Tash & Marthe are a cute Dutch/British couple who conquered long-distance and, along with their successful Instagram account (@_breakingthedistance), have started a podcast. I absolutely LOVE it.
They don't shy away from taboo topics and real conversations. From interviewing a lesbian intimacy expert to overcoming a lesbian long-distance relationship – they cover it all.
My favorite episodes were during pride month in 2020, in their cleverly named Breaking the Stigma series.
The ladies interviewed people from across the LGBTQI+ community and shone a light on some lesser-discussed queer identities.
Come Out, Come Out with Mo Welch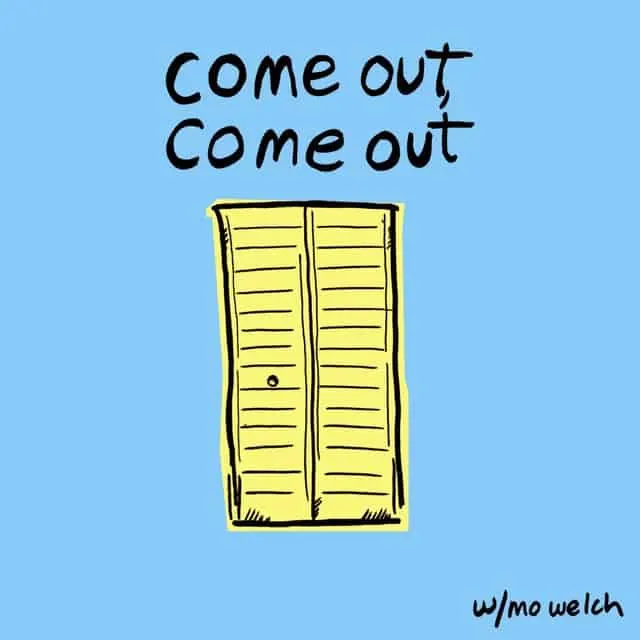 This lesbian podcast is one that I binged when I was first coming out as a lesbian. Coming out can be such a unique and personal situation to navigate.
Having a podcast that dove into a diverse range of lesbian stories about coming out was so valuable and validating.
Mo Welch is hilarious and such a great host, who gets a lot out of her guests. Sadly, the podcast hasn't been recorded since 2017, but there are still some episodes to binge on most streaming platforms.
Daddy Look At Me by Rosie Jones & Helen Bauer
The hysterical lesbian comedian Rosie Jones has a podcast! Along with co-host Helen Bauer, they speak to a different guest from the world of show business every week and discuss their experiences and childhood.
Although they don't exclusively discuss LGBTQ+ topics, they have a super diverse range of guests and often touch on the topic of identity.
If you're wondering where to start, I recommend this episode with the ever-hilarious Flo & Joan.
Dating Straight by Amy Ordman & Jack Dodge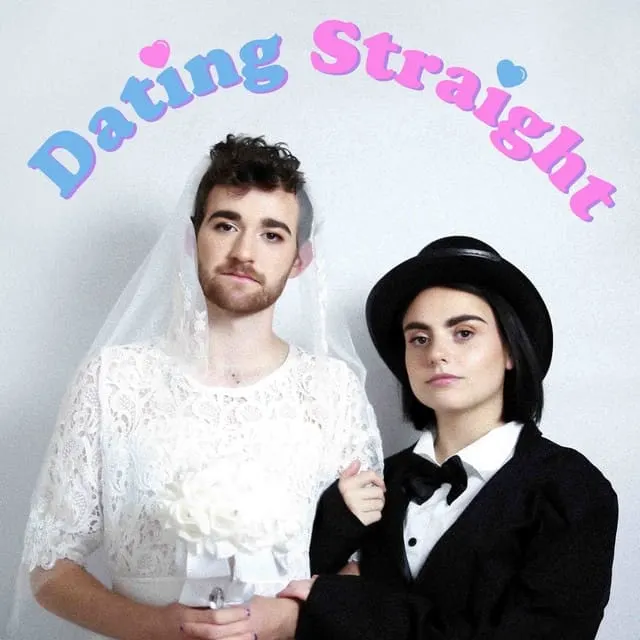 If you're a fan of lesbian YouTubers, you're probably already familiar with Amy Ordman. But did you know she also has a podcast?
Dating Straight has 93 episodes so far and is still going strong.
In this queer podcast, best friends Amy and Jack discuss navigating the LGBTQ+ dating scene and interview friends and other guests about their dating experience.
It's a light-hearted and fun queer podcast to listen to.
Dyking Out by Carolyn Bergier & Melody Kamali
An LGBTQIA podcast for everyone, according to their own words! Hosted by comedians Carolyn Bergier & Melody Kamali, Dyking Out is a podcast about queer and lesbian pop culture, news, and life.
Every episode, the two invite a special guest, from musicians, actors, and comedians, to crushes, to dyke out together about a certain topic that's relevant to the community.
Previous guests include Alice Wu, Margaret Cho, Cameron Esposito, Mae Martin, and Rosie O'Donnell. Pretty impressive names and amazing people to listen to!
Hoodrat To Headwrap by Ericka Hart & Ebony Donnley
This podcast by the brilliant Ericka Hart and her partner Ebony seeks to dismantle white supremacy one episode at a time.
They talk about everything from the historically racist roots of some of our everyday language to their houseplants… and everything in between.
An absolute must-listen for an insightful dive into how we can all be better anti-racists and the experiences of two queer Black women in love.
Hoovering by Jessica Fostekew
Hoovering is not strictly a lesbian podcast, but it is a podcast hosted by Jessica Fostekew, a bi comedian. It's a great podcast for all the foodies out there.
Each episode she interviews a new guest, shares what food she's been loving, and discusses the highs (and sometimes lows) of her relationship with food and eating.
It's not the most structured podcast, but it always makes me smile (and feel hungry!)
If These Ovaries Could Talk by Jaimie Kelton & Robin Hopkins
Whether you plan on having children, you don't or you're on the fence, this lesbian podcast about lesbian families and other non-traditional families is a must.
So often the experience of having children as a gay couple is shrouded in mystery or misconceptions.
But If These Ovaries Could Talk is an exceptional look into the real-life experiences of couples or individuals (mostly LGBTQ+) and how they came to have their families.
For me, it was super validating and reassuring to hear about the different experiences and options out there. There are over 100 episodes, which proves that when the time comes, I know there is no right way to have a family.
LesTalk by Charl & Aislinn
LesTalk is the creation of the two ladies behind UniteUK, a queer-positive Instagram account, and blog.
In LesTalk, lesbian couple Charl and Ash discuss everything from jealousy and cheating to lesbian dating apps, dating in general, and lesbian stereotypes.
They debunk myths around lesbian intimacy and dish out pearls of wisdom that they wish their younger selves could've heard, diving into their own experiences and sharing their thoughts on the world.
Only starting in 2019, the ladies have an impressive amount of episodes so far, some of which feature special guests and experts.
Lez Be Honest by George, Ellie, and Rachel
There's a new lesbian podcast on the block! And it's hilarious and relatable. In Lez Be Honest, friends George, Ellie, and Rachel cover everything from female friendships to queer siblings and rainbow capitalism to dating.
Not an episode goes by that I don't want to join in the conversation. It's like sitting with your friends in the local gay bar having a chat about whatever lesbian topic is on your mind that week.
This lesbian podcast is recorded in Scotland which makes me love it a little extra. There isn't much LGBTQ representation in Scotland!
Although they're pretty new in the lesbian podcast world, the girls at Lez Be Honest have already got 19 episodes under their belt, ready on every platform for you to enjoy.
Lez Hang Out by Leigh & Ellie
Ellie and Leigh are two US-based lesbians and co-hosts of the award-winning lesbian podcast, Lez Hang Out. Listening to the show feels like you're listening to two friends that you invited round for dinner.
They have a whopping 200+ episodes and are in their 5th season.
Ellie and Leigh love to analyze the latest lesbian movies (in this episode they dig into the lesbian Christmas movie The Happiest Season) while chatting about current affairs and what's been going on in their lives.
An easy listen and a firm fan favorite.
Made Of Human with Sofie Hagen
Sofie Hagen is a non-binary Danish comedian whose voice was made for podcasting. Especially if you're looking for a podcast to wind down to or listen to in the evenings. Their voice is so soothing!
Sofie's podcast Made of Human involves them having conversations with many interesting people about all aspects of life, and how ultimately none of us really know what we're doing.
Refreshingly, Sofie doesn't have ads on her podcast, which makes it even more impressive that they have over 250 episodes so far!
Update: since 2021 the podcast is called Who Hurt You!
Nancy by Kathy Tu & Tobin Low
Nancy is a queer podcast co-hosted by Kathy Tu (often seen on Buzzfeed) and Tobin Low. They started in 2017 and ran all the way to summer 2020.
Although they don't have a plan for any new episodes coming out, you can still enjoy 100 episodes on everything from Black lesbian strip clubs to lesbian shows like The L Word Generation-Q and lesbian intimacy education to queer history.
Kathy and Tobin are great together, and I'm super sad this insightful, funny and informative queer podcast came to an end!
Out With Suzi Ruffell
At last! Something great to come out of the difficult times in 2020! Out with Suzi Ruffell is a lesbian podcast that explores the coming out stories of many famous queer and lesbian celebrities, actors, comedians, and public figures.
Suzi does an incredible job of interviewing her guests and digging into their coming-out journeys as well as their present-day lives.
I love the start of each episode where she also reads out stories she's received from fans and listeners of their own coming-out stories, whether it happened in 1985 or last week.
We all have a different path and this podcast will reassure you that whatever yours is, it is valid.
PANTS with Kate Moennig & Leisha Hailey
PANTS was recommended to me by so many people when I asked for their favorite lesbian podcasts.
It's the creation of best friends in real life and on-screen, Kate Moennig and Leisha Hailey (Shane & Alice from the lesbian show The L Word and The L Word Generation Q).
The podcast is a fairly unstructured chat with friends and The L-Word co-stars, with lots of reminiscing and trips down memory lane. But I totally get why this is such a popular lesbian podcast with lesbians around the world!
If you love this lesbian podcast, you might also like to listen to the To L And Back: An L Word Podcast! In this podcast, hosted by Austrostraddle.com's Riese Bernard, they discuss every episode of the iconic lesbian series!
Rose & Rosie: Parental Guidance
I am BIG Rose & Rosie fan, and within 5 minutes of the first episode of Parental Guidance I was already laughing.
The ladies have conquered YouTube, launched a lesbian book, and been on tour. So naturally, now they're taking on podcasting.
This is a lesbian podcast on Spotify (exclusively), and it explores the next chapter of their lives as a married lesbian couple as they begin the journey of becoming parents.
Rose has been open online about her experience with miscarriage, and they address this subject, along with other sensitive topics with a perfect balance of sincerity and comic relief.
Much like If These Ovaries Could Talk, this podcast is a must for any gay couples thinking about beginning the parenting journey, or allies who would like to understand more about what that path looks like.
Update: since July 2021, Rose & Rosie are parents! Subscribe to their podcast to hear all about their parenting adventures!
Queery with Cameron Esposito
Queery was another podcast that I found solace in as a closeted lesbian in 2016. Although it took a break for a while, it is back for a new season and currently has over 190 episodes!
The podcast is hosted by lesbian comedian Cameron Esposito, who interviews people from across the LGBTQI+ community. They discuss identity, experiences, labels, and life as a queer person.
Cameron expertly interviews such a diverse range of interesting humans, many of who you may not have heard of but will be glad when you do.
If you don't know where to start, check out Episode 51, with the hilarious Tig Notaro.
Shut Up And Listen with Heather Matarazzo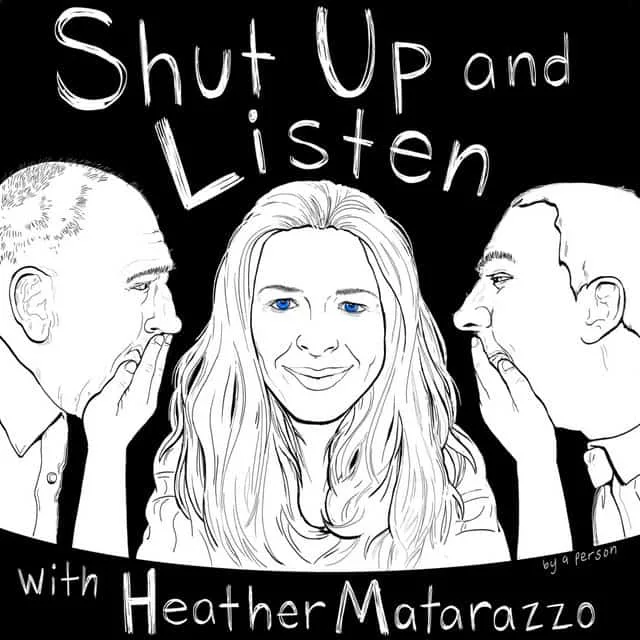 You probably know Heather Matarazzo best for her role as Lily in the iconic The Princess Diaries. Well, she also has a podcast called Shut Up And Listen in which she interviews a wide range of guests about their experiences and life.
While not explicitly a 'lesbian podcast', Heather discusses her own queer identity and the topic of coming out and being gay often comes up in conversations with her guests.
I particularly loved this episode analyzing the Wonder Woman movie and what it means for representation in film.
Tagg Nation by Chelsea, Jade & Ashley
3 best friends & queer women living in lesbian USA and hosting a podcast. What's not to love?
Tagg Magazine is a publication for everyone "lesbian, queer and under the rainbow" and 3 of the girls behind it Chelsea, Jade and Ashley launched Tagg Nation as a podcast format to accompany it.
The podcast covers trending topics, queer history, and deep dives into some of the magazine's featured articles. As the podcast stopped recording in 2019, the trending topics are a bit dated.
But I would really recommend checking out the Gaybourhood and Queer History episodes for some really insightful lessons on LGBTQ+ history.
Tampon Rock by Alysia Brown & Sarah Aument
This is a lesbian story podcast that is a little different from the others on the list. Before listening to Tampon Rock, I had never listened to a story podcast before.
Think of it as an Audible meets radio show meets musical. In their own words; "It's Black, it's queer, and it's rated 'E' for Everyone".
Tampon Rock is a part-musical story of two lesbians living in lesbian New York City. They navigate dating and life while trying to get a breakthrough for their band "GOAL" (Greatest Of All-time Lesbians).
It's fun to check out a different format for a lesbian podcast, other than the usual conversational/interview.
The Guilty Feminist by Deborah Frances-White
The Guilty Feminist dominates in podcast charts and I had the privilege of seeing (/hearing) a show live in 2020 too.
Whilst not a strictly lesbian podcast, the guests on The Guilty Feminist rotate each week and often include some hilarious lesbian comedians.
The show discusses everything under the sun related to feminism, social justice and generally navigating life.
They have 298 episodes & counting, so if you're wondering where to start – check out the episode titled Lesbos, with Jessica Fostekew.
The Lesbian Romantic by Sigrid Dufraimont
An immersive podcast with lesbian romance stories! Sigrid has an amazing podcasting voice; I love listening to her.
All lesbian stories you can hear on The Lesbian Romantic are written by Sigrid herself. It's similar to an audiobook, but then with shorter stories. And super lesbian! Plus, it's a lot more immersive with special effects and music!
The podcast currently has over five different stories and 200 episodes! Despite being a very niche lesbian podcast, it's a popular one!
Though, the podcast is an independent and listener-funded show. Go to her website to show your support!
Do you want to see some lesbian romance too? Make sure to watch these lesbian romance movies!
Two Twos by Rose Frimpong & Nana Duncan
Rose & Nana are two Black lesbians living in London, with an epic queer podcast. Their goal is to bridge the gap between the queer and straight world.
Listening to Two Twos feels like you're hanging out with friends, with relatable conversations, and excellent with. Rose & Nana often have guests on the show and explore all sorts of topics.
Their show has been a great source of education as a place for allies to learn about LGBTQ+ experiences, as well as super validating to listen to as a lesbian.
Uneducated with Cammie Scott
Launched after the Black Lives Matter protests in the summer of 2021, lesbian YouTube star Cammie Scott started using her platform to amplify the voices of others and shine a light on topics we may be "uneducated" about.
She kicks off every episode with a question that seems obvious but perhaps isn't, to put everyone at ease with feeling uneducated. Her message – it's ok not to know everything, but we should all strive to learn.
Cammie champions boss ladies like Bria Jones, talks about identity with Arrows (my favorite episode so far), and doesn't shy away from uncomfortable topics.
BONUS: Dutch Lesbian Podcasts
For our Dutch readers, we want to tell you about two Dutch podcasts you need to know about.
De Lesbische Liga by Annefleur Schipper & Vera Siemons
The first one is called De Lesbische Liga. It's the Dutch lesbian podcast!
Program maker and writer Annefleur Schipper (28) and radio DJ Vera Siemons (26) missed a podcast that reflected their own lives, so they decided to just start making one themselves: De Lesbische Liga.
They created the podcast as they wanted to give lesbians and bi-women more visibility. And shine a positive light on the word lesbian.
We love listening to their podcast. Especially since they talk a lot about lesbian media, like lesbian scenes, lesbian songs, lesbian series, and of course, lesbian movies.
CoupleGoals de podcast by Mandy Woelkens & Roos de Vries
Another Dutch podcast is CoupleGoals de podcast by queer couple Mandy Woelkens and Roos de Vries. They talk with different couples about their relationships.
They have hinted about making an international season, let's hope they do!
How did they get to know each other? What are they arguing about? What is so nice about the other person? And is there actually such a thing as 'couple goals'?
Where to Listen to Lesbian Podcasts?
Podcasts can be found on several streaming platforms and are normally always free. I love listening to lesbian podcasts on Spotify, because I can easily swap between new episodes and my regular music. Press play and listen!
Plus, they often have some exclusive contracts, such as Rose & Rosie Parental Guidance.
But you can also find many lesbian podcasts on Pocket Cast, Stitcher, Apple Podcasts (iOS), Google Podcasts, and many more.
What's your favorite lesbian podcast? Did we miss any lesbian podcasts? We would love to hear from you! And let us know what you think is the best lesbian podcast for 2022!
Want to chat about this article? Email us, or comment below!
And don't forget to tell all your lesbian friends about these lesbian podcasts. Feel free to share this article with them.

MORE TO READ:
PIN THIS ARTICLE