Who's that tall blonde girl who's taking my place as the funny tall blonde girl working here!? She even works harder and people must like her more than they like me…
Our lesbian love story is definitely not one of love at first sight…
Lesbian Love in Amsterdam
Maartje and I (Roxanne) met while making popcorn, cleaning screening rooms, checking tickets and washing IMAX 3D classes. Maartje had already worked at the cinema in Amsterdam for half a year, and she saw me as the enemy at first.
A trip to Six Flags during Halloween changed everything. We were forced to bond since the common friend who invited us didn't show up. So we didn't know anyone and we were scared – Maartje the most.
It was in a horror villa where our friendship started, as I could protect Maartje from the scary actors with my Dutch tall body.
Best Friends
Our friendship to us meant partying and kissing lots of boys together. Especially Maartje, because she just broke up with her boyfriend. She explored her freedom as much as possible, so why not try to date girls as well?
Her tinder fling turned out to be nothing, but while she dated a girl I started realizing I might be into girls. I told her, and I had never told anyone before.
The first thought that crossed Maartje's mind was: 'Oh no, hopefully, she will not fall in love with me!!' Little did she know that it would happen the other way around!
It so happened that Maartje started to like me, and started dropping small hints; holding hands a bit too long or offering to kiss each other to get rid of an annoying English guy I kissed one night.
Of course, I was too ignorant to notice. Not even when Maartje put so much passion into the 'you kiss her then he kisses him' game, that even bystanders noticed.
And me? I just pretended to kiss back, with nervous small lips and a pointy tongue. Definitely not the best kiss ever.
A real lesbian love story: when prince charming is a princess
Lesbian Lovers
Time passed by and though we did share a sultry summer evening nothing happened. By the time a room in my student house came available, Maartje decided to let go of her feelings and moved in. But not before trying one last thing.
Because there was one day too short for moving out and in, she needed to drop all of her stuff somewhere temporarily.
I told her to put it in my room, and she literally put so much stuff there, I could not sleep in my bed… And what a 'coincidence': Maartje was house sitting and could share her bed with me!
After a birthday party of my friends, I went to that house. I had a little bit too much to drink and when I saw Maartje I kissed her. Yes, I kissed Maartje. Out of the blue! Right when Maartje almost gave up on her feelings, I kissed her.
Apparently I had feelings for her as well; they were just hiding, waiting to come out at this exact moment. We were supposed to go to a music festival the next day, but we stayed in bed the entire day. And that's how our fairy tale started!
Must read: 10 lesbian couples share their true lesbian stories!
Real Lesbian Love
Or fairytale? It was more like a rollercoaster. Since we already lived together – typical U-haul lesbians? – we both needed to find our balance with things.
After five months of being crazy madly in love, Maartje went to the States to study abroad. And then we were separated for as long we had been together. But I went to visit her, and it was one of the best weeks of my life.
Surviving living so close and so far from each other made us a strong team. A team that wanted more: traveling the world together.
And here we are! We gave up everything back home and began our big dream together. Our lesbian love story continued all over the world!
Lesbian Travel Couple
In March 2017, we sold everything, left home behind, and started traveling full time. On the road, we started Once Upon A Journey. Originally, we wanted to write about folk- and fairy tales all around the world.
But we noticed many people wanted to see us and hear our stories, especially about traveling the world as a lesbian couple. There were, and still aren't, many online travel resources for lesbians.
The 'once upon a' part suggests a fairy tale or magic. Traveling is a 'magical' thing; like a fairy tale. And the name as a whole suggests something is about to happen, a story is to start. And that is what traveling is like, it is magical and always the start of a great story.
We don't shy away from countries that aren't LGBT friendly, but we also celebrate the places that are. Visibility matters and we hope our travels can help LGBT people globally to have hope, to inspire them to think bigger!
It's our biggest belief that travel is for everyone, and we're determined to show how beautiful the world can be.
Together, we have visited over 45 countries all over the world.
On our website we share lesbian travel tips, we write about lesbian-friendly destinations for example in lesbian Europe or lesbian USA, and we also share tips about the best lesbian movies and lesbian shows!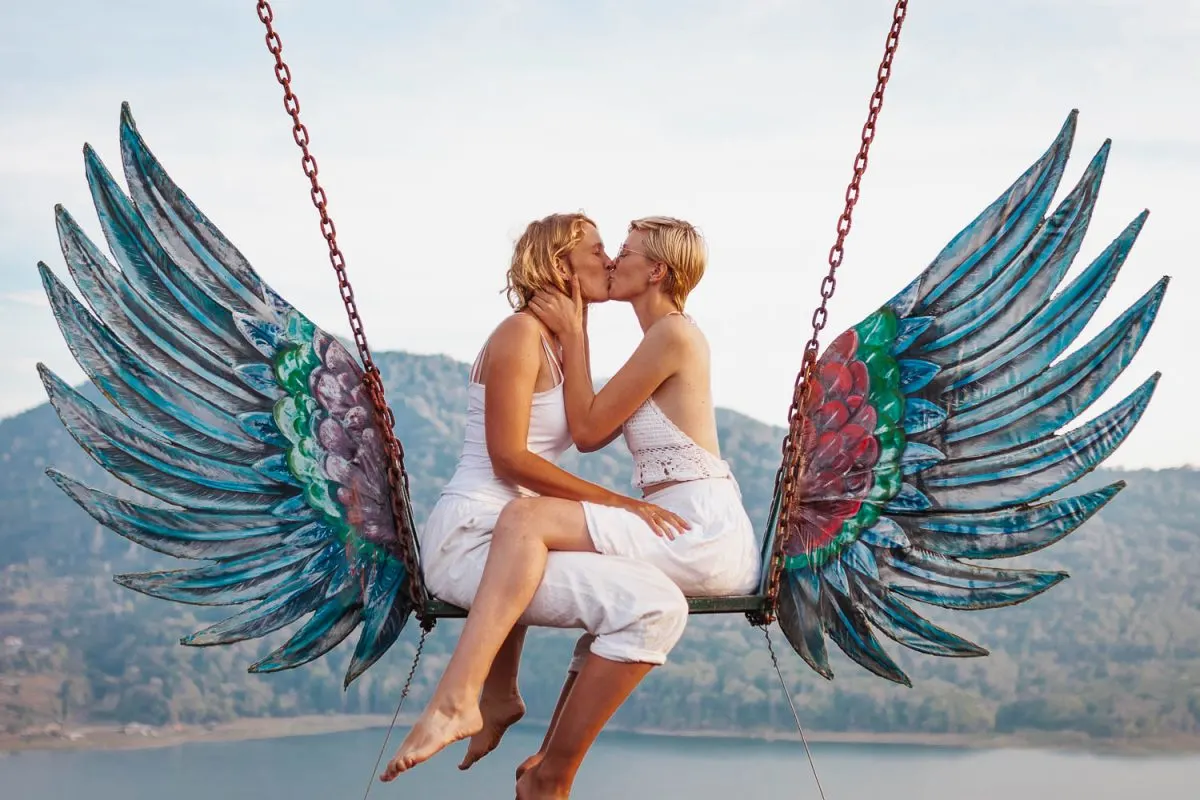 Lesbian Wedding
While traveling many amazing things happened, but something really special is that we got engaged! Read about Maartje's awkward love proposal.
Sadly, our wedding got postponed because of everything that's happening in the world in 2020. But our lesbian love story isn't over yet!
We will see what the future will bring us, though we know we want to grow old together. Home is where we are together.
Hope you enjoyed reading our lesbian love story. We would love to hear your lesbian stories too! Send us a message or reply in the comments.
If you have any questions, please let us know Find us on Instagram, YouTube, and Facebook.
If you enjoyed our lesbian love story, don't forget to share it with all your friends and family!
MORE TO READ:
PIN THIS ARTICLE