Get ready for the lesbian Netflix shows you have to watch!
Do you have no clue what to watch on Netflix? Because honestly, same. Over the years, their content has grown so exponentially that I often find myself scrolling through the streaming site for a good 30 to 45 minutes.
And then I settle on something I've already seen anyway. Well, those days for you are now over! If you're in need of a new show, or even better, a new lesbian Netflix show, I got just the list for you.
Down below, you will find all the good lesbian Netflix shows, as well as shows that have lesbian characters or minor lesbian storylines. I know it will take a while to get through all of these, so you can thank me later.
It's possible these lesbian Netflix shows aren't available in certain countries, but we have good news for you! With the VPN Surfshark, you are able to stream the Netflix content you want from other countries. And we have a great Surfshark discount for you!
Lesbian Shows On Netflix
Let's start with the lesbian TV shows on Netflix that have big and important lesbian characters and storylines.
These are definitely lesbian shows you have to watch!
The Haunting of Bly Manor (2020)
The second season of the Haunting of series gave us a beautiful lesbian love story between Dani and Jamie.
Where Haunting of Hill House was a lot of horror, I felt like this season wasn't scary at all, but focused a lot more on the people and relationships.
As a horror fan, I felt disappointed. But as a lesbian, I was happy to be able to add another show to my list of lesbian series on Netflix.
As the show slowly sucks you in, be prepared to cry like a baby at the end!
Ratched (2020-)
Ryan Murphy usually has a lesbian or two on his shows. Not everyone is a fan of his work because it's quite particular. Personally, though, I love his content.
And who can say no to our queer queen Sarah Paulson playing a lesbian? I sure as hell can't.
And to make it even better: famous lesbian celebrity Cynthia Nixon plays Gwendolyn; the woman Ratched falls in love with!
Ratched tells the story of Mildred Ratched before she became the nurse we have all seen in One Flew Over the Cuckoos Nest.
A season 2 was already ordered back in 2017, and I can't wait to see more of Mildred and Gwendolyn's lesbian relationship!
Feel Good (2020-)
The lesbian Netflix show Feel Good launched its first season on March 19, 2020.
The main character, queer comedian Mae Martin, co-created the series, and the storyline is largely based on her own life experiences.
The show is funny yet serious: it addresses the topic of addiction and the entire show feels really real. Many queer women can relate to this show and it's the representation they hoped for.
In December 2020, Netflix announced there will come a second and last season of Feel Good in 2021.
So stay tuned for more of this lesbian Netflix series!
Trinkets (2019-2020)
It's not every day you find a Netflix show where no one passes away, no one has superpowers and has a lesbian lead, played by a queer female actress. Yet it's not about her coming out story.
Elodie (played by Brianna Hildebrand) is gay and a kleptomaniac. She's struggling as the new girl at school but makes two new best friends at the Shoplifters Anonymous meetings she has to attend.
One of these friends is played by non-binary actor Quintessa Swindell!
Their friendship is adorable, and this whole coming-of-age story is very sweet. It's mellow, it's relatable, it's dorky, and it's queer!
After 2 seasons the series came to an end, sadly, but I really loved watching this lesbian Netflix series!
One Day at a Time (2017-2020)
This one is for all Latinx! And everyone else, of course. It's a show about the daily life of a Cuban-American family.
It's a remake of the classic Norman Lear sitcom.
Daughter Elena comes out as a lesbian in the first season and gets a non-binary love interest in the second season. She's also very much an activist.
The show is easy to watch, and it's incredibly relevant.
They discuss politics, immigration issues, orientation, mental health, and many other important topics in a way that is easy to digest for everyone.
In short: go watch it!
Wynonna Earp (2016-2021)
Wynonna Earp is about the badass demon-hunting Wynonna, who's the great-great-granddaughter of Wyatt Earp.
Wyatt Earp actually existed and was a famous lawman. However, most of the show is fiction.
Wynonna doesn't hunt demons all by herself, she has help from her sister named Waverly.
Waverly falls in love with Officer Nicole Haught during season 1 (enter: WayHaught!).
Their relationship has slowly become a big part of the show's storyline. The two of them are so cute together and even if you're not into demon hunting, they still make the show worth watching.
She-Ra and the Princesses of Power (2018-2020)
This lesbian Netflix show is a reboot of the 1985 animation. Prior to the series release, the creators said they would include a lot of LGBTQ+ representation. And boy, they did not disappoint.
Many of the characters are queer coded from the beginning. They've also included characters that have different gender identities.
And the relationship between the main character Adora and Catra has a romantic tension from the beginning!
This is truly revolutionary for an animation series.
She's Gotta Have It (2017-2019)
She's Gotta Have It is created by Spike Lee and is based on his 1986 film of the same name.
The show follows ടex-positive, polyamorous, panടexual Nola Darling on her journey to self-discovery.
Sadly, none of the panടexuality of Nola is explored in the first season. In the second season, we see more of it. And we get to see steamy black lesbian scenes!
Sadly, many shows and movies still shy away from this.
Nevertheless, the reviews on this show are very mixed and the messy politics have been criticized as well.
Orange Is the New Black (2013-2019)
What's a list with lesbian series on Netflix without Orange Is the New Black on it?
I'm pretty sure that the female prison series has awakened the queer-side of a lot of women.
One of the writers (Lauren Morelli) actually realized that she is gay in the process of writing for OITNB and now forms a married lesbian couple with one of the cast members, Samira Wiley!
The lesbian Netflix show also features queer women with mental illnesses and an out transgender woman of color (Laverne Cox) – breaking down many stereotypes.
And the show is about so much more!
Vis A Vis | Locked Up (2015-2019)
This series is a like Orange Is the New Black but then in Spanish. And with less intimacy and more illegal things happening.
Some say it's a mix between Breaking Bad and OITNB. And some say it's even better than OITNB, but you should watch them both and decide yourself.
On the show, the main character and good girl Macarena gets mixed up in some bad things and has to go to prison.
In prison, she meets a lot of queer women, like the scary Zulema. Naturally, there's a lot of drama, lesbian love, plot twists, amazing actresses, and complicated relationships.
In July 2020, a spin-off of the lesbian series was released, called Vis a Vis: El Oasis. You can watch both on Netflix.
Charmed (2018-)
When the reboot of this extremely popular show was announced, I know a lot of people were very hesitant.
But then it was announced that the three witches were women of color, and one of the characters is a lesbian!
Mel Vera doesn't just have one, but multiple lesbian romances throughout the series.
The show might not be as good as the original, but it's definitely great fun to watch.
The Fosters (2013-2018)
Lesbian couple Stef and Lena raise Stef's biological son Brandon, the adopted twins Jesus and Mariana, and foster kids (later adopted) Callie and Jude.
Speaking of diversity, they are a multi-ethnic lesbian family, and throughout the series, two trans characters are introduced as well!
The creators also made sure to actually cast trans actors for these trans roles, something that is still often overlooked in Hollywood.
It's no wonder this lesbian Netflix series has earned two GLAAD Media Awards (and one Teen Choice Award).
Gypsy (2017)
What seemed to be a popular new lesbian hype was sadly canceled after just one season.
Gypsy is a thriller about therapist Jean (Naomi Watts) who obsesses over her patients by connecting to the people her patients talk about in sessions. It's creepy.
Then she happens to fall for the ex-girlfriend of one of her (male) patients. And they have lots of steamy lesbian scenes.
But Jean has a husband and a kid. And the kid turns out to be queer too (maybe the best storyline of this show)!
I Am Not Okay With This (2020)
This is another lesbian Netflix show that got canceled after one season. Are you seeing a pattern here? Because I am. Still, the first and only season is definitely worth a watch!
It's super enjoyable and quite relatable at some points too.
Sydney is one of the awkward kids at school who finds out that she has some kind of superpowers. She falls in love with her best friend, Dina, who starts dating one of the jocks.
Of course, that makes Sydney mad and jealous, which makes her superpowers act up, and she ends up finding herself in a lot of funny and awkward situations.
The Politician (2019-)
If you're not into Ryan Murphy's style, definitely skip this one. The Politician isn't for everyone but I enjoyed watching it this LGBT Netflix show.
Almost everyone on this show is queer. Or at least a little queer. And it doesn't define them as characters, it's just a small part of who they are.
The show focuses around high school student Payton who has always known he wants to become president. However, he first has to become the student body's president at his high school.
Teenage Bounty Hunters (2020)
Jenji Kohan, who made Orange is the New Black, was the executive producer on this new show. The show is about fraternal twins who suddenly find themselves needing a lot of money, so, naturally, they become bounty hunters.
One of the twins has a good storyline in which she discovers she's bi.
Apparently the show did extremely bad, because Netflix canceled it only 2 months after it was released, not even giving the show time to build a fan base.
Sense8 (2015-2018)
Sense8 is about a group of humans who become mentally and emotionally linked.
The show has a very open take on ടexuality since there are quite a few steamy scenes in which everyone, regardless of their ടexuality, partakes.
The best characters are obviously lesbian couple Nomi and Amanita. Nomi is also a trans woman (portrayed by a trans actress too)!
Writer Lana Wachowski, also trans herself, said that Nomi was written based on her own experiences.
These real and authentic characters unfortunately weren't given any more screen time by Netflix, because the show stopped after just 2 seasons.
The show was too expensive (it was shot all over the world!). Sense8 reportedly cost around $9 million per episode.
Luckily one special episode was made, to end the series.
Black Lightning (2018-2021)
This Netflix show has the first black lesbian superhero! If that hasn't convinced you yet: she also has a relationship with another superhero who is Asian.
Anissa Pierce, her superhero name is Thunder, not only comes to terms with her orientation, but also with her superpowers in season 1.
Her parents on the show are super supportive of her, which is great to see.
The fourth and last season aired in the beginning of 2021.
D e a d to Me (2019-)
I know that many felt the tension radiating off of our two main characters, Jen and Judy, in the first season. But nothing happened.
However, in the first episode of the second season, Judy meets Michelle. Fun fact: Michelle is played by openly queer actress Natalie Morales.
The way Judy's orientation is handled is so casual, it's something that is not often seen. No one ever makes a big deal out of it, and she never has to have a big coming out moment.
Everything Sucks (2018)
Everything Sucks takes places in the 90s and follows a group of high school students. More specifically, the misfits of the AV club and the drama club.
The lesbian Netflix show perfectly showcases what it's like to be in high school and how to deal with bullying, dating and discovering your identity.
One of our main characters is Kate who tries to come to terms with her orientation. She falls in love with Emaline, one of the drama students.
I won't spoil the end of it for you, but I can tell you it's extremely cute! Sadly, Netflix canceled this show after just one season.
Gentefied (2020-)
Gentefied really needs more exposure! This amazingly funny show is about a Latinx family living in East LA.
While the surrounding neighborhood is slowly changing, the family has to come up with ideas on how to save their grandfather's taco shop.
And the best part: one of the main characters is a lesbian! She's trying to navigate her life in a world that doesn't represent or support her.
Ana & Yessika are a super adorable lesbian couple, and it's amazingly sweet to see how the family accepts them.
Legends of Tomorrow (2016-)
If you're one of those people who's a sucker for enemies to lovers stories, Legends of Tomorrow is the right lesbian Netflix show for you!
Sara Lance is a bi, reformed assassin and Ava Sharpe is a lesbian clone from the future.
The two are enemies at first, but then they slowly start working together and also slowly start falling in love with each other.
Now they're a very cute and domestic couple. We love to see it!
Supergirl (2015-)
Women with superpowers, we love it! We know, every woman is a superwoman, but this supergirl has some special ones.
Supergirl is superman's cousin and is a badass. Her adoptive sister, Alex, comes out as a lesbian and falls in love. Alex is one of the main characters of the show.
Supergirl was nominated for the best drama TV show, thanks to its great storyline. And the series also features a transgender superhero, how amazing!
If superheroes are your thing, definitely watch Supergirl.
Shows With Lesbian Characters On Netflix
The next lesbian Netflix shows have lesbian characters and storylines that are smaller.
Nevertheless, they are still super fun and important to watch!
Warrior Nun (2020-)
This was probably one of my favorite shows of 2020! The show is about demon-hunting nuns, need I say more? I think that sounds pretty gay already.
In one of the last episodes, sister Beatrice reads a story from a journal about a lesbian nun. It's very clear that she relates to it, but she never explicitly says she is gay.
The creator of the show has said that they want to explore more of her in the second season and are also open and exploring to see if there is something between Ava, the main character, and Beatrice.
Let's hope they keep their word and show us that in season 2!
The Haunting of Hill House (2018)
Now, I'm a huge horror fan, but if you're not a horror person, skip this one. Or don't. Because Kate Siegel plays hot lesbian Theo, which is definitely worth the jump scares I would say.
As kids, the Crain family experienced a lot of paranormal phenomena in their house which resulted in someone's passing.
26 years later, the kids come back to reunite after yet another tragedy. Theo is one of these kids. And did I mention she's hot and a lesbian? And she has some pretty good gay moments!
This is the first season of the Haunting series. Remember I talked about the lesbian Netflix series Haunting House of Bly Manor earlier? Note: the stories are NOT related.
The 100 (2014-2020)
Was anyone else crying when Lexa came back this year? Because I was. Sobbing like a little baby to finally see my favorite character of all time back on the screen. Even though it wasn't really her.
The 100 introduces Lexa, their first lesbian character, in their second season. Over the course of that season, Clarke figures out she's bi and has a huge crush on Lexa. Their relationship is then further explored in the third season.
However, in episode 7 of season 3, mere minutes after Clarke and Lexa FINALLY make love, Lexa is shot and kiIIed. I was devastated.
Even though this was absolutely horrible, I do think the industry has definitely taken note on how not to kiII lesbians anymore, and we've really made some progress over the past few years.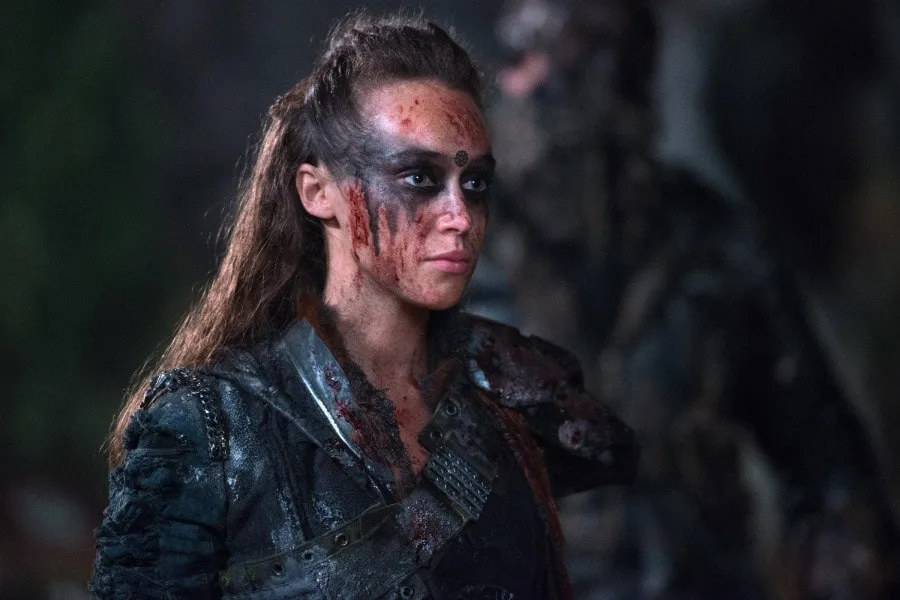 Never Have I Ever (2020-)
Never Have I Ever is breaking South Asian stereotypes!
This coming of age show about a first generation Indian-American girl's life is very easy to binge. Trust me, I did it too.
From the first episode I had a hunch that our main character's friend, Fabiola, was a lesbian. And I was right!
Throughout the season, we slowly see her struggling and then coming to terms with her orientation. She even starts dating one of her classmates.
This show is full of hilariously heartwarming moments, and I'm super excited for their second season!
S e x Education (2019-)
This British teen show is about high schooler Otis, who is still a virgin, who starts a ടex advice business at his school. This brings about a bunch of hilarious situations.
For all of you milf lovers out there: Gillian Anderson plays his mom and a ടex therapist!
There are multiple queer characters on the show who all go through their own storylines and issues.
There are also mentions of lesbian relationships and lesbian intimacy when Otis holds his advice sessions. In the second season, a cute lesbian relationship forms between two of the main characters.
Also, one of the male characters has two moms!
Atypical (2017-)
This show is a really fun and heartwarming comedy that centers around Sam, a boy who is on the spectrum.
Sam's younger sister, Casey, starts figuring out her orientation in season 2. She falls in love with one of her friends, who used to be her enemy. And it's cute! Super cute!
This queer female love story is definitely one of my favorite lesbian stories. Also, the actor who plays Casey, Brigette Lundy-Paine, is non-binary!
The Umbrella Academy (2019-)
Seven children who are all born on the same day are adopted and raised together as child heroes. When they get older they grow apart, but must reunite to continue to save the world.
This very dysfunctional, yet crazy family will have you hooked from the first moment.
Elliot Page plays one of these characters. It didn't come as a surprise to me when his character came out as a lesbian in the second season, because let's be real. That straight stuff in season 1 was too cringe for anyone to watch.
Now that he has come out as trans, I can't wait to see how they'll incorporate that in the next seasons!
Russian Doll (2019-)
Russian Doll is about Nadia who has to relive the same night over and over again. This concept has been explored quite a few times by now, but this series still feels refreshing and quite unique.
One of Nadia's best friends is Lizzy, who is a lesbian. Rebecca Henderson who plays Lizzy is also a lesbian in real life and is married to the co-creator of Russian Doll, Leslye Headland.
Even though I don't think this show needs a second season, Netflix has decided there will be another one. Let's hope we get to see more of Lizzy in the new season!
Dear White People (2017-)
This show focuses on racial tensions on a predominantly white Ivy League college campus. It is based on the 2014 movie that has the same name.
In the second season, one of the characters named Kelsey comes out as a lesbian. Kelsey is very girly and very much into fashion, which is usually not something that people associate with lesbians.
That is why I think Kelsey's coming out is only more important.
When she does so to her roommate, who seems very surprised, Kelsey not only calls her out for being so oblivious about her identity, but essentially she calls out the heteronormative society we live in too.
Stranger Things (2016-)
It took this 80s show a while before they finally introduced their first LGBTQ+ character.
It seemed that before the third season, only straight people existed in this town. I'm really glad that besides the monsters there are now also gays on the show.
Maya Hawke, who plays Robin, said she really pushed for her character to be a lesbian. The straight storyline that was originally written for Robin and Steve didn't feel natural to her.
Luckily, everyone agreed and her coming out scene was written and filmed, which by the way, is extremely beautiful and cute!
You (2018-)
The stalker show You had a lesbian character in their first season.
Peach is main character Beck's best friend, and she is obsessed with her. She sees right through Joe's stalker tactics because well, she's kinda a stalker herself too. She has a lot of pictures of Beck on her laptop that she shouldn't have.
Now I can't say this is the best lesbian representation in lesbian shows, because it definitely isn't. We are already way too often perceived as crazy lesbians, but I can't deny I didn't enjoy her.
Peach is actually one of the more likable characters of the show!
American Horror Story (2011-)
Each season of American Horror Story is a self-contained miniseries. Some seasons have more queer characters than others, but there's always at least one.
Of course, it's usually our queen Sarah Paulson who pulls through with the lesbian characters on Netflix.
In season 2, Asylum, she played the lesbian Lana Winters. And in season 7, Cult, she plays a married lesbian who loses it when Trump is elected as president.
Boca a Boca | The Kissing Game (2020-)
This new Brazilian zombie show very much fits the years 2020 and 2021. Or not. Depending on how you feel about it.
The show is about a new virus that can only be transmitted through the mouth. So when a bunch of teenagers wake up after their rave, at which they made out with a lot of people, they need to figure out what's going on.
The show has a few different storylines, and one is about closeted lesbian Fran.
Las Chicas del Cable | Cable Girls (2017-2020)
Set in the 1920s, this story follows four women who all want to work. They all start at the same cable company and become close friends, even though they come from different backgrounds.
A bunch of women working together obviously sets the stage for something very queer to happen, and it does! One of the cable girls turns out to be bi and falls in love with another cable girl.
In a later season, there is also a really well written storyline about gender dysphoria and being trans (sadly portrayed by a cisgender actress)!
You might recognize one of the Cable Girls, Maggie Civantos, from Vis a Vis and the lesbian short film Yo También.
Merry Happy Whatever (2019)
This is a show with mixed feelings. But it's one of the first lesbian Christmas shows! It has a queer storyline, but that's where it gets complicated.
The series feels a little homophobic. I don't want to spoil things too much, but there is a moment where a character comes out as an atheist and another character says "Oh thank god you're not…" with which the show definitely implies that being LGBTQ+ would've been a bad thing.
In the end, things turn around, but I'm not completely sure if it's worth the cringe-worthy moments.
Workin' Moms (2017-)
Now the premise of this show doesn't really sound like anything I would watch. It's about a bunch of moms with babies.
I'm sorry, I know I'm getting older, but I'm not quite there yet. However, the show has a lesbian mom!
Frankie is the lesbian of the group, and she has a baby with her wife Giselle. The two are struggling with their relationship and raising their baby, and eventually, get a divorce.
In later seasons, Frankie tries to figure out the whole single mom thing, while also trying to date new women.
Black Mirror (2011-)
This sci-fi series is insane! Every episode is different, but the overall theme of Black Mirror is basically technology manipulating the behavior of humans.
The episodes aren't related to each other, but the overall theme stays the same.
Definitely watch episode 4 of season 3, as it includes a cute lesbian love story.
In all the other episodes of Black Mirror, technology creates a dystopia, yet in this episode, it does the opposite. And like every episode, nothing turns out to be what it seems!
Jessica Jones (2015-2019)
Superhero show Jessica Jones always had power lesbian Jeri Hogarth (the lawyer), but the show gets queerer in season 3!
Jessica gets an assistant Gillian (played by Indian-American trans actress Aneesh Sheth), Jeri reunites with her college love, the bi and polyamorous Kith, and Detective Costa turns out to have a husband and is trying to adopt a kid!
The queer narratives are small, yet important. And their queerness doesn't define their characters. Assistant Gillian's gender is never discussed for example – and that's amazing!
Aneesh Sheth said "[it] is wonderful because trans people exist in the world. It's not always about their narrative." Also: she's Marvel's very first trans character.
Glee (2009-2015)
My friends and I were just recently rewatching Glee, and we all realized how problematic this show actually is. It's quite crazy to think that 10 years ago it was still okay to say many of the things that are said on this show.
Nevertheless, Glee gave us something beautiful and that is the lesbian relationship between Santana and Brittany.
For many girls around the world, Santana was the first lesbian they saw on television that they could identify with. For many, she was the first lesbian on television that gave them the courage to come out. Thank you, Naya.
GLOW (2017-2019)
Lady wrestlers? Heck yeah! For a show in this setting, there definitely aren't enough queer characters. It's a miracle the lesbian romance doesn't happen until the second season!
Set in the 1980s, this show will probably take many back to their Flashdance obsession. The outfits? I bet most queers wouldn't mind going back to 80s sportswear.
Sadly, due to everything that happened in 2020, Netflix has decided to cancel the show and not proceed with their fourth and last season.
Jane the Virgin (2014-2019)
"You get a girlfriend! You get a girlfriend! Everybody gets a girlfriend!" but honestly, yay for having multiple queer women on a show that is not a queer show per se.
And spoiler: the best aka the queerest comes in season 4!
The show is about Jane Villanueva who is a virgin but is accidentally inseminated. She then gets confused, love triangles happen, there are scary twins, and much more.
The show is a telenovela on meta-level!
HTGAWM (2014-2020)
This legal-drama might not seem very queer at first, but some steamy scenes between two men quickly change that.
Also, diversity is very much normalized in the series – in many ways.
The show also includes a powerful transgender storyline in season 2, played by a trans actress. And in the same season our main character – Emmy-nominated Viola Davis – turns out to be queer (no labels defined)!
Little side-note from a proud Dutchie: her ex-girlfriend (Famke Janssen) is a Dutch actress!
Easy (2016-2019)
Every episode of this series is a different (love) story. It's about modern love, couples figuring out how to move forward, breakup or evolve in an open relationship.
The absolute best storyline is obviously the queer one between Jo and Chase.
You can watch their story in S1E2, S2E7, and S3E3. The two develop a relationship and then have to navigate their struggles.
It is so refreshing to see a young lesbian couple navigating through the phases of dating, becoming a couple, and to learn how to keep a healthy relationship without any word about their coming out.
Lesbian Netflix Shows 2021
Hopefully 2021 and the years afterwards will bring us many more lesbian Netflix shows and lesbian movies!
First KiII (2021)
This gay vampire-themed show is going to be produced by Emma Roberts!
Teenage vampire Juliette has to make her first kiII and sets her sight on a new girl in town.
What she doesn't know is that this girl, Calliope, is a vampire hunter. The two fall in love and things get complicated.
I'm super excited for this one! It sounds like it's going to be a great show!
Lesbian Netflix Movies
Can't get enough of lesbian Netflix content? We got you!
Besides these lesbian shows on Netflix, there are also amazing lesbian Netflix movies! Pariah, I Care a Lot, Booksmart, The Half of It, to name a few.
Read our lesbian Netflix movies article to read all about these movies, and many more.
Secret Netflix Codes
We're going to let you in on a little secret: Netflix has specific URLs for LGBTQ+ content!
The trick is to use the URL netflix.com/browse/genre/NUMBER – replace NUMBER with the secret Netflix code below!
LGBTQ TV Shows: 65263
LGBTQ Movies: 5977
LGBTQ Comedies: 7120
LGBTQ Dramas: 500
Romantic LGBTQ Movies: 3329
LGBTQ Documentaries: 4720
Enjoy watching these lesbian Netflix shows! What's your favorite lesbian show to watch? We would love to know!
Find us on Instagram, Facebook, YouTube, or comment below!
And don't forget to share these lesbian Netflix shows with your friends.
MORE TO READ:
PIN THIS ARTICLE