Get a blanket, hang up the Christmas decorations, grab gingerbread cookies to eat, and enjoy these lesbian Christmas movies and shows. Who doesn't love to get into the holiday vibes?
Sadly, for the longest time, there wasn't any lesbian representation in Christmas movies. We all know those traditional (aka conservative), nostalgic, and romantic Christmas movies. But where are the Christmas stories of us lesbians?
Luckily a lot has changed in the past years, and finally, Christmas movies are diversifying (in many ways). There are more and more lesbian movies and lesbian shows than ever. And lesbian Christmas movies!
We were so excited when we heard about Happiest Season for the first time.
Besides Happiest Season there are other lesbian Christmas movies and shows to watch (and other holiday-themed movies!).
Keep on reading to find out which ones! Enjoy!
Get Ready For The Holidays With These Lesbian Christmas Movies And Shows
Happiest Season (2020)
Are you super excited to see this lesbian Christmas romantic comedy too? Or maybe you already did (like us)! Happiest Season was released on November 25, 2020, on Hulu and it's the first-ever mainstream lesbian Christmas movie.
The lesbian movie was originally going to be screened in the cinemas, but because of everything that's happening in the world, it will be available online only.
2020 wasn't a great year for many things, but it was for one thing: lesbian movies. There are quite some new lesbian movies released in 2020!
Happiest Season stars Kristen Stewart and is directed by Clea DuVall. Both Kristen and Clea are part of the LGBT community and the story of Happiest Season is based on Clea's past holiday experiences.
She had never seen her story presented in a Christmas movie. So she thought Happiest Season would be the perfect opportunity to tell a universal story from a different perspective. We want to thank you for that Clea!
The story is about a lesbian couple that returns home for the Christmas holidays. Abby, played by Kristen Stewart, wants to propose to her girlfriend Harper, played by Mackenzie Davis. But Abby doesn't know that Harper isn't out yet to our conservative family…
Also, we are so excited that Daniel Levy (from Schitt's Creek) plays in this movie!!
If you aren't located in the United States (or simply don't have Hulu) you can also watch it on Amazon Prime in some countries.
Let It Snow (2019)
Let It Snow is an LGBT Netflix Christmas movie from 2019. While watching Let It Snow we didn't know about the lesbian storyline included in the movie. And we fell in love.
It may not be the main love story of the movie, it's still quite a big one. And a cute one too. There are even two lesbian kisses (sorry for the spoiler). And we love how out and proud one of the girls is.
The Christmas movie is about a group of friends that live in a small town. A snowstorm hits the town on Christmas Eve and their friendships and love lives collide. Nothing will be the same the next morning.
Extra queer angle: one of the lesbians is portrayed by Liv Hewson, who identifies as non-binary in real life.
We are patiently waiting for lesbian Netflix to make more Christmas movies with lesbian storylines. Or why not a lesbian Christmas movie with a lesbian couple as the main storyline?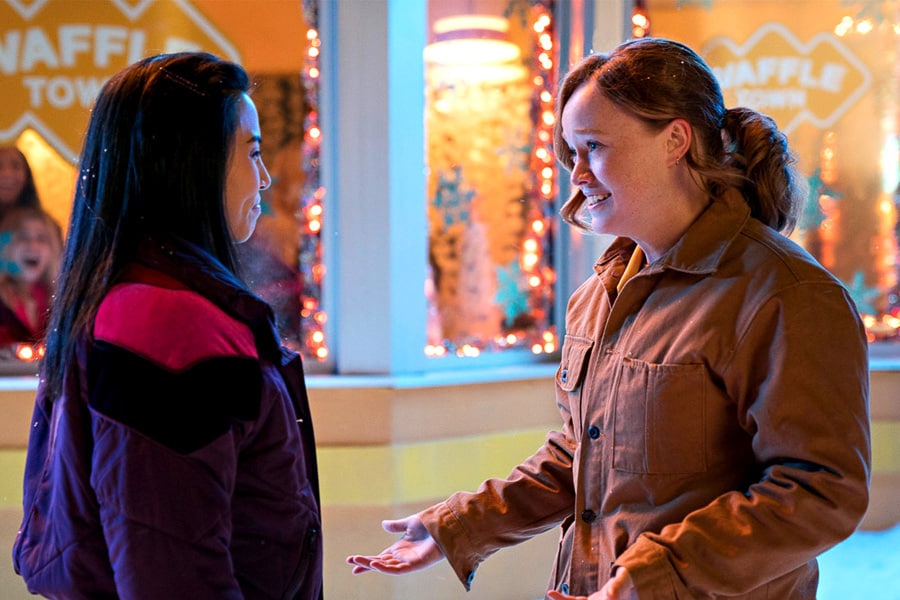 Season of Love (2019)
It isn't a list with lesbian Christmas movies without Season of Love on it! It's a Hallmark-ish movie, but better, because of lesbians, lesbians, more lesbians, and many lesbian stories.
What we really love about Season of Love is that it's made by the lesbian community for the lesbian community.
This lesbian Christmas movie is about a diverse group of queer women and their connected love lives. During the holidays they discover love is really the best gift of all.
Sounds cheesy right?! Yes, it's definitely a cheesy movie, but we need those during the holidays.
What would you do if you happen to stand under the mistletoe with someone you have a crush on? There's only one right answer…
You can't find Season of Love on streaming platforms like Netflix or Hulu, but you can rent or purchase the movie through Tello Films.
The Christmas Lottery (2020)
YES! Black Entertainment Television (BET) produced a movie with a lesbian couple in it! We will say it again: we need more diversity in lesbian film!
We see so many white, femme lesbians and queer women. But we need Black lesbian visibility (and other queer women of color).
In The Christmas Lottery, three sisters are asked to come back home by their dad, as he won a lottery! One of the daughters is married to a woman (or at least, that's what we read!).
Sadly, we haven't found a way to watch this movie in Europe just yet.
Carol (2015)
Carol is a lesbian love story made by gay filmmaker Todd Haynes.
It was named the best LGBT film of all time in 2016 and clearly, this is a good one. It's a period drama, set in 1952.
Carol tells a love story: girl (Therese) meets girl (Carol), they bond and fall in love. But of course, it's complicated.
There aren't that many Christmas vibes in Carol as in Happiest Season, Season of Love, and Let It Snow, but Therese and Carol meet when Carol is Christmas shopping.
Carol is a lesbian movie that you have to see, during the holidays or at any other time. You might be able to watch the movie on Netflix (depending on your location). You can also watch it on Amazon Prime Video.
Merry Happy Whatever (2019)
It's not only a list of lesbian Christmas movies but also with lesbian Christmas shows! Merry Happy Whatever is a Netflix Original Christmas series with a lesbian storyline in it.
We aren't huge fans of the series, but it's definitely entertaining and easy to watch. And let's be honest: we all watch something when we know there's a lesbian involved in a series or movie.
Marry Happy Whatever stars Dennis Quaid, Ashley Tisdale (yes from High School Musical!), and Bridgit Mendler.
The series follows a family during the holiday season, navigating through the ups and downs every family experiences. The father, played by Dennis Quaid, is the strict and traditional leader of the family.
Luckily he gets more open-minded through the series. Which is especially important when his own daughter is coming out.
Old traditions make place for new ones and while there are many struggles, the series has a happy ending!
Lez B0mb (2018)
Lauren is in a relationship with her girlfriend Hailey. Lauren's family doesn't know that yet, not even that she's into girls. When Lauren is going home for Thanksgiving, with Hailey, she wants to come out. But it proves to be very difficult.
Especially since her mom doesn't like surprises. And Austin, Lauren's (male) friend, and roommate decides to join the party unexpectedly. He is very loved by the family, so that doesn't help either.
Lez B0mb might be a movie full of clichés, but we love how this lesbian Christmas movie delivers a message of love, acceptance, and tolerance.
In reviews, we read people think Hailey is too pushy, by pushing Lauren to come out to her family. But I myself needed that little push too. And I'm happy my girlfriend gave me that little push.
Otherwise, I would have never come out of the closet (or way later), and I felt relieved that I did (read my lesbian coming out story).
Though I also want to say it's important to come out when you are ready.
You can watch this lesbian Christmas movie on Amazon.
What's Cooking? (2000)
What's Cooking? is a movie from 2000. It isn't a very old movie, but during the past years, many things have changed so the movie is a bit outdated.
But it does feature a lesbian couple! And one that's realistic and progressive.
The movie is about four ethnically different families living in Los Angeles, celebrating the Thanksgiving holidays. Every family, from Vietnamese-American, African-American, Jewish, and Latino descent, all celebrate Thanksgiving their own unique way, with each their own drama.
The Jewish couple has their daughter, Rachel, over from San Francisco. And Rachel brings her girlfriend with her. Rachel's parents know about the lesbian relationship of her daughter, but prefer not to talk about it and to ignore it.
During the Thanksgiving dinner with the whole family, Rachel and her girlfriend have to pretend to be just friends and roommates. As the whole family can't know about their relationship (according to Rachel's parents).
At some point, Rachel can't handle it anymore, and she needs to tell her secret, plus the fact that they are becoming a lesbian family as they are having a baby. Flabbergasted people at the table guaranteed!
Watch What's Cooking? on Amazon.
I Hate New Year's (2020)
This movie is unique in many ways. First: it's not about a religious holiday like Christmas, nor about a holiday with a problematic history (Thanksgiving), it's about New Year's. A holiday that's literally celebrated worldwide (sometimes on a different date yes, but relatable to all).
Rising music star Layne Price returns to Nashville for New Year's as she's struggling with writer's block. She suspects it's because of unfinished business with her ex.
But life has other plans, and she realizes she's in love with her best friend!
Both lead actresses have Asian heritage (Dia Frampton is half Korean and Ashley Argota has Filipino parents) and it's such a joy to see a holiday movie where there are mature and positive queer women. It's truly a celebration of lesbian love and we love it!
Also, the songs are cute! And the production value is actually better than most lesbian indie films.
You can watch I Hate New Year's on Amazon.
Rent (2005)
This one is for musical lovers! If you haven't seen Rent yet, it's about time! Rent is the movie version of the award-winning musical.
The movie is from 2005 and is about a group of Bohemians living in East Village New York City. They struggle with their lives, love, AIDS, lack of money, loneliness, addiction, and acceptance.
Plus the never-ending search for happiness. They have one motto: live like it's the last day of your life!
The story is written around the two roommates Mark and Roger. But it's also about an interracial lesbian couple, a gay couple, and their other friends. Especially in the second part of the movie you get to see more of the lesbian couple.
There's lots of singing going on in Rent, so it's not a movie for everybody. We love watching it but be prepared for an emotional roller coaster. Plus Idina Menzel plays in it, and we simply love her!
The movie covers a whole year, so the start is during the Christmas holidays, and it ends during Christmas too.
You can watch Rent on Amazon.
We Need a Little Christmas (2017)
This movie is about a group of Black lesbian friends, who spend a weekend together in a cabin.
To be very honest: the quality of the production is not great. But the story is lovely.
We get to see mature lesbians (a cast of queer women of color) having relatable conversations and struggles. We're sad that this movie is often overlooked!
You can watch We Need a Little Christmas on YouTube!
A New York Christmas Wedding (2020)
A very diverse Christmas movie that we absolutely love to watch. The main character is a queer Black Latina woman, and her first love story is the sweetest.
We did not expect it, but the movie turns out to be a love story of two women!
It isn't the best-made movie ever, but you should definitely watch it. The movie was made in 14 days with a small budget, all around New York City. That's something you will notice.
Nevertheless, it's a movie and a story much needed. And Hallmark can learn something from this inclusive and diverse movie.
A New York Christmas Wedding was part of the American Black Film Festival and right now you can watch it on Netflix. If you aren't located in the United States, use a VPN (we recommend Surfshark) to watch it.
What is this lesbian Christmas movie about? After Jennifer is visited by her guardian angel, she ends up in an alternative world.
What if she hadn't denied her feelings for her best (girl)friend? Would she still be living in Manhattan with her rich boyfriend? Or would things have ended up a lot differently?
The movie includes an interracial lesbian wedding, lots of Christmas vibes, love, and so much more! And we totally agree with the producer; 'it's a feel-good movie, but with a different narrative'.
We are craving more diverse, different stories!
Friendsgiving (2020)
Okay, this movie is all over the place, and we have many mixed feelings.
But a big yay for a queer female director, and more yays for the 'fairy gaymothers' in the form of famous lesbian comedians Wanda Sykes, Fortune Feimster, and Margaret Cho.
The story is about two best friends Molly and Abbey, who plan to celebrate Thanksgiving together. Lots of things happen (honestly, a little too much) and they end up with a Friendsgiving party for many people.
Abbey came out a year ago and is very much not over her first girlfriend (that was super harmful). Molly invites a bunch of stereotypical lesbians for Abbey to hook up with.
And then there are Abbey's fair gaymothers, who say every baby gay gets them (WHERE WERE MINE?). The movie is a rollercoaster.
You can watch Friendsgiving on Amazon.
Orange Is the New Black 1×13 (2013)
This iconic lesbian show has one episode that's about the holidays.
The last episode of the first season, named Can't Fix Crazy, is packed with action and Christmas vibes. You've probably all seen OITNB already, but rewatching this episode to get into the holiday vibes is always a good idea!
In the episode, Poussey, Cindy, and Taystee give a beautiful performance of Joy to the World. And Alex and Nicky share a hot moment together.
If you don't know OITNB yet, the show is about Piper, who ends up in prison where she gets reunited with her ex-girlfriend. But the series isn't just about Piper, it's about many (queer) women in the prison!
You can watch the series on Netflix.
Wynonna Earp 3×06 (2018)
For everybody that loves to see the supernatural on screen, go watch Wynonna Earp. It's about Wynonna Earp, who's a demon kiIIer and kiIIs other creatures.
Her sister, Waverly Earp, who's also one of the lead characters in the show is in a relationship with sheriff Nicole Haught.
We love their chemistry, and they have many amazing lesbian scenes during the series. They are shipped 'WayHaught'.
Episode 6 of Season 3, named If we make it through December, is all about preparing for Christmas. And there's lots of cute Wayhaught involved!
You can watch Wynonna Earp on Amazon or Netflix.
Sense8 2×01 (2016)
Okay, Sense8 is probably the queerest TV show ever made. Amanita and Nomi are the cutest interracial lesbian couple ever and this 2-hour long Christmas special is too good not to mention.
Sense8 is about 8 people across the world (Mexico, India, Germany, Iceland, USA, Kenya, and South Korea) that were born at the same time, and they are connected to each other – they're "sensates": human beings who are mentally and emotionally linked.
It's all very confusing, but the queerness should be enough reason to watch it.
You can watch Sense8 on Netflix.
Short Lesbian Christmas Films
Besides watching lesbian movies and lesbian shows, we also absolutely love watching lesbian short films. The perks of a short film: it's short, powerful, and often with an original concept.
Enjoy watching these short lesbian Christmas films!
Holiday Help Desk (2018)
Lauren has to work during Christmas Eve. Little does she know that working the help desk and picking up the phone on Christmas Eve will change her life!
This lesbian short film is really adorable and YAY for Asian lesbian representation!
You can watch Holiday Help Desk on Amazon.
Will You Merry Me? (2020)
When you want to propose during Christmas but there are so many obstacles to overcome. How relatable, when does a proposal ever goes smoothly?
You can watch this short lesbian Christmas movie on Lesflicks.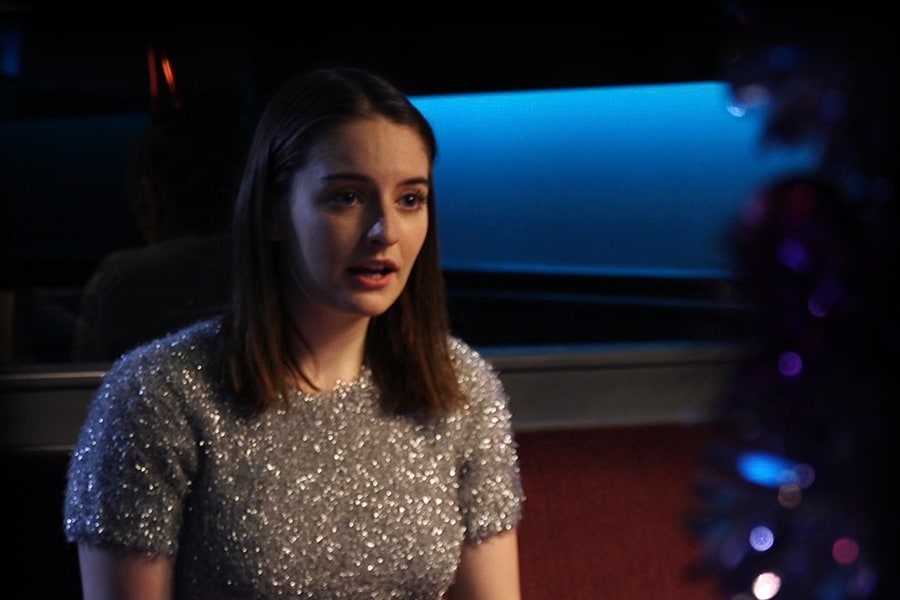 The Postie (2019)
Amy is crushing hard on the new delivery girl and has to find a way to figure out if she's queer…
Expect familiar awkwardness and cuteness!
You can watch The Postie on Amazon.
EXTRA: Other LGBTQ Christmas Movies & Shows
There are a some other queer themed Christmas movies and shows you should know about!
Diversity and inclusivity is super important, and we love celebrating and supporting those stories. One day we hope this list with lesbian Christmas movies and shows is endless, but sadly we aren't there yet.
Make the Yuletide Gay (2009)
An openly gay college student returns to his parental home for the holidays. Yet, he isn't out at home.
And when his boyfriend suddenly shows up, things are bound to get interesting… Yup, it's a familiar plot but this movie is from 2009, so it was first!
You can watch this gay Christmas movie on Amazon.
Dash & Lily (2020)
Dash & Lily is a queer-inclusive Netflix show that takes place around Christmas. We love the storyline of the series.
And although the main storyline isn't a queer one, there is a trans woman, a gay guy, and a lesbian woman included in Dash & Lily.
The Christmas House (2020)
Finally, Hallmark listened to the criticism they received online. They assured their viewers that better LGBTQ+ representation is to come.
The Christmas House is the first Hallmark movie featuring a gay couple (as the main characters!).
The Christmas Setup (2020)
Not only Hallmark listened to their viewers, Lifetime did too. Lucky for us, 2020 is exciting for a few things.
Lifetime included a gay kiss in a movie before, but The Christmas Setup is Lifetime's first movie about a gay romance, portrayed by a real-life gay couple!
Dashing in December (2020)
This trailer feels a lot like Brokeback Mountain, if it were a Christmas movie. Of course, Paramount Network had to jump on the gay Christmas movie hype and so here we are!
It's a gay cowboy Christmas that we can't wait to figure out how to watch in Europe!
Happy Holigays! Enjoy these lesbian Christmas movies and shows!
What's your favorite lesbian Christmas movie? We would love to know!
Find us on Instagram, Facebook, YouTube, or comment below! And don't forget to share this article with your friends!
MORE TO READ:
PIN THIS ARTICLE