Are you looking for the best Pride tattoo ideas? Then this is the perfect article for you! We have all the rainbow tattoo, unicorn tattoo, and LGBT tattoo ideas for you!
The LGBTQ community has a meaningful history of tattooing. LGBTQ tattoos were used for secret messages – people chose to tattoo iconic LGBT symbols on themselves to be recognized by other LGBTQIA+ people.
And in a way that might still be the appeal for LGBTQIA+ people these days. Tattoos help with being visible. They help make a statement about who you are and how you feel.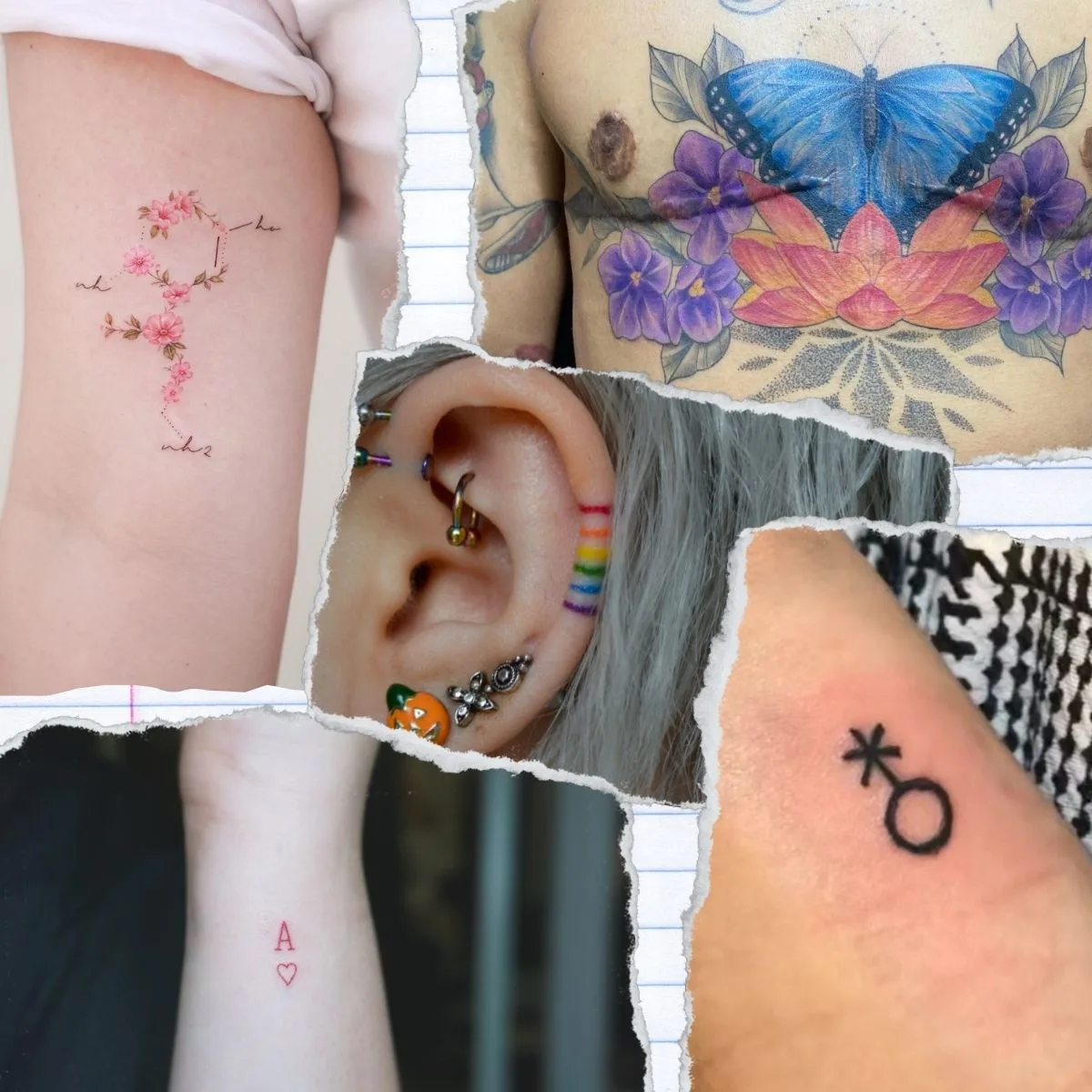 There has always been a stigma on tattoos (my mum still thinks tattoos are mutilation of the body), but over recent years, public opinion is shifting. Tattoos don't always have to be radical, they can be aesthetic, cute even! Tattoos have officially become mainstream popular!
Your body is a blank canvas, don't be afraid to express yourself
Disclaimer: tattoo designs may be protected by copyright! The person who designs the tattoo has intellectual property rights if the piece meets the requirements for artistic copyright.
Rainbow Tattoo Ideas
Black Rainbow Tattoo
A rainbow tattoo doesn't have to come with rainbow colors! There are many ways to symbolize a rainbow with black ink. Big or small – so much choice!
Small Rainbow Tattoo
Minimalist tattoos are on the rise and in more visible places like ears/fingers!
Rainbow Pride Flag Tattoo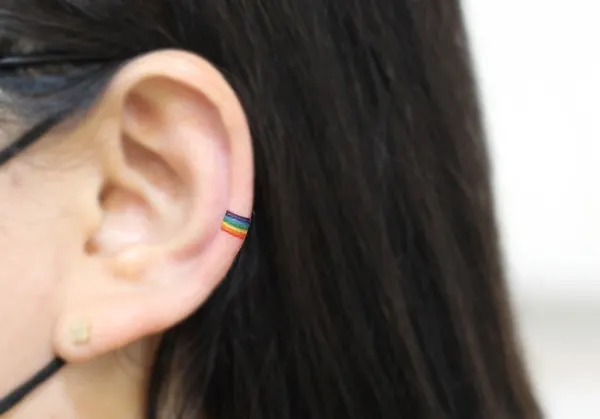 An absolute classic, and a tattoo that will be obvious to everyone! The original pride flag was designed by a San Francisco artist, Gilbert Baker.
Over the years, many more pride flags were created (see more in the LGBT Pride Tattoo section!)
Rainbow Quote Tattoo
Get a meaningful word, or quote tattooed in rainbow colors!
Freedom Tattoo
Coming out is freeing. Living life as your true self is freeing. Get a rainbow tattoo symbolizing that freedom and living life in color!
Rainbow Line Tattoo
There are so many designs with a rainbow line! From a simple, straight line, to a heart, to a heartbeat, to dotted lines. Pick your favorite!
Rainbow Planet Tattoo
How beautiful is this rainbow planet tattoo?!
Rainbow Umbrella Tattoo
If you fall under the umbrella term LGBTQ+, why not get a rainbow umbrella tattooed to symbolize that?
These epic queer & lesbian haircuts and lesbian hairstyles are perfect as inspiration for your next trip to the hairdresser or (queer) barber!
Rainbow Watercolor Tattoo Ideas
Puzzle Piece Tattoo
Sometimes figuring out your identity, is the last piece to fit the puzzle. Especially meaningful if you're on the spectrum, a puzzle piece is also a symbol for ASD.
Disclaimer: this symbol has been criticized for supporting a narrative that there is something "missing" from people with ASD, which obviously is not the case!
Quote Tattoo
Quotes are pretty in a special font, but how special is a rainbow watercolor background?
Magic Tattoo
We are all MAGICAL beings. And LGBT+ people especially have a close history with fantasy fiction.
And that's not weird: they are a great escape, worlds where life can be different from our reality.
Unicorn Tattoo Ideas
A unicorn is magical too and it has become one of the biggest symbols for the LGBTQ+ community. Obviously, unicorns and rainbows go hand in hand!
Small Unicorn Tattoo
Geometric Unicorn Tattoo
Symbol Tattoo
There are so many meaningful symbols in the LGBT+ community. Historically, tattoos have also been a way of communicating or signaling your queer identity.
Equality Tattoo
Because all we want is to be equal, and have equal rights. Right? You can also get a double arm band tattoo to symbolize equality, but be aware that an arm band tattoo was historically a symbol for gay men who enjoy anal fisting.
Phoenix Tattoo
When you rise from your ashes and be the beautiful phoenix that you are!
Triangle Tattoo
A pink triangle has been a symbol for various LGBTQ identities, initially intended as a badge of shame, but later reclaimed as a positive symbol of self-identity.
Semicolon Tattoo
A semicolon tattoo is a tattoo of the semicolon punctuation mark (;) used as a message of affirmation and solidarity against su!cide, depress!on, add!ction, and other mental health issues. These are all issues many LGBTQ+ people deal with on a daily basis.
Butterfly Tattoo
Because what once was a colorless caterpillar, is now a proud colorful butterfly!
Black Pride Tattoo
The raised fist is a symbol of fighting oppression. The black fist, also known as the Black Power fist is a symbol associated with Black pride, defiance, solidarity, and socialism.
Read our queer & lesbian tattoo article!
More LGBT+ Pride Tattoos
From flag colors to symbolic sign tattoos; for specific groups within the LGBTQIA+ community, there are pride tattoo ideas!
Ace Tattoo
Aടexuality is often phonetically shortened to 'ace', so why not get an actual ace tattoo if that's how you identify?!
Circle Tattoo or Purple and Yellow
Some interടex people may proudly get a circle tattoo, or a purple and yellow tattoo. Organisation Interടex International (OII) Australia created the interടex pride flag in 2013.
The yellow background and purple circle represent 'hermaphrodite' colors. According to the website: 'The circle is unbroken and unornamented, symbolizing wholeness and completeness.
Non Binary Tattoo
How awesome are these non-binary flag, pronouns, and enby gender symbol tattoos?
Trans Tattoo
From the transgender flag colors to testosterone and estrogen tattoos: there are so many awesome ideas for trans tattoos! And have you also noticed many unicorn tattoos have the transgender flag colors?!
Top Surgery Tattoo
As an LGBTQ+ person, you may have scars from (top) surgery. There are lots of beautiful scar cover tattoo ideas.
Note: a tattoo will put more emphasis on your scar—something you might want to consider.
Bi Tattoo
Lots of watercolor tattoos use bi-flag colors. But there are many more ideas for a bi tattoo!
Gay Pride Tattoo
We discussed meaningful symbols for the gay community before, like the triangle and arm band. But obviously there are many more tattoo ideas to get inspired by!
Lesbian Tattoo
We actually have an extensive article about queer & lesbian tattoo ideas! Including real life stories of tattooed lesbians and queer babes! Including a lot more categories like spiritual tattoos and matching tattoos for queer couples!
Make Your Own Temporary Tattoo
Not ready to permanently commit yet? Or want to see how a tattoo might look? You can buy printable tattoo paper and create your own fake tattoos!
Tattoo Trends 2022
Looking to get inked in the new year? We have some insight into the tattoo trends of 2022! 2021 was the year of color, fine-line, objects, Korean-style, and peekaboo designs. In 2022, we will see a lot more:
Small tattoos & micro tattoos
Minimalist tattoos (simple line art, simple designs)
Sentences, quotes, poems (not just a word)
Mixed styles – like graphic tattoos, tattoos no longer have to fit 'one style'
Ear tattoos, hand tattoos, finger tattoos – more visible tattoos are getting more popular!
And stick-and-poke tattoos will stay popular
Do you have any tattoos? Do you have more LGBT Pride tattoo ideas to add? Tell us more!
Want to chat with us? Find us on Instagram, Facebook, YouTube, TikTok, or comment below!
And make sure to share this LGBT Pride tattoo list with all your friends.
MORE TO READ:
PIN THIS ARTICLE