Oh, free lesbian dating apps. There are horror stories and success stories. Personally, I've had my fair share of both.
This is probably why I still keep coming back to every free lesbian dating app on my phone. As long as horror and success balance each other out, I'm good.
No matter what side you're on, you did click on this article for some reason. Are you completely new to the lesbian dating app scene? Are you down to actually find lesbian love? Do you just want to find new lesbian friends?
Or did you just recover from your own dating horror story and are you now looking for a new dating app to try again? Look no further!
Here are 15 of the best free lesbian dating apps. And yes, for research purposes I downloaded and used all of them (almost, because I have an iPhone).
Even if you don't want to meet the love of your life, but are just looking for a nice chat or new friends, you'll definitely be able to find some new great people on these apps!
Dating Apps For Lesbians
Her Dating App
Her is probably the most popular and well-known dating app for lesbians. This app was created by queer women, so they know how to provide a good safe space. No, cis men aren't allowed on the app at all.
Throughout the years this lesbian app has slowly gained popularity all over the world and expanded a lot. Now, Her is not only a dating app, but it also uses social media.
You can post things on your own feed, add friends, and see what they are posting, and you can join communities! In the communities, you can chat with lesbians about all the things you like.
They also organize real-life events in big cities all around the USA. As of now, during everything that's happening in the world, they organize a lot of online events. You can keep an eye on their events calendar, but there will be something for everyone.
The Her dating app also organizes speed dating nights, lesbian movie nights, panels, and Q&A sessions.
Her has made it really easy to connect with the queer female community. Even if you're not looking for a lesbian relationship, this is a great place to meet new people and make friends!
Bumble
Bumble dating app was founded in 2014 and has been described as a "feminist dating app" because women are the only ones that can start the conversation when there's a match between a straight couple.
Lucky for us lesbians and other queer people around, when there's a match between people of the same gender any of the two can start the conversation.
One downside is that when you match, there're 24 hours to make the first connection. If you forget or are too late, the match will be gone.
I've had times when life got busy, and I forgot to open the dating app and I lost some people that I actually wanted to talk to.
If you want to spend the money, you can rematch with Bumble premium. Bumble has date mode, BFF mode, and Bizz mode. Respectively, the first one is to find a date. With BFF mode you can find new friends.
Last, Bizz mode is used to network. For Bizz Mode, it also uses its woman-text-first feature to try to remove the ടexist ways that usually exist within networking.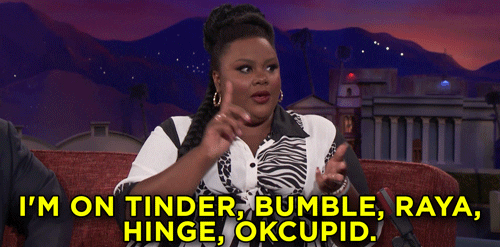 Netflix and chill with these lesbian Netflix shows!
Hinge
Personally, Hinge is one of my favorite dating apps. The app is not specifically for queer women, but there are a lot of them on there!
The founders say that Hinge is more for long-term connections. This is understandable if you look at the way the app is built.
There are a lot of ways to express yourself and really let your personality shine in your profile. Just like Bumble, Hinge has a lot of prompts you can answer.
Another great feature is that you can always see every single person who has liked you, as long as you keep swiping. Even without paying for the app!
One of the things I love about Hinge is that you can pick whichever picture, question, or prompt you want to like. You can also add a message when you send the like. Which gives you a lot more probability of actually matching and starting a conversation.
Once a day, Hinge presents you with your most compatible person. This is the person they'll think you'd be a good match with according to their algorithm. The app says you're 8 times more likely to go on a date with your most compatible people than others.
Tinder For Lesbians
Oh, Tinder. I guess everyone knows Tinder by now. The app that was founded in 2012 has become one, if not, the biggest dating app in the world.
They were also the first dating app that introduced swiping to everyone (Grindr set the stage for them).
The app that really wanted to be a dating app has slowly mostly become known as a (lesbian) hookup app. But hey, if that's what you're looking for, I'm certainly not judging. Go for it!
Tinder doesn't let you express yourself as much as in other lesbian apps, and you can only write a little bio. I guess this is why it's less popular for lesbian dates nowadays.
It does seem to be one of the more inclusive apps, though. It now has 50 gender options and nine different orientations to choose from.
A big downside of Tinder is the fact that even though your preference is set to women only, you'll still get often get men offered to you. And don't even get me started on the lesbian couples who are looking for a 'third'!
OkCupid
OkCupid has been around for a very long time. Their website started out in 2004, way before Tinder or any other lesbian app became a thing. OkCupid is also known as a very inclusive site for queer people because they have 12 orientations and 22 gender identities to choose from!
You can also write down your pronouns. Also, in contrast to Tinder, you can actually choose more than 3 options for whom you want to match.
When you sign up, OkCupid asks you what you're looking for. You can choose for hookups, friends, short-term dating, or long-term dating. They also have some great non-monogamous options if that's your thing!
Furthermore, they will ask you to answer a bunch of questions about yourself but also about what you're looking for in someone else.
With your answers, OkCupid's algorithm will try to find the best matches for you. There are a lot of queer women on the app, so it's definitely a free lesbian dating app worth checking out!
Scissr
Where would an article on lesbian dating apps be without mentioning an app that has this name? Scissr's name is one that I personally find really funny.
Although because of it people have labeled it as the female Grindr aka a lesbian hookup dating app.
Scissr is made for queer women by queer women and is a safe space for all women. When you sign up, there are many orientations and gender identities to choose from.
You can let people know if you're down for either a cuppa, friendship, love or just a hookup.
Instead of swiping, you can actually scroll through profiles on this app. You can also filter your search options which makes it easier to find someone who looks like your type.
However, a big drawback is that the app is extremely annoying to use when you don't pay for premium because an ad will pop up every few minutes.
UPDATE March 2022: sadly, it seems Scissr is no longer available, after operating for over 6 years.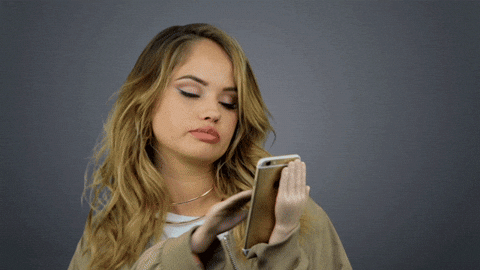 Fem
Fem is a free lesbian dating app that is a little different from other free lesbian dating apps. Instead of posting photos, they ask their users to upload videos.
If you're looking for the "hey mamas" lesbians from lesbian TikTok, I think this is where you will find them.
If uploading videos scares you, don't worry! It's also okay to just post photos. Although the name of the app might not sound very inclusive, the environment of the app is.
Queer women of all orientations and gender identities are welcome here. You can browse through people's video profiles and message them if you want to start a conversation with them.
An interesting feature that you don't see on other lesbian dating apps is that you can start group chats with girls that live around you. One big downside is that Fem is only available for Android users.
Zoe
Zoe hasn't been around for that long yet, because it was launched in 2018. However, the app was already rated the world's best dating app for queer women in 2020!
The app is pretty basic just like most of the other free lesbian dating apps.
It actually looks a lot like Tinder. The only difference with Tinder is that this app is meant for women only. Just like all the other lesbian dating apps, you make a profile, tell a little something about yourself, and start swiping. Easy.
What's nice about Zoe is that you can verify your profile. Of course, there will probably still be catfishes out there, but the chances of you falling madly in love with one are hopefully a lot smaller.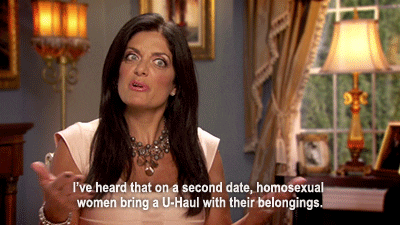 Looking for lesbian relationship advice? Don't look further! Read our article about queer and lesbian relationship advice from real experts.
Bounce
Even though this app is currently only available in lesbian New York City, I thought it is still worth mentioning because I love this concept!
If you're absolutely sick of swiping and having conversations that end up not going anywhere, this will be the app for you.
Bounce is only live at specific times. If you feel like going on a date, check-in when the app goes live. Tell the app in which neighborhoods you'd like to go out that night and start swiping.
There will be a 15-minute-long matching session, and you only get one minute per person to decide if you want to meet them. If both of you like each other, the app will pick a time and location for you to meet later that evening.
Yes, you read that right. Without ever having texted a word to each other. A huge downside of the app is the fact that it doesn't leave any room for people who don't identify within the gender binary.
Maybe that's something the developers can work on while expanding to other cities. They're currently trying to expand the app to other cities in the USA and hopefully in other countries as well.
Plenty Of Fish
The website of Plenty of Fish was launched back in 2003. Just like OkCupid, this place to meet people online has been around for a very long time and has helped a lot of people create their own lesbian love story.
Their layout is pretty similar to most other lesbian dating apps. One interesting feature that Plenty of Fish has, that not many others do, is the fact that you can go live, just like you can on Facebook and Instagram.
It doesn't filter out people's ടexual preferences though so many women that are queer put a rainbow emoji in their name so you know who to watch.
When you go live, you can choose to play an interactive game of speed dating with your viewers. You can pick someone to 'date' with. They get a limited amount of time to talk to you through video chat for everyone else to see.
Lesly
Lesly is another free lesbian dating app that is for women only. They market themselves as a social networking app for women to meet other women.
When you sign up, you're asked to write a headline, bio and to tell what exactly you're looking for.
You can scroll through profiles, but when you do, you can't message anyone unless you upgrade to premium. When you go to their swipe feature, and you match with someone, you can talk to them without being limited in your messaging.
So there are possibly some app purchases while using this lesbian app!
One thing I'm not a fan of personally is the fact they're really limited in their language. There is no option for pronouns, and they only use lesbian and bi as options for women to express their ടexuality.
Lex
If you're sick of the endless swiping and judging people on their looks rather than their personality, Lex is the app for you!
Lex promotes itself as an app for women & trans, lesbian, bi, aടexual, queer, gender queer, interടex, two-spirit, and non-binary people.
The app is inspired by old-school newspaper personal ads. When you sign up, you just need to fill out your name and username and you can start posting, reading, and messaging. You don't need to find your best pictures to upload to your profile.
Also, you can choose any pronouns you like! When you compose a message, which could truly be about anything you like, it will stay on the app for 30 days. If people read it and want to talk to you, they can message you.
And once you think you have a real connection, you can finally share that picture of yourself.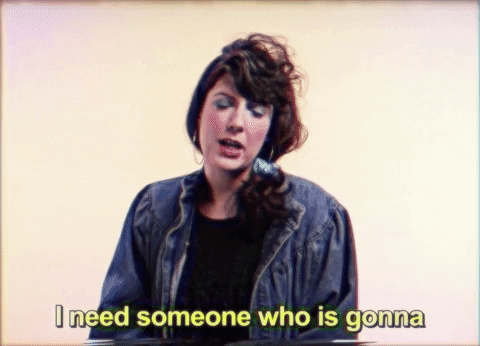 Taimi
Taimi is an LGBTQ+ dating and social networking app that was launched in 2017. It started out as an app for gay men only, but has since then become more inclusive and is now for everyone who identifies within the LGBTQ+ community.
The founders of this app expressed the desire to fight homophobia around the world. They've said they want to partner with different organizations to help and fight it.
Taimi is a very extensive app that caters to everyone. You can solely use it for swiping and dating, but they also have a big social media side in the app.
You can post things that kinda look like tweets. And it's also possible to post videos and pictures and to go live.
If you like someone's profile, you can follow them or become friends. In this way, you can create your own timeline of things you'd like to see.
There are also a bunch of different groups that you can join to chat with lesbians about all of your shared interests. Get together and talk about the best lesbian shows, lesbian short films, and lesbian scenes, for example!
Transdr/Tser
Transdr (also called Tser) is still a newcomer because it was only launched in 2018. This app is not specifically for lesbians, but for trans and non-binary people.
When the app was released, it was heavily criticized for its use of multiple derogatory terms both on the app and in an advertisement for the app. After all of this criticism, the founders have removed all of these terms.
Nowadays, it definitely is a more inclusive and safe space for trans and non-binary people. The founders said it's important for trans people to also have a comfortable place to meet and date without judgment.
On the app, you can find dates, but just like on many other apps that we've seen before it's also a great way to make new like-minded friends!
Wapa
We are ending this list with the best lesbian dating apps with Wapa! Wapa is a free lesbian dating app for lesbian, bi, or bi-curious women. And from the same owner, there's Wapo, for gay men.
This lesbian app is a very international lesbian dating app. Not only can you find ladies from all around the world on there, but there's also a translation feature available.
So when you travel to places with a different language, you can still chat with locals. I always love meeting queer locals while traveling and getting their best lesbian travel tips. And Wapa can help you with it!
The interface of Wapa is similar to Grindr, with women that are closest to you, displayed at the top. But there's another cool feature: you can choose different locations to meet other queer women around the world. Perfect if you go on a holiday to Amsterdam for example and want to connect with locals before you go.
Wapa is a free lesbian app to use, but for bonus features and to remove ads, you can upgrade to a premium subscription!
EXTRA: Instagram & TikTok
No, they aren't official dating apps, but do not underestimate the power of lesbian TikTok and sliding into the DMs on Instagram!
We actually know many lesbian couples who've met via social media. Some are even married lesbian couples now and have beautiful lesbian families with children.
It's a great way to casually become friends, getting to know each other – and WHO KNOWS?!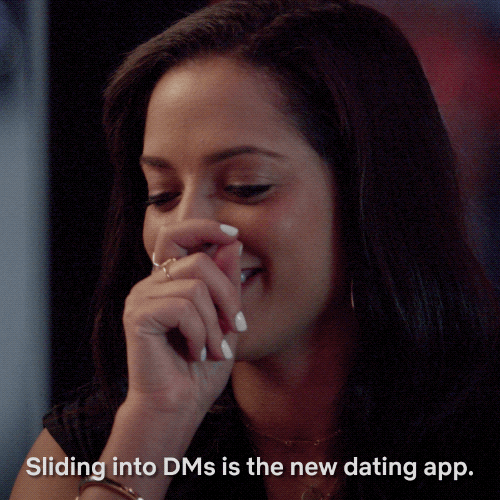 Good luck with your lesbian online dating! Hopefully, you will find what you are looking for on these free lesbian dating apps.
What's your favorite lesbian dating app? We would love to know! Find us on Instagram, Facebook, YouTube, or comment below!
Don't forget to share these free lesbian dating apps with your friends!
MORE TO READ:
PIN THIS ARTICLE