What are the best LGBT Netflix shows? The best gay Netflix shows? The best lesbian shows on Netflix? We are going to tell you all about it in this post.
Nowadays there are (luckily) many TV shows with LGBT characters. In the past, mainly shows with gay characters were available, but Netflix has given us much more diversity.
Netflix seems to require queer characters for all their original shows! There are more options than ever and there has never been visibility for this many (diverse) LGBTQ+ characters. Change is coming and we love it.
In this article, we'll share the best LGBT Netflix shows. With the changing social climate, more shows get the LGBT+ characters 'right' and FINALLY not all queer people dramatically die as they did in the past (the infamous "bury your gays" trope).
Not only do we see an increasing amount of LGBT+ characters in LGBT TV shows on Netflix, but there are also many more LGBT+ actors getting roles that aren't the typical typecast roles. YAY for positive change!
These LGBT Netflix shows aren't available in certain countries, but we have good news for you! With the VPN Surfshark, you are able to stream all Netflix content you want from other countries. And we have a great Surfshark discount for you!

Netflix operates in almost every country in the world, but what is available in each country varies.
Trans Netflix Shows
YES, we start trans Netflix shows, so the T in LGBT+. Because it's a part of the community that is often overlooked, and it's important to shed light on the representation there is!
If you have seen the documentary Disclosure on Netflix, you know there are many problems with trans representation on TV and in film.
Trans people on TV and in film are often a joke, unkind, and mostly played by cisgender actors. BUT Netflix has made MAJOR progress over the last years and there are trans characters and non-binary characters to celebrate!
Make sure to watch the following trans shows on Netflix:
POSE (2018-2021)
10s across the board! This show is truly one of the best LGBT shows on Netflix. Especially the second season is extremely powerful – and a second season rarely exceeds its first.
This show is all about the underground ballroom scene in the late 1980s in New York City. It's similar to the LGBT classic documentary Paris is Burning but better.
Pose is about vogue balls, queer black men, trans women of color and is told by transgender actors and LGBT writers of color. It is so amazing, a must-watch!!!
Sense8 (2015-2018)
This LGBT Netflix show is very very very queer. The creators, the Wachowskis (two transgender sisters), are famous for writing and directing the Matrix series and writing V for Vendetta.
Sense8 is about 8 people across the world (Mexico, India, Germany, Iceland, USA, Kenya, and South-Korea) that were born at the same time.
They are connected to each other – they're "sensates": human beings who are mentally and emotionally linked. It's all very confusing, so let's discuss the queer focus instead.
There's a Mexican sense8 who is a gay man (and he's extra, because he's an actor). And Nomi is a trans "hacktivist" from San Francisco (played by trans actress Jamie Clayton), who's in a relationship with a black woman, portrayed by Freema Agyeman!
Because of the sensate-stuff, all 8 characters end up in steamy scenes together, making it a whole new level of queer.
Unfortunately, the show was canceled after two seasons – and we were left with a mega cliffhanger. The show was too expensive (it was shot all over the world!). Sense8 reportedly cost around $9 million per episode.
Luckily, the cries of the fans were heard and a special was released on June 8, 2018, tying up loose ends.
Steven Universe (2013-2020)
6 seasons of queer animation! Steven Universe is a groundbreaking animated series from Cartoon Network. What's so amazing about this series is that the queerness is on the forefront, and not on the sideline.
That's not something you often see in a series that's meant for children. Don't we all want to let children watch something inclusive?! We definitely want to.
Luckily Steven Universe is not only fun to watch for children, also if you are older (especially if you are into animated series).
The animated series has many LGBT characters. For example, the panടexual Rose, the non-binary Stevonnie, and the lesbian couple Ruby and Sapphire. And maybe most important: Steven, who fights gender stereotypes.
Steven doesn't worry about being 'feminine', showing emotions, and being vulnerable. In Steven Universe every character is accepted and celebrated the way they are! How it should be.
What is this LGBT Netflix show about? Shortly said, Steven Universe is about Steven and The Crystal Gems. They are fighting monsters and interact with other people living in Beach City.
Good Girls (2018-)
Good Girls is about three women who have a hard time supporting their families financially.
What to do if you can't pay for your daughter's medicines? Then you are allowed to rob a supermarket one time, right?! What could possibly go wrong? Everything of course. The series is funny and easy to watch.
The cast of Good Girls includes actor Isaiah Stannard, who plays the role of Sadie, the son of one of the three women. He comes out as transgender in the second season. The coming out scene is really sweet, and his mom couldn't react better.
They did a great job and asked GLAAD for help, to make sure they made an accurate and sensitive portrayal.
Originally, Isaiah was cast to play a female character. But when he joined the show he came out as transgender. This was picked up by the creators of the show, which is why Sadie too, explores his gender expression in the show.
The Politician (2019-)
Another very unique LGBT TV show: The Politician. This show has a queer male lead, played by a gay actor (Ben Platt), who's close friend is trans man James, played by trans non-binary actor Theo Germaine.
And then, they introduce a gender non-conforming person of color sidekick, who is actually played by a queer actress (Rahne Jones)! I'm not sure if you're still following, but the whole show goes a bit blurry at some point.
It is not exactly a teen drama (I think): the characters are all in high school, yet they come across as 30-year-olds.
The lead, Payton Hobart, has his life planned out: he'll become president. But life is messy and stuff happens (this is a very short recap). But the queer casting and characters make it great!
The Fosters (2013-2018)
Married lesbian couple Stef and Lena raise Stef's biological son Brandon, the adopted twins Jesus and Mariana, and foster kids (later adopted) Callie and Jude.
Talking about diversity: the Foster are a multi-ethnic lesbian family, and throughout the show, two trans characters are introduced!
In S1E12 Cole is introduced (played by trans actor Tom Phelan), and he becomes Callie's roommate. In S4E3 Aaron Baker is introduced (played by trans actor Elliot Fletcher), a close friend of Callie.
It's no wonder this series has earned two GLAAD Media Awards (and one Teen Choice Award).
She-Ra and the Princesses of Power (2018-2020)
This LGBT Netflix show is a reboot of the 1985 animation. Prior to the series release, the creators said they would include a lot of LGBTQ+ representation. And boy, they did not disappoint.
Many of the characters are queer coded from the beginning. They've also included characters that have different gender identities.
Double Trouble, one of the characters, identifies as non-binary. Jacob Tobia is the voice of Double Trouble. They are an American LGBT rights activist, actor, TV host, and writer.
Orange Is the New Black (2013-2019)
I'm confident the female prison series Orange Is the New Black has awakened a queer side in a lot of people.
Lauren Morelli, one of the writers, actually realized she was gay in the process of writing for OITNB and is now married to one of the (female) cast members, famous lesbian celebrity Samira Wiley!
The show also featured queer women with mental illnesses and an out transgender woman of color (played by transgender woman Laverne Cox) – breaking down many stereotypes.
And the show is about so much more! There's also a non-binary angle, as Brandy Epps is played by non-binary actor Asia Kate Dillon.
Feel Good (2020-2021)
Brand-new lesbian Netflix show Feel Good launched its first season on Netflix on March 19, 2020.
The main character, comedian Mae Martin, co-created the series, and the storyline is largely based on her own life experiences.
The show is funny yet serious: it addresses the topic of addiction and the entire show feels really real. It's the 'better queer representation' many queer women hoped for over the past years!
Martin uses the pronouns she/her in the series but in episode five, Mae Martin, comes out regarding gender:
"I think I'm transgender, or like nonbinary, or whatever the terms are these days," she says. "But whatever, because I've always felt this way."
She also describes how she doesn't feel she fits in the male or female box.
Feel Good season 2 will premiere in 2021.
The OA (2016-2019)
This LGBT Netflix series is an interesting one and is definitely not for everyone. The series had to grow on us. Give it an episode or 3, and if you still think it's nothing for you, you can stop watching.
What is The OA about? A young blind woman named Prairie goes missing. After 7 years, Prairie is suddenly back again, she can see, and she calls herself 'The OA', which stands for The Original Angel.
Prairie refuses to tell the police and her family where she's been all those years.
But she tells 5 people about her life story, about the scientist who conducted experiments on her, and about fellow prisoners. Then, she wants to rescue them by opening a portal into another dimension.
You have to pay attation while watching the series, otherwise, you're lost in no time. The OA is full of clues, allusions, and excitement.
One of the cast members is Ian Alexander, who plays the role of Buck. Ian is the first Asian-American transgender to act on TV.
GLEE (2009-2015)
The best season was definitely its first (it was definitely flawed), but the fact is: this show was groundbreaking and of great importance for LGBT representation on TV. Especially for young people.
A show about a high school show choir, a show of outsiders all figuring life out (through a lot of songs).
In just the fourth episode, the first LGBT character comes out, and there are a few other important queer and lesbian scenes: the first kiss between a lesbian and bi girl (2×04), over-the-top gay proposal (5×01), a trans person admits they're transitioning (6×03), and a double gay wedding (6×08).
Glee has to be included on a list with trans shows on Netflix. Two trans actors star in this show: Alex Newell and Dot-Marie Jones play in Glee as respectively Wade "Unique" Adams and Shannon Beiste.
Chilling Adventures of Sabrina (2018-2020)
Did you also watch Sabrina the Teenage Witch of the 90s? Well, this Netflix show is based on the same original comic, so it's kind of a reboot.
Of course, there is no one like Melissa Joan Hart, but this new show has something better: great queer characters!
Sabrina's cousin Ambrose is a panടexual warlock, played by Chance Perdomo, and he gets a boyfriend! Prudence doesn't believe in monogamy (nor do witches or warlocks, judging from the fluidity).
And then there's Susie, played by non-binary actor Lachlan Watson. Susie was originally a transgender man in the script, but Lachlan changed that and made their identity part of Susie's. They said: "Susie is on an ongoing queer journey, just like myself".
There are 4 seasons to watch, so if you haven't started yet you have a lot to see! Chilling Adventures of Sabrina is one of the most successful LGBT Netflix Shows.
Jessica Jones (2015-2019)
Superhero show Jessica Jones always had power lesbian Jeri Hogarth (the lawyer), but the show gets better (queerer) in season 3!
Jessica Jones gets an assistant Gillian (played by Indian-American trans actress Aneesh Sheth), Jeri reunites with her college love, the bi and polyamorous Kith, and Detective Costa turns out to have a husband and is trying to adopt a kid!
The queer narratives are small, yet important. And the 'queerness' doesn't define the characters. Gillian's gender is never discussed for example – and that's amazing!
Aneesh Sheth said "[it] is wonderful because trans people exist in the world. It's not always about their narrative." and that's that! Also: she's Marvel's very first trans character.
American Horror Story (2011-)
Each season of American Horror Story is a self-contained miniseries. Some seasons have more queer characters than others, but there's always at least one.
Ryan Murphy created this show. His work his quite particular, so not everyone is a fan of it. He also created Pose, The Politician, and the lesbian show Ratched.
Transgender actress Angelica Ross (if you've seen Pose you know her!) plays in the ninth season of American Horror Story.
In season 4 the transgender actress Erika Ervin, professionally known as Amazon Eve, has a big role. You can also see her in season 8, in a smaller role.
In season 5, gay actor Denis O'Hare, plays transgender bartender Liz Taylor.
Supergirl (2015-2021)
Women with superpowers: yes please! We know, every woman is a superwoman, but this Supergirl has some extra special ones.
If you are into superheroes, you should definitely watch Supergirl. Supergirl is Superman's cousin and is a badass.
The show features transgender superhero Nia Nal, code name Dreamer. Dreamer is the first transgender superhero on TV, how amazing is that. Hopefully many more will come! Transgender actress Nicole Maines plays Nia Nal.
Sadly, you have to wait before you can see Nia Nal, as she debuts in season 4.
One Day at a Time (2017-2020)
This one is for all Latinx! And everyone else, of course. It's a show about the daily life of a Cuban-American family.
One Day at a Time is a remake of the classic Norman Lear sitcom. It is one of our absolute favorite LGBT Netflix shows!
Daughter Elena comes out as a lesbian in the first season and gets a non-binary love interest in the second season. She's also very much an activist.
The show is easy to watch and incredibly relevant (we loved the comment about the 2016-2020 shithead in the White House), in short: go watch it!
Fun fact! Justina Machado, Rita Moreno and Isabella Gomez voiced themselves in Season 1 of the Latin Spanish dub.
Tales of the City (2019)
The San Francisco Chronicles of 1993, 1998, and 2001 are prequels to this mini series, which is based on the novels of Armistead Maupin.
The 2019 series continues to tell the story from a white straight cis woman's perspective – which is a little weird in our opinion. Tales of the City is not our favorite, but it's definitely an enjoyable LGBT Netflix series.
Yet the series is written by queer writers and they did the best they can. In a time where everyone seems to be offended by something, there are so many sensitive and complex topics around LGBT culture – it's hard to get it all right!
Transgender actress, writer, producer and activist Jen Richards plays in Tales of the City as young Anna. And non-binary actor Garcia plays the recently transitioned transgender man Jake, who's figuring out his new identity, his relationship, and love for men.
Elliot Page, who came out as transgender in December 2020, also stars in it.
Degrassi: Next Class (2016-2017)
This is one of the LGBT Netflix Shows for a younger audience. I felt like I was watching Disney XD or Nickelodeon, it has a similar look (in my opinion).
It's another high school series and there are more shows about this specific high school – called Degrassi.
And Degrassi has always been diverse and this show does a good job (there are gays, lesbians, and in season 4, a character comes out as gender fluid!) but the show is very very soapy.
A character on Degrassi: Next Class, Yael Baron (Jamie Bloch) is an ambitious, smart student. In season four of the show, Yael comes out as genderqueer.
The Good Place (2016-2020)
I absolutely loved watching the Good Place. Though I also get why not everyone loves it. It's just a very typical kind of humor.
My girlfriend for example had to get into it and watched a few episodes with me every now and then. But she didn't feel like seeing everything.
The Good Place is a fantasy comedy series about Eleanor (played by the amazing Kristen Bell).
She passes and gets into 'the Good Place' (instead of 'the Bad Place'). She thinks it is a mistake that she ended in the Good Place, as her life on earth wasn't so perfect. In the Good Place she tries to become a better person.
The series has received multiple rewards and I get why, it's such a well-written series that's very creative (those twists, wow!) and talks about important topics.
Everyone who lives in the Good Place is guided by Janet, an artificial intelligence. Janet is a genderless character. The main character Eleanor is bi, though she doesn't talk about it a lot. She sometimes says things about how hot fellow the Good Place character Tahani is.
Jameela Jamil plays Tahani, who identifies as bi in real life.
Bi Netflix Shows
Another group of the LGBT+ community that is still less visible, is the bi community. Stereotypes like 'bi men are gay men with one leg out the closet' and 'bi women are straight women who experiment' are harmful.
As a bi/queer woman myself, I love seeing more bi+ representation in TV shows. I also love queer shows that let go of labels – attraction without labels. A world where love is not defined by genders.
Especially with lots of teen dramas (thanks gen Z!) there is more fluidity, less labels. And I love it!
Enjoy watching these bi Netflix shows.
The Magicians (2015-2020)
Five seasons of magic! And with three queer main characters!
The Magicians is about a group of students who leave their normal lives to try magic. Only the best ones are allowed to go to Brakebills University, where they learn to be magicians.
Quentin is one of the main characters and identifies as bi. He passes his magic exam and is allowed to join Brakebills University.
Quentin's best friend Julia is denied from Brakebills University and becomes a very powerful witch.
Other queer main characters are the gay Eliot and the bi Margo. And you will see other queer characters in the series too!
What we love about the LGBT Netflix show is that the queer characters just enjoy who they are, aren't judged by anyone, and that they don't have to justify their orientations.
TW: sadly also some problematic things happen in The Magicians.
Schitt's Creek (2015-2020)
Schitt's Creek is one of our favorite shows ever. So of course, it has to be named on this list with LGBT Netflix shows.
At the time of writing this article Schitt's Creek is only available on Netflix in certain countries. It's available in the United States, for example, but not in the Netherlands. But lucky for you, with a VPN like Surfshark you can get a US IP address and watch it.
Schitt's Creek is about a rich family who loses everything. They are suddenly broke and end up living in Schitt's Creek, a small town which is one of the few possessions they got to keep.
The whole series is incredibly funny and well written. And Dan Levy is simply amazing. He created the series with his dad Eugene Levy. And both play in the series too as father and son.
Dan Levy is gay in real life, and he plays a panടexual character in the show. Being with men and women is never an issue.
His quote 'I like the wine, not the label' has become iconic!
And we love the cute story line with someone he's going to marry. We don't want to spoil too much, you just have to watch it yourselves.
Dan plays in the lesbian Christmas movie Happiest Season too!
You Me Her (2016-2020)
Allegedly the first polyamorous romantic comedy on television, this series is giving a voice to the polyamorous community.
Both female characters identify as bi, which is important for visibility, yet a little tricky with the whole 'bi people want it all' stigma.
What's You Me Her about? A middle-class straight couple is missing something in their lives – they want a baby, but biology isn't working in their favor. Also, they miss the 'spark'.
Through some funny events, they end up in a throuple with a younger woman.
The series is a lot about figuring it all out and how to deal with unaccepting society. It's funny, it's cute, and it's 'real'.
And the show creator gets feedback from a guy from the polyamory community after every episode! Of course, there are quite some issues with the series too, but it's the first of its kind, so that's only fair.
Lucifer (2016-)
Okay, we didn't love watching Lucifer, but we know many people do! After Fox canceled the show after 3 seasons, Netflix picked it up for a fourth, fifth and sixth season. The sixth season will be its last.
Lucifer Morningstar, played by Tom Hellis, is The Lord of Hell. Lucifer is bi, and he has a companion who's queer too.
The Lord of Hell gets bored in hell and decides to take a trip to earth! Why not go on a holiday to 'the City of Angels', Los Angeles? He becomes the owner of a nightclub and everything goes well until a beautiful woman passes.
We love seeing more and more bi representation, so we are happy to see it in Lucifer too. Though we must say, there is some harmful bi tropes (like: bi equals being unkind) in the series that we would have loved to see differently.
HTGAWM (2014-2020)
This legal-drama might not seem very queer at first, but a steamy scene between two men quickly changes that. Also, diversity is very much normalized in the series – in many ways.
The show also includes a powerful transgender storyline in S2E6 (played by a trans actress) and in the same season our main character Annalise Keating – Emmy-nominated Viola Davis – turns out to be queer (no labels defined)!
In season 4 there's another queer woman of color introduced, Tegan Price (played by Afro-Latinx Amirah Vann).
Little side-note from a proud Dutchie: Annalise's ex-girlfriend (Famke Janssen) is a Dutch actress!
La Casa de Papel | Money Heist (2017-)
Original language: Spanish (Spain)
To all native English speakers: please give subtitles a chance! This Spanish series is really awesome, although it only has one queer character in the beginning. The character is totally breaking stereotypes though!
One of the big, intimidating, eastern European brothers ("Helsinki") turns out to be gay. In the third season, we have reason to believe Helsinki isn't the only queer character…
Also, the series is about a robbery. Or not really, it's about occupying the 'money-factory' and printing millions. And they're not your average robbers – it's all so smart!
Although La Casa de Papel isn't super queer, we did include it on this list with LGBT Netflix shows as we love it so much!
Brooklyn Nine-Nine (2013-)
Brooklyn Nine-Nine is an American series about police officers in Brooklyn's fictional 99th Precinct. Jake Peralta, played by Andy Samberg, is the main character. He's a very talented but immature detective.
The series is very humorous but also addresses serious issues. And it is quite queer! Brooklyn Nine-Nine even received a GLAAD Media Award for Outstanding Comedy series.
One of the main characters, the captain named Ray Holt, is a black gay man. He's married, and you get to see his husband in the series too.
Another detective, named Rosa Diaz, is bi! The famous lesbian podcast host, comedian, and actress Cameron Esposito plays Rosa's former love interested (only for two episodes though). And you get to see Gina Rodriguez as a love interest too.
Crazy Ex-Girlfriend (2015-2019)
Musical lovers be aware! Crazy Ex-Girlfriend is a romantic musical comedy-drama TV series. So if you are into musicals, this one might be for you!
It's about Rebecca Bunch, who is the crazy ex-girlfriend that moves from New York City to the other side of the country to follow her ex-boyfriend from high school camp.
The cast of Crazy Ex-Girlfriend is pretty queer! One of the main characters, who's Rebecca's boss, is bi and sings the most HILARIOUS song about being a bi man, check it out here! Or just go and watch the whole series.
Gay Netflix Shows
Like lesbian Netflix shows, there are many gay shows on Netflix. Some with characters that have a big role, some that have smaller roles. And some shows have multiple gay characters.
We've included them all on this list with LGBT Netflix shows.
Dynasty (2017-)
A reboot of the famous and classic soap opera Dynasty. In the 1980s, this show was very popular under gay men.
Steven Carrington, one of the characters of this show, was one of the first main gay characters on American television. Back then, gay love was still taboo.
And the new reboot is even gayer than before! This is a bingeworthy gay Netflix show. It's hilarious, dramatic, has great actors, and more explicit gay scenes than the original version.
Please Like Me (2013-2016)
This is not a particularly happy series, as it deals with some serious topics. Yet it is quite funny.
Often called the Australian Girls, Please Like Me is a coming-of-age story about Josh (who comes out as gay in the first episode), his dorky friends, and mother who doesn't want to live.
It's a story with emotional depth, dealing with topics like homophobia, racism, depression, harassment, breast cancer, and STDs.
It's also a story about love and life, in a 'real way'.
And for the queer women: lesbian comedian Hannah Gadsby (have you seen Nanette on Netflix?) stars in this series as one of the main characters from the second season!
Hollywood (2020)
Hollywood is a Netflix original miniseries created by Ryan Murphy and Ian Brennan. We said it before, you either like or hate Ryan Murphy's work. While we don't always love it, we liked watching Hollywood.
The gay Netflix series is about, surprise, Hollywood! Though, it's more about how Hollywood could have been. With many people of color, queer people, and empowered women.
Hollywood is telling history that never happened, a progressive revolution in cinema in the 1940s.
What would have happened if the movie industry's emancipation of gay people, women, and Americans of color had happened in the 1940s? Instead of the 21st century?
Hollywood takes place in Hollywood, where young ambitious people try to make their way in Hollywood and make their dreams come true. How? By making a movie about Hollywood.
They don't want to make just a regular movie; they want to make history. Change the way that movies are made, and we can change the world. It's groundbreaking, yet also problematic.
Fictional characters and events are mixed with dramatized versions of real people, such as the closeted gay actor Rock Hudson and his even more closeted gay agent Henry Willson. And you will see more queer characters in Hollywood.
It's in our opinion, one of the most interesting LGBT Netflix shows.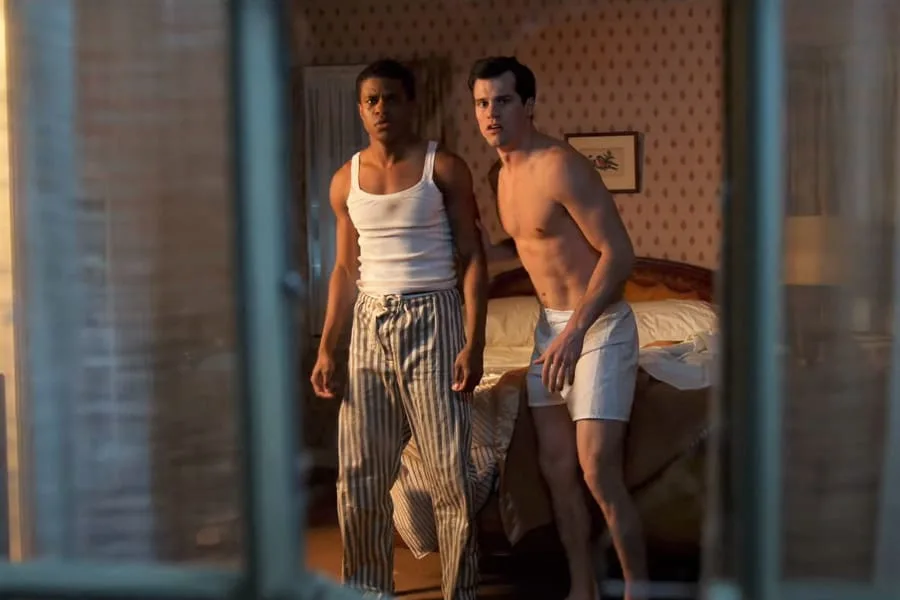 S e x Education (2019-)
One of the newest queer high school series on Netflix. And it's amazing. It's very explicit, very inclusive, and very fluid. This is one of the LGBT Netflix shows you have to see!
We love moving into this new era where all orientations are normalized. And we LOVE Eric, who is so much more than a sassy black gay side character. His character is developed, and when he dresses in drag? OMG, there are no words.
So Eric is Otis's best friend, and Otis is the lead character. His mom is a ടex-therapist, yet Otis is very weird about ടex. But because his mum is an expert, Otis sets up his own ടex therapy practice for his classmates.
There also some lesbian stories in the show. Otis gives advice to a lesbian couple for example!
The show also tackles important issues like vagina/body-shaming, abortion, and more. It's an incredibly fun yet important LGBT Netflix show!
The larger importance of this series is that it's SO relatable, especially for teenagers. All the doubts that come with being a teenager, it's all awkward until it's not!
Shadowhunters (2016 – 2019)
Shadowhunters was received with mixed reviews, but had a huge fan base. And gay Tumblr went wild about Alec and Magnus. And we totally can see why!
Alec and Magnus are attractive, cute, a beautiful couple, and great role models.
The series is a very inclusive, not only for representing the LGBT community, but also other minorities. Shawdowhunters won a GLAAD award for Outstanding Drama Series in 2017.
After three seasons the series stopped, leaving many fans saddened.
What is it about? It's a supernatural drama series, based on the book series The Mortal Instruments. You might have read the books or seen the movie The Mortal Instruments: City of Bones.
On her 18th birthday, Clary finds out she has special powers, Shadowhunter powers. While her family tried to keep it from her, she finds out she's a half-angel, half-human demon hunter.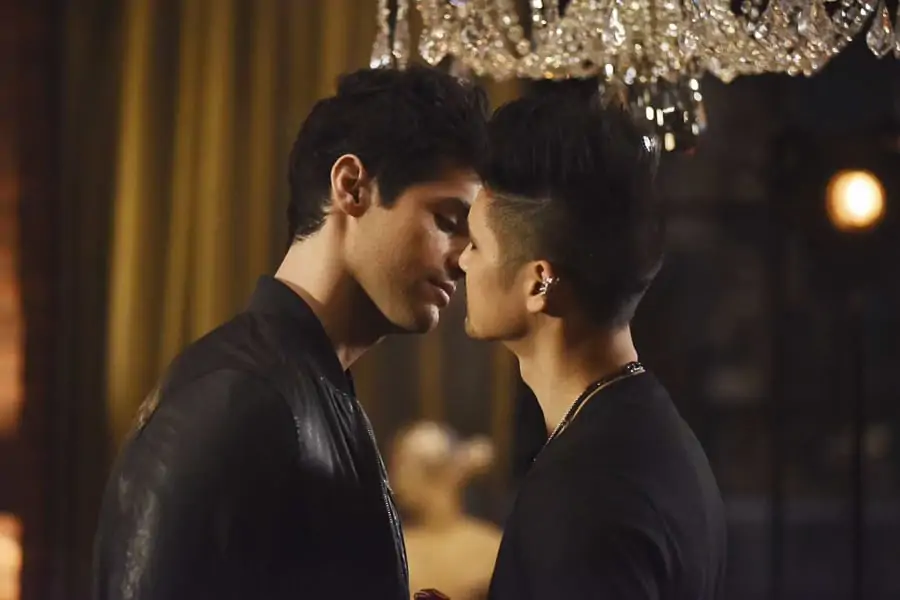 La Casa De Las Flores | The House of Flowers (2018-2020)
Original language: Spanish (Mexico)
This Mexican series is about The House of Flowers, although later there appears to be a second House of Flowers that is a cabaret (and not a flower shop).
It's a series about a complicated Mexican family: the patriarch's mistress hangs herself, he goes to jail, his wife wants to keep up appearances, a son is queer (gay? bi? he's confused), a daughter is cheating on her fiancé, and a funny speaking daughter has a transgender ex (played by a cis man, unfortunately).
In short: it's a juicy soap – basically a telenovela. But a very queer one!
It's a groundbreaking show in Mexico – orientation and gender identity is rarely discussed in-depth on Mexican shows.
Tiny Pretty Things (2020-)
Dance lovers be aware! If you are into dancing, and especially ballet, you've probably already seen Tiny Pretty Things. As the series was trending by the end of 2020 on Netflix , just after its first season was released.
The series follows students on a ballet academy in Chicago. After a star dancer is pushed off the roof the school is left in turmoil.
But one dancer less, provides an opportunity to another. Yes, this LGBT Netflix series includes lots of bitching, back-stabbing, but also intimacy! And not just intimacy, also gay intimacy.
One of the man characters is the openly gay Shane McRae, who's a great dancer who secretly sleeps with his roommate.
Grace and Frankie (2015-)
This is an interesting LGBT TV show on Netflix because it isn't really a queer show.
Grace and Frankie separate from their husbands when they learn their husbands have been having an affair for 20 years, and they want to get married.
Their storyline, however, is secondary to that of Grace and Frankie. Also, there is very little chemistry between the men.
It isn't every day you see an older gay couple in a series though, so that's why this series is on this list with LGBT Netflix shows.
It could've been a much more interesting queer show! Grace and Frankie, however, are so enjoyable to watch, I'm not ashamed to admit I watched all seasons.
Another queer angle: actress Lily Tomlin (Frankie) is openly gay! And Jane Fonda (Grace) has been a big social activist for decades.
Cheer (2020-)
"You keep going until you get it right. And then you keep going until you can't get it wrong." The cheerleading world is tough, really tough. If you want to stay at the top, you have to work hard and go deep.
This Netflix original docuseries follows a cheerleading team in Texas, that has won over 10 National Cheerleading Championships and five Grand National Championships.
It focuses mainly on a few team members, of which two are openly gay black men.
In sports that's mainly white, straight and female, the docuseries shows the diversity and inclusion in the sport. And it challenges the negatives stereotypes often attached to being a cheerleader.
The two openly gay black men in Cheer are Jerry Harris and La'Darius Marshall.
A negative side note: Jerry Harris has been arrested in 2020 and charged with exploitation of minors.
Bridgerton (2020-)
The end of 2020, Netflix captivated the world with a new series called Bridgerton. The American costume drama centers around two wealthy families named Bridgerton and Featherington.
Bridgerton is set during the Recency era in 1813 and is based on Julia Quinn's novels. In the first season, Daphne Bridgerton searches for love, while the mysterious Lady Whistledown informs everyone with the latest gossip.
Yes, Gossip Girl vibes all the way.
After the first trailer launched many were enthusiast to see an intimate gay scene included. Sadly, this is the only queer scene in the first season.
Nevertheless, we have high hopes for more queerness in other seasons. Netflix has announced a second, third and fourth Bridgerton season. And we can't wait!
The producer of the series, Shonda Rhimes, has produced many shows that showed important LGBT representation.
Also, one of the Bridgerton brothers, Benedict Bridgerton, seems not to be straight. So, we would love to see more of Benedict, and him figuring out his orientation, in other seasons.
Jonathan Bailey, who plays the main character Anthony Bridgerton, is gay in real life.
Special (2019-2021)
Special is about a gay disabled young man Ryan. It's actually a series created, written, and acted by Ryan O'Connell, loosely based on his own memoir.
The episodes are short (about 15 minutes), but your life is changed after 8 episodes! Being gay is a non-issue for Ryan, it's his cerebral palsy that he's uncomfortable with.
That's also the reason he's still a virgin (or that's what he thinks is the reason).
The show is really funny, super sweet, and can't be missed on this list with gay series on Netflix. It's also paving the way for queer actors with disabilities.
Riverdale (2017-)
It's moody, it's spooky: Riverdale is based on the Archie Comics. There's a kiss between two girls in the very first episode (yet it went nowhere), and there's a gay character (Kevin Keller) but he only gets interesting in season 2 (when he steps up for the LGBT community). And everyone discovers their orientation in some way.
This show is great for its inclusion of bi characters. But in the show a queer man dies (bad choice, always).
So yes, the show is queer (much queerer than the original comics), but it could be better!
Elite (2018-)
Original language: Spanish (Spain)
This teen drama has something none of the other LGBT Netflix shows have: a gay boy that's the son of Palestinian immigrants! And the storytelling is very tastefully done.
The show creates a beautiful – yet intense – love story between rich, white, private school boy, Ander, and working-class Omar.
And although queer romance usually gets less screen time than straight ones – there's a lot of Ander and Omar (and the intimacy, oooofff… HOT!).
Elite is very queer overall. There are also lots of illegal things going on, so it's an exciting show altogether (a little similar to Riverdale, but better!).
It's one of our absolute favorite gay shows on Netflix.
Queer Eye (2018-)
"Make America Gay Again!" In this reboot of Queer Eye for the Straight Guy five new gay professionals (the new Fab Five) perform makeovers/make-betters to – usually – straight men.
The Fab Five are Antoni Porowski, food and wine expert; Tan France, fashion expert; Karamo Brown, culture expert; Bobby Berk, design expert; and Jonathan Van Ness, grooming expert. The show is both loved and criticized.
The meaning of 'queer' in the original show was very politically loaded, and the criticism is that the reboot of the show is not radical enough in that sense. The Fab Five are all cisgender gay men.
Queer Eye has allegedly been most popular amongst a very straight (white) audience. The show definitely wasn't created to be radical, groundbreaking.
Many (cis) gay men, however, love the show too!
Tiger King (2020)
Who didn't watch this documentary in 2020? We weren't very interested in watching it at first, but after the whole world seemed to be talking about it, we jumped on the bandwagon.
Due to everything that happened last year, many people were at home, watching things. Tiger King became therefore one of the most popular LGBT Netflix shows of all time.
The Netflix miniseries is about Joe Exotic, who's a zookeeper, and Carole Baskin, who's a big cat rights activist and has an animal sanctuary.
Joe Exotic was married to a man, who sadly passed from HIV. In the series you get to see him with other boyfriends.
13 Reasons Why (2017-2020)
This is one of those shows with a few queer characters in it, but it is an important one because it deals with self harm – something many people in the LGBT community, unfortunately, are familiar with.
13 Reasons Why can be triggering.
It is an American teen drama series that follows a group of classmates. They receive tapes from the girl who took her own life. In the tapes she shares why she did it and why she holds some people responsible for it.
If you need help, reach out to The Trevor Project or visit the 13 reasons Why helpline.
Star Trek: Discovery (2017–)
Yes, finally LGBT representation in Star Trek! The original Star Trek series doesn't have explicit LGBT characters. But Star Trek: Discovery makes history, by featuring its first openly gay characters.
Paul Stamets, played by Anthony Rapp, and Dr. Hugh Culber, played by Wilson Cruz, are a married couple. We don't want to spoil too much, but one of them gets kiIIed in season 1 ('bury your gays' trope alert).
But there's a twist, and they get reunited again. If you are a Star Trek lover, you definitely have to see it yourselves!
Dear White People (2017-2020)
The LGBT Netflix show Dear White People is based on the movie with the same name from 2014. The film's queer Black writer and director, Justin Simien, also created this series!
So it's a story about diversity to start with. The queer characters aren't your usual straight-forward (gay-forward in this case?) gays/lesbians – their orientation doesn't always define their characters, nor are the characters easily labeled.
This series tackles importance issues of black queer culture, as well as relevant topics like #MeToo. The third season is definitely the queerest!
You would love the lesbian Netflix show She's Gotta Have It if you love Dear White People!
Toy Boy (2019-)
Original language: Spanish
Another Netflix original series from Spain! Spanish Netflix series like Elite and La Casa de Papel (Money Heist) are hit shows all around the world, and we totally get why, we absolutely love them.
And we all can watch another Spanish drama, called Toy Boy.
The series tells the story of Hugo Beltrán, a young, handsome and carefree stripper who wakes up one morning after a night of partying on a sailboat with a body lying next to him.
Hugo doesn't remember anything about the evening but is convinced that he didn't do anything wrong.
Toy Boy has many beautiful (often half naked) men, illegal things, romance, intimacy, money, friendship, family, and many plot twists. And it includes diverse characters with quite progressive storylines.
We had hoped the gay love story had more depth, but maybe we see that in season 2?! A second season wasn't announced yet, but hopefully it will come!
Crashing (2016)
Crashing is a comedy series about a group of people living together in London in a disused hospital, as property guardians.
This way they are able to rent the otherwise empty building cheaply. You can see them as squatters, but one of the residents Kate thinks differently about that.
It's a sharp and funny series, so many people were sad to find out it got canceled after just one season.
Amit Shah plays Fred Patini, a gay man who becomes close with one of the hospital residents.
The Umbrella Academy (2019-)
Based on Gerard Way's original comic, The Umbrella Academy tells the story of 7 siblings that have supernatural powers. Or well, 6 of them, and then there's Vanya (played by trans actor Elliot Page).
She feels powerless and has always been an outsider.
The show did something interesting though, they made one of the lead characters queer! That wasn't the case in the original comic, but Netflix rewrote Klaus queer.
He's the one that can talk to people who no longer walk this earth. And he's queer and interesting, he's not just 'the gay one'.
It's a little unfortunate his love interest dies (remember queers were always kiIIed off in the past?). But we love how the show diversified its story and we're curious to see where it goes!
This is one of my favorite LGBT Netflix shows to watch!
Bonding (2018-)
Bonding follows Pete, a gay man, who helps his best friend Tiff as an assistant. And not just an assistant, a dominatrix's assistant.
The dynamic between the two is hilarious. Tiff is a psychology student and is moonlighting as dominatrix under the alias 'Mistress May'.
The series is loosely based on the experiences of Rightor Doyle, the writer, producer and director of Bonding.
Season 1 has 7 episodes of about 16 minutes long, so you finished it before you know it! Early 2021, the second season premiered on Netflix.
Bonding is a funny gay Netflix series to watch!
Black Mirror (2011-)
This sci-fi series is insane. The overall theme of the series is basically technology manipulating the behavior of humans, yet every episode has its own storyline, and they aren't related apart from the larger theme.
Episode "San Junipero" (3×04) is a very cute lesbian love story. There are not enough lesbian TV series out there, so we have to be happy with every episode we get!
In all the other episodes of Black Mirror, technology creates a dystopia, yet in this episode, it does the opposite. And like any episode, nothing turns out to be what it seems!
In the fifth season (5×01), there's another queer narrative – kind of – when two men get intimate in virtual reality. They're straight, unfortunately (they try kissing IRL because they're both confused), but we love how it's opening the dialogue about fluidity!
Modern Family (2009-2020)
Yes, yes, yes: Modern Family! We absolutely love this sitcom and it can't be missed on this list with the best LGBT Netflix shows.
11 seasons with (gay) love, fun, chaos, and family.
The series is about 3 families, that form one big family together. Gay couple Mitchell Pritchett and Cameron Tucker form one of those 3 families together with their adopted daughter Lily.
Mitchell Pritchett is played by actor Jesse Tyler Ferguson, who's gay in real life.
Modern Family has been around for over 10 years, so it's amazing to see the actors getting older (especially the children).
AJ and the Queen (2020)
An American comedy-drama produced and starred by RuPaul. The LGBT Netflix series follows drag queen Ruby Red, who travels around America from one club to another.
Ruby doesn't do this alone, but together with an orphaned ten-year-old sidekick, named AJ.
The series is fun to watch and is very sweet. Especially the message of love and acceptance Ruby is trying to send out to the world.
AJ and the Queen also acknowledges and talks about and a scandal that happened in the past. RuPaul made certain transphobic comments during a The Guardian interview.
In the interview RuPaul questions if a transgender woman can be a drag queen or not. And with his words, he hurt many members of the LGBTQ community.
Eastsiders (2012-2019)
Eastsiders first premiered on YouTube, then went streaming on Logo TV's website (which targets an LGBT audience), and now you can watch it on Netflix!
It can't be missed on this list with gay Netflix shows, as the series is about a gay couple.
It's a dark comedy series about the struggle of a relationship and the mess we sometimes make of our lives. What would you do if you find out your partner cheated on you?
In 2019, the fourth and last season premiered on Netflix.
Unbreakable Kimmy Schmidt (2015-2019)
I have to admit, I criticized this show, having a stereotypical sassy gay best friend. Though, I might not have seen enough of the show to get a total picture.
Yes, I stopped watching Unbreakable Kimmy Schmidt just because I didn't like it that much. It isn't my kind of show. But that doesn't need to say it isn't your kind of either. It received many Primetime Emmy Award Nominations!
What is it about? It's about Kimmy Schmidt who gets rescued from a doomsday cult, where she was kept for 15 years together with three other women.
With a super positive attitude, she tries to get back in society and moves to New York City. Kimmy becomes roommates with Titus Andromedo, and he becomes Kimmy's black (gay) best friend.
Titus Andromedo is played by Tituss Burgess, who's gay in real life too. His response to the criticism of his character being the stereotype sassy gay friend was: 'They're not watching the show. Titus Andromedon is more everyman than any other character on that TV show'.
In 2020, an interactive special was created for its fans, named Unbreakable Kimmy Schmidt: Kimmy vs the Reverend.
Grand Army (2020-)
Are you a fan of 13 Reasons Why and Euphoria? Then this high school Netflix series might be something for you!
Grand Army follows five different students who study at Brooklyn's Grand Army High School. The story is based on Katie Cappiello's play Slut, who wrote the story based on her experiences as a teacher.
The series shows a raw and unfiltered view of what it's like to what it is to be a high school student in America today. The students are finding out who they are.
One of the students is Sid, a closeted Indian American student who's part of the masculine, very hetero and toxic high school's swim team.
RuPaul's Drag Race (2009-)
In this reality competition, RuPaul is looking for America's next drag superstar. The show has won 5 consecutive Emmys and might have been the biggest success of the last decade.
It's a bit of America's Next Top Model and a bit of Project Runway and a lot of queens! It's making a whole different segment of queer culture visible, and I'm pretty sure RuPaul has single-handedly made drag culture mainstream.
RuPaul's Drag Race has even infiltrated (internet) language: 'yas queen!', 'shade!', 'you betta werk', 'don't f*ck it up', 'Bye Felicia!', 'Sashay Away', 'Shantay, You Stay'.
There's a newer show, RuPaul's Drag Race UK that has gotten lovely reviews – hopefully it'll come to Netflix!
Lesbian Netflix Shows
Yes, there are many gay Netflix shows, quite some bi Netflix shows, and also trans Netflix shows. And lucky for us, there are also many lesbian Netflix shows.
To not make this article longer than it already is, we've separated the lesbian shows on Netflix in another post. See our lesbian Netflix shows you have to watch article to read more about lesbian Netflix shows.
Exciting lesbian shows included in the list are Trinkets, Feel Good, Wyonna Earp, and The Haunting of Bly Manor. And there are many more!
LGBT Netflix Shows 2021
We are looking forward to this brand-new year with hopefully many more LGBT Netflix shows. What are we excited about?
A new season of Atypical, LGBT representation promised in the second season of The Witcher, and First KiII. We are especially excited about First KiII, a lesbian vampire show! Lesbian Twilight?! Yes please, we are here for it.
Also exciting, in 2021 a new animated series will premiere on Netflix, called D eadEndia. The new LGBT Netflix shows is based on Hamish Steele's comic book series. The show includes a transgender character and a neurodiverse character. Transgender actor Zach Barack does the voice of the transgender teen Barney.
We also hope titles like Euphoria and L Word Generation Q, Work in Progress and Billions will come to Netflix. And we also hope the L word will return to Netflix!
We'd love to hear your feedback on this article! Did we miss any LGBT Netflix Shows? Let us know!
Want to chat with us about this article? Find us on Instagram, Facebook, or YouTube!
We would love to hear which of this LGBT Netflix shows is your favorite. And don't forget to share this article with your friends.
MORE TO READ:
PIN THIS ARTICLE