Because we can all use some more romance in our lives: here are 10 true lesbian stories as told by 10 lesbian couples!
All lesbian love stories are different, which makes all of them so beautiful. We now live in a time when it's easier than ever to meet lesbians – especially online.
But how does a lesbian romance like that start? It can be as casual as sliding into someone's DMs, and it can be as obvious as meeting on Tinder.
And then there are lesbian couples who met in real life! In a lesbian bar, or all across the world during a vacation in Asia…
In this blog post, we will share 10 different lesbian stories by different lesbian couples.
True Lesbian Stories by Lesbian Couples
Get ready for these lesbian short stories!
Allie and Sam Conway from Allie & Sam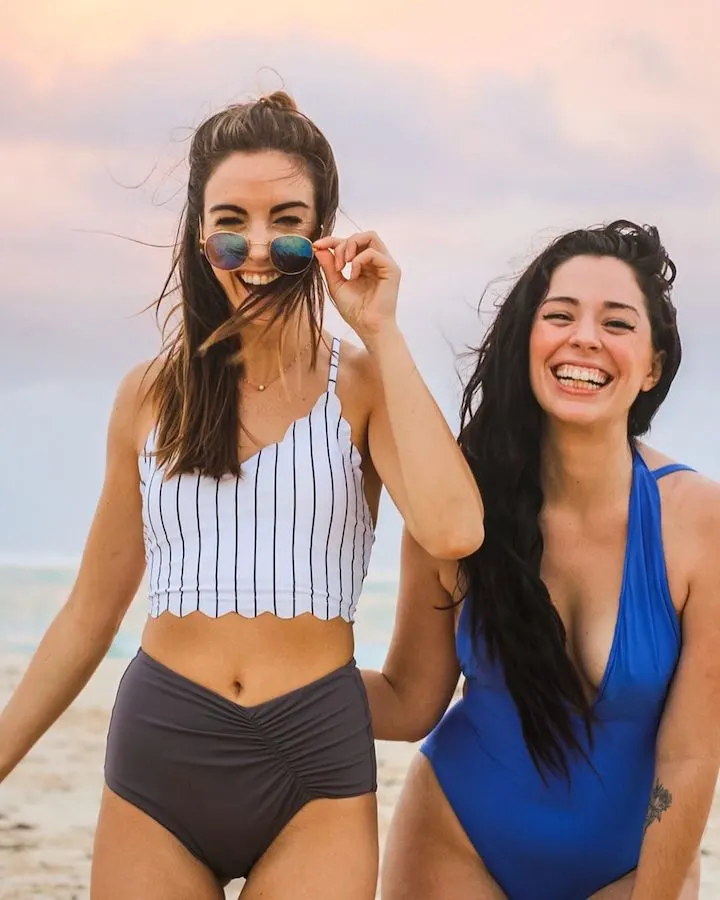 Tell us your lesbian story! You met on Tinder. How long were you two active on the app before you two matched? Who started the conversation?
Oh man, I was on Tinder for a while! Probably over a year. I went on so many lesbian dates before Sam! She had only ever met one person off Tinder before me, though, and I was also the first girl she ever dated!
I sent her a message first, and we quickly exchanged phone numbers. Within a day or two I asked her on a date.
Where you out already?
Yes and no. Sam was not out at all. I was semi-out… I had only told a few close friends, and I was waiting until I had someone really special before I shared it with my family. Sam came out shortly after we met.
How long were you two talking before your first date?
Not long! We talked only a few days, and then our first date was to an outdoor art festival in our city.
We met up around 7pm, and stayed out until 2am, walking around the city and talking!
You got married in 2019 and have adoption plans! You also still want to travel more, so what will your lives look like in 5 years?
Yes! In 5 years, I hope to still be travelling – we never want to stop! Maybe we will have a little one travelling with us, but we also want to make a point to travel just the 2 of us – it's a great chance to reconnect.
Alithea Castillo and Kim Geronimo (The Street Sensei)
Your love story is truly a global one! You're both immigrants from Southeast Asia, living in New York. Tell us how and when your lesbian love story started!
Our story started right here in New York. Before we started dating, we were friends through Instagram.
We followed each other because our hairdresser, who at that time we didn't know was playing cupid, asked Alithea if she knew of this girl Kim who goes by "The Street Sensei" and she casually said, "Oh yeah, I know of her work. I think she's really good." which our hairdresser then skewed and mentioned to Kim on a later appointment of theirs that there's this cute Filipina who has a crush on her which Alithea did not say at all lol.
Kim then checked Alithea out on Instagram and said in verbatim, "She's really cute.. but I don't know if she goes for tomboys." – She does. But Kim didn't know that.
So, we followed each other back in 2017, but we were just acquaintances. Fast-forward to 2018, we met a couple of times in that past year because of mutual friends, but we never really grew close up until Alithea's ex broke up with her.
Kim, who lived 13 blocks away, became the person who consoled Alithea every day. Kim made her smile, made her eat (a lot), and made her realize she deserved better.
It took a few months before we realized we were really right for each other, and we made it official.
Fast-forward to more than 2 years later and it's all because of Instagram (and our hairdresser who we still go to until this day).
You have similar yet different backgrounds – how has that enriched your relationship?
Kim is from Burma and Alithea is from the Philippines. Kim moved to New York 15 years ago and Alithea moved here 4 years ago. We grew up in different countries, but we have such a similar background which greatly impacted our relationship.
Kim's parents made it a point that she speaks fluent Burmese, understands Mandarin and Hokkien, but she's also every bit of a New Yorker. While Alithea grew up in the Philippines most of her life, but was brought up to be very independent to be able to one day cope with living in the United States.
Kim's groundedness and Alithea's curiosity intertwined and has helped us understand both our family dynamics, our own lifestyles, and most especially our cultures.
All this has made us appreciate each other more because we keep learning something new about each other every day.
At the time you met, were you out? If so, for how long?
Yes! Alithea has been out since she was 12 years old and Kim also at the same time around then.
Tell us about the future of your love story! Do you see yourselves living in Asia again one day?
What we both love about us is our drive to push each other and motivate each other to grow ourselves and our craft.. and this is something we know we'll continue to do so for our future.
It may or may not be in Asia, we're not sure yet!
Last but not least: what are your best tips for queer Asian girls looking for love?
Wherever you are in the world – don't be afraid to put yourself out there in the market BUT most importantly, just be your most true & authentic self.
Focus on yourself, your happiness, and never settle.
Sometimes, when you're not looking, you might just find someone that's right for you and be there to build you up and see that your journey (and hers) is also as important as the one you're both talking together as a couple.
Lastly, when you do find someone, don't forget about balance – for yourself, your relationship, your career, and everything else in between!
Julia Zelg and Eileen De Freest
Your special lesbian age gap love story is actually how we found you two! Tell us how it all started and when!
We met on Tinder in 2018 and fell in love almost instantly. We were just so similar and even though we have an age gap, being together has always felt natural to us.
Now we are married, have a cat and are living a happy life together.
I bet a lot of people see your 37-year age gap as something that makes you very different. But we'd love to know: how does it enrich your relationship?
We find our age gap quite ടexy and exciting, to be honest! But it is not the focus of our relationship or the reason we're together.
We just really love each other. We are just like any other couple, and we don't even think about our age difference on our day-to-day lives.
What's your reaction to people who misjudge your relationship and think you're mother and daughter?
Sometimes when we are out and about people ask as if we are mother and daughter. They're never actually trying to be rude, they just honestly think that.
That doesn't brother us because it's an innocent mistake and usually as soon as we tell them we are married they apologize profusely. I think it's a normal mistake to make, and it doesn't upset us, although it can be awkward sometimes, but we are totally over it.
People are only truly rude and judgmental online, because they can easily leave hate messages using anonymous profiles.
It is always sad to hear judgmental things about our relationship, of course, but we know our love is real and beautiful, and we know we are not doing anything wrong or harming anyone.
You both also have different cultural backgrounds! How does that affect your relationship?
We have different backgrounds, we grew up in different countries, we're from different generations, etc. We have very different life experiences, so there's a lot we can learn from each other.
We don't really feel the culture gap, just when it comes to adjusting the temperature of the apartment!
What is your tip for queer women falling in love with a much older/younger person?
As long as it's legal and consensual, go for it!
Just make sure you are prepared to deal with a few awkward situations and judgement from other people. But honestly, when you truly love someone, it is totally worth it.
Sydney and Brit from The Sharon Moms
Tell us about your lesbian love story! How and when did you two meet?
As told by Sydney: Brit and I first met in high school when we were sophomores through a mutual friend. I had little to zero care as I already had my group of friends and wasn't looking for more.
When we were reintroduced our senior year of high school and our two worlds more or less combined, we finally hit it off.
As I got to know Brit more, I quickly learned that she was going to be embarking on her first year of college abroad in Israel…the exact same program I was enrolled in.
Call it fate or call it coincidence, this for me, was the moment I knew we'd be bonded forever. But just as platonic friends.
I had only ever dated and was only ever interested in guys. That is until I spent the next year becoming best friends with Brit and eventually moving back to Los Angeles where we attended college together.
It was only when we had moved back home that another mutual friend of ours kept asking me what was going on between us.
Before I knew it, I was talking about how attracted I was to Brit. How badly I wanted to kiss her. It didn't take long until we finally shared that first true kiss. And that sealed the deal.
We were both 20, in the prime of what should be ones dating career. We are now 30, married for nearly 4 years, with a daughter and a new baby on the way. From that first kiss, she has been, and will always be, my person.
As told by Brit: Our lives had intersected a few times before we became friends, through school and mutual non-school friends. Eventually we started socializing our senior year of high school.
We had both, separately, chose to skip our first year of university and go to Israel.
Sydney had been planning this gap-year for years, I had chosen it on a whim but I guess it was fate. We didn't really spent too much time together in Israel.
We met up at a club in Tel Aviv about 3 months later, had our first kiss and went our separate ways.
Six months later, she was living in Jerusalem, and I was doing my volunteer service with the IDF and asked her if I could stay at her place during my 24-hour leave from base, which I received every 2 weeks (I was stationed in the south, and it took me 8 hours to get to Jerusalem, so it was really like 10 hours with traveling and sleeping.)
This period of time when I would crash on her couch for 10 hours every two weeks was the point at which we started to become closer.
With such limited freedom, we would spend it going out for dinner, dancing, drinking and wouldn't crawl home until 3, 4 or even 5 in the morning (my bus would pick me up at 7 am, but I had 8 hours to sleep on my way back).
When our time was over in Israel, I made my way back to Los Angeles and started attending school.
After months of daily Skype sessions, Sydney eventually joined me and the rest his history.
Were you out already? If so, for how long?
As told by Sydney: I wasn't out. But I wasn't not out either. I never had to 'came out' as straight. So looking back at my teenage dating life, I really was just with people who made me happy and fulfilled.
It just so happened that those people were all guys.
Within a month into dating Brit, I had told my family and friends. It was no big deal. This was just the next person I was dating. Although most of them would probably not bet on me marrying her several years later, I am fortunate enough to have a community of family and friends who are just accepting.
For me, it was that easy and that simple. It's a gift I wish I could give away to so many others.
As told by Brit: I had come out in high school to my friends. I didn't tell my parents until I was 20, Sydney was my reason for coming out to them.
I knew it was serious, and I wasn't willing to hide it.
How has being Jewish influenced your love story?
As told by Sydney: For me, I think it's made our life together that much deeper, stronger, and easier. We were both raised with the same values and ethics.
We were both taught about our peoples stories. We both grew up in kosher homes.
The both of us speak Hebrew (Brit is fluent as she was born in Israel and has Israeli parents, who still speak Hebrew in the home). We celebrate the same holidays.
When we were dating, a hot topic for us over dinner or during game night would always be about our future home and family.
Having someone to share a life with that also shares the same beliefs as you, I think makes for a juicier, more intimate relationship.
As told by Brit: It has influenced us greatly, as faith tends to do with those who observe a religion. Being Jewish is kinda just who we are. We were both raised Jewish but very differently.
Sydney was raised religiously, and I was raised socially (as most Israelis are), but it's what has attracted me to her.
Personality wise, we are very different people, we like different things and see the world through different lenses but our beliefs and values and how we want to raise our children and build our home align, which I think is really healthy.
What is your best tip for Jewish queer girls looking for love?
As told by Sydney: It may seem too on the nose, but traveling to Israel is a great place to start. Tel Aviv is considered one of the top gay friendly cities in the world. Plus it's beautiful. It seems like a win win.
Also, find an LGBT friendly Temple and become a member. Living in Los Angeles, we have so many temples that are either LGBT friendly or run by LGBT rabbis and cantors, so being able to be apart of both communities can be another perfect way to find your person.
As told by Brit: Sydney stole my answer, but it elaborate a bit. I HIGHLY recommend everyone who can, sign up for Birthright. It's a free trip for young adults (18 years to ~31 years old) to visit Israel for 2 weeks.
It operates out of a number of different countries, not just the USA. They do have LGBT specific trips, but I've actually made deeper and longer lasting friendships with queer friends from non-LGBT specific trips.
If you can get on a trip that is slated to complete around the time Tel Aviv pride happens, you can extend your Birthright trip for free through most airlines and then experience the biggest Pride celebration in the world.
It's more gay men dominate, but you'll find your girls there too, and most likely Jewish.
For people living in Los Angeles, there is a great organization called JQ International (Jewish Queers International) that has awesome events and that I'm involved in, but in general, I think if you're Jewish and you want to date another Jewish girl, I think it's easier than ever before.
I've never spent time on any dating apps, but I feel like that's a no-brainer filter question on them.
Gabi and Shanna from 27 Travels
Tell us about the night in NYC you two met – you were in a lesbian bar? Who made the first move? Did you have a signature 'move' you tried on girls?
We actually met at the NYC Pride Parade in June 2015! We are both from NY and we both happened to attend that year. It's very common on pride to hit up a lesbian bar after the parade to continue the celebrations, and I guess we both decided to hit up the same one, Cubbyhole.
Cubbyhole is a very popular lesbian bar in NYC, there are actually only 3 lesbians bars in all of NYC, but Cubbyhole in Manhattan was our clearly a favorite for both of us haha.
The bar is very small, very lol. It's small on a regular night, so on Pride you cannot even move and everyone is squished like sardines. But it's worth it to be able to celebrate there on such an important day.
I (Shanna) was a little drunk to be fair, but I remember I was squished in the middle of the bar because my friend who I was with left to go chat up a girl she liked. Gabi saw me and came up to me first! She started talking to me, and we were talking for about 30 minutes!
At the end of our conversation, Gabi said she had to leave because she was here with a friend and they both had to go. Before she left, we followed each other on Instagram (we didn't exchange numbers, the modern age haha) and then parted ways.
We followed each other on Instagram for a few months and would like each other's photos, but we didn't start talking again until December 2015. Gabi had commented on one of my photos and I decided I was going to DM her. From there we set up a night to go on a date! And as they say, the rest is history!
As for signature moves, I didn't have any. But Gabi says if she liked a girl's tattoo she would go up and tell them as a conversation starter. She definitely used that on me, haha!
Were you out already? If so, for how long?
Yes we were both out already. I (Shanna) had been out since 2010 — so 5 years at that point — and Gabi had been out since the beginning of 2015.
What is your best tip for single queer girls looking for love in a bar?
Shanna: If you're afraid to talk to someone in a bar, bring a wingwoman/man/person with you! I was always nervous to approach girls I liked in bars, so I would go with a friend and they would start the convo for me.
Once the conversation got started I could take it from there. It definitely made it easier and took some of the pressure off for me!
Gabi: Being willing to put yourself out there and know it's okay to be rejected. The worst someone can say to you is that they aren't interested, in which case, you don't want to be with them anyway!
I was always nervous to approach girls I liked, but I knew that if I didn't do it, I would regret not saying anything at all.
It's definitely scary approaching people you don't know at a bar, but you need to be willing to put yourself out there if you want to find love.
You both come from different religious backgrounds, how has that affected your relationship?
For those who don't know I (Shanna) was raised Catholic — I went to Catholic School my entire life from elementary school through college — and Gabi was raised Jewish.
We are both not religious people at all, so our upbringing never affected our relationship.
We both respect each others traditions (and combine some for certain holidays like Christmukkah haha) and learned a lot about a different religion from our own that we probably wouldn't have known otherwise!
How do you think your love story will unfold over the next five years?
We're not the kind of people who plan for the future, we definitely live in the moment more. All we know is that whatever happens, we're going to be together!
We can't wait to see what the next 5 years brings, talk to us then haha!
Ali and Alison Walker from All Options Considered
Tell us about your story! How and when did you meet?
We met out dancing on Pride night in June of 2004 in Seattle at the Wild Rose lesbian bar. The next day we met up again at Volunteer Park during the daytime pride festivities when we could actually have a conversation, and we've been together ever since.
We first got married in 2006 in Canada, and we were surrounded by family and friends but we weren't in our home country because gay marriage wasn't legal where we lived in the US at that time.
We got married a second time in 2008 in San Francisco during the short window that year when California was issuing marriage licenses to gay couples, because it was important to us to get married in our own country.
We also have a third marriage date since we were domestic partners in Washington State where we lived, and in 2014 that rolled over to a legal marriage in the US.
Maybe we need a fourth marriage in another country now! No matter how many times we get married, we get to choose to be together every day when we wake up.
Were you out already? If so, for how long?
Alison: I came out in 1983 when I was 20 after I had been away at college for a few years. I was interested in girls since my first crush in the second grade, but I never acted on my feelings until I was away at college.
I was on the basketball team and we also spent a lot of time with the softball team, and probably half of us on those two teams were lesbians. Even though there were so many of us, it was still hard to be out because the coaches all discouraged us from being open lesbians.
By the time I met Ali when I was 40, I had been completely out with my family and at work for a long time. I had also been through several longterm relationships by then and I was ready to find my perfect love story and that's what Ali was for me.
Ali: I started having relationships with girls as a kid and never had a relationship with a boy so maybe I was always out. But it wasn't until high school that I started talking to family and friends about being gay.
I was in my first serious relationship with a girl when I was 15, and I was completely open with my family and close friends. I told a few kids at school but they weren't as comfortable with me being gay. That was fine since all of my close friends and my girlfriend lived in a different town.
I had a series of relationships in my 20s where I learned exactly what I wanted and didn't want in my life. When I was 30 I was finally ready to be in a healthy relationship that could last forever, and that's when I met Alison and fell madly in love.
We usually meet and speak to a lot of other millennials about love. If you could give your 20-something year-old selves (lesbian) relationship advice, what would it be?
First, it's really important to know yourself and figure out your own hopes and dreams before commingling your life with someone else. And second, not all relationships are meant to last forever, and that's OK too.
Some relationships can serve you for a short time and others can last decades. You just have to keep growing and changing as a person, and keep looking for that connection that fits both physically and emotionally.
When we met we were at different points in our lives, but we were really attracted to one another so that was the first connection. When we were first getting to know each other we talked about everything, so that was the second connection.
We talked about all of our past experiences and all of our hopes and dreams for the future. We made room for one another in our lives and accepted all the ways we were similar and different.
Over time our priorities shifted from careers to travel to early retirement, and because we always talked openly about everything we were able to create a fabulous life together that keeps changing with us.
We're still madly in love after almost 16 years together.
For queer women looking for love later in life, what is your best tip?
We had both been through disappointing relationships and survived difficult breakups before we found each other. Part of the problem was that we weren't choosing the right people, but the other issue is that we weren't ready ourselves yet.
Sometimes it seems easier to meet people when you are in your 20s, and harder to meet people when you are mature and ready for something real and permanent. But everyone is different and every love story is unique.
Our best advice if you're looking for love at any age is to get out there and do what you most enjoy, and be open to meeting people anywhere at anytime.
Spend time with friends and family, and let them introduce you to people. Spend time on a dance floor, at a theater, out on a hiking trail, at a park, or wherever you most like to be.
And most importantly, get out there and introduce yourself to people who share your interests. Remember that you could meet the love of your life just about anywhere at all, as long as you're open.
Tash and Marthe from Breaking The Distance
We love that you two met while traveling, tell us all about it! Where and when did you meet? Who made the first move?
We met in January 2019 whilst travelling in Bali. We were staying at the same surf resort and met on our first day there.
We instantly hit it off as friends, but there was definitely a flirty energy there too. When we realized we both like girls, it got more interesting.
We had been hanging out for a few days and even gone on what would be considered a date. Finally, during a late night dip in the pool, Marthe made the first move, with a kiss.
Were you out already? If so, for how long?
Tash: We actually have very different 'coming out' stories. I have known I liked women since the age of 16, when I had my first lesbian relationship.
Marthe: However I didn't realise I liked girls romantically until 2016 (age 24), when travelling in the Philippines, I met a girl there and fell in love. We were together for two years.
What is your best tip for single queer girls that are traveling and are looking for love?
We think it's about being open-minded and prepared to meet new people. Go to places where you know that LGBTQ people are accepted e.g. Thailand, Bali etc.
Sometimes it may mean you have to leave your comfort zone, but just be sure to live in the moment.
You are both from different countries, how did you cope with a long distance relationship?
We were long distance for almost one year and finally 'Broke the Distance' on December 28th 2019. At times, it was incredibly challenging to be apart for so long.
But the best piece of advice we can give for any long distance couple is to communicate. It's so important to be open and honest with each other about how you are feeling, as words are all you have.
It actually became our strength, the distance has made us so much stronger as a couple as we have had to work through so much. We really feel like we know each other much better than if we had been dating in the same country.
Listen to Marthe and Tash their lesbian podcast Breaking the Distance to learn more about their story
Whitney and Megan from What Wegan Did Next
Tell us about your love story! You met way back on MySpace and the internet space has changed so much. Tell us how you connected back then.
Yes, we have a crazy story about how we met. So many people (younger than us) don't even know that MySpace existed, haha!
Whitney was living and studying in Hawaii and returned home to Kentucky for Christmas. It was Christmas Eve in 2006 and as she was jet-lagged, she was up late on the internet and decided to have a search for British girls. She'd always had a thing for British accents!
She had to google (or maybe even 'yahoo') a random English postcode to input to the search. Low and behold my face popped up on the first page!
She added me as friends and I accepted, thinking I'd never meet this blonde cutie who lives in Hawaii…
How long were you two talking before meeting for the first time in real life?
We chatted on & on for about a year or so, until Whitney decided to do a study abroad programme in London. She informed me about half a year before hand and we started messaging each other daily in the lead up of knowing that we were going to be meeting soon.
We didn't let the other know that we might have feelings beyond friendship. But let's say that all changed the day that we met in person in 2008, and here we are nearly 12 years later as a lesbian married couple!
Where you two out already? If so, how long?
We were both very openly gay online and in real life. Despite living countries apart, we realized that we came out around the same time, at 15/16 years old. We met in person when we were 20/21.
How did you cope with a long-distance relationship?
We endured a lesbian long-distance relationship for four years, and it was a struggle, but for sure worth it! We coped by maintaining constant contact, thank goodness for the internet.
We would write each other long Facebook messages about our day (due to the 11-hour time difference from the UK to Hawaii) and send each other videos, chat via Skype (or even Viber back then!).
Most importantly, we both were equally committed to making it work and we had the same end goal. We got engaged in 2011 in Hawaii (Megan proposed to Whitney on our fav beach) and we conquered long distance in 2012 (after a failed visa).
Whitney moved to join me in Windsor, UK in 2012 had we our Civil Partnership on 28th September 2012 and 'upgraded' to a marriage in 2017 on our anniversary, in Palm Springs, California.
What is your best tip for single femme queer girls looking for love?
The best tip we can give is to simply embrace and accept who you are, and be truly ready to love. We know first hand the struggles of finding other femmes, and we always wanted to help others find a love like ours.
Which is why we launched Find Femmes, our dating site and community for femme LGBTQ+ women.
We'll be launching an online publication for femmes soon, so follow @findfemmes to make sure you don't miss out!
Alyy Patel and Praanee Chandrasegaram
How & when did you meet? It is still quite fresh, isn't that right?
Praanee saw Alyy at Pride Toronto's 2018 Dyke March wearing a shirt that said 'not all lesbians are white.' Praanee pointed it out to her friends because she was stoked by the representation of queer South Asian women; however, we didn't get a chance to speak that year.
Fast-forward to Pride 2019, Praanee saw Alyy on a mutual friend's Instagram story and asked them for an introduction, after explaining that she had seen Alyy the year prior.
We connected shortly after and had our first date at this super cute queer bookshop/café in Toronto's Gay Village. And here we are now!
Could you tell us a bit more about how you connected?
We immediately bonded over our alike narrative as a second-generation, queer, Desi, gender-fluid woman that grew up in different regions surrounding Toronto.
We shared similar experiences, such as both of us having a strong sense of Desi identity while growing up, repressing our queerness at a young age due to an inability to conceptualize it at the axis of queer invisibility in South Asian culture. As well as South Asian invisibility in queer culture, which then led the both of us to feel like the only queer Brown person ever.
The pressure to assimilate, as well as the shame for our Desi identities, intensified upon entering mainstream LGBTQ+ spaces. We felt unable to share personal narratives with others without vigorously defending our culture as prior context, and this became extremely exhausting.
However, meeting someone who shares the same intersections made us feel less alienated as queer South Asian women.
We instantly felt a sense of comfort and belongingness upon meeting each other, as sharing our respective lived experiences allowed us both to feel valid in our queer & South Asian identities.
Were you out already? If so, for how long?
We fundamentally reject the notion of 'coming out,' as it is a colonial construct that does not align with South Asian cultural values.
Due to the vastness of South Asian families and diasporic communities, queer South Asians are often required to navigate 'outness' in a similar manner to fluid identities, so it can easily fit our environmental, situational, and relational contexts.
Nonetheless, we've been gay all our lives.
What are your best tips for queer Desi/South Asian girls looking for love?
You do not need to assimilate to Western-normative queerness in order to be "valid." If your date makes you feel uncomfortable for performing queerness in culturally-conducive ways, then leave.
We assure you that will not end up alone. As an active organizer in the queer community, it took me (Alyy) just over a decade to find other queer South Asian women, let alone begin dating within this realm – but it was SO worth it.
You do not have to be "out" or identifying with a label in order to engage in queer relationships. If your partner cannot respect this, then dump their ass.
If you're looking for an online community/spaces of belonging, we run a Canadian grassroots organization called the Queer South Asian Women's Network (find us at @QSAWnetwork or on Facebook!)
Roxanne & Maartje from Once Upon a Journey
You might've read our lesbian love story on this blog, but here's a little recap! When and where did we meet?
In the cinema in 2014! It was NOT love at first sight haha, we were colleagues (at the cinema) and 'party friends' first (for like a year) before we realized we liked each other more than friends.
Were we out already?
No! We were 'straight' (or so we thought) when we met. I was in the process of breaking up with my boyfriend (I'm bi-/panടexual) and Rox was still happily focusing on anything but romance.
How did we know it was 'true love'?
We both believe one can have multiple 'true loves' in their lives. And we don't believe in love at first sight either. Yet we're going to get married!
So, how did we know we want to spend the rest of our lives together? Well… we believe you need a really good foundation, and we believe we have built a really good one! We kind of lived together from the start of our relationship, but we also did long distance for 5 months, we traveled the world together for three years (being together 24/7 can be tough!), and we became business partners.
We don't recommend you to do all this (it can be really stressful) but we know we can do it all – and we're still not bored with each other!
What is our best tip for queer girls looking for love?
We bumped into each other when we both weren't looking for love. It often happens that you find love when you least expect it. Don't try too hard. Have fun!
Go on lesbian dating apps, see where it'll take you, but don't put too much pressure on it.
We started off a little too serious (nearly broke up after a month actually) and we actually built something great when we weren't too serious and lived in the moment!
We'd love to hear more inspiring love stories! Share yours in the comments below!
Like this article? Go ahead and share it on your social media.
Want to reach out? Find us on Instagram, Facebook, or send us an old-school email.
MORE TO READ:
PIN THIS ARTICLE