We've looked all over the world to find married gay and lesbian couples who wanted to share their stories. And we found 10 incredibly inspiring gay and lesbian love stories!
Being engaged ourselves, for quite a while, we were wondering about married life! It's not as common for queer couples to have that fairy tale wedding – that's not strange, since gay marriage is only allowed in 31 countries (that's not even 20% of the entire world!).
Of course, we hope that many more countries will follow soon. It's already over 20 years ago that the first legal gay marriage took place, in the Netherlands. It's about time the whole world follows!
Gay and Lesbian Love Stories
Priya & Reema
Tell us a little about you, who are you?!
We are Priya and Reema! Reema is in international business and Priya is a journalist and creator of "Queering Desi," a bi-weekly podcast that uplifts the stories of South Asian LGBTQ+ folks.
How's your love story special?
Our love is special because we've defied all odds. We've survived and thrived all kinds of ups and downs, from family turmoil to a huge dream wedding.
We found a priest in Mexico who performed our Hindu ceremony. It was magical and perfect, everything we could have ever dreamed of and more! We made our traditions and our culture, which is so important to both of us, new again– more open and loving and accepting of our truths.
From different orientations to different religions, we make little "sense" on paper–but together we complement each other like puzzle pieces.
We uplift and strengthen one another, supporting and loving each other through everything that makes us who we are.
What's your best marriage advice?
Reema lives by the saying: "Find someone who you can grow in love with, not fall in love with." Priya's advice is to SEE your partner every single day. Make the choice every day– listen, learn, and see them for who they are, who they are becoming, and who they aspire to be.
Follow @thepriyaarora and @reema.tharani on Instagram and listen to Priya's podcast Queering Desi!
Terell & Jarius
Tell us a little about you, who are you?!
We are Terrell and Jarius Joseph. We are based out of Atlanta, GA and are gay dads raising our two children.
Our family has become a symbol of hope for many of our friends in the LGBTQ community as many of them didn't think it would be possible for them to build their own families.
We have created a safe place via our social channels where people from all walks of life feel loved and accepted!
How's your love story special?
Our love story is special because oftentimes when couples start their relationships in their teens, they tend to grow into their true identities and find out they are no longer compatible.
We have been fortunate enough to have grown together in our relationship and embrace the changes that happened within us. And most importantly, we are best friends before anything else!
So that makes for a lot of laughs and being 100% comfortable with each other.
Happily ever after… what does marriage mean to you?
Marriage to us means, two people, journeying through life together as a partnership.
Life is a crazy ride that no one has seemed to have mastered but having a life partner to share your greatest highs and your extreme lows with is amazing.
Follow Terrell and Jarius @terrell.and.jarius on Instagram
Alexas & Chasity
Tell us a little about you, who are you?!
Hi! We're Alexas and Chasity Ellis, a married, interracial lesbian couple and cat mommies!
How's your love story a 'traditional' fairytale?
I wouldn't call our love story traditional AT ALL. We are an interracial, lesbian couple living in Mississippi, right in the middle of a very religious area.
Not traditional according to that, but it definitely has been a fairytale. We just fell in love. Two people who no one was rooting for loved each other anyway, and it's what's kept us together when the whole world tried to break us apart.
Even when our relationship didn't make sense, our love was enough.
What's the best part of your story?
Our wedding was ordained by my (Alexas) brother. It was just us and it was magical and perfect. It was like everything fell into place right then.
Our vows and ceremony were all written by us for us. We know it wouldn't have been as magical with everyone watching us.
We also later got matching tattoos in each other's handwriting with the words, "She keeps me warm" lyrics from our first dance song by Mary Lambert.
What's your best marriage advice?
Focus on each other as much as you can. There was a time when we weren't sure we were going to make it. From scary car accidents to mental health to losing family members.
Sometimes your relationship gets put on the back burner. And that's okay. But just don't forget to come back to it. And think about arguments and disagreements in future terms.
I always ask myself "is this fight going to be revisited in the future?" If so, it's worth discussing. If not, let it go.
Follow Alexas and Chasity @lexandchass on Instagram
Matthew & Michael
Tell us a little about you, who are you?!
Hello! Our names are Matthew Schueller and Michael Lindsay. We are husbands living together in Portland, Oregon. Michael is a dentist, and Matthew is a travel photographer.
Together, we love watching Netflix, hiking, traveling and going on adventures, and of course, checking out as many cafés as possible around Portland!
How's your love story special?
Our love story is a bit unique because our actual first impressions of one another were through watching each other's coming out video. We really dove deep into the most secret parts of the other's life, and in a way by witnessing the monumental experiences of the other, fell in love.
There was never a time of doubt in the relationship, worrying if the other loved you back. We just felt extremely comfortable together.
There was a high intensity about our relationship from the very beginning, and really, there wasn't much room for casual dating. The day after Michael arrived in Seattle to visit Matthew (just 3 weeks after we watched each other's coming out videos), something tragic happened at Matthew's University within the building Matthew was supposed to be attending class.
The only reason Matthew wasn't there was because he skipped class in order to spend time with Michael, showing him parts of downtown Seattle. As a resident advisor, Matthew spent the rest of the week with his floor, and Michael was there to support everyone.
Within hours of meeting for the first time, we were thrown into a tragic, life-threatening situation. Instead of spending the evening out at the bars, we were at a candlelight vigil. Michael flew back to Nebraska at the end of the week just before Matthew's graduation ceremony, the following day Matthew's car was stolen with everything he owned inside of it.
He was moving his belongings from Seattle to Portland and stopped at a café prior to leaving the city. Someone had broken into the car and managed to hot-wire it while Matthew was inside. Matthew took a bus home to Oregon and Michael, on a day's notice met him to be with him during that difficult time.
Within a week of dating, Michael met his entire family at his graduation party. So much had happened within just the first couple of weeks of dating – it took the relationship from not even knowing each other to roles of unconditional love and support extremely quickly. Things got real, fast.
What's your best wedding advice?
For planning your wedding, we highly recommend getting a day coordinator! This is monumentally helpful when the big day comes, and you don't have to be the one everyone is looking to for guidance.
It really allowed us to enjoy the day at it's fullest, and focus on the things that mattered most.
Follow @michaelandmatt on Instagram
Jamilla & Que
Tell us a little about you, who are you?!
We've been married for three years. We raise our eleven-month-old daughter, Harper, in Atlanta, GA, USA. We have a vlog appropriately titled Jamilla & Que on YouTube. When we first started vlogging, we did not see a lot of representation on lesbian YouTube, on television, in lesbian movies, or otherwise of lesbian families.
Most representation includes two feminine presenting women dating and tend to tip-toe around the intersectionality of black lesbians. There is little representation that helps our youth feel more comfortable coming out in such a fragile political state.
While we cannot speak for the rest of the alphabet of our community, we can showcase a little of our lives because representation matters! We have documented planning our wedding, our actual wedding, our journey to motherhood, and now just balancing full-time work, motherhood, and a small business.
What we love most about sharing our lives is meeting new people.
How's your love story a 'traditional' fairytale?
Most people have this idea of marrying their best friend, building a life together, and having children. That's one of the most common fairytales.
Although my wife and I weren't best friends, over the years we've created a friendship and partnership that has continued to grow thus far. We dated and enjoyed the wild side of living young and free.
As our values changed we took a leap towards locking in our forever! After a surprise engagement, we started planning our fairytale wedding. Shortly after soaking in marital bliss, we purchased our first home in Atlanta, GA.
Things began to flourish between us so as in most fairytales, we had a baby!! I couldn't imagine a life this great, and I'm thankful to have created a partnership with my wife, best friend and business partner.
What's your best marriage advice?
Communication, communication, communication! Being able to be transparent and honest with your partner is one of the greatest gifts not only in marriage but in every relationship.
This has been our success driver for the past five years.
Follow Jamilla and Que on YouTube!
Huey & David
Tell us a little about you, who are you?!
Hi! We're Huey and David, an #intergaycial couple and aspiring daddies!
We are currently in the tedious process of adoption (not sure if people know, but it's pretty intense to adopt in Canada) and hopefully, we will be dads within 2 years.
What's the best part of your story?
The best part is yet to come! Yes, the wedding was amazing, with close friends and family only, but becoming dads is the big hype for us.
We want to make their childhood magic, especially because our kids will come from less fortunate environments. And we know it will be an incredible challenge, but we feel up for the task and will dedicate ourselves to them.
We can't wait to have our house filled with even more love!
Happily ever after… what does marriage mean to you?
Marriage for us was just a way to seal our love pact together. It's kind of written confirmation that our love is as valid as any other straight couples and gives us the safety and rights they have.
It's also the biggest promise you can make to someone, that you'll be there… no matter what is coming our way.
What's your best marriage advice?
Set goals together, doesn't have to be a house or kids like us. Could be trips, hobbies, anything you can do and need each other to achieve.
Follow Huey and David @huey_david on Instagram
Kate & Jot
Tell us a little about you, who are you?!
We are Kate and Jot, originally from London but now Australia is home.
How's your love story special?
Everyone's love story is special. But I like ours as it is about adventure and partnership. Unlike most people, we aren't surrounded by friends and family most of the time.
It's just us living in our tiny bus exploring the corners of Australia while we plot our next adventure. We have to have each other's backs in all aspects of life and be in tune with each other's needs.
Happily ever after… what does marriage mean to you?
Marriage means more adventures with my favorite person. Hopefully for the rest of our lives. And that when I lose her in supermarkets, cafes, bars etc I can say, "has anyone seen my wife?"
Follow Kate and Jot on @theroadhousecoasters!
Curious about our love & proposal story? It was definitely not love at first sight!
Nick & Grant
Tell us a little about you, who are you?!
Our names are Nick & Grant, and we are just your typical gay married couple. We live in Tampa, USA, with our two adorable Puggles, Alvin and Theodore.
We are your local film critics (not really, but we see a lot of movies) and we love to travel.
How's your love story a 'traditional' fairytale? And how is it special?
We met online (through Instagram) and moved in with each other after only 9 days. When you know, you know.
We'd like to think that we took the traditional love story (Disney princess falls in love with the prince in a day or two) and added a modern twist.
We turned an online long-distance relationship into something real. We didn't drag our feet and make excuses, rather we made it happen. That's what love is.
You must be willing to do what it takes for your relationship, even if that means packing your bags and moving across the country.
What's your best marriage advice?
On the contrary to what people may think, marriage takes work. It takes a lifelong commitment in which you are constantly putting your significant other before yourself.
Once you start to realize that their happiness is more important than anything else in this world, you start realizing the real meaning of marriage.
Follow Nick and Grant @nickandgrant on Instagram
Raffinee & Micaela
Tell us a little about you, who are you?!
Hi! We're Raff and Micaela, Bay Area locals and moms to three toddlers born 7.5 months apart.
How's your love story special?
I first met Micaela in college. She was a soccer star and totally out of my league. My heart would always race when we hung out and I always felt energized when I was around her. We flirted when we saw one another but it never went beyond that.
She graduated the year before me and went on to medical school. We occasionally kept in communication over text but didn't see each other for years later at a friend's wedding. We were glued at the hip the entire night and danced the night away.
But again, the time wasn't right. Two years after the wedding she came to Denver, CO, where I was living at the time, for an interview. Finally, after years of dreaming about her- she was mine! We have been together ever since!
What's your best marriage advice?
The best advice I have is advice we also try to live by: continue to date your partner and communicate from a place of understanding.
Remember if you argue, you are trying to find common ground – not win every argument!
Follow Raffinee @raffinee on Instagram
José + Camilo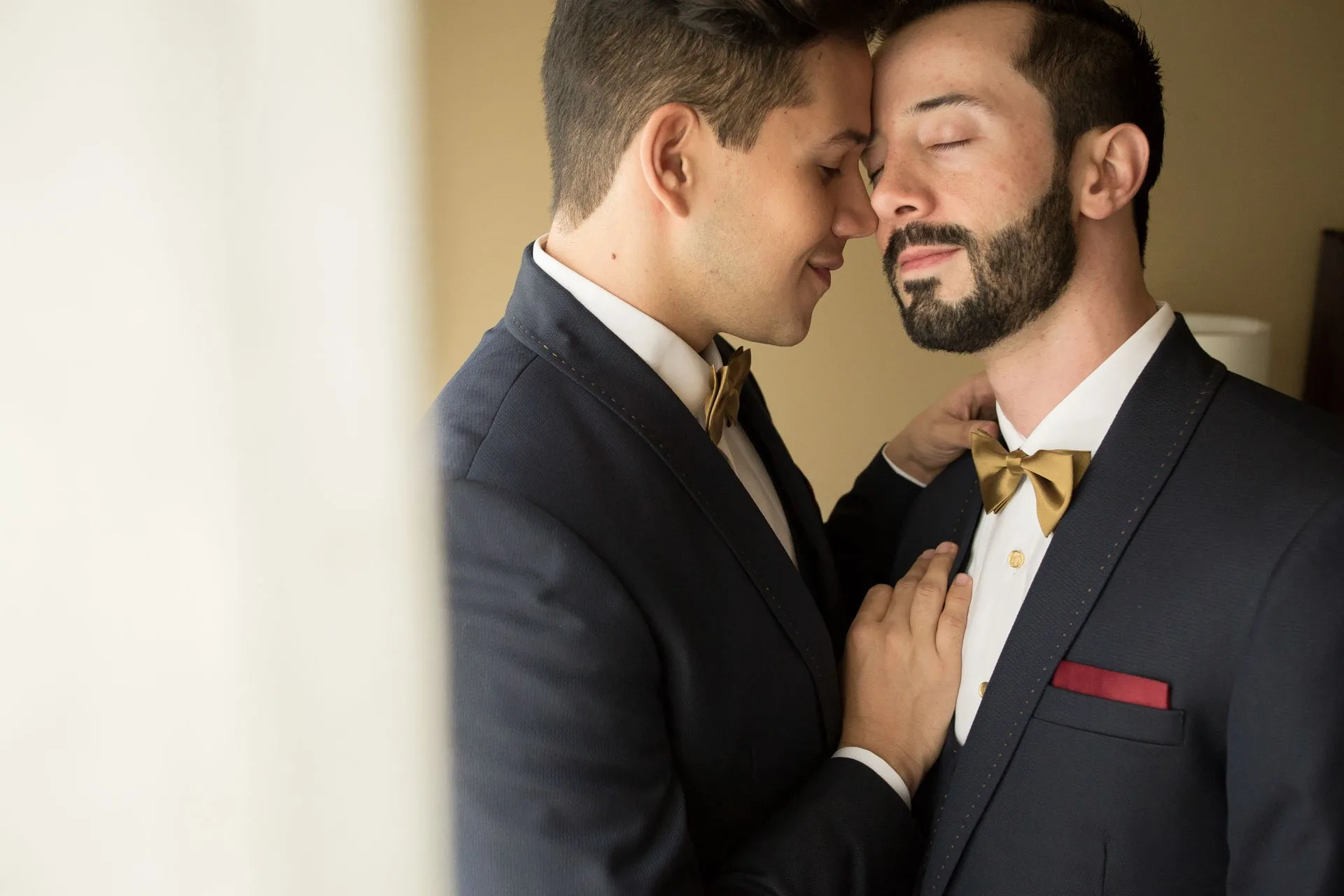 Tell us a little about you, who are you?!
We are a family of two men and two dogs. José is a graphic designer and Camilo studied Advertisement and Fashion Promotion. We are both from Colombia and live in Medellín.
And we dream of living a long, happy, and fulfilling life together. We love to travel, spend time with our friends and family, eat great food, and we love the idea of growing our family more, meaning we have in mind to adopt children in the near future.
When people get to meet us, they normally point how different we look from one another and how opposed our personalities are, but what most people never realize is that despite those superficial differences, we complement each other greatly.
José is loud, colorful, a little messy, and has a super sweet tooth, while Camilo is a little more serious, is always paying attention to little details, can spend the whole day in silence, and needs to leave everything organized and under control.
Those things have never been a challenge for us but have been more of an enrichment one has brought to the other. Love and communication are the pillars of our relationship.
What's the best part of your love story?
Our proposal is beautiful and funny at the same time. As I mentioned earlier, José is pretty loud and extroverted, and by the time I asked him to marry me, we were in Cartagena to attend a cousin's wedding.
When planning our proposal, I booked a beautiful and exclusive boutique hotel in Cartagena for the time we were supposed to be in the city to attend the wedding.
More or less one month before I started arranging with the hotel how the room was going to be decorated, how the supper was going to be served, and how the rings were going to be presented to the table for me to ask José to marry me. Everything was in order until the day before our departure.
My mother-in-law called me and asked me to arrange for her to stay that night at our hotel because she would be flying in from the capital right straight to Cartagena.
The thing was that the rest of the family would arrive one day later than us. Obviously, I had planned to be there one day in advance of everyone, so I could ask José to marry me in private and spend a whole day just by ourselves. But I could not say no to my mother-in-law.
So I started arranging with the hotel for the extra guest but the hotel was fully booked. And though you may all think that I could have sent my mother-in-law to another hotel, my close relationship with her and the love that I have towards her would not allow me, plus I could not explain to her why I would be sending her to some other hotel.
It would have been impossible for José not to find out. They talk too many times a day, and they are too close, so the surprise would come out.
The only solution was for her to spend the night with us in our room and to be part of the proposal, which would also be a surprise to her. Since I was counting now with my mother-in-law at the proposal, I told my friend to stay over for dinner and become another witness to my proposal.
Then, in the middle of our dinner, José's cousin, the one that was getting married, called to tell him how stressed she was, so José told her to come over to have dessert with us. One more person at the proposal!
Then, with all that many public at the table, the rings arrived on a silver platter, I stood up from my seat, graved the box of rings from the platter and told José that I love him, That I feel happy with him and that I want to spend the rest of my life next to him, and then, showing him those two golden rings, one for me one for him, I asked him if he wanted as well to spend the rest of his life next to me.
Literally, he froze, he was muted, he did not react, then his mom kicked him hard under the table and told him "say something!" and then he said YES! and everyone from the restaurant started applauding and whistling, and we kissed and started crying out of excitement.
My friend, José's cousin and my mother-in-law then came to hug us and we all started to cry! It was beautiful. After that, I invited them all to join us in our room for a toast, and when José opened the room's door, he found pictures of our life together until that moment all over the room along with roses and flowers everywhere.
Happily ever after… what does marriage mean to you?
It means counting on someone for the rest of your life, be able to rely on someone, and having the certainty that that person next to you is that person in which you can truly trust.
Marriage to me means deciding to make someone the most important person in the whole world for you.
Follow José and Camilo @ourdailylivesg on Instagram
We hope you enjoyed reading these love stories from gay and lesbian couples!
Want to chat with us? Find us on Instagram, Facebook, YouTube, or comment below!
MORE TO READ:
PIN THIS ARTICLE