With over 230 kilometers (143 miles) of slopes, amazing après ski and events, beautiful views, cool fun parks, luxurious ski huts, freeriding opportunities, and perfect snow conditions until the end of April, Ischgl is among the best ski resorts in Austria. Let's go skiing in Ischgl!
Snowboarding and skiing in Ischgl are exciting, and we will tell you all about this winter sports paradise in Tyrol. No matter if you are looking if this ski resort in Austria is something for you or if you have already made plans to go to Ischgl, you've come to the right place.
Ischgl is located in the Paznaun Valley, together with the other main villages See, Kappl, and Galtür, and is part of the Silvretta Arena. The Silvretta Arena is the name of the whole ski area and consists of Ischgl in Austria and Samnaun in Switzerland.
This means if you go skiing in Ischgl, you will probably make your way to Switzerland too, as you only need one ski pass to do this.
One of the reasons the Silvretta Arena is one of our favorite places in the world to go skiing and snowboarding is because of its wide slopes and challenging ski routes. The whole ski area is aimed at the more intermediate and advanced skiers. But no worries, if you are a beginner, you will be perfect at home at the Silvretta Arena too.
And especially if you love some luxury, Ischgl is the perfect place for you.
In this article, we will tell you all about when to go to Ischgl, where to stay, the best things to do, tips, and the best après ski spots. And, of course, we also share an Ischgl ski map, so you are fully prepared when you go. Quickly read further.
Austria Skiing
Austria is a paradise for winter sports enthusiasts as there are many great ski resorts in Austria, and Ischgl is one of them!
After Ski Alberg (305 kilometers/190 miles of slopes), SkiWelt Wilder Kaiser – Brixental (288 kilometers/179 miles of slopes), and Skicurcus Saalbach Hinterglemm Leogang Fierberbrunn (270 kilometers/168 miles of slopes), the Silvretta Arena Ischgl – Samnaun is the fourth biggest ski area in Austria.
There are 239 kilometers (149 miles) of slopes, with 16% of them being blue (easy), 63% red (intermediate), and 21% black (difficult). So there are different kinds of slopes for everyone, but most are for intermediate and advanced skiers and snowboarders.
There are also 14 kilometers (9 miles) of freeride routes and off-piste opportunities. Though, make sure to always do it safely, with safety equipment.
The ski area includes over 40 modern ski lifts, some of which are heated. And over 75% of the chair lifts have weather protection hoods to protect you against the wind and snow. Meaning your ride up the mountains will be comfortable! For the snowboarders, it's also good to know there aren't many T-bar lifts.
From Ischgl town, three lifts take you up the mountains. The Fimbabahn A3, The Silvrettaseilbahn A1, and the 3-S Pardatschgratbahn A2. With its 1,251 meters (4,104 feet) difference in altitude, the newly built 3-S Pardatschgratbahn is one of the biggest of its kind.
Also, if you still want to learn how to ski or snowboard, there are many excellent ski schools in Ischgl. So you can hit those slopes in no time!
Where is Ischgl?
Ischgl is an Austrian town located in the Paznaun Valley in the state of Tyrol. This state is famous for its amazing Alpine scenery, rich cultural history, and great après ski!
And it's not only a great state to visit during wintertime, but during summer, it's great to visit Tyrol too. Perfect to go hiking, cycling, or rock climbing, for example.
From Innsbruck, it takes about one and a half hours to reach Ischgl by car. From Salzburg, it takes over three hours to reach Ischgl by car.
The most convenient airport to go to if you are planning on traveling to Ischgl by plane is Innsbruck. Other options are Zurich, Munich, or Salzburg Airport, which are all further away.
There's no train station in Ischgl, but the closest train station to Ischgl is Landeck, which is 30 minutes away. From here there are buses and taxis to Ischgl.
Close to Ischgl, you can find the other famous ski towns, Serfaus and St. Anton am Arlberg.
When to Go to Ischgl?
What's great about Ischgl is that the ski area has one of the longest winter seasons in the Alps. The Austria ski season depends on where you go in the country. Some towns and slopes aren't that high up the mountains, meaning shorter winters and less reliable snow conditions.
But that's not the case in Ischgl! 90% of all slopes in Ischgl are 2,000 meters (6,561 feet) above sea level, giving Ischgl and the Silvretta Arena a long winter sports season! The season in Ischgl starts in November and lasts until the beginning of May.
And one of the other perks of Ischgl is its snowmaking equipment. Their snowmaking equipment ranks among the best in the world. So, during winters with less snow, they are still able to create the best slopes and snow for you to go skiing or/and snowboarding on.
Weather-wise it will, of course, be warmer later during the season! And more possibilities to enjoy the sun and a blue sky, aka 'kaiserwetter'.
Looking at the crowds, these are the best moments to go skiing in Austria: in December before Christmas, January (after the first week), the middle two weeks of March, and April (not with Easter).
There are many amazing events in Ischgl, like the Top of the Mountain concerts, which are great moments to visit Ischgl. We talk about those events later in this article!
Ischgl Webcams
A great way to check the current ski and weather conditions is to keep an eye out for the webcams!
There are multiple webcams spread throughout the ski area at 2,864 meters (9,396 feet) at the Palinkopf, at 1,400 meters (4,593 feet) in the village, or 2,511 meters (8,238 feet) at Alp Trida, for example. So you can get a sneak peek about how things are in Ischgl at that exact moment.
Ischgl Snow Report
Besides keeping an eye on the Ischgl webcams, it's also a great idea to check the Ischgl snow report before you go!
This way, you can check if it's the perfect moment to go snowboarding and skiing in the Paznaun Valley. Great if you go on a last-minute trip, for example!
The website of Bergfex Ischgl is also great for keeping an eye out for the weather.
Ischgl Ski Pass
Of course, you must get a ski pass before you can hit the slopes! You can buy passes at the ticket counters, online, and sometimes through hotel reception desks, ski schools, and sports shops.
Ski passes are never cheap, though worth every penny. And you can use your Ischgl card at all cable cars and ski lifts in Ischgl and Samnaun. If you are also planning on skiing in Galtür, Kappl, and See, you can get the Silvretta Skipass.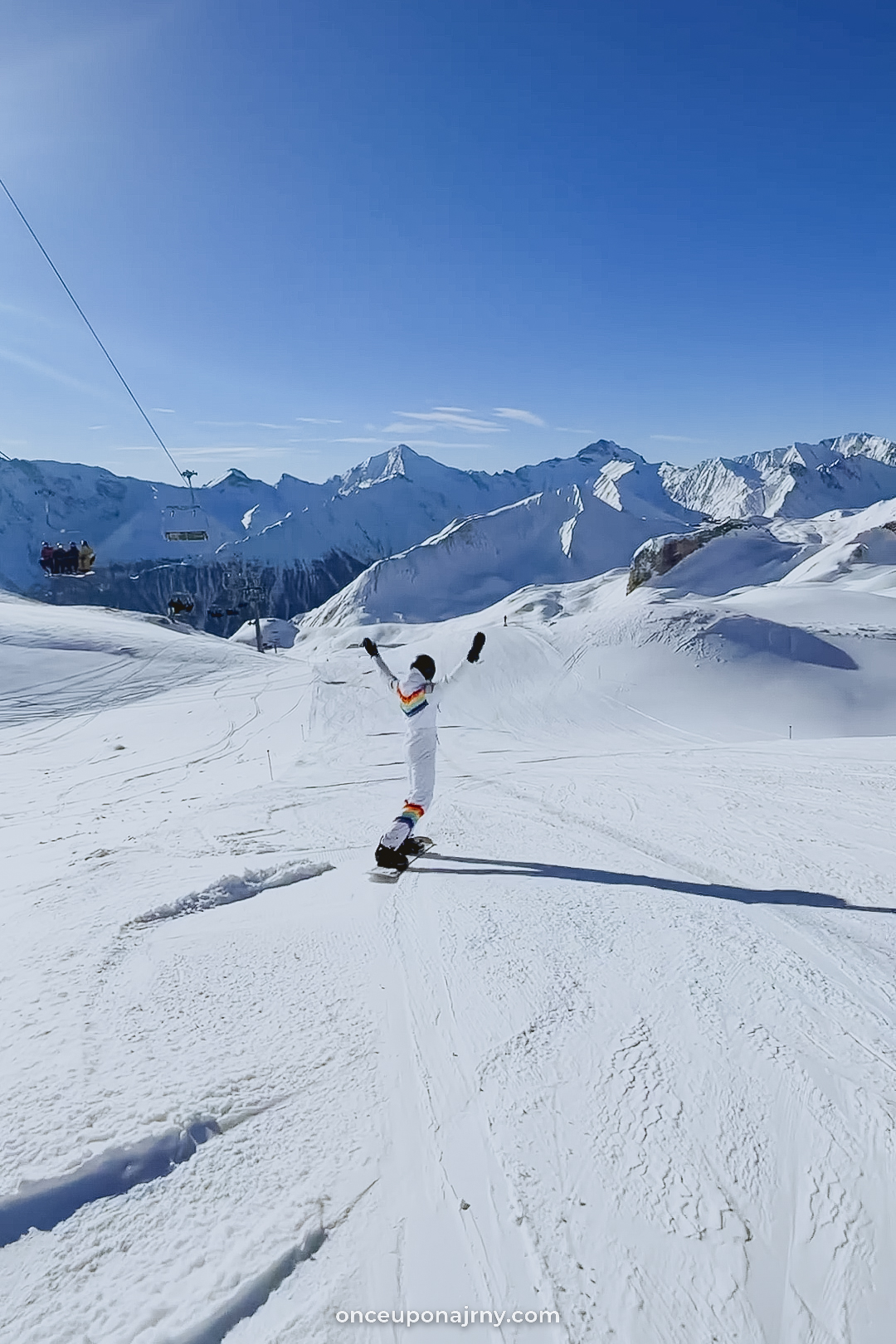 During the low season, between 24-11-2022 and 23-12-2022, and between 10-04-2023 and 01-05-202, the prices of ski passes are cheaper than during the high season.
During peak seasons, a one-day ski pass for Ischgl and Samnaun costs 67 euros for adults, six-day passes 293 euros, and 14-day passes 544.50 euros.
The costs for a Silvretta ski pass are 67 euros for one day, 358 euros for six days, and 617 euros for 14 days.
Good to know: in Samnaun and Ischgl, children under ten are free when accompanied by a parent. If you make your way to Galtür, Kappl, and See too, children under 8 years old are free when accompanied by a parent.
Cable car and lift facilities are open daily from 08:30 (8.30 AM) to 16:00 (4 PM). And the slopes are open daily from 08:30 (8.30 AM) to 17:00 (5 PM).
Where to Stay in Ischgl – Ischgl Accommodation
An important question is: where to stay in Ischgl? There are many amazing hotels in Ischgl to stay at. Many of them are super luxurious and have everything you possibly need. Including the best spas to relax after a full day on the slopes!
You are never far from the gondolas wherever you stay in Ischgl. You can take the gondola up the mountain from three spots in town. But there are also hotels with a ski-in ski-out option, meaning you can step out of the door of your hotel and are ready to hit the slopes.
If you don't stay in Ischgl but in one of the other towns in the Paznaun Valley, you can reach Ischgl by ski bus. With a valid ski pass, you can use the ski busses for free along the route of Landeck, See, Kappl, Ischgl, and Galtür.
It's good to know, though, that fewer ski buses are driving around at the beginning and more toward the end of the season.
Continue to read about the best Ischgl accommodation.
A 5-star hotel in Ischgl located on the Dorfstraße, right in the center of Ischgl town, 100 meters from the Silvretta gondola. Royal Trofana has been named the world's best ski hotel in the past, and we can see why. It's an amazing place in Ischgl to stay at.
It has a large wellness area with multiple restaurants, a Michelin-star restaurant (don't dare to go here with your ski clothes), a wine cellar, parking options, and yoga classes (perfect for some stretching after all that skiing!).
The rooms are furnished in a traditional Austrian style, and skiing to the hotel door is possible. Absolutely perfect!
Another great hotel in the city center of Ischgl is Hotel Sonne. Hotel Sonne is just a 2-minute walk from the gondola and has much to offer! From a wellness area with an indoor pool, a waterfall, massage treatments, a tea bar, and a gym.
Recommended is to go for their half-board option, which includes a breakfast buffet in the morning and a 4-course dinner at night. Their food is delicious!
Traveling to Ischgl as a family? The Hotel Post might be a great place for you to stay, as it offers professional child care with many fun activities. There's also a recreation room where table tennis and tabletop football can be played.
But if you don't travel to Ischgl with children, it's also an amazing hotel in Ischgl to stay. Hotel Post has a 1,500 m² (16,145 square feet) spa area including multiple saunas, a modern gym, massage treatments, an indoor pool with a waterfall, and a winter garden, perfect for some relaxation.
Half-board at Hotel Posts includes a large breakfast buffet and dinner with a choice of meals. And important too, the ski slope ends right at the hotel's doorstep, and the cable cars are just a short walk away.
Hotel Madlein in Ischgl is one of the most beautiful design hotels in the Alps! And it's not only a beautiful hotel, but it's also a party hot spot in Ischgl, as Hotel Madlein features 2-in-house bars and clubs.
You might have heard of the famous clubs Pacha before, well you can find one of them in Ischgl, at Hotel Madlein!
But no matter if you want to party or not, Hotel Madlein is a great place to stay with excellent service, first-class wellness facilities, delicious food options, and beautiful views of the Tyrolean mountains.
Rather stay in an apartment instead of a hotel? But are you still looking for some comfort? Then we highly recommend the Alpinlounge Rätia Appartments.
These apartments are in a calm part of Ischgl, but close to all the hustle and bustle. And the ski lifts are just a short walk away.
Every apartment features a seating area, a fully equipped kitchen, a dining area, and a private bathroom. And if you want your breakfast freshly delivered to your doorstep, that's possible every morning.
There's also a sauna and sanarium available for every guest.
Tips & Top Things to Do in Ischgl
Now it's time to tell you all about the top things to do in Ischgl!
Besides skiing and snowboarding down the slopes, there are many other fun things to do in the area. Think about relaxing at the new Silvretta spa, dancing during a Top of the Mountain concert, flying through Ischgl's Kitzloch ravine, and enjoying the most amazing snow sculptures.
Ischgl's motto is Relax…. if you can, and Ischgl truly does everything to fulfill its motto. There are many great opportunities to keep you active and have fun. But also to relax… if you can and want!
Continue reading to read everything about the best après ski spots too!
Top of the Mountain concerts
In Ischgl, they know how to have fun! Every year the ski season in Ischgl starts with the Top of Mountain Opening Concert, in March there's the Top of the Mountain Spring Concert, during Easter there's the Top of the Mountain Easter Concert and the season ends with the Top of the Mountain Closing Concert.
World-famous stars from all around the world come to perform during the Top of the Mountain concerts. Think Robbie Williams, Mariah Carey, Helene Fischer, Nickelback, Tina Turner, P!nk, Roxette, Lenny Kravitz, Katy Perry, Alicia Keys, Kylie Minogue, Rihanna, Jon Bon Jovi, and Elton John, they all have performed in Ischgl!
And it all happens at 2,300 meters (7,546 feet) above sea level, on Idalp stage, surrounded by the beautiful Tyrolian mountains and slopes.
On March 30th, 2023, George Ezra is performing during the Top of the Mountain Spring Concert. And Eros Ramazzoti will be the star of the Top of the Mountain Closing Concert, on April 30th, 2023.
And best of all, concert admission is included in your ski pass!
Ski one of the SmuggIers Runs
A long time ago, the route between Ischgl in Austria and Samnaun in Switzerland was used for smuggIing.
Valuable Austrian goods, like cheese, butter, and furs, were smuggIed into Switzerland. On the way back, American coffee, rice, flour, and nylon stockings were smuggIed to Austria. Together with other things that were in popular demand at that time.
In the 1950s, tourism increased in the area, and the smuggling was put to an end. These days the runs are popular with skiers and snowboarders!
Fun fact: the first ski lift in Austria was built in 1952.
Depending on your skill level, there are three different smuggIers' runs to take. The gold, silver, and bronze route.
The gold route covers over 60 kilometers (37 miles), including cable cars and lifts, and takes about 4 hours. This is a great route for the more advanced skiers. The Silver route covers over 40 kilometers (25 miles), including cable cars and lifts, and takes about 3.5 hours. It's a perfect route for seasoned skiers.
If you are more of a beginner and love blue slopes, go for the bronze route! The bronze route covers just over 40 kilometers (25 miles), including cable cars and lifts, and takes about 4 hours.
You can find a folder with descriptions of all routes at all ski pass offices in both Ischgl and Samnaun. And the routes are well-marked on the slopes.
Make sure to pay extra attention at the top of the Palinkopf, which is one of the most amazing scenic viewpoints of all routes. And all routes take you to Samnaun, a duty-free shopping paradise!
Silvretta Therme Ischgl
Silvretta Therme is one of the newest hotspots in town! It opened in 2022 and is the perfect place for everyone who wants to combine sports and relaxation during their Ischgl trip.
Here you can find multiple pools, a sauna area with multiple saunas to choose from, a rooftop terrace, and a gym. And if you are in for a massage or physiotherapy treatment, it's possible at the Silvretta Therme in Ischgl.
But that's not all, as there's an ice rink too! It's a one-of-a-kind ice rink around the building, with a cool tunnel and stylish ice bar.
Tobogganing in Ischgl
Tobogganing (or rodeln) is a super fun thing to do for young and old! And in Ischgl, you can find one of the longest toboggan runs in the Alps. It's 7 kilometers (4.5 miles) long and has a difference in altitude of 950 meters (3,117 feet); how exciting!
Sled down the mountain while enjoying the fresh mountain air and the dark sky full of stars, It's a special trip down the mountain.
Tobogganing in Ischgl is possible from mid-December to the beginning of April on Monday and Thursday evenings. Of course, it depends on the snow conditions if the tobogganing run is open or not.
Take the A1 Silvrettabahn up the mountain between 19:00 (7 PM) and 20:30 (8:30 PM). Sadly, you can't use your regular ski pass for this trip (only Ischgl season passes are valid for the tobogganing ascent). Tobogganing tickets are available at all ticket offices during their opening hours.
Tickets cost 17 euros for the one-way trip, and the toboggan rental costs 11 euros. Toboggans can be rented at the Silvrettabahn mountain station cable car, at Silvretta Sports.
Good to know: be careful when tobogganing! As often, accidents happen. Definitely wear a helmet.
Ski or Snowboard the Steepest Slope in the Silvretta Arena
The Ischgl ski resort has over 20 black slopes, meaning there are many slopes for the more advanced skiers and snowboarders under us. And with a gradient of up to 70%, slope number 14a is the steepest slope in the ski area.
It's known to be the most difficult slope in Ischgl, challenging even the best skiers and snowboarders! If you are in for an adventure and a kick, you know where to go to.
Take the Lange Wand C5 up to the Greitspitz, which is the highest summit in the area. Make sure to enjoy the views at the top, as here you can enjoy amazing panoramic views of the Silvretta Arena.
The Greitspitz is located on the border of Switzerland and Austria and has an elevation of 2,872 meters (9,423 feet).
Ischgl Skyfly
Looking for even more adrenaline? Don't look further! Of course, skiing and snowboarding down the mountains already come with a lot of adrenaline, but the Ischgl Skyfly is a fun adrenaline addition.
You will fly through Ischgl's Kitzloch ravine, 50 meters (164 feet) above the ground, reaching speeds of up to 85 kilometers (53 miles) per hour.
The flight length is a total of 2 kilometers (1.2 miles), from the middle station of the Silvrettabahn A1 to the roof terrace of the valley station 3-S Pardatschgratbahn A2.
And to make it extra fun, there are 2 steel ropes next to each other, so you can fly with someone else at the same time.
Snow Sculpture Contest
Every January, sculptors worldwide make their way to Ischgl to join the Ischgl Snow Sculpture Contest. They create the most amazing sculptures in the mountains using snow and ice.
So if you find yourself eye-in-eye with a huge snow sculpture, you know the Shapes in White festival is taking over the slopes.
The sculptors have 5 days to create a snow masterpiece, and thanks to the low temperatures and guaranteed snow conditions in the Silvretta Arena, the art normally stays intact until the end of April.
Pay attention when going down the slopes if you can spot some masterpieces!
Ischgl Hiking
Do you love hiking? Why not combine your winter holiday skiing and hiking through the mountains? Winter hiking is a great way to explore the snowy landscape and the winter wonderland at a casual walking pace.
And no matter if you are accompanied by snowflakes or the winter sun, a winter hike will be a special experience!
The network of winter hiking trails in and around Ischgl spans over 60 kilometers (37 miles). Nearby valleys and Samnaun in Switzerland can be explored on foot via Ischgl!
Read about the most amazing winter hikes in Ischgl and its surroundings here.
Nightshow Ischgl
Enjoy a night show on the Prennerhang ski slope from the Ischgl Ski School!
A few evenings during the season, the ski school shows awesome formation rides, daredevil activities, and different kinds of snow sports like telemark skiing. And there's a DJ providing music to make the show complete.
It's a one-hour show you should see if it's happening when you are in Ischgl. Keep an eye out on Ischgl's website to stay updated about the shows. It's usually once every month on Tuesday evenings.
From Pardatschgratbahn Valley station you can watch the show.
Ischgl Snowpark
Right next to the Idalp, there's a fun snowpark which is a paradise for freestylers! And with two different snowpark areas, a fun line, a speed line, and a bag jump, there's something for everyone, no matter if you are a freestyle newbie or a pro already.
Park area 1 consists of 16 different jumps and obstacles, and park area 2 consists of 15 obstacles with a giant bag jump at the end. The bag jump is the perfect spot to land safely and softly while perfecting your jumps.
And don't forget to have fun on the fun line too! The Ischgl Snowpark is a great place to check out!
Ski Down one of Austria's Longest Slopes
Ski or snowboard all the way from the highest point in the ski resort, from the Greitspitze at 2,872 meters (9,423 feet) above sea level to the city center of Ischgl, at 1,377 meters (4,518 feet).
This route is 11 kilometers (7 miles) long and is one of the longest slopes in Austria! You cover slope numbers 13 and 1 and enjoy the most wonderful views on the way.
It's a route we highly recommend taking down to Ischgl town.
Ischgl Après Ski
Let's continue with the après ski spots in Ischgl. Ischgl is known as the 'Ibiza of the Alps' as Ischgl is really the place for a good party.
There are many après ski spots in Ischgl town, from the famous Kuhstall to club Pacha, you can truly dance the night away until the early hours. You better sleep a lot before your holiday, because you might not get a lot of sleep in Ischgl.
Ischgl is one of the absolute best après ski destinations in Austria and possibly in all of Europe!
But where to go? We are going to tell you all about the best après ski spots so you know exactly where to go. Cheers!
Kuhstall
The most famous spot of all for some typical après ski fun in Ischgl is the Kuhstall. This bar is located right in the city center of Ischgl, opposite the Silvrettabahn. From about 15:00 (3 PM), it starts to get busy here.
Expect typical German après ski hits during the afternoon. At night the music changes to dance and party music, which continues until 02:00 (2 AM) during the week and 04:00 (4 AM) during the weekend.
Be prepared for lots of crowds here, often younger than 30 years old. But the Kuhstall attracts a good mix of people.
Trofana Alm
We talked about the Royal Trofana Hotel earlier in this article, and next to it, you can find the amazing Trofana Alm après ski bar.
It's a big and beautiful place, directly located at the valley run. Jump off your skis directly into the party! Compared to Kuhstall, the audience is older here.
In the afternoon and at the beginning of the evening, there's the typical apres ski music playing from the speakers, and at some point, at night, it changes to more dance music.
It's possible to eat at Trofana Alm too, but it's best to make a reservation for a table as it can get very busy here.
Schatzi Bar
At the Schatzi bar, you will not only party on the best après ski hits but also find ladies dancing on the bar in dirndl. A dirndl is a dress originating from German-speaking areas of the Alps and is regarded as a folk costume.
Perhaps that's the reason this bar is always filled with many men. But of course, women are welcoming here too.
The bar is located in Hotel Elisabeth, next to the 3S Pardatschgratbahn and A3 Fimbabahn. Ski or snowboard down slop 1A, and you will end at the Schatzi Bar.
It's a great place to eat pizza, too, and when it's sunny, to sit on their cozy terrace.
Niki's Stadl
Close to the Schatzi Bar and the 3S Pardatschgratbahn, you can find Niki's Stadl. Opened by Niki Ganahl in 1989, this bar is known for its authentic après ski parties.
Before his passing away, Niki was performing his own hits like 'Ischgl du mein Traum' in the bar; these days, you can luckily still hear him from the speakers.
The party starts at 15:00 (3 PM) at Niki's Stadl and continues until the early mornings.
Champagnerhütte
Craving something other than all that après ski beer? And looking for something different than the traditional après ski? Then the Champagnerhütte is the place to be!
The champagne is always cold at the Champagnerhütte and ready to be served. Expect luxury.
Ski or snowboard down slope number 1 and keep left at the end to make your way to the Champagnerhütte directly.
Fire & Ice Ischgl
Fire & Ice is located opposite the Kuhstall and has everything you need, from apartments to a club, a restaurant, and a bar. You might never leave!
The vibes at Fire & Ice are modern and stylish.
Paznauner Taja
This is the party place in the mountains! All previous spots we discussed are in Ischgl town, but you can find Paznauner Taja at 2,000 meters (6562 feet).
The DJ starts every day at 14:00 (2 PM); be prepared for a big outside party next to the slopes. And it's the perfect spot when it's sunny, as the afternoon sun will shine onto Paznauner Taja.
At 16:00 (4 PM), the DJ stops playing music so everyone can make their way down again and continue the party in Ischgl town.
Besides being an amazing party spot, it's also a great place to have lunch. Their fresh pizzas and grilled chicken.
Club Pacha Ischgl
Pacha is THE party spot in Ischgl for late at night. After you've gone to the traditional après ski spots and changed into a fancier outfit, it's time to continue the evening at Club Pacha.
It's probably the hippest club in Ischgl, with the wildest and most extravagant parties. Parties that feature the best house and techno DJs.
Club Pacha is located in Design Hotel Madlein.
Ischgl Ski Map
Enjoy snowboarding and skiing in Ischgl!
Do you have any questions or do you want to add something to this article? Drop it below in the comments or email us.
And if you enjoyed this skiing in Ischgl article, don't forget to share it with all your friends and family! Thank you so much!
MORE TO READ:
PIN THIS ARTICLE