To say we could all do with a bit of a laugh these days would be an understatement! And who better to bring it to us than some of the world's most hilarious lesbian comedians?
Well, luckily for you, I've compiled a list of the greatest queer female comedians and where you can find and follow them to get your comedy fix.
The comedy industry is often heavily dominated by men, but there's no reason it should be. There are countless hilarious queer female comedians out there, bringing diversity, reliability, and fresh ideas to comedy.
Whether it's female gay comedians in movies and TV, hilarious lesbian podcasts, or the best lesbian comedian Netflix special, there's so much waiting to be discovered.
I am such a massive fan of so many of these ladies, it was hard to round them all up in one list. But hopefully, along with the lesbian comedian icons, there are some new names that you haven't discovered yet.
This list of queer, nonbinary, and lesbian comedians has something for everyone. And read to the end to find out where to watch lesbian comedians live!
Without further ado – here are 33 lesbian comedians to make you belly laugh.
Gay Female Comedians
Cameron Esposito
Cameron Esposito is where leather jackets meet Catholicism. I first discovered Cameron when binging lesbian podcasts, and I find her humor dry and hilarious.
She is perhaps best known for her TV show Take My Wife, as well as her stand-up comedy and her podcast called Queery.
Her 2018 stand-up show focussed on the events that led to the #MeToo movement, and it has raised $100,000 for charity organization Rainn so far.
Where to enjoy: it's possible to watch her 2018 show online, and you can check back for live tour dates here. You can also enjoy over 200 episodes of Queery on Apple Podcasts; I simply love listening to her lesbian stories.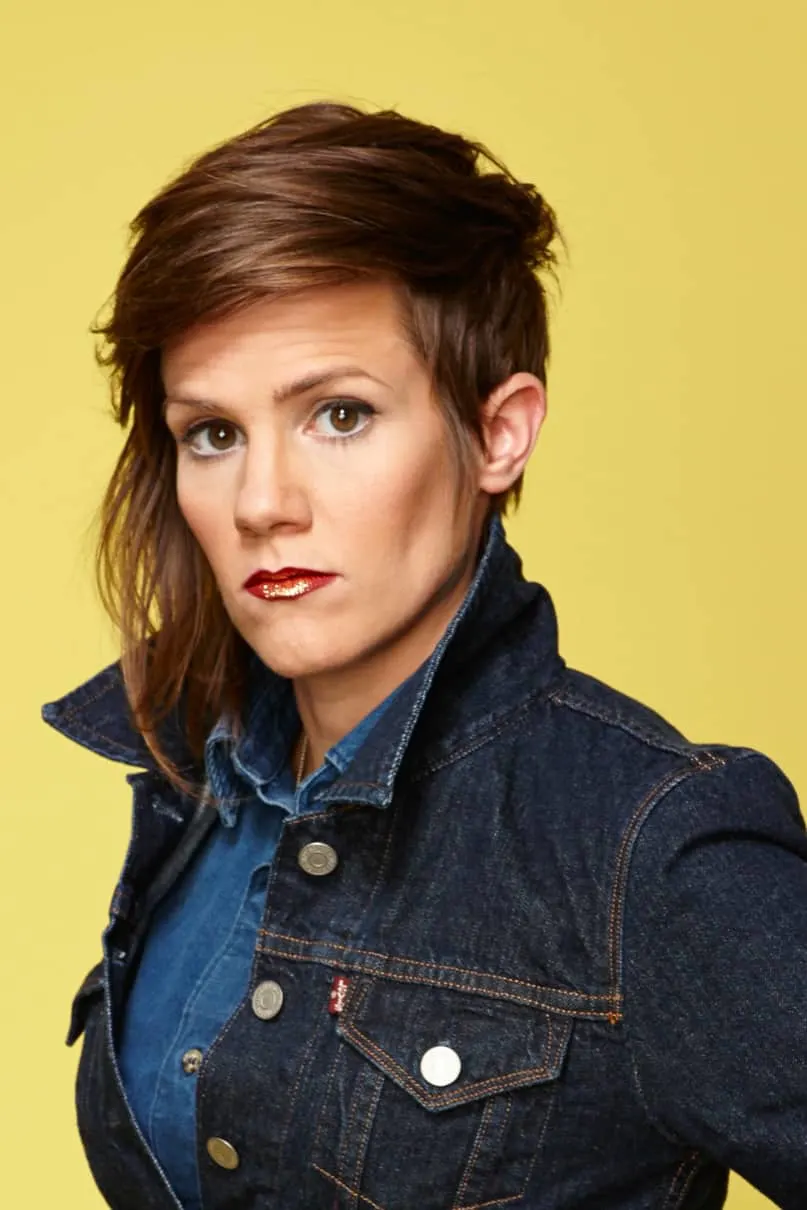 Hannah Gadsby
Is she a comedian if she also made me cry? YES. Perhaps one of the best lesbian comedians on lesbian Netflix.
Hannah Gadsby is the mastermind that brought us Nannette and, more recently, Douglas. If you haven't watched them yet – Stop Everything!
Hannah is an Australian lesbian comedian who uses her shows to explore her experiences as a gay autistic woman.
She has an accolade of awards, including an Emmy for Outstanding Writing.
Where to enjoy: watch Douglas and Nanette on Netflix.
"I don't identify as transgender. But I'm clearly gender not-normal. I don't think even lesbian is the right identity for me. I really don't. I might as well come out now. I identify as tired. I'm just tired." – Hannah Gadsby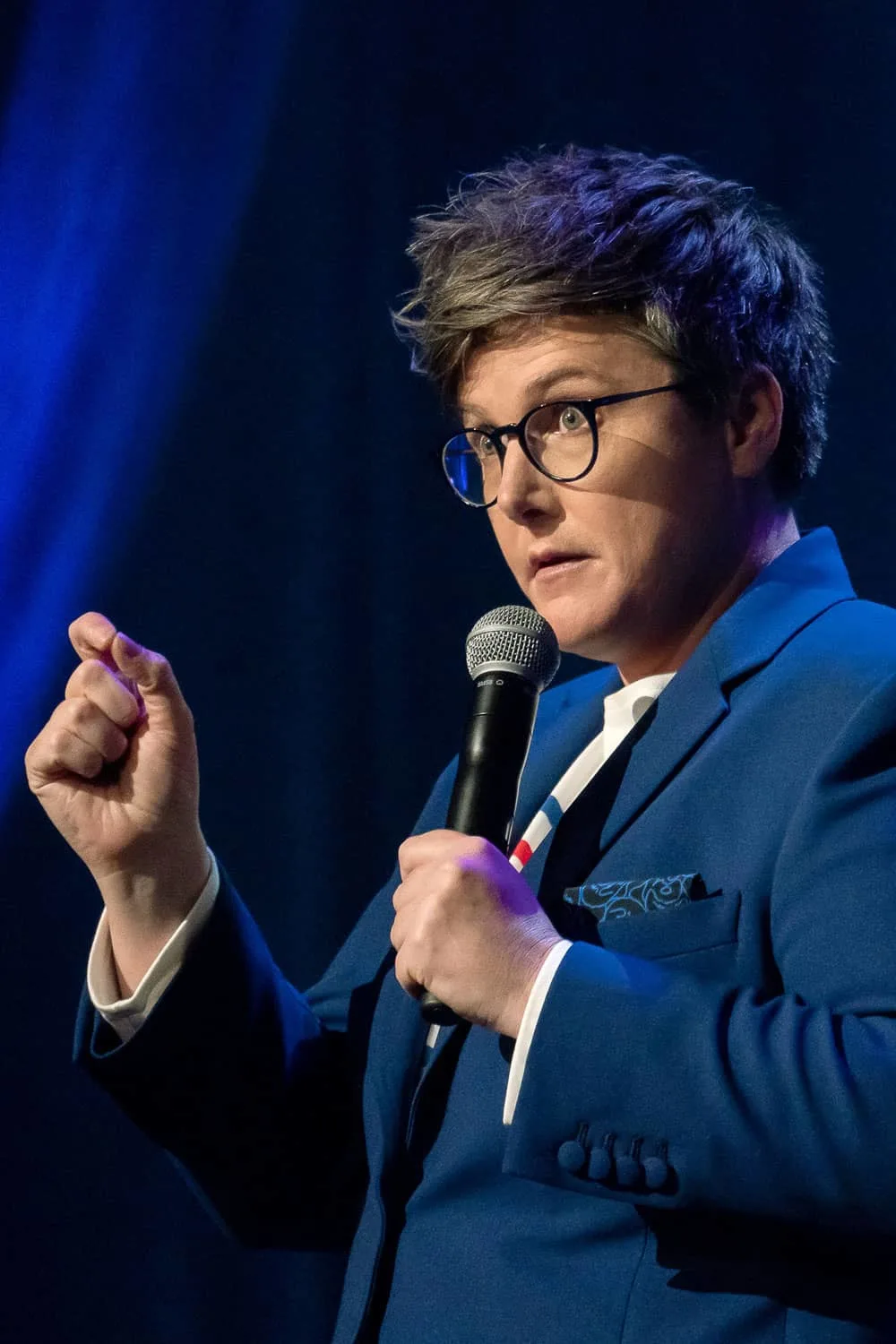 Catherine Bohart
I'm so sad that I missed the chance to see Catherine live in 2019 (she sells out fast!), but I've got my fingers crossed it will happen soon.
Catherine Bohart is an Irish award-winning lesbian comedian, writer, and actor. Catherine has appeared on popular UK TV comedy shows such as The Mash Report and 8 Out Of Ten Cats.
She is also a regular on The Guilty Feminist Podcast. Catherine also regularly performs at the Edinburgh Fringe Festival.
Her latest stand-up show, Lemon smashed stereotypes around intimacy, orientation, and relationships.
Where to enjoy: Catherine has a YouTube channel, and in 2022 she's doing a tour around the UK and Ireland.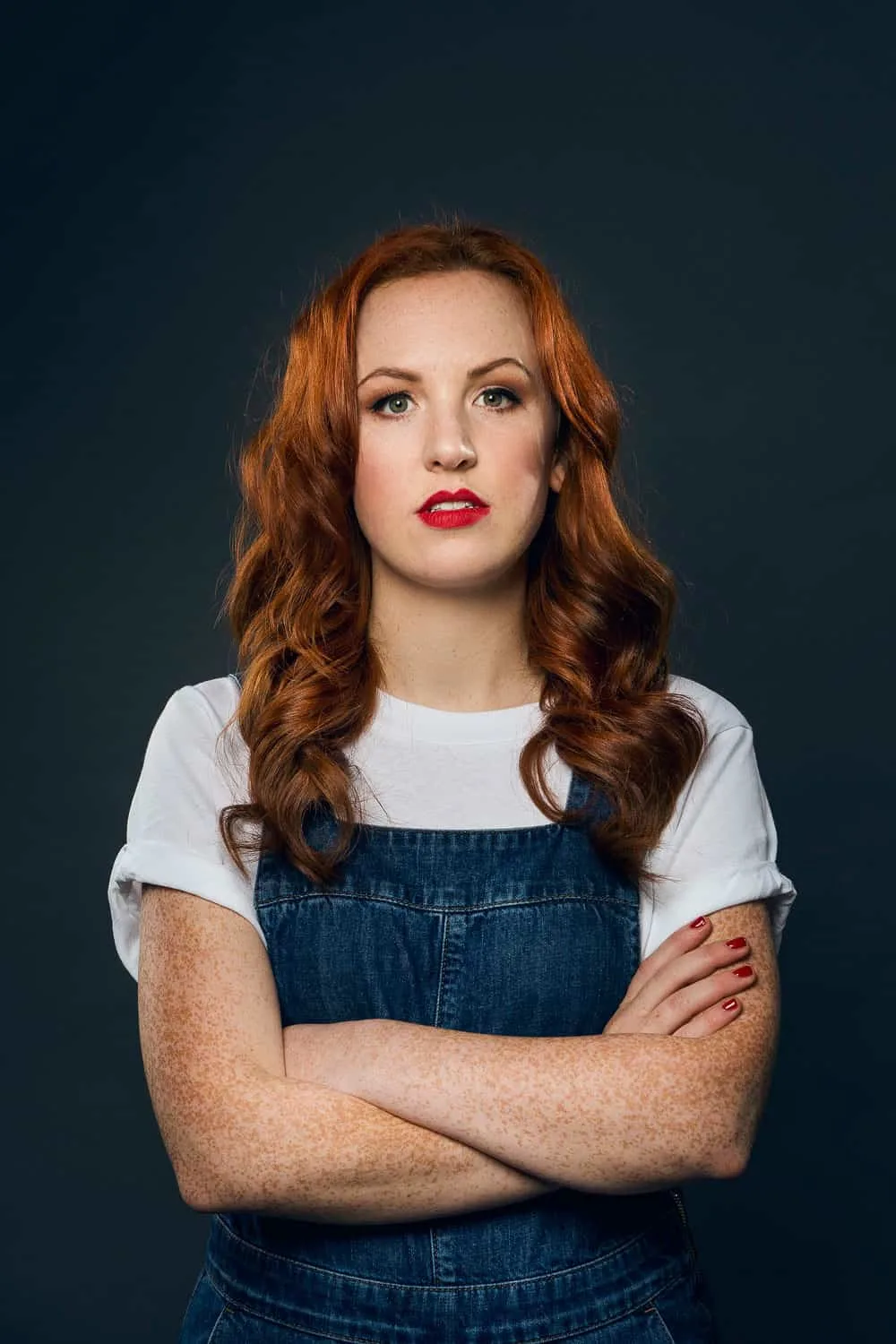 Wanda Sykes
I love love love Wanda Sykes! She is a famous lesbian comedian on this list who is truly iconic. Can you believe she has been on the comedy circuit for over 30 years?!
In my eyes, she's one of the best female comedians out there. She came out as gay at age 44 in 2008.
My favorites from Wanda are Bad Moms and Monster-In-Law. She also has a lesbian Netflix comedy special called Not Normal, which launched in 2019. Wanda was also a writer on The Chris Rock Show.
Where to enjoy: watch Not Normal on Netflix, where Wanda takes on multiple interesting topics. Wanda is also starring in a new Apple TV series, Visible: Out On Television, which explores the journey of LGBTQ+ representation in media and TV.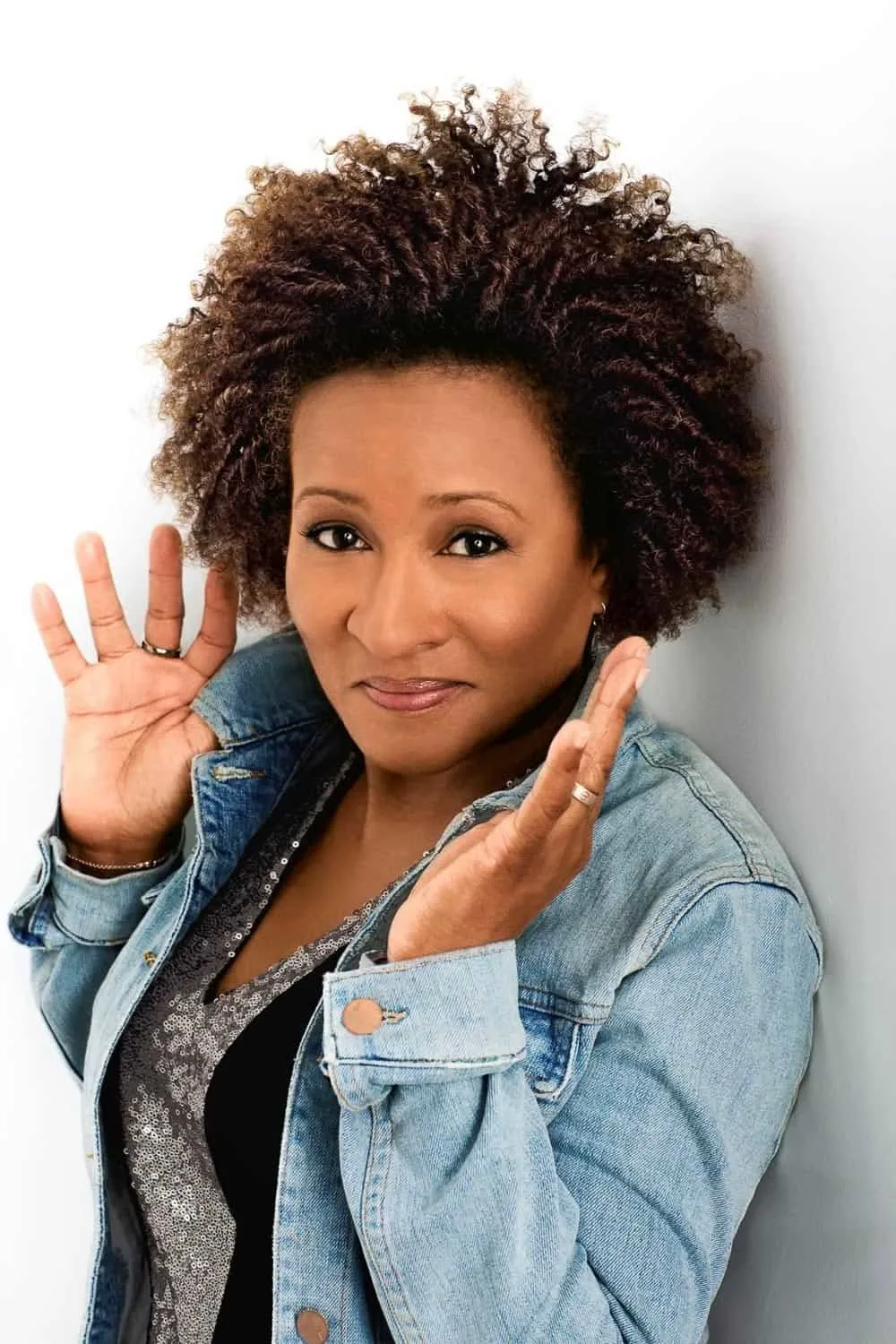 Zoe Lyons
Zoe Lyons is a hilarious gay comedian who is the funniest when doing stand-up shows. She first started stand-up in 2003 and performed in Edinburgh in 2004.
I love her observational comedy about life as a gay woman and living with her wife. Zoe has appeared in many TV shows, including Mock the Week, The Wright Stuff, and the Michael McIntyre Roadshow.
Where to enjoy: Zoe has been signed to host the BBC2 Game Show Lightning; she also frequently appears as a guest on the Guilty Feminist podcast. You can also have a chuckle with Zoe on YouTube.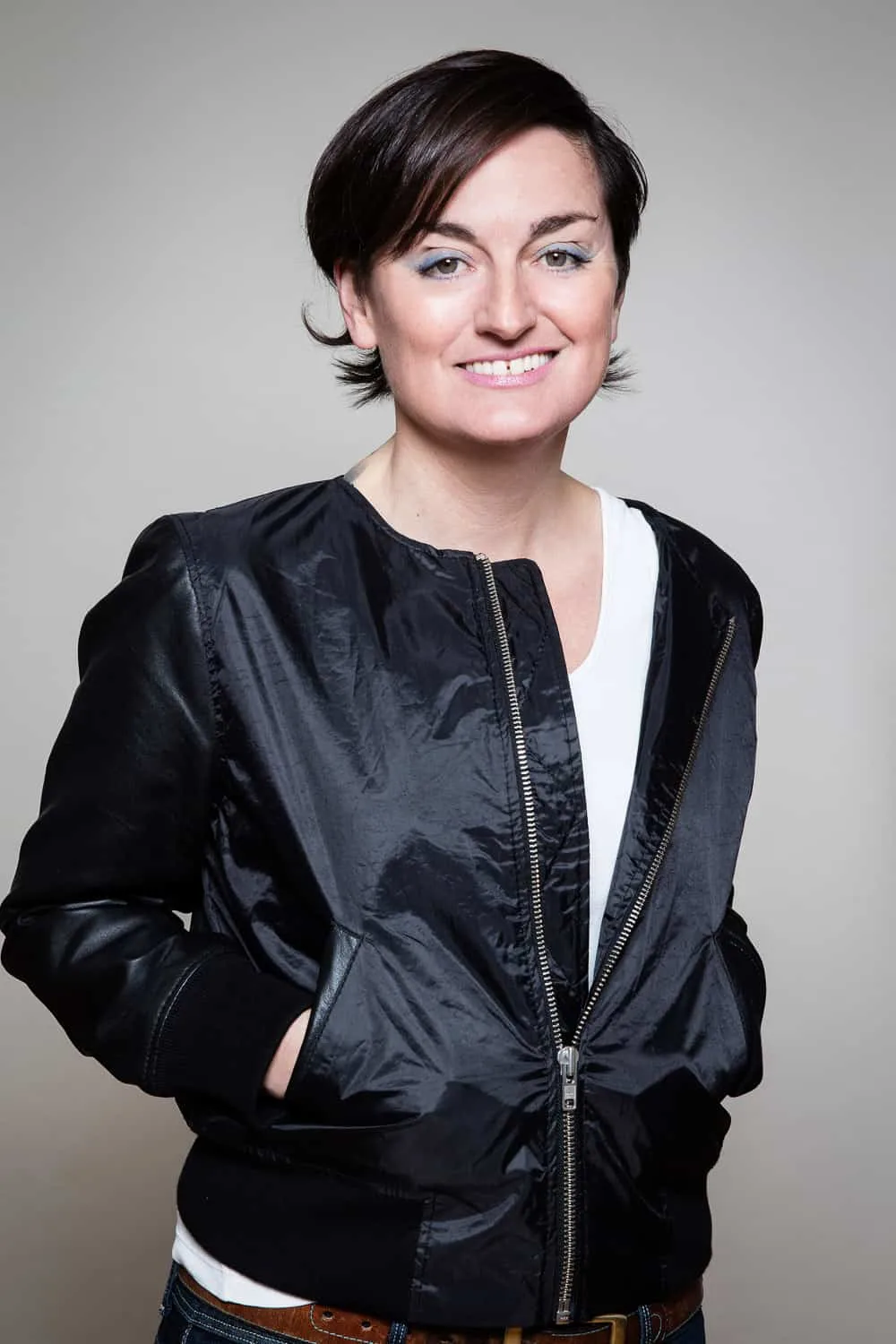 Margaret Cho
Margaret is a bi-comedian who has been making us laugh since the early 90s. Her podcast The Margaret Cho has her interviewing celebrities (also other lesbian celebrities!) or upcoming artists.
For a double lesbian comedian special – check out her interview with Cameron Esposito!.
Where to enjoy: most recently, she was on a 2-year tour with her latest show, Fresh Off The Bloat. Or catch her Podcast in all the usual places.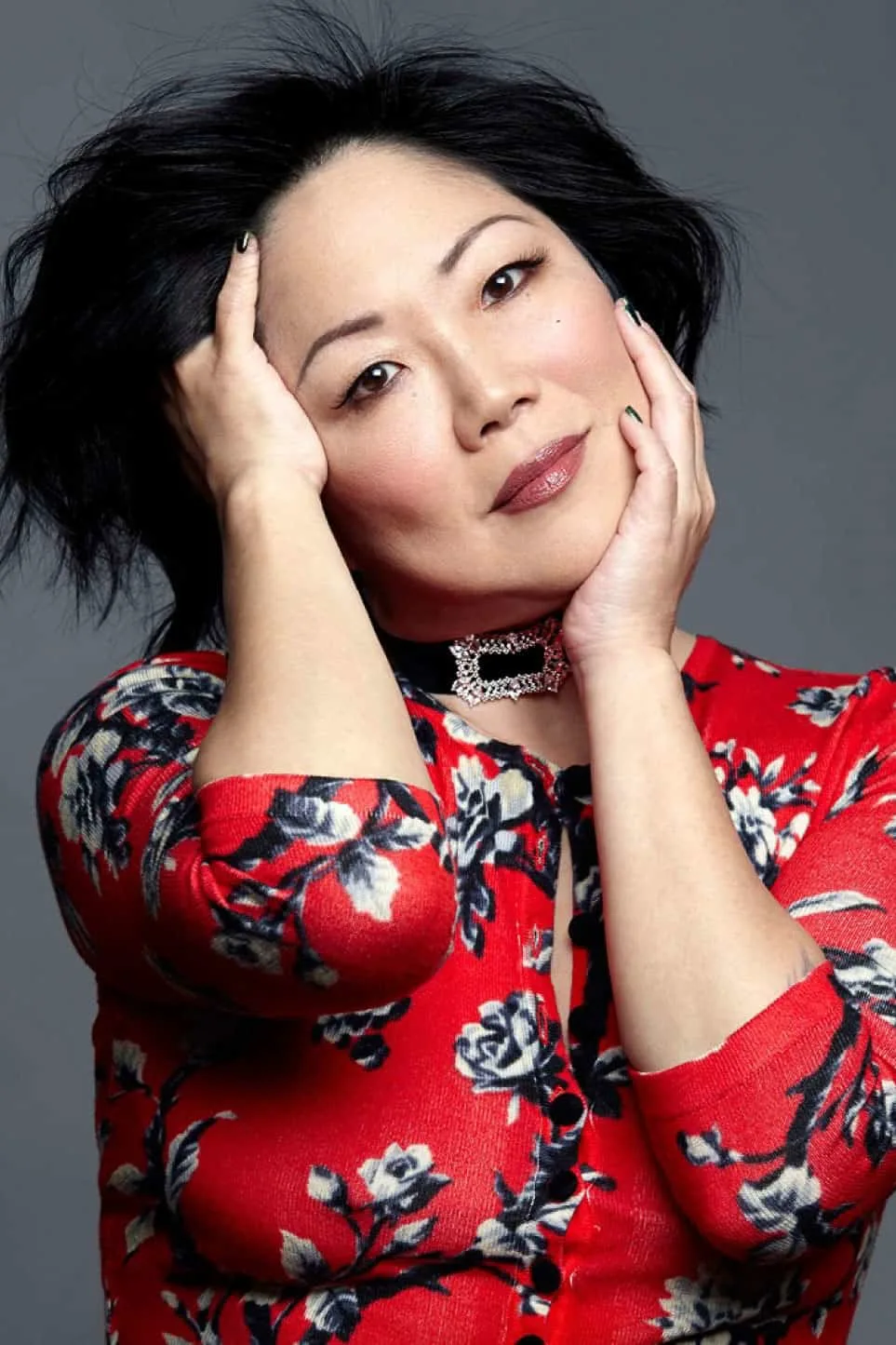 Mae Martin
Mae is a comedian from Canada with hit Netflix shows, hilarious stand-up comedy, and an obsession with Bette Midler. Their 5-minute routine Dating Men has 2 million YouTube views and counting.
They also star in the Netflix Stand-up special Comedians of the World.
Mae's latest lesbian show is Feel Good, where they star alongside Lisa Kudrow. In 2021, the last and second season of Feel Good launched on Netflix.
Where to enjoy: catch them on Netflix, or read their book, Can Everyone Please Calm Down. It's a hilarious guide to the 21st-century orientation that aims to break down barriers and poke fun at gender stereotypes for a younger audience.
"If I had met Bette Midler, I wouldn't be answering these questions right now because I'd have spontaneously combusted and gone to heaven." – Mae Martin.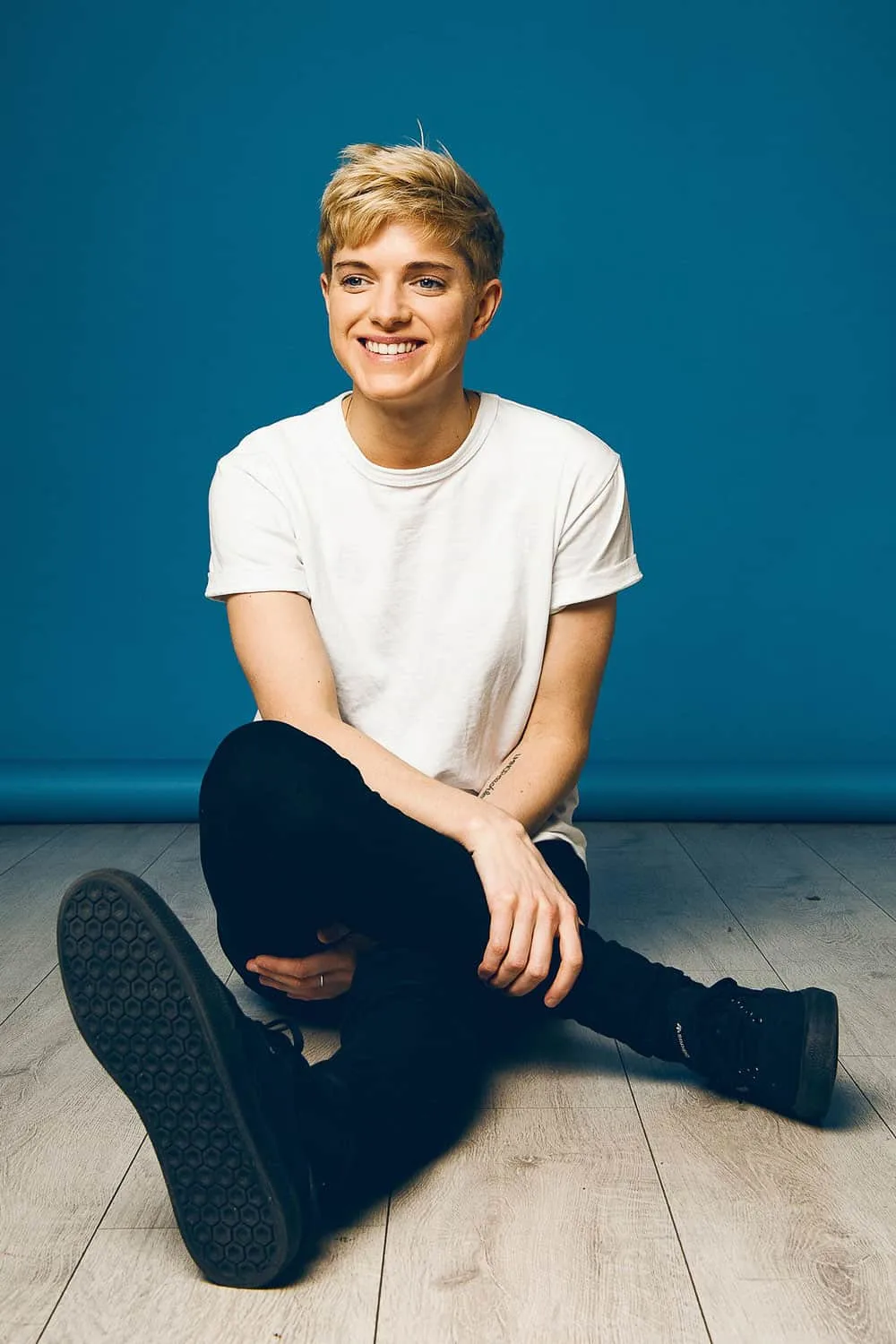 Jen Brister
Jen is half-Spanish, half-British, forms a lesbian family with her wife and children, and she's hilarious.
Much of her comedy includes re-enacting conversations that she's had with her mother and as a mother.
As a mum of twin boys, her new lesbian book takes a funny, very honest look at life as a parent. She also frequently appears on The Guilty Feminist podcast.
Where to enjoy: Jen her latest show was called Under Privilege. And her podcast WTB (Women Talking Bollocks) is on iTunes, and her debut book The Other Mother is available on Amazon.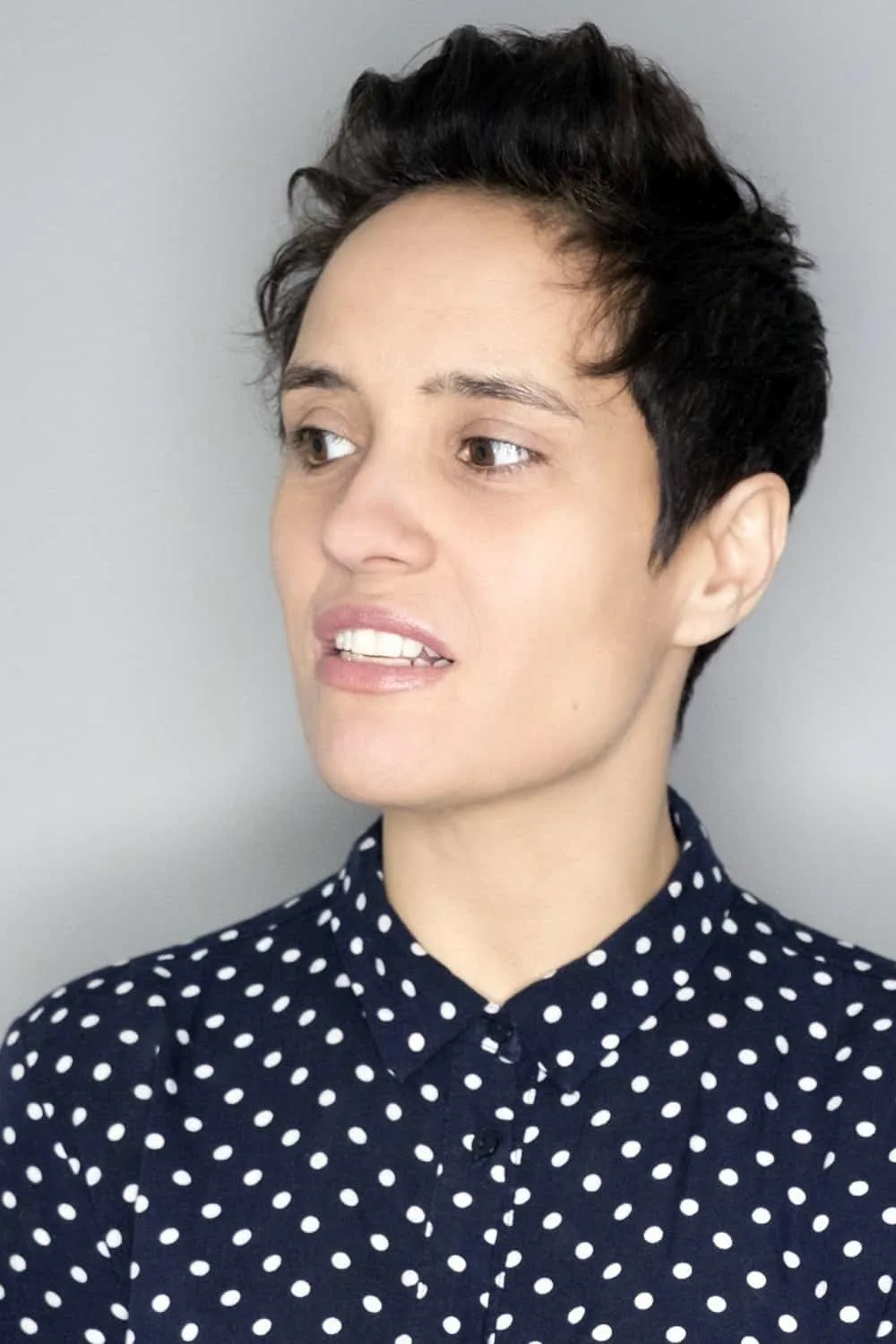 Jes Tom
Jes describes themselves as a "weird queer comedy babe," and I can't think of a more perfect description.
Their stand-up comedy shares a much-needed non-binary queer Asian American perspective. That's something we don't see enough of in an often very white and cis industry.
Their self-produced half-hour comedy special, Cold Brew, is available to watch on Vimeo.
Where to enjoy: you can enjoy some clips of their stand-up on YouTube.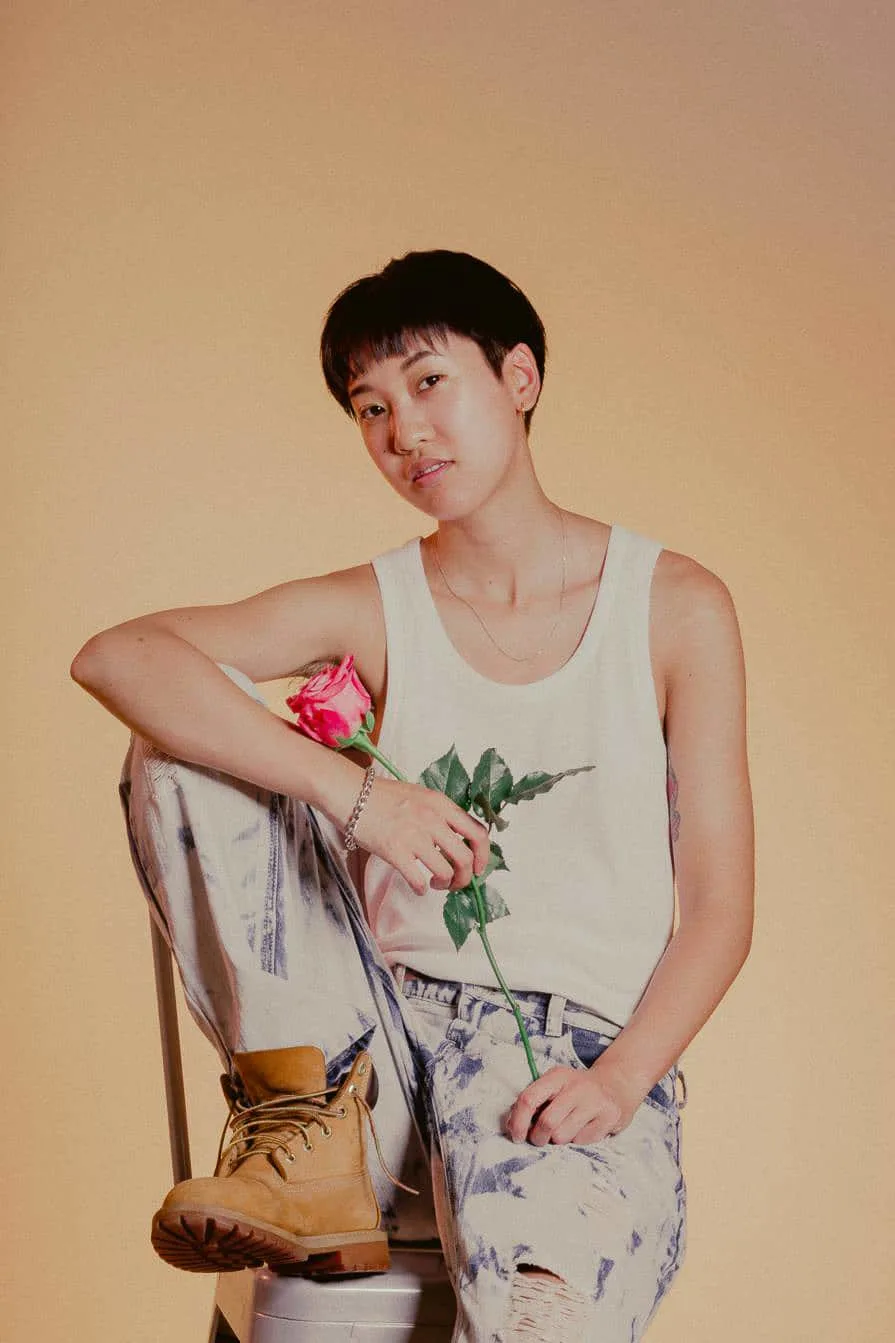 Kate McKinnon
My biggest celebrity crush, the queen of pantsuits and all-around lesbian icon. What's a list of famous lesbian comedians without Kate McKinnon on it?
Kate is epic at impersonations and accents, and I'll admit, I've lost hours to YouTube montages of "Kate's funniest moments."
She has starred in so many incredible woman-power movies, including Ghostbusters, Rough Night, and The Spy Who Dumped Me (Mila Kunis & Kate McKinnon on the same screen – be still my gay heart!).
For a decade, she was also a series regular on the American comedy sketch show Saturday Night Live (SNL), where she performed perfect impersonations of Hilary Clinton, Ruth Bader Ginsburg, and Justin Bieber, to name a few.
Where to enjoy: sadly, we can't catch Kate on SNL every week on NBC anymore. But you can still enjoy some great gay moments compiled by fans on YouTube. She was a cast member for 11 seasons!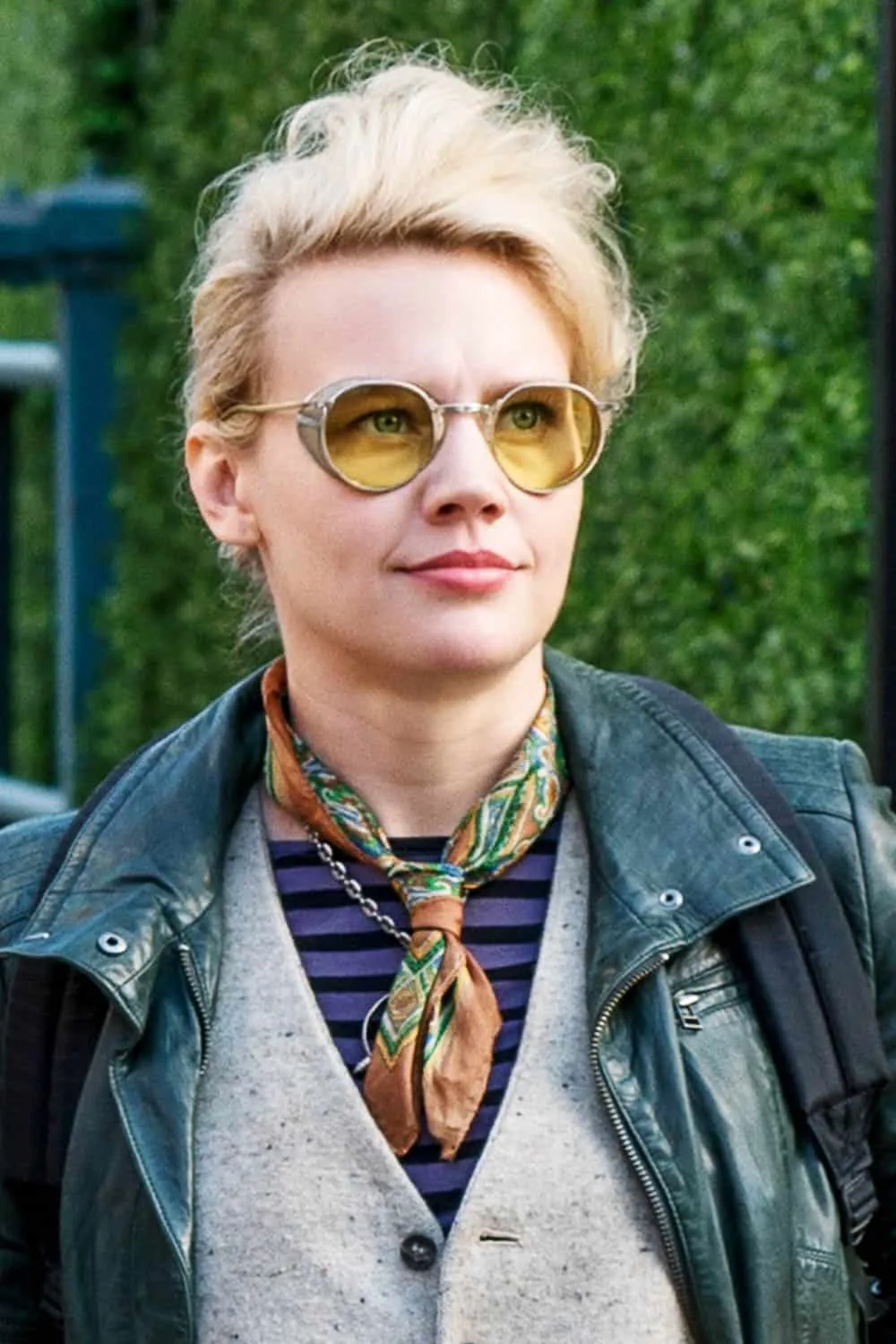 Kemah Bob
My girlfriend and I saw Kemah live at the Edinburgh festival in 2019, and she was awesome. Her stand-up shows usually cover topics such as Black cultural identity, mental health, orientation, and gender.
She is a regular guest and co-host on the Guilty Feminist podcast and also hosts FOC It Up, a stand-up comedy series to showcase and amplify the voices of femmes of color in the comedy industry.
Kemah Bob is a black lesbian comedian to check out for sure!
Where to enjoy: Listen to her show Unstable about mental health and living with Bipolar Disorder or watch her TED Talk.
Lea Delaria
You may know her best from the LGBT Netflix show Orange Is the New Black, but Lea Delaria may be one of the greatest female gay comedians in the industry.
She is said to be the first out gay comedian to appear on US TV in 1993. Self-proclaimed 'Lord of the Lesbians' Lea is unapologetic in her queerness.
Lea is also credited for perhaps one of the most iconic lesbian jokes and stereotypes of all time;
Question: What does a lesbian bring on a second date?
Answer: A U-Haul.
Where to enjoy: currently not touring, but you can still watch Lea as Big Boo in many Orange Is the New Black lesbian scenes on Netflix, or listen to her music!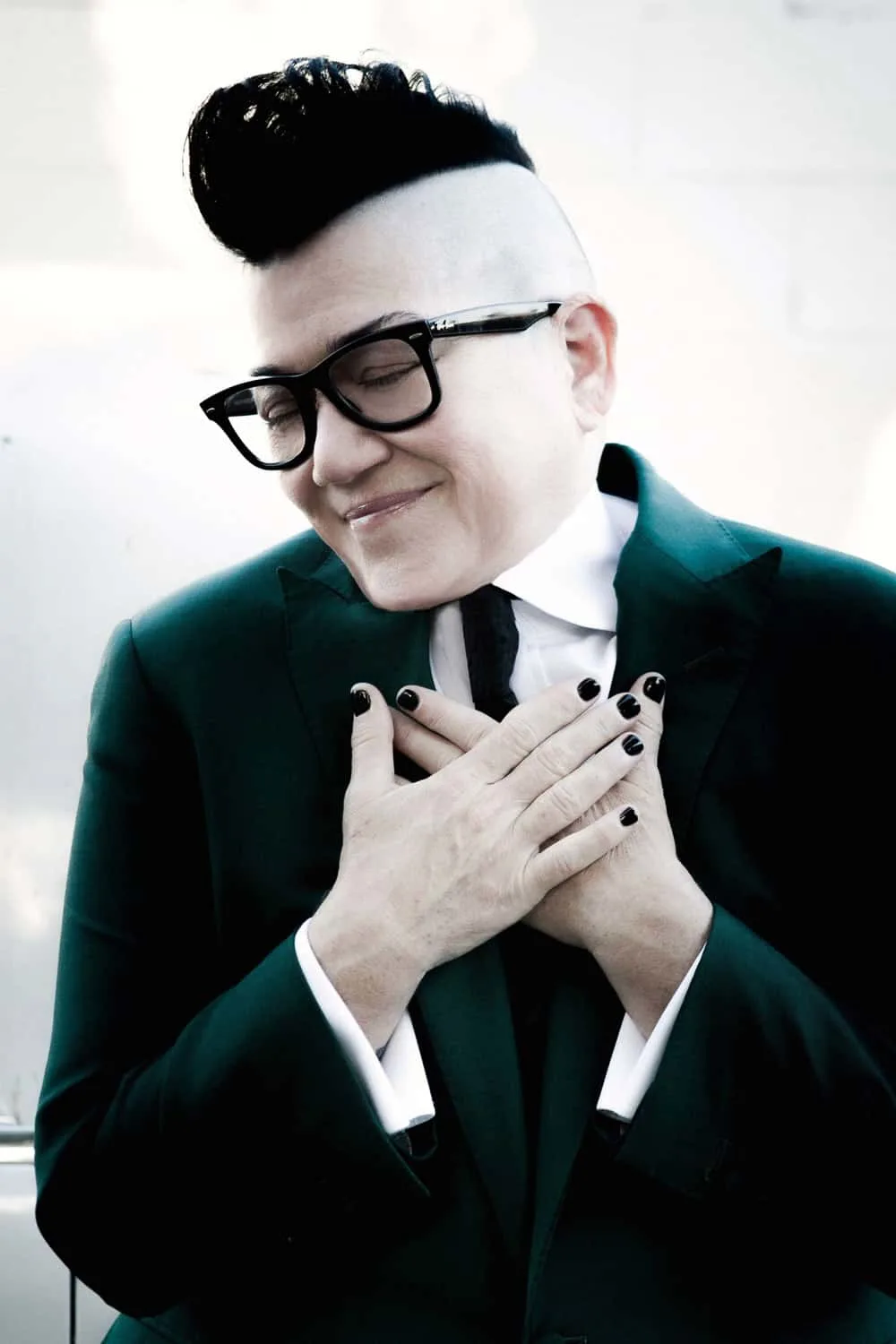 Lena Waithe
I fell in love with Lena Waithe watching her in the hilarious Netflix comedy-drama series Master of None. She also created the lesbian comedy series Twenties, which is fun to watch!
And then she sealed the deal when she showed up to the Met Gala in New York wearing the most epic (and gayest) Met Gala outfit of all time.
Lena became the first Black woman to win an Emmy for a comedy series, and more recently, she's signed a contract with Audible to help with finding new & diverse talent for the platform.
Where to enjoy: along with the above-mentioned comedy series Twenties and queer Netflix comedy series Master of None Lena currently has 2 other comedy series airing called Boomerang and The Chi.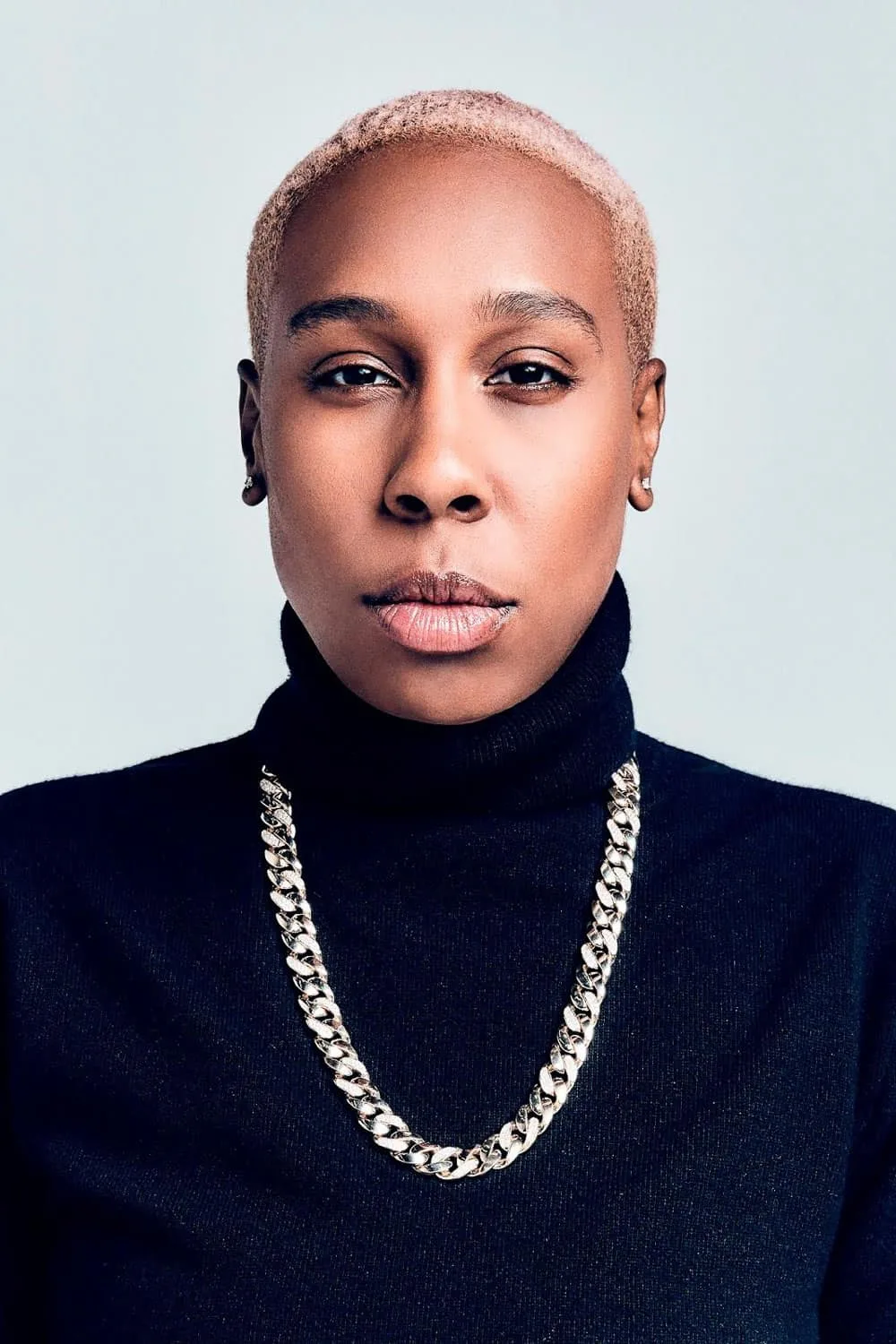 Liz Feldman
Closeted me back in 2015, discovered Liz Feldman on YouTube, and became obsessed! Her YouTube series This Just Out came in the pre-podcast era, where she would interview other lesbian comedians and lesbian artists.
Watching her hilarious conversations with so many women who were out and proud was the representation I needed.
More recently, Liz created and produced the Emmy-nominated Netflix dark comedy D e a d to Me.
She also created One Big Happy and has written for 2 Broke Girls, The Ellen DeGeneres Show, and Blue Collar TV. Basically, Liz Feldman is my life goal.
Where to enjoy: D e a d To Me is now streaming 3 seasons on Netflix (as of 17 November 2022). She also features on several podcast episodes, which I'm sure you'll enjoy.
"It's very dear to me, the issue of gay marriage, or as I like to call it 'marriage,' you know, because I had lunch this afternoon, not gay lunch. I park my car, I didn't gay park it." – Liz Feldman
Clea DuVall
Clea has been making the lesbian community laugh since she starred in the infamous 1999 lesbian movie But I'm A Cheerleader.
Since then, she has done so much for LGBTQ+ representation in film and TV (she's played at least 10 lesbian characters).
Despite representing queer women in film since 1999, she only publically came out in 2016.
In 2020, she brought the newest lesbian Christmas movie to our screens with The Happiest Season.
Where to enjoy: watch The Happiest Season for Clea's latest lesbian comedy writing on Amazon Prime or Hulu.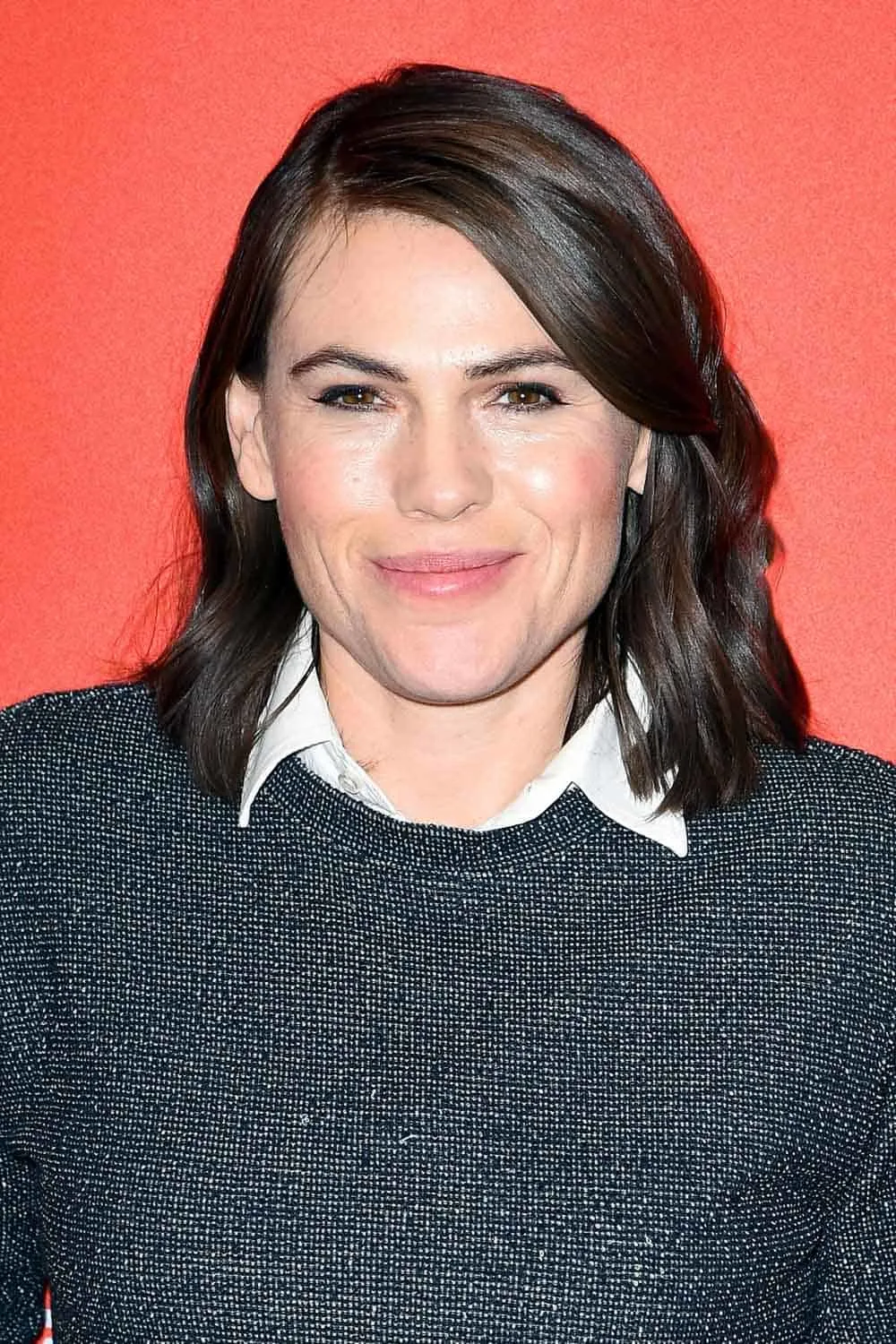 Fortune Feimster
Fortune Feimster is one of those lesbian comedians on Netflix you have to watch. She is the star of the lesbian Netflix comedy special Sweet & Salty, and she is perhaps best known for The Mindy Project and Chelsea Lately.
I always love watching interviews with her online because she's got such an infectious personality. You can't help but laugh at her jokes (plus her southern American accent is super charming too).
Her latest show The Netflix Afterparty is now streaming, with a rundown of the greatest shows of 2020.
Where to enjoy: along with the Netflix specials, Fortune has a podcast Sincerely Fortune, and her YouTube account has a catalog of stand-up performances and skills.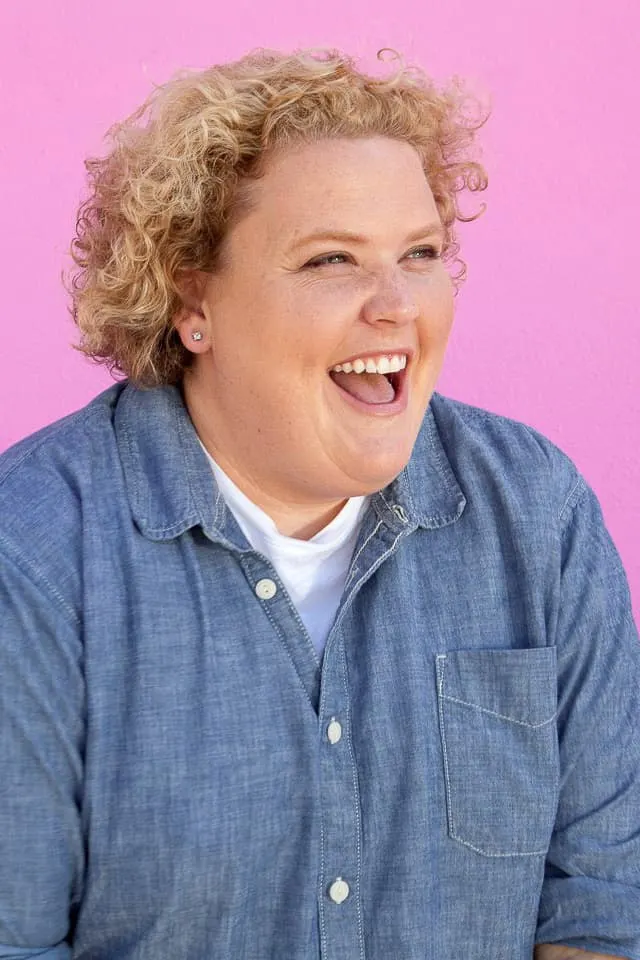 Mary Higgins & Ell Potter
Mary & Elle are two British bi-comedians better known as The Hotter Project.
These female comedians started as girlfriends, and although their relationship didn't work out, they make epic business partners and stand-up comedy shows.
Their first Edinburgh Festival show Hotter dove into the experiences of women and transgender people aged 11 to 97. I have been to watch Hotter live TWICE, and cried laughing TWICE!
Their new show Fitter is inspired by conversations with trans-men, cis-men, and masculine-presenting people aged 8 to 102. The show is "a love letter to masculinity that we're forever tearing up and taping back together again."
Where to enjoy: Ell and Mary have launched a new queer comedy audio drama called LemNGinge. Oh, and Mary started a gay Christmas card business!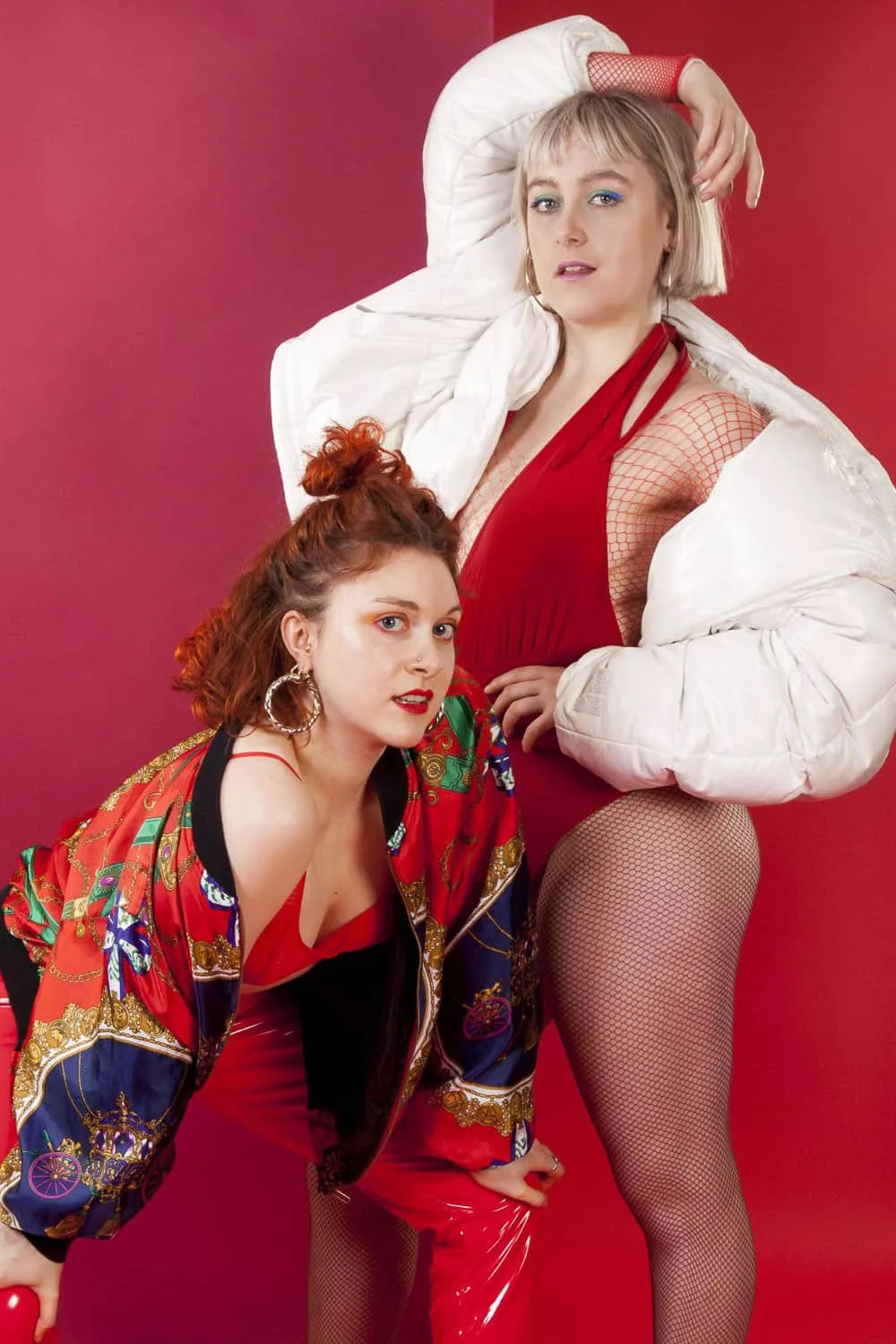 Rhea Butcher
Rhea Butcher will be the first to point out the genius of her name, as a butch lesbian and vegetarian.
They're a comedian, actor, writer, producer, and podcast host who also starred with their then-wife (Cameron Esposito) in the hit lesbian comedy show Take My Wife.
Recently, Rhea came out as non-binary and now hosts a stand-alone podcast called Three Swings, where they tackle baseball, history, culture, gender, and race.
Rhea's latest stand-up show Butcher explores vegetarian dog ownership, wardrobe choices, and more.
Where to enjoy: Rhea often has live shows scheduled in the USA, but check back for live dates. You can also enjoy their stand-up on YouTube or on their Podcast.
Rosie Jones
If you don't know who Rosie Jones is – get ready! She is INCREDIBLE.
I love everything she does, but my favorite has to be her hilarious, yet shocking tour of London gyms, to expose how far accessibility still has to go.
Rosie is the genius behind season two of the hit LGBT Netflix series S e x Education and is a regular on the Guilty Feminist podcast.
Her stand-up comedy shines a much-needed light on the experiences of gay disabled women, and her work to increase representation and diversity in comedy is incredible.
Where to enjoy: Rosie is doing some shows in the UK in 2023!
"I'm disabled, I'm Gay, and I'm a prick… The BBC Loves me!" – Rosie Jones.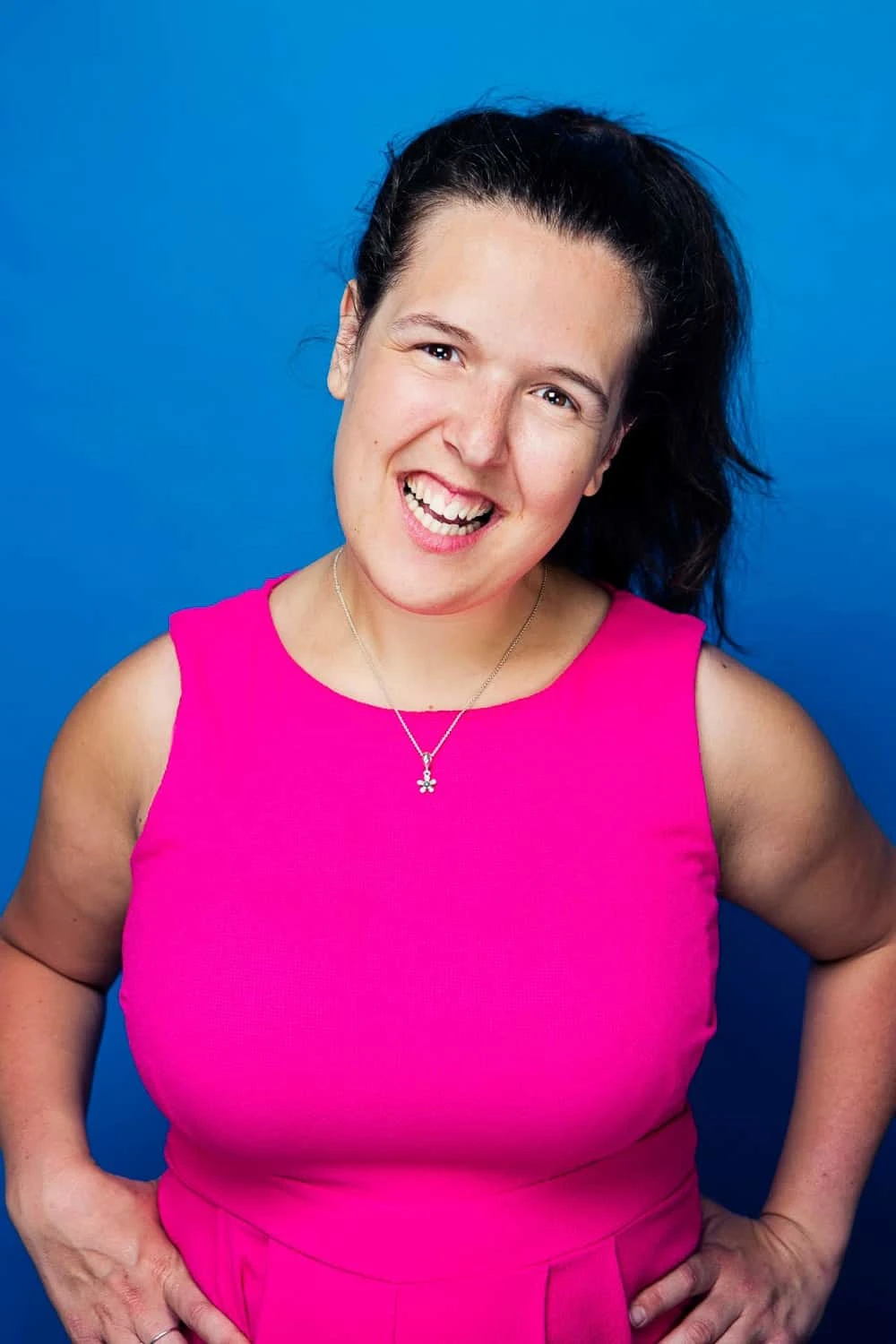 Ellen DeGeneres
Would it be a list of lesbian comedians if I didn't include Ellen DeGeneres? Although she has faced some criticisms in the media regarding negative working environments, it would be wrong not to list her.
Ellen has paved the way for the multitude of lesbian comedians that we now know and love. And she did it at a time that meant risking her career and livelihood.
Whether it's through her infamous talk show, The Ellen Show, or her more recent Game of Games, Ellen has had our sides splitting with laughter for decades.
Ellen forms a lesbian married couple with the model and actress Portia de Rossi.
Where to enjoy: The Ellen Show is on YouTube for all those living outside the US, plus her website EllenTube has hours of content. You can also find her lesbian comedian Netflix special Relatable on Netflix.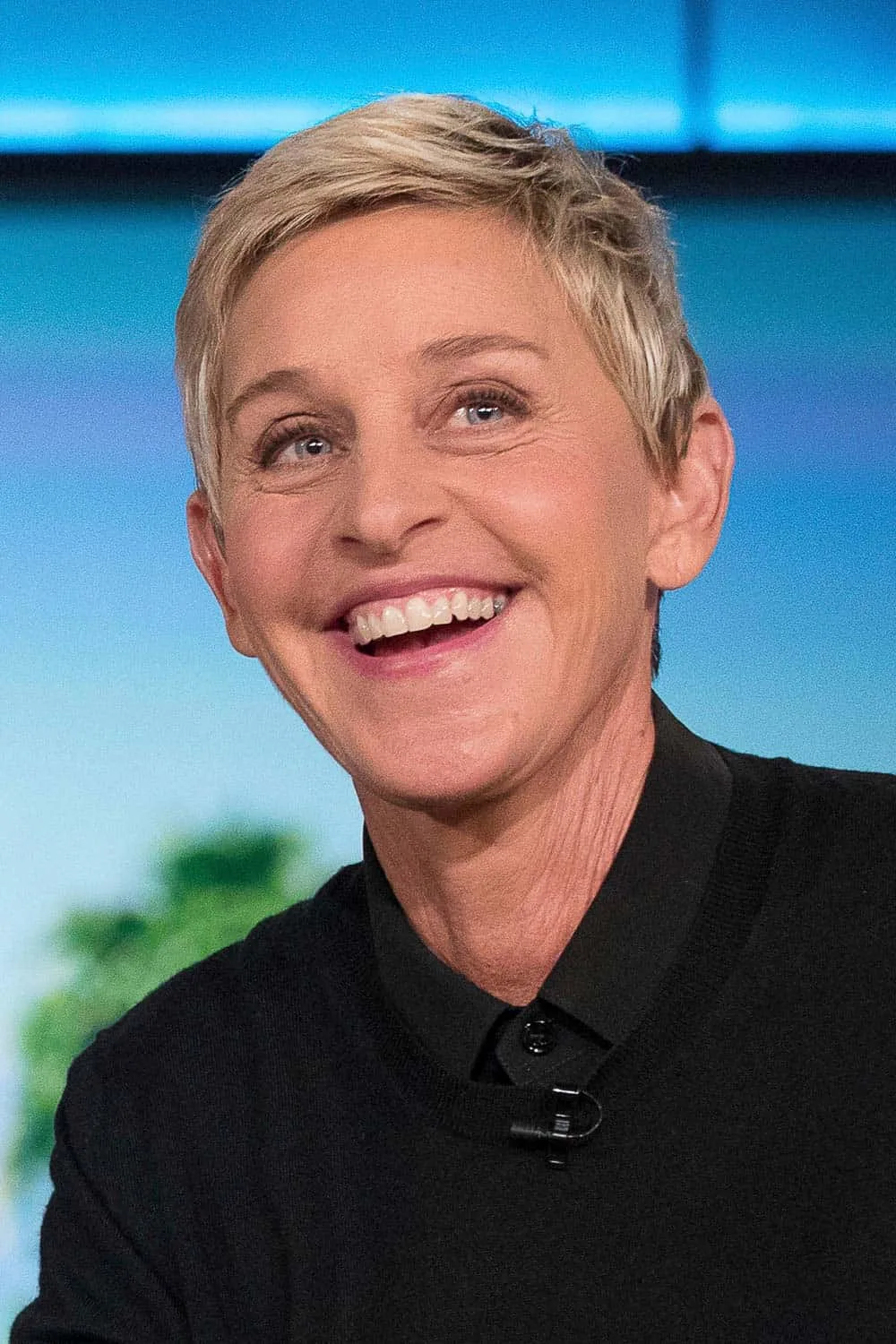 Gina Yashere
Gina Yashere is a lesbian comedian Netflix star, with 3 stand-up specials called Skinny B*tch, Laughing To America, & Ticking Boxes. And you can also see her in the Standups (S2, E2).
She is also the Co-creator/Producer of Bob Hearts Abishola, a hilarious TV show about an American guy who falls in love with his Nigerian nurse.
I love that Gina was listed on the Out 100 2020 list and opened up about how it took her 15 years of working in the industry before she felt confident enough to come out.
Where to enjoy: watch Ticking Boxes on Amazon Prime and Skinny B*tch and Laughing To America on Netflix or Amazon Prime.
Tig Notaro
Of course, Tig Notaro can't be missed on this list of lesbian comedians. Tig Notaro is infamous in the stand-up comedy circuit.
Her dry comedy is sidesplittingly funny, and Tig's accounts of being a mother of two always have me cracking up.
Tig Notaro has two specials, Boyish Girl Interrupted and Happy To Be Here.
Where to enjoy: the Netflix documentary Tig tells the story of how she announced she was sick live on stage in 2012. Watching it just made me love her even more. She also has a hilarious podcast, Don't Ask Tig.
Sarah Keyworth
Sarah Keyworth is an award-winning lesbian stand-up comedian who performs live regularly across the UK. She uses stand-up comedy to explore topics like gender roles, identity, and orientation.
She also received a nomination for Best Newcomer at the Edinburgh Comedy Awards in 2018.
Sarah's new show on BBC Radio 4 Are You a Boy or a Girl? explores her personal journey with gender fluidity.
Where to enjoy: see Sarah during her Lost Boy Tour, with shows in 2022 and 2023 around the UK.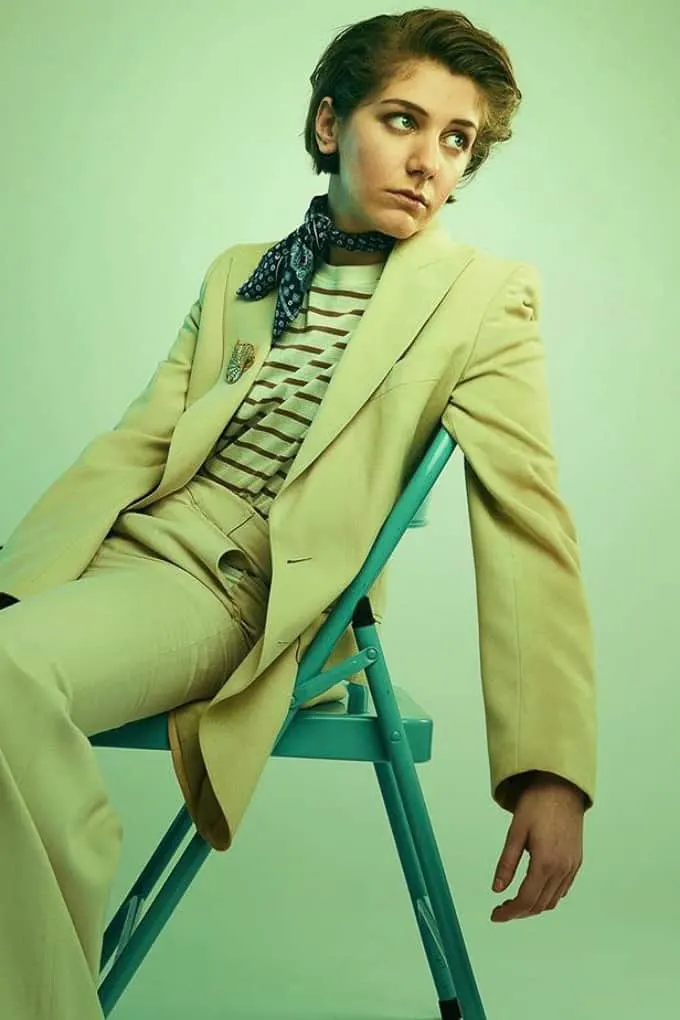 Suzi Ruffel
Suzi Ruffel is a gay female comedian who was nominated for a British LGBT Award in 2020.
She is a regular on BBC Radio 4, including The News Quiz and The Now Show, and co-hosts the hit podcast Like Minded Friends with Tom Allen.
Where to enjoy: Out with Suzi Ruffell is a lesbian podcast all about the inspiring lives of LGBTQ+ people.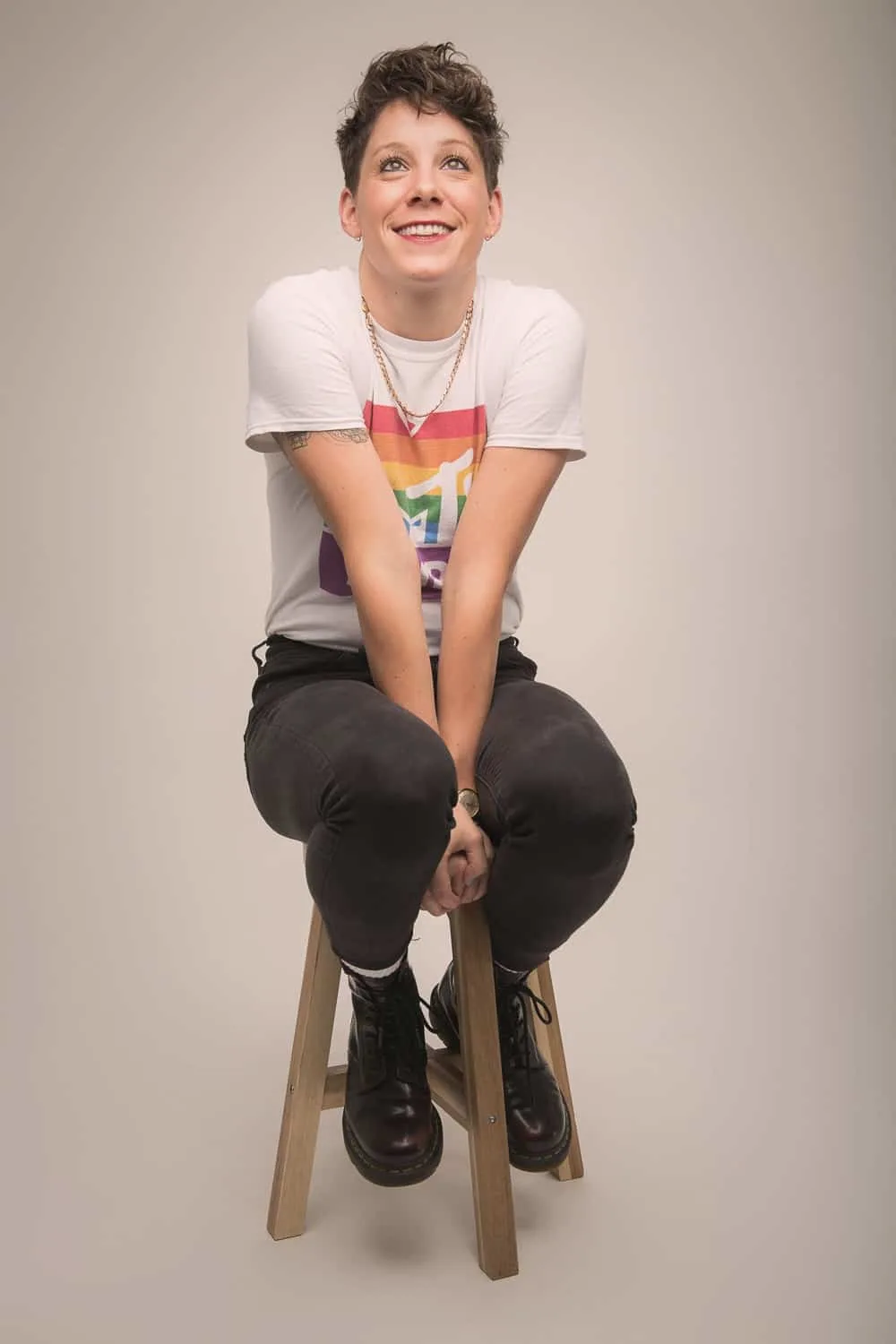 Punkie Johnson
Another of those amazing lesbian comedians: Punkie Johnson! Punkie Johnson is a stand-up comedian, actress, and writer from the United States.
You might know her from Saturday Night Live, as she has been a featured comedian since the 46th season. She's the second black LGBT woman on the show.
Punkie Johnson started her career at the Comedy Store. Which is a comedy club in West Hollywood.
She is an openly proud lesbian and is married to her wife. They have been together since 2002!
In her Living by a Code comedy special, she talks about a gay code she lives by. If two women are in a relationship, one of them has to be the man. Or well, that's what society tells us (and often the lesbian community too).
Where to enjoy: see Punkie Johnson on Saturday Night Live!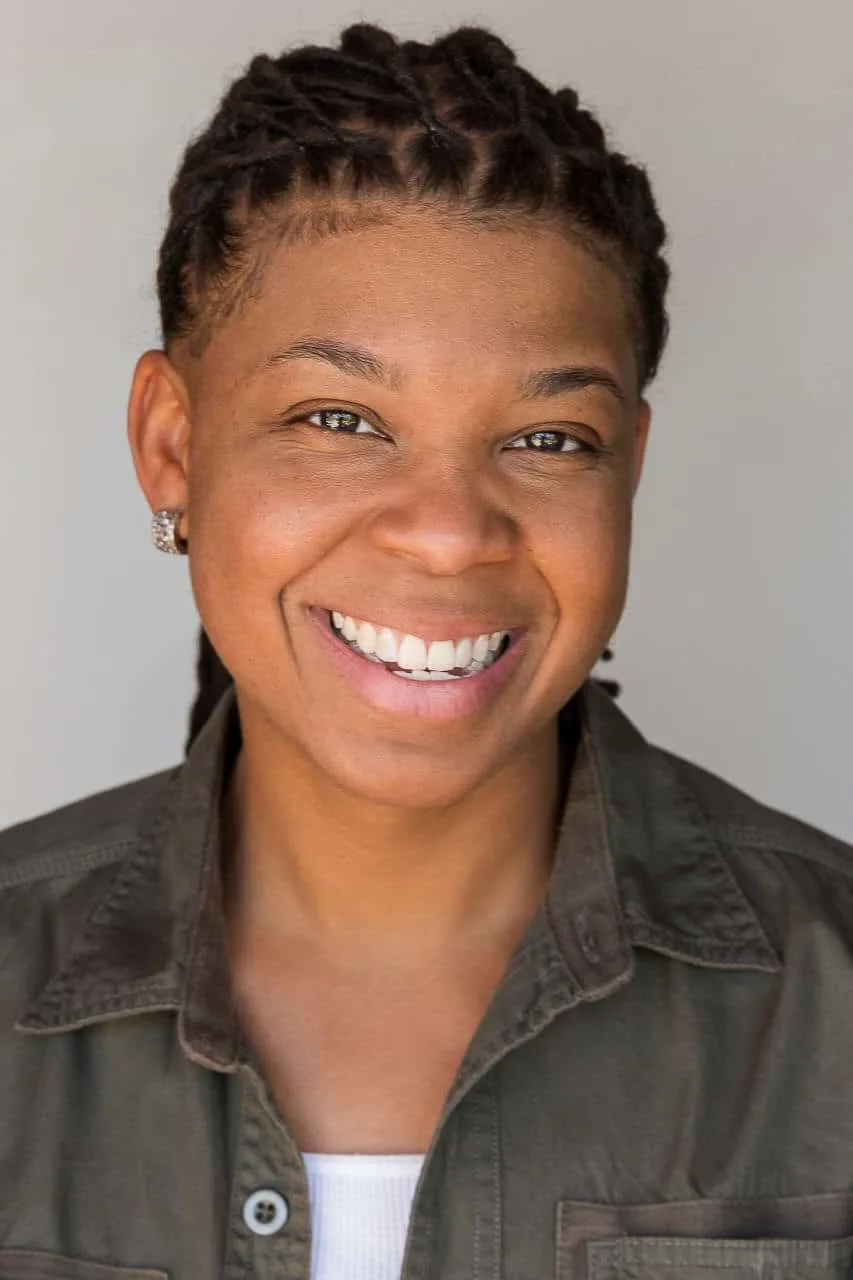 Sofie Hagen
In her own words, Sofie Hagen is a fat, queer, nonbinary, feminist, Danish, stand-up comedian, author, body image activist, #influencer, podcast producer, podcast host, and mental health campaigner. Phew, and breathe!
She's a powerhouse of talent and comedy, and I loved seeing her live!
She's also a Guilty Feminist Podcast regular and has 4 of her own podcasts too! Made of Human Podcast (talking about life), Bad People, Secret Dinosaur Cult (live comedy), and Comedians Telling Stuff (stories about stand-up).
Where to enjoy: watch some of Sofie's stand-up and listen to her podcasts on her website. And keep an eye out for live show dates!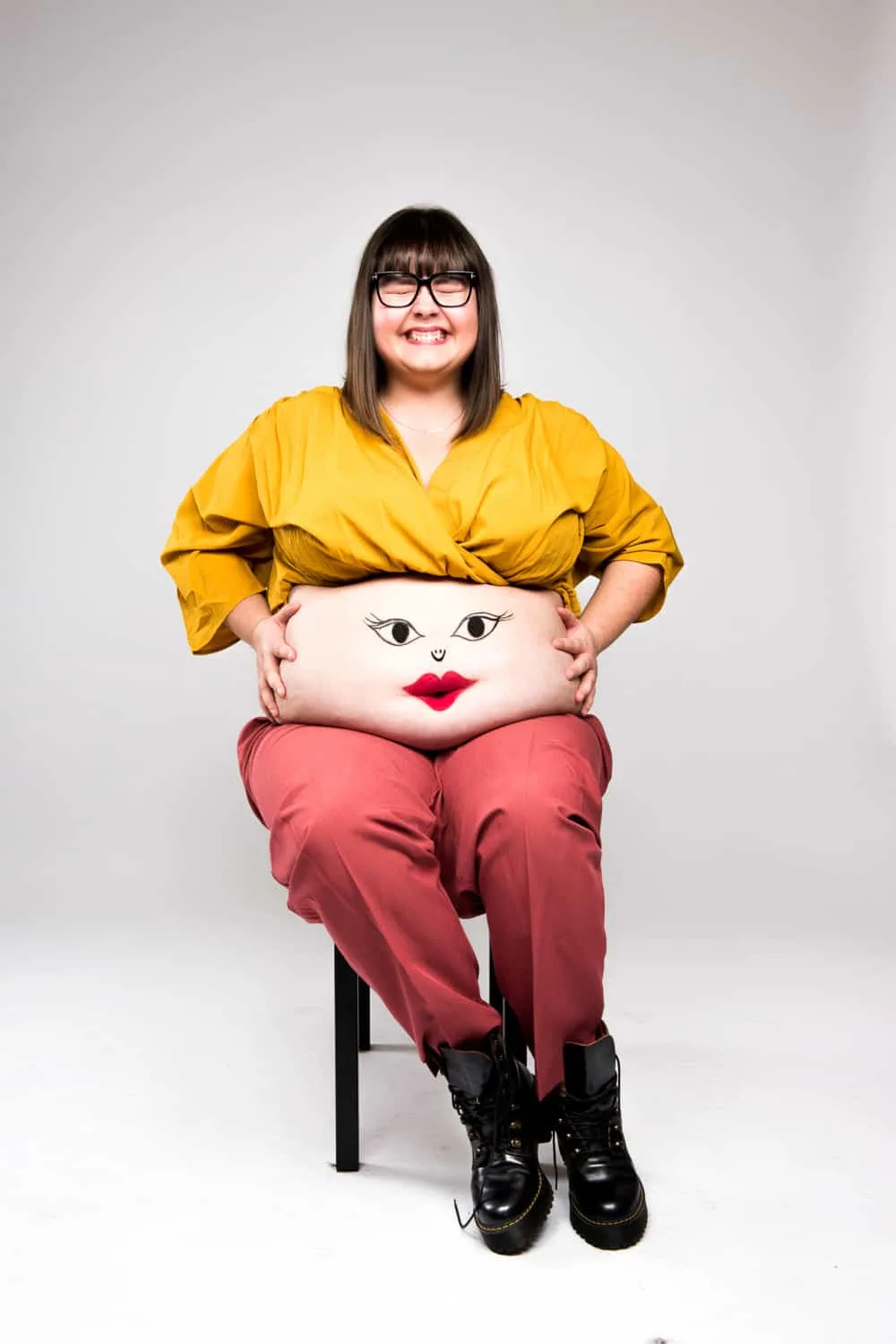 Lily Tomlin
Gosh, you gotta love Lily Tomlin! This star is not only a lesbian comedian but also an actress, writer, singer, and producer.
You might have seen her in the LGBT Netflix show Grace and Frankie. If you haven't seen it, go do it! Tomlin plays Frankie Bergstein, and she does such an amazing job!
Lily started her career in the 1960s as a comedian and performed Off-Broadway. In 1977, she had a solo Broadway show. Making her the first woman to do so! The same year, Time covered her as 'America's New Queen of Comedy'.
She is married to Jane Wagner, an American writer, producer, and director. They are a great team together, as Jane is Lily's comedy writer.
Where to enjoy: you can enjoy Lily on the big screen and on Netflix!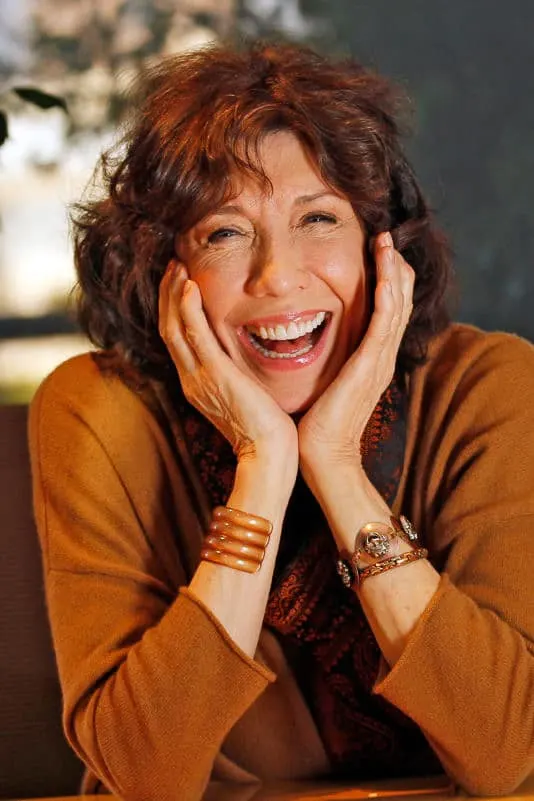 Sam Jay
In 2020, Sam Jay released her hour-long comedy special on Netflix, named 3 in the Morning. She also appeared on Netflix's special The Comedy Lineup.
She's one of the lesbian comedians on Netflix you should watch!
What I love about her is that no topics are off-limit for Sam Jay. She talks, for example, about wanting the best baby money can buy.
Sam is a writer for Saturday Night Live and also performed on Jimmy Kimmel Live!
Where to enjoy: see her perform on Netflix with her comedy special 3 in the Morning.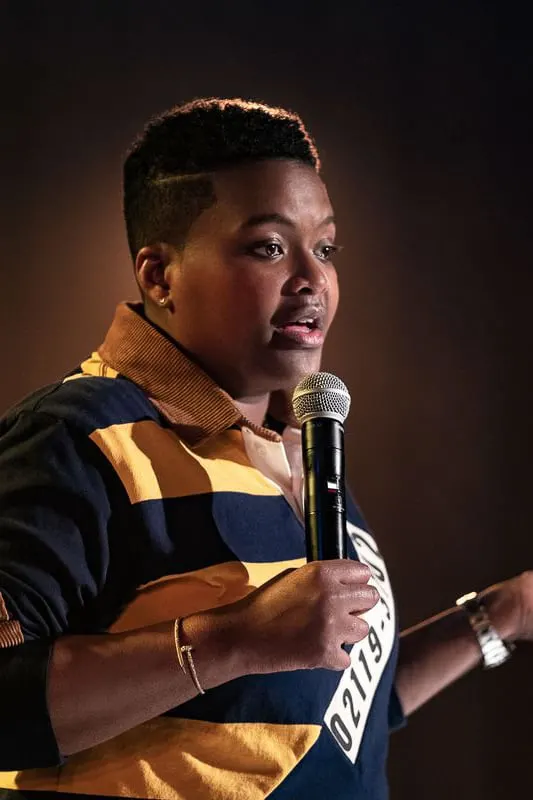 Jane Lynch
One of the stars of Glee! Jane plays Sue Sylvester in the series, the lesbian coach of the William McKinley High School Cheerleaders.
Jane is an American lesbian comedian, actress, singer, author, and voice actress.
If you haven't seen her in Glee you have probably seen her in the lesbian show the L Word, Two and a Half Men, Criminal Minds, or The Marvelous Mrs. Maisel. She also stars in many many many comedy films!
At the start of her career, she joined The Second City, which is an improvisational comedy group in Chicago.
Where to enjoy: see Jane Lynch on the big screen, on Netflix in Glee, or on Hulu in the L Word, for example.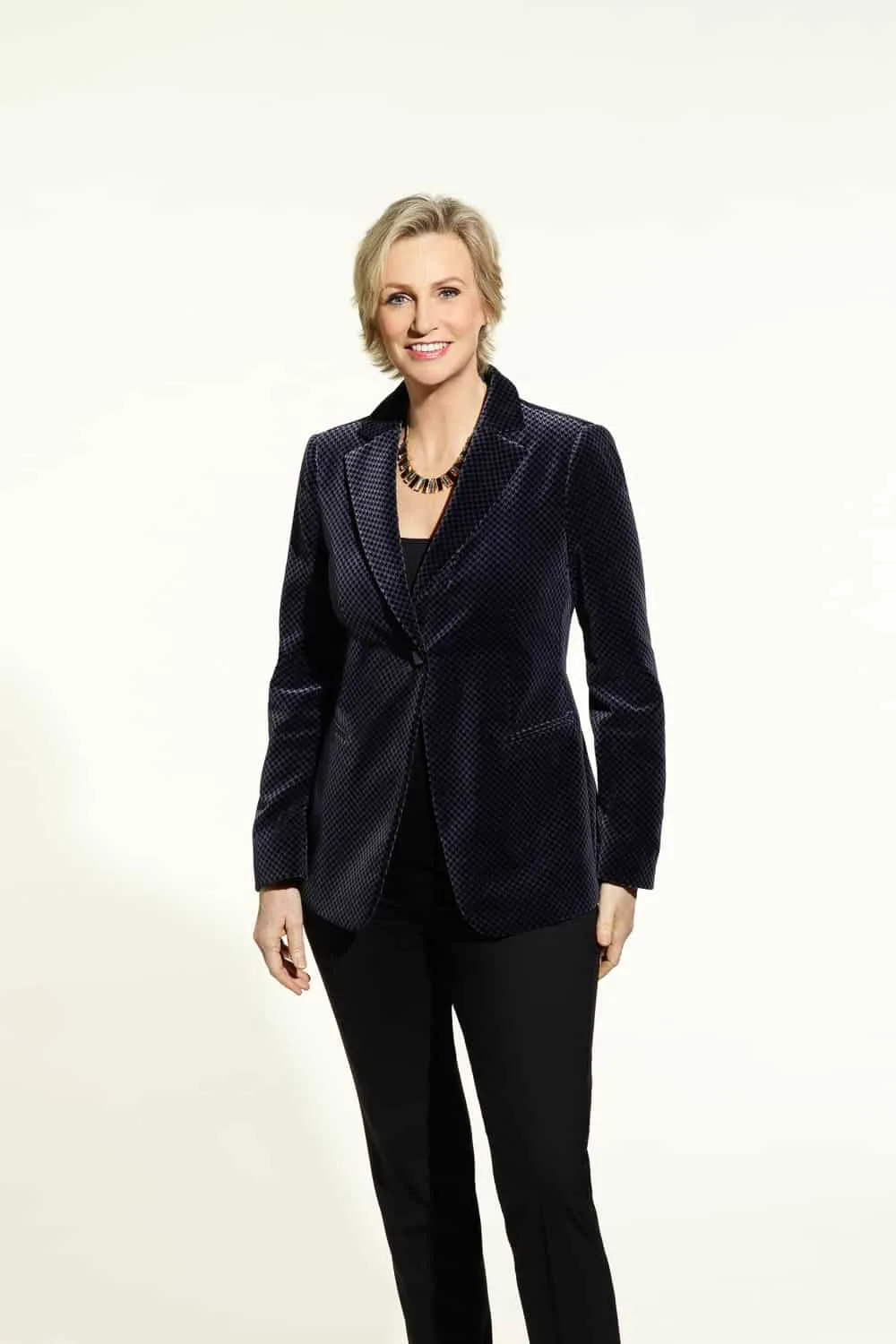 Sophie Duker
My girlfriend and I saw Sophie live in a double-act performance in Edinburgh in 2019 called DukePop, and she was great. She describes herself as a "triple threat minority" — a panടexual Black woman.
She has also appeared on 8 Out of 10 Cats, Mock the Week, and Frankie Boyle's New World Order.
Where to enjoy: currently, Sophie hosts the podcast Obsessed With… on BBC Sounds.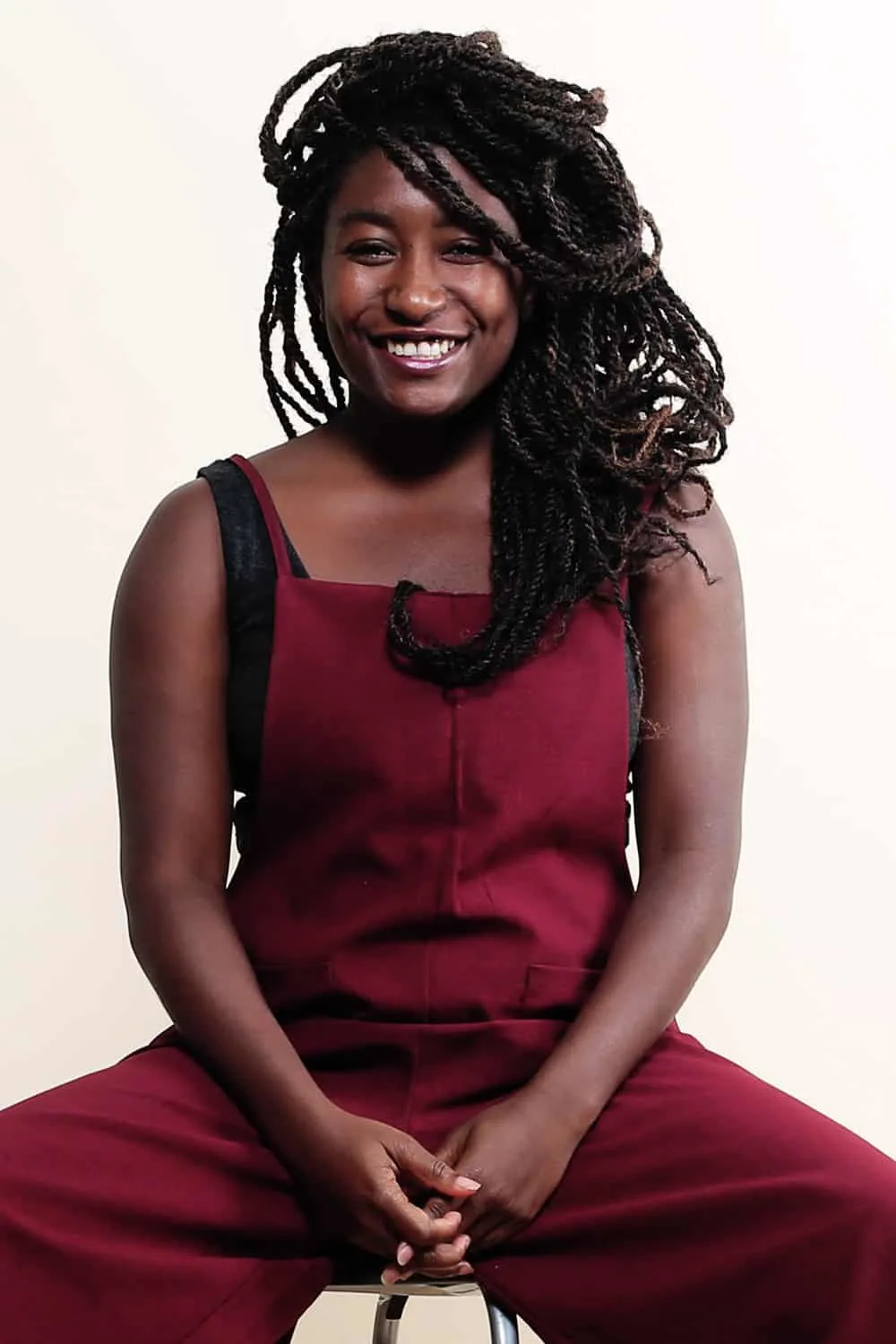 Sandi Toksvig
What not to love about Sandy Toksvig?! Sandi can't be missed on this list of gay female comedians!
The British-Danish lesbian comedian is not just a comedian, but does so many things. Writing books for children and adults, presenting The Great British Bake-Off, and producing radio, Sandi does it all.
She's also the co-founder of the British Women's Equality Party, founded in 2015. The party campaigns for gender equality.
Sandi used to be part of an improvisational comedy team that performed at the Comedy Store in London. She also appeared on many comedy shows as a panelist.
Where to enjoy: due to everything that's happening in the world since 2020, Sandi launched a podcast named We Will Get Past This. Listen to Sandi talking about her books while celebrating important historical characters on Spotify!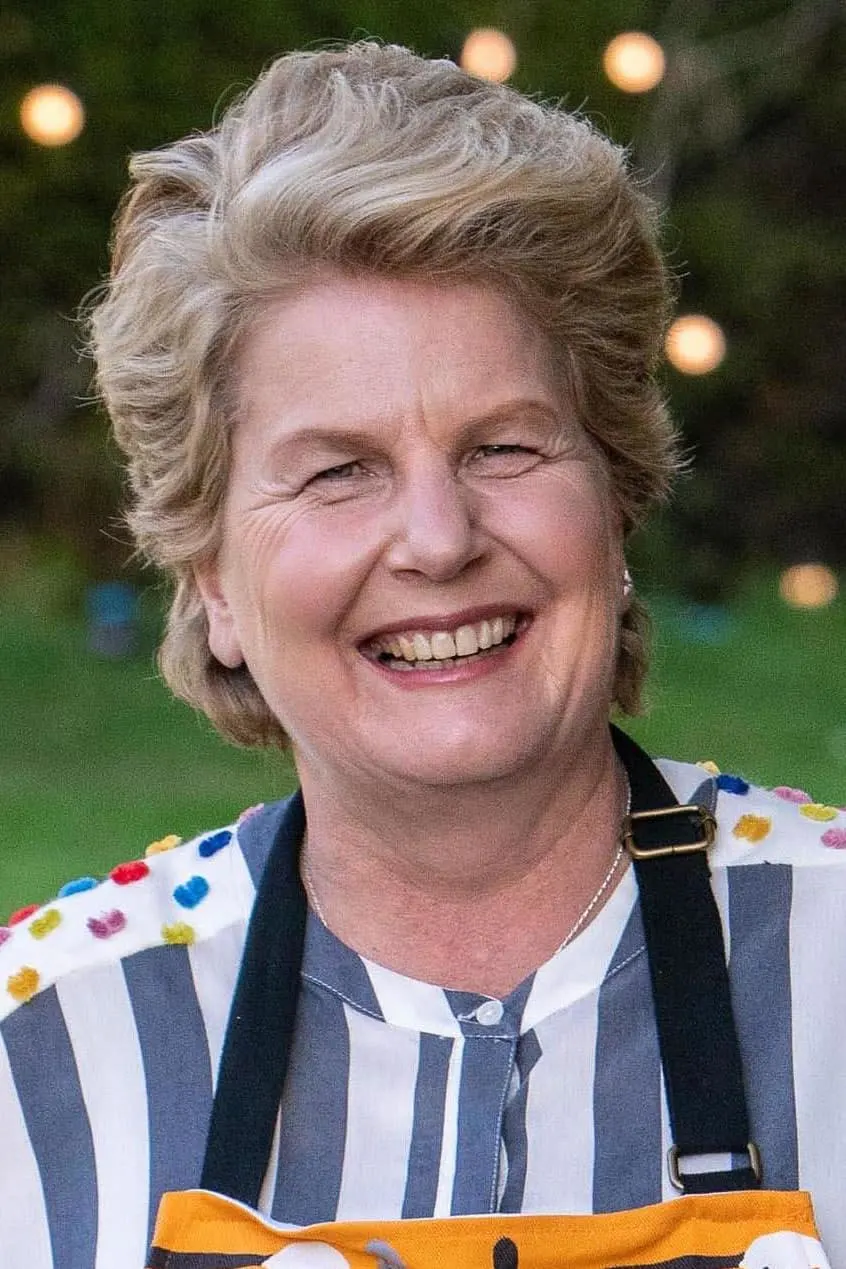 Rosie O'Donnell
Like Sandi Toksvig, Rosie O'Donnell is one of those lesbian comedians that's rocking the comedy scene for a long time already.
And she's not only making us laugh, but she is also an advocate for gay adoption and lesbian rights. The Advocate named her person of the year in 2002!
As a teenager, she started her comedy career and starred in the TV series Star Search, which gave her a breakthrough in 1984.
You might remember her from the Showtime comedy series SMILF, her daytime show The Rosie O'Donnell Show, and her film roles as Betty Ruble in The Flintstones.
Where to enjoy: in 2019, the last episode of SMILF aired on Showtime. In 2020, she starred in the American miniseries I Know This Much Is True.
Sue Perkins
Before Sandi Toksvig starred on The Great British Bake-Off, Sue Perkins presented the British show together with Mel Giedroyc.
The two are a comedy partnership duo named Mel and Sue. They started with stand-up comedy at the Edinburgh Fringe Festival (more about the festival in the next paragraph), before working on television.
Sue is together with the TV presenter Anna Richardson.
Where to enjoy: in 2020, Sue presented a two-part documentary on BBC One called Sue Perkins: Along the US-Mexico Border.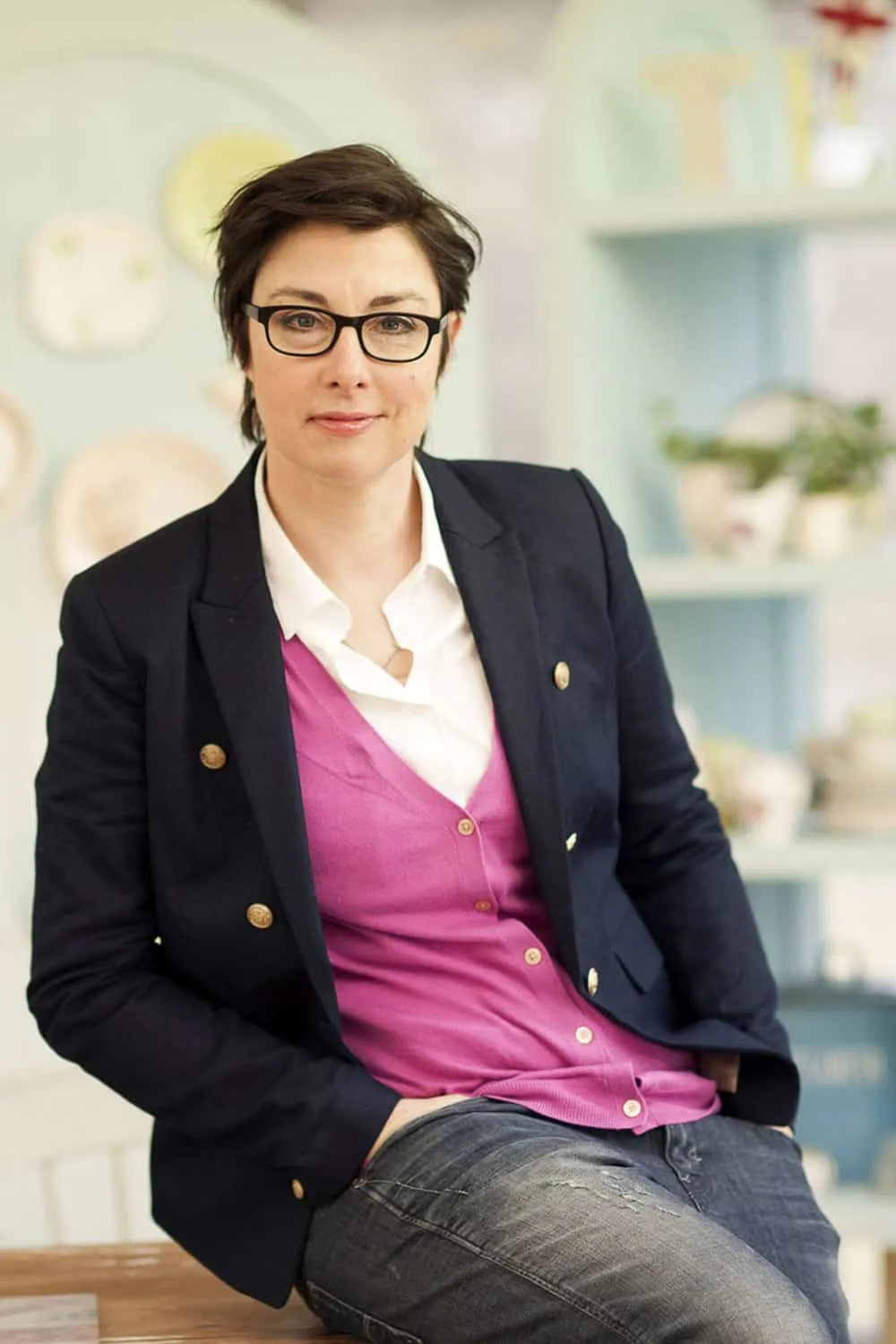 Where To Watch Lesbian Comedians Live?
Writing this blog made me realize that living in Edinburgh has given me the greatest opportunity to watch lesbian comedians live.
Many of the gay female comedians listed above appear at the Edinburgh Fringe Festival each year. It's the world's largest arts festival and lasts almost the entire month of August.
If you haven't been yet and would love to experience lesbian comedians live, add Edinburgh to your travel bucket list for 2023 or 2024.
If Edinburgh isn't on the cards, you can enjoy queer comedians for free online through Twitter, lesbian YouTube, podcasts, and lesbian comedian Netflix specials.
And there you have it, 33 hilarious queer female comedians for you to laugh your socks off to.
If I missed lesbian comedians, drop a comment below – it's always great to discover new LGBTQ+ comedians.
Find us on Instagram, Facebook, and YouTube!
And don't forget to tell all your lesbian friends about these lesbian comedians. Feel free to share this article with them.
MORE TO READ:
PIN THIS ARTICLE