Get ready for this ultimate guide to lesbian Amsterdam. Perfect for when you visit Amsterdam as a tourist, or if you are a local, and are looking for the best gay and lesbian things to do in the city!
Amsterdam is the capital city of the Netherlands, and it's most famous for its beautiful canals, stunning bridges, cute gingerbread houses, cobblestone streets, coffee shops (not for coffee!), great gay parties, and lots of bicycles. There are more bicycles than people in Amsterdam, how crazy is that?!
But Amsterdam has a lot more to offer; there is something for everyone.
Many queer Dutch people move to Amsterdam to be unapologetically themselves. And if you visit Amsterdam, you should feel free to truly be yourself too, and enjoy all the beauty it has to offer.
It's a city where our love story began, so Amsterdam has a special place in our hearts.
Continue reading for the ultimate guide to lesbian Amsterdam, from two locals! Including our best lesbian bars, lesbian clubs, insider tips and spots, gay events, where to stay in Amsterdam, and the best things to do.
Good to know before your visit: in the Netherlands, you go to a café for coffee and to a coffee shop to smoke!
LGBT Rights in the Netherlands
First, we will tell you a bit about LGBT rights in the Netherlands. The Netherlands is one of the more LGBT-friendly destinations in the world.
Therefore, it isn't weird that LGBTQ+ rights in the Netherlands have been some of the most progressive in the world.
Being gay is legal since 1811, and in 2001 the Netherlands became the first country in the world to legalize marriage for all couples, regardless of gender. Yes, we are very proud of that!
The first gay bar opened in Amsterdam in 1911 and the Netherlands is home to the world's oldest existing LGBT organization: COC Nederland. It's an organization that has been fighting for LGBTQ+ rights nationally and internationally since 1946.
Dutch people are very tolerant, especially in big cities. Unfortunately, small towns can be less accepting of LGBT people. There is still lots to work on in terms of equality!
LGBTQ+ people still experience a lot more difficulties than straight cisgender people. This sadly happens in most countries in the world, but of course, we hope to see this changed.
Strangely, homo (Dutch for gay) is a curse word still often used by Dutchies.
Read our lesbian love story, which began in Amsterdam!
Gay Area Amsterdam
The famous gay street of Amsterdam is the Reguliersdwarsstraat (yes, try to pronounce that the Dutch way!). It's the most colorful street in Amsterdam, and the main gay scene is located here.
The Reguliersdwarsstraat is located close to the Rembrandtplein and Bloemenmarkt (flower market).
Especially during Amsterdam Pride (end of July/early August) and King's Day (April 27), the parties move from the bars and clubs to the streets of Amsterdam.
At the Reguliersdwarsstraat, you can find most gay and lesbian bars, clubs, cafés, restaurants, and shops.
Another important gay district in Amsterdam is at the Pink Point + the Homomonument, next to the Westerkerk.
The Homomonument is a memorial, memorizing all gay men and women who were persecuted for being gay, during the years 1939 and 1945 (WW II). The monument consists of three large pink triangles, made of granite.
Next to the Homomument, you can find the Pink Point, which is the official LGBTQ+ information kiosk of Amsterdam. Here you can get LGBTQ+ information about Amsterdam and buy fun rainbow stuff and souvenirs.
Read our lesbian travel guide that that will help with planning your lesbian vacation. Including safety tips!
When to Visit Amsterdam?
Amsterdam is a great city to visit all year round. The weather in Amsterdam and the Netherlands is unpredictable, so you can have good or bad weather all year round (even within one day).
During the warmer months, everybody goes outside to sit on terraces and in the parks. In spring, the tulip season starts. Usually, in April, there's a tulip festival around the city of Amsterdam.
For the large flower fields, you have to leave Amsterdam and visit the Keukenhof for example.
In winter the city is really romantic with many lights, and if you're lucky, you can go ice skating on the canals. That sadly rarely happened over the last years.
In December and January, you can always ice skate at the skating rink at Museumplein!
In fall, Amsterdam turns all orange and in summer it can get nice warm – every season has its charm.
How Many Days in Amsterdam?
3 days in Amsterdam is enough time to see the most important highlights and neighborhoods the city has to offer.
And 3 days is also enough time to visit some museums (Amsterdam has many amazing ones), head to the parks, enjoy its great nightlife.
If you have less time than this, don't worry! Just pick the things you really want to do and make the best of your time. More about the best things to do in Amsterdam later in this article.
And depending on your lesbian Amsterdam itinerary, perhaps you can even add a fun trip out of town to the windmills of the Zaanse Schans for example!
Looking for more lesbian-friendly destinations? Read all about it in our lesbian Europe and lesbian USA articles!
How to get to Amsterdam?
You can reach Amsterdam in many ways, as the city is an important international hub. Many flights, busses, and trains go to Amsterdam. Or get in your own car and drive to this beautiful city!
Amsterdam Schiphol airport is the main airport of Amsterdam and the Netherlands. International flights from all over the world arrive and depart here. The airport is about 10 kilometers (6.2 miles) southwest of Amsterdam.
Between Schiphol airport and the city center, there are regular trains (takes 15 mins!) which makes it easy to reach Amsterdam, even during a layover. Other options are to travel by taxi or bus to the city center.
The train station is located directly below the terminal building.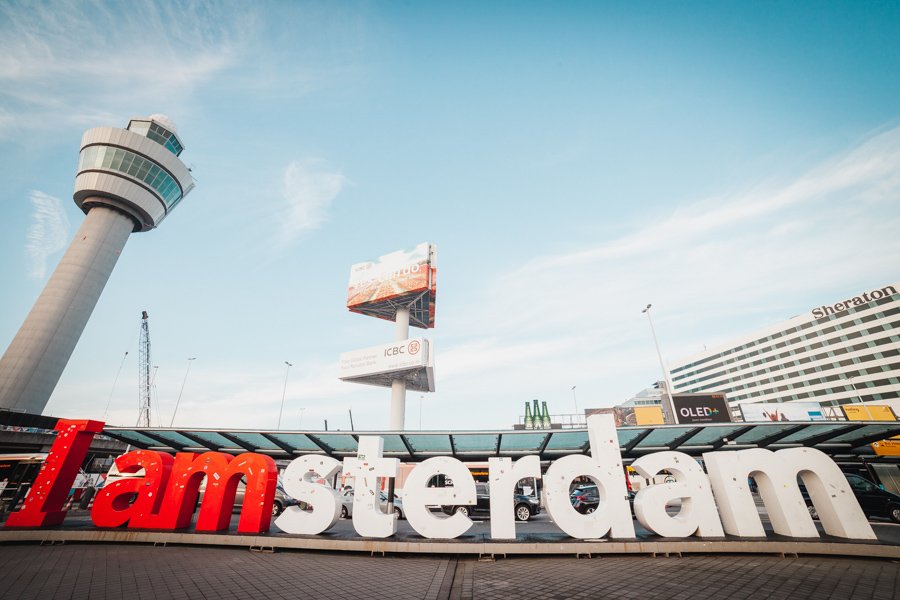 Amsterdam Transportation
We highly recommend exploring Amsterdam the local way, by bicycle. But only if you know how to ride a bicycle!
Biking in Amsterdam can get crazy (even for experienced Dutchies). There are more bicycles than people in the city, and people on bicycles are the bosses on the streets (so watch out if you are walking!).
Everywhere in the city, you can find shops to rent bicycles. When locking your bike, make sure to attach it to something (like the rack), as many bikes get stolen.
Another option is to walk around the city center. It's very doable to see many places on foot!
Public transport in Amsterdam is convenient, but not so cheap. There are trams, buses, and metros going through the city.
The OV-chipkaart (public transport chip card) is used to travel on public transport by locals. If you visit Amsterdam as a tourist, it's most convenient to get a one-hour card or day card (valid for one of seven days).
The I Amsterdam city card provides free entrance to many attractions in Amsterdam and offers unlimited public transportation.
Where to Stay in Amsterdam?
Booking accommodation in Amsterdam as a lesbian couple should not be a problem at any hotel or hostel. But, there are some hotels gay hotels in Amsterdam that are extra LGBT-friendly, which we are going to tell you all about.
We recommend staying in one of the following areas: in the city center, the neighborhood the Jordaan, around the Westerpark, on the canals, or in the neighborhood the Pijp.
This way, you are closest to the top things to do in Amsterdam! And you might even get to stay in a typical and beautiful Amsterdam canal house.
Best Amsterdam Hotels
From the best luxury hotels in Amsterdam to mid-range hotels and budget Amsterdam hotels. Amsterdam isn't a cheap city, but luckily there are also some options if you want to spend less on accommodation.
Luxury Amsterdam Hotels
Talking about luxury, de L'Europe Amsterdam offers luxurious rooms in the heart of Amsterdam. The 5-star hotel is located next to the Amstel rive.
Within 10 minutes walking, you can reach famous Amsterdam landmarks as the Dam Square, the flower market, the Begijnhof, and de Negen Straatjes.
But the hotel itself also has lots to do, as it features a Michelin star restaurant, another restaurant with a terrace overlooking the canal, a bar serving excellent drinks, and a spa.
If you are looking for luxury in Amsterdam, this is the place to be.
Sofitel Legend The Grand Amsterdam
Another amazing hotel in Amsterdam! The Sofitel Legend The Grand Amsterdam is a luxurious Dutch and French-styled hotel located next to de Wallen (Amsterdam's famous Red-Light District).
With 177 rooms, 52 suits, multiple bars, a spa, a Michelin star restaurant, an indoor pool, a private boat for canal tours, and a library, it's a big hotel that offers everything you are looking for.
Plus, all rooms have a butler service! Don't forget to visit Salon de Thé nearby, which is the smallest house in Amsterdam.
InterContinental Amstel Amsterdam
We absolutely love the beautiful monumental building of the InterContinental Amstel Amsterdam hotel.
The hotel is a traditional-style hotel, which is located on the banks of the Amstel river, offering panoramic views of the city and river.
The location is a bit quieter than the other two luxurious hotels mentioned above, but you can easily reach the city center by public transport, by foot or by taxi from here.
Mid-Range Amsterdam Hotels
Every year with Amsterdam Pride, the Pulitzer Amsterdam hotel organizes events like a Pride brunch! So if you visit Amsterdam during Pride, this is especially the place to stay at.
It's a modern and traditional style hotel located in different 17th and 18th-century canal houses. It's an amazing place!
W Amsterdam is a hip and quite luxurious hotel. This hotel brand attracts the younger generations and is in general super LGBTQ+ friendly.
We love the swimming pool on the rooftop of W Amsterdam, overlooking the city. Plus, it has a great bar for drinks.
The Hoxton is a beautiful trendy hotel located in 5 canal houses in the city center of Amsterdam. Close to everything and right on the canals, the location is perfect.
This is the kinda place you never want to leave after you arrived.
Budget Amsterdam Hotels
The Student Hotel Amsterdam City
No, this is not just a place for students! And it's not just a hotel. It's a hub for co-living and co-working where people traveling, locals and students meet, stay work, and play.
The Student Hotel Amsterdam City offers hotel rooms for a short stay and student accommodation for students wanting to live in Amsterdam for a longer period.
This new citizenM hotel in Amsterdam is a perfect place to stay if you are looking for something more affordable.
We love their minimalistic rooms but with luxury. Also, all their facilities are very convenient and the staff is so friendly.
The Volkshotel Amsterdam has rooms for everyone, from more expensive luxurious rooms to cheaper rooms with shared bathrooms. If you are on a budget, those rooms with a shared bathroom are perfect.
On the rooftop, they offer a mini spa with a sauna and three hot tubs, which is the best. Plus, there's a restaurant on the rooftop, offering great views of the city.
Hostels in Amsterdam
Not looking for a hotel, but a hostel instead? Don't worry, we got you covered too!
St Christophers Inn at the Winston
The St Christopher's Inn backpacker hostels are definitely very LGBTQ+ friendly, fun, and a great place to stay at! Especially if you want to meet other people.
And St Christopher's Inn at the Winston is located at a great spot in Amsterdam, the central station is just a 10-minute walk away.
This trendy designer hostel is wonderful to stay at! In general, we love Generator hostels all around the world. Generator Amsterdam is located in the East, so a bit further from the top spots in the city center.
It's located next to the Oosterpark, with many great bars and restaurants nearby. De Biertuin Oost, Louie Louie, and Bar Bukowski are all popular amongst locals.
We've never stayed at this hostel ourselves, but we heard great stories about it! Located in the northern part of Amsterdam, on the opposite side of the IJ river from the central station, you can find ClinkNOORD.
A free ferry ride takes you to the other side of the water, to this hostel that has everything you need.
Lesbian Amsterdam: Best Things to do in Amsterdam
Let's continue with the best things to do in Amsterdam. No matter how long you are staying in this beautiful city, you have to add these things to your Amsterdam itinerary.
And afterward, we will tell you all about the lesbian bars in Amsterdam, and other LGBTQ+ places and events not to miss!
Wander Around the Neighborhood the Jordaan
The city center of Amsterdam is very picturesque. You see canals and beautiful houses everywhere! So make sure to bring your camera with you while wandering around.
There are multiple neighborhoods in the city center, and especially the neighborhood the Jordaan is well known for its cute streets and typical Amsterdam vibes. It's a neighborhood not to miss during your time in Amsterdam.
In the neighborhood the Jordaan it's a must to visit the famous Negen Straatjes (Nine Streets). The Negen Straatjes are filled with boutiques, cafés, art galleries, vintage clothing shops, restaurants, and hidden gems.
These streets are gorgeous, cute, and are often used in Dutch movies.
The following nine streets are part of the Negen Straatjes: Reestraat, Hartenstraat, Gasthuismolensteeg, Berenstraat, Wolvenstraat, Oude Spiegelstraat, Runstraat, Huidenstraat, and Wijde Heisteeg.
Just wander around the neighborhood and enjoy! If you are a fan of pie and want to try Dutch apple pie (so delicious), you simply have to visit Cafe Winkel 43 in the Jordaan. They serve the best apple pie in the city.
Bike Around Amsterdam
There are more bicycles than people in Amsterdam. How crazy is that?! When we lived in Amsterdam, we both owned two bicycles. You never know who's visiting and needs to borrow a bike!
And Dutchies just love to bike. We bike everywhere: to work, to school, to the shops, everywhere. You will notice parents biking with 2 or 3 kids on the bike – or in a bakfiets (cargo bike).
Luckily, the Netherlands doesn't have any mountains, so it's easy to bike around. You can find bicycle lanes everywhere.
We highly recommend renting a bicycle to enjoy Amsterdam the way locals do it. Though, you need to have some bicycle skills. As there are many people on bicycles in the city, it can get crazy.
Especially when tourists forget they are walking on the bicycles lanes (tip: if the ground is painted red, move! You're standing on a bicycle lane).
Remember: bicycles rule traffic!
Did you already watch these best lesbian movies?
Hop on a Ferry to Amsterdam North
This is one of our favorite spots in the city: NDSM Werf (wharf). Behind the central train station, you can hop on a free ferry and in about 15 minutes you reach the wharf (bicycles are allowed on the ferry).
It's an industrial area with cool street art, awesome cafés, restaurants, galleries, and a cool crane hotel. The area makes for great pictures.
Once a month the biggest flea market in Europe is held at the wharf, de IJhallen. Which is great to visit if you are looking for second-hand things, like clothes.
Our favorite cafés and restaurants here are Noorderlicht and Pllek. Especially during summer, Pllek is amazing. You can sit, or lay, next to the water with your feet in the sand and a beer in your hand.
The Feralda Crane Hotel is the place to stay if you want to sleep in a super unique place. It's a crane overlooking the IJ-river and has a hot tub on top!
STRAAT is a museum in one of the huge former warehouses. It's a graffiti and street art museum featuring 150 different artworks. So if you not only want to enjoy the public artworks outside the warehouses (don't miss the big Anne Frank mural) but also inside, we highly recommend visiting this museum!
Visit One of Many Amsterdam Museums
There are many museums in Amsterdam, try to visit at least one of them! We are huge fans of modern art, so we love the Moco Museum.
The Rijksmuseum is the biggest art museum in the Netherlands, hence the name National Museum of the Netherlands. The museum has many paintings, with the Night Watch by Rembrandt as the most famous piece. The exterior of the building is as beautiful as the art inside!
Other well-known and interesting museums in Amsterdam are: Anne Frank House, Van Gogh Museum, Stedelijk Museum, Scheepvaartmuseum, and we love photography museum FOAM.
Good to know: if you get an I Amsterdam City Card, you can enter many museums (and other attractions) for free.
Swing on Europe's Highest Swing
Across the IJ-river, behind Amsterdam central station, there's a tall building: the A'DAM Tower. You can go to the top of the tower, to the A'DAM LOOKOUT observation deck, and enjoy a beautiful view of Amsterdam.
Something we loved, even more, is the swing on top of the tower. Over the Edge is the highest swing in Europe, how cool? Dangle 100 meters (328 feet) above the ground, swinging back and forth over the edge of the A'DAM Tower.
Drink and eat something at their panorama rooftop bar and restaurant afterward!
Eat Dutch Snacks at the Albert Cuyp market
The Albert Cuyp market is one of the oldest and largest markets in Amsterdam. The market is located in the neighborhood the Pijp and is open from Monday to Saturday.
In this neighborhood, you can find the only lesbian bar in Amsterdam too: Bar Buka!
Something you got to eat when you visit the Netherlands is stroopwafels. On the market you can find them freshly prepared, those are the best!
Other Dutch things to eat on the market: poffertjes (small pancakes, these are our favorite) and if you like and eat fish, try out haring (herring) or kibbeling (battered chunks of fish). And of course, Dutch cheese!
Another fun market in Amsterdam is the flea market at Waterlooplein.
Enjoy Amsterdam's Most Instagrammable Spots
Besides the many art museums in Amsterdam, there are also some very Instagrammable museums. Or well museums, you can also call it an adults' playground just to take very Instagrammable pictures at. Children are welcome too, of course!
WONDR is one of those places. We visited the experience a couple of times already and love it every time! They have different rooms with the craziest things, from a large ball pit to a sea of marshmallows, to an outside pink beach.
A day filled with laughter, entertainment, and great pictures guaranteed. Make sure to book tickets in advance, as it isn't possible to get tickets at WONDR itself.
Other places to check out are The Upside Down Amsterdam and Youseum.
Visit the Homomonument
Next to the Westerkerk (church), there's a large monument, the Homomonument. The Homomonument is a memorial, memorizing all gay men and women who were persecuted for being gay, during the years 1939 and 1945 (WW II).
The monument consists of three large pink triangles, made of granite, and is an important spot for the community in Amsterdam.
This is where the Pride Walk starts, where demonstrations are held, but also where we party during Amsterdam Pride for example.
Next to the monument is the Pink Point, an official gay and lesbian information kiosk. They provide information about the monument and more gay and lesbian info about Amsterdam. Plus, they also sell great rainbow gear and souvenirs.
You simply have to visit this area during your time in lesbian Amsterdam.
Join a Gay Amsterdam Walking Tour
Do you want to learn more about Amsterdam's gay and lesbian history? And do you want to see all gay Amsterdam spots with a guide? Then we recommend joining a gay walking tour!
Even we, as locals, joined a few tours, as you can never stop learning. There's so much to see and learn about Amsterdam's gay history – and broader LGBTQ+ history.
We recommend joining the LGBT+ history tour of Henk de Vries (a gay man himself) if you want to learn about the history of gay Amsterdam while walking to the most important and historic gay spots.
During a 2-hour walk, he outlines gay icons of historic Amsterdam and the LGBTQ+ emancipation – especially the lesbian and gay emancipation.
Sanne Pols (a queer woman) also organizes amazing LGBT+ tours in Amsterdam.
During a 1.5 hour tour, she will show you her favorite spots in the city while telling personal and historic stories, fun facts, and history about LGBT+ Amsterdam.
Sanne brings you to her own favorite spots and the gay bars in Amsterdam, from the old and dirty to the fresh and glittery.
Hop on a Canal Cruise
Amsterdam has over 100 kilometers (62 miles) of canals. So obviously, you have to see the city from the water during a canal cruise.
The Amsterdam canals have been awarded UNESCO's World Heritage status and during this boat trip, you will see why! You will get to see the city highlights, but now from the water.
Spot the Westerkerk (church), the Amstel river, the Skinny Bridge, and enjoy the beautiful canals and Amsterdam houses.
Fun fact: Amsterdam has more canals than Venice and the city has over 1,200 bridges!
There are many companies that organize canal tours through Amsterdam. Rederij P. Kooij (at Rokin) and Lovers Company (near central station) are great companies.
It's also possible to rent a boat yourself and drive around the city. Or paddle around on a paddleboat. There are many options!
Especially during summer, it can get very crowded on the canals with boats. Therefore, it's not allowed to swim in the canals. If you want to swim, you can go to a designated swim spot.
Relax at a Park
While exploring a city, it's also important to enjoy some nature, right?! We always love relaxing in a park to gain energy after a long time walking around.
In the city center of Amsterdam, the place to go to is Vondelpark. When the sun is out, many people head to Vondelpark to meet friends, to picnic (or even barbecue), or to do sports.
It can get crowded in the park, and it's a nice mix of locals and tourists. You can also (practice) bike around the park.
If you fancy a longer bike trip, head to Amsterdamse Bos (forest). The Amsterdamse Bos is about three times bigger than Central Park in New York City!
Here you can fully enjoy nature and even jump in the ponds for a swim. In spring, there are beautiful Sakura blossom trees in the Amsterdamse Bos.
Planning a Europe trip? Like Amsterdam, Stockholm, Lisbon and Reykjavík are great and welcoming cities to visit too!
Have Fun at Westergas
Westergas is a creative, hip, and cultural area in Amsterdam, located in the Westerpark. Former industrial buildings are transformed into restaurants, party venues, galleries and there is a cinema and a retro arcade bar.
Every year, the biggest LGBTQ+ film festival of the Netherlands is hosted here: Roze Filmdagen.
And in July queer festival Milkshake is held at Westergas and the Westerpark. The motto of the festival is 'nothing is a must, everything is an option' (in Dutch it sounds better).
The festival is all about respect, love, freedom, and acceptance. We highly recommend going to this festival if you are around!
If you like games, head to the TonTon club for drinks and games. And head to IJscuypje for Amsterdam's best ice cream, to Brouwerij Troost for a beer (it's a brewery), and to Pacific Amsterdam for food! You can find it all in this area!
The MUST-SEES of Amsterdam
There are some spots in Amsterdam we haven't mentioned yet, but you simply have to see them when visiting Amsterdam!
The Begijnhof
Dam Square
The Museumplein
De Wallen (Amsterdam's Red Light District)
Leidseplein
Rembrandtplein
Nieuwmarkt
The last three are great if you are looking for a place to drink and/or eat!
Find the Best Photo Spots in Amsterdam
Like we said before, Amsterdam is a picturesque city, you'll want to take pictures everywhere! But there are some spots we really recommend if you want to take the best pictures of the city.
Read all about it in our Amsterdam photography post!
Lesbian Bars in Amsterdam
Sadly, two years ago THE lesbian bar of Amsterdam, Vivelavie, closed its doors after 37 years. Vivelavie was an iconic bar where many lesbians went.
The good news is, in early 2019, a new lesbian bar in Amsterdam opened its doors: Bar Buka. Besides Bar Buka there are many other safe places in lesbian Amsterdam:
This is the newest hotspot in Amsterdam for lesbian women. Everyone is welcome at the bar, but women are in the spotlight.
Bar Buka is located in the neighborhood de Pijp. The bar is trendy and attracts queer women of all ages.
We love going here, and we are super happy a new lesbian bar opened, because what's lesbian Amsterdam without a lesbian bar!? They also host themed nights like game night once in a while.
Saarein is a traditional brown café founded by ten women in 1978. Originally it was a women-only bar, but nowadays Saarein is open for all queer minded people.
Though, you will find many women in the café. The visitors of Saarein are usually a bit older than places like Bar Buka.
Club NYX is one of our favorite gay spots in Amsterdam for drinks and dancing. Not only gay men and women like to visit this club, but many straight people also go here.
The club is a home for everyone! Fun fact: the club is named after the Greek Goddess of the night.
In the heart of Amsterdam, this is the place to go to for a mixed drink! The bar offers a friendly, no-nonsense environment where you can relax.
We must say that it's mostly men visiting Prik, though you will find some women here as well. We especially love Prik during Pride, when the party moves to the street!
One of Amsterdam's oldest gay and lesbian bars in Amsterdam is Café 't Mandje. The café welcomes everybody and is an authentic brown café.
We know Amstel 54 very well because of the Wednesday-night drinks of our former student association, ASV Gay.
Amstel 54 is a modern LGBTQ+ friendly bar and especially Wednesday evening is perfect for the younger generations (the gay students of Amsterdam).
De Trut is an iconic disco spot where you mostly find locals. It's only open on Sunday night and it used to be incredibly popular. De Trut is a non-commercial gay disco. Phones/pictures aren't allowed inside de Trut!
Club Yolo is a welcoming LGBT+ club that opened its doors not long ago. Yolo used to be the lesbian nightclub You-II. Nowadays, it attracts a mixed young audience.
Getto is a restaurant and bar with an attitude-free zone. It welcomes everyone and is the perfect place for people to meet for a drink and some food.
Club Soho is a stylish club at the Reguliersdwarsstraat. It's a club open to all, though you will many (gay) men at Club Soho.
Cafe Lellebel is a drag show bar with some amazing shows. It's Amsterdam's only drag show bar.
Because we can all use some more romance in our lives: here are 10 true lesbian stories as told by 10 lesbian couples!
Gay Events in Amsterdam
Let's continue with the gay events happening in Amsterdam and its surroundings!
Every year, from the end of July to the beginning of August. It kicks off with the Pride Walk (pretty much a traditional Pride protest march) on the first Saturday.
The main Canal Parade takes place on the first Saturday of August. Good to know: the canal Pride parade is more a celebration rather than a protest!
Janey is a lesbian party organized multiple times a year, at different venues! Usually, it's in Amsterdam, sometimes in Utrecht too. Check their Instagram account (@girlslovejaney) and Facebook to stay up to date for upcoming parties.
Queer music festival at the end of July, held at the Westergasfabriek.
A women-only beach party in Bloemendaal aan Zee, 45 minutes from Amsterdam.
The LGBTQ+ film festival of the Netherlands, at Westergas and the Westerpark. Yearly in March.
Another party for women! Femmazing is for all women identifying as lesbian and bi. They organize parties in the Netherlands and Belgium.
During Pride and ADE (Amsterdam Dance event) there are parties in Amsterdam. And in 2022 the first Femmazing festival will take place.
King's Day at the Homomonument
Every year, on the birthday of the King, the 27th of April, the entire Netherlands turns orange and there are parties everywhere.
At the Homomonument in Amsterdam, there's a free-to-enter open-air LGBTQ+ party! And not only on King's Day but also during King's Night (the night before).
Liberation Day at the Homomonument
On the 5th of May, Liberation Day is celebrated in the Netherlands. Same as Kingsday: free-to-enter open-air LGBTQ+ party!
Roze Zaterdag (Pink Saturday)
The Dutch version of the original gay pride (protest march). Takes place on the last Saturday of June, since 1977. Every year it's held in a different city.
The Best Amsterdam Restaurants
Dutch cuisine isn't really that special, so you won't find many typical Dutch restaurants. Traditional Dutch food is mostly homemade meals.
We love the dish boerenkool (mashed potato with kale) but never had it in a restaurant. Though, there is a lot of food and snacks to try out in the Netherlands.
Must-tries: stroopwafels, poffertjes, Dutch apple pie, drop, kroket, frikandel and kaassouflé. At the snack bar the FEBO, you can get a kroket, frikandel and kaassoufflé out of the wall. Go to the FEBO and you will see what we mean with 'out of the wall'.
These are our tips for the best food spots in the city:
Vegan Junk Food Bar has the best vegan (junk) food in Amsterdam. They offer many dishes and there are multiple locations throughout the city! And the food always looks very Instagrammable.
If you want to try a traditional Dutch homemade meal, go to restaurant Moeders (means mom in Dutch) or La Falote. We highly recommend the dish boerenkool!
Burgermeester for the best burgers in town!
Happyhappyjoyjoy has great Asian street food. And we love the style of the restaurant brand. There are three different locations of Happyhappyjoyjoy in Amsterdam.
Looking for something different? Restaurant Addis Ababa has delicious Ethiopian food. We absolutely love Ethiopian cuisine.
The Avocado Show has everything avocado! And not only the food is fantastic, the whole restaurant is the cutest. Plus they use sustainable avocados.
Pllek and Noorderlicht in the north of Amsterdam are great locations for some food or a drink.
Oma Ietje in Amsterdam Zuid-Oost is our absolute favourite spot for delicious toasted sandwiches and great coffee.
For cheap and delicious pizza and pasta, head to the area of Leidseplein. We love pizzeria Rimini.
De Biertuin (beer garden) serves delicious grilled chicken combined with craft beers. Most of the beers at de Biertuin are produced locally.
Hannekes boom is a great spot to go to if the sun is out! Enjoy some food and a drink next to the water with a great view of the NEMO Science museum. This is one of our favorite spots in Amsterdam during summer (together with Waterkant).
For the best apple pie of Amsterdam, head to Winkel 43.
Not fully sure what you want to eat? Then head to the Foodhallen. It's a bit like a big indoor food market, but then with small restaurants. Order what you want (there are many options of different cuisines) and eat it at the tables in the middle.
Last, but definitely not least. Looking for Indian food? Junior Kuppanna serves amazing Indian food and has many vegetarian and vegan options.
Enjoy your time in lesbian Amsterdam! Do you have any questions? Drop them below or send us a message.
Find us on Instagram, YouTube, and Facebook.
If you enjoyed our blog post, don't forget to share it with all your friends and family! Thank you so much!
PIN THIS ARTICLE