Are you starting to get bored by your own Spotify playlists, or are you struggling to find some new music? Well, in that case, you've come to the right place. These queer female and lesbian artists will satisfy your ears!
Everyone loves listening to music. It's a way to escape your everyday life or spice it up.
And who doesn't love walking down the street pretending you're in a movie while music plays through your headphones?
However, as a lesbian, I can't always recognize myself in songs, so I love listening to lesbian artists. Their women love women songs are relatable in a way that other songs are just not.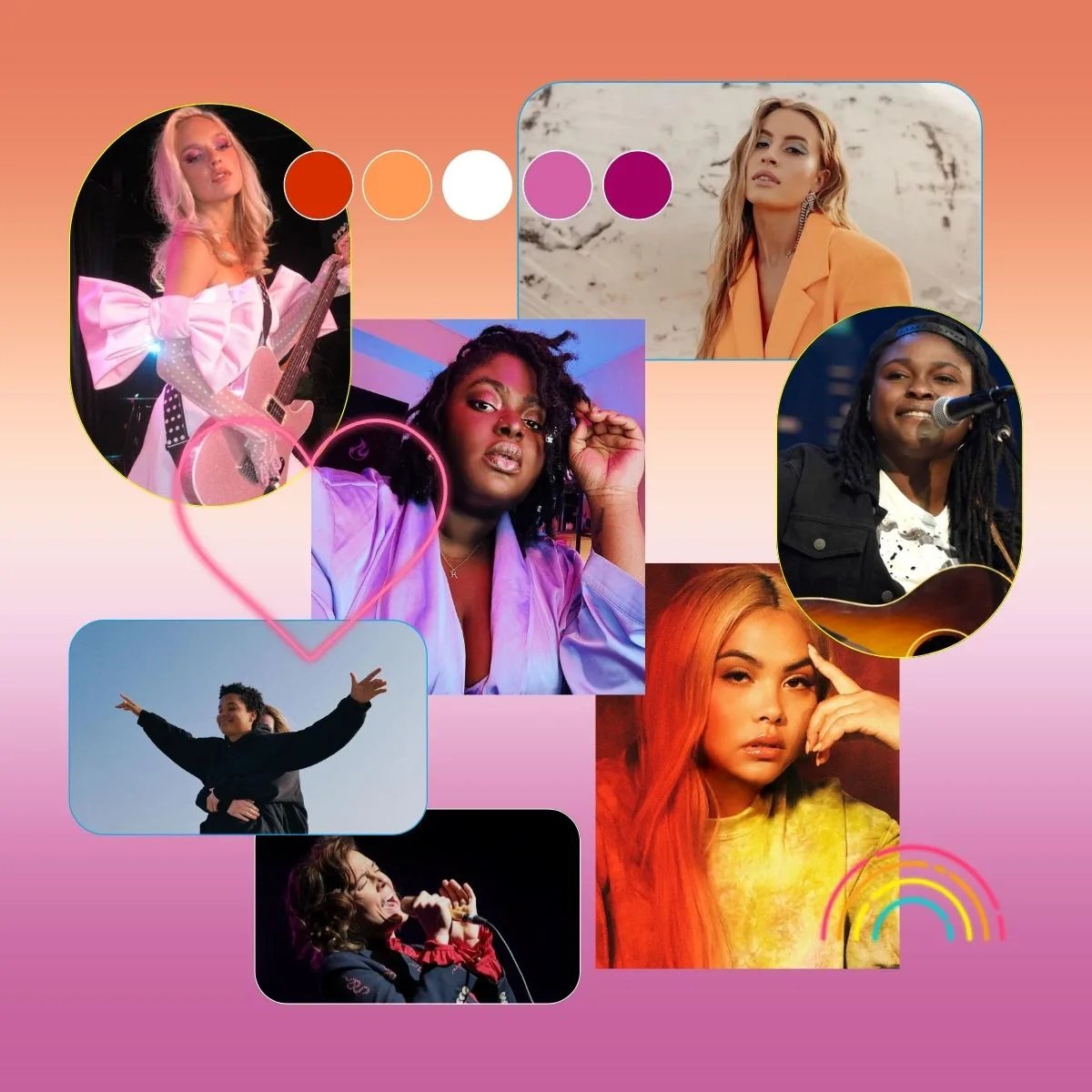 Listening to a lesbian musician share her own experiences with other women hits another level. Besides that, it always feels good to be seen and recognized.
You have to check out this list of over 27 queer female and lesbian singers! But I assure you there are many more, and this list could go on forever (lucky us, we live in exciting times!).
Lesbian Artists You Should Listen To
Hayley Kiyoko
Perhaps one of the most famous lesbian singers is Hayley Kiyoko. I mean, which lesbian doesn't know lesbian celebrity Hayley Kiyoko, right?
If you don't, that's fine. I'm just revoking your gay card. I'm only kidding, don't worry. You might know Hayley from the film Lemonade Mouth (2011) instead.
Hayley has been singing and acting from a very young age. She got famous at five years old, which coincidentally was around the same time she found out she likes girls.
Hayley found out she was a lesbian when she was very young. Her music tells her personal story and addresses the emotions of figuring out your orientation.
This lesbian musician also wants to normalize lesbian relationships in a music industry that is still very heteronormative.
"Girls Like Girls" is probably still one of Hayley's best and gayest songs. Of course, you can also find "Girls Like Girls" on our list with the best lesbian songs.
Kehlani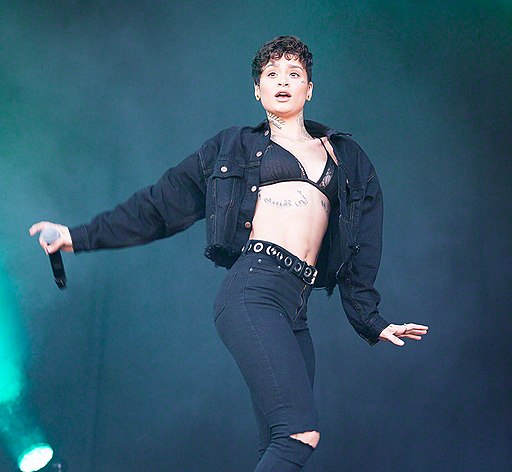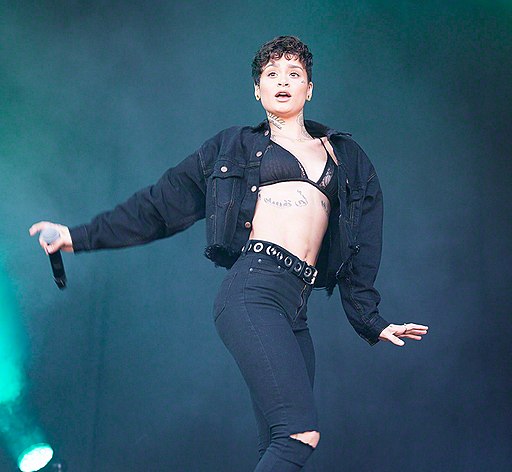 Kehlani's career started as a member of the teen pop band PopLyfe when she was only 14 years old.
Some of you have probably seen her in the sixth season of America's Got Talent, where the group finished in fourth place.
In the following years, she was homeless and went through a rough time. She stole iPhones to sell to get by.
Her life got completely turned around when she dropped her first solo track on SoundCloud named "ANTISUMMERLUV." And Nick Cannon bought her an apartment in Los Angeles and studio time.
In 2017, Kehlani dropped "Honey," a song about being in a relationship with another woman, after she came out as queer.
Kehlani says her art mimics her life, so it only makes sense for her to also sing about these topics.
In 2018, Kehlani felt she had to come out again as queer in a series of tweets because of her ടexuality after making out on stage with Demi Lovato. In 2021, Kehlani came out as a lesbian.
Melissa Etheridge
Melissa Etheridge is one of the oldest famous lesbian singers on this list.
She might be a lesbian musician more for the older generations, but what's a list about famous lesbian artists without her on it?
Melissa's career started in the late 1980s, playing pop-based folk-rock in lesbian bars in L.A. Naturally, there were rumors about her identity because of this.
So in 1993, Melissa decided to come out. There was still so much taboo around being gay back then, but she stood her ground and became a prominent LGBTQ+ activist in the following years.
In 2011, she got a well-deserved star on the Hollywood Walk of Fame.
Today, Melissa is over 60 years old and still makes music. Being so open about her orientation from very early on in her career paved the way for many gay female singers today.
"I'm the Only One" was on her album released the same year she came out.
girl in red
Marie Ulven, better known as girl in red, is a Norwegian indie-pop singer-songwriter.
She started writing songs and playing the guitar when she was 14. All of this happened in her bedroom, which she still does today.
Her first song, "I wanna be your girlfriend," which came out in 2016, immediately gave away that she's a lesbian music artist, and she doesn't shy away from this at all.
Young teenage lesbians love her, as they relate to her songs about mental health and loving girls.
In 2019, she was named a queer icon by Paper Magazine, which makes me excited about her future.
Lesbian TikTok has helped her songs gain more popularity. My personal favorite gayest song of girl in red is "girls."
LP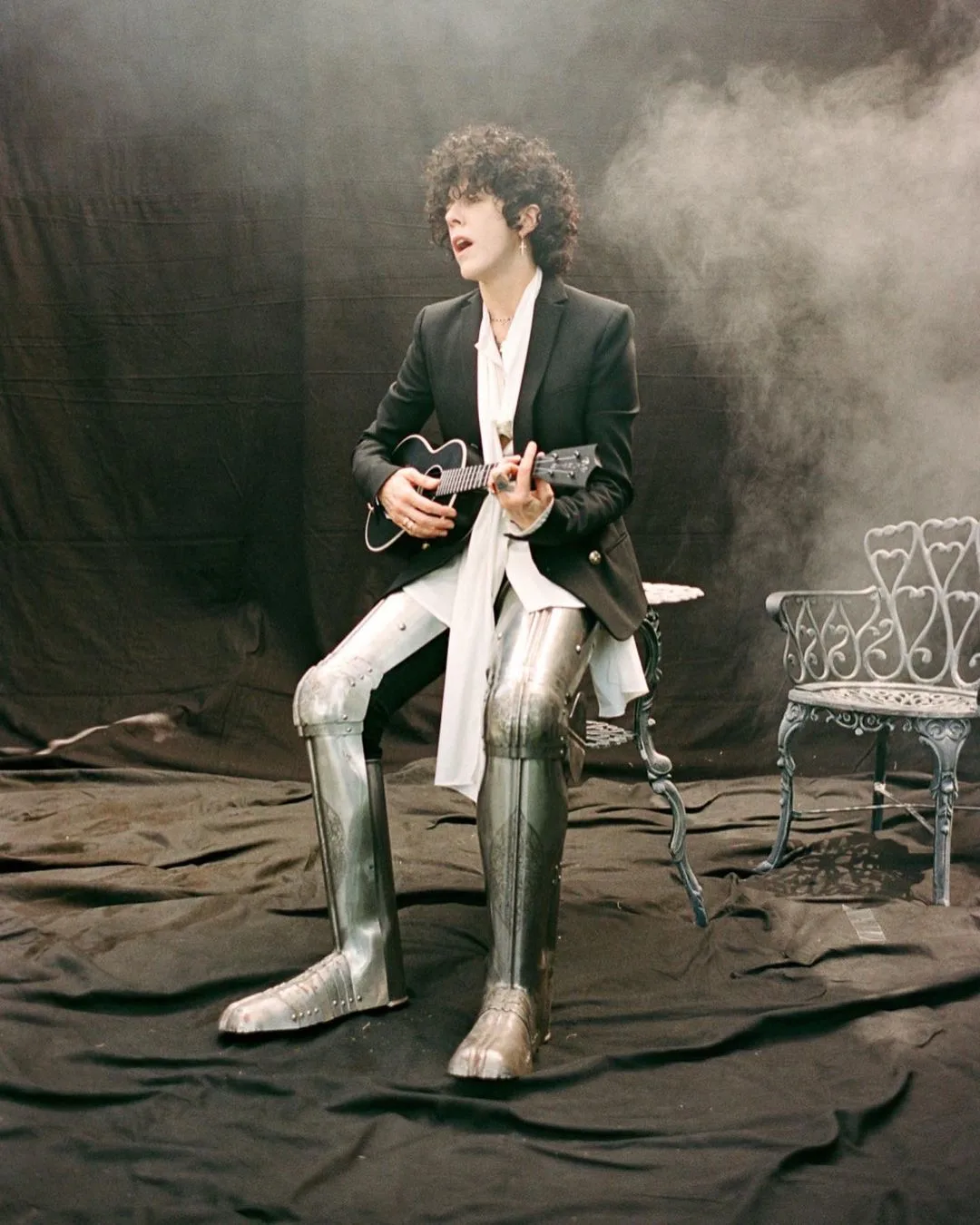 You probably know L.P.'s music! Laura Pergolizii, professionally known as L.P., was called an 'overnight sensation' when their song 'Muddy Waters' was featured during the fourth season of the lesbian show 'Orange Is the New Black.'
Though, L.P. has been making music for many years. They became famous worldwide after releasing the song 'Lost on You.' The official music video has over 442 million views!! How amazing is that! Their voice is simply fantastic, and their style is effortlessly cool.
L.P. has also written many hits for other artists like Rihanna, Leona Lewis, Céline Dion, Cher, Christina Aguilera, and the Backstreet Boys. In an interview, L.P. said they identify as lesbian and gender-neutral.
Brandy Clark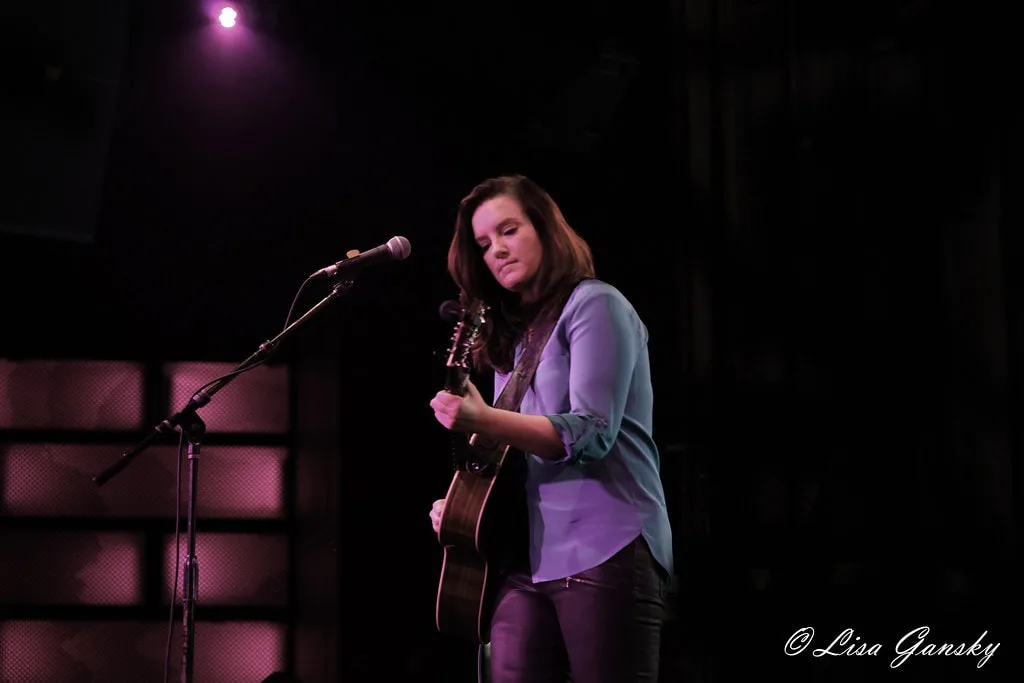 One genre of music that lacks queer people is country music.
This genre of music is about telling stories of ordinary people and that feeling of coming home, which isn't something relatable to all of us.
However, there are quite some lesbian country singers out there.
Brandy Clark is a lesbian country singer who is a well-respected gay female country singer among country music fans.
Before releasing her album, she wrote many hit songs for people like Kacey Musgraves and Sheryl Crow. Her songs are about home, small towns, and heartbreak.
Brandy has always been an out lesbian. And if anyone was surprised by the amount of love and support she received from the country music community, it was the lesbian artist herself.
You can listen to her song "Love Can Go To Hell" from her Grammy-nominated album Big Day in a Small Town here.
Young M.A
Katorah Marrero, better known as Young M.A, is a rapper and entrepreneur.
The M.A. in her name stands for Me Always. From the start of her career in 2012, Young M.A has been open about her orientation and being one of not many Black lesbian music artists.
However, in 2019 she decided to no longer self-identify as a lesbian and stated that she doesn't do labels, although she wouldn't date men.
Young M.A raps about similar topics as the men in the industry, like identity and wealth.
She also thinks that her music shouldn't just be about her orientation but about bringing people closer together.
Besides rapping, she keeps being busy with other things too. In 2018, she directed her first lesbian movie called The Gift.
She is also the founder of the KWEENZ foundation, which helps people in East New York overcome the trauma and grief that come with the loss of a loved one.
Her most famous song with more than 210 million streams on Spotify is called "OOOUUU."
Zolita
Zoë Montana Hoetzel, better known as Zolita, is a lesbian American singer-songwriter. She stands out on this list with gay artists not only for her music but also for her amazing lesbian music videos.
Lesbian music videos that she directed herself! The first one that went viral on YouTube is called 'Explosion.'
And a new lesbian song and music video, 'Somebody I F*cked Once,' was launched at the end of 2021. Which quickly had over 29 million views!
Zolita's music blends dark pop and R&B, and her lyrics are usually about her experiences as a queer woman. Her music is a must-listen! And don't forget to watch her music videos on YouTube.
King Princess
King Princess, whose real name is Mikaela Mullaney Straus, rose to fame not so long ago. A music label wanted to sign her at eleven years old. But since King Princess didn't have a clear definition of her music, she didn't sign.
In 2018, she found that definition when the lesbian singer released her song "1950," a tribute to the lesbian book The Price of Salt by Patricia Highsmith, the LGBTQ+ community, and queer love.
Her song reached a broader audience when Harry Styles tweeted a lyric from the music.
King Princess doesn't want her music placed in the "queer pop" box. Instead, she wants her lesbian music to be held to the same standard as straight artists, even when she sings about queer relationships.
Her gayest song is probably "Pussy is God."
Syd
Syd, formerly known as Syd Tha Kyd, is a songwriter, singer, and D.J. from Los Angeles. Syd's (full name Sydney) younger brother gave her the stage name Syd Tha Kyd, but at some point, she felt she grew out of the name, and now she's just Syd.
The openly gay female singer was a member of the alternative hip-hop collective Odd Future, making her the only woman and openly gay member of the group. In 2016, she announced her departure from Off Future, and in 2017 she released her first solo single, 'All About Me,' a must-listen!
Syd is also part of the American band The Internet. The band's music blend hip-hop, R&B, funk, jazz, and electronic dance music!
Fletcher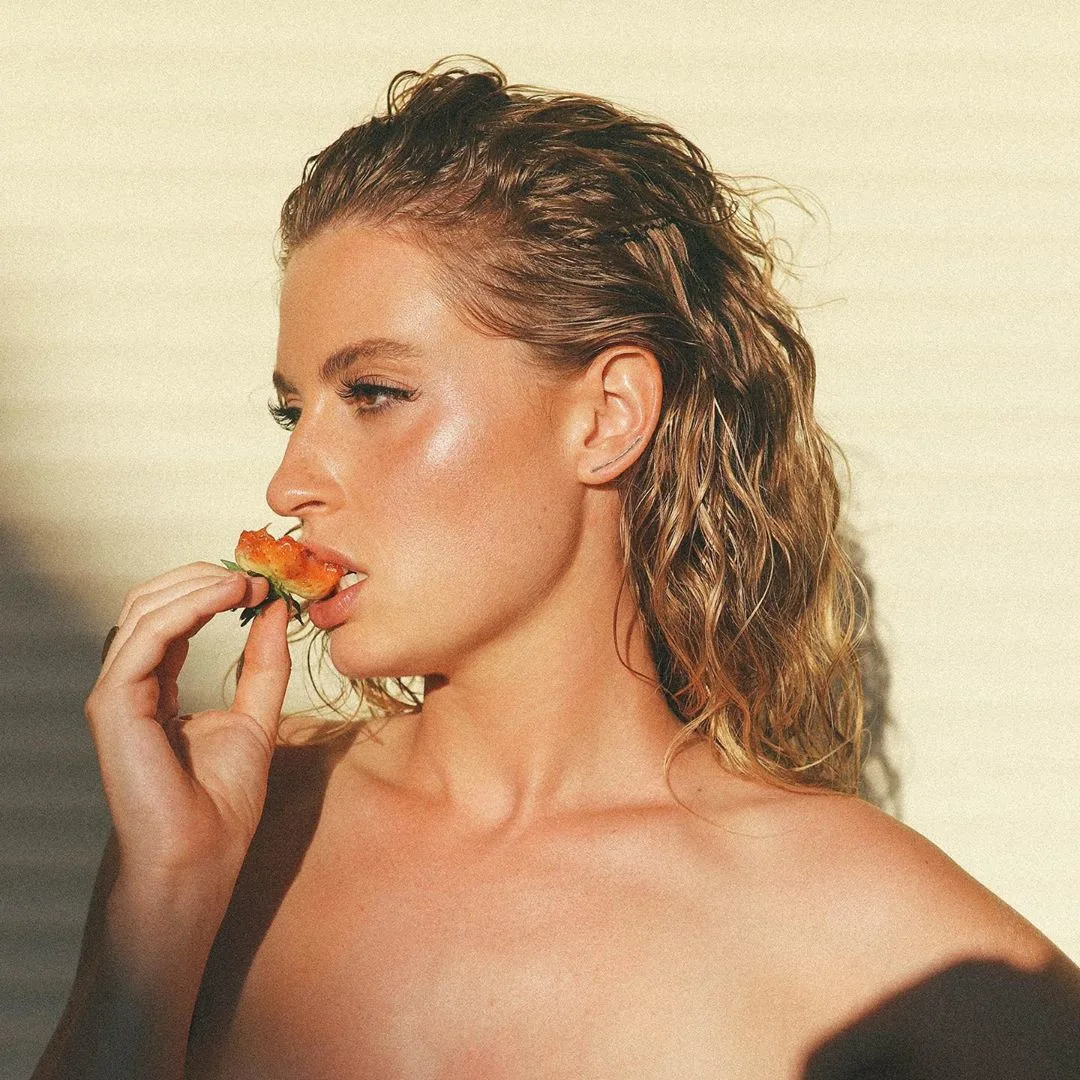 What's a list with queer and lesbian artists without Fletcher on it?!
Born Cari Elise Fletcher, Fletcher began taking vocal lessons at five years old. As an independent artist, her addition to Spotify in 2016 catapulted her career into a success.
In 2018, she dropped the independent artist label and signed with Capitol Records. Her music video for "Wasted Youth," which came out in 2017, got people talking about her identity.
She hangs around on a night out with lesbian YouTuber Shannon Beveridge in the music video.
Shannon was Fletcher's girlfriend, but they broke up in 2020. Straight people have said the relationship between the two women in the video is never defined, even though the two kiss.
Newsflash: they're not just gal pals.
Fletcher has said in interviews that she doesn't label herself. She identifies herself within the LGBTQ+ community, but she thinks that ടexuality is a spectrum.
And she feels more comfortable saying she loves whom she loves and is attracted to.
Go listen and watch "Wasted Youth" yourself!
Tegan and Sara
Tegan and Sara are a Canadian indie pop lesbian band consisting of, surprisingly, Tegan and Sara. They are twins, and both identify as lesbian.
They've been around for a while, but I think it's important to mention them on this list with lesbian artists because they've always been out as lesbian music artists since their career started, which was back in 1998.
A few years after Melissa Etheridge came out, being gay was still taboo and not widely accepted.
However, Tegan and Sara never shied away from their orientation in their songs.
Their debut album already had songs written about what it is like to be lesbian.
In 2016, the two founded the Tegan and Sara Foundation, which funds projects for queer women and girls, such as LGBTQ+ summer camps and counseling services for indigenous youth.
Many will probably recognize a song from the new lesbian series The L Word Generation Q is "Closer." They also play in some lesbian scenes of the original The L Word.
Tegan and Sara's band is one of the lesbian bands you should listen to!
Victoria Monét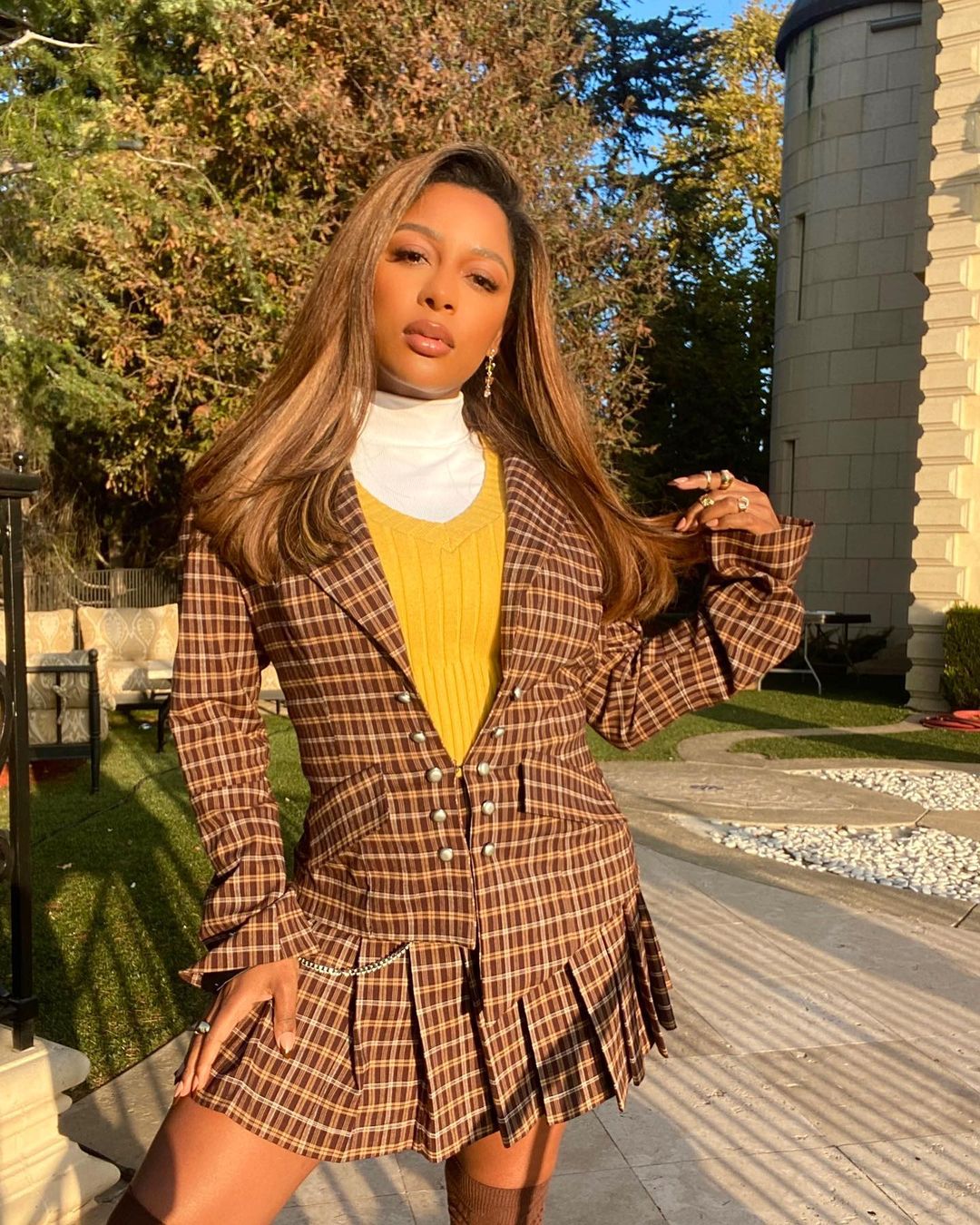 Not only Victoria Monét's music is fantastic, but she has also written songs for other notable artists like Janelle Monáe, Coco Jones, Ariana Grande, Selena Gomez, Nas, and Fifth Harmony.
In 2018, Victoria Monét came out as bi on Twitter, and she has said to be proud to be part of a new wave of queer female musicians.
To Gay Times, she said she's done hiding her queerness, and she wants to be a visible role model for many generations to come. I love that!
In 2019, Victoria's solo career took off when she released the single 'Monopoly' with Ariana Grande and her song 'Ass Like That.' The following year, her album 'Jaguar' came out!
PVRIS
PVRIS is an American rock band whose lead vocalist is Lynn Gunn, who's a lesbian.
This lesbian band, or well lesbian fronted band, was started in 2013. The band sounds like many musical genres, such as alternative rock with electropop, post-hardcore, psychedelic, EDM, and synth-pop.
Lynn is an evident lesbian rock artist. She came out to her parents when she was 18 by leaving a letter under her mom's pillow right before going on tour.
From that point on, the gay female singer has always been vocal about her identity in the media.
She said that she never had anyone to look up to herself, and she wanted to be that person for other people.
One of their most popular songs is "You and I."
Janelle Monáe
Janelle Monáe is a singer, songwriter, rapper, actor, and producer.
She started her career back in 2005 when she appeared on the Purple Ribbon All-Stars album and OutKast's album Idlewild.
Since then, she has produced multiple albums and has acted in a long list of film and T.V. shows.
In 2011, she initiated rumors about her orientation when she stated she only dates androids in an interview. The android was a reference to her musical alter-ego.
She also added that she would talk about her orientation in due time.
In 2018, she came out as queer, bi, and panടexual in an interview. Although she also feels like she doesn't need to label herself.
Janelle has also said that she never felt the need to come out but wanted to for her fans who were struggling.
The song released a few months before she came out was "Make Me Feel."
MUNA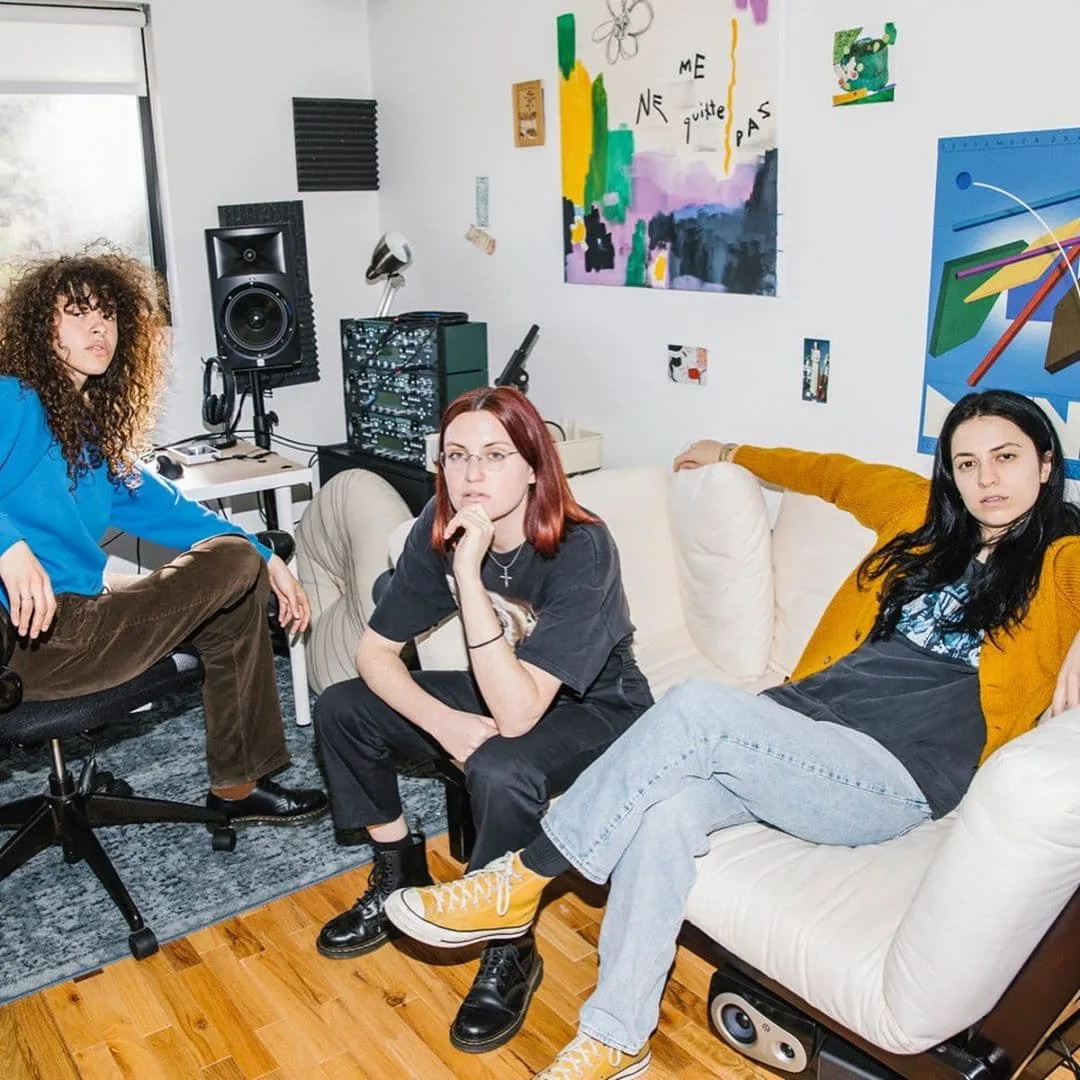 Muna is a queer band of three queer folx: Katie Gavin, Josette Maskin, and Naomi McPherson. The three met while studying at USC in Los Angeles, and they started working together in 2013.
With their electronic pop songs, they discuss complex topics, such as self-worth, feminine identity, heartbreak, and rejection.
Their lyrics are often very relatable for many gay women. After their band got branded as a queer band, the three realized that they could use their music to help inspire younger people to be comfortable with their identities by owning that idea.
They fill the gap for many teenagers who feel like they lack representation in music.
One of their songs you should have listened to is "I Know a Place."
Dodie
Dorothy Miranda Clark, better known as Dodie, is a singer-songwriter from England who started her career on YouTube. At the moment, she has over 2 million subscribers.
She started her career by singing covers supporting herself by playing on the piano or ukulele. Later, she also started posting her songs.
In 2016, she self-released her first own album. 2016 was also when she came out as bi by posting a video on her YouTube channel.
She released a bi coming out for song pride month in the following year. Her songs are mostly known for their light melodies, while she sings very emotionally complex lyrics.
Listen to her bi coming out song!
070 Shake
Daniella Balbuena, better known as her stage name 070 Shake, is an American hip-hop recording artist from New Jersey.
She started her career in 2015 when she became part of the musical collective 070.
In 2018, she gained attention for her guest appearances on two of Kanye West's songs. Most of her songs focus on self-esteem issues and ടexuality.
In her lyrics, 070shake has always used female pronouns when describing her lovers, making people believe she's a lesbian artist.
However, in 2018 she said that she doesn't label herself as anything. She said: "I just like girls."
Listen to "Guilty Conscience" from her debut studio album Modus Vivendi.
Julia Zahra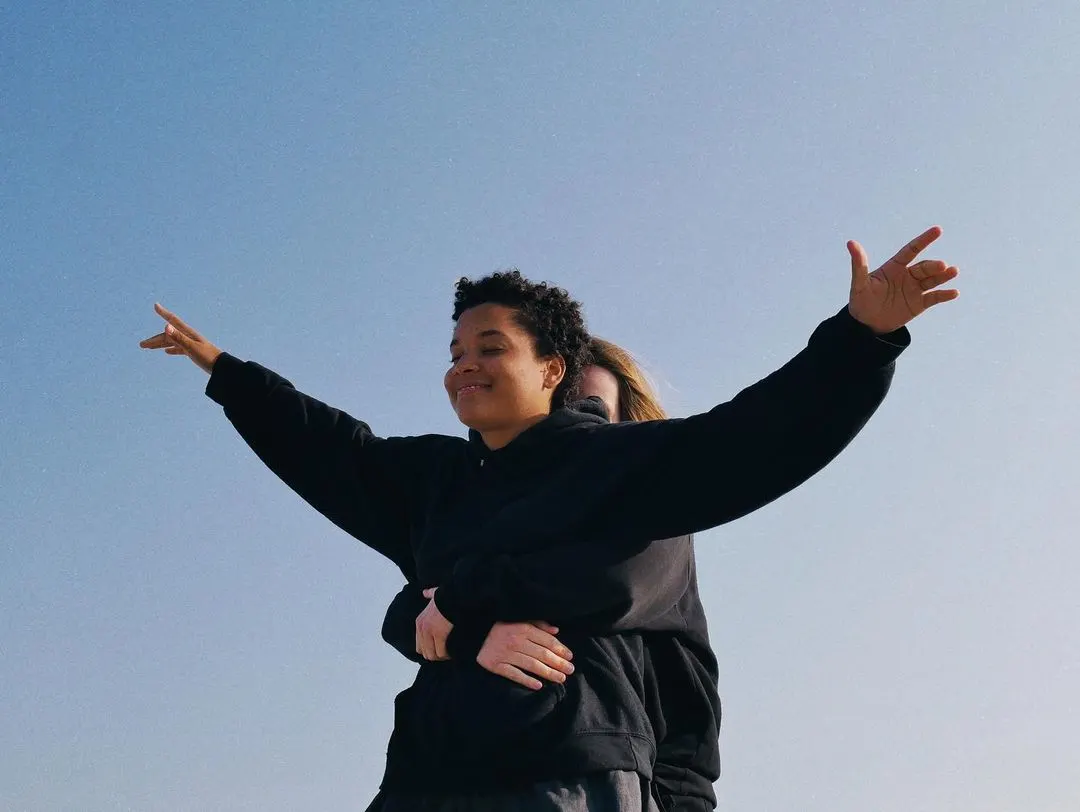 Queer musician Julia Zahra was born in Indiana in the United States and was adopted and raised in the Netherlands.
Julia gained fame, especially in the Netherlands. At 18 years old, she won The Voice of Holland, making her the youngest winner of The Voice of Holland. If you aren't from the Netherlands and don't know Julia, go check her music out!
For her auditions of The Voice of Holland, she sang Britney Spears' song "Oops!… I Did It Again," and she scored a number one hit with it in the Netherlands!
Songs of Julia to listen to are "Indiana," about how her life would have been if she had grown up in Indiana instead of the Netherlands, and "I Blame It All On Me."
St. Vincent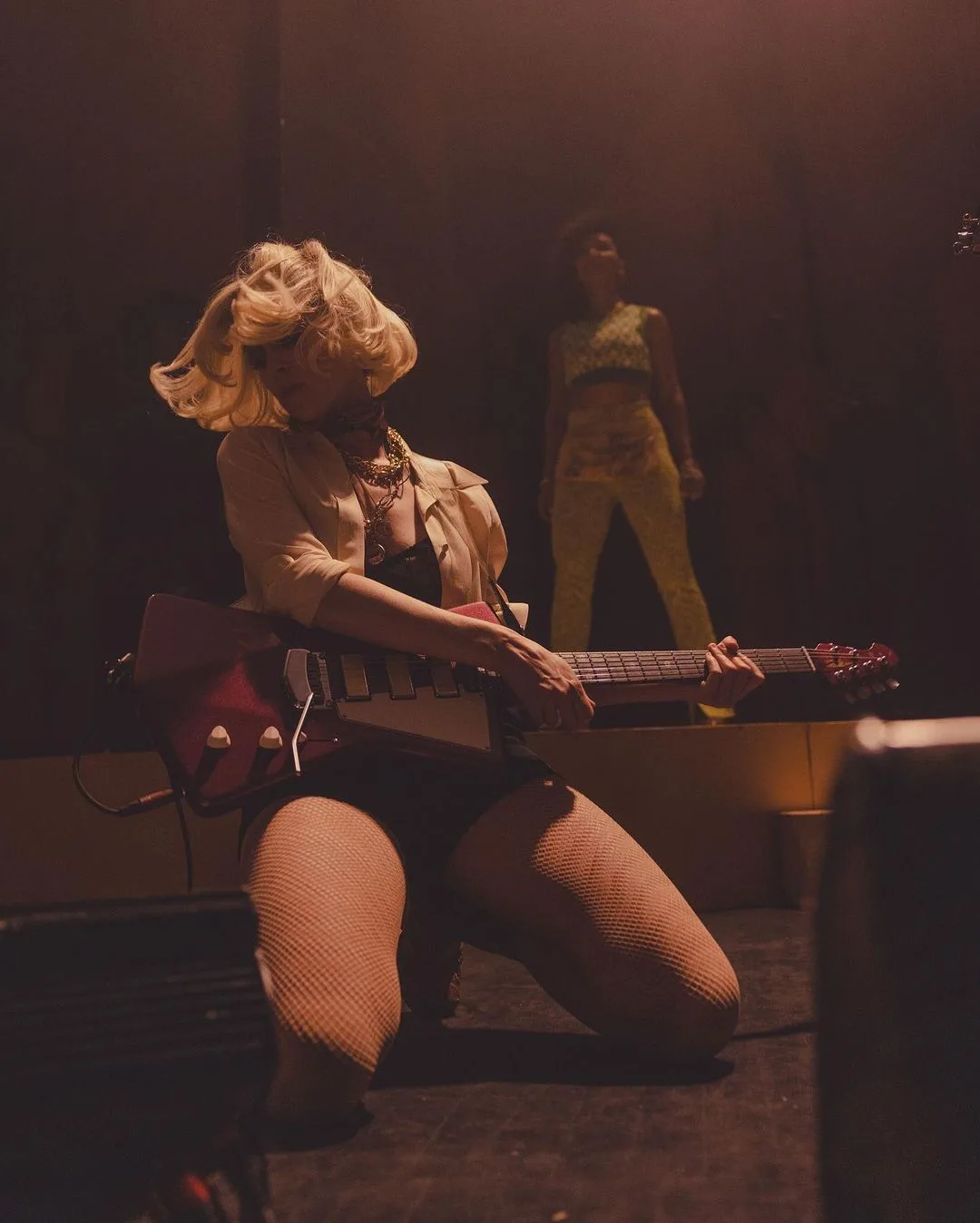 Next on this list with queer female and lesbian artists is St. Vincent! While St. Vincent doesn't identify as anything (her own words) and believes in gender fluidity, she dated celebrities Kristen Stewart and Cara Delevigne in the past.
Her "New York" track is about heartbreak, allegedly her split with Cara Delevigne. St. Vincent's other music is "Cruel," "Los Ageless," and "Digital Witness."
What I love about her lesbian music is it's unique and wacky! Go check it out if you don't know St. Vincent already.
The xx
The xx is another band with a lesbian frontwoman.
The indie-pop band from England has been making music since 2005 but had their big breakthrough in 2009 when they released their debut album.
The band is mainly known for its distinct and minimalist sound that blends multiple genres of music. Romy Madley Croft, the lesbian lead singer, has slowly learned to talk about her orientation.
In 2010, she came out as a lesbian when she did a joint interview with her girlfriend Rachel. However, it wasn't until 2012 that she brought it up again.
She said it's not something she talks about, but she also doesn't want to hide it. She just doesn't want to make a big deal out of it.
One of my favorite songs is "Islands."
Clairo
Clairo is a singer-songwriter from the United States. At 13, she taught herself guitar through internet tutorials and started recording covers.
Many of the people around her told her a music career wasn't very likely, so she didn't consider it a way to make a living in the first place.
In 2017, the video for her song "Pretty Girl" went viral on YouTube, which led to multiple record labels offering her a contract. Her music is very lo-fi electropop.
She sings for and about women and her own queer and lesbian stories in her songs. She wants to celebrate all of this.
Clairo came out as bi on Twitter in 2018. She said her new friends in college who were openly gay helped her come out because their confidence inspired her.
K.D. Lang
Besides Melissa Etheridge, K.D Lang is another of the iconic lesbian singers on this list. K.D Lang's full name is Kathryn Dawn Lang, and she has been in the lesbian music industry for many years.
In 1992, she came out as a lesbian during an interview with LGBTQ+ magazine the Advocate. Sadly, afterward, quite some radio stations stopped playing her music. But luckily, that didn't prevent her from creating new music. She even won multiple Grammy Awards!
K.D. Lang has a fantastic voice and music that you want to listen to repeatedly! To the song "Constant Craving," for example.
Brandi Carlile
If you are a Grey's Anatomy fan, you must have heard Brandi Carlile before, as her songs have been featured multiple times on the show. One of those songs is "The Story," Brandi's breakout song!
But also, if you aren't a Grey's Anatomy fan, you've probably heard Brandi Carlile before! The lesbian singer has an incredible voice and many Grammy Awards nominations, of whom she also won a couple.
Her music sounds like various genres like pop, rock, folk, blues, R&B, and alternative country. But according to her own words, she can't get the country and western out of her voice.
Besides "The Story," other songs to listen to are "Right On Time," "The Joke," "That Wasn't Me," and "Hold Out Your Hand."
Lionstorm
Lionstorm is a Dutch queer/lesbian hip hop duo consisting of Gale Rama and Sterresoet van Schooten. The two not only make music together, but they are also in a relationship, and they make art.
They felt that there was still a lack of lesbian artists and predominantly lesbian rappers, so they started making music themselves.
Their first single, "No H8ro," was released in 2019. With the song, they want to make it clear to their audience that they are not straight.
In their songs, they often rap about pop culture and its representation of queerness. The two want to be just as explicit about being intimate with women and loving women the same way their male counterparts do.
Beatrice Eli
Beatrice Eli is a Swedish lesbian musician. Ever since she was a child, she has been interested in music; she loved to express herself through dancing to music.
Beatrice's parents are very strict religious and had something completely different in mind for her. However, they do accept her for who she is now.
In 2012, she released her first single, "The Conqueror." She sings about her feelings and topics like girls and intimacy with her haunting pop beats.
In 2015, she said she prefers the term lesbian over gay.
She doesn't want everyone to just focus on her orientation, though. But if she, as a lesbian artist, can give other people some comfort, pride, or power with her songs, she does not mind.
Make sure to listen to her very gay song "Girls." Beatrice Eli is one of the lesbian artists you should check out.
Shura
Alexandra Lilah Denton, better known as Shura, is a British singer, songwriter, and record producer.
She began playing the guitar when she was 13 years old and started recording music when she was only 16. She released her first single, "Touch," in 2014.
Her music mainly focuses on the genres of electropop and synth-pop. She touches upon deep themes in her songs, such as missed opportunity, regret, and nostalgia.
Shura has been out as a lesbian since she was 16 years old.
However, in 2015 she publicly came out in an interview after her music video of "Touch" made headlines. In the video, various couples with various orientations are kissing.
After the Pulse nightclub horror in Orlando in 2016, the gay female singer realized she should be more outspoken about her identity and give more visibility to the community.
Chika
Chika, also stylized CHIKA, is an American rapper nominated in 2020 for a Grammy Award for Best New Artist. And in 2021, she won a GLAAD Media Award for Outstanding Breakthrough Music Artist.
Sadly, the fame and being in the spotlight took a toll on the bi singer's mental health, and she took a break from music afterward. Luckily for all of us, it seems like Chika is entirely back now!
In her song "Save you," the rapper talks about her history with depression and the problems she faced searching for validation in romantic relationships.
Carlie Hanson
Carlie Hanson was inspired to become a singer by Justin Bieber. At 14, hoping to be discovered like him, she and her friend started posting covers on YouTube.
In 2016, she entered a local iHeart Radio contest, which got her some attention and gave her the chance to record her single "Only One."
Taylor Swift added her song to an Apple Music playlist of one of her favorite songs when her career took off.
Carlie came out on Twitter in 2018, and she stated she doesn't label herself in interviews. Gender doesn't mean anything to her.
She is also always authentically herself in her songs, and she's very open about her struggle with anxiety and depression.
Joy Oladokun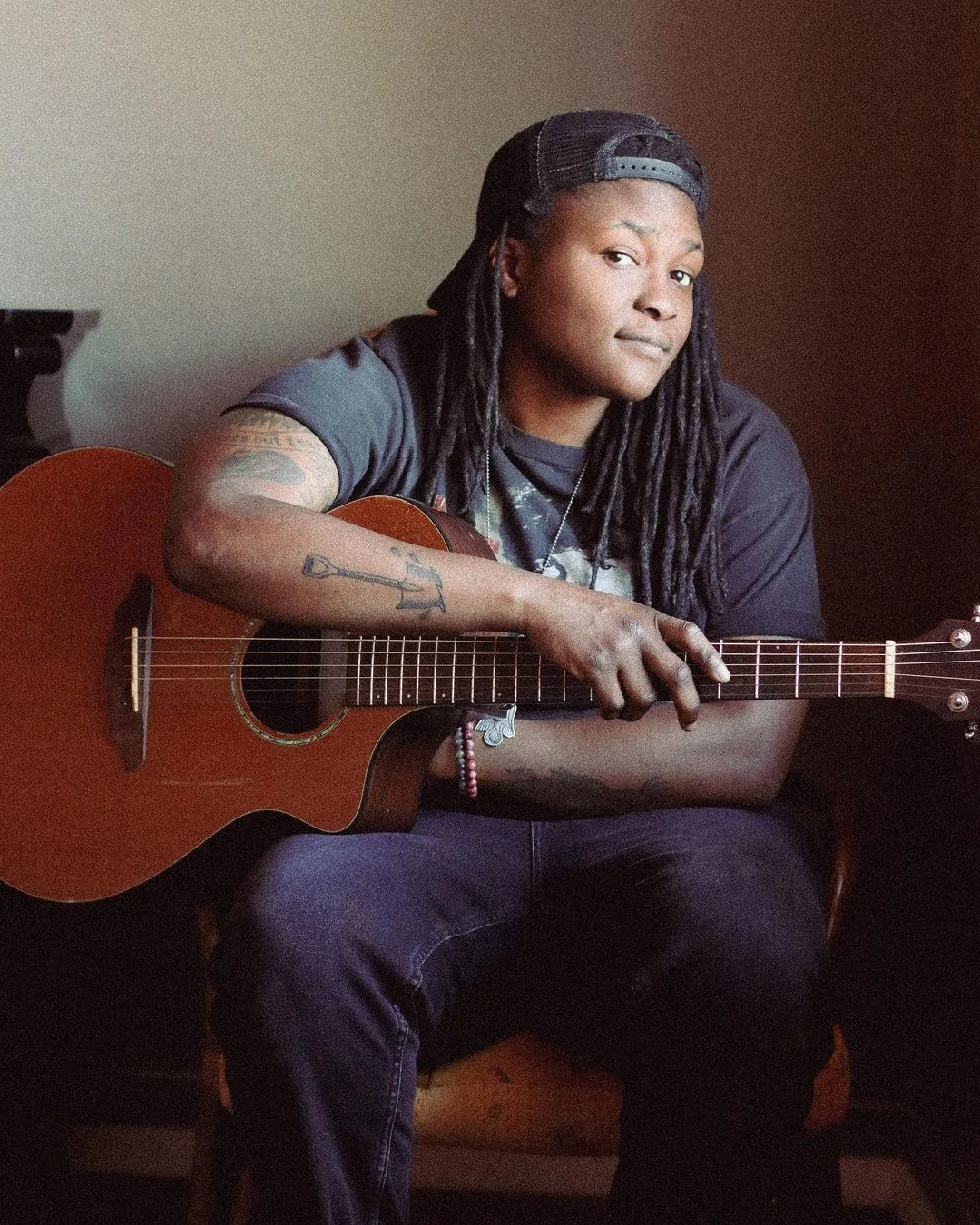 Last but not least on this list with queer female and lesbian artists is the Nigerian-American Joy Oladokun.
Joy's music covers the genres of R&B, rock, pop, and folk. And her songs are influenced by her identity as a queer woman of color.
Growing up as a Black queer Christian kid in the middle of nowhere was lonely, and she only told her parents a couple of years ago she's gay. It is a topic that comes back in her songs!
A must-listen lesbian song of Joy is "Sunday," a ballad about the struggles of coming out and being accepted. And it's beautifully made! Watch the music video on YouTube, too, as it highlights different members of the LGBTQ+ community in relationships.
ENJOY listening to these lesbian artists! And let us know which lesbian artist you like listening to most in the comments.
If you liked reading about these lesbian musicians, send this post to your (lesbian) friends and share it on social media. Together we can spread the love.
Want to reach out to us? Comment below, or send us an (old-school) email.
MORE TO READ:
PIN THIS ARTICLE