Who doesn't love lesbian TikTok?! Get ready for a list with the absolute 27 best lesbian TikTokers to follow.
It's no secret that the internet has become something of a lifeline to LGBTQ+ people around the world. And TikTok is no exception.
Many queer content creators, and queer viewers alike, have turned to TikTok to find community, education, representation, and laughs.
If you're a lesbian like me, your entire 'For You Page' is covered in lesbian TikTok creators. And I love it! The joke about TikTok knowing you are part of the community within seconds, while it took you years to find out, seems really true.
Here's 27 top lesbian TikTokers you need to follow. And enjoy watching all their videos!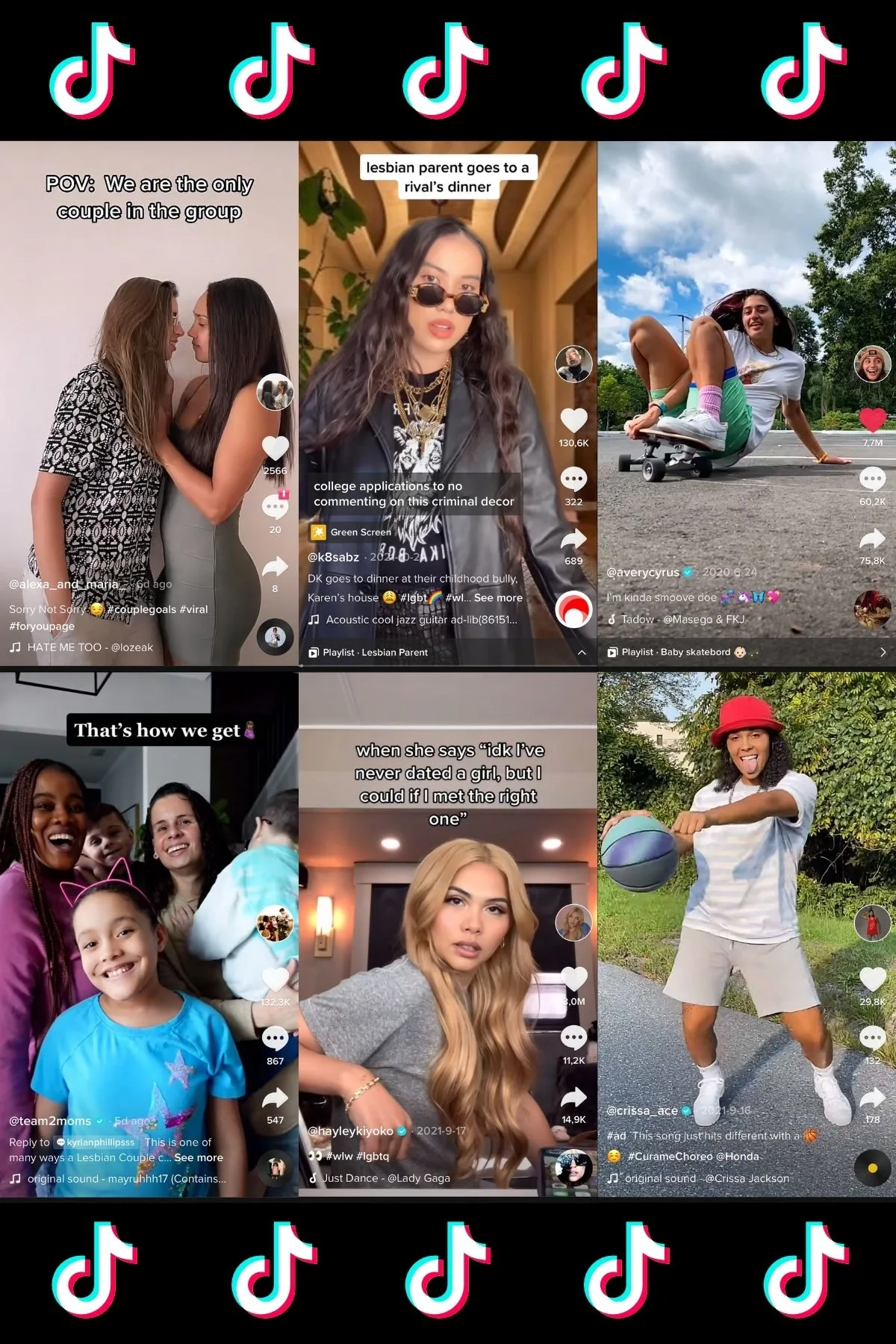 Famous Lesbians on TikTok
Let's kick things off with lesbians and queer women you might already know. This list of lesbians and sapphics already found the limelight and carried their fans over to TikTok.
Here, the famous lesbians share their humor, their thoughts, their music, and their lives.
Hayley Kiyoko (@hayleykiyoko)
Hayley Kiyoko gifted us the sapphic anthem, "Girls Like Girls." Between that lesbian song and its accompanying music video that Hayley herself directed, fans have given her the nickname, "Lesbian Jesus."
Now on lesbian TikTok, Hayley gifts us with cheeky humor in 180 seconds or less. Hayley's page almost exclusively uses sounds for laughs (and it always works).
Her humor plays on living life as a lesbian and a light sprinkling of self-deprecating mental health jokes. As an avid Hayely fan since 'Lemonade Mouth', she was one of the first people I followed when I downloaded TikTok.
And I haven't regretted it. I simply love this lesbian artist!
Cari Fletcher (@fletcher)
Fletcher is a singer and songwriter too. And she treated all of us at the end of 2021 with a song together with Hayley Kiyoko, called "Cherry". The queer creators spent weeks on TikTok releasing sneak peeks and snippets, teasing fans before the song dropped.
Fletcher's TikTok is filled with sneak peek song releases, talking about her song lyrics, and other queer content. If you like listening to Fletcher's music, you'll want to follow her TikTok. If you aren't into her music, follow simply for her incredible hair.
In the past, Fletcher dated lesbian YouTuber Shannon Beveridge!
Joelle Joanie "JoJo" Siwa (@itsjojosiwa)
JoJo Siwa, dancing kid turned queer icon, has over 39 million TikTok followers. As you could have guessed, most of her page dedicates a few minutes to different dances, routines, and rehearsals.
The great thing about following JoJo is that the content is constant. Like, multiple TikToks a day. Although JoJo and her girlfriend have split, they did have some pretty cute appearances together in her TikToks.
I have such a soft spot in my heart for JoJo by simply imagining how her proud existence in my pre-teen and teenage life would have impacted me. What she's doing for other queer youths by living authentically is unmatched.
King Princess (@kingprincess)
King Princess is a singer and songwriter of some memorable queer classics, like "Talia" and "1950." Her TikTok is a compilation of song snippets of upcoming music mixed with her erratic and alluring energy.
She isn't afraid to kiss girls in her lesbian TikToks and what gets posted has a very unfiltered feel to it.
Alyson Stoner (@alysonstoner)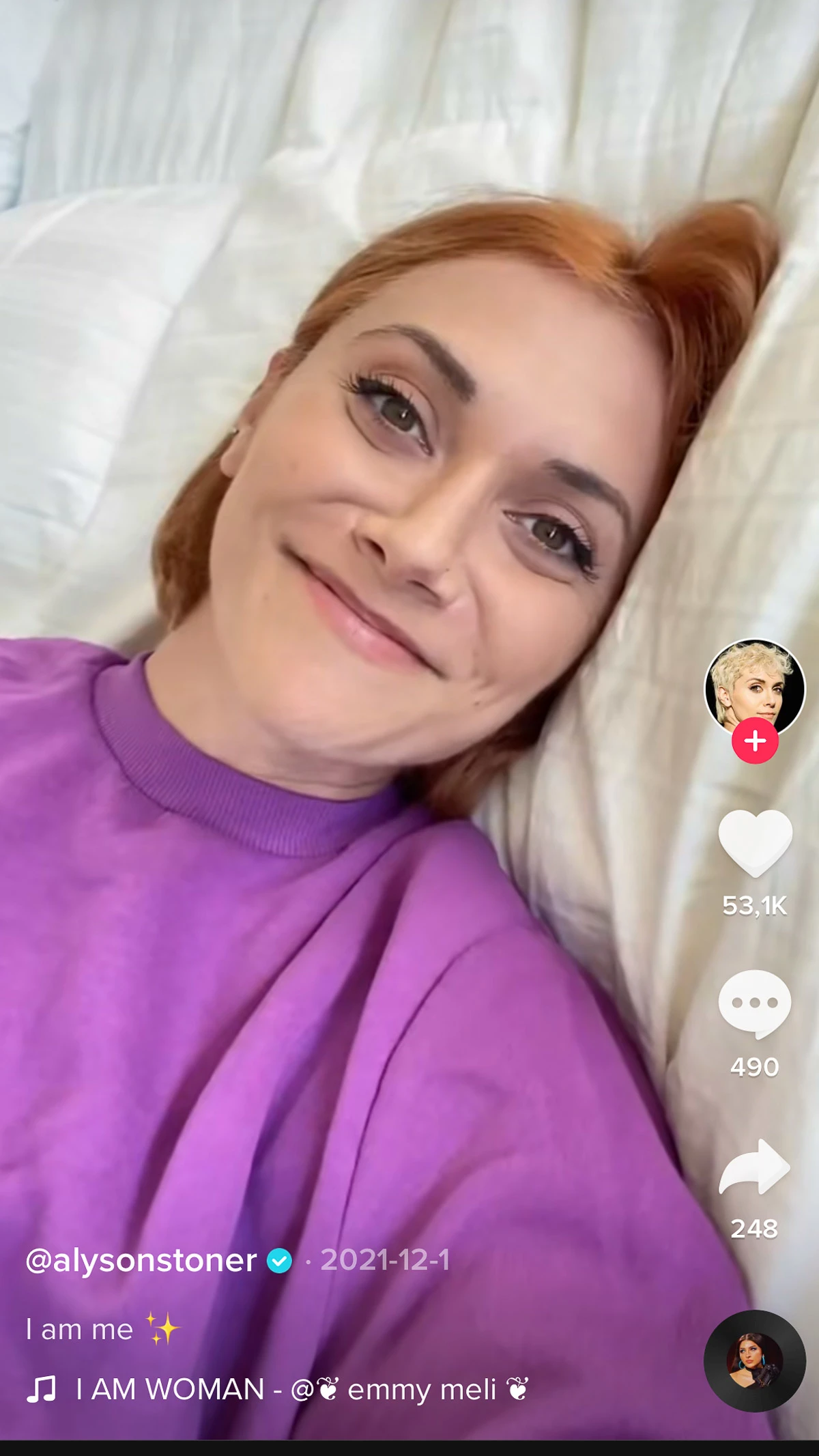 You might recognize Alyson Stoner from one of many Disney Channel favs in the 00s. From The Suite Life of Zack and Cody to Camp Rock, Alyson always had a dancing role.
So guess what? Her TikTok is much the same. Plenty of dance videos!
In addition to dance, Alyson occasionally uploads singing or singing duet videos. She also has several TikToks focused on queer content and mental health.
During the 2020 and 2021 difficult years, Alyson launched her business, Movement Genius, which helps people reconnect their minds and bodies with mindful movements. I expect future TikToks will focus on this niche more and more.
Lesbian TikTok Couples
The only thing better than a lesbian on TikTok is two lesbians on TikTok. Sapphics in love make up some of the best lesbian TikToks in my opinion.
Falling into the long-distance lesbian trope, my partner lives across an ocean. So seeing other lesbians in love helps fill that void a little.
Enjoy following these lesbian TikTok couples!
Alexa and Maria (@alexa_and_maria_)
This multinational lesbian TikTok couple is nothing short of adorable. With one hailing from Trinidad and the other from Italy, the pair lived in London but moved together to Bali in October 2021, after eloping in Denmark.
It's no surprise to hear Alexa and Maria love to travel, and now you can see their adventures on the beautiful Indonesian island.
Their fun skits and silly pranks are entertaining, and I'm super excited to see them exploring Asia.
Love to travel too? Check our lesbian travel guide with the best tips and destinations!
Han and Ky (@kyhanpeppers)
Kyhan (a mashup of Ky and Han) are one of lesbian TikTok's hottest couples. I only recently started following them after my bestie sent a TikTok of the pair dancing in the kitchen, one folding a shirt in the process.
The caption reads, "When you get to the part of your relationship where you silently agree on who does the laundry and who cooks." As we're about to become roomies, our unspoken agreement is I fold laundry; she makes breakfast.
Ky and Han post many adorable TikToks together, some including their dogs. In fact, they recently rescued a lost dog from a rainy night in the cold.
Elena y Maria (@elenaymariaoficial)
This gorgeous Spanish-speaking lesbian couple likes to keep each other on their toes. The TikTok pair regularly post prank videos and create hilarious skits (using both English and Spanish sounds).
These blonde-haired beauties also regularly post snippets of their daily lives and, of course, TikToks featuring their dog.
Hailee and Kendra (@haileeandkendra)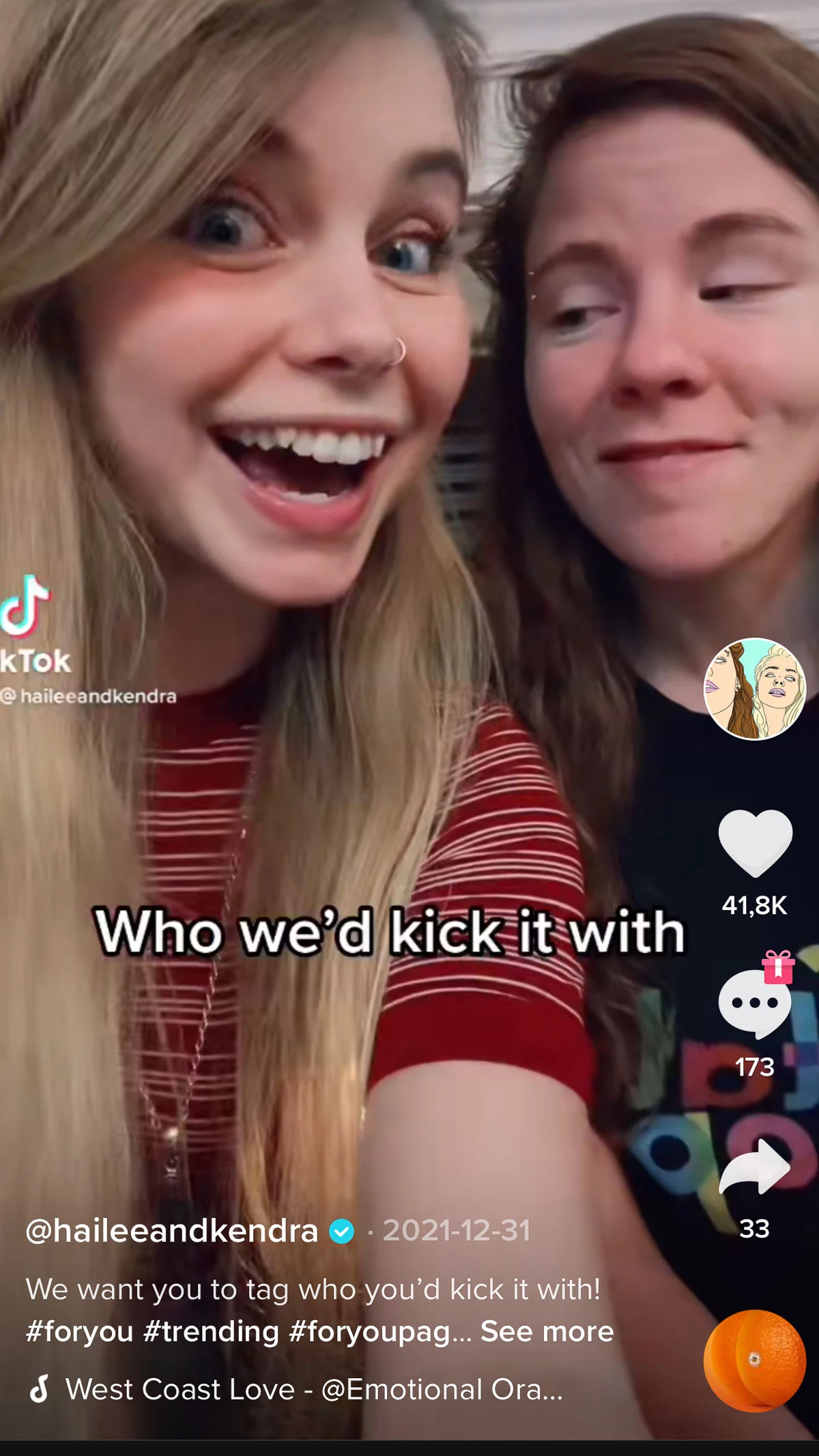 Hailee and Kendra make a cute, young lesbian couple who live together and have a cat. They pull pranks on each other every so often. Or more accurately, Hailee pulls pranks on Kendra. Maybe Kendra will clap back one day.
Until then, we can expect plenty of loving and playful TikToks between the two.
With over 8 million followers, many people love watching everything they post.
Lesbian TikTok Families
Nothing says heartwarming like a lesbian family. This part of the list with lesbian TikTokers has one thing in common: kids.
With a mix of family types, challenges, and bonds, proceed only if you're willing to catch baby fever.
Ebony and Denise (@team2moms)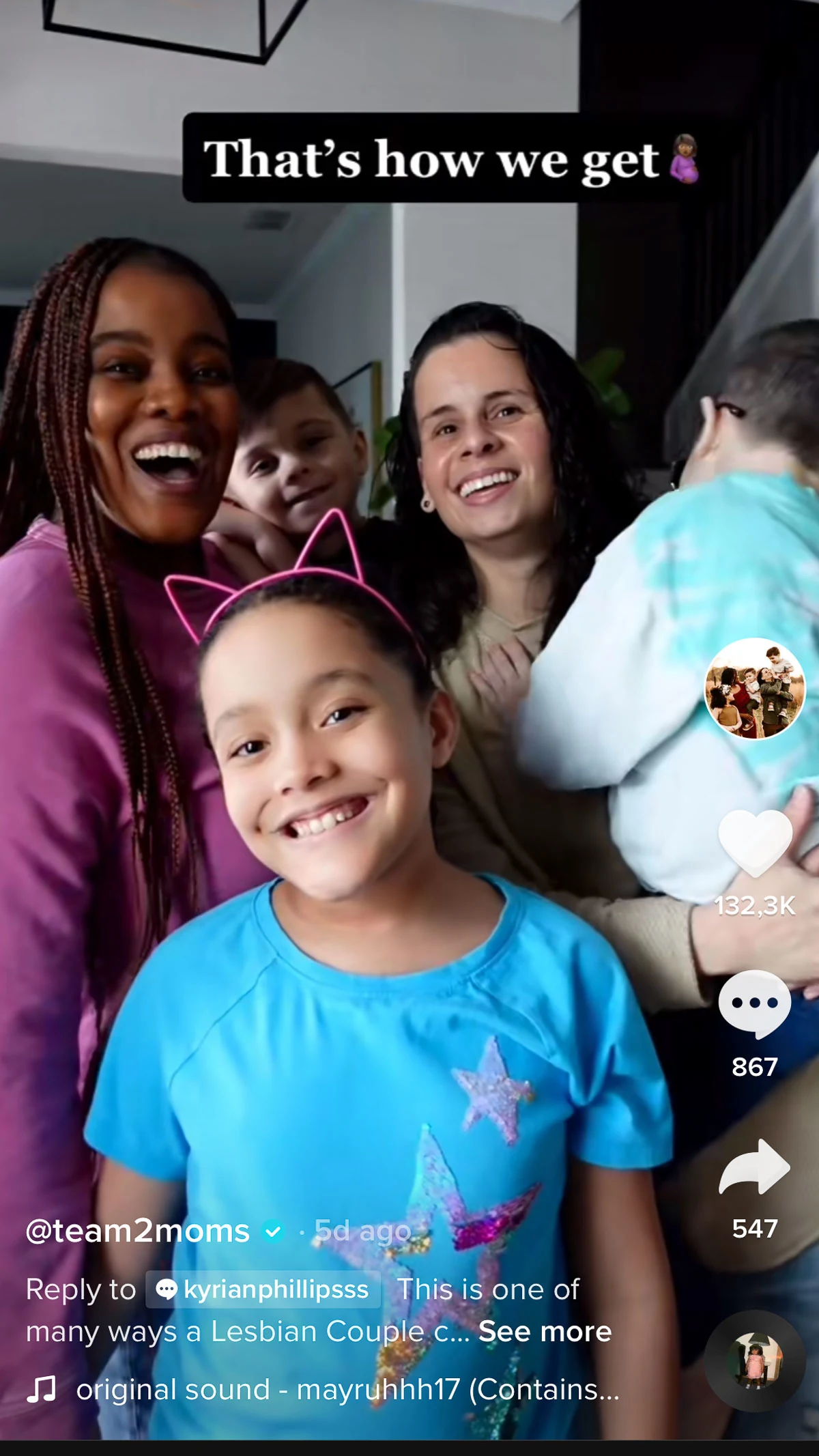 You might recognize this amazing family from our 'Best of Lesbian YouTube' article. Moms Ebony and Denise give us snippets of their lives as they raise their three children Olivia, Jayden, and Lucas.
Their goal with TikTok and YouTube is to normalize LGBTQ+ families and parenting. And I always love seeing their videos.
This lesbian TikTok family makes meals together, watches TV together, and jam-packs positivity in every video. Each of their three children (including a set of twins!) are adorable.
The pair's oldest daughter, Olivia, is also into making her own content on the page. Overall, the family's TikTok is a beacon of positivity.
Julia and Abbie (@julia.ensign, @abbie.ensign)
Also recognizable from our lesbian YouTube post, Julia and Abbie are married lesbians with a beautiful baby. Both of their TikTok pages give a snapshot of their everyday lives as young lesbian moms raising their son (and two dogs).
I enjoy their content because they are both such young moms (early/mid-20s). Since lesbian parenting requires a little more pregnancy planning than cishet couples, it's less common for the world to see a young lesbian couple plan and follow through with starting a family.
The pair documented that process and continue to normalize lesbian parenting through their content.
Allison (@thirstyonmain)
Not a username you'd expect to fall under the "lesbian family" category. Definitely worth your attention though. Content creator, Allison, is a lesbian on TikTok with a wife and family.
She also happens to have breast cancer. Diagnosed in September 2021, many videos now give updates on how her and the family are coping with the diagnosis and chemo rounds.
Allison occasionally lets viewers know how she handles side effects (like mouth sores). And her family and supportive wife make regular appearances, and they all love one thing: Disney. You can also find Allison's wife, Leanna, on TikTok @leannainla.
Fashion Lesbian TikTok
Okay, you caught me. "Fashion lesbian TikTok" is just a code word for hot lesbian TikToks and their accounts of thirst traps. But you have to hand it to them, most of these thirst traps would definitely win best-dressed.
Marthe (@marthwubbles)
This pronoun-indifferent bi TikToker has one of the hottest voices I've ever heard. So much so that the content here hardly matters in my book.
But what is that content, you ask? Marthe has self-labeled TikToks for both "outfits" and "thirst." Between you and me, the category labels refer to the same kind of content.
Marthe is also a Leo, and they have the hair to match it. Between their unruly mane and funny skits, Marthe is a creator you won't want to miss.
Mel (@blacksuitblonde)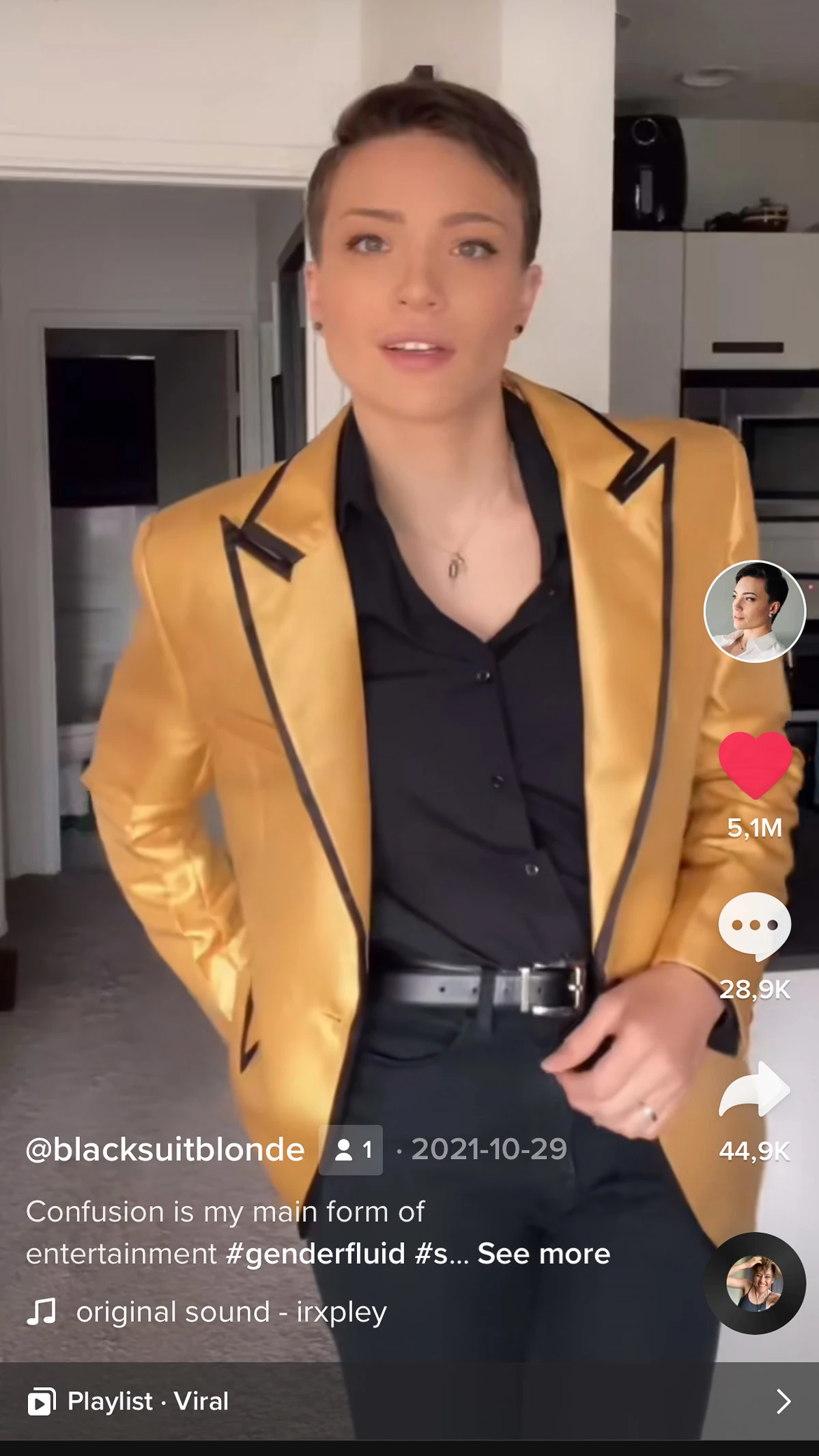 This genderfluid content creator has a solid handful of thirst traps that any gay would fall for. Or, really, any person. They have the kind of gender expression where anyone who's attracted to them are kinda gay.
Okay, you caught me. I'm guilty of falling for their thirst traps. They wear, like, a lot of suits and blazers, what's one to do?
Mel's videos are primarily about being genderfluid and non-binary, but she also uploads videos with their partner. Couple name? "Nel 'n Mel." Now isn't that the cutest thing you ever heard?
Ingrid Elida (@ingridelidaw)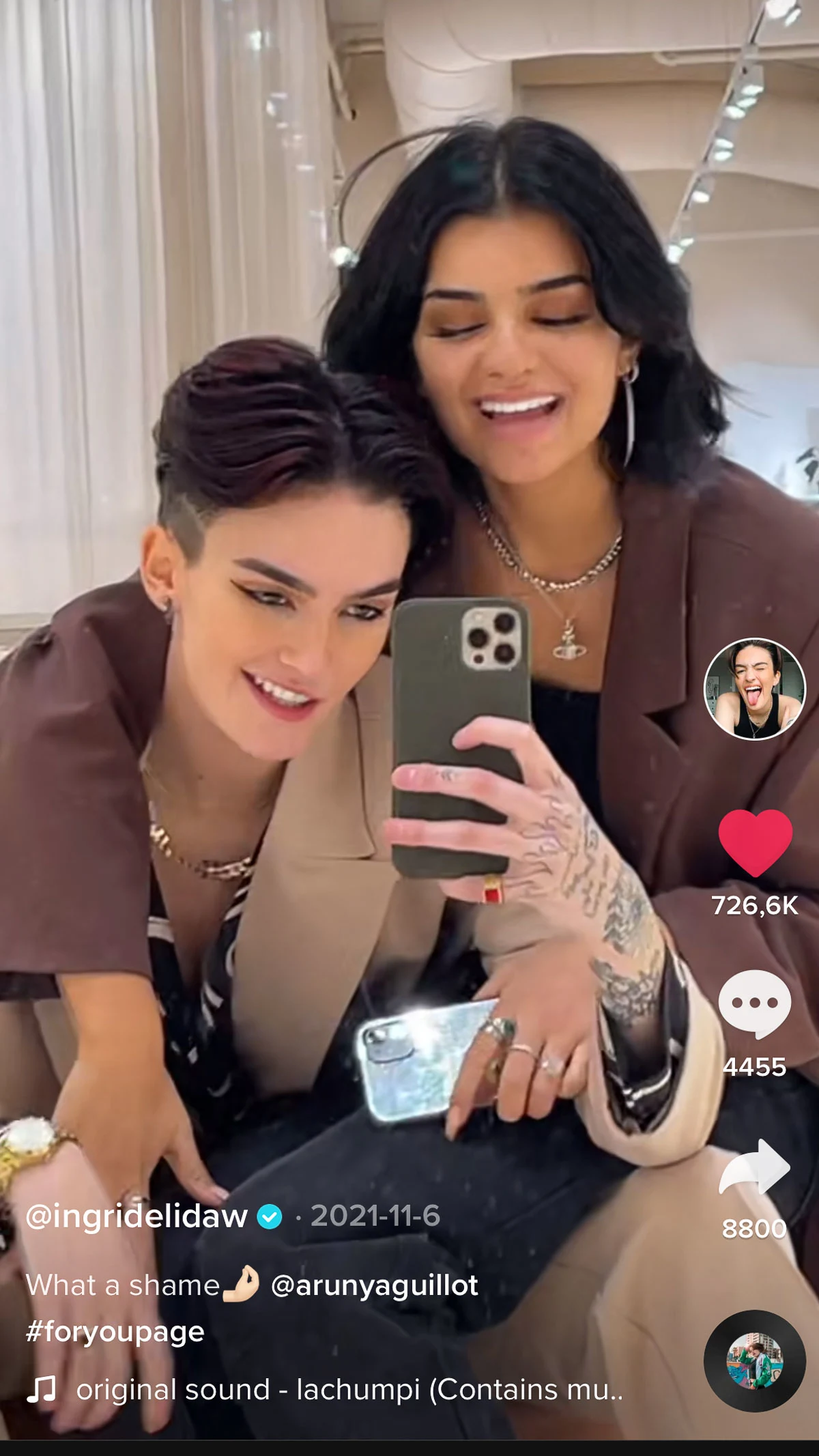 Next on this lesbian TikTok list is Ingrid. Ingrid is a genderfluid TikTok creator who follows many lesbian TikTok trends. That's right folks, thirst traps. And you will fall into them. Their traps come in the form of looking hot in every TikTok.
Ingrid always has an incredibly androgynous haircut and an immaculate sense of style. They are also consistently on point with makeup and posts TikToks with many different looks. This includes makeup tutorial TikToks.
In a few, they show viewers how to apply androgynous or masculinizing makeup looks.
Gabriela Ovalles (@gabi_livin)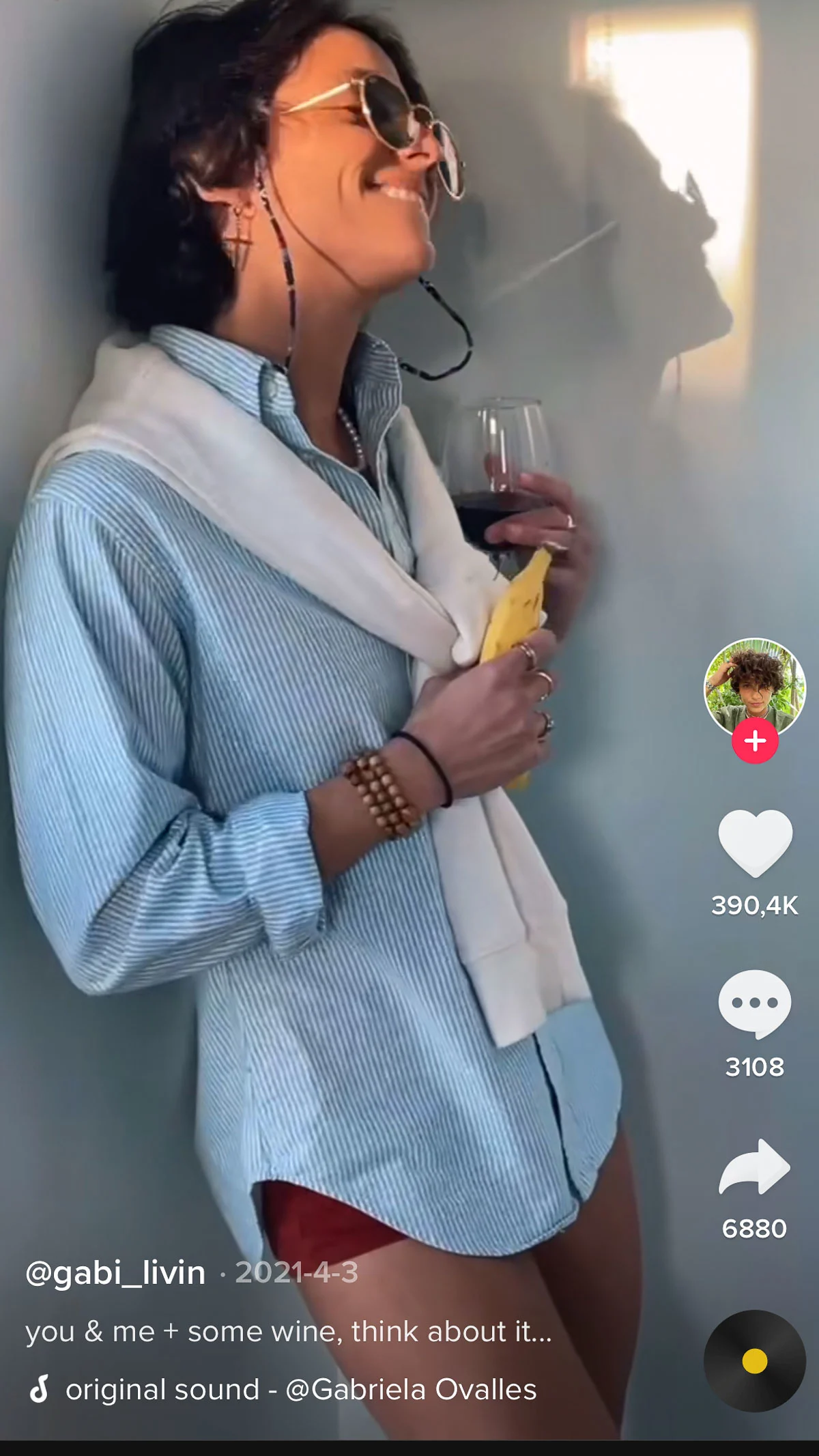 This queer TikToker strikingly resembles Timothée Chalamet (it's all in the hair.) Gabriela's thirst traps mostly come in the form of short dances and synced soundbites.
One of my favorite things about Gabi's account is the inclusion of family. She often uploads TikToks featuring her sisters and parents.
I've also never seen someone look better in a beanie.
Mei Pang (@meicrosoft)
Okay, this TikToker genuinely falls under the "fashion TikTok" category. This tattooed beauty is worth checking out for her body of art alone.
Most of her videos are makeup and skincare applications, which are completely mesmerizing.
Mei's makeup looks are stellar, especially when she goes above and beyond and paints her entire face. I'm not usually one to be into makeup artists' content, but I'm definitely here for Mei's. It's probably the shaved head that gets me.
Feeling inspired to get a tattoo? Read our queer & lesbian tattoo article!
Olivia Boeyink (@oliviaboeyink)
I know what you're thinking. This "fashion lesbian TikTok" list is getting a little long. But Olivia is bringing something new to the game.
Master of transitions, Olivia's thirst traps swap effortlessly between masc and femme looks. And she does both very well.
Olivia also posts funny skits and sound syncs along with TikToks with her girlfriend.
Sporty Lesbian TikTok
I discovered this category of lesbian TikTok by accident. A crossover of skit humor and sporty talents led to the creation of this special list.
Consider this short section a petition for more sporty lesbians on TikTok showing off their athletic talents.
Avery Cyrus (@averycyrus)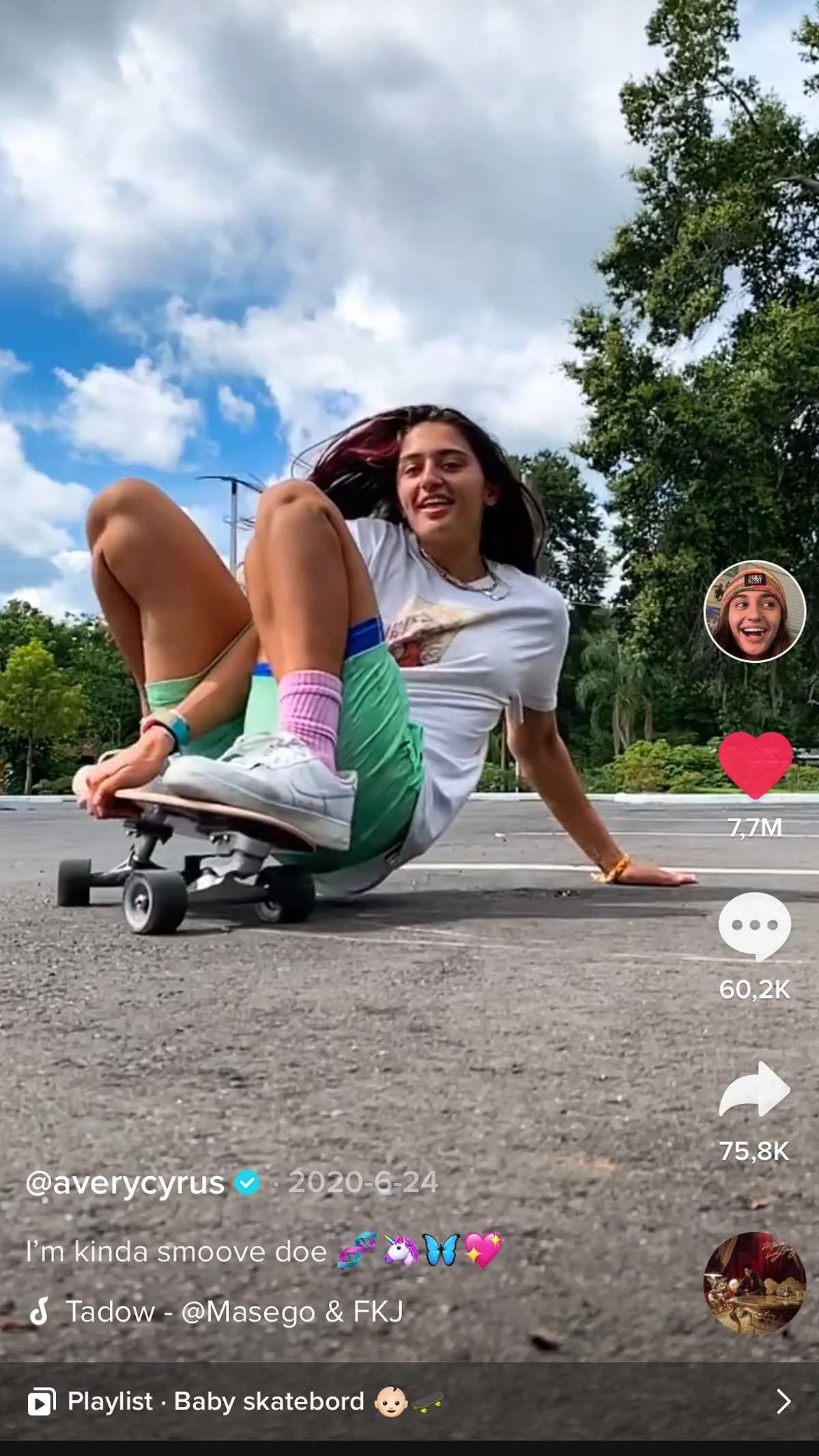 There would simply be no reason to create a "sporty lesbian TikTok" category without a skateboarder on the list. Avery is a skateboarding content creator with videos of skating and tricks, but the content doesn't stop there.
Her most-liked TikTok documents the creation of a terrifying resin monstrosity called "Baby Skateboard" (a skateboard packed with tiny decorative babies).
A confession TikTok later revealed this novel item broke, and she tossed it away.
With Avery, expect a lot of silly entertainment and occasional lesbian TikToks with her girlfriend, Soph Mosca.
Soph Mosca (@sophmosca)
And not only Avery Cyrus has an amazing lesbian TikTok account, her girlfriend Soph Mosca has one too!
Competitive dancer turned TikTok star, Soph has loads of dancing videos on her page. From TikTok routines and coming up with her own trends, Soph brings us the gift of dancing lesbian TikTok.
But the content doesn't stop there. She uploads videos of (sometimes first-time attempts at) cooking recipes and DIY projects. She also posts plenty of TikToks with her girlfriend, Avery Cyrus.
Hannah Raisor (@hannah.raisor48)
The only thing hotter than a skateboarding lesbian is a snowboarding lesbian. That's right, Hannah snowboards. And she has her recent (January 2022) wintery TikToks to prove it.
When she's not snowboarding, Hannah posts many thirst trap videos in the form of sound syncs. Hannah is also a master of transitions and wears very put-together outfits.
A backward baseball cap never looked good on a single person until Hannah put one on.
Crissa Jackson (@crissa_ace)
This hot TikTok lesbian is a master with a basketball. With spins and dribbles, Crissa's basketball is nearly hypnotic.
There are very few videos on lesbian TikTok more entertaining than Crissa's dribble challenges. Dribbling a basketball in beat with the drums of a song? Showstopping.
Plus, Crissa occasionally posts dance videos with her girlfriend. And these are dances with undeniable flavor. Hot lesbian TikTok if I ever saw it.
Educational Lesbian TikTok
This roundup of TikTok lesbians centers on the theme of education. Because they're gay, most of the TikToks are funny and entertain alongside educate.
Sometimes, the line between entertainment and education can be blurry. It's up to you to learn the lesson.
Chelsea Hart (@chelseahartisme)
When you come to Chelsea Hart's TikTok, you likely won't think "education" before anything else. In fact, you might think that hot lesbian TikTok starts with Chelsea Hart.
I mean, that haircut and that voice? No one would blame you. They sound like a sexy Disney villain and I'm totally here for it.
But Chelsea comes to educate with quick wit and sarcasm. In fact, most of her TikToks leave me laughing. Dip into her "politics" tag to find commentary on the political news that rips apart bigots and educates the uninformed.
Megan Mitchell (@megan.mitchellll)
Megan is a news anchor at WLWT, so that's why half her TikToks look like they're staged at a local news station (because they truly are.) You know what that means, lesbians, lots of fabulous outfits ready for air.
Her TikToks' most frequent guest star is the local meteorologist.
Megan uses TikTok to shed light on the adversities that LGBTQ people face. But even more of her content talks about how she paved the way for her dreams to come true, despite being told they wouldn't.
Her ADHD made school difficult, but she uses her story to push for positive messages for youths as they realize their own dreams.
Jay (@jay_will_float_too)
Jay is an asexual queer person with autism and ADHD. Most of her TikTok content relates to autism, her fidget toys, and the progress they've made with sensory overload.
Every so often, they upload a TikTok listening to "Electric Love" with headphones as exposure therapy for overwhelming sounds. The bonus here is how adorable their freckles are.
She also posts occasional TikToks on queer themes, including Pride and asexuality.
Check these best lesbian books & lesbian novels to read!
Funny TikTok Lesbians
Last but not least, we have a couple of TikTok lesbians who bring on the laughs.
Filled with skits and other humor, nothing makes me chuckle more than fellow lesbians.
Julie Visnes (@Julievisnes)
Some of the best lesbian TikTok content comes from Julie. Her videos solely focus on relatable queer scenarios, mental health, her relationship, and many of them will make you laugh.
She follows and creates lesbian TikTok trends and looks absolutely stunning doing it.
Plus, she and her partner, Camilla, make the perfect colored hair duo. Though, the colors of both change constantly. But that's just the little queer things, isn't it?
Hina (@K8sabz)
I consider this the best of lesbian TikTok. That's right, best for last. With over a million followers, all of Hina's content is gay and hilarious.
Their TikToks often center on the "lesbian persona" and imagine what a lesbian parent would behave like. The humor of these TikToks lean into lesbian stereotypes and poke fun at them without being demeaning.
Hina's non-queer content ventures into "zodiac signs as…" territory. Which is, if we're being honest, still queer content.
Which popular lesbian TikTokers do you follow? Did we miss any on our list? Let us know in the comments!
Want to chat with us? Find us on Instagram, Facebook, YouTube, TikTok, or comment below!
And make sure to share this lesbian TikTok list with the best lesbian TikTokers with all your friends.
If you are looking for more lesbian TikTok content, check this list with 22 lesbian TikTokers to follow in 2022!
MORE TO READ:
MORE TO READ:
PIN THIS ARTICLE