We know, as a girl couple, that lesbian travel isn't always as easy as packing your bags and go. There's much more to think about, regarding safety, for example.
For a holiday it's important you can truly be yourself, don't have to worry about safety, and simply feel comfortable. That's why we are going to tell you all about lesbian Europe, so you don't have to worry about anything.
Europe has been leading the way for LGBTQ+ travelers for decades. It has some of the most open and welcoming countries in the world and is, therefore, the perfect continent for your lesbian holidays.
It has so much to offer: from stunning beaches to picturesque cities to beautiful nature and fantastic food. Europe is diverse, each European country has its charms, and there's something for everybody.
But which destination to pick?! Let's dive into the best lesbian holiday destinations Europe has to offer.
Lesbian Europe Destinations
No matter if you are planning a relaxing holiday on the beach, if you want to hop from city to city or want to hike the most beautiful mountains, with our following lesbian Europe tips it's all possible.
Iceland
Let's start with one of our absolute favorite destinations in the world: Iceland. If you're looking for adventure and breathtaking nature in lesbian Europe, Iceland is the place to travel to.
Iceland is a unique country with the most stunning waterfalls, ice caves, fantastic lagoons, and amazing landscapes. Plus, during wintertime, you can see the northern lights in Iceland. It's even possible to see them from your own bed if you stay at a bubble hotel!
You can't find any other country like Iceland in Europe, and the best part is: Iceland is incredibly lesbian friendly and super welcoming.
In 2009, Jóhanna Sigurðardóttir became the first openly lesbian head of government in the world., how amazing! As the 9th country in the world, Iceland legalized gay marriage in 2010.
Lesbian Reykjavik
Reykjavík is the capital of Iceland and is the city where most people start their Iceland travels. Though, the city itself is also fun to explore for a day. And this is where Pride is celebrated and where you can find a few LGBTQ+ spaces.
Pride in Reykjavik is one of the biggest celebrations in the country. Iceland only has a little over 300.000 residents, so a Pride celebration with 100.000 attendees is a lot!
There's one LGBTQ+ bar in Reykjavík, called Kíkí Queer Bar. Next to Kíki Queer Bar, you can find Bravó, which is popular among the LGBTQ+ community too.
Of course, most people go to Iceland for adventure and to enjoy the beautiful nature. Though, if you like to go for a drink, these are two fun places to go to.
IÐA Zimsen is a lesbian-owned café, bookstore, and gift shop in Reykjavík. And Café Babalú is a gay-owned café which serves delicious traditional Icelandic cakes (often there are vegan options too), perfect if you want to get a cup of coffee and some food.
Spain
Spain is one of the most welcoming, open, and liberal countries of Europe, in the world even. Gay activity in Spain is legal since 1979 and gay marriage since 2005. Spain was the third country in the world to legalize marriage for all couples.
Spain is a big country and while the whole country is perfect as a destination, there are some places that are extra lesbian-friendly and have a huge LGBTQ+ community.
It's also a diverse country, you can visit some bigger cities for a city trip but also find beaches and islands for a relaxing holiday. Or even better: a combination!
Barcelona, Madrid, and Sitges are great cities to visit. Also if you want to combine the beach and city. As both Barcelona and Sitges are located at the sea.
The islands Mallorca, Gran Canaria, and Ibiza are the perfect places to relax. Ibiza is famous for its parties, but the island also has a quiet side and has many retreats. We will tell you more about Madrid, Mallorca, and Sitges below!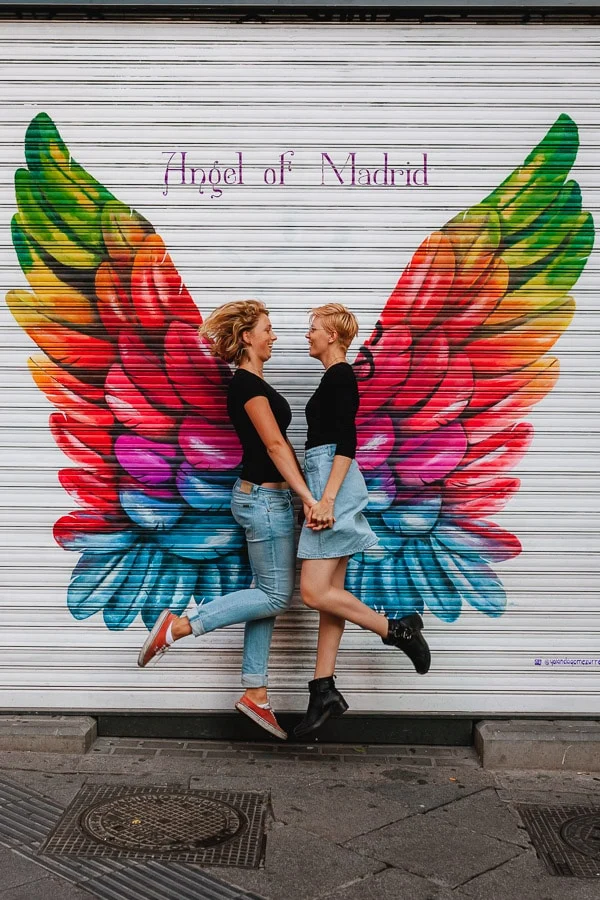 Safety is important while traveling. Read about travel safety tips in our lesbian travel guide.
Gay capital of Europe: Madrid
This is always a big question: which city in Europe is the gay capital of Europe? As much as we love Amsterdam as the gay capital, it fits Madrid better.
Madrid is a beautiful city and while the whole city is LGBTQ+ friendly and welcoming, there's one neighborhood where you can find most gay and lesbian shops, restaurants, clubs, and bars. That neighborhood is Chueca.
The gayness spread to more neighborhoods, such as La Latina, Lavapies, and Malasańa. Nevertheless, you can find most lesbian bars in Chueca.
Every year at the end of June and the beginning of July, Pride is celebrated in Madrid. It's a great opportunity to visit Madrid and enjoy one of the world's biggest Pride celebrations (it's the biggest in Europe).
During Madrid Pride, there are parties throughout the whole city and the Pride parade is definitely the highlight.
Fun fact: an estimate of 500.00 gay people live in Madrid, that's 10% of the population of the city!
Mallorca
Mallorca is an island of Spain that is famous under lesbians for its Ella International Festival. Ella Festival is a festival for lesbians where music, culture, art, and sports come together.
Because of Ella Festival, Mallorca is famous for being a very LGBTQ+ friendly, especially a lesbian-friendly, destination.
It's not only a great island to visit for the festival, but it's also perfect for your relaxing lesbian holiday at the beach. Mallorca is a beautiful island!
Sitges
Sitges is a beautiful town only 45 minutes South of Barcelona. While Barcelona is a big city, Sitges is a small and relaxing town. And the combination of these two is perfect! Both are incredibly LGBTQ+ friendly and have a great gay & lesbian scene.
Especially Sitges attracts many gay men but there are some lesbian spots as well. Sitges is becoming more and more popular every year under lesbian women.
In Sitges, you can truly be yourself and enjoy the peace of the Mediterranean beach!
Sweden
We've visited Sweden a couple of times now, and we always love coming back to Sweden. Sweden absolutely has to be in this list with lesbian Europe destinations, as the country is one of the most liberal and open-minded countries we've ever visited.
In bigger cities like Stockholm, you can find many gender-neutral shops and bathrooms, how amazing is that?
Besides the bigger cities, Sweden has a lot of beautiful nature. Skåne County in Southern Sweden has beaches, farmlands, hills, and even a vineyard.
And Northern Sweden has beautiful mountains, fjords, and large forests with pine trees. Here you can drive for a long time without seeing anyone, and it feels like you have all nature for yourselves.
Or well, you share it with beautiful animals like moose. Sweden has the densest population of moose in the world!
Our favorite cities in Sweden are Malmö and Stockholm. Both celebrate Pride during summer and especially Stockholm has a big LGBTQ+ community.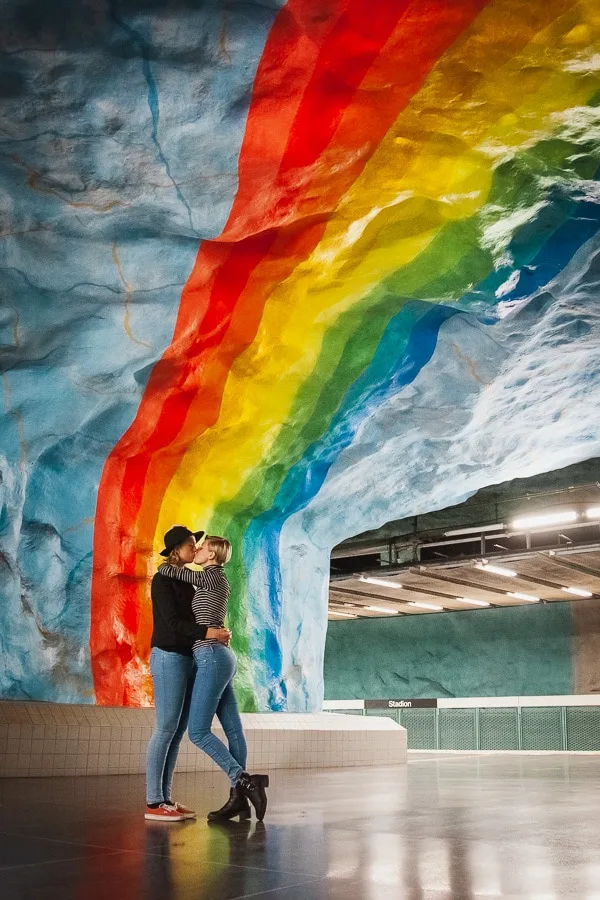 Lesbian Stockholm
Stockholm is the capital city of Sweden and is the most populous city in all of Scandinavia. Therefore you might think of Stockholm as a busy city, but we absolutely love the calm- and nature-side of it.
We also love how it has an old and new part. Gamla Staden (old town) is so lovely to explore! Read more about the must-see spots in Stockholm in our 3 days in Stockholm itinerary article.
Lesbian spots in Stockholm to go to are lesbian club Moxy and LGBTQ+ bar The Secret Garden. But our absolute favorite spot in the city for a drink and food is the floating restaurant Mälarpaviljongen (note: Mälarpaviljongen is closed during the winter months).
Greece
For stunning beaches, you need to go to Greece! Greece has 6000 islands, so it's the perfect destination for some island hopping in lesbian Europe, tropical vibes, and relaxing on the beach. And Athens has a lot to offer if you want to learn more about Greek's rich history and visit the ancient ruins.
The island Lesbos (also known as Lesvos) is, for lesbians, a special one. But later on more about Lesbos!
Greece is one of the most liberal countries in southeast Europe, and it's making great steps forward in the past years. Gay activity has been legal since 1951 and in 2015, civil unions were legalized for gay couples.
The country is a friendly destination for LGBTQ+ travelers. Mykonos especially is well-known among male gay travelers as one of the best gay destinations in Europe. And of course, lesbians are also very welcome on the island, though you will find many men there.
While Mykonos is great for parties, Santorini is the perfect island for your romantic holiday or a lesbian honeymoon. And Milos has amazing and unique beaches!
Lesbian Island Lesbos
What's so special about the island Lesbos? Lesbos is a popular island under lesbians. It's also called a lesbian mecca.
Therefore, you wouldn't be surprised to hear that the word lesbian comes from the island. This is due to the poet Sappho, who was born on Lesbos and wrote poems about the love between women.
Every September, Lesbos celebrates one of the biggest lesbian festivals in the world: the International Eressos Women's Festival. It's the perfect place to meet other lesbians and like-minded women.
But if you're not looking for that, the island is still a paradise.
In Skala Eressos you will find one of the longest sandy beaches on the island. It's totally a lesbian beach, as you can find lesbian-owned bars, restaurants, and other businesses there.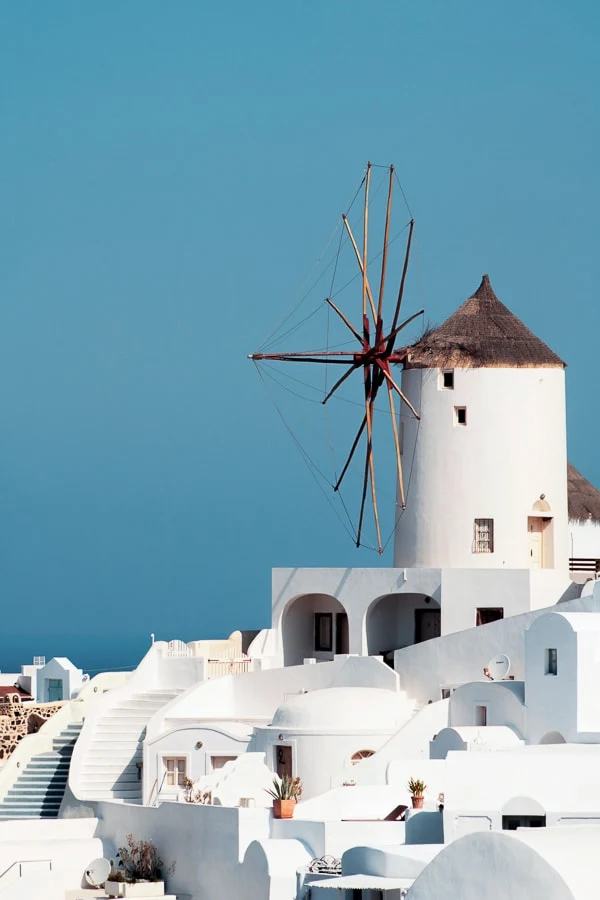 Santorini: Your Lesbian Honeymoon Destination
The perfect destination for your honeymoon in Europe is Santorini. Santorini is well known for its romantic sunsets, beautiful volcanic-sand beaches, stunning views, and unique architecture. With its white and blue colors houses, it's also the perfect place for pictures (see our best Santorini photo spots).
Santorini has everything to let your most romantic dreams come true. The island isn't a great destination if you are traveling alone, it's perfect for couples!
Though Greece offers civil unions for gay couples, gay marriage isn't yet recognized. Luckily, since Greece is an LGBTQ+ friendly destination, you can still book that honeymoon suite.
Read more about Gay Greece!
The Netherlands
Okay, we are biased, since we are Dutchies ourselves. But the Netherlands was the first country in the world to legalize gay marriage in 2001. So of course, the Netherlands has to be on this lesbian Europe list.
We know many people come to the Netherlands just to visit Amsterdam, but other cities like Alkmaar, Utrecht, and Rotterdam are worth the visit too.
And don't forget about the Dutch tulip fields in April/May and spotting traditional windmills at the Zaanse Schans or Kinderdijk.
We encourage you to see more of the Netherlands than just Amsterdam. The Netherlands is quite small, so if you want to see more than just Amsterdam, it's very doable!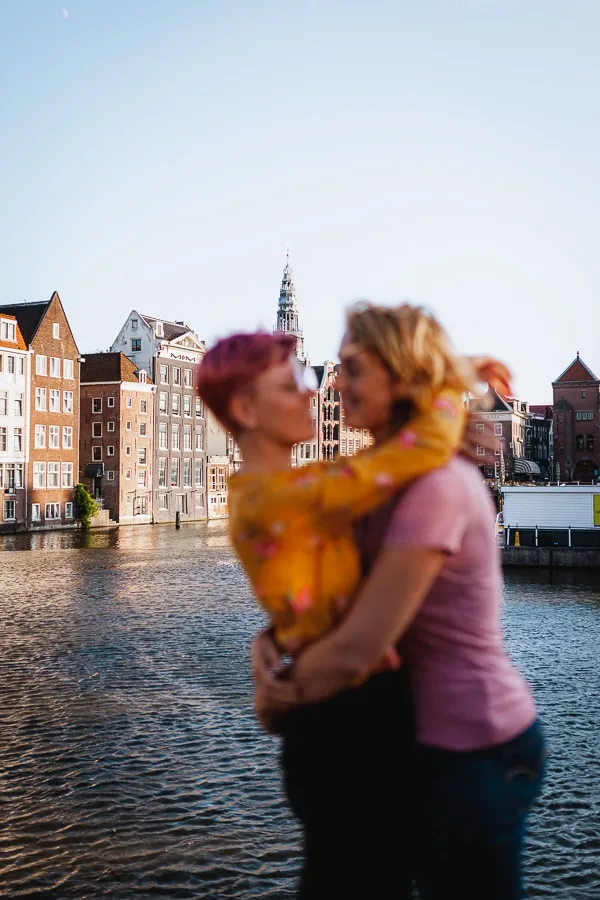 Lesbian Amsterdam
Amsterdam used to be the gay capital of Europe, though it probably lost that title many years ago. But luckily it's still a very diverse, welcoming, and open city.
It's the capital city of the Netherlands, and it's most famous for its beautiful canals, gingerbread houses, coffee shops (not for coffee!), the infamous red-light district, and lots of bicycles.
Also, the canal Pride parade, held the first Saturday of August, is a must-visit Pride celebration. The parade is unlike any other Pride parade, as it's held on the canals on boats!
In Amsterdam, there's one lesbian bar, called Bar Buka. Which is a fun place to visit for a drink! If you would like to go dancing, then head to Club NYX! For more Amsterdam tips, head to our lesbian Amsterdam article.
Portugal
Portugal is up and coming! In 2019, Spartacus released their gay travel index with Portugal jumping from the 27th to the first place. Together with Sweden, Malta, and Canada, Portugal, is the most friendly country for LGBTQ+ travelers. How amazing is that?
Gay activity has been legal in Portugal since 1983. And since 2010 you can marry in Portugal as a gay couple. Portugal definitely is an LGBTQ+ friendly country, and you can find LGBTQ+ communities all around the country, with the biggest ones in Lisbon and Porto.
We absolutely loved exploring Portugal as it's a stunning country with friendly people and delicious food. The Algarve in Southern Portugal is our favorite area to visit.
We highly recommend hiring a van or car and explore the area yourselves. Nature and the coast are simply stunning in the Algarve.
Lisbon
Lisbon has a lot to offer. From beautiful beaches and nature to amazing architecture, delicious food, and Portuguese culture: Lisbon has it all. It's the perfect city for a city trip, but also for relaxing on the beach.
All beaches are LGBTQ+ friendly, but Beach 19 is especially popular under gay men, sadly there isn't a specific lesbian beach as far as we know.
In the city, there's one street in the neighborhood Bairro Alto where you will find the pink street of Lisbon: Rua Barroca.
Every year in summer, Lisbon hosts Pride and in September it hosts one of the biggest LGBTQ+ film festivals in Europe: Queer Lisboa – Lisbon Gay & Lesbian Film Festival. And the hetero-friendly party Lisboa is popular among lesbians.
England
England is a very tolerant and welcoming country. While the capital city London has lots to offer for the gay & lesbian traveler, there are also other cities like Brighton and Manchester that are worth a visit.
Brighton is even called the 'gay capital' of the United Kingdom. Brighton has the highest percentage of gay households in England!
In 1967, gay activity between men became legal in England, for women it was never illegal. And since 2014 all couples are able to marry in the United Kingdom.
London, Brighton, and Manchester are all perfect cities for your city trip. Especially London is a city you should visit once in your life.
Besides fantastic cities, England also has beautiful nature to visit! The Seven Sisters cliffs, for example, are already on our bucket list already for a long time.
So what are you waiting for? Book that trip to lesbian Europe!
Do you have any questions? Drop them below or send us a message. Find us on Instagram, YouTube, and Facebook.
If you enjoyed our blog post, don't forget to share it with all your lesbian friends.
Together we can spread the love and help each other travel the world!
MORE TO READ:
PIN THIS ARTICLE