These 29 epic queer & lesbian haircuts and lesbian hairstyles are perfect as inspiration for your next trip to the hairdresser or (queer) barber!
Unsurprisingly, haircuts and hairstyles can be a big deal for lesbians. After all, queer people are well-known for being the most fashionable globally. And that is an undeniable fact! Just look in the mirror.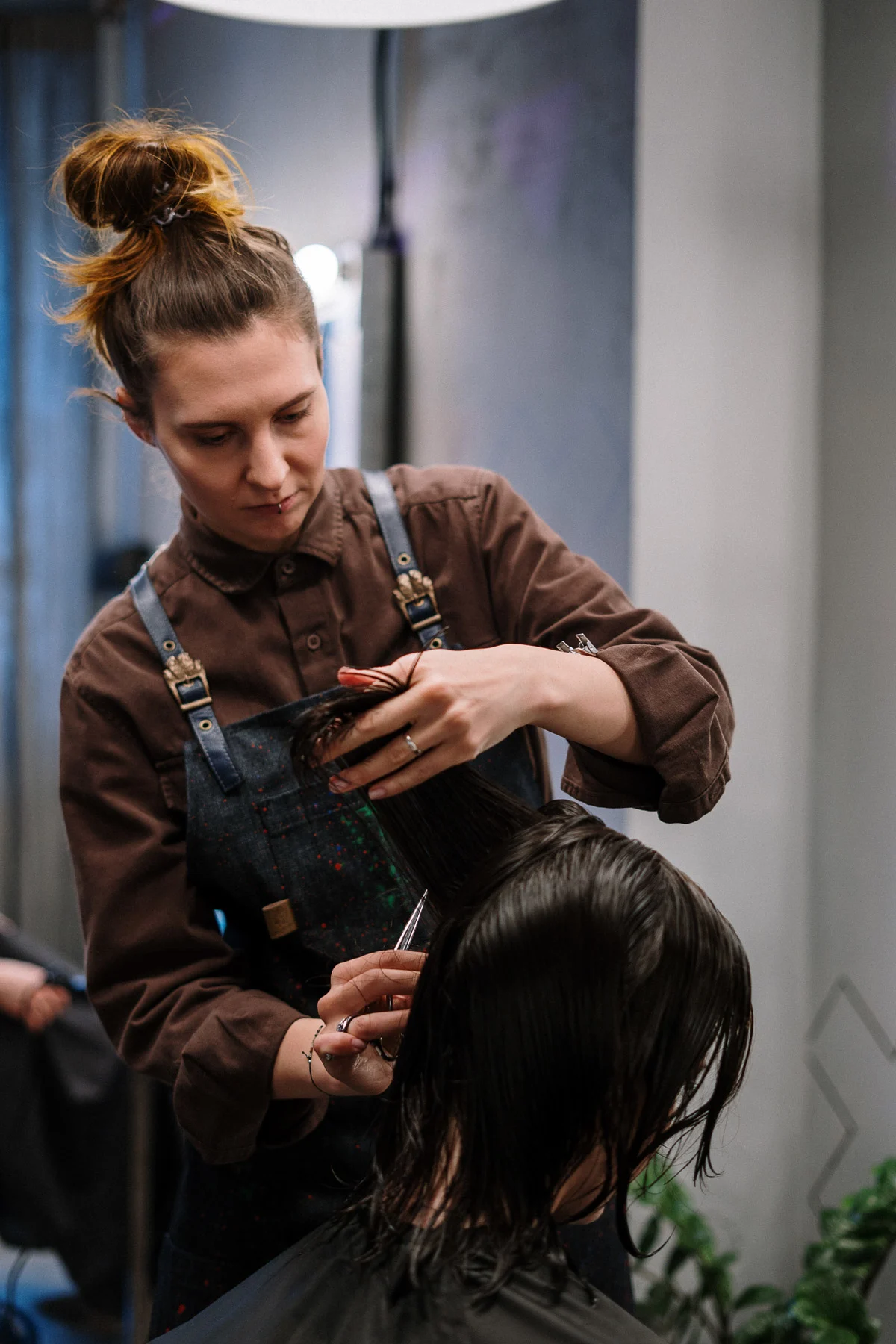 All jokes aside, haircuts and hairstyles can be significant to lesbians. A huge part of identity expression comes from how we present ourselves to the world through clothes, makeup, or⁠—you guessed it⁠—hair.
Since coming out, my hair has undergone many lesbian haircuts and style changes. I've had the range from long, feminine lesbian hairstyles to short androgynous looks.
And the best part about being a lesbian is that everything I do is gay if I want it to be. Pixie cut? Gay. Long, feminine waves? Gay. The slippers I'm wearing while I write this article? Also gay.
Also, all of these haircuts are for all face shapes because regardless of what heteronormative society tells you, every face shape can rock ANY haircut.
Lesbian Haircuts History
Lesbian culture has to do with signaling identity in various ways. Most people associate short haircuts on women with lesbians. And part of that might be rooted in our history.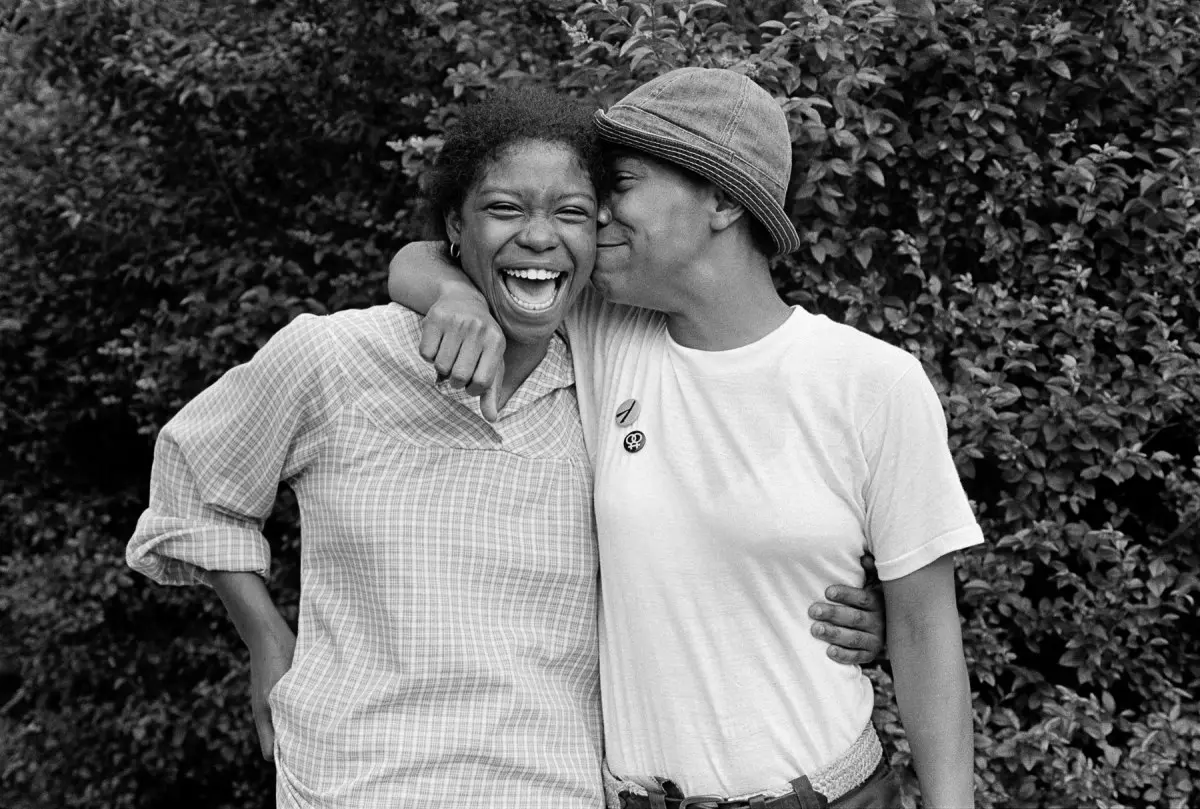 You've heard of the butch/femme dichotomy of lesbian couples. Though it might seem outdated now, it was an entire culture.
Femme lesbians relied on hyperfeminine to signal their interest in women, while butch lesbians fell back on masculine expressions. Masculine expressions include short haircuts.
Nowadays, the butch/femme expressions are less clear-cut and not as necessary, but they're still around.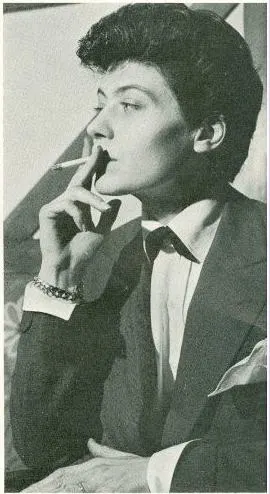 Many lesbians identify as butches or studs (androgynous, nonbinary, transmasc, etc.). But that doesn't mean the short hair has gone out of style.
Now it can be more than a masculine expression. By simply loving women, lesbians and sapphics already defy what society expects. Cutting their hair short is perhaps another expression of that.
So what is a lesbian haircut? What is a lesbian hairstyle? Maybe it's short. Perhaps it's long. Maybe it's the whole range of what hair can do. Well, this list covers it all.
Lesbian Undercuts
In my opinion, there's no dyke haircut like a lesbian undercut. But the undercut is more versatile than one might think.
It works with long or short hairstyles and with all hair types. I've had a few different undercuts myself, and I can't imagine being without one.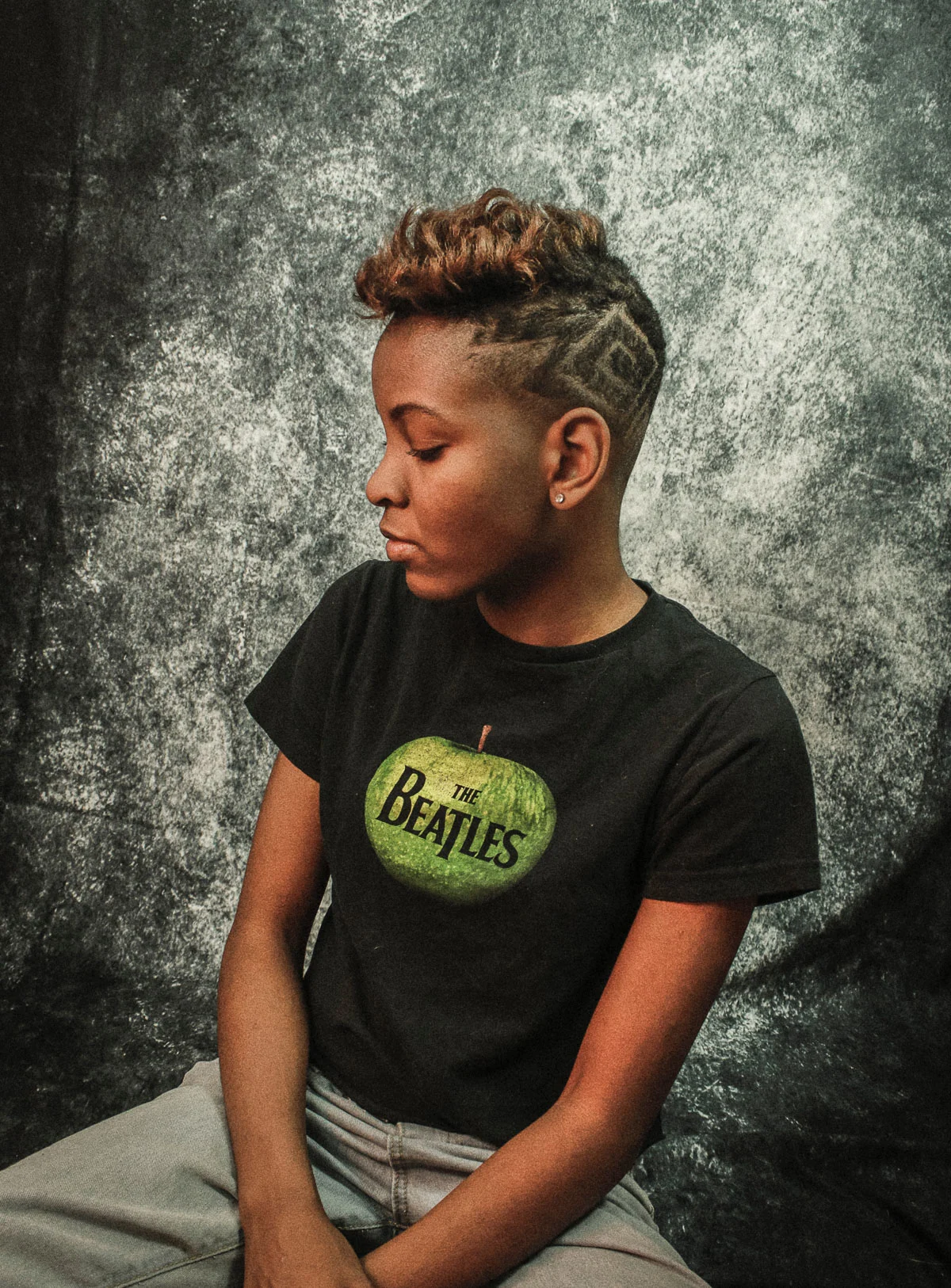 The only downside to undercuts is their need for frequent upkeep, even if you have long hair. A well-kept undercut usually requires trimming every 2-3 weeks.
My advice? Save money on a barber and buy a cheap trimmer. Plenty of queers cut their hair. Pass the trimmers off to a friend who can see the back of your head better than you can.
Undercuts with Long Hair
The classic undercut on people with long hair is unnoticeable when you wear your hair down.
The shaved part is "under" the hair, mainly on the lower scalp and back of the neck. Therefore, it's only visible when the hair goes up.
I first sported an undercut when I had long hair. It was a great way to have more of a lesbian hairstyle while still keeping a feminine cut.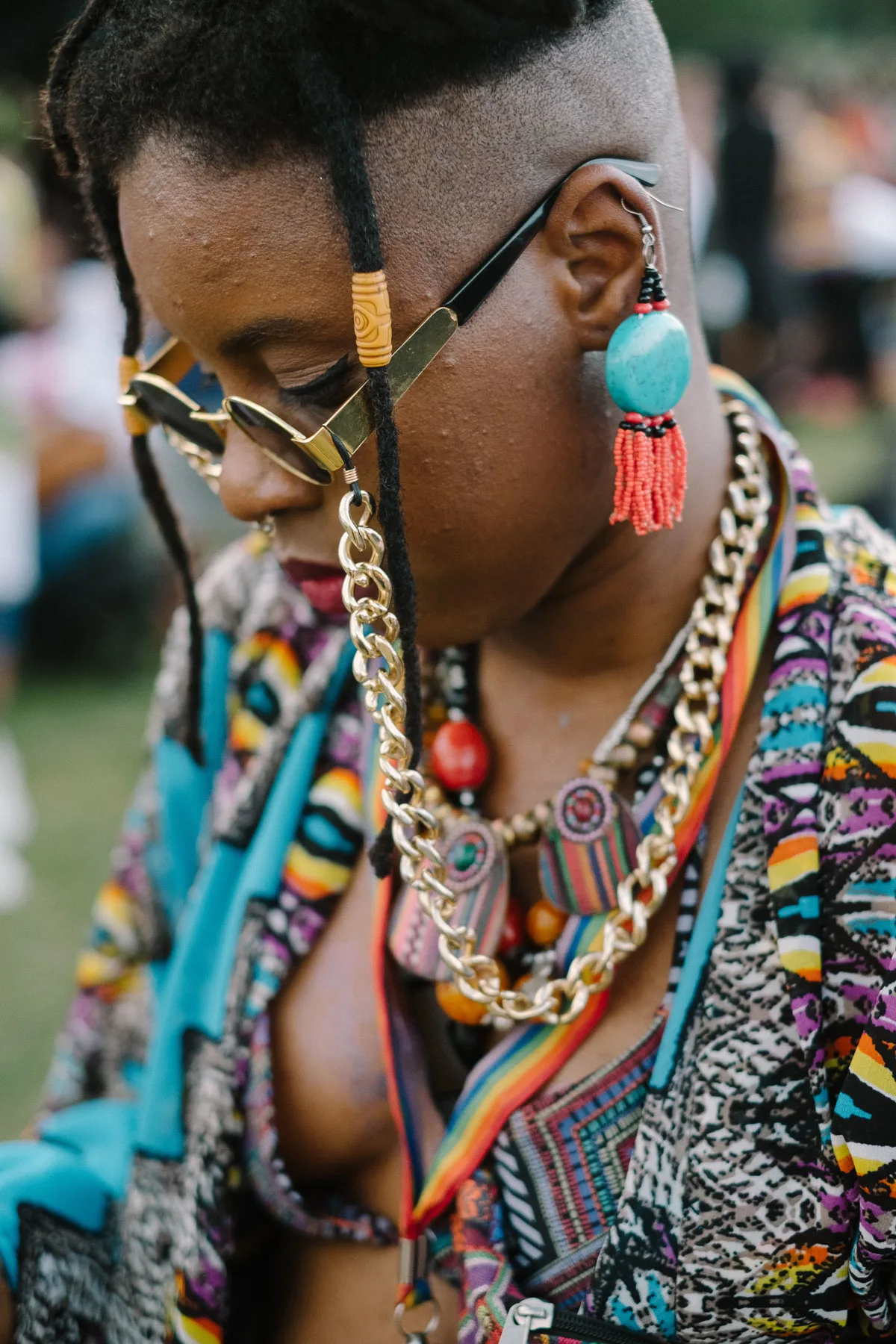 I loved it and kept it for years. I will add that this lesbian hairstyle made winter a little chillier and summer heat more bearable.
The best part of undercuts with long hair is getting away without frequent trims. Especially in the winter, when I wore my hair up less often, I'd let it grow for a month or two.
Spring rolled around, and I'd schedule a fresh trim.
Sidecut & Shaved Sides with Long Hair
This fun shift from the traditional long-haired undercut adds a touch of boldness. Unlike the conventional undercut, shaving the side (a sidecut) is much more visible.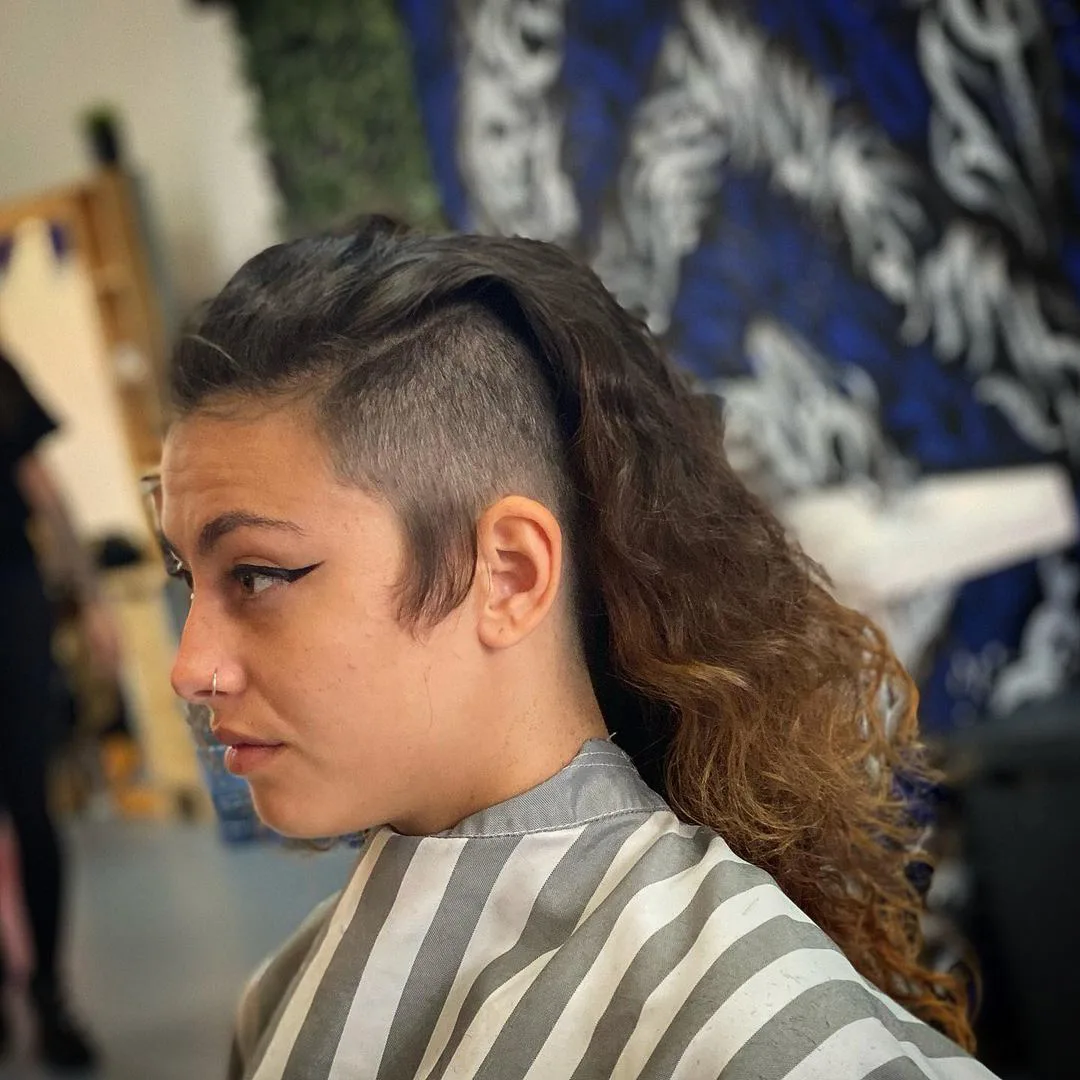 I always imagine this hairstyle with a punk-rock or skater-girl look. But, of course, any long-haired queer person can pull it off.
Undercuts with Short Hair
Short hair with undercuts opens a world of possibilities for lesbian hairstyles. Take it from me, someone who chopped their hair and kept the undercut.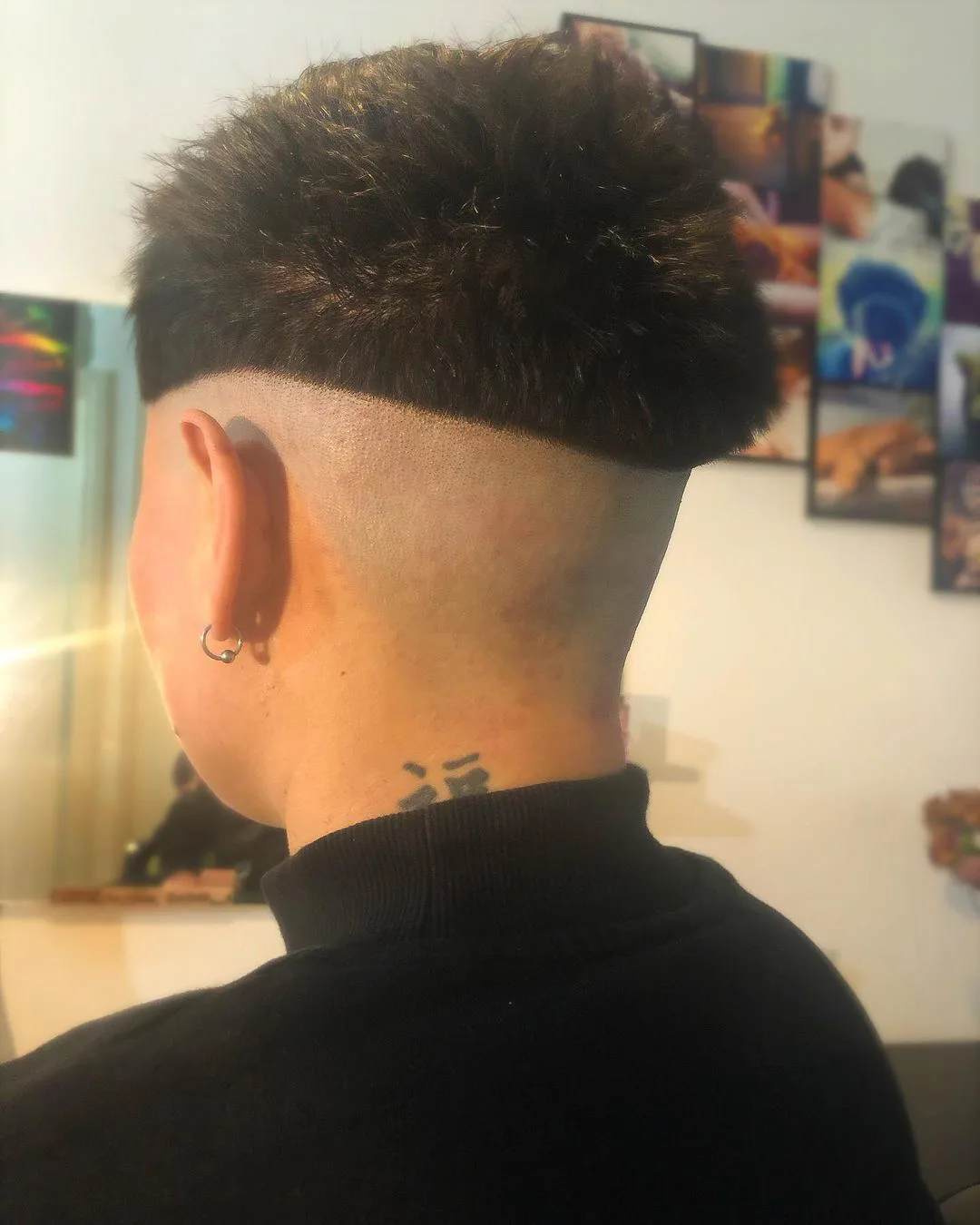 I paired my undercut with shaving off my head's sides, with clean edges and long curls on top.
Undercut Designs
A fun component is the shape and designs you can do with it. I always sported a straight-across undercut, but there are some cool undercuts in triangle shapes.
Beyond that, a talented barber can trim a design into a shaved cut, marking your hairstyle with a temporary bold pattern for special occasions. Or just for fun!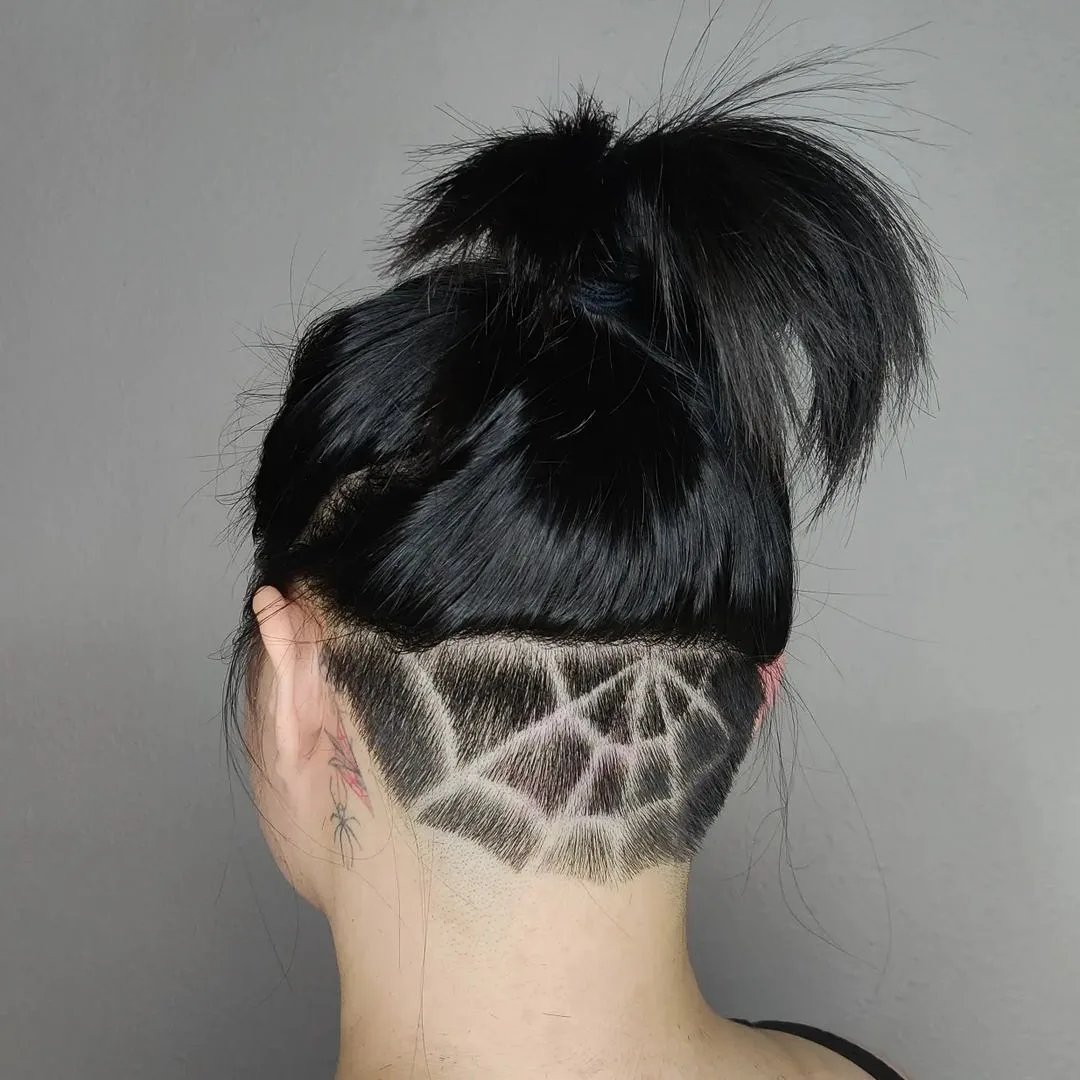 Lesbian Short Hair
It's not a secret that short haircuts are trendy amongst lesbians. As I said, part of that is in our history of lesbian butch haircuts.
Many reasons are jumping points from here and society's concept of gender as a binary.
Being queer is radical. When a person comes out as queer, their existence opposes the norm. An extreme haircut falls in line with not fitting inside the box.
It can help lesbians fit into their new lives after coming out.
Like everything else, society "genders" hair; long hair is feminine; short hair is masculine. A woman cutting one's hair short is an act against feminine norms.
It's a statement that goes against what women should look like. By extension, maybe a short haircut also goes against the (binary) expectation that women should marry men.
Are you looking for the best queer and lesbian tattoo ideas? Then our lesbian tattoos article is perfect for you!
Short Hair Lesbian = Low Maintenance
But then again, maybe short hair is just low maintenance. Easier to take care of, easier to upkeep. Short haircuts create great looks with less time. And that's pretty desirable for a lot of people.
Many lesbians try out short haircuts to change up their looks. But short queer haircuts don't have to be strictly masculinizing. This list of lesbian haircuts is short but works for different looks.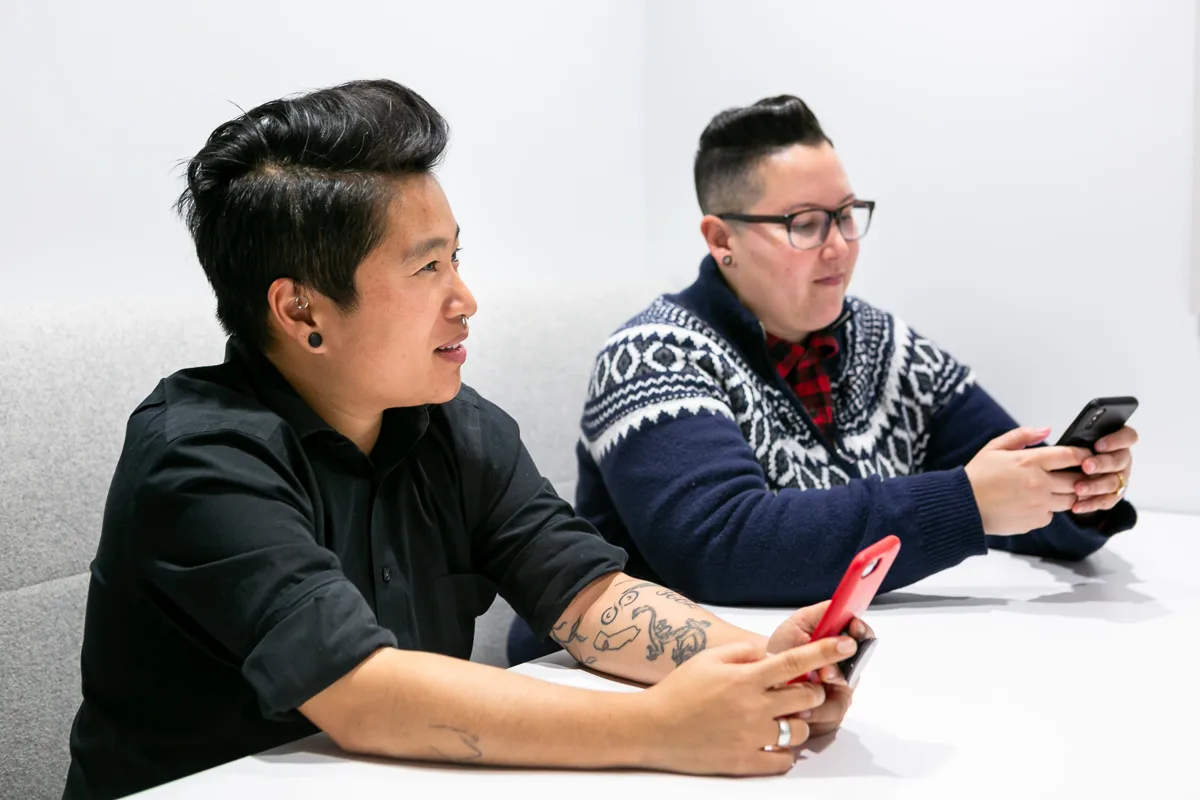 For short haircuts, texture pastes work great for styling. Pastes help keep problem flyaways in shape with the rest of your hair without making a crunchy hair texture.
After cutting my hair short, I regularly use Axe's flexible hair pastes. It's some of the cheapest stuff on the market and still works great!
Pixie Cut
The pixie cut is a classic short haircut for women. This versatile cut works well with all hair textures, straight to coily. So naturally, the pixie cut works for plenty of lesbians.
I love that a pixie cut works for femme lesbians but can still match with a butch aesthetic.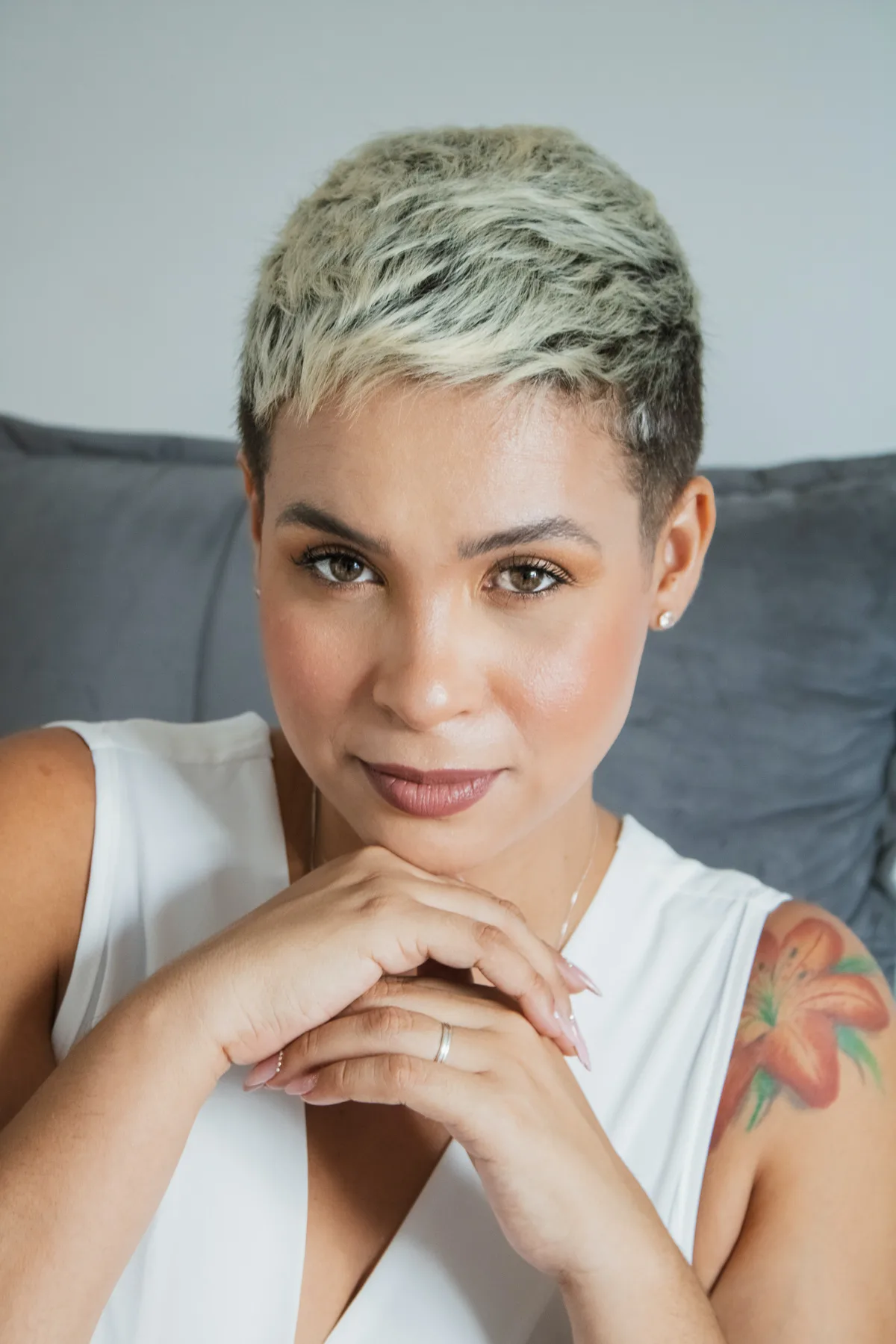 The short pixie cut is an excellent androgynous lesbian haircut, ready to fit in with the rest of a person's gender expression.
Some pixie cut spinoffs have been a big 2022 and 2023 trend that I discuss later in the article.
Shaved Sides with Overswept Bangs
This version of the pixie cut combines long bangs and a type of undercut to create an edgy look that works for many lesbian styles.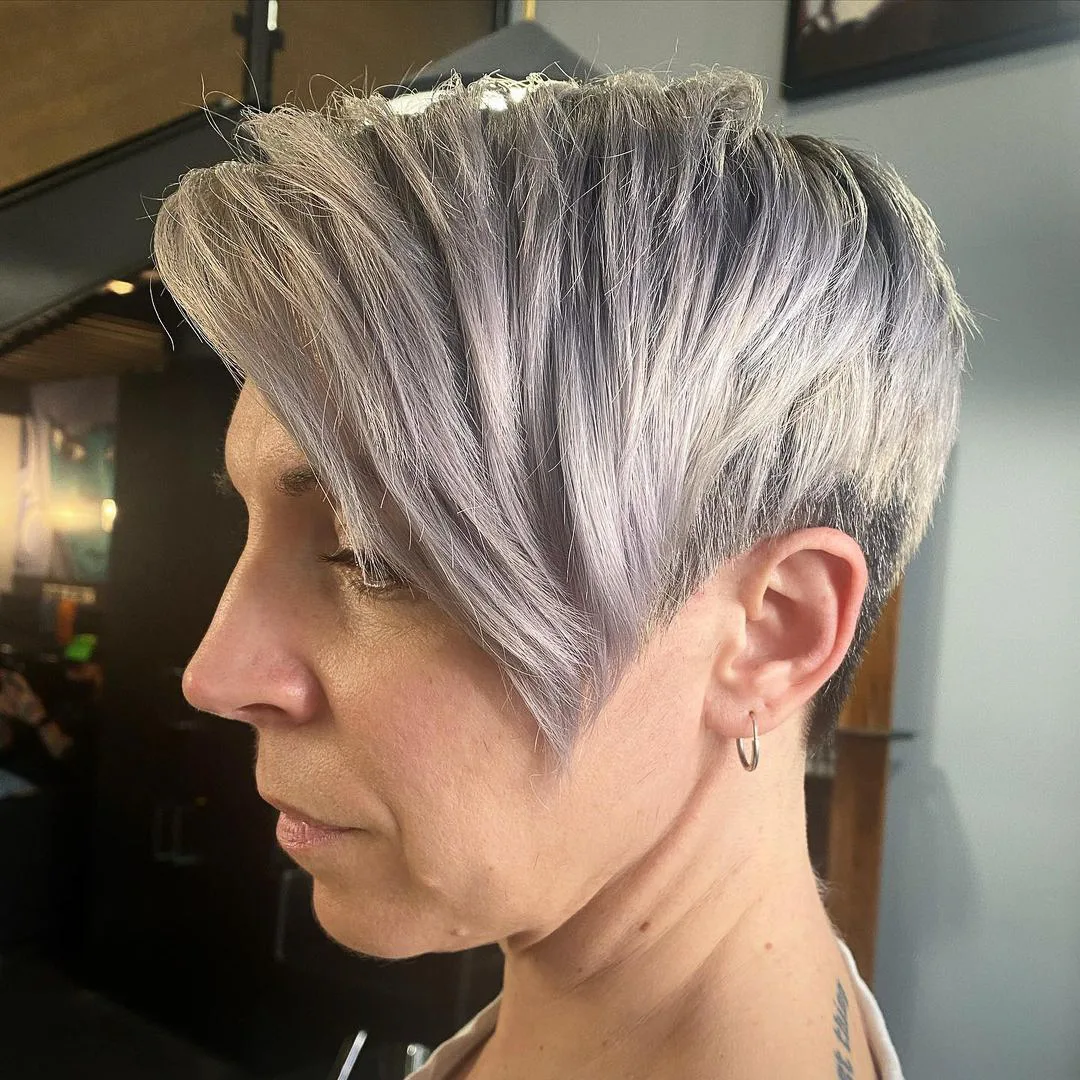 This is, in fact, the only lesbian hairstyle that makes me consider straightening my hair. I have this haircut with 3a curls, and seeing someone rock the straight, overswept bangs makes me think I can too.
Buzzcut
We can't talk about lesbian hair without mentioning the buzz cut.
This lesbian haircut might be more associated with masculine looks, but have you ever seen a buzzcut paired with epic eye makeup? A red lip? A cocktail dress?
The buzzcut may be one of the staple dyke haircuts, but it's much more than that. It's a statement, bold and powerful.
I've never pulled off the buzzcut before. But if I keep talking about it, I might have to get my hair trimmer.
Identity expression has a lot to do with hair, and the buzzcut is a big deal when it comes to that. Plus, the buzzcut is low maintenance. And, of course, the buzzcut is a stud staple.
Is it getting long? Buzz it yourself.
Lesbian Mid-Length Haircuts
Of course, not every lesbian has short or long hair. Like the masc to femme spectrum, we have lesbian hair length in the mid-range.
Here are a few lesbian haircuts and styles for lesbians with mid-length hair.
The Bi Bob
Of course, a classy bob works on more than just bi people. There was a simpler time back when I was in college when any bob haircut was "the bi haircut."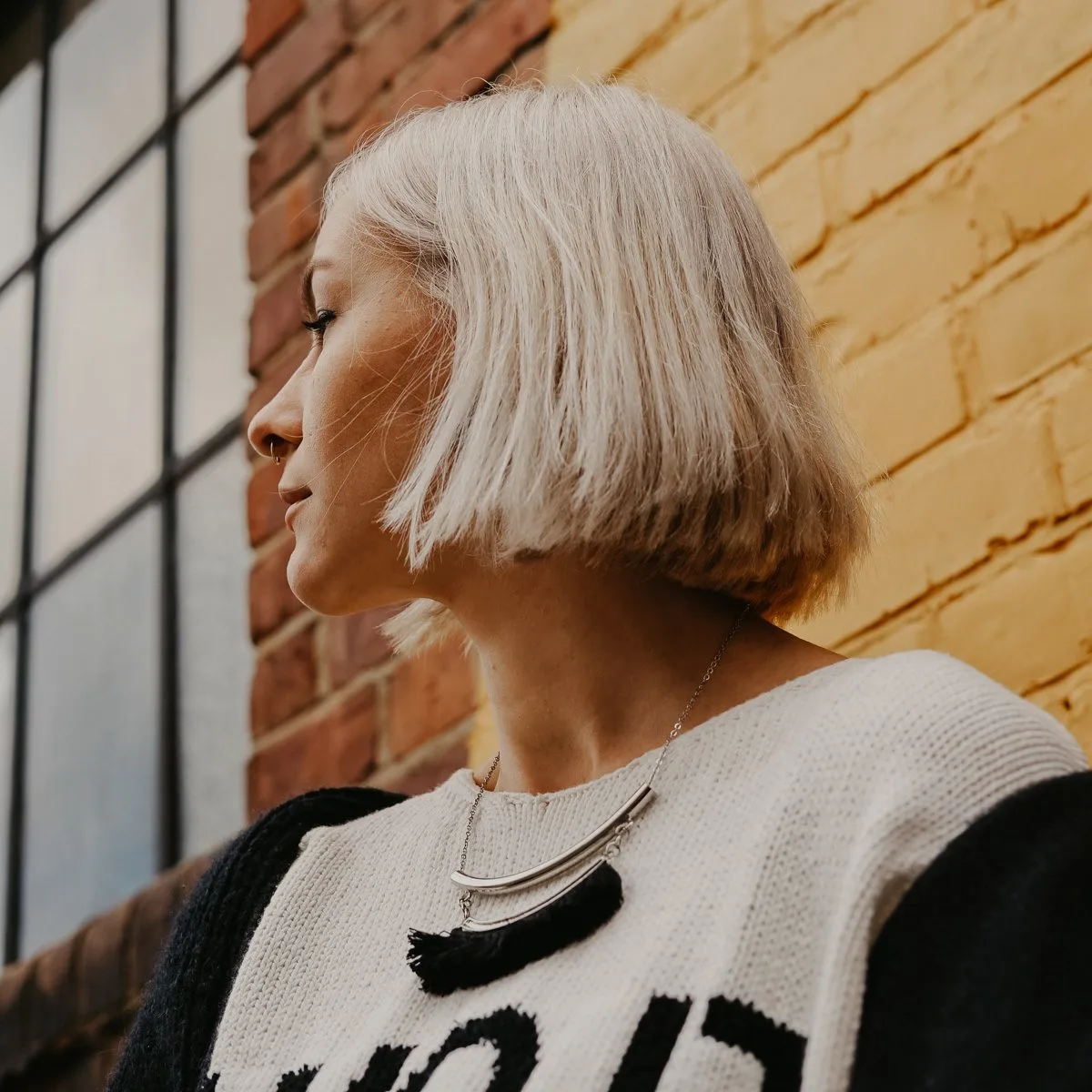 Think about it. Korra, Clarke Griffin, Halsey, the girl from that lesbian video game, my best friend in college.
The bob works for straight hair and hair with some texture. And the bob variations (layers, lob, bangs, you name it) can create looks that match any sapphic personality.
I'm a non-binary lesbian. Just remember, the bi bob isn't just for bi people! I did get a bi-bob myself during the 2020 lockdowns.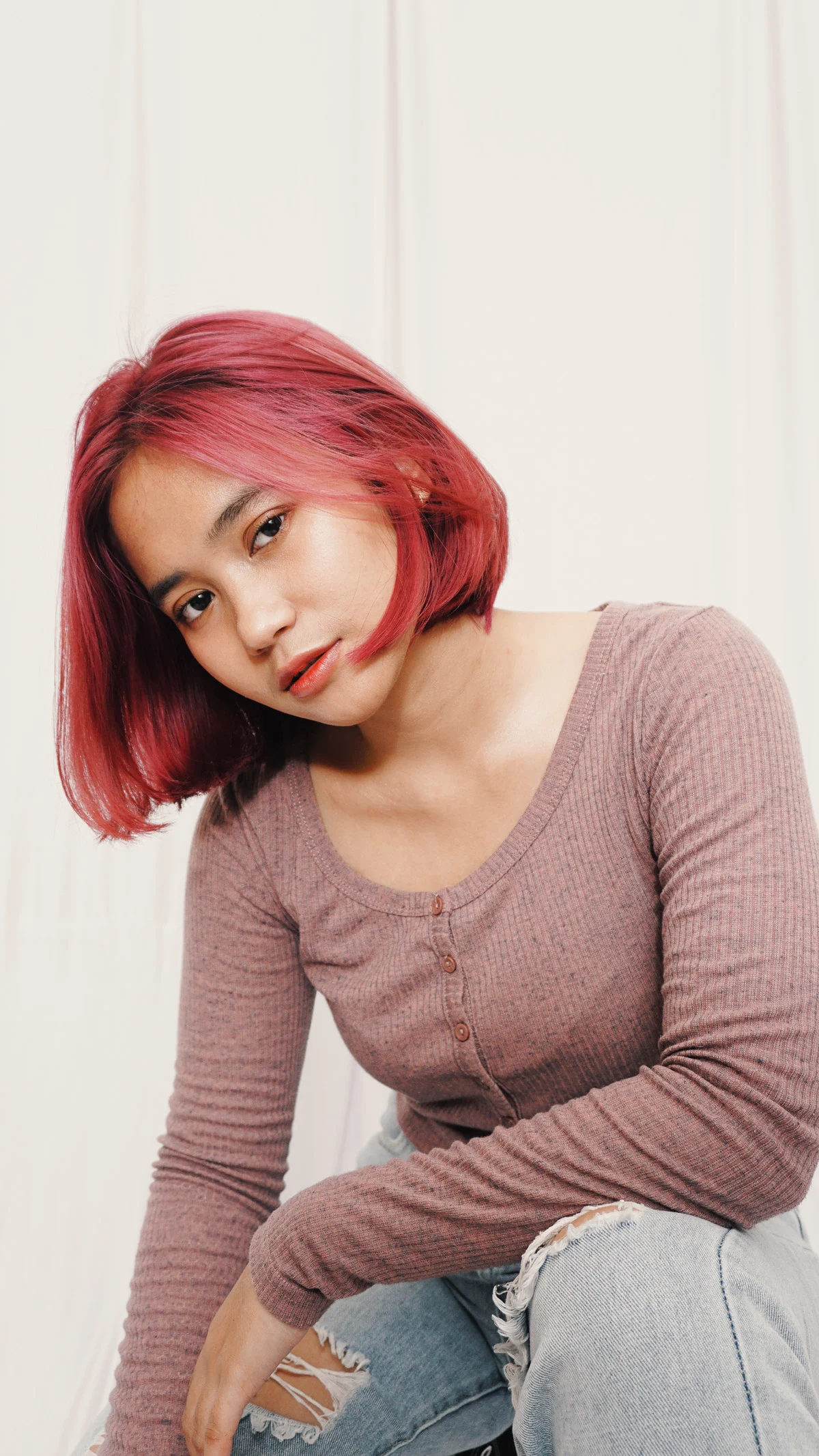 Bobs are the trend of 2022, and there are many fun variations. TikTok has been bringing trendy bob spinoffs, like the boy bob and french bob, to the forefront of 2022.
Be sure to catch all the 2022 and 2023 hair trends at the end of the article.
Shag Cut
This laid-back dyke haircut made it to popular lesbian culture from the lesbian show The L Word's Shane McCutcheon. Shane's shag works with shorter hair, but a good shag cut can work with many lengths.
The shag cut is a perfect haircut for lesbians because it's cool. And all lesbians have that cool factor. And it doesn't always need to suit a butch expression, either.
Long Hair Lesbian Haircuts and Hairstyles
Did you know that lesbians with long hair are, in fact, still lesbians? I had long hair for years, rocking its length down to my waist.
This list of lesbian haircuts and styles works perfectly for long-haired lesbians.
The Mullet
The mullet is back and better than ever! I'll admit, I never quite understood the mullet craze on white men in cowboy boots. I had an open distaste for it.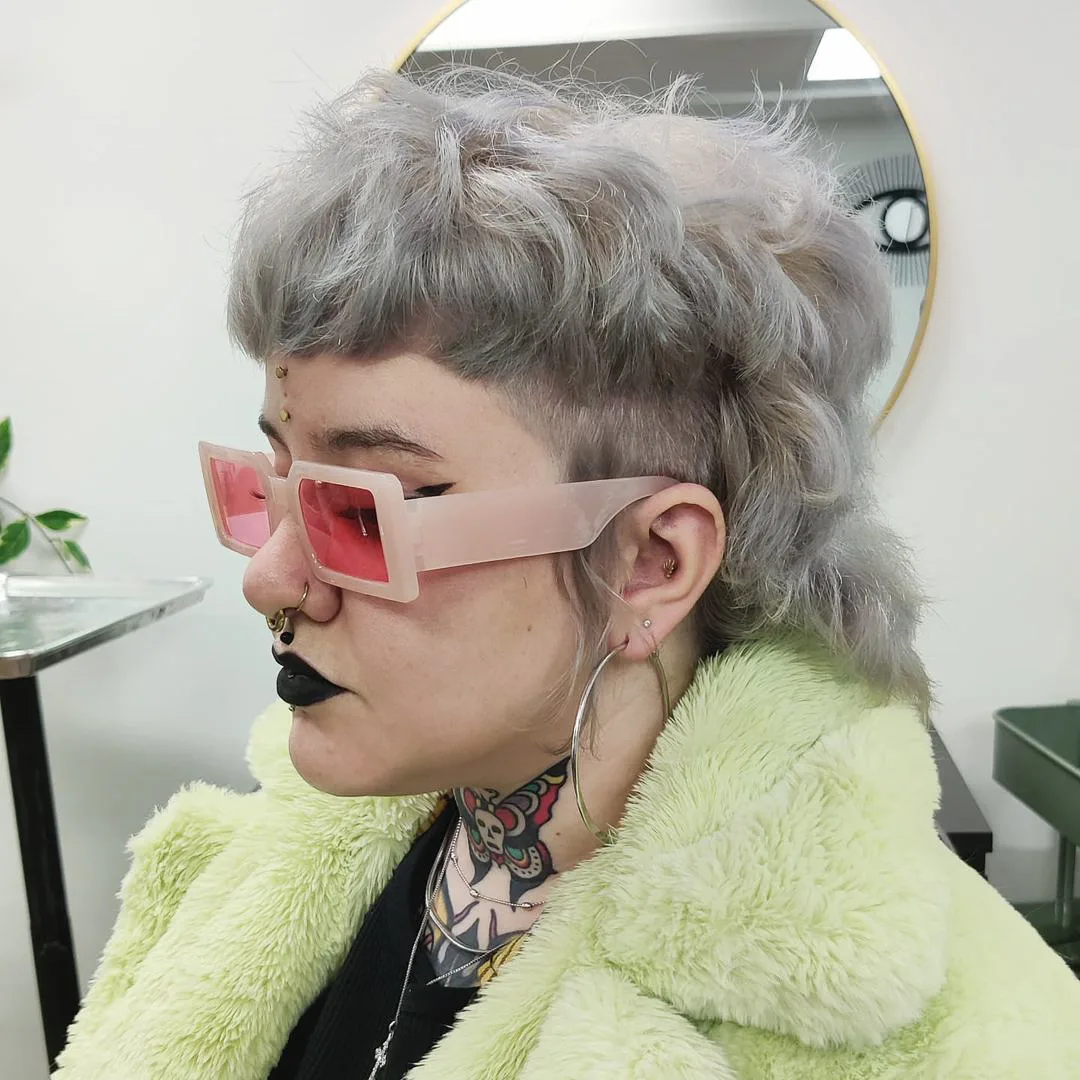 That was until I saw a woman covered in tattoos and paint splotches on her overalls, wearing a mullet cut. Then, I knew the mullet should exclusively be a queer and lesbian haircut.
If you like the mullet look, check out the wolf cut trend of 2022 and 2023 at the end of the article.
Long Hair in a Hat or Bun
It's no secret that long hair can be annoying to maintain. Or at least it takes more time.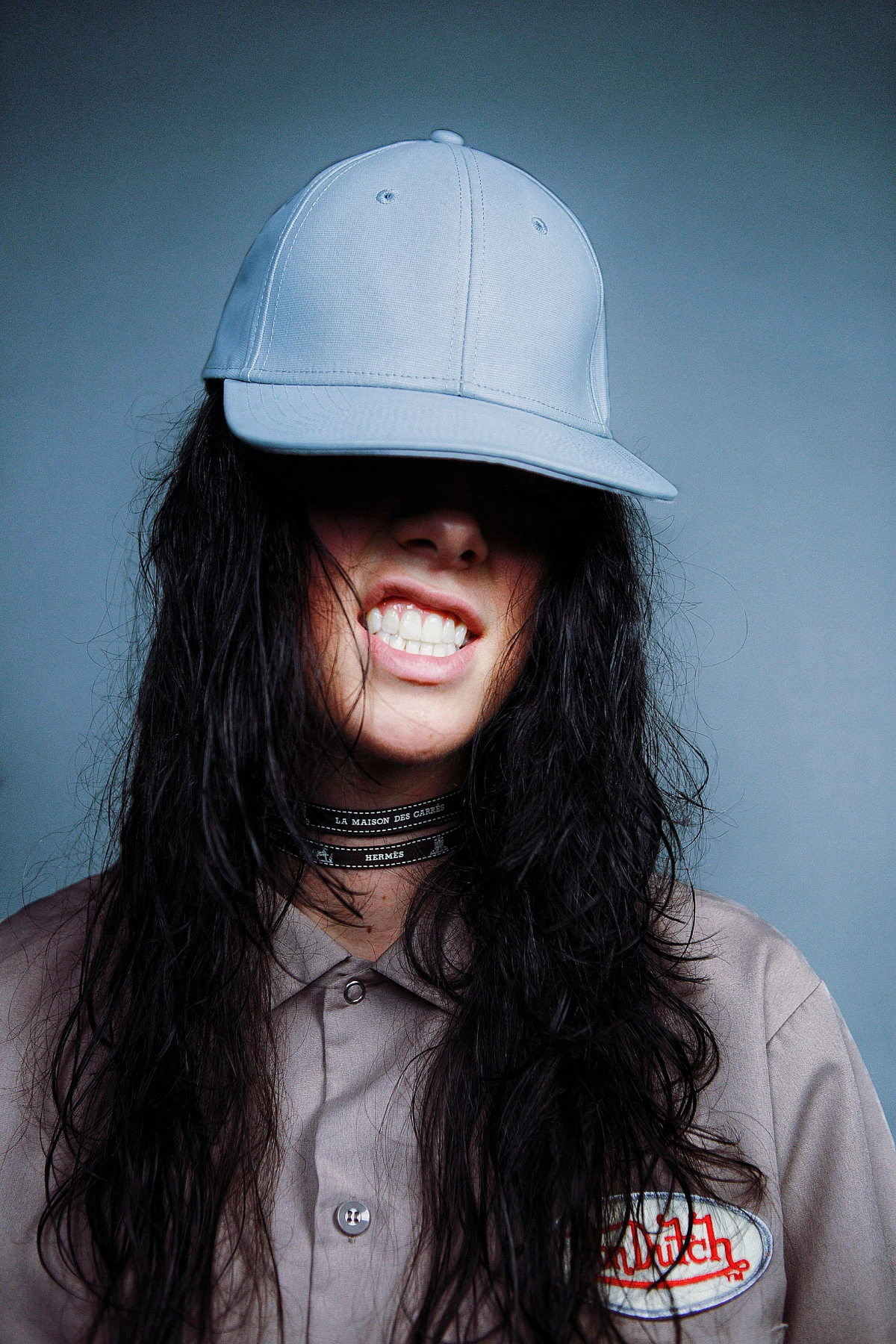 That's why some days (or most days), putting the long locks in a baseball cap, a beanie, or a top knot (bun) is the way to go.
It's an excellent look for lesbians, effortless and trendy. Plus, a bun can reveal a rocking undercut.
Locs or Braids
Locs or braids are great options for longer Afro-textured hair. Though locs work with shorter lengths, braids usually require long hair. But both look fabulous.
Both styles allow for lower maintenance (until braids need to be redone or locs need retwisting). Contrary to braids, locs allow more versatility.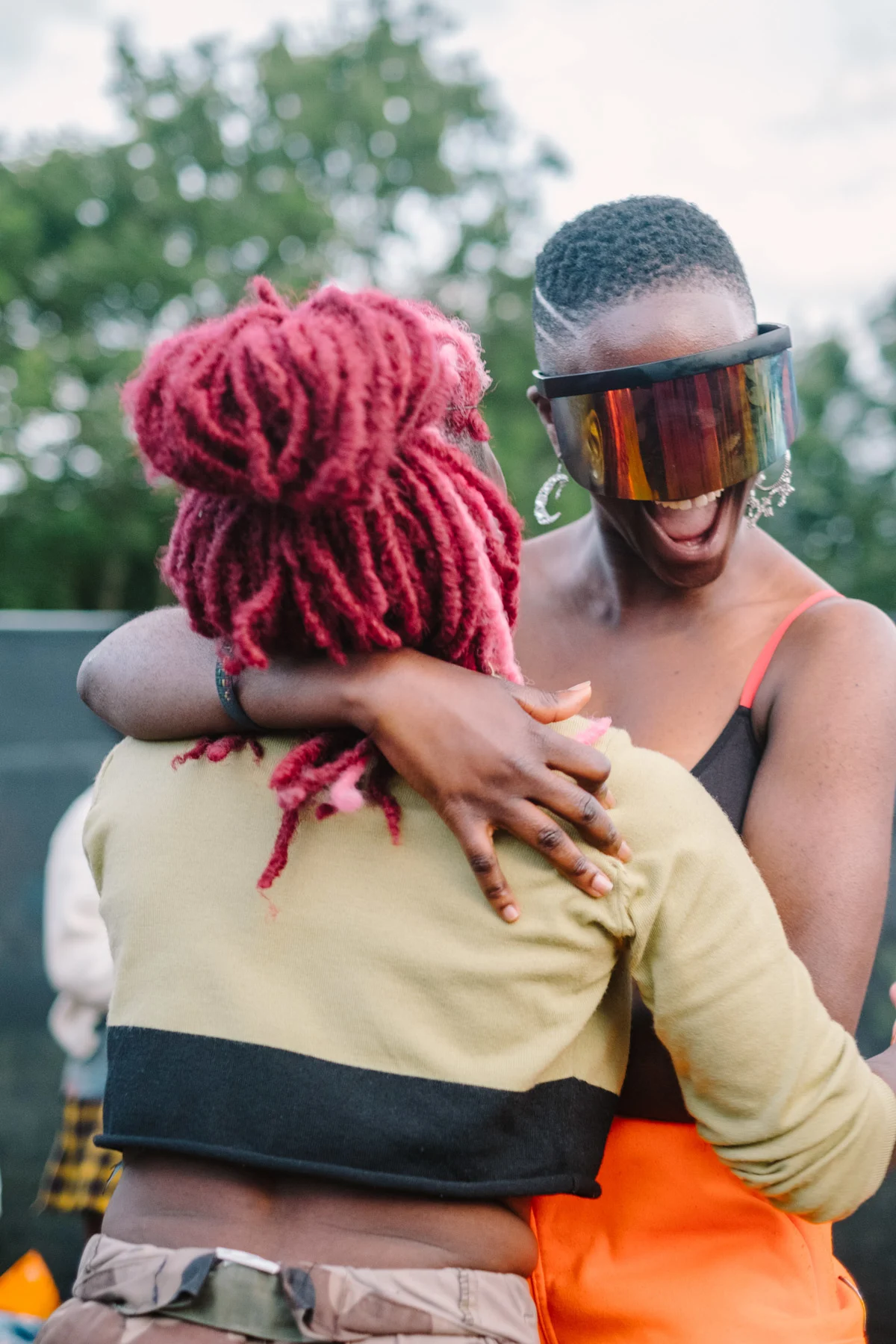 Locs can hold all-new styles (buns, ponytails, even braids!). The braid bonus is that you can rock a braid-out look after the fact.
Find queer barbers and queer hairstylists on the map of Everywhere is Queer!
Femme Lesbian Haircuts
Femme lesbians, make some noise! Though my queer journey started in femme lesbian territory, I've never described myself as one.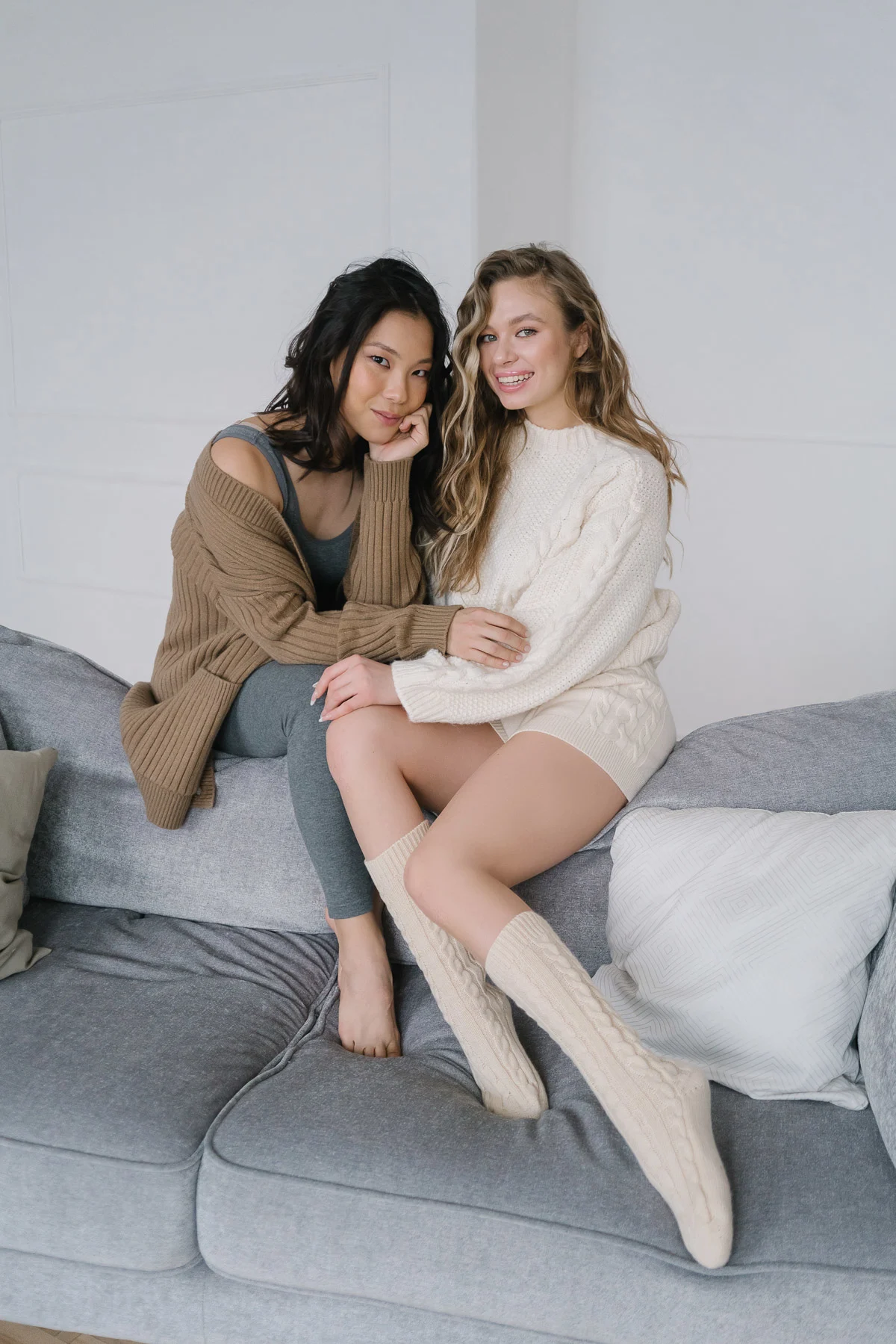 Nonetheless, I've rocked some queer femme haircuts and hairstyles back in the day. And just about all my lesbian friends are femme (with notably great haircuts).
Long Layers
Layers are great for volume and texture and work with lots of haircuts. But there's something about long layers on gay girls with long hair.
It's versatile and works with many hair types, straight, fine, or coarser hair with wavy and curly textures.
For several years, long hair with long layers was my staple lesbian haircut; the best part of long hair is little upkeep. In college, I went an entire calendar year without a haircut.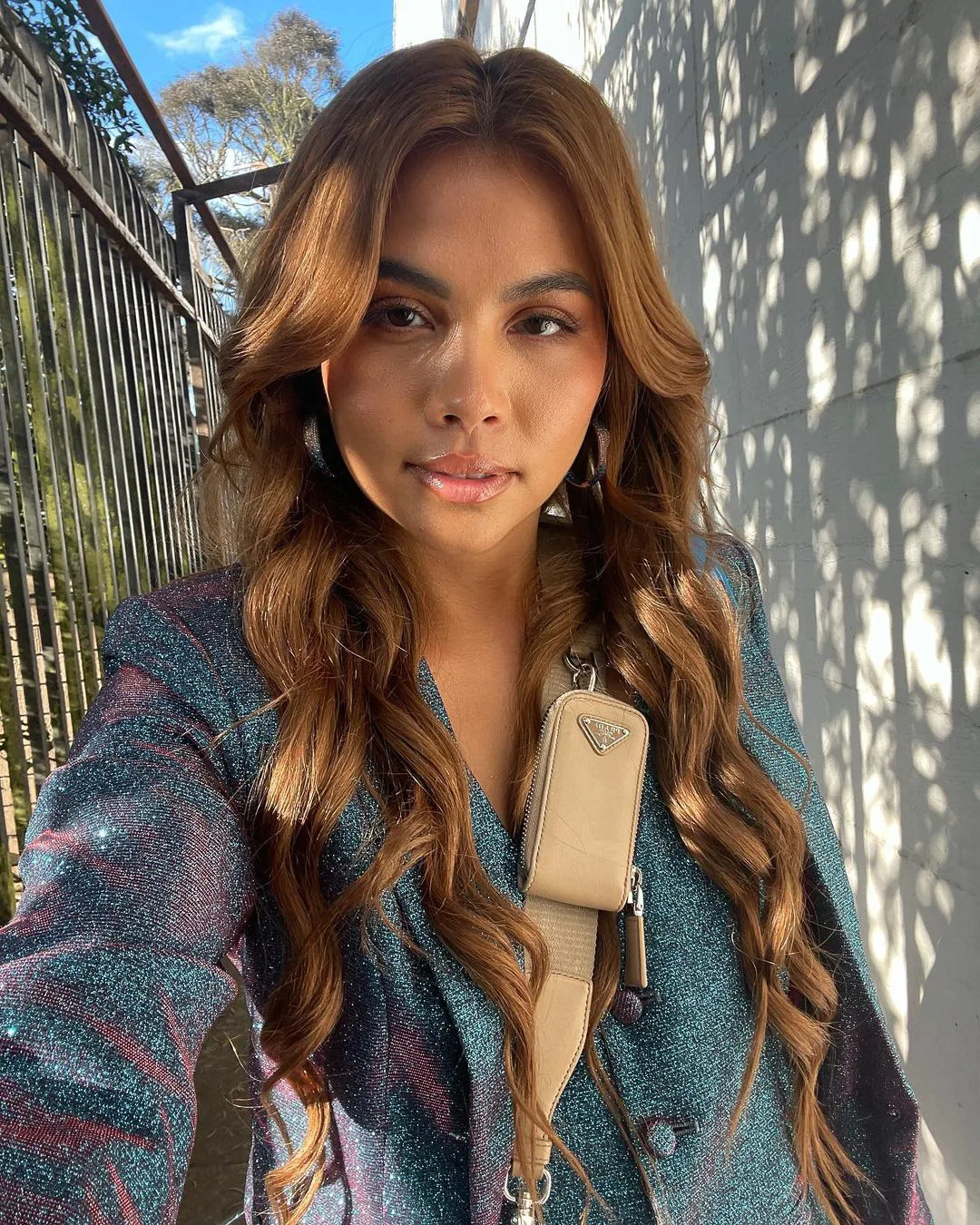 A lesbian haircut with long layers has the potential for beachy waves and natural looks. And if your hair is thick and dense, using layers can lighten your hair.
When I added long layers to my haircut, it gave my hair untapped volume and texture.
90s trends are on their way back in, and 90s layers are part of it. Styled 90s layers have a bouncy potential. But left to wash and go, they still have a soft and fun look.
Loose Waves
A lesbian with loose waves has a very trendy and feminine vibe. Loose waves bring fun and vibrant energy to any haircut while keeping the look classy.
Look no further than lesbian comedian Kate McKinnon, who is funny and classy.
Bangs
Okay, I know "bangs" can go in many directions, but hear me out. Lesbians can do them all.
Curtain bangs have a more feminine appeal, but side bangs and straight, blunt bangs can also bring a little razzle-dazzle to any femme lesbian haircut.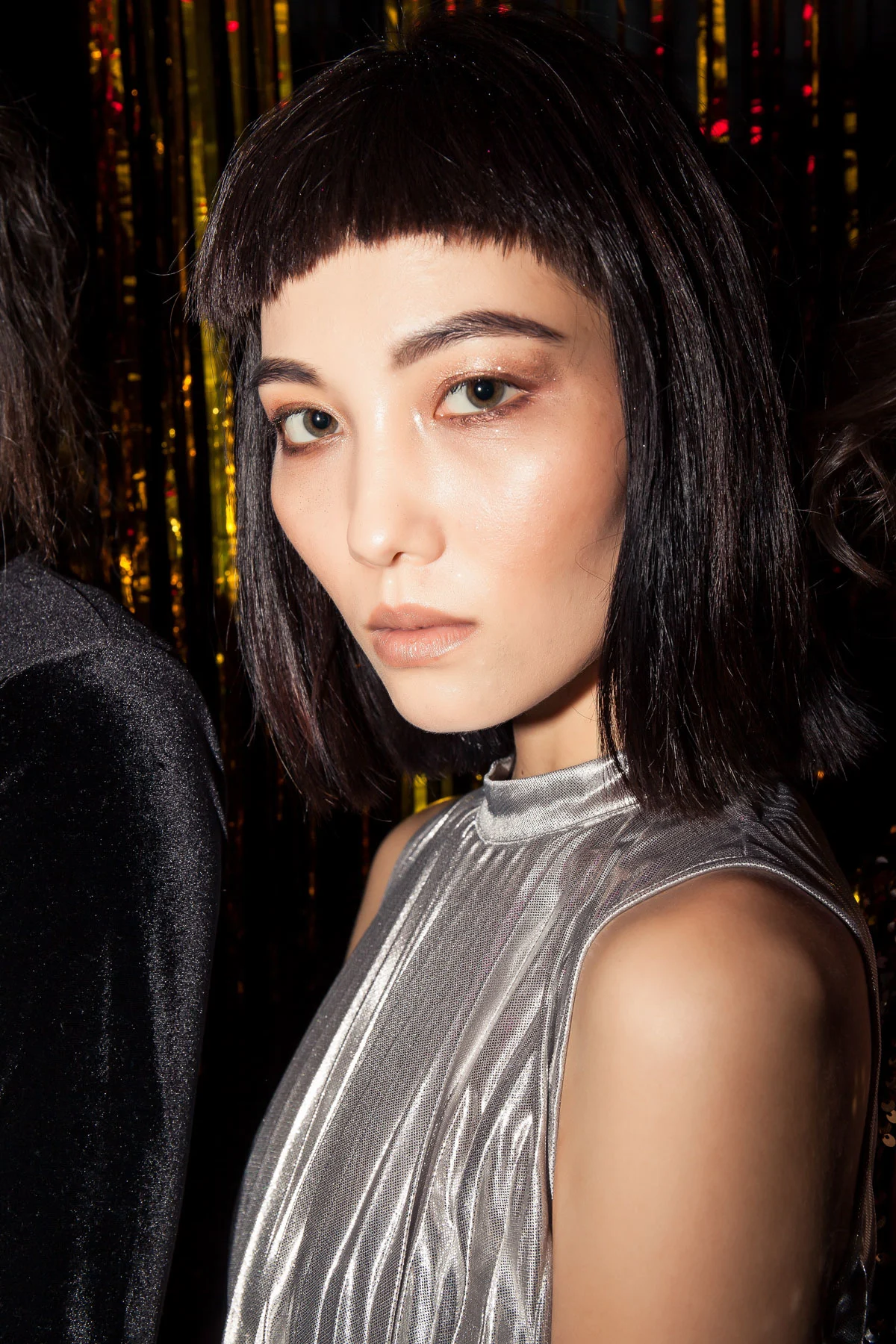 Short, blunt bangs have become increasingly common in sapphic circles. My sapphic pals have paired short bangs with bob haircuts in the past few years. (And they looked fabulous).
K1nky bangs have also been rising in popularity. With the uptrend natural texture for curly and coily hair, k1nky bangs have joined in the trends.
Butch Lesbian Haircuts
Of course, butch lesbian haircuts are the craze. This list of lesbian haircuts elevates the look of butch lesbians with fun, androgyny, and personal style.
Fade & Taper
The fade haircut is perfect for lesbians because it takes the undercut with short hair and makes it classy. Instead of a blunt cut, this lesbian haircut "fades" the top of the hair into the undercut smoothly.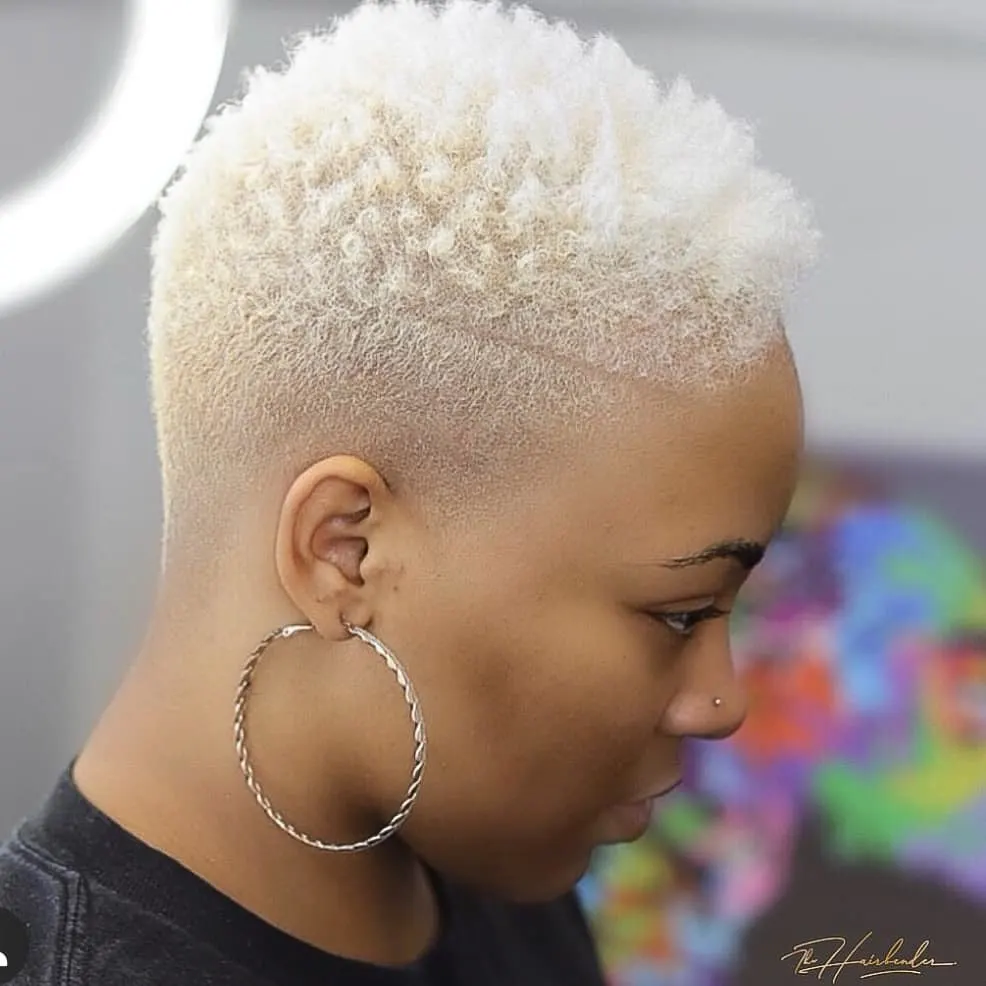 The fade's cousin is the taper cut, an even smoother, less dramatic fade. These cuts can look great on most hair types but work extra well with Afro-textured hair.
Pompadour
Legend says this popular haircut became mainstream by none other than Elvis Presley. It's no surprise that butch lesbians would look great with the haircut of a king.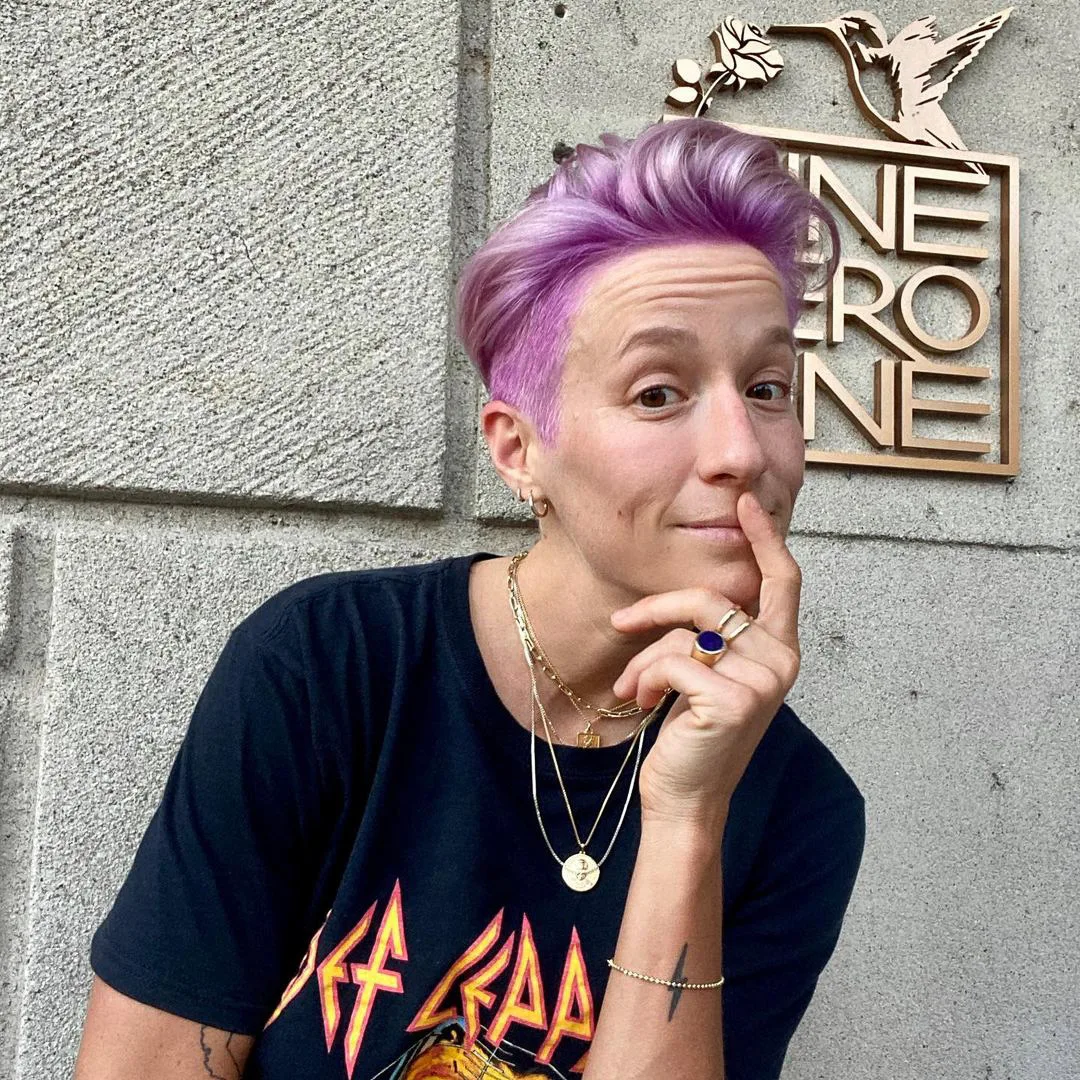 The pompadour is all about vertical volume. The cut keeps the sides short and the top long.
Read everything about lesbian fashion!
Quiff
The quiff is related to the pompadour. Both cuts require longer hair length on top and shorter cuts around the sides.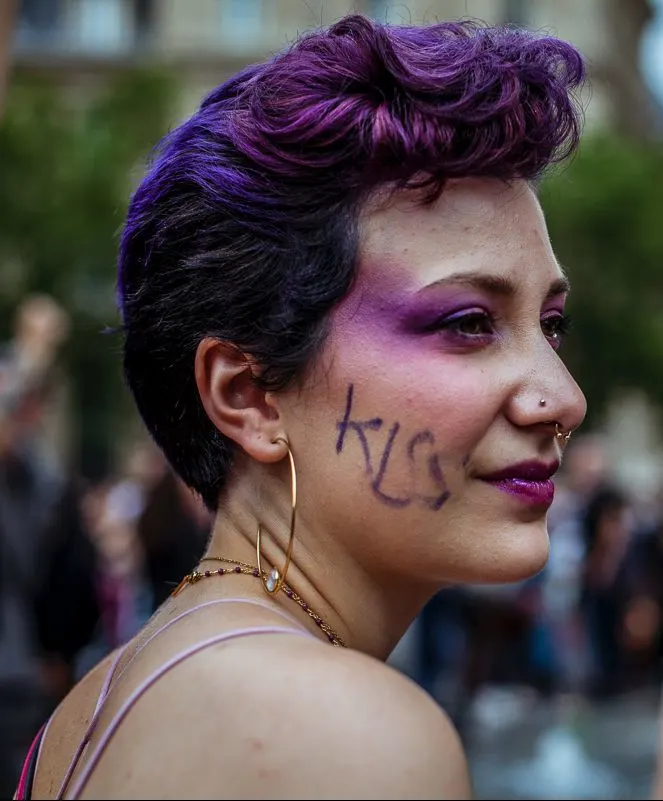 The difference is mainly in the styling. The top hair gets vertical volume with the quiff by combing forward and adding strategic messiness to the hair.
The pompadour gets volume by combing back and has a cleaner, straighter look. Most importantly, both lesbian hairstyles add a few inches of height for the short kings.
Crew Cut
Like the pompadour and quiff, the crew cut is another masc classic.
While the hair on top of this lesbian haircut is shorter than the sides, the top hair is shorter than with quiffs or pompadours.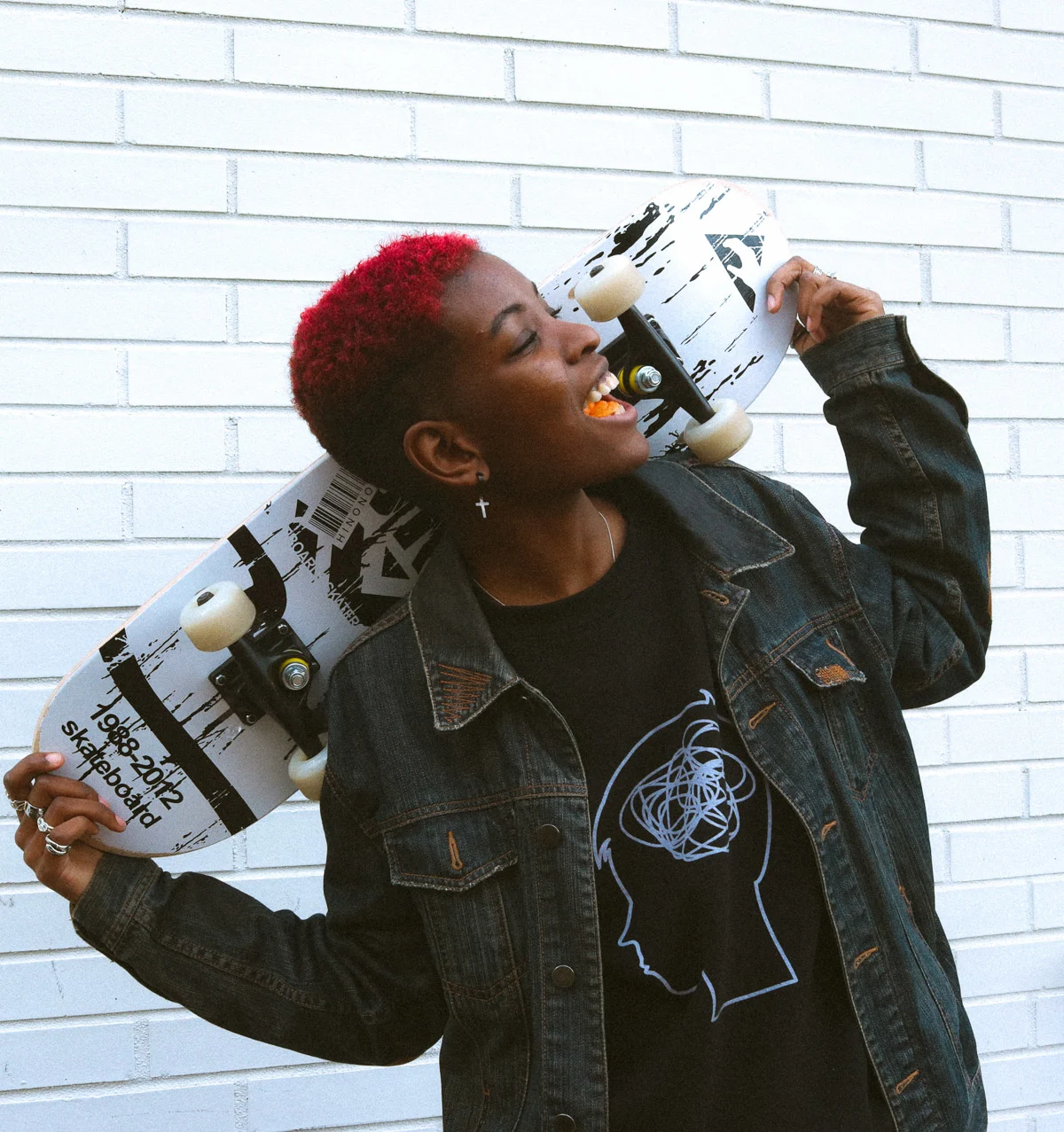 This cut works with all hair types and requires very little maintenance. Perfect for busy lesbians or those who just can't be bothered. It's a wash-and-go cut.
Faux Hawk
As you probably guessed, this lesbian hairstyle comes from the famous mohawk. The faux hawk, however, is much less dramatic. And, in my opinion, much more trendy.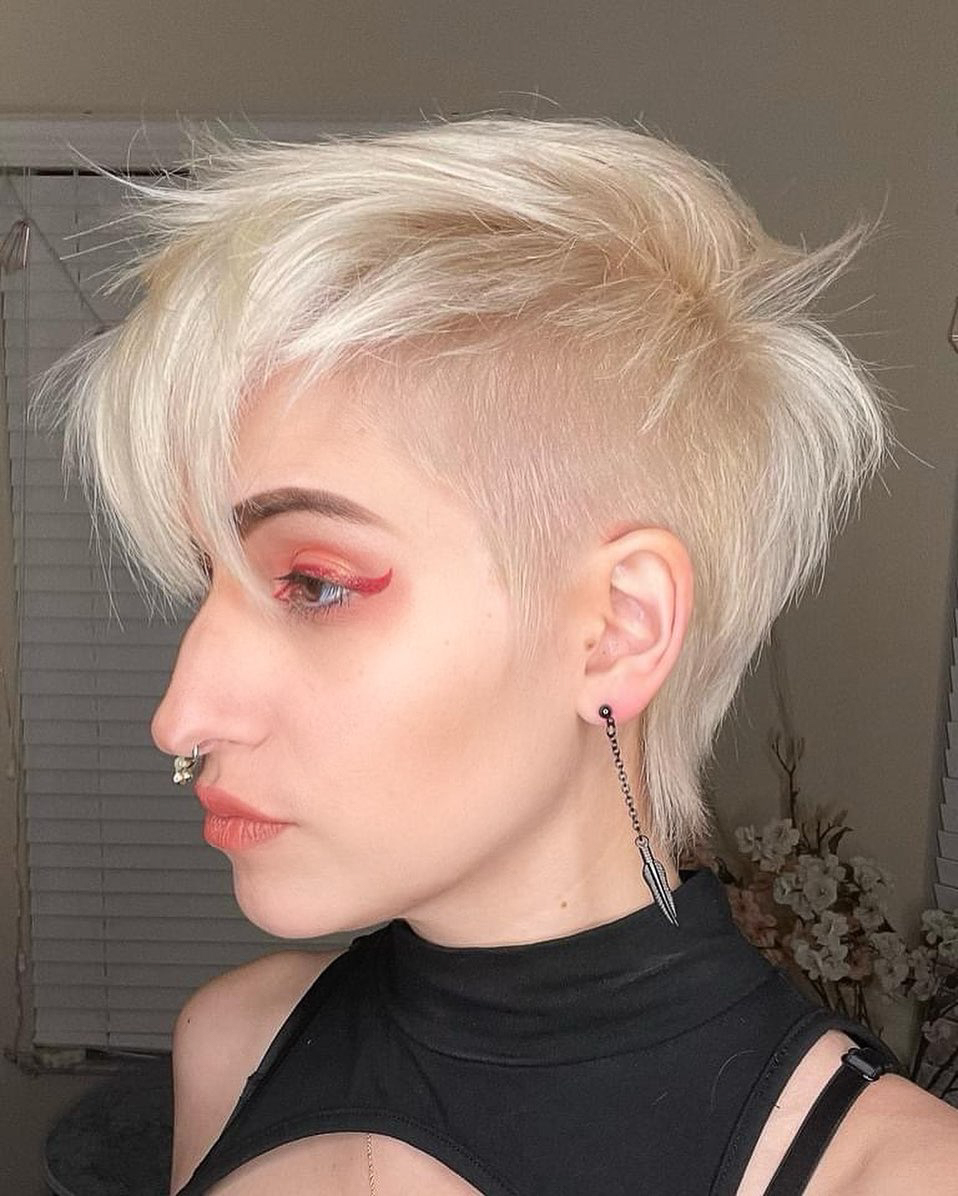 This short lesbian hairstyle takes a similar cut to the quiff and pompadour (longer hair on top) and styles it into an expression of playful youthfulness.
Side Part
This cut works well for lesbians with thick hair. As the name implies, this short lesbian hairstyle takes a side part and comb over both sections to the side. (Ruby Rose comes to mind as an example!)
Although simple, the side part creates a very classy and clean look. Good enough for the red carpet.
Read the best queer & lesbian quotes to live, laugh, lesbian!
Lesbian Hair Color
Hair dye. Many, many lesbians are familiar with hair dye. Whether it's their first temporary dye job in the backyard with Koolaid packets or a fresh root retouch at the salon, lesbians are hip with hair dye.
I'm a ginger, and I happen to love it. But every other sapphic person I know dyes their hair very regularly. I've only once dip-dyed my hair in my entire 27 years of life.
My best friend has dyed her hair red with blonde streaks for three years. My girlfriend switched her hair from bubblegum pink to emerald green to Sonic the Hedgehog blue to platinum blonde and back again.
So what is it with lesbians and their hair dye? It might work like short haircuts; it's a way of reinventing oneself and goes against expectations. Most of the time, it works as a signal to other sapphics.
Dyeing hair in unnatural colors is trending more among queer teenagers and young adults. If we read hair dye similarly to short haircuts, the teenage years for hair dye make sense.
In some ways, society accepts girls dyeing their hair more than cutting it short and defying gender norms.
It's less likely to out them to people they aren't ready to share with (like parents and classmates) while also giving them some control to express their newfound identities.
Even if you aren't young, experimenting with hair dye is fun to express yourself. I tried hair dye for the first time when I was 25, and I loved it!
It's something my girlfriend loves doing again and again and again. Like gay girl haircuts and hairstyles, hair dye is another tool for lesbian self-expression.
Latest Trends: Lesbian Haircuts 2022 and 2023
This article has covered the timeless classics, but we can't finish without reviewing the latest trends. This list of lesbian haircuts is among the freshest and most popular trends emerging in 2022 and 2023.
Octopus Haircut
This trendy cut is perfect for mid-length hair. Parts of Asia have seen this haircut's rise in popularity for years. Now, this popularity is reaching the West.
The octopus haircut is a cross between a shag and Rachel's haircut in Friends. It depends a lot on short top layers and thinner, longer layers.
This trendy lesbian haircut maintains a lot of texture up top and length below. It works best for straight or wavy hair and does require styling time.
Mixie
This edgy lesbian haircut comes from two popular gay haircuts we have already covered. A mullet meets a pixie⁠—Mixie!
The mixie is longer in the back and shorter in the front, like a mullet. The front of the cut resembles a pixie cut. Viola! The two iconic cuts collide.
Bixie
This trendy cut combo takes another two classic looks and morphs them into one. We have a cross between a bob and a pixie with the bixie.
This cut relies heavily on layers to create texture. The length ends somewhere between a bob and a pixie. Think Princess Diana. She may not have been a lesbian, but lesbians are all about her style.
"Boy" Bob
The bob is an iconic haircut and has many variations. One of which is the "boy" bob. This 2022 and 2023 trend haircut focuses on persevering the natural texture. This cut is a bob cut that prioritizes natural waves and curls.
It's not rigid like the classic bob. It's intended to be low maintenance; no need for straightening or curling. So this is a perfect cut for lesbians with natural texture and little time for everyday styling.
French Bob
Another spin on the bob cut, the French bob offers something a little chicer. This latest lesbian haircut trend ends around the cheekbone.
Higher than the chin, lower than the ears. It's best suited for straight hair but can work for textured hair with the right stylist. Pair the French bob with blunt bangs, for example.
Wolf Cut
This fun sapphic trend is called the "shullet" or "smullet." It blends a 70s shag with an 80s mullet. If you're on TikTok, you might've caught wind of this trend. It's all over TikTok.
This cool cut focuses on choppy layers, with shorter layers near the top of the head to create extra texture. The length of the wolf cut ends right at or above the shoulder.
Natural Hair and Texture
Haven't you heard? Natural hair and texture are IN! With natural curly and coily textures, hydration and protein are vital ingredients in regular haircare routines.
For lesbians who prefer lower maintenance, choosing a natural texture might be easier.
For a while, I followed what I like to call the "Curly Queer Method." Which is just the Curly Girl Method, but for queer people.
It prioritizes minimizing frizz, maintaining moisture and protein, and preserving natural curl patterns.
When it comes to curly haircuts, volume on top usually works best. Many butch lesbian haircuts focusing on top-length short sides work well for studs and their natural curls.
Even so, longer natural texture is gaining popularity too. The most important thing here is finding a stylist who knows what they're doing with your hair texture.
90s Comeback
Lesbians can't get enough! As you might have noticed, 90s hair trends are back in. Along with the bobs, pixies, and bangs, some 90s classics have returned to lesbian mainstream.
The bowl cut is a sapphic favorite. It turns bangs into the whole cut all the way around. Short & messy cuts are also back in⁠—a way to make the bedhead look stylish.
Femme lesbians also bring back some fun 90s hair accessories like scrunchies and butterfly clips.
Lesbian Body Hair
Body hair is an underrated part of lesbian hair trends. The media conditions women to be hairless all over the body. But a particular insight occurs for women who have embraced their queer identities.
Much like the lesbian gravitation towards short hair, many lesbians may choose to embrace body hair. It's a mark against the norms like our identities are in a cisgender, heteronormative society.
Natural leg hair, underarm hair, and pubic hair can be a way to give the patriarchy the finger.
Lots of lesbians and sapphic people are gender non-conforming or gender expansive. And body hair can be integral to that experience. Plus, natural body hair is a big part of gender expression.
After I came out as non-binary, I finally felt free to embrace my body hair. I'd always been very hairy compared to my peers.
And after embracing my gender non-conformity, I loved my body hair. It became a very natural part of my identity and gender expression.
Which lesbian haircuts and lesbian hairstyles have you tried in the past? Which ones are you considering testing out in the future? Let us know in the comments!
Want to chat with us? Find us on Instagram, Facebook, YouTube, TikTok, or comment below!
And make sure to share these lesbian haircuts and lesbian hairstyles with all your friends.
MORE TO READ:
MORE TO READ:
PIN THIS ARTICLE