Traveling seems like the ultimate dream! The world has many beautiful places to explore, but traveling the world as an LGBT traveler isn't as easy as packing your bags and going.
We have traveled to countries with anti-gay laws and refuse to boycott countries for that reason. We believe traveling the world is for everyone! However, it's important to do it safely.
A few important questions to remember before traveling to a (new) destination: what are LGBT rights? Where are the LGBT+ safe spaces? What's public opinion?
In this blog post, we answer all those questions about the Netherlands. How LGBT-friendly is the Netherlands?
LGBT Rights in The Netherlands
You must think: the country with a capital famous for its red-light district surely has progressive LGBT rights because LGBT rights are human rights.
And, yes, according to many sources, The Netherlands is one of the most LGBT-friendly destinations in the world (ranking #14 on the Spartacus Gay Index 2021).
Therefore it isn't weird that LGBT rights in the Netherlands have been some of the most progressive in the world.
The Netherlands is home to the world's oldest existing LGBT organization: COC Nederland, which has been fighting for LGBTI rights nationally and internationally since 1946.
Being gay has been legal since 1811, and in 2001 the Netherlands became the first country in the world to legalize marriage for all couples, regardless of gender. How amazing is that! Over 30 countries followed, and we hope more and more will follow.
Registered partnerships between all couples have been allowed since 1998. And all couples may adopt together.
There have been anti-discrimination laws in the Netherlands since 1994 that ban discrimination on the ground of orientation.
Since 1985, transgender people can legally change their gender when undergoing surgery and hormone therapy, and since 2014 without surgery and hormone therapy.
In 2018, the Dutch court ruled to recognize another gender, adding a neutral option to the 'male' and 'female' gender identity.
On the government's official website, you can read more about the Netherlands' equality policy plan and LGBT facts following the European Union's Institute for Gender Equality (EIGE).
The Netherlands has been a leader in equal rights, but we should keep working on them!
The Netherlands has over 30 cities with a rainbow crossing
Social Acceptance
The Netherlands is highly diverse and culturally liberal. Dutch people are very tolerant, especially in big cities. In surveys, more than 95% of Dutch people consistently approve of relationships regardless of gender.
The world-famous Amsterdam Pride at the end of July and beginning of August is one of the most significant events in the Netherlands. The famous canal parade draws as many straight cisgender- as LGBT people: it's a party for everyone, celebrating diversity.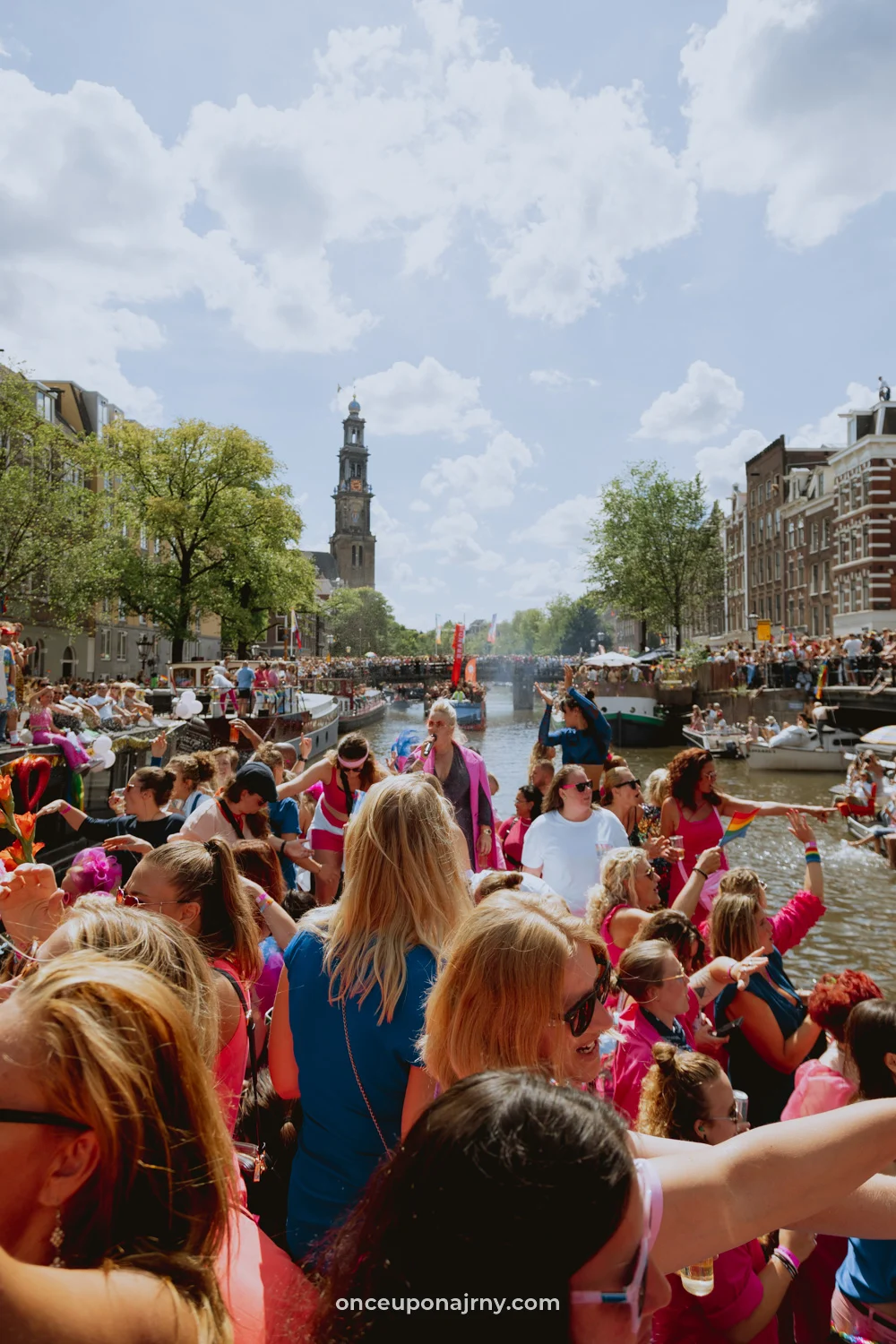 During Amsterdam Pride, there's also always a Pride Walk, a traditional Pride protest march through the city.
Read our queer and lesbian Amsterdam guide with all the things to do, bars, clubs, events + more in Amsterdam!
Unfortunately, small towns can be less tolerant of LGBT people. LGBT people still experience much more violence than straight, cisgender people, which is sadly the reality in many places worldwide.
10% of Dutch people voice hostility towards transgender people. We believe change is coming as the younger generation is more accepting of LGBT people.
And strangely, homo (Dutch for gay) is a curse word often used by Dutchies.
Our Experience
We have always felt very safe living and traveling in the Netherlands. Aside from wolf-whistling, nothing violent ever happened to us. We do hold hands in public and occasionally hug or kiss.
Our looks' help' in that sense, as it's easier for people to accept our relationship – we're both looking feminine and, I guess, 'hot' to some people. It also means that we often fly under the radar, and people don't always recognize us as a queer couple.
Yet, for Roxanne, coming out wasn't as easy as you would expect in the Netherlands. Being gay still isn't as 'normal' as being straight, especially not in Roxanne's small hometown…
We love living in Amsterdam (this is the city where our lesbian love story started!), as it feels like the norms have shifted. It feels like Amsterdam has moved past gaybourhoods – it's now a happy mix of everything.
We always feel comfortable living out and proud in Amsterdam. Every reaction (of colleagues, fellow students, or neighbors) to our relationship was positive.
A Gay Traveler's Experience
Of course, our experience as queer females doesn't represent the experience of other queer people in the community.
That is why we've asked gay traveler Ryan Thomas Woods to share his experience traveling to the Netherlands (with his boyfriend).
"Although I'm Canadian, my dad's side of the family is super Dutch, and my Grandma was born in the Netherlands before coming to Canada. My Dutch family was open about many things, including accepting whatever you wanted to be or whoever you wanted to be.
It has always been my impression of Dutch people, and when I finally went to The Netherlands with my boyfriend, I felt right at home with my family. Of course, just like in any country, you will have small-town people or small-minded people in big cities who do not understand you, but I felt the percentage of those people in The Netherlands is small.
As a gay couple visiting Amsterdam, we fell in love with the city. During our three-week stay, we got to experience the culture, cuisine, nightlife, and day-to-day life as a gay couple living in Amsterdam.
We held hands, kissed in public along the canals, and never felt afraid to be openly ourselves, gay and happy. The general feeling of being welcomed extends beyond Amsterdam to places we've been to, such as The Hague, Rotterdam, and even the Southern city of Maastricht.
My boyfriend and I have only had positive experiences as gay men in The Netherlands."
Want to get to know Ryan better? Follow him on Instagram!
LGBT Safe Spaces in The Netherlands
There are many unique places to visit in the Netherlands, with most LGBT spots in Amsterdam and Rotterdam. Those two cities are the largest in the Netherlands (looking at inhabitants) and have big gay scenes.
Other cities we love are Utrecht and Eindhoven.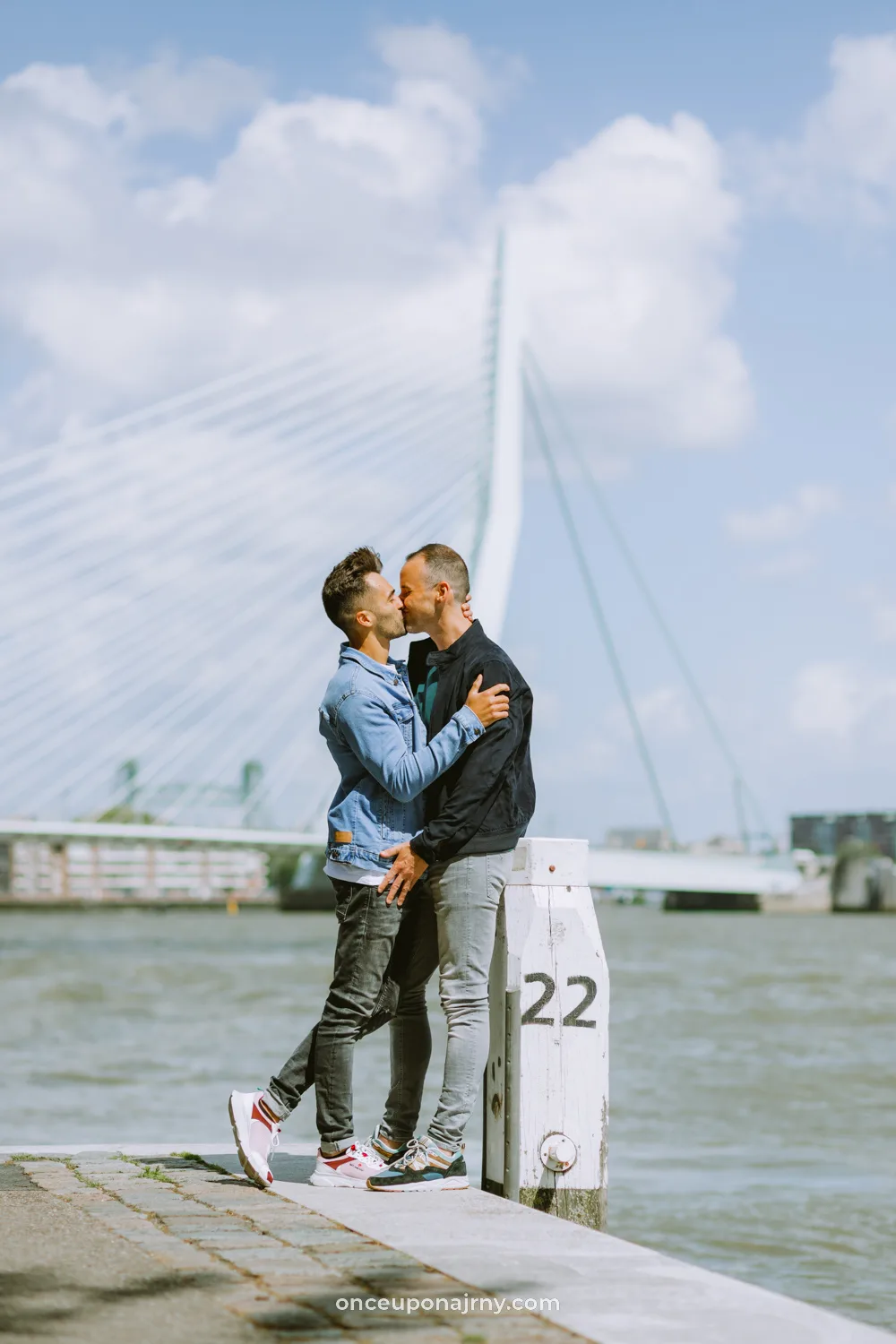 For LGBT people, Amsterdam is one of the most attractive cities to live in and visit. There is no place in the world you can find so many LGBT-friendly attractions per square meter as in Amsterdam.
Start your queer trip in the Netherlands at the Pink Point in Amsterdam for more information.
There's not one neighborhood to go to; there are places all around the city center. However, there's a famous gay street in Amsterdam, the Reguliersdwarsstraat, which you can't miss!
Read our lesbian travel guide with safety tips.
LGBT Events in The Netherlands
The Netherlands has many unique LGBT events, and we will tell you about the most important and fun ones:
Amsterdam Pride: Amsterdam Pride happens every year from the end of July to the beginning of August. With the Pride Walk on the first Saturday and the canal parade on the last Saturday.
Roze Zaterdag: Roze Zaterdag translates to Pink Saturday, and this is the Dutch version of the original Pride protest march following the Stonewall Riots in NYC. It's held every year on the last Saturday of June in a different city in the Netherlands.
Milkshake Festival: This is a queer dance festival celebrating diversity! As it happens during the last weekend of July, it's perfect to combine the festival with Amsterdam Pride.
The Roze Filmdagen: Any movie lovers here? We love watching lesbian movies and lesbian short films, and therefore we love going to the Roze Filmdagen in gay Amsterdam. It is the LGBTQ+ film festival of the Netherlands, happening every year in March.
TranScreen: TranScreen is an annual transgender film festival in Amsterdam. They offer a multi-day program with movies about gender diversity and organize other events throughout the year.
Netherlands Practical Information
| | |
| --- | --- |
| Capital | Amsterdam |
| Language | Dutch |
| Currency | Euro (€) |
| Electricity | 230V |
| Outlets | type C (also works with plug E) and F |
| Visa | The Netherlands is part of the Schengen Area |
Do you have any questions or want to add something to this LGBT Netherlands article? Drop it below or send us a message.
Please find us on Instagram, YouTube, and Facebook.
MORE TO READ:
PIN THIS ARTICLE