It's no secret Amsterdam is one of the most visited—and photographed—cities in Europe. It's such a picturesque small big city, and it'll always be our second home (read how our love story unfolded in this city).
Although you can just wander around and find Instagrammable spots in Amsterdam everywhere, your Amsterdam photography will be complete when you visit these photo spots!
Amsterdam Tourist Map
TIP FOR GETTING AROUND
Download the 9292.nl app for finding the best transport routes and prices
Amsterdam Canals
Amsterdam Canal Cruise
A classic Amsterdam photo is one with canals in it. What's a better way to photograph the iconic waters than from a canal cruise?
There are many places to hop on a cruise, the most popular spot is at Damrak, close to the Central Station.
We highly recommend Rederij P. Kooij at Rokin for your Amsterdam photography, where you can hop on a cruise from €12 per person. Are you with a group and looking for a unique experience? Look up the initiative Plastic Whale!
Brouwersgracht
The most famous Amsterdam photo spot of the canals, with the traditional canal houses that look like they're about to tip over! You have the best view from the Papiermolensluis bridge.
TIP visit the canals for sunrise when water is still. It makes for great reflections and the city is so incredibly peaceful!
Recommended read: our travel guide to lesbian Amsterdam!
Damrak Traditional Canal Houses
The classic gingerbread houses that are so crooked because they're sinking! Don't be fooled: this spot is not as peaceful as it looks, because this is the Damrak, the street that connects the central station with the Dam square—where every single tourist goes.
But it's the most famous spot for Amsterdam photography.
TIP the light is best at the end of the day when the sun is setting but not quite yet!
TFIOS Bench – or any other bench
Amsterdam has some very classy benches along the canals. Perfect to take a rest during long exploration walks (or bikes!).
The famous Fault In Our Stars bench is located on the corner of Leidsegracht and Herengracht, but the original bench has been replaced, unfortunately.
Amsterdam Bridges
Reguliersgracht: Seven Bridges
On any canal cruise, you'll pass this point and have the best view, but you can also visit Thorbeckeplein (right next to Rembrandtplein) and look to the south for your Amsterdam photography
If you place your camera on the ground at the edge of the street (don't drop it in the canal!), you can see 7 bridges in a row.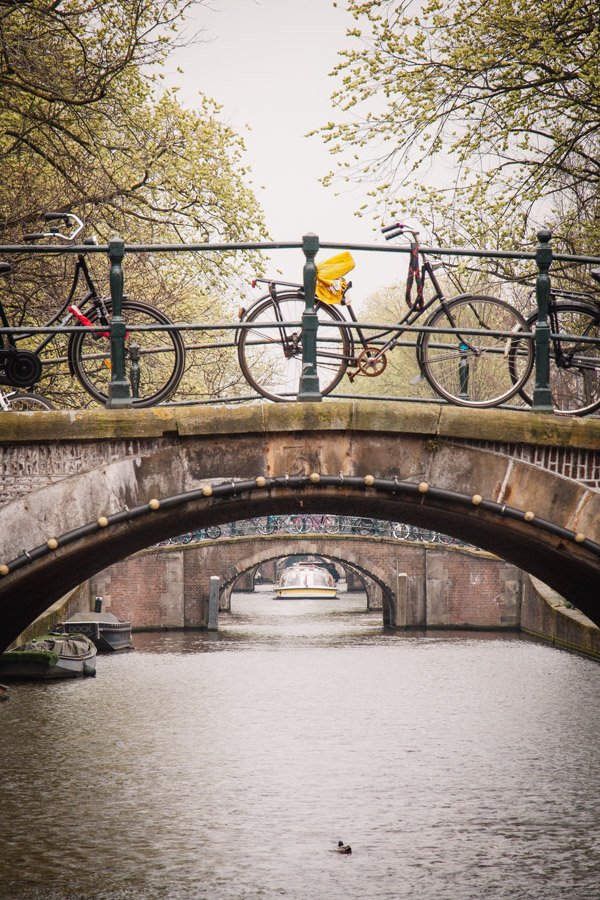 Magere Brug / Skinny Bridge
This cute white bridge across the river Amstel is one of the most famous bridges of Amsterdam.
Legend tells that a small bridge was once built for two skinny sisters, both living on one side of the Amstel – and the bridge was to see each other more often.
It used to be a real skinny bridge, but it has been replaced by a slightly wider bridge in 1871.
TIP if you visit this bridge with your lover, make sure to kiss on (or under, on a cruise) the bridge, it allegedly brings luck!
Staalmeestersbrug
This is such a cute bridge – and a cute street. It's a bridge for love locks and it makes for the best view of the Zuiderkerk!
TIP use props like a bicycle or flowers to make your photos EXTRA!
Other Famous Amsterdam Photo Spots
Rijksmuseum
The National Museum is dedicated to arts and history in Amsterdam and displays many famous paintings by Dutch masters from the 17e century, like Rembrandt, Frans Hals, and Johannes Vermeer.
Open daily from 9am-5pm
The architecture of the museum is as beautiful as the masterpieces that decorate the walls inside.
The design (by Pierre Cuypers) wasn't well-received at the time it was built: people considered it too mediaeval and not Dutch. Luckily much has changed since the official opening in 1885!
TIP on Instagram we noticed many people take pictures across the museum: there's a cute house, which is the office of Atlas Fiscalisten.
I amsterdam sign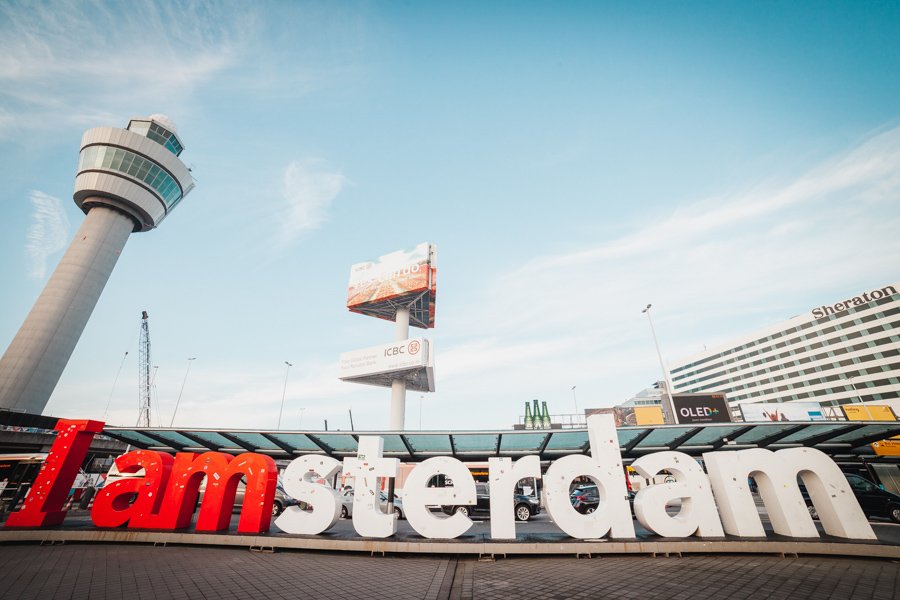 The I amsterdam sign used to be one of the famous spots of Amsterdam photography, which was located at Museumplein, in front of the Rijksmuseum.
The city, however, decided to remove the letters as it attracted too many tourists in one spot. Now, a set of letters is travelling around the city, and one set is placed at Schiphol airport!
Central Station
The central station building is as gorgeous as the Rijksmuseum, which isn't weird: as it was designed by the same Pierre Cuypers (opened a few years later though, in 1889).
The odds are, you will already pay a visit to this station the first day you arrive! A train from Schiphol only takes 15 mins.
Chinatown & Nieuwmarkt
This area is crowded, but super fun to visit. In Chinatown, you'll find a beautiful temple and amazing food. At Nieuwmarkt you can have a couple of drinks with some delicious (Dutch) snacks!
Jordaan: 9 Straatjes (9 Little Streets)
If you like shopping, this is the place to be. Forget the commercialized Kalverstraat or fancy PC Hooftstraat, you want to check out the cute boutique shops at the 9 Little Streets!
Besides shopping, the Jordaan is great for having drinks and to photograph the cutest Amsterdam streets!
Bloemenmarkt
The only traditional floating flower market in the entire world! It's a little tricky to get great Amsterdam photography here though, as it's full of tourists and many shops have put up signs that say "no photography" – but you can always try!
Open daily from 9am-5.30pm (opens 11am on Sunday)
TIP the flower market in Utrecht is worth a visit for a more authentic Dutch experience! When? Every Saturday, at Janskerkhof.
This is one of the oldest Dutch hofjes as it was founded in the middle ages! As the name suggests, it was a beguinage.
So it wasn't private housing, and it was inhabited by women of the Catholic sisterhood. Similar to nuns, but they lived more independent and free.
In 1971 the last beguine who lived there passed away. The houses are still inhabitant, though not by beguines. Please be respectful of their living space!
Open daily from 9.00am-5.00pm, entrance is free
Amsterdam Windmill & Brewery 't IJ
The tallest windmill in the Netherlands can be found in Amsterdam! No need to travel far to see this Dutch icon, just take tram 14 from Central Station or the Dam to Pontanusstraat for about 15 mins.
Right next to windmill De Gooyer, you'll find the tasting room of Amsterdam brewery 't IJ. Open daily from 2pm-8pm.
Zaanse Schans
For more windmills, you gotta visit the Zaanse Schans. It's actually free to visit unless you visit some of the (windmill)museums.
You can visit a wooden shoe museum for example, where you see how the traditional shoes were made!
You can get to the Zaanse Schans by train (17 min ride, 15 min walk) or by bus 391 (40 min ride), which is the Industrial Heritage Line.
TIP most group tours visit the Zaanse Schans early morning, so you'll be better off visiting later in the day!
Views of Amsterdam
OBA rooftop viewpoint
This is the best FREE viewpoint of Amsterdam! Go up to the rooftop cafe of the OBA (public library of Amsterdam) and enjoy the view.
Open daily from 8am to 10pm (10am-10pm on weekends)
A'DAM lookout
If you're up for some excitement – try Europe's highest swing at the A'DAM lookout. There's an over-the-edge swing on the 20th floor. We can say from experience: it's scarier than it seems!
Open daily from 10am-9pm, get there by free ferry behind Central Station
ENTRANCE FEE Lookout: € 13,50 (€ 12,50 online), Swing: €5 per person
TIP do not try to fly your drone in Amsterdam for a nice overview. The city is too close to the airport!
Street Art
De Pijp
Obviously, we gotta talk about street art photography opportunities in Amsterdam! The "Wake me up when I'm famous" art in the Pijp has become super famous over the last year.
The neighbourhood has many cute cafes and restaurants – make sure to wander around!
Rainbow Road Sloterdijk Station
It's no secret we love everything rainbow. The rainbow road at Sloterdijk Station was obviously made for us!
Amsterdam Zuid-Oost
Again, we're biased because this was where we lived before travelling the world. The Heesterveld Creative Community (right next to the Bullewijk subway stop) is colour-heaven.
There's also an adorable cafe Oma Ietje (grandma Ietje) that serves the best toasted-sandwiches! If you wander around the area (towards the shops at De Poort) you'll see much more street art.
NDSM
Our newest favourite area! Super industrial and raw – definitely the opposite of the cute canals, yet so cool. Every month you can visit the biggest flea market of Europe here (IJhallen), but any time is great to wander around this area. Lots of graffiti, sea containers and more cute cafes!
For the Foodies
Make sure to also check out this blog post about real traditional (homemade) Dutch food on our Dutch food blog!
Stroopwafels
There's some Dutch food that is absolutely worth Instagramming about. The top thing to eat is stroopwafels.
The best fresh ones can be found at the Albert Cuypmarket (Mon-Sat 9am-5pm), and the most fun and colorful ones can be found at Van Wonderen Stroopwafels (open daily from 10am-10pm).
Dutch Fries
Technically not really Dutch, but Flemish (our southern neighbours), but delicious to try: fries! In the Netherlands, we eat patatje ဝဝrlဝg (battle fries)—with mayonnaise, satay sauce, and onions.
TIP any fries place is good, but Vleminckx officially serves the best!
FEBO
In Japan, they have fun food-machines, but in the Netherlands, we got the FEBO! It's a unique experience: getting food out of a wall.
There's literally an entire wall that is a vending machine. You put in money, open the little door and voilà, enjoy your snack! Really Dutch snacks to try: kroket, frikandel and kaassoufflé.
Winkel 43
For the absolute best Dutch apple pie, you gotta visit Winkel 43. Obviously you gotta eat it with whipped cream, and have a coffee.
We might not be Swedish, but we know a similar fika culture: coffee breaks with sweets are important!
Polaberry
There's nothing traditional about this food, but it's incredibly Instagrammable!
Photos by @lenasaibel and @alexincolour
Corner Bakery
Again, not traditional, but it's so colourful and fun you gotta snap a pic with these weird milkshakes (I do wonder if anyone ever finishes it though!).
Seasonal
Amsterdam Light Festival
Every December/January, the city lights up during the Amsterdam Light Festival. It's an open-air art exhibition throughout the city, with all different kinds of light artworks.
You can do an art walk at night yourself, but it's a truly magical experience to hop on a canal cruise and see it from the water.
Ice Skating at Museumplein
Unfortunately, it's not every year you can ice skate on natural ice on the canals or in the Amsterdamse Bos.
You can, however, always ice skate at the Ice*Amsterdam skating rink from mid-November until early February!
King's Day and Amsterdam Pride
Absolutely perfect for some colourful Amsterdam photography: visit the city for King's Day (April 27) or Amsterdam Pride (Canal Parade, first Saturday of August).
On the King's birthday, everyone wears oranges and goes drinking beer on the streets!
Flowers: Tulips and Cherry Blossom
Of course, one thing everyone wants to see in the Netherlands: tulip fields! You can only see it for a few weeks, starting from mid-April until mid-May (but it all depends on the weather!).
Little do people know we also have a beautiful cherry blossom (sakura) park in Amsterdam! The trees bloom in the spring and it can be a little tricky to say when is the best time to visit, but this year, we were lucky visiting late March.
Amsterdam Photographers
Did you know you can hire us as Amsterdam photographers? We are Amsterdam based, but available worldwide! As LGBT photographers we can do a solo photoshoot, couple photoshoot, or a tailor-made photoshoot!
Best Amsterdam Instagram-accounts to follow:
For more inspiration, we recommend following these amazing Amsterdam-accounts: @een_wasbeer @polabur @queenofjetlags @yourlbb @humansofamsterdam @macenzo @iamsterdam
PIN THIS ARTICLE