Lisbon is a city in Southern Europe that should be on your bucket list. 2 days in Lisbon is a good amount of time to see the city, but we warn you: you probably want to come back to see more!
It's currently one of Europe's hot spots, and we can totally see why!
Cute cobblestone streets, colorful houses, authentic trams, and delicious food PLUS great nightlife: Lisbon has it all.
In this Lisbon itinerary, we will tell you ALL you need to know about the city.
How Many Days in Lisbon?
Lisbon has a lot to offer. Therefore you should spend at least two days in Lisbon. In two days you can see all the highlights of the city.
Though, if you also want to go on a day trip from Lisbon to Sintra or explore the Lisbon beaches, we recommend staying at least an extra day.
Best time to visit Lisbon
Spring, March to May, and Fall, September to October, are great moments to visit Lisbon. It's less busy in the city, it's still warm, or it's getting warm, and the prices are usually cheaper.
July and August are the warmest and busiest months of the year.
Where to stay in Lisbon
Baixa, Chiado, Bairro Alto, Alfama, and Santo Antonio are all great areas to stay in Lisbon. We recommend staying at the following places:
The Lisboans: these boutique serviced apartments are amazing. The Lisboans is located perfectly in the neighborhood Alfama, and you feel at home right away.
The designs of the apartments are trendy and luxurious. We highly recommend staying here.
HF Fenix Music: A unique music-themed hotel. HF Fenix Music has a swimming pool on the rooftop, which offers great views of the city and is perfect for some relaxation.
Are you on a budget? Check out the following hostels: NLC Hostel, Liv'in Lisbon Hostel, and Lisboa Central Hostel.
Lisbon Day 1: Exploring the City Center of Lisbon
The center of Lisbon is great to explore on foot. Make sure to wear good shoes as Lisbon is all made up of cobblestone streets.
Lisbon, also known as the city of seven hills, is quite hilly too, so instead of walking uphill, you might want to catch some public transport (the cute tram 28 for example!).
Lisbon's main square: Praça do Comercio
Praça do Comercio is Lisbon's biggest square. This square used to be the gateway to Lisbon, as goods from colonies were traded here.
At the square, there's a big beautiful arch, the Rua Augusta Arch, which leads to the shopping boulevard of Lisbon.
Pink street Lisbon
Rua Nova do Carvalho is the pink street of Lisbon! It's located in the popular neighborhood Cais do Sodre. A long time ago, this was Lisbon's Red Light District, but these days it's a popular spot for nightlife.
It gets very crowded here at night, so for an empty pink street, it's best to head there early in the morning. And come back during the night for some drinks!
It's a must-visit during your 2 days in Lisbon!
Elevador da Bica
This funicular rides up the hill in the neighborhood Bica. It's probably Lisbon's most picturesque funicular. Take a short ride up or walk along the rails and enjoy the typical Lisbon sight.
The tram goes about every 15 minutes, so you don't have to worry if you want to take a picture with it: the wait isn't too long. The entrance is a bit hidden in an arch on Rua de São Paulo 234.
A return ticket costs €3,70 ($4). If you want to ride and/or just see more traditional funiculars, go to Elevador do Lavra and Elevador da Glória.
We highly recommend getting a Lisboa card if you want to ride more funiculars and other public transport. It saves you a lot of money. More about that later!
➳ Exploring Europe? Read about the best photo spots in Paris!
Elevador de Santa Justa
Make your way to the Santa Justa Lift. This lift is built in 1902 to connect the neighborhoods Baixa and Bairro Alto.
The lift takes you 45 meters (147 FT) uphill, so it saves you a steep climb! Back in the day, the lift was used by many locals, though now it's mostly used by tourists.
At the top of the lift, there's a viewing platform, which offers great views of central Lisbon.
The Santa Justa Lift opens at 7 AM and a return ticket is a little over €5 ($6), which includes the viewing platform.
Carmo Convent
Next to Elevador de Santa Justa, you can find the Carmo Convent. This church was destroyed by an earthquake in 1755, leaving only ruins.
Nowadays, that's what makes the Carmo Convent unique, since it doesn't have a roof. If you don't want to go inside, from the Santa Justa Lift you are able to see the convent.
The entrance fee is €4 ($4.40). During summer nights there are special cinema nights organized. Such a cool place to watch a movie!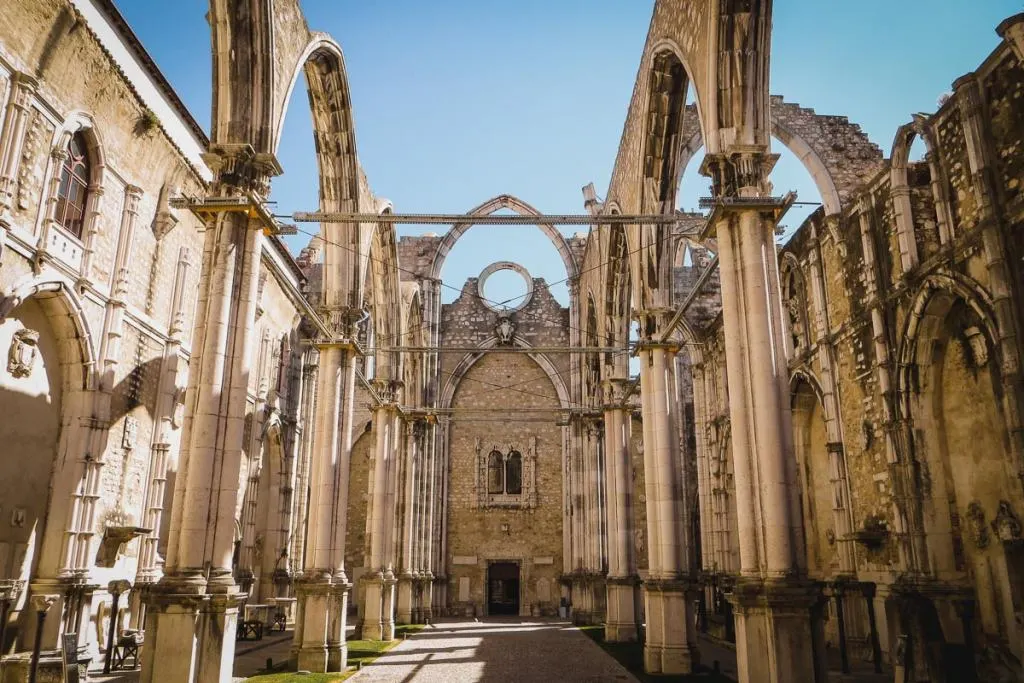 Time Out Market Lisbon
This is the perfect place to go for lunch during your 2 days in Lisbon! The Time Out Market (traditionally known as Mercado da Ribeira) is a food market that offers delicious foods, mostly Portuguese dishes.
It's also a great spot to just relax for a bit and to have a drink.
Tram 28
Okay, Elevador da Bica is a classic Lisbon sight, but even more famous is tram 28! This tram is a typical Lisbon tram and therefore popular amongst tourists.
It's perfect for pictures and the ride is also fun. The ride itself is a lot longer than Elevador da Bica and tram 28 brings you to places like the great neighborhood Alfama.
You can't miss tram 28 and the neighborhood Alfama during your 2 days in Lisbon.
The trams date back to 1930 and are iconic Lisbon trams. It's what Lisbon is famous for! Single tickets can be bought on board and cost €3 ($3.20).
➳ Exploring Europe? Read about the best photo spots in Amsterdam!
Alfama
Alfama is the oldest neighborhood of Lisbon and it's the perfect place to get lost in. With its cute narrow streets, colorful houses, old trams, and great architecture, this is one of the most beautiful parts of the city.
Alfama is filled with great restaurants, so it's also perfect to go here for dinner. The restaurant Lautasco (or one of the many other restaurants in that area), is perfect to go to for a traditional Portuguese dinner.
You should also head to a restaurant that plays fado music. Fado music is traditional Portuguese music often played in bars and restaurants.
Read below which spots you can't miss in Alfama!
Castelo de São Jorge
This medieval castle is one of Lisbon's landmarks. Castelo de São Jorge is located on a hill, therefore it offers great views of Lisbon.
So besides learning about Lisbon's history and heritage, there's a lot more to see. Tickets for adults are €10 ($11), for students €5 ($5.50).
Lisbon Cathedral
Lisbon Cathedral, or Sé de Lisboa, is an important church in Lisbon. It's the oldest church in the city and well worth a (short) visit. The entrance fee is €2.50 ($3).
Viewpoints
Visit one of the viewpoints for the sunset during your 2 days in Lisbon! As Castelo de S. Jorge is located on a hill, it's a great sunset spot. Though there are many more great spots in Lisbon.
Alfama has a couple of viewpoints that are definitely worth a visit. Miradouro de Santa Luzia and Miradoura das Portas do Sol are two of them.
Don't forget to visit the nearby mural of the history of Lisbon (located below the Portas do Sol viewpoint, follow the public restroom signs!).
Want to travel in and around Lisbon by car? See the best rental prices here!
Lisbon Day 2: Belém Lisbon and nightlife
Belém is an area located in western Lisbon, 5 kilometers (3.1 miles) away from Lisbon center. The vibes here are a lot different.
As there are many tourist attractions, museums, parks, and art spots it's a must on your Lisbon itinerary. It's also located next to the Tagus river, therefore this area offers great views!
Belém Tower
Belém Tower can't be missed! This former fortress and prison is now a UNESCO World Heritage site and a landmark of Lisbon.
It's possible to go inside the tower and to go to the top, however, there are only a certain amount of people allowed inside.
Therefore, there are often very long queues. Come early if you are planning to go inside. The tower is closed on Mondays and the entrance fee is €6 ($6.50).
Jeronimos monastery
The Jerónimos Monastery is a beautiful monastery near the Belém Tower. The architecture is unique Portuguese and stunning to see! A long time ago this monastery was the place for sailors to pray before going out on the sea.
Pastel de Nata / Pastéis de Bélem
You can't leave Lisbon and Portugal without eating a Pastéis de Bélem/Pastel de Nata. This egg custard pastry is so delicious.
They are the most popular sweets in all the country, so it's THE Portuguese sweet you should try. So what's the difference between Paséis de Bélem and Pastel de Nata?
The original recipe was created in 1837 by monks in the Jerónimos Monastery. Therefore you can only eat the original egg tarts at the patisserie Pastéis de Belem.
All the other pâtisseries that sell the egg tarts call them Pastel de Nata. The bakery Pastéis de Bélem sells around 20,000 egg tarts a day! It's great to try this sweet in between your breakfast and lunch.
Padrão dos Descobrimentos
This moment honors the Age of Discovery. On one side of the monument, you can find Portugal's greatest explorers, on the other side the key supporters of the Age of Discovery.
It's possible to go on top of the monument. We especially loved the big world map at the monument. Amazing to shoot pictures if you have a drone!
Lisbon bridge from the waterfront
Wander around the waterfront and enjoy the views of the 25 de Abril Bridge. This bridge will give you the feeling you are in San Francisco, as it resembles the Golden Gate Bridge.
Across the water, you can see the National Sanctuary of Christ the King, resembling the statue in Rio de Janeiro!
The bridge connects the Northern side of Lisbon with the Southern side, crossing the Tagus river. Along the waterfront, there's also a cool and unique building, which is the museum of art (MAAT).
The waterfront is also a perfect place to relax for a bit.
LX Factory
LX Factory is a cool hipster place filled with are, cafés and boutique shops. It's located below the 25 de Abril Bridge. LX Factory feels like a creative little town inside Lisbon.
There's also a really cool bookstore here you should check out. We recommend the restaurant Rio Maravilha for food and drinks. Their rooftop offers great views and is a great spot for a late lunch.
Street Art
Interested in more street art in your 2 days in Lisbon? Lisbon is filled with street art and in Bélem you can find some cool pieces. The Big Racoon by Bordalo II for example.
Bordalo II creates pieces of art out of trash, metals and other found materials. There's also a cool fox in the area.
Nightlife at Bairro Alto
Enjoying Lisbon's nightlife is the perfect ending of your Lisbon adventure! The Pink Street of Lisbon is a great place to go to for drinks. But the neighborhood Bairro Alto is the most popular place to be.
Here you can find many nightlife opportunities (also LGBT spots) and restaurants. Therefore, it's a great place for dinner too.
Wander around and find a place you like. There are also some streets where everybody drinks on the street!
Want to see more cities in Europe? Budapest is such a magical city!
Getting around Lisbon
Lisbon airport to the city
Lisbon Airport (LIS) is located only 7 kilometers (4.2 miles) northeast of the city center of Lisbon. So it's only a 20-minute ride away.
A taxi ride would be most convenient and shouldn't cost you more than €20 ($22), depending on traffic. Make sure the taxi driver uses the taxi meter, as a fixed price is against the law. Uber should also be available.
Are you looking for flights to Lisbon? Head to Omio to search for cheap flights to Europe.
Cheaper ways to get from Lisbon airport to the city center is by public transport. The red metro line is directly connected between the airport and downtown Lisbon.
The ride takes about 20 minutes and only costs €1.50 ($1.65). Another way to travel by public transport is by public bus.
The bus ride takes longer and is more expensive, so we don't recommend it!
How to Get Around Lisbon
Lisbon is easy to get around. Below we will explain the different ways to get around.
The city center of Lisbon is great to explore on foot. This way you can see the charming streets of the city and stumble upon authentic Lisbon sights.
As it's quite hilly, make sure to wear good shoes. And for the steep hills, you might want to use public transport.
Public transport in Lisbon is very convenient. There are metros, trains, trams/funiculars, and buses. If you are planning on using public transportation in Lisbon frequently, we recommend buying one of the following: the Lisboa card or the Viva Viagem card.
The Lisboa Card is available for 24, 48 or 72 hours. It provides unlimited access to all public transport. And you are also able to visit 35 museums, monuments and other attractions for free.
The Viva card is a reusable card that you can top up for your journeys. This way you don't need to pay the driver every time, and you get a discount on every ride. It's also possible to put a 1-day ticket on your Viva card, by which you can travel unlimited for 24 hours. That saves a lot of money!
Everywhere in the city, you can find electric scooters. This is a fun way to get around, but not that convenient on the cobblestone streets.
There are multiple companies that have these scooters in Lisbon. Lime, Voi, Hive, and Tier are some of them. Download one of the app, and you are ready to go!
Getting around by taxi during your 2 days in Lisbon is a convenient way to get around. Taxis in Lisbon aren't too expensive (make sure they use the taximeter). There are also apps like Uber and Taxify you can use in Lisbon.
Lisbon Map
Day Trips from Lisbon
There are many exciting day trips from Lisbon you can do, but 2 Days in Lisbon won't be enough. So if you have more time, definitely stay longer and go explore outer Lisbon.
Go to the Lisbon beaches, make your way to Cascais and/or go on a Sintra day trip!
ENJOY Lisbon! Don't forget to share your Lisbon stories with us via email or in the comments below. And if you have questions, feel free to send us a message. We always love hearing from you!
MORE TO READ:
PIN THIS ARTICLE