Stockholm, aka the lesbian capital of Scandinavia, is one of the most open-minded, liberal, and hip cities we have ever visited. I mean, gender-neutral bathrooms and shops nearly everywhere, how great is that?!
But Stockholm isn't just a great city to visit to celebrate feminism and being queer, it's also great to go to Stockholm if you like nature, music, fashion, and food. Our favorite thing: fika! If you haven't heard about fika yet, stay tuned, we will explain all about later in this article.
We will also tell you about the best (LGBTQ+) spots in Stockholm. And afterward, it's time to pack your bags and go see lesbian Stockholm yourself!
Stockholm is the capital city of Sweden and is the most populous city in all of Scandinavia. Therefore you might think of Stockholm as a busy city, but we absolutely love the calm- and nature-side of it. Stockholm is set on 14 islands, that's why you see water everywhere in Stockholm!
Perfect for a romantic stroll along the waterside on a hot summer night (or any time, really). The Baltic Sea and Lake Mälaren melt together in Stockholm, so there's both fresh and saltwater in the city (separated by Gamla Stan, Stockholm's old town).
LGBT Rights in Sweden
Swedes, in general, are very liberal people. It isn't a surprise that their rights for LGBT people are one of the most progressive in Europe. Sweden is ranked as one of the most LGBT friendly countries in the world. And that's something we notice during our visits.
We feel welcome everywhere in Sweden and we can completely be ourselves. Nobody seems to care about seeing us, or our friend Barry and his boyfriend, walking hand in hand on the streets. Also, in both Stockholm and Malmö, we saw many gay couples walking hand in hand on the streets.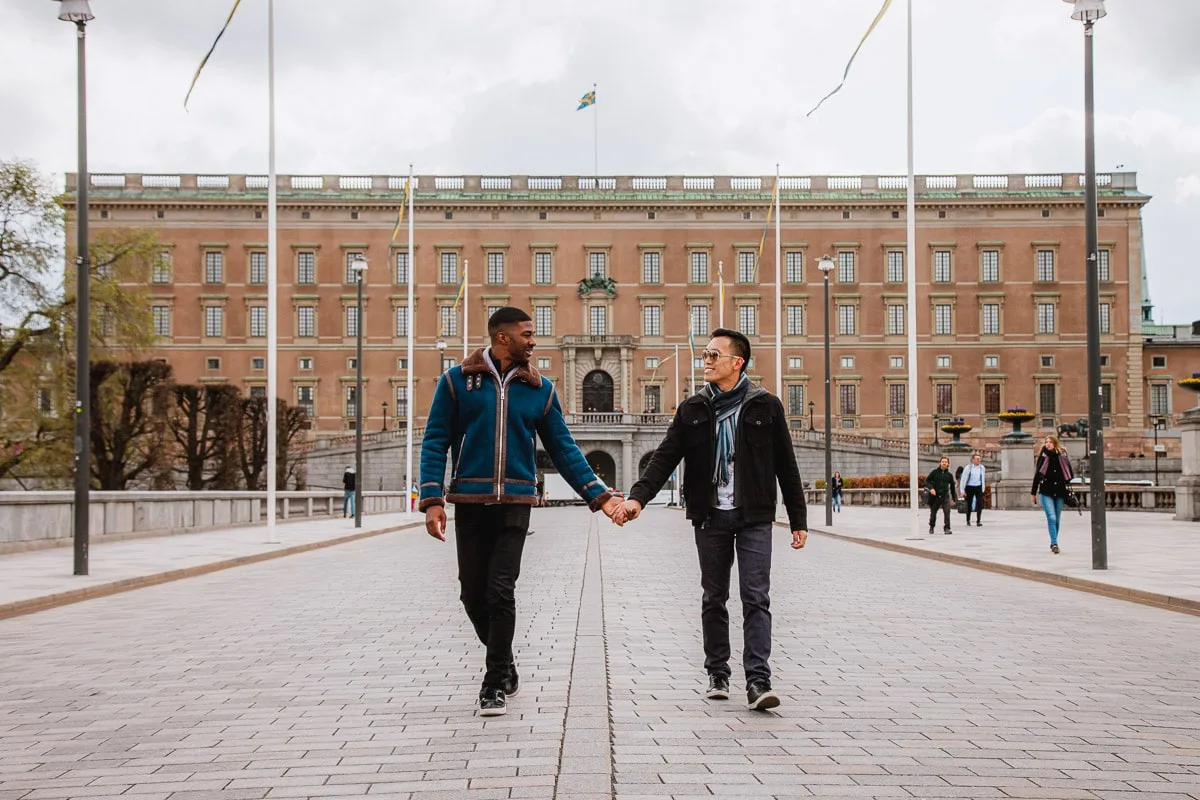 In 1972, Sweden allowed transgender people to legally change gender post-surgery, becoming the first country in the world. Gay ടexual activity is legal since 1944 (people say Stockholm has been gay since 1944) and gay couples are able to marry since 2009. Important: Swedes keep on fighting for further improvements, which we think makes it a very progressive country.
The Swedish language is also very progressive. In 2014, the word 'hen' was officially added to the Swedish glossary. Also important, the Swedish language includes a word for female masturbation: 'klittra'.
Gay Area in Stockholm
There isn't a specific gay area in Stockholm. You will find gay and lesbian bars in different parts of the city, but most bars, restaurants, cafes, and clubs are located on Södermalm and in the Old Town (Gamla Stan). Södermalm is the biggest island in Stockholm and has many trendy and hipster places.
LGBTQ+ people are welcome in every bar and club, but later in this article, we will tell you about the lesbian bars and gay bars in Stockholm.
Want to see more of Europe?! Head to lesbian Amsterdam. Like Stockholm, Amsterdam is one of our favorite cities in Europe.
Stockholm Itinerary: What to Do in Stockholm
We are going to share the must-see sightseeing spots in Stockholm with you. In our 3 days Stockholm itinerary we share even more spots, so if you have the time to explore everything that Stockholm has to offer, check out that post too. But we understand if you just want to visit the must-sees and enjoy a beer (or wine or fika) in one of the amazing bars, cafes, and restaurants.
Wander Around Gamla Stan
Gamla Stan is the old part of Stockholm. In 1952, Stockholm was founded here and the literal translation of Gamla Stan is old town. It's located on an island in the center of Stockholm and can't be missed during your lesbian Stockholm trip. We absolutely love the cute colorful houses with narrow cobblestone streets in this part of Stockholm.
And besides colorful houses, you can find many little shops, restaurants, museums, and bars here. Wander around without a clear end destination and be amazed by the things you will find!
This part is very different than the rest of Stockholm. Gamla stan is very cozy and has an authentic feeling while the rest of Stockholm is more hip(ster) and trendy. If you don't want to explore yourself and want to learn everything about this old part of the city, then go on a tour around Gamla Stan. A free walking tour for example!
Must-see spots in Gamla Stan are Stortorget (Stockholm's oldest square) and the Royal Palace. Plus make sure to go to the cute cafe Chokladkoppen. It was the first place in Sweden to wave a rainbow flag. So show your support and go get a coffee and some delicious sweets at Chokladkoppen.
Sing and Dance at the ABBA Museum
Who doesn't know ABBA? Yes, the super famous pop group is from Sweden. They are one of the best-selling music artists in the world, of all time. And they won the Eurovision Song Contest too, back in 1972. The ABBA museum can't be missed during your lesbian Stockholm trip.
You don't have to be a big fan of ABBA to visit the museum, as it's a fun place to visit anyways. Learn about pop music history, sing one of their songs yourself, and perform in a music video! If you are a fan of ABBA, the museum is extra fun of course.
The ABBA museum is an interactive museum that opened its doors in 2013. Please make sure to visit the museum on a weekday, as it can get super crowded on the weekends.
Enjoy Fika in Södermalm
So it's finally time to talk about fika!! Fika is a Swedish concept that translates as a coffee break with something sweet. But it isn't just a coffee break, it's a whole state of mind and is very important in Swedish culture. Maartje, my girlfriend and soon to be wife, is a huge coffee lover so she absolutely loves fika. If it were up to her, we would sit down every hour to have some coffee.
During fika, you need to slow down and enjoy time with your friends, family and/or colleagues. You don't do fika alone in front of your computer. It's a must-do experience when visiting Sweden!
What sweets to eat during fika isn't important, but you have to try Swedish cinnamon rolls (kanelbullar) and cardamom buns (kardemummabullar), they are both SO GOOD. And if you want to make them yourselves, we share a kanelbullar recipe on our food blog.
Where to go to for fika? In Stockholm, you can find many cafes where you can enjoy some coffee and sweets. The island Södermalm is great to go to for some fika. There are many cafes and restaurants here.
If you like the Millennium Series of Stieg Larsson, then you should definitely explore more of Södermalm. The main characters live in Södermalm and here you can also find cafes and bars that are locations used in the books.
We recommend these fika places in Stockholm: Rosendals Trädgård, Vetekatten, Chokladkoppen, Pom & Flora and Drop Coffee.
Explore Stockholm's Metro Stations
Exploring metro stations might sound a little weird, but in Stockholm that isn't weird at all. The metro stations of Stockholm combined are the world's largest art gallery. Every station in Stockholm is uniquely decorated with different art pieces.
A station you definitely can't miss is Stadion station. It's our favorite station and probably yours too, as it's a rainbow station! Here you can find a huge rainbow with cloud-like blue. Grab your camera and tripod and take some super gay pictures.
We tell more about which station's to visit in our 3 days in Stockholm post. If you only want to visit one station, visit the station Stadion. It can't be missed during your lesbian Stockholm trip. Or watch our Stockholm subway art vlog.
Be Amazed at the Vasa Museum
Welcome to Scandinavia's most visited museum. The Vasa Museum is a spectacular museum that displays a 17th- century warship. It's the world's only intact warship from that time. The Vasa is a ship that sank in 1628 on her maiden voyage in Stockholm. The ship had been in the water for 333 before it was salvaged. It's very impressive to see such a big ship in a building.
We highly recommend watching the video about the history of the ship in the museum first, before you explore the ship itself!
Have a Drink and Enjoy the Sunset at Mälarpaviljongen
We will talk about lesbian and gay bars in Stockholm soon. But before we will tell you all about those, you need to know about Mälarpaviljongen. Mälarpaviljongen is a gay-owned floating restaurant which is absolutely amazing. They market themself as an oasis, extending a rainbow-colored welcome.
It's located in the city center of Stockholm, but it feels like you are not in a city at all. The restaurant overlooks the water and is the perfect spot to have a drink and some food while enjoying Stockholm's nature. Good to know: Mälarpaviljongen is only open from the beginning of April until the end of September.
Mälarpaviljongen isn't just a fun place to visit they are also a business with a mission and activists for the LGBTQ+ community. They have employed LGBTQ+ people from all around the world, including refugees searching for a safe place. And they created the Rainbow Fund, which helps LGBT organizations all around the world. A percentage of the sold houses wines and beers are donated to that fund, plus they hose charity events to raise money and create awareness.
Want to watch something after a fun night out? Make sure to watch these lesbian movies!
Lesbian Clubs & Lesbian Bars Stockholm
Stockholm nightlife is exciting and especially comes alive in the warmer months, from May to August. During the summer, outdoor clubs and day parties arise. Dance under the long evening sun while enjoying a drink. The nightlife scene in Stockholm has something for everybody. No matter if you like casual bars, fancy clubs, or underground techno music, you can find it all in Stockholm.
You can go anywhere and feel welcome, though there are quite some spots for the LGBTQ+ community in the city too. Sadly Roxy Bar and Bitter Pills both closed it's doors, losing two spots for lesbians in Stockholm. But luckily there's still a club for lesbians!
The Secret Garden is an LGBTQ+ bar, club, and restaurant in the old part of the city. There are multiple rooms in the Secret Garden, which we liked a lot. If you aren't in the mood for a certain kind of music, just hop over to the next room! It's the perfect LGBT friendly spot in the city if you want to have a drink and talk, or just want to dance. Secret Garden attracts a mixed public, young, old, women, and men.
While many say King Kong is a gay club, it's a hot spot for the entire LGBT community. King Kong is located on the island of Södermalm and has two dance floors. Normally Saturday night is party night at King Kong, but we hope COVID-19 didn't ruin this. It looks like they now only use it as a venue for certain events. Keep an eye out on their Facebook page for more information. King Kong is a club that attracts a young and trendy crowd.
Moxy Stockholm is Sweden's largest lesbian club. Everyone is welcome here if you want to have fun. The club organizes special parties, dinner clubs, cruises, and a big Pride festival. If you are looking to dance, this is the place to be!
Club Wish is the place to go to if you are looking for something kinkier. Are you a woman, and do you like BDSM and fetishism, then Club Wish might be the place for you. They organize play parties, workshops, and other events. Good to know: you need to be a member to join most events.
Patricia is an old ship that now servers as a bar, restaurant, and nightclub. There are multiple bars on the boat, both indoor and outdoor. How cool does that sound?! Every Sunday they host a gay night for gays and lesbians. Usually, there are more men than women, but women love going here too. It's a fun night out if, especially if you want to dance in a special place.
Trädgården is a popular place to go-to for the LGBTQ+ community of Stockholm (though it not necessarily promoting itself as an LGBTQ+ place). It's a restaurant and an outdoor club with a festival feeling, which is open during the summer. It's, in general, a very popular place, so be prepared for a long queue (arrive early if you want to go and don't want to wait for a long time).
Pride Stockholm
Every year at the end of July and the beginning of August, Pride is celebrated in Stockholm. Over the years, Stockholm Pride has become increasingly popular, with over 600.000 parade participants. It's the largest Pride celebration in Scandinavia! In 2018 and 1998 Stockholm hosted Europride.
Because of COVID-19, in 2020 Stockholm Pride will be a live-streamed event called Stockholm Pride Summer Stream. It's a live festival held between July 31 and August 2. There will be seminars, performances, a digital parade, and much more!
Besides the Stockholm Pride Summer Stream, Stockholm announced there will be a new Pride festival this year. In November Stockholm Winter Pride will light up the Swedish November darkness. Stockholm Winter Pride will be both indoors and outdoors. More information about the festival will be announced soon.
For more information about the Stockholm Pride Summer Stream and the Stockholm Winter Pride, keep an eye out on Stockholm Pride's website. Want more LGBTQ+ information and tips about Stockholm, head to Stockholm LGBT.
Other LGBTQ+ Events in Stockholm
Peter & Erik are founders of many LGBT/gay clubs and events in Stockholm. They host big parties and do productions for organizations like Stockholm Pride. During their parties, they present big international artists and DJ's but also present local talents. Keep an eye out on their Facebook page to see if they organize any events during your lesbian Stockholm trip.
Another exciting event for the LGBTQ+ community in Stockholm is the Cinema Queer International Film Festival. The aim of the festival is to broaden the hetero-normative movies in Sweden. In 2020 it takes place between October 5 and 11. It will be the tenth anniversary of the festival.
Best Time to Visit Stockholm
If you like warm long nights, we highly recommend visiting Stockholm during the summer. But Stockholm is a great city to visit all year round. During the summer the temperatures are higher and the days are longer.
It's busier in the city, therefore it might be a bit more expensive too. Parties move from indoors to outdoors and Stockholm Pride happens during the summer months too.
In winter, the city gets more romantic, but the days are also shorter as the sun will only be up for a couple of hours a day. The snow makes for picturesque cozy fairytale scenes. Every season has its advantages and disadvantages.
Getting Around Stockholm
We always love exploring cities on foot. This way we get to see a lot and sometimes end up in unexpected places which some tourists don't get to see. Exploring the city center of Stockholm on foot is very doable.
It's also possible to explore a certain area or island by foot and hop to the other by public transport.
There are buses, metro's (remember we talked about those amazing metro stations in Stockholm) and trams in Stockholm. Get a Stockholm pass if you want to visit many attractions, museums and if you want to move around by hop on hop off bus and boat.
It's also possible to rent a bike and explore Stockholm environmentally friendly. It's an easy way to get around, plus you get some exercise at the same time. There are bicycle paths nearly all around the city.
Another way to get around Stockholm is by electric scooter. We had so much fun riding a Lime-scooter around the city. Watch out for the cobblestone streets though, as they are more difficult to drive on. You can find Lime and Voi scooters all around the city.
Where to Stay in Stockholm?
Where to Eat in Stockholm?
Riche is an upscale hotspot in Stockholm. It's a hub of many fun things in Stockholm as it has multiple bars and a restaurant. People go here to enjoy delicious food and drinks and some go there also to be seen.

Make sure to book a table to not be disappointed, as it gets crowded here. They have all kinds of food, including Swedish and other countries in Scandinavia. Plus, like almost at every restaurant in Stockholm, their menu includes vegetarian and vegan options.
You can find Taverna Brillo around the corner of Riche. It's Riche's sister restaurant, though a little bit more low-key but still trendy. The pizza here is the best and the vibes are great in the whole restaurant. Definitely try their caviar pizza! Their menu could probably best be described as Italian with a Scandinavian twist. Taverna Brillo also serves breakfast and lunch.
We talked about Mälarpaviljongen before in this article, but it's one of the places we highly recommend during your Lesbian Stockholm trip. This floating restaurant is a paradise and the perfect spot to have a drink and food. It's a gay-owned restaurant.
TAK is a restaurant that serves Scandinavian and Japanese infused foods. Enjoy unique flavors at TAK while enjoying a beautiful view of Stockholm. If you like drinks, make sure to try one of their signature drinks.
Lesbian Stockholm Map
Enjoy all the amazing things Stockholm has to offer! Let us know if you have any questions. You can also head to Stockholm LGBT for more information about Stockholm.
If you enjoyed our lesbian Stockholm post, don't forget to share it with all your queer travel friends and family! Together we can spread the love and help each other travel the world!
Want to reach out to us? Comment below or send us an email.
PIN THIS ARTICLE