Who doesn't love to scroll on Instagram?! Whether it is to stalk people, to get inspired or just because you are bored. Say bye-bye to boredom and hello to a timeline filled with lesbian celebrities! Some of these famous lesbians exclusively post super hot pictures, some share cute (couple) pictures, and others use their platform to influence and share their on-stage lives. ENJOY!
Famous Lesbians
Ellen DeGeneres
Ellen DeGeneres is for sure among the most famous lesbian celebrities in the world. Who hasn't seen The Ellen DeGeneres Show? But she does a lot of other things too. She's a comedian, actress, writer, has her own lifestyle brand called ED and you might recognize her voice when you watch Finding Nemo and Finding Dory.
In 1977, Ellen came out in the magazine Time. With the words 'Yep, I'm Gay' she covered the front page of the magazine. Afterward, she talked about her coming out on the Oprah Show.
Ellen is married to Australian American actress and Portia de Rossi. They are together since 2004 and got married in 2008.
On @theellenshow Ellen shares many (funny) videos of her show, but sometimes we get to see a cute picture with Portia too. Ellen is in the top 10 most followed users on Twitter.
Don't forget to follow @portiaderossi on Instagram as well!
Megan Rapinoe
Gosh, we enjoyed watching Megan Rapinoe during the FIFA Women's World Cup in 2019. We love her pink hair and the epic pose she did after scoring against France.
Megan Rapinoe is a professional American soccer player. She plays for Reign FC in the American Women's Soccer League and plays for the United States women's national soccer team. Last year, Megan won the Sports Illustrated Sportsperson of the Year award, making her the 4th woman to win the award.
Rapinoe is not only famous for her amazing soccer qualities, but she is also an activist. She openly fights for equal pay in the soccer world and is an advocate for multiple LGBTQ+ organizations. Last year, a video of her went viral of her saying 'I'm not going to the f***ing White House' as she doesn't support Trumps' administration.
In 2012, Megan came out in Out Magazine publicly. She already knew she was a lesbian since college. Since 2016, Megan is together with basketball player Sue Bird.
On @mrapinoe Rapinoe shares pictures of her daily life, photoshoots, everything about soccer and sometimes a sweet picture with her girlfriend Sue. Megan is a lesbian celebrity you won't regret to follow!
Hayley Kiyoko
Hayley Kiyoko, the lesbian Jesus. Or well, that's how some of her fans call Hayley. Her song 'Girls Like Girls' and all her other love songs about women is something we need in the world. She empowers her queer fans and Hayley is a true gay icon.
Hayley Kiyoko is an American singer, songwriter, and actress. In her younger years, she acted on various shows and movies on Nickelodeon and Disney Channel. This way she could support her music ambitions.
Hayley came out in sixth grade but knew she was lesbian from the age of six. She is currently single.
If you go to a concert by Hayley Kiyoko, don't be surprised to see girls throwing their bra on stage. Which Hayley happily tries to catch!
Check out Haley Kiyoko on @hayleykiyoko or on YouTube.
Make sure to watch these amazing lesbian movies!
Ellen Page
Juno, Inception, The Umbrella Academy, X-Men and Tales of the City are a few of many movies and series starring Ellen Page. And don't forget about the lesbian movies Freeheld and My Days of Mercy. For her role in Juno, she received multiple awards and was nominated for an Oscar and a Golden Globe.
Ellen Page is an actress and producer from Canada. In 2014, she came out as a lesbian while giving a speech at a Human Rights conference. She was sick of lying about her sexuality. Her words during the speech: "I'm here today because I am gay, and because maybe I can make a difference, to help others have an easier and more hopeful time."
In 2018, Ellen married her girlfriend Emma Portner. Emma is a dancer and choreographer, she is also Canadian.
On @ellenpage, Ellen shows her personal life, behind the scenes of her acting jobs, and actively shows she's an activist. BONUS: she also shares many adorable pictures with her wife.
Kate Moennig
We all know Kate Moennig right?! She plays Shane in the L Word! Shane is one of the main characters in the original L Word seasons but also stars in the new L Word: Generation Q. There is no L Word without the androgynous and sexy Shane. She is an icon.
Kate Moennig, full name Katherine Sian Moennig, is an actress from the United States. And while she is mainly known for her role in the L Word, she also played in Ray Donovan and Young Americans.
Before joining the L Word, Kate dated guys, but while recording the show she figured out she liked girls. She's from an environment that's not very open, so on the show, it was the first time she experienced people who were so proud and confident.
Kate is married to Ana Rezende, a Brazilian musician, since 2017.
On @kateomoennig, you see that Kate is a huge animal lover, especially cats, as she shares many pictures of them. She also shares behind the scenes of the new L Word series.
Samira Wiley
Samira Wiley plays the cute Poussey Washington in Orange Is the New Black. She is an American actress and also plays in The Handmaid's Tale, The Sitter and Social Animals.
Wiley is married to Lauren Morelli, one of the writers of Orange Is the New Black. They fell in love while filming OITNB and they got married in 2017. When they met, Morelli was married to a man, and she realizes she was a lesbian while filming OITNB.
Samira and Lauren are super sweet together and they love to show personal pictures online. @whododatlikedat Samira for many of those. These two are such cute lesbian celebrities!
Because we can all use more romance in our lives: here are 10 true lesbian stories as told by 10 lesbian couples!
Cara Delevigne
Ooh la la, Cara Delevigne and Ashley Benson are a HOT couple. During Pride Month 2019, the two lesbian celebrities confirmed their relationship and many people freaked out! Especially after they carried a sex bench into their house…
Cara Delevigne is a model, singer, and actress from England. Twice she won the British model of the year award and you might have seen her in the movies Paper Towns and Suicide Squad. She also stars in the lesbian movie Her Smell.
In her @caradelevingne bio, she shares: 'Don't worry, be happy', 'Embrace your weirdness', and 'Stop labeling, start living'. She came out as genderfluid and is now together with the actress Ashley Benson (you might know here from the show Pretty Little Liars).
Ruby Rose
We haven't seen Batwoman yet, but we can't wait. Because Ruby Rose stars in it, and she's amazing! Ruby Rose plays Batwoman, and it's the first TV show ever to have an LGBTQ superhero as the main character. Batwoman is a lesbian, and so is Ruby Rose!
Ruby Rose is from Australia and she got super famous with her role in Orange Is the New Black. She instantly became a famous lesbian celebrity. Besides acting, she does many more things. Ruby is a model, DJ, writer, and television presenter too.
Rose uses feminine pronouns but is genderfluid. If you haven't seen her short film Break Free yet, check it out. It's a gender-fluidity tribute wherein she transforms from a feminine woman to a man in a suit.
At the age of 12, Ruby came out as a lesbian. Right now, it's unclear if she's dating somebody. In the past, she dated Jess Origliasso (one part of the Veronicas) and Phoebe Dahl.
Follow Ruby on @rubyrose for many amazing, and sexy, pictures.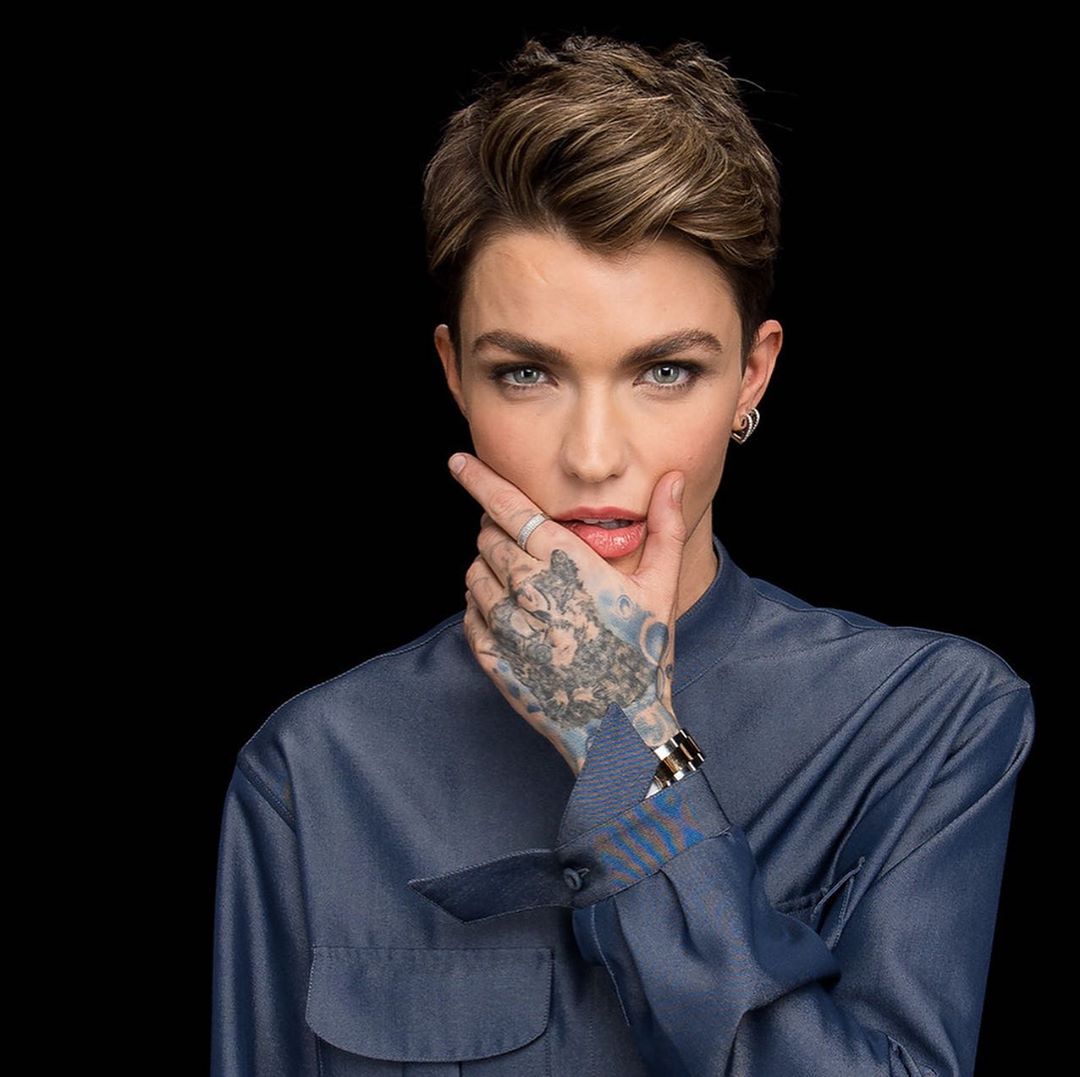 Leisha Hailey
Is Alice your favorite L Word character too? Leisha Hailey plays the role of Alice in the L Word. Alice is one of the main characters in the original L Word show, but also in the new L Word: Generation Q. Like Shane, there is no L Word without Alice, right?!
Leisha is born in Japan, but her parents are both American. Besides acting, she has a musical career too. She got famous singing in the pop duo the Murmurs.
At the age of 17, Leisha came out as a lesbian. For a long time (2011-2016), she dated Camila Grey, and their relationship became famous worldwide after they weren't allowed to go on a Southwest Airlines flight as a flight attendant asked Leisha and Camila to stop kissing.
Follow Leisha on @leishahailey for fun behind the scenes.
Ashlyn Harris
Ashlyn Harris is the goalkeeper of the United States women's national soccer team. Together with Megan Rapinoe, she won the 2019 FIFA Women's World Cup in France. In the National Women's Soccer League in the United States, she plays for Orlando Pride.
Ashlyn is known for her style and tattoos. Besides her interest in soccer, she loves surfing, skateboarding, music, and fashion.
She's an LGBTQ icon, and so is her wife Ali Krieger. Ali also plays in the United States women's national soccer team. They are already together for years, but only publicly came out as a couple in 2019. They got married in 2019 too.
Why didn't they publicly talk about their relationship earlier? They were afraid to lose their jobs and/or sponsorships, though they are proud they can openly support the LGBTQ community now.
Follow @ashlynharris24 for her amazing style and soccer pictures.
Lena Waithe
Lena Waithe is an actress, producer, and screenwriter from the United States. In 2017, she won an Outstanding Writing for a Comedy Series Emmy Award for writing an episode of Master of None. Making her the first black woman to win that award. The episode was broadly based on Lena's story of coming out as a lesbian to her mom.
She also produced and acted in Dear White People and created The Chi. In addition, she does the voice of the first openly LGBTQ character in a Disney movie. Go and watch the animation movie Onward!
Lena is an LGBTQ activist both offline and online. In 2019, she was part of New York's LGBT Center's Stonewall riots campaign. It's important to her that we all embrace everybody in the LGBTQ community. And we agree!
In 2019, Lena divorced her wife Alana Mayo after a two-month marriage.
Check out her @lenawaithe.
Lea DeLaria
You've probably heard of the u-haul joke. If not, a u-haul lesbian refers to the joke that lesbians are very likely to move in together very fast (on the second date). Lea DeLaria created that joke! She used it when she performed as a comedian in 1989.
"What does a lesbian bring on a second date?"
"A U-Haul."
You probably know Lea from Orange Is the New Black, where she plays Carrie Black. Better known as 'Big Boo'. Besides acting and making jokes on stage she's a jazz singer too!
Lea was engaged to Chelsea Fairless but she sees herself as a lesbian bachelor that just wants to have fun. The couple never got married and separated in 2017.
Follow Lea on @realleadelaria to see funny and personal pictures of her.
Jacqueline Toboni
We got to know Jacqueline Toboni through the L Word: Generation Q and we were a fan right away! She plays Sarah Finley, one of the new main characters of the series, who's the assistant of Alice (Leisha Hailey). You might know her from the TV series Grimm too. We also spotted her in a few episodes of Easy.
Jacqueline is from the United States and grew up in California. There have been many questions about her sexual orientation, but who cares right?! Currently, she's dating the Australian actress Kassandra Clementi.
Follow Jacqueline on @jtoboni for fun and cute pictures!
What are the best LGBT Netflix shows? Read it here!
Ashley Benson
We talked about Ashley Benson earlier in this article, as Ashley is together with Cara Delevigne! They are super cute together and are a stunning couple.
Ashley Benson is an American actress and model, especially famous for her role in the series Pretty Little Liars. She also played in the movies Spring Breakers, Bring It On: In It to Win It and the lesbian movie Her Smell (in which Cara starred too).
Ashley shares beautiful fashionable pictures on her @ashleybenson and cute pictures too. Like her girlfriend, she hasn't labeled herself. We're all for it – we know some people love labels, but we love the fluidity!
Bisexual Celebrities
Visibility matters! And so does diversity. The list above included a few queer women that never exclusively identified with a label, but we did want to dedicate this part of the article to a few bisexual celebrities that did come out at bisexual+.
Tessa Thompson
This amazing actress had to be on this list! Tessa Thompson plays Valkyrie in the Marvel superhero movies. Valkyrie is the first-ever openly LGBTQ character in a Marvel movie. And we can't wait for the next Thor: Love and Thunder movie in 2021, as Valkyrie is going to get a queer storyline.
Tessa Thompson herself doesn't like to talk about labels but she openly talks about being attracted to both women and men. She has been close to American singer-actress Janelle Monae, but she likes to keep things private.
Besides acting, Tessa also sings! And also important, she's a huge goat lover.
We love following powerwoman @tessamaethompson!
Miley Cyrus
Miley Cyrus! She doesn't need an introduction right? Miley Cyrus was in a long relationship with Liam Hemsworth but they broke up in 2019. Cyrus identifies as pansexual and she inspires her fans to be whatever they want to be.
Follow Miley on @mileycyrus for funny and personal videos and pictures. Plus she also does Instagram live once in a while!
Any other lesbian celebrities you like to follow? Let us know in the comments below!
Find us on Instagram, YouTube, and Facebook
PIN THIS ARTICLE