What are the best LGBT Netflix shows? The best gay series on Netflix? The best lesbian series on Netflix? Netflix has quite some LGBT series and it seems like the platform requires every new show or movie they release to have at least one queer person! There are more options than ever and there has never been visibility for this many (diverse) LGBT characters. There are still more gay shows on Netflix compared to the rest of the LGBTQ+ acronym, but change is coming! In this article, we'll share the best LGBT Netflix shows, and we'll indicate the level of 'queerness' with a number of 🌈 (1 = little LGBT+, 5 = mega LGBT+).
With the changing social climate, more series get the LGBT+ characters 'right' and FINALLY not all queer people dramatically die as they did in the past (the infamous "bury your gays" trope). Not only do we see an increasing amount of LGBT+ characters in LGBT tv shows on Netflix, but there are also many more LGBT+ actors getting roles that aren't the typical typecast roles. YAY for positive change!
DISCLAIMER: not all titles are available worldwide. Sometimes not all seasons are available everywhere.
Netflix now operates in almost every country in the world, but what is available in each country varies. There's no point in looking up the exact details now because Netflix adds and removes movies and TV shows regularly. Our best tip: start traveling haha!
JUMP TO
Gay Netflix Shows
Lesbian Netflix Shows
Queer Netflix Shows
Having one queer person appear in a few episodes does not really count in our opinion. Unfortunately, the tab "LGBT shows" within Netflix showcases many series that are just that.
Gay Netflix Shows
POSE (2018-)
Rating: 🌈🌈🌈🌈🌈
10s across the board! This show is truly one of the best LGBT shows on Netflix. Especially the second season is extremely powerful – and a second season rarely exceeds the first. This show is all about the underground ballroom scene in the late 1980s in New York City. It's similar to the LGBT classic documentary Paris is Burning but better. This tv show about vogue balls, queer black men, and trans women of color, is told by transgender actors and LGBT writers of color. And it's amazing!
La Casa de Papel | Money Heist (2017-)
Original language: Spanish (Spain)
Rating: 🌈🌈
To all native English speakers: please give subtitles a chance! This Spanish series is really awesome, although it only has one queer character in the beginning. The character is totally breaking stereotypes though! One of the big, intimidating, eastern European brothers ("Helsinki") turns out to be gay. In the third season, we have reason to believe Helsinki isn't the only queer character… Also, the series is about a robbery. Or not really, it's about occupying the 'money-factory' and printing millions. And they're not your average robbers – it's all so smart!
Please Like Me (2013-2016)
Rating: 🌈🌈🌈
This is not a particularly happy series, as it deals with some serious topics. Yet it is quite funny. Often called the Australian Girls, Please Like Me is a coming-of-age story about Josh (who comes out as gay in the first episode), and his dorky friends and suicidal mother. It's a story with emotional depth, dealing with topics like homophobia, racism, depression, (sexual) harassment, breast cancer, and STDs. It's also a story about love and life, yet in a 'real way'. And for the queer women: Hannah Gadsby (have you seen Nanette on Netflix?) stars in this series as one of the main characters from the second season!
Special (2019-)
Rating: 🌈🌈🌈
Special is about a gay disabled young man Ryan. It's actually a series created, written and acted by Ryan O'Connell, loosely based on his own memoir. The episodes are short (about 15 minutes), but your life is changed after the 8 episodes! Being gay is a non-issue for Ryan, it's his cerebral palsy that he's uncomfortable with. That's also the reason he's still a virgin (or so he thinks). The show is really funny and so sweet. It's also paving the way for differently-abled queer actors.
La Casa De Las Flores | The House of Flowers (2018-2020)
Original language: Spanish (Mexico)
Rating: 🌈🌈🌈
This Mexican series is about The House of Flowers, although later there appears to be a second House of Flowers that is a cabaret (and not a flower shop). It's a series about a complicated Mexican family: the patriarch's mistress hangs herself, he goes to jail, his wife wants to keep up appearances, a son is queer (gay? bi? he's confused), a daughter is cheating on her fiance, and a funny speaking daughter has a transgender ex (played by a cis man, unfortunately). In short: it's a juicy soap – basically a telenovela. But a very queer one! It's a groundbreaking show in Mexico – sexuality and gender identity is rarely discussed in-depth on Mexican shows.
Grace and Frankie (2015-)
Rating: 🌈
This is an interesting LGBT tv show on Netflix because it isn't really a queer show. Grace and Frankie separate from their husbands when they learn their husbands have been having an affair for 20 years and they want to get married. Their storyline, however, is secondary to that of Grace and Frankie. Also, there is no chemistry between the men. It isn't every day you see an older gay couple in a series though, so that's why this series is on this list. It could've been a much more interesting queer show! Grace and Frankie, however, are so enjoyable to watch, I'm not ashamed to admit I watched all 5 seasons haha.
Another queer angle: actress Lily Tomlin (Frankie) is openly gay!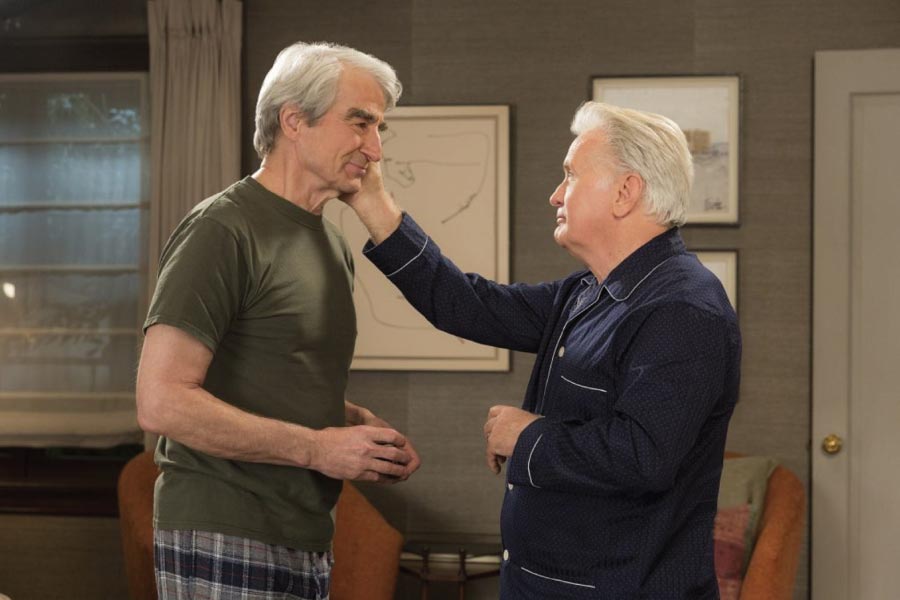 The Umbrella Academy (2019-)
Rating: 🌈🌈
Based on Gerard Way's original comic, The Umbrella Academy tells the story of 7 siblings that have supernatural powers. Or well, 6 of them, and then there's Vanya (played by lesbian actress Ellen Page). She feels powerless and has always been an outsider. The show did something interesting though, they made one of the lead characters queer! That wasn't the case in the original comic, but Netflix rewrote Klaus queer. He's the one that can talk to dead people. And he's queer and interesting, he's not just 'the gay one'. It's a little unfortunate his love interest dies (remember queers were always killed off in the past?). But we love how the show diversified its story and we're curious to see where it goes!
Queer Eye (2018-)
Rating: 🌈🌈🌈
"Make America Gay Again!" In this reboot of Queer Eye for the Straight Guy five new gay professionals (the new Fab Five) perform makeovers/make-betters to – usually – straight men. The Fab Five are Antoni Porowski, food and wine expert; Tan France, fashion expert; Karamo Brown, culture expert; Bobby Berk, design expert; and Jonathan Van Ness, grooming expert. The show is both loved and criticized. The meaning of 'queer' in the original show was very politically loaded, and the criticism is that the reboot of the show is not radical enough in that sense. The Fab Five are all cisgender gay men. The show has allegedly been most popular amongst a very straight (white) audience. The show definitely wasn't created to be radical, groundbreaking. Read this article by a queer woman of color and how she argues this show wasn't created for an LGBT+ audience. Many (cis) gay men, however, love the show!
RuPaul's Drag Race (2009-)
Rating: 🌈🌈🌈🌈🌈
In this reality competition, RuPaul is looking for America's next drag superstar. The show has won 5 consecutive Emmys and might have been the biggest success of the last decade. It's a bit of America's Next Top Model and a bit of Project Runway and a lot of queens! It's making a whole different segment of queer culture visible, and I'm pretty sure RuPaul has single-handedly made drag culture mainstream. It has even infiltrated (internet) language: 'yas queen!', 'shade!', 'you betta werk', 'don't f*ck it up', 'Bye Felicia!', 'Sashay Away', 'Shantay, You Stay'.
There's a new show, RuPaul's Drag Race UK that has gotten lovely reviews – hopefully it'll come to Netflix!
Elite (2018-)
Original language: Spanish (Spain)
Rating: 🌈🌈🌈
This teen drama has something none of the other LGBT tv shows have: a gay Muslim! And the storytelling is very tastefully done. The show creates a beautiful – yet intense – love story between rich, white private schoolboy, Ander, and working-class Muslim drug-dealer, Omar. And although queer romance usually gets less screentime than straight ones – there's a lot of Ander and Omar (and the sex, oooofff… HOT!). The show is very queer overall, it also includes threesomes and discusses HIV. There's also murder and drug-addiction and -dealing, so it's an exciting show altogether (a little similar to Riverdale, but better!).
Riverdale (2017-)
Rating: 🌈🌈
It's moody, it's spooky: Riverdale is about a murder mystery, based on the Archie Comics. There's a kiss between two girls in the very first episode (yet it went nowhere), and there's a gay character Kevin Keller but he only gets interesting in season 2 (when he steps up for the LGBT community), and everyone has explored their sexuality in some way. This show is great for its inclusion of bisexual+ characters. But the show kills off a queer man (bad choice, always). So yes, the show is queer (much queerer than the original comics), but it could be better!
Also, a little side note: the show had an opportunity including an asexual character (never seen on TV!) and they ruined it.
The Politician (2019-)
Rating: 🌈🌈🌈🌈
Another very unique LGBT TV show: The Politician has a queer male lead, played by a gay actor (Ben Platt), who has a transman as a close friend, played by an actual trans non-binary actor (Theo Germaine). And then, they introduce a gender nonconforming person of color sidekick, who is actually played by a queer actress (Rahne Jones)! I'm not sure if that makes sense, but neither does the show. It is not exactly a teen drama (I think): the characters are all in high school, yet they come across as 30-year-olds. The lead, Payton Hobart, has his life planned out: he'll become president. But life is messy and stuff happens (this is a very short recap). But the queer casting and queer characters make it great!
Lesbian Netflix Shows
Feel Good (2020-)
Rating: 🌈🌈🌈🌈
Brand new lesbian show Feel Good launched its first season on Netflix on March 19, 2020. The main character, comedian Mae Martin, co-created the series, and the storyline is largely based on her own life experiences. The show is funny yet serious: it addresses the topic of addiction and the entire show feels really real. It's the 'better queer representation' many queer women hoped for over the past years!
How to Get Away with Murder (2014-2020)
Rating: 🌈🌈🌈
This legal-drama might not seem very queer at first, but some steamy sex scenes between two men quickly change that. Also, diversity is very much normalized in the series – in many different ways. The show also includes a powerful transgender storyline in S2E6 (played by a trans actress) and in the same season our main character – Emmy-nominated Viola Davis – turns out to be queer (no labels defined)! Little side-note from a proud Dutchie: her ex-girlfriend (Famke Janssen) is a Dutch actress!
The Fosters (2013-2018)
Rating: 🌈🌈🌈🌈🌈
Lesbian couple Stef and Lena raise Stef's biological son Brandon, the adopted twins Jesus and Mariana, and foster kids (later adopted) Callie and Jude. Talking about diversity, they are a multi-ethnic family, and throughout the series, two trans characters are introduced! In S1E12 Cole is introduced (played by trans actor Tom Phelan) and he becomes Callies roommate. In S4E3 Aaron Baker is introduced (played by trans actor Elliot Fletcher), a close friend of Callie. It's no wonder this series has earned two GLAAD Media Awards (and one Teen Choice Award).
Las Chicas del Cable | Cable Girls (2017-)
Original language: Spanish (Spain)
Rating: 🌈🌈
After Money Heist, we became addicted to series that are Spanish. Especially the Spain-Spanish accent is so sexy! So we started watching Cable Girls, set in the late 1920s. It's pretty much a series about feminism (women getting jobs!), and we were very excited when a lesbian romance developed. Later on, one of the two comes out as a transman, making the series even more interesting (especially set in that time).
Easy (2016-2019)
Rating: 🌈🌈🌈
Every episode of this series is a different (love) story. It's about modern love, couples figuring out how to move forward, breakup or evolve in an open relationship. The storylines continue through the second and third season and the absolute best storyline is the queer one (there's really no need to see the rest)! What I absolutely love about it is that it's NOT ABOUT COMING OUT! So refreshing. In S1E2, S2E7, and S3E3, we see the girls Jo and Chase's develop a relationship and dealing with their struggles. It is so refreshing to see a young lesbian couple navigating through the phases of dating, becoming a couple, and to learn how to keep a healthy relationship – without any word about their coming out. There's no family either (although Chase mentions one-time family can disappoint and friends become chosen family), their love story is the focal point (and it feels so authentic!). Fun fact: Chase already made a little appearance in the first episode – she was the babysitter.
GLOW (2017-)
Rating: 🌈
Lady wrestlers? Heck yeah! It's a miracle the lesbian romance doesn't happen until the second season! Set in the 1980s, this show is taking me back to my Flashdance obsession. The outfits? I bet most queers wouldn't mind going back to 80s sportswear. So is it a 'real' LGBT Netflix Show? There are definitely not enough queer characters, but I again… the 80s… Pretty queer!
Orange Is the New Black (2013-2019)
Rating: 🌈🌈🌈🌈
I'm confident the female prison series Orange Is the New Black has awakened the queer-side of a lot of ladies. One of the writers (Lauren Morelli) actually realized she was gay in the process of writing for OITNB and is now married to one of the (female) cast members, Samira Wiley! The show also featured queer women with mental illnesses and an out transgender woman of color (Laverne Cox) – breaking down many stereotypes. And the show is about so much more!
Vis A Vis | Locked Up (2015-2019)
Original language: Spanish (Spain)
Rating: 🌈
This Spanish series is basically Orange Is the New Black with more sex and violence (I mean, it's European!), yet the cast is less queer/diverse. Some say it's a mix between Breaking Bad and OITNB. Locked Up is a little less feminist and way darker than OITNB.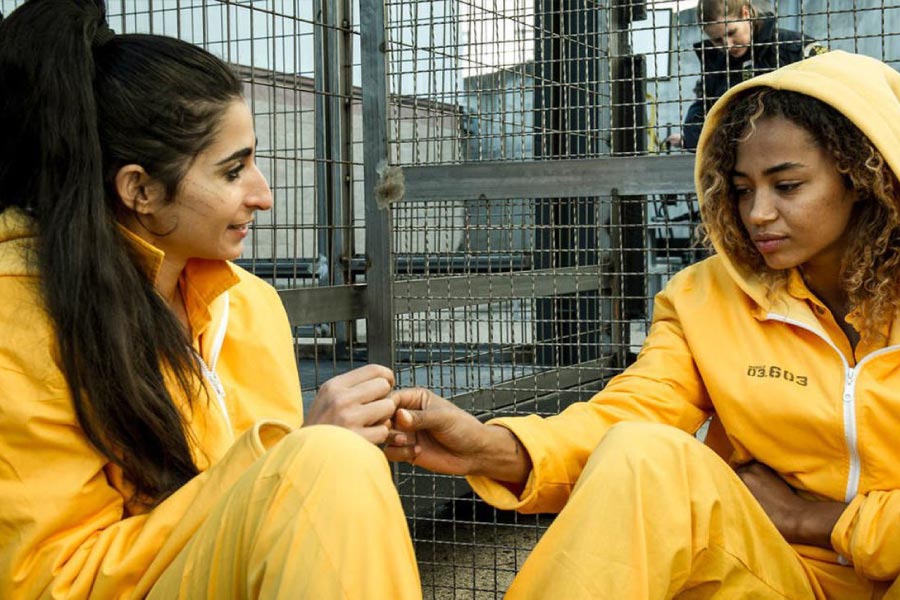 Merry Happy Whatever (2019-)
Rating: 🌈
This is a show with many mixed feelings. But it's one of the first (only?) Christmas TV shows! And it has a queer storyline… and that's where it gets complicated. The series feels a little homophobic. I don't want to spoil things too much, but there is a moment where a character comes out as an atheist and another character says 'oh thank god you're not…' (not saying it, but implicating being LGBT+ would've been a bad/worse thing). There's also a clear patriarch of the family, which complicates things. In the end, things turn around, but we're not completely sure if it's worth the cringe-worthy moments.
We also know the holidays can be difficult for many LGBT+ people, the big reason we included this series is that it's very relatable. I mean, we all have cringe-worthy moments with (extended) family on the holidays, right?
One Day at a Time (2017-)
Rating: 🌈🌈🌈
This one is for all Latinx! And everyone else, of course. It's a show about the daily life of a Cuban-American family. It's a remake of the classic Norman Lear sitcom. Daughter Elena comes out as a lesbian in the first season and gets a non-binary love interest in the second season. She's also very much an activist. The show is easy to watch and it's incredibly relevant (we loved the comment about the shithead in the white house), in short: go watch it!
Fun fact! Justina Machado, Rita Moreno and Isabella Gomez voiced themselves in Season 1 of the Latin Spanish dub.
Want to see more? Check out these lesbian movies!
Jane the Virgin (2014-2019)
Rating: 🌈🌈
"You get a girlfriend! You get a girlfriend! Everybody gets a girlfriend!" but honestly, yay for having multiple queer women in a show that is not a queer show per se (the best comes in season four!). It's a little tricky when one turns out to be an evil bad girl. Historically, Hollywood hasn't been kind to women: from early film strong females were evil femme fatale stereotypes. But luckily the others make up for it – all is well in the end. More than well actually. Wait, I forgot to tell the premise: Jane Villanueva is a virgin but accidentally inseminated. She then gets confused, love triangles happen, there are evil twins, deaths and much more. The show is a telenovela on meta-level (as it's also about the Villanuevas obsession with telenovelas). It's great!
Side-note: Justin Baldoni (playing Rafael Solano) is pretty awesome, he's a feminist who discusses toxic masculinity and explains how to be a better man in this world. 
Gypsy (2017)
Rating: 🌈🌈🌈🌈
What seemed to be a popular new lesbian hype was, unfortunately, canceled after just one season (there was a whole #RenewGypsy thing going on). Gypsy is a sexy thriller about psychotherapist Jean (Naomi Watts) who obsesses over her patients by connecting to the people her patients talk about in sessions. It's creepy. And then she falls for the ex-girlfriend of one of her (male) patients. And so they have lots of steamy lesbian sex. But Jean has a husband and a kid. And the kid turns out to be queer too (maybe the best storyline of this show)!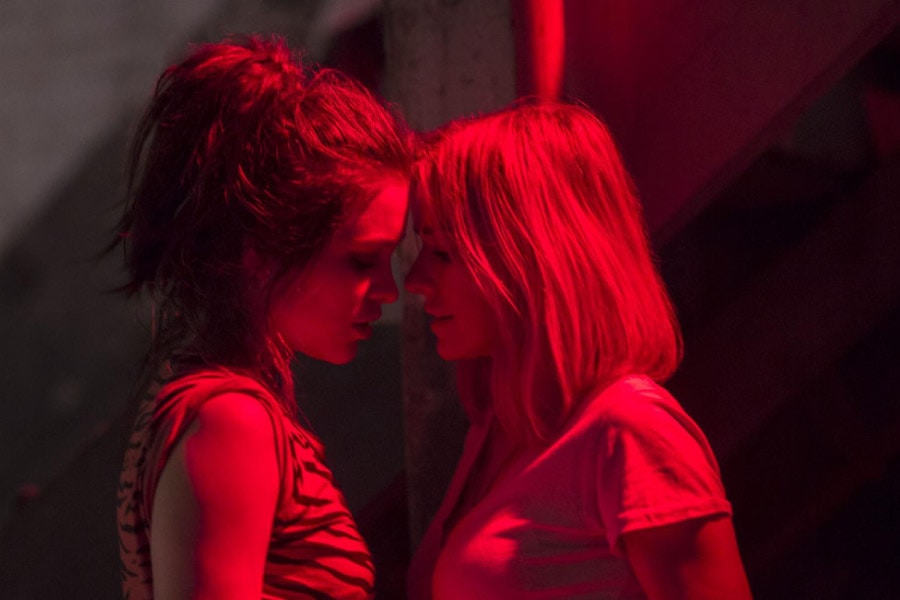 Jessica Jones (2015-2019)
Rating: 🌈🌈
Superhero show Jessica Jones always had power lesbian Jeri Hogarth (the lawyer), but the show gets better (queerer) in season 3! Jessica Jones gets an assistant Gillian (played by Indian-American trans actress Aneesh Sheth), Jeri reunites with her college love, the bisexual and polyamorous Kith, and Detective Costa turns out to have a husband and is trying to adopt a kid! The queer narratives are small, yet important. The 'queerness' doesn't define the characters. Assistant Gillian's gender is never discussed for example – and that's amazing! Aneesh Sheth said "[it] is wonderful because trans people exist in the world. It's not always about their narrative." and that's that! Also: she's Marvel's very first trans character.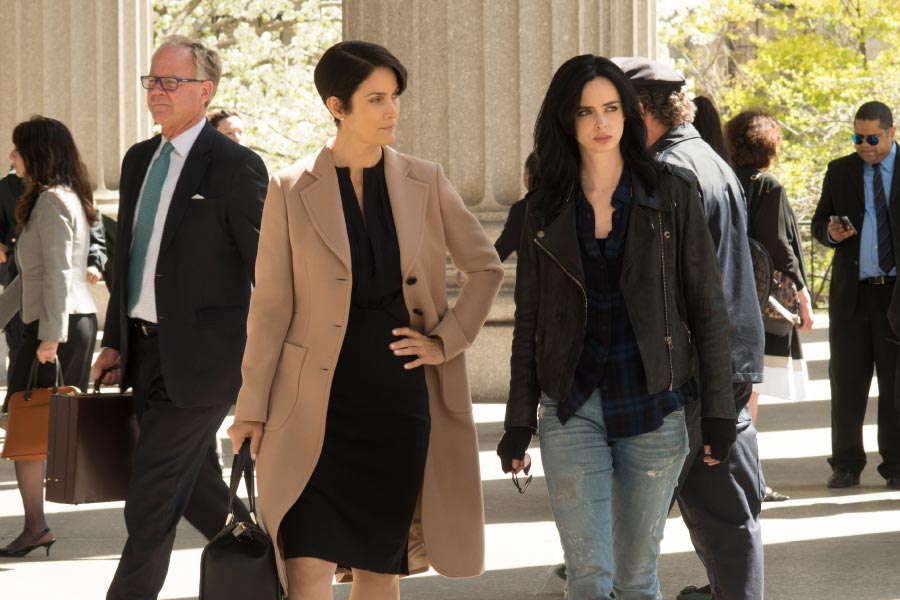 The 100 (2014-2020)
Rating: 🌈
The 100 introduces its first lesbian character, Lexa, in its second season. Over the course of the second season, female lead character Clarke turns out to be bisexual (unique!)! Lexa tells Clarke about her past lover – Costia – who was killed ?. Lexa now sees love as a weakness. And that's why Lexa and Clarke's relationship never has a real chance. And then, the show does an unforgivable thing in S3E7 – they KILL OFF Lexa. Remember our warning about dead queers? It's actually a big thing: the "bury your gays" trope. Nevertheless, the show is so popular amongst the queer (female) community!
Trinkets (2019-2020)
Rating: 🌈🌈🌈
It's not every day you find a Netflix TV show where no one dies, no one has superpowers and has a lesbian lead, played by a queer female actress, yet it's not about her coming out story. I mean, I think it's the only one there is! So Elodie (played by Brianna Hildebrand) is gay and a kleptomaniac. She's struggling as the new girl at school but makes two new best friends at the Shoplifters Anonymous meetings she has to attend. Their friendship is adorable, and this whole coming-of-age story is very sweet. It's mellow, it's relatable, it's dorky, and it's queer!
Atypical (2017-)
Rating: 🌈
Okay, this should probably get half a rainbow because the queer storyline is very fresh and kind of small, but we LOVE the queer female love story. Trying not to spoil things here, but the lesbian gif universe has already exploded, so the odds are, you know what's up. This show is really adorable and also diverse in another way: the lead character, Sam, is on the spectrum!
Pretty Little Liars (2010-2017)
Rating: 🌈🌈
This was the first series ever I watched with a lesbian girl as one of the lead characters. Already in the second episode, Emily (played by Shay Mitchell) shares a kiss with Maya. In the eleventh episode, she comes out to her father and her parents send her off to a de-gaying rehabilitation center. Naive, young Dutch me didn't even realize that still really existed. Then Emily is bisexual and gets a boyfriend? Yet later, she's only into girls again. It all confused me. What also wasn't great: Emily's relationships didn't get as much screen time as the other (straight) relationships, and it was less intense. She also only had one long relationship, with Paige, yet it was all so complicated. Emily's storyline could've been much more powerful, as she's also a gay woman of color!
Fun fact: Ashley Benson (playing Hanna in PLL) is actually queer and she dated Cara Delevingne!
But let's talk about the biggest flaw of the series (spoiler alert): the villain is a transwoman (played by a cis woman)! And the reason for being a villain/a sociopath is coming from being trans. Which is incredibly problematic! The creator said "She was a villain because she came from a very, very crazy family" and "if you treat somebody like they're nothing, chances are they will treat others like they're nothing as well". The creator tried to humanize the character, but in our opinion: it has done more harm than good (creating awareness like this is not what the trans community needs).
Check out more lesbian shows!
Queer Netflix Shows
Tales of the City (2019)
Rating: 🌈🌈🌈🌈🌈
This miniseries on Netflix is actually preceded by the San Francisco Chronicles of 1993, 1998, and 2001 based on the novels of Armistead Maupin. This 2019 series continues to tell the story from a white straight cis woman's perspective – which is a little weird in our opinion. Yet the series is written by queer writers and they're doing the best they can. In a time where everyone seems to be offended by something, there are so many sensitive and complex topics around LGBT culture – it's hard to get it all right!
TOP TIP: if you're traveling, you can use the offline option in the Netflix app – and watch all your favorite shows in the airplane or on the bus!
Dear White People (2017-2020)
Rating: 🌈🌈🌈
'Hey yo! White privilege check' – no one ever shares on TikTok. But luckily, we have the Netflix show Dear White People, based on the movie with the same name from 2014. The film's queer black writer and director, Justin Simien, also created this series! So it's a story about diversity to start with. The queer characters aren't your usual straight-forward (gay-forward in this case?) gays/lesbians – their sexual orientation doesn't always define their characters, nor are the characters easily labeled. This series tackles importance issues of black queer culture, as well as relevant topics like #MeToo. The third season is definitely the queerest!
You would love the show She's Gotta Have It if you love Dear White People!
You Me Her (2016-)
Rating: 🌈🌈🌈
Allegedly the first polyamorous romantic comedy on television, this series is giving a voice to the polyamorous community. Both female characters identify as bisexual, which is important for visibility, yet a little tricky with the whole 'bisexuals want it all' stigma. The story: a middle-class couple is missing something in their lives – they want a baby but the biology isn't working in their favor. Also, they miss the 'spark'. Through some funny events, they end up in a throuple with a younger lady. The series is a lot about figuring it all out and how to deal with unaccepting society. It's funny, it's cute, and it's 'real', not sexualized too much. The show creator gets feedback from a guy from the polyamory community after every episode! Of course, there are quite some issues with the series too, but it's the first of its kind, so that's only fair!
Sense8 (2015-2018)
Rating: 🌈🌈🌈🌈🌈
This show is very very very queer. The creators, the Wachowskis (two transgender sisters), are famous for writing and directing the Matrix series and writing V for Vendetta. Sense8 is about 8 people across the world (Mexico, India, Germany, Iceland, USA, Kenya, and South-Korea) that were born at the same time, and they are connected to each other – they're "sensates": human beings who are mentally and emotionally linked. It's all very confusing, so let's discuss the queer focus instead.
There's a Mexican sense8 that is a gay man (and he's extra, cause he's an actor), and Nomi is a trans "hacktivist" from San Francisco (played by trans actress Jamie Clayton) and her girlfriend is Freema Agyeman! Because of the sensate-stuff, all 8 characters kind of end up in orgies (or so it looks), making it a whole new level of queer. Unfortunately, the show was canceled after two seasons – and we were left with a mega cliffhanger. The show was too expensive (it was shot all over the world!). Sense8 reportedly cost around $9 million per episode. Luckily, the cries of the fans were heard and a special was released on June 8, 2018, tying up the loose ends.
Black Mirror (2011-)
Rating: 🌈
This sci-fi series is insane. The overall theme of the series is basically technology manipulating the behavior of humans, yet every episode has its own storyline and they aren't related apart from the larger theme. Episode San Junipero (S3E4) is a very cute lesbian love story. There are not enough lesbian tv series out there, so we have to be happy with every episode we get! In all the other episodes of Black Mirror, technology creates a dystopia, yet in this episode, it does the opposite. And like any episode, nothing turns out to be what it seems! In the fifth season (S5E1), there's another queer narrative – kind of – when two men have virtual reality sex. They're straight, unfortunately (they try kissing IRL because they're both confused), but we love how it's opening the dialogue about sexual fluidity!
GLEE (2009-2015)
Rating: 🌈🌈🌈🌈
The best season was definitely its first (it was definitely flawed), but the fact is: this show was groundbreaking and of great importance for LGBT representation on TV. Especially for young people. A show about a high school show choir, a show of outsiders all figuring life out (through a lot of songs). In just the fourth episode, the first LGBT character comes out, and there are a few other important LGBT moments: the first kiss between a lesbian and bisexual girl (S2E4), over-the-top gay proposal (S5E1), a trans person admits they're transitioning (S6E3), a double same-sex wedding (S6E8).
Sex Education (2019-)
Rating: 🌈🌈🌈🌈🌈
One of the newest queer high school series on Netflix: Sex Education. And it's amazing. It's very sexually explicit, very inclusive, and very fluid. We love moving into this new era where all sexual orientations are normalized. And we LOVE Eric, who is so much more than a sassy black gay side character. His character gets developed, and when he dresses in drag? OMG, there are no words.
So Eric is Otis's best friend, and Otis is the lead character. His mom is a sex-therapist, yet Otis is very weird about sex. But because his mum is an expert, Otis sets up his own sex therapy practice for his classmates. He even helps a lesbian couple! The show also tackles important issues like vagina/body-shaming, abortion, and more. It's an incredibly fun yet important LGBT Netflix show! The larger importance of this series is that it's SO relatable, especially for teenagers. All the doubts that come with being a teenager – especially sex-wise – it's all awkward until it's not!
Degrassi: Next Class (2016-2017)
Rating: 🌈🌈🌈
This show is definitely for a younger audience. I felt like I was watching Disney XD or Nickelodeon, it has a similar look (in my opinion). So it's another high school series and there have been shows about this specific high school – called Degrassi – before. And Degrassi has always been diverse and this show does a good job (there are gays, lesbian, and in season 4, a character comes out as gender fluid!) but the show is very very soapy.
13 Reasons Why (2017-)
Rating: 🌈
This is one of those shows with a few queer characters in it, but it is an important one because it deals with suicide – something many people in the LGBT community, unfortunately, are familiar with. This show can be triggering. If you need help, reach out to The Trevor Project or visit the 13 reasons Why helpline.
Chilling Adventures of Sabrina (2018-)
Rating: 🌈🌈🌈
Did you also watch Sabrina the Teenage Witch of the 90s? Well, this new show is based on the same original comic, so it's kind of a reboot. Of course, there is no one like Melissa Joan Hart, but this new show has something better: great queer characters! Sabrina's cousin Ambrose is a pansexual warlock, played by Chance Perdomo, and he gets a boyfriend! Prudence doesn't believe in monogamy (nor do witches or warlocks, judging from the orgy and sexual fluidity). And then there's Susie, played by non-binary actor Lachlan Watson. Susie was originally a trans man in the script, but Lachlan changed that and made their identity part of Susie's. They said: "Susie is on an ongoing queer journey, just like myself". Season 2 is promised to be even more transformative of LGBT representation on TV!
Little extra note: I noticed Unbreakable Kimmy Schmidt was on many lists and I feel the need to explain why I left it off mine. It's quite simple: I feel shows nowadays can do better than having the one queer character be the sassy gay best friend.
NOTE: The L Word was on this list, but was removed from Netflix USA as of March 20, 2020.
We'd love to hear your feedback on this article! Did we miss any LGBT Netflix Shows? Let us know! Want to chat with us about this article? Find us on Instagram, Facebook, or Youtube!
PIN THIS ARTICLE