Have you always dreamed of sleeping under the stars? And sleeping under the northern lights? Then we have amazing news for you, it's possible if you stay at Buubble: the bubble Iceland hotel! And the best part is, you can watch the stars and northern lights comfortably from your warm bed. You just have to look up, as the bubbles are see-through.
There are many unique places to stay in Iceland, but when you visit Iceland you have to add staying the night at the bubble hotel to your Iceland itinerary. Sleeping at the '5 million star hotel' is an experience you will never forget.
Yes, of course, you need to be lucky weather-wise to see the Aurora Borealis (the northern lights). And visit during the right season (late August to mid-April), but to sleep in a bubble, surrounded by nature, is magical anyways.
If you aren't a fan of glamping yet, be aware, we fell in love with it! In this article, we will tell you all about Iceland's bubble hotel, our experiences, what to expect and what to bring. It's a one of a kind experience like you are sleeping in a fairy tale.
Curious what to pack for your Iceland trip? Make sure to read our Iceland packing list!
IN THIS ARTICLE
Bubble Iceland Hotel Locations
Igloo Iceland
Sleep in a Bubble
When to Stay at the Bubble Hotel?
Northern Lights Iceland Hotel
What to Bring to a Bubble Hotel?
Golden Circle Route
Bubble Iceland Hotel Locations
Buuble has two locations with multiple bubble igloos. Both locations aren't too far from Reykjavik. The exact locations of the bubbles are a secret, but once you book, you get the exact location (GPS coordinates, and detailed driving instructions). By not giving everyone the locations of the Bubbles, they stay totally private.
One location is on the Golden Circle Route, close to the town Reykholt. The other location is in South Iceland close to Selfoss and Ölvisholt.
We stayed at the South Iceland location. You should decide what location you want to stay at depending on your route and how much time you have. If you are traveling the entire ring road, as we did, then it probably doesn't matter where you stay. But if you don't have much time and just want to explore the Golden Circle Route, we recommend booking the Reykholt location.
Both locations are similar, though the South Iceland location has a brand-new tree bubble. They made Iceland's first hanging bubble. A bubble hanging in a tree, how extra cool is that?! It's like a Christmas ornament in a tree!
You need your own transport, or arrange your own transport, to get to the bubbles. It's not possible to get there by public transport. If you book a tour with Buubble too, then you are picked up!
Igloo Iceland
Sleeping in a bubble is like sleeping in an inflatable igloo in Iceland, but it's warm and see-through! The bubbles are inflated through a noiseless ventilation system. So you don't hear the ventilation system. Plus there's a heating system to keep you warm!
Curious how the bubble doesn't deflate when you enter? There are two doors to enter the bubble, one is to enter the little hallway attached to the big bubble, the other door is to enter the big bubble itself. Just make sure the two doors aren't open at the same time, otherwise the bubble will deflate!
While staying at the bubble hotel Iceland we got some questions about privacy. The bubble is fully see-through, this way you can experience nature 100% and enjoy the stars and northern lights (if the weather conditions are right).
Yes, people can see you from outside the bubble, though the bubbles are located in a forest. There will be nobody else in the forest, only other guests. But you can't see another bubble from your own.
So don't worry too much about privacy, relax and enjoy!
A must-visit spot in Iceland: the stunning Studlagil Canyon!
Sleep in a Bubble
We said it before, Buubble is truly one of the coolest hotels in Iceland to stay at! There are some things good to know before your stay.
The Bubble Iceland hotel is not a regular hotel, so there's no formal reception area. There is a host that will welcome you and show you your bubble! Check-in is between 4 PM and 8 PM and check-out the next day is before 11 PM. If you want to check in earlier or later is possible upon request in advance.
The bubbles are luxurious and basic at the same time. It's the perfect Iceland accommodation. We love the interior, the bed is comfy, it has lights, electricity strips, and space for your stuff to put. The only 'basic' about the bubble is, is that there isn't a toilet or shower in the bubble. So you have to walk to for a couple of minutes to get to the shared cabin with showers and toilets. Each bubble fits two people.
The cabin also has a little kitchen with a sink, kettle, and a coffee machine, which you can use free of charge. There's also Wi-Fi available in the cabin.
Don't bring too much stuff with you, as the bubbles in South Iceland are located on a little forest hill. The more you bring, the more you need to take with you uphill.
Prices for a night stay at Bubble Iceland start from $150. Depending on the season and how busy it is, this can get a more expensive. You can only book through the site of Buubble.
When to Stay at the Bubble Hotel in Iceland?
Icelandic weather is quite unpredictable. In Iceland, they say 'if you don't like the weather, just wait 5 minutes'. The weather changes constantly!
In general, South Iceland gets more rain, is windier, and is warmer than North Iceland. But it's the sunniest in East and North Iceland. So don't worry if you have bad weather in one part of Iceland, as it can be totally different in another part.
Every season has it charms! During the summer months you can experience the midnight sun: it stays light the whole night! If you sleep in the bubble, they provide sleep masks, so you are still able to sleep 'in the dark'.
During the winter months it's possible to see the northern lights! Of course, the weather predictions need to be in your favor. But how amazing would it be to lay comfortably and warm in your see-through igloo in Iceland, and see the northern lights? Plus how wonderful is it when your bubble is surrounded with snow? It sounds extra magical, right?
Which season you visit Iceland will form your Iceland experience. Though, it doesn't matter when you visit the bubble Iceland hotel, it will be amazing anyways.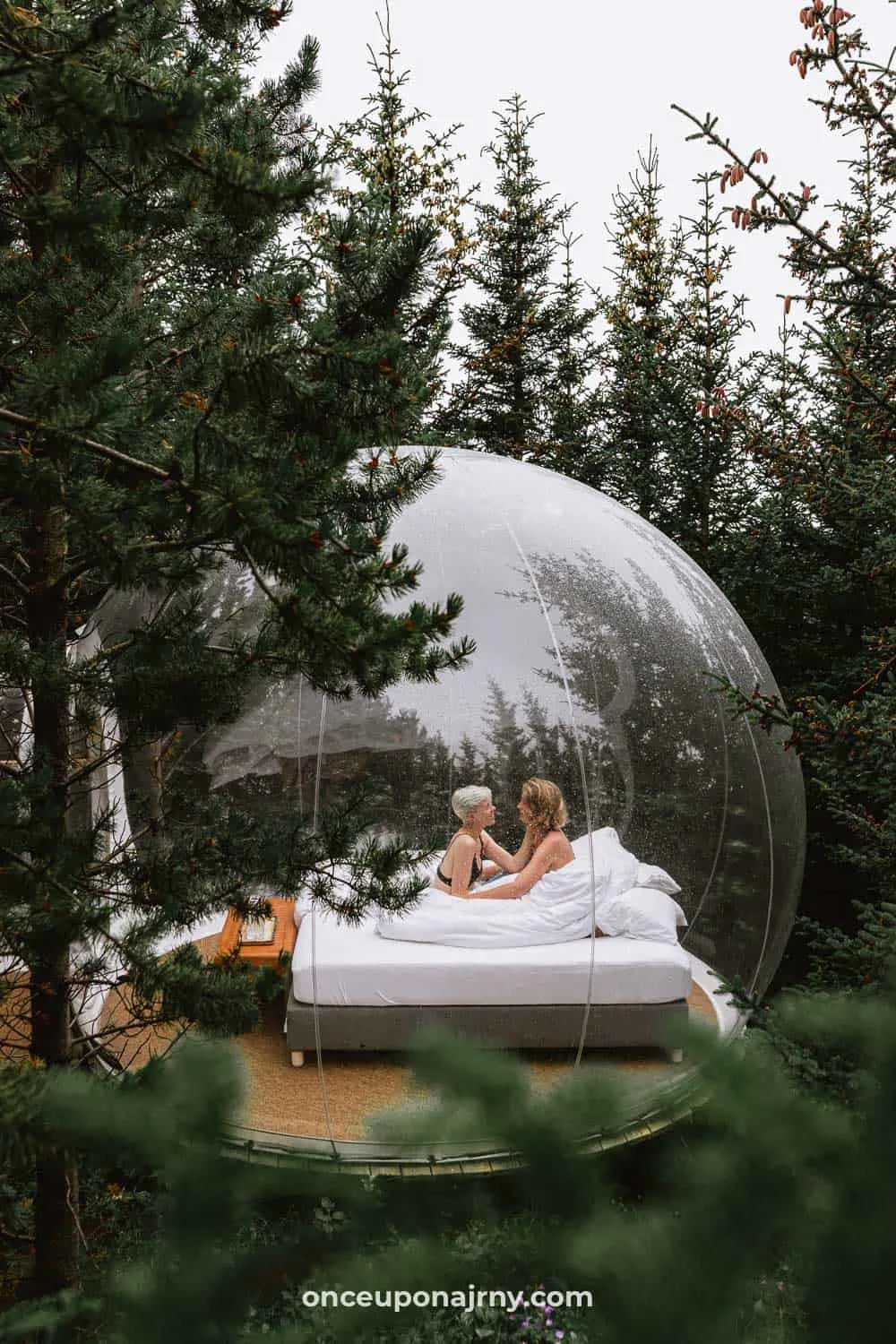 Want to explore Reykjavík? Read our guide to Reykjavík in one day!
Northern Lights Iceland Hotel
When is it possible to see the northern lights? Bubble Iceland is definitely among the best hotels in Iceland to see the northern lights! But when can you see the northern lights?
From late August to mid-April it's the northern lights season. Though the best chance to see them is between the end of September and the end of March.
But then of course, the weather forecast still needs to be good. The sky needs to be clear of clouds and it needs to be dark to see the northern lights. And sometimes you just need to be lucky.
We didn't see the northern lights during our Iceland trip in mid-August 2020. But we've heard stories from people that were able to see them at the beginning of August the year before.
What to bring to a Bubble hotel?
Read our Iceland packing list to check what you should bring to Iceland. Something you can't forget is a torch, which is convenient if you go to the bathroom or shower when it's dark! Or if you want to take photos of the northern lights outside your bubble. And when you visit Iceland in Winter, make sure to bring snow boots. Very convenient if you want to walk to the bathroom.
The bubble hotel doesn't provide any food, so make sure to bring some. There isn't much in the area (of the South Iceland location), but you are in Selfoss within 20 minutes.
So if you want to go out and eat somewhere that's possible within a short drive. It's the same for the Golden Circle Route.
We recommend bringing some snacks anyways and some drinks (wine to make it extra romantic?!) to fully enjoy the night.
Golden Circle Route
The Golden Circle route can't be missed on your Iceland itinerary! And it's perfect to combine a Bubble Iceland stay with the route.
What is the Golden Circle Route, and what do you need to see? The Golden Circle is one of the most well-known routes in Iceland and is especially popular because it's located close to Reykjavik. People that don't have much time in Iceland, often only explore Reykjavik, the Golden Circle, and South Iceland.
The Golden Circle is a route between 3 popular attractions, Thingvellir National Park, Geysir geothermal area, and the waterfall Gullfoss. Though there are more beautiful places where you can stop on the way.
And something we highly recommend doing is to go snorkeling in the clearest water in the world. Silfra snorkling Iceland is simply AMAZING!
Enjoy your Iceland Bubble Hotel stay! Staying in such igloos in Iceland is truly one of the most magical things we ever did!
If you have any questions about Iceland, please send us a message! Drop them below or send us a message. Find us on Instagram, YouTube, and Facebook.
If you enjoyed our blog post, don't forget to share it with all your friends and family!
PIN THIS ARTICLE