Have you ever thought of traveling to Mongolia, or is it on your bucket list already? We can tell you: you must go! Mongolia travel is amazing, and we are going to tell you why you must visit Mongolia.
Mongolia is one of the world's most sparsely populated countries and has one of the last surviving nomadic cultures in the world. More pure, authentic experiences are hard to find in a world where, nowadays, no place seems unexplored.
It's a country that's still authentic. But with a tourism industry that's growing, we aren't surprised to see major changes coming in the next couple of years. That's why you should travel to Mongolia as soon as you can!
Around 3.3 million people live in Mongolia. Nearly half of the population lives in the capital city, Ulaanbaatar. You can travel around the rest of Mongolia without seeing people for hours. Just sit back and enjoy the landscapes.
Landscapes that are super diverse. The country has deserts, huge mountain ranges, grasslands, rocky valleys, sand dunes, and canyons. It's an adventurous country to travel to.
We traveled to this amazingly diverse country and had the most amazing time ever! Together with a driver, we drove around the country in three weeks and enjoyed every second of it.
Here's our list of 19 reasons why you must travel to Mongolia!
Reasons Why You Must Visit Mongolia
We also include the best places in Mongolia to visit, the tourist attractions in Mongolia (yes there are a few), facts about Mongolia, the best time to visit this amazing country, and so much more!
Mongolia travel is amazing, and we hope more people get the chance to experience it.
Mongolian People
Mongolians are arguably the most friendly & warmhearted people in the world. We were welcomed open-armed everywhere.
It doesn't matter that they do not speak English, and we didn't speak the local language (please do learn some basic words for greetings and a polite 'thank you'). Mongolians speak with their warm smiles. Mongolian people are one of the reasons to travel to this beautiful country!
Around 3.3 million people live in Mongolia. Nearly half of the population lives in the capital city, Ulaanbaatar. It's one of the most sparsely populated countries in the world. In comparison, the country is over 4 times bigger than Germany, but about 80 million fewer people live in Mongolia.
More and more people Mongolians move to the city. One quarter still lives a traditional Mongolian nomadic life, but as life is changing, there are fewer people living nomadically.
The official language spoken in Mongolia is Mongolian and is spoken by most Mongolians. Many Mongolians also speak Russian, so if you speak Russian, it could be to your advantage when traveling around Mongolia.
Untouched by Western Life
Except for the big capital, Ulaanbaatar, Mongolia is untouched by western life. And more importantly: undiscovered by mass tourism. But with a tourism industry that's growing, we aren't surprised to see major changes coming in the next couple of years.
When we visited Mongolia, we saw many paved roads being constructed in the countryside. The infrastructure is changing quickly.
That's why Mongolia is the place to go, now. More pure, authentic experience is hard to find in a world where nowadays no place seems unexplored.
Festivals in Mongolia
There are some great festivals in Mongolia! So if you can visit Mongolia during this time, your Mongolia trip would be extra special.
A popular time to travel to the country is during the national Nadaam Festival. It's the most famous festival in the country and a national holiday for the locals.
Every summer, usually around mid-July, this festival is held. There will be wrestling, horse riding, and archery. Nadaam literally means a feast of sports, but it is much more than just a festival about games and sports.
People get together, eat together, have fun, probably empty one or two bottles of strong drinks, sing, dance, and perform. Mingle with the locals and learn about the authentic Mongolian culture.
You have to visit northern Mongolia to see the most traditional Nadaam Festival celebrations, for example in the area of lake Khuvsgul. And make sure to bring your camera with you, as it's a picturesque happening.
Another amazing festival in Mongolia is the Altai Eagle Festival in West Mongolia. In the Altai mountains, eagle hunters and their trained eagles will showcase their traditional culture. The festival is the start of the eagle hunting season.
We stayed with a Kazakh family of eagle hunters and had the most amazing time.
Off the Beaten Track Travel
Looking for an off-the-beaten-track destination? Mongolia it is! When traveling to Mongolia, we heard so many people saying 'Mongolia is on my bucket list too' and 'one day I will go there'. But as it's really an off-the-beaten-track destination, the country sits on people's travel bucket-list forever.
There are not many paved roads in Mongolia, so your Mongolia trip will get adventurous. In 2007, there were just 2600 kilometers (1615 miles_)of paved roads in the country. In recent years, this changed to 10,000 kilometers (6214 miles) of paved roads.
Most of those paved roads are in and around Ulaanbaatar. This is just 20% of the total roads in Mongolia, so imagine how many unpaved roads there are.
And those roads are often very bumpy, or sometimes roads are fully gone! For our trip, we hired a local driver (and his 4×4 car). We know some people rent their own car and drive around the country, but we don't understand how they managed.
Our driver had to ask other Mongolians multiple times a day if roads were accessible. And sometimes, after multiple hours of driving, we had to turn around to find another road. Sometimes we were unable to drive on it; there was too much water on the road or roads were too muddy, for example.
If you are going to drive yourself, it might be handy if you know how to change a tire!
And if you are sitting back in the back of the car, it will get bumpy. Adapt and enjoy the ride – and the gorgeous views. Bring medication with you if you get motion sick!
Mongolian Culture
Mongolia's culture – one of the world's last surviving nomadic cultures – is world-famous. These days, we all know "digital nomads". Working remotely, online, and moving places all the time.
But the Mongolian nomads have been doing this for many, many years already. But they don't work online, they work in and around their portable home.
The nomads in Mongolia live in a yurt, which is a portable and round tent covered with skins and felt. A yurt is also known as a ger, this is how the Mongolians call their home. They pack everything they own twice or three times a year to move to a different location.
Usually, the nomadic families move in spring and just before winter. The nomadic families move according to the natural circumstances of the season. They do this to provide new food for their herds and to protect themselves from the cold weather in wintertime.
It's not like they move from north to south, but from the lowlands to highlands, or from open valleys to more hidden places against the wind. It gets very cold in winter in Mongolia.
Normally, nomadic families don't move far from one camp to another and stay within the region.
When traveling around Mongolia in spring, we saw many families moving around. That was so impressive, to see them moving places with their stuff and their animals.
The nomadic families often have cows, goats, sheep, horses, and/or camels. They keep them for food (meat and milk), and for trading.
About 25-40% of Mongolia's population still preserve a Mongolian nomadic way of life. And the nomadic cultural heritage and lifestyle are still very similar to the traditions of centuries ago.
Sleeping in a Yurt Mongolia
Sleeping a ger is a must when visiting Mongolia! We got the opportunity to stay with nomadic families in their ger, and it's an adventure to never forget.
There are ger camps in Mongolia, especially for tourists. It's like a lodge setup but with gers. These ger camps are great to go to, as they give tourists an idea of how it is staying in a ger, but with western amenities.
The gers of nomadic families are often very modest, so there's not always a bed, shower, or toilet. But we stayed at one nomadic family who had electricity, walkie-talkies to communicate with each other, a television, solar panels, and lights.
So some western life is integrated into the traditional Mongolian nomadic lifestyle in some families, but this is still rare. And we can imagine they don't want too much stuff. As the more stuff you have, the more you need to move around!
Nomadic culture
Everything nomadic people need is there in their ger. Each ger has a fireplace in the middle, for cooking and to keep the Ger warm. Smoke from the fireplace escapes through a hole in the center of the roof, like a chimney.
These large portable tents protect nomadic families from some of the coldest temperatures on the planet during winter.
If you get the opportunity to stay with a Mongolian nomadic family in their ger, definitely take it! As this is such an authentic experience.
As a whole family lives in the yurt, there's not really any privacy. There are no walls or separated places in the yurt, and they live, sleep, and eat together. Not sure how you can be really intimate this way, but it's obviously been done like this for ages (and we saw many little children walking around)!
Don't expect comfort when staying with a nomadic family, it's the perfect way to leave the western way of living behind for a bit.
Because of its beautiful open culture, Mongolia's people make the country feel surprisingly accessible and warm (even during the cold spring!).
Wildlife Mongolia
In the countryside of Mongolia, you will not see normal traffic jams, but traffic jams caused by herds of cows, sheep, goats, horses, or camels. They are just walking on the road, standing on it, or are trying to cross.
Animals can wander wild and free in Mongolia's countryside (which is almost the whole country). They can go where they want to go!
There are no fences for animals, and nomadic families keep their herd together with help of herding dogs. The dogs also keep wolves away, who see the free-roaming animals as easy prey.
Be prepared to see many animals while traveling around the country. When you are on the road, opening your ger, or when you are squatting behind a bush and out of a sudden there's a camel looking at you.
There are also many wild animals living in Mongolia. Like the famous Prezwalski horse, snow leopards, yaks, gray wolves, the Siberian ibex, Gobi bears, and gazelles!
We searched for snow leopards in the mountains on a tour but didn't see them, sadly.
The Feeling of Being the Only One
In Mongolia, you can truly feel like you are the only one on earth. We already talked about the fact Mongolia is one of the least populated countries in the world.
But it's not only a low populated country, it is also the 19th biggest country on earth. Only 2 people live per square kilometer (5 people per square mile).
You can drive around the country for hours. Hours of seeing nothing but limitless open space. And you can visit the most incredible places without other tourists around. It makes you feel like you are the only person in the world.
This is not something you can experience in many countries in the world. Especially not in the Netherlands (where we are from) and many other countries in Europe.
Trans-Mongolian Railway
Want to make your trip extra adventures? Why not travel by train to or from Mongolia? We visit Mongolia during our Trans-Mongolia Railway trip.
Initially, we were supposed to do the Trans-Siberian Railway route through Russia only, but we are so happy we changed our minds.
The Trans-Mongolian Railway travels from Moscow to Beijing, via Mongolia. One of the reasons you must visit Mongolia is because of this epic train ride. It's the longest continuous rail line in the world, traveling across two continents, covering almost 10,000 kilometers (6214 miles).
Yes, you can stay on the train and enjoy the ride while looking outside the window. But you have to experience Mongolia yourself!
Mongolia's Nature
If you love the outdoors, Mongolia is your paradise. Mongolia's nature is incredibly diverse, and driving through Mongolia amazed us every minute.
From the beautiful desert steppe and incredible sand dunes in the Gobi in the south to the mountainous regions in the west to the lakes in the north: Mongolia's nature will never bore you.
The best places to visit in Mongolia are: Lake Khövsgöl, the Gobi Desert, the Orkhon Valley, Khustain Nuruu National Park, Gorkhi-Terelj National Park, and the Altai Mountains.
Looking for more stunning nature in Asia? Visit Khao Sok National Park in Thailand!
Horse Riding Mongolia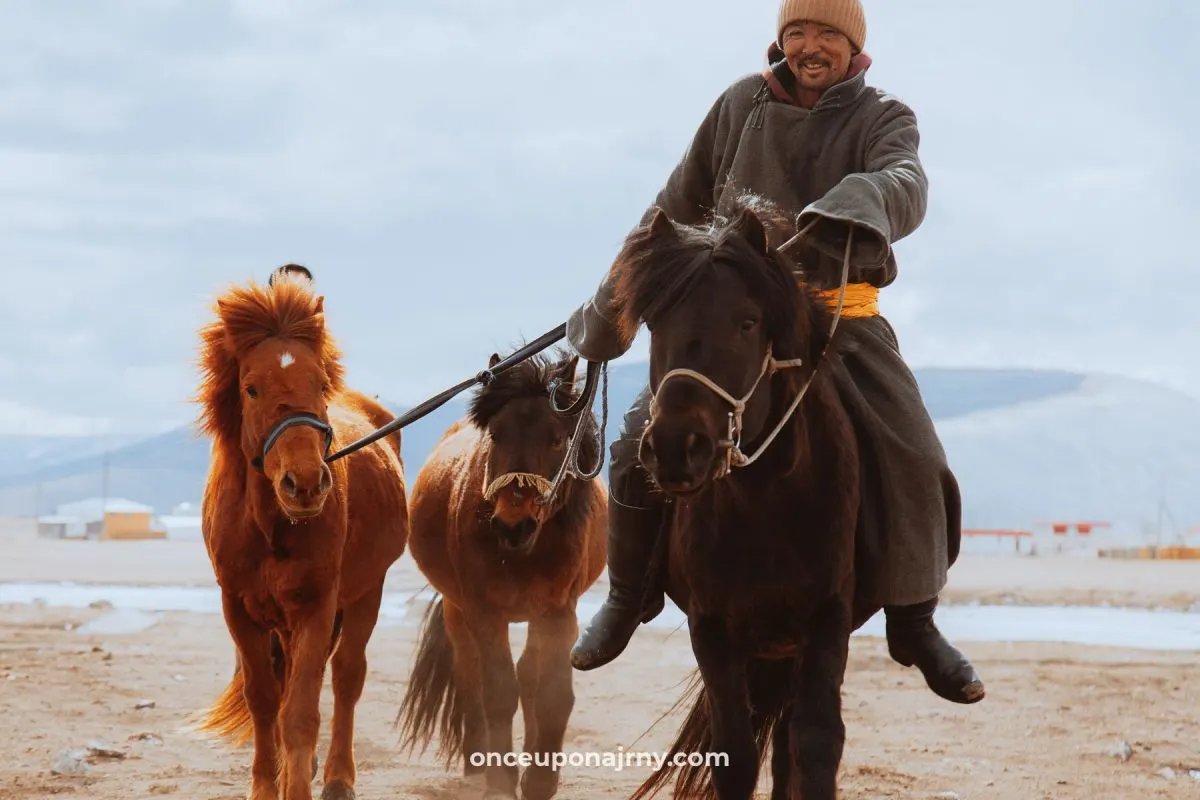 Mongolia is heaven for everyone loving horses! Here you can find wild Przewalski's horses, the only species of wild horses left on earth. Once, they were nearly extinct, but they were imported back into Mongolia. And now you can find them in Khustain Nuruu National Park! They are beautiful to see.
Of course, the Przewalski's horses aren't meant to ride on, but horse riding is a very important part of Mongolian culture (on other horses than the Przewalski's horses). Nomadic families use their horses to move around.
Horse riding tours in Mongolia are popular as it's an amazing way to see true Mongolia, become part of Mongolia's wilderness, and experience and see the nomadic lifestyle first hand.
You can do a short horse riding tip of a couple of hours in Mongolia. But if you love horse riding, a multiple day-tour might be the best way to see (a part of) Mongolia.
The Beauty of Every Season
Mongolia is called the country of the blue sky because it has over 250 sunny days a year! The summers are hot and the winters extremely cold.
And in spring, the weather is everything. Literally. In the Altai Mountains in the west, you can see all four seasons, from snow to sun to rain, in just ten minutes. Every season shows a different Mongolia.
The winter shows a beautiful white wonderland, the summer its green mountains, and spring its newborn animals jumping around happily.
Driving around Mongolia is most recommended during (late) spring, summer, or early autumn. This way, it's easiest to travel around the country without being delayed because of the weather and undrivable roads.
Gobi Desert Mongolia
The Gobi Desert in Mongolia is one of the places you have to visit when you travel to Mongolia! It's the second-largest desert in Asia and the sixth in the world.
And it has super unique ecosystems, amazing natural formations, real dinosaur fossils, huge dunes, many camels live here. Plus, the desert was an important place of the ancient Silk Road.
The desert is also famous for its dust and wind storms, so be prepared! During wintertime, the temperatures can reach minus 35 degrees Celsius (-31 Fahrenheit) in the desert, and during summer temperatures can reach plus 35 degrees Celsius (95 Fahrenheit).
Must-visit spots in the Gobi Desert are the flaming cliffs and the Sand Dunes of Khongoryn Els. We camped next to the dunes with our own tents and had the best night ever.
Camping in Mongolia
You could say sleeping in ger is kinda camping in Mongolia, but another option is to bring your own tents! We hired a driver, and he arranged tents, so we could overnight everywhere we wanted. You can wild-camp in Mongolia almost everywhere.
Camping is especially a great option if you travel to Mongolia between May and mid-October, for the best weather.
We only had great experiences camping in Mongolia, only one time it got a little too cold when staying in the mountains searching for snow leopards. We can't recommend camping with -10 degrees Celsius (14 Fahrenheit) at night.
There's no light pollution in Mongolia (if you stay in the countryside), so make sure to admire the sky at night. The skies filled with stars are incredible!
Some basic camping tips: don't set up your tent under a tree, you never know if a storm sets up and branches might fall. And don't set up your tent too close to water or riverbeds that are dry. Heavy rain can change everything!
Eagle Hunters and The West
Most tourists go from the capital to the Gobi Desert in the south, or to Lake Khövsgöl in the north, and they miss out on the best part of the country: the west.
The more we travel west, the friendlier the people become; we drive into the Kazakh area. These people are known for their hospitality and… for eagle hunting!
We visit the family of the Eagle Huntress and have the best time. Besides Kazakh people, West Mongolia is also famous for its nature.
Our driver proudly tells us that you don't have to travel all of Mongolia: all things can be found right there, in the west. Mountains, sand dunes, and lakes: everything!
The Altai mountains are located in western Mongolia, which is the highest and largest mountain range in the country. If you visit this area during the right time, you might even get the chance to see the Altai Eagle Festival.
Hiking Mongolia
Horse riding is one option to experience the wilderness of Mongolia, hiking is another option! Mongolia is a paradise for hiking lovers. And there are hikes for everyone, from beginners to pros.
If you have enough time and are an experienced hiker, then the Altai mountains are the place to be for hiking. Walk through the amazing snow-capped mountain ranges and enjoy the wildlife, beautiful landscapes, and culture you will experience on the way.
The Khangai Mountains in central Mongolia are great for hiking if you are looking for an easier area for hiking. And if you don't want to travel too far from Ulaanbaatar, other options are Lake Khövsgöl, the Terelj National Park, and Bogd Khan Mountain.
Mongolian Food
Okay, for some people this might be the reason to not visit Mongolia. Mongolian food is interesting as it features a lot of meat and milk products. Especially when you visit Mongolia in winter or just after. At that time, there aren't many vegetables available.
We traveled through Mongolia in early spring and were happy when we found a carrot or potato somewhere, something else than meat.
Mongolians eat and use everything from the animal, which we think is amazing. You shouldn't be surprised if they serve a dish with intestines. So if you like meat and don't mind experimenting, Mongolia is a great place for you.
Besides the meat, they also use other things from animals. Mongolians make warm clothing from animal skin, and they use cow poo to make fire.
There are also many dairy products available in Mongolia. They are very creative with the use of milk from their local animals like camels, horses, cows, goats, yaks, and sheep.
The most interesting dairy snack we got was Aaruul. Aaruul is dried curd, and quite difficult to eat (it's very hard)!
Ulaanbaatar
Although it is the coldest capital city in the world, Ulaanbaatar – or just UB – is a lively capital with a rapidly growing population.
The capital city is located 1,350 meters (4,430 feet) above sea level and reaches temperatures of -42 degrees Celsius (-44 Fahrenheit) during winter.
But summer temperatures can reach 39 degrees Celsius (102 Fahrenheit), so the city experiences extreme differences between seasons.
Nowadays, almost half of Mongolia's entire population lives in Ulaanbaatar. No wonder the rest of the land is so empty people-wise. It is crazy to think that UB is also Mongolia, as the feel is the opposite of that of the countryside.
The capital attracts young people from rural areas and this makes the city feel alive! For tourists, it's the international gateway to Mongolia's wilderness.
But we also recommend spending at least one day in UB. There are some great cultural sights, art galleries, and museums in the capital city. The National History Museum is great to visit.
You can also see many remains of the Communist regime in for example buildings, featuring Soviet architecture.
Visiting other cities in Asia too? Bangkok and Kuala Lumpur are among our favorite cities!
Adventure is Out There
Last but not least, and I think you will get this one by now: adventure is out there in Mongolia! We visited many countries in the world, and Mongolia travel is by far our most adventurous travel experience of all.
For seventeen days, we saw barely any paved roads, no shower, no toilets, and no electricity. We were totally off the grid and lived the nomadic life ourselves. The real one, and not the digital nomad lifestyle we were used to. It is adjusting, but amazing. We had the time of our lives!
Best Time to Visit Mongolia
What's the best time to visit Mongolia? In winter, the temperatures can be very harsh, reaching -45 degrees Celsius (-49 Fahrenheit). It doesn't snow a lot in Mongolia. But the snow that falls stays for a long time as the temperatures stay freezing cold at least for four months. The snow simply doesn't melt!
Winter in Mongolia is from November to February. With good equipment and good preparation, Mongolia travel is possible this time of the year.
The landscapes in winter are extra magical. You probably see many ice sculptures made by Mongolians. And nomads will give you an extra warm welcome because they don't see many foreigners this time of year.
But, it's also good to know your Mongolia trip will get extra adventurous. As there aren't many roads and the infrastructure isn't there, it isn't always safe to travel outside of Ulaanbaatar this time of year.
In our eyes, the best time to visit Mongolia is during spring and summer. The temperatures are getting warmer, and nomadic families will move places. This makes for amazing sights.
And in summer the Nadaam Festival happens, which is a great moment to visit Mongolia!
Good to know: it's possible to experience every season of the year in one day. Especially in intermediate seasons, in May or September. It doesn't rain often in Mongolia, but the most in summer.
Map of Mongolia
Mongolia travel is amazing, and we hope you are enthusiastic to travel to this beautiful country too! Do you have any questions? Drop them below or send us a message.
Find us on Instagram, YouTube, and Facebook.
If you enjoyed our blog post, don't forget to share it with all your friends and family! Thank you so much!
MORE TO READ:
PIN THIS ARTICLE