Everyone is looking for the best Penang street art, but not everyone has 6+ weeks time to find every piece of art.
We were lucky to housesit for one of Ernest Zacharevic's friends (yup, the artist of the famous 'original' street art!) and we found the very best works all over Penang.
Did you know it's not just limited to George Town? Of course, art fades and new pieces are painted on a regular basis, but we'll try our very best to keep this article updated!
To me, finding street art is like a scavenger hunt for grownups. I love having a 'treasure map' and be in 'explorer'-mode.
I love the suspension of it: will the art still be there? Will it be as big/small as expected? Maybe I'll walk past it if I don't pay attention?
Some works are in a different place than you think or not as easy to find as anticipated. It's definitely the most fun to just wander around and stumble upon the works, but it's a shame if you miss some.
So here's a very complete guide to finding the best murals in Penang!
Penang Street Art History

Penang wasn't always a street art heaven. Surprisingly, it's only something from the last few years! It all started when George Town was listed as UNESCO World Heritage in 2008.
In 2009 the first art project was set up, called Making George Town. The pieces are cartoon steel-rod sculptures that can still be found throughout the city today.
We won't include those pieces in this article; we'll focus on the painted murals!
In the summer of 2012, the art project Mirrors George Town put Penang on the map. Lithuanian-born artist Ernest "ZACH" Zacharevic was commissioned to paint six pieces for the annual George Town Festival. The murals depict the everyday lives of local people.
One year later, in 2013, Artists for Stray Animals (ASA) did an art project called 101 Lost Kittens, raising awareness for stray animals.
In 2014, former bus depot-turned-art center Hin Bus Depot collaborated with Urban Nation for the Urban Xchange: Crossing Over street art project, which attracted many artists.
That's also the year Russian artist Julia Volchkova was drawn to the new mural-capital of Asia. From 2014, she has painted many beautiful murals with roots in the local culture, capturing the soul of Penang.
Already in 2016, the first murals have faded, but new ones are painted constantly. In 2018, China House opened Art Lane Penang – an alley full of street art. We're curious to see what the future brings for this artsy city!
The downside of the increased popularity of George Town: it has a big impact on the local culture and many local shops have to close to make space for hipster coffee shops or hostels to accommodate the large amounts of tourists and backpackers. Whenever you visit, go find traditional shops and support the locals!
George Town Street Art Area I
We highly recommend starting your murals-hunt from Chew Jetty, and slowly make your way to the famous art street: Armenian Street. It'll take you on a journey from faded (and repainted) art to the classics!
Children in a Boat (2012) > Folklore by the Sea (2018)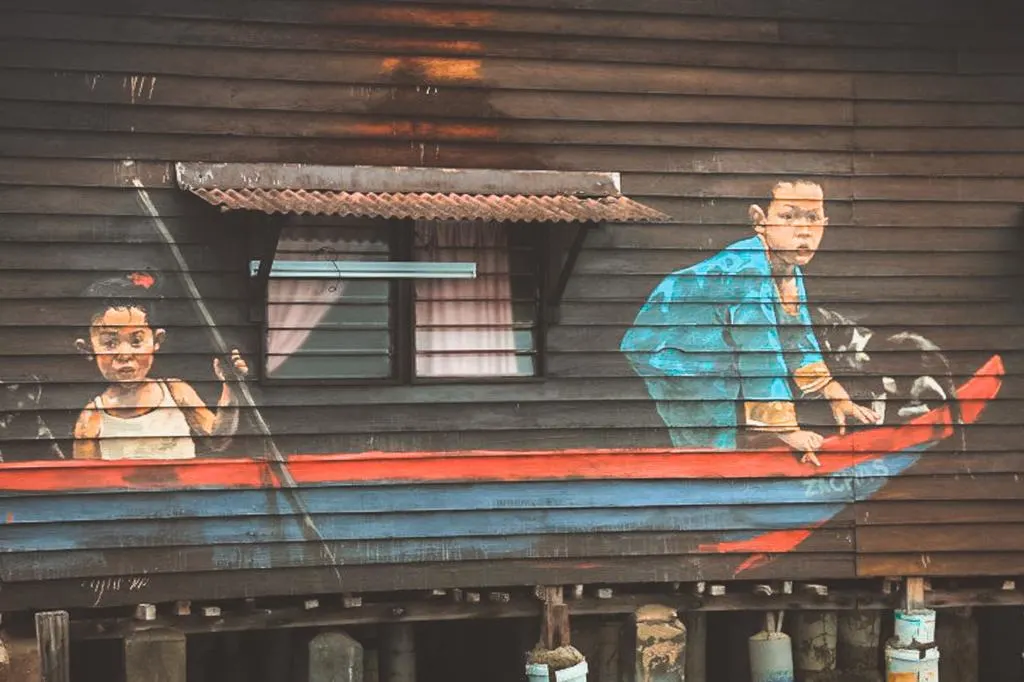 Children in a Boat by Ernest Zacharevic was one of the original murals of art project Mirrors George Town but sadly has already faded a few years ago.
In December 2018, Singaporean artist Yip Yew Chong decided to paint for ten hours straight, painting a new mural at the exact location Children in a Boat once was.
Folklore by the Sea tells the story of the settlers from China who built their homes at the Penang waterfront in the 1880s.
Ah mah and Ah soon (2013)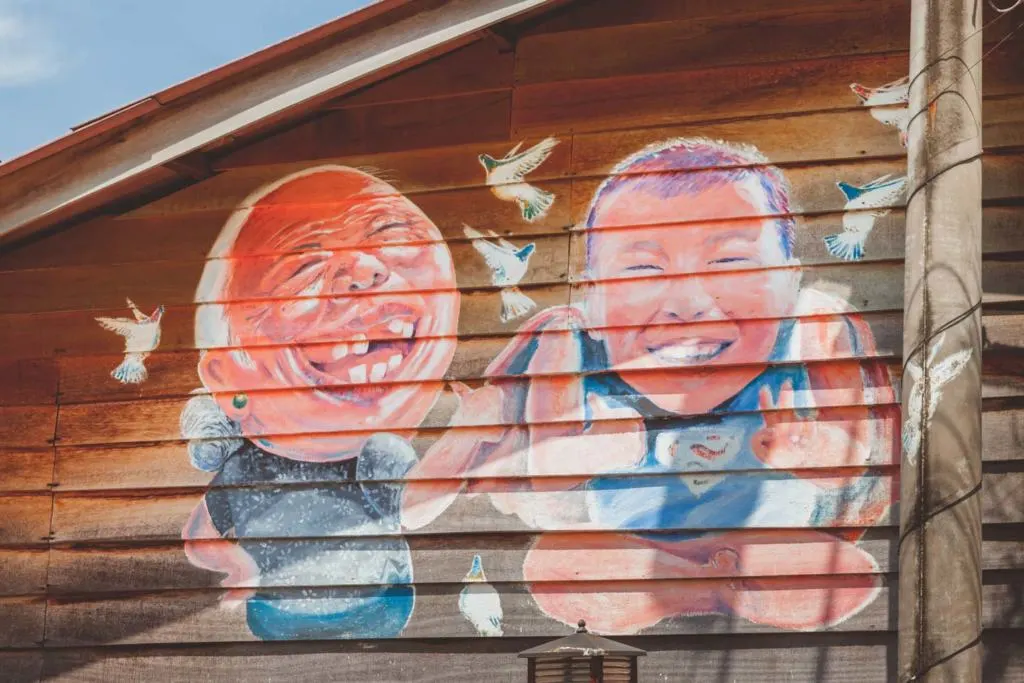 This happy grandma (ah mah) and grandson (ah soon) are painted on one of the first buildings at the Chew Jetty.
Painter Simon Tan originally also painted a mural Ah kong and Ah mah (grandpa and grandma), but removed the artwork completely after it was vandalized.
Brother and Sister on the Swing (2012)
Definitely one of the most famous artworks of Penang and often confused to be an Ernest artwork.
Brother and Sister on a Swing is a non-commissioned artwork by deaf-mute self-taught artist Louis Gan Yee Loong. The children in the painting are the kids of the owner of the printing firm SBS Paper Products.
Next to the swing, at the entrance of the street, you can find another mural: Old Soy Milk Stall. This artwork is created in collaboration by St. Xavier's Institution, Homesoy and Vilmedia.
Children playing Basketball (2012)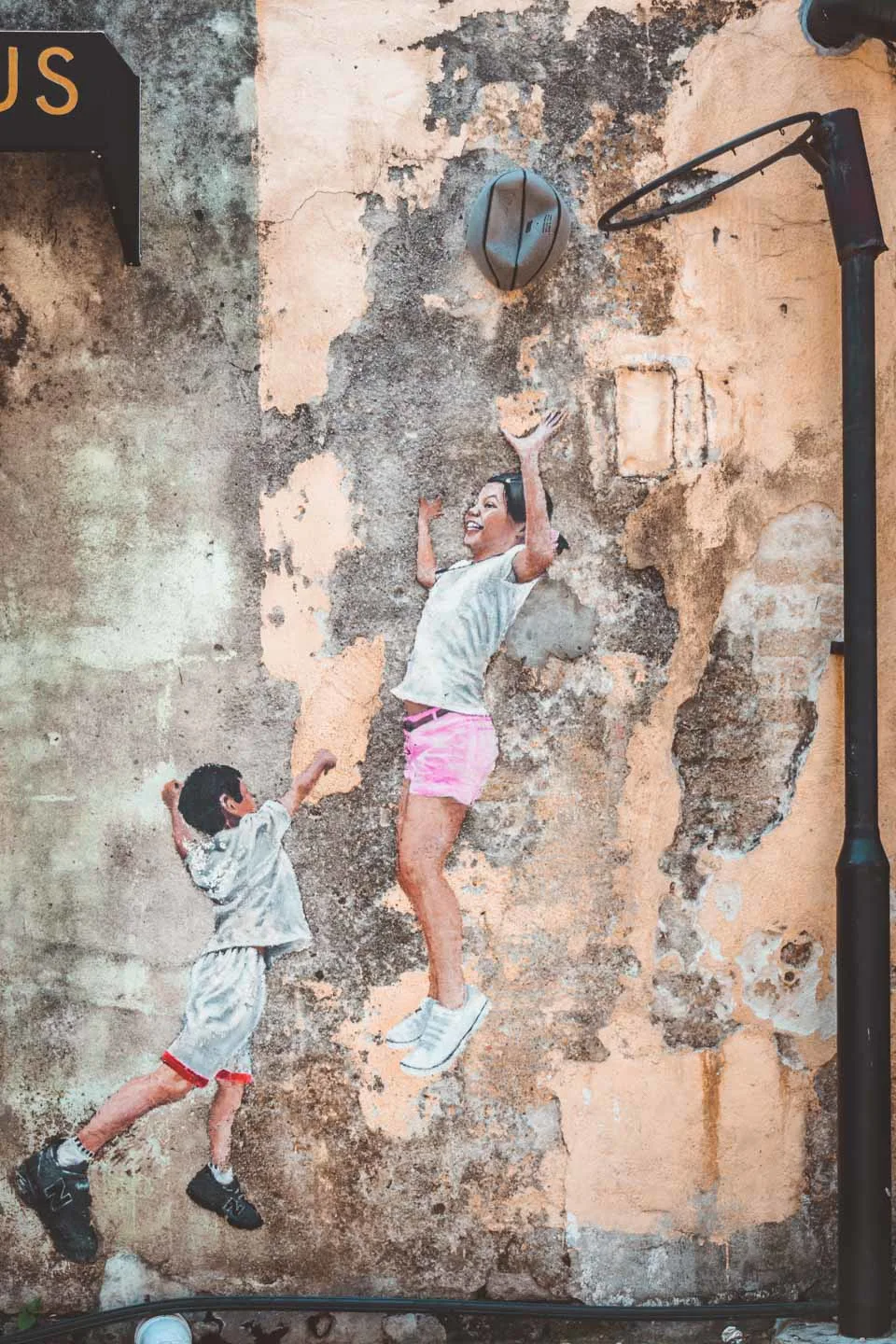 Another piece by Louis Gan, located in the street across from the swing-mural, at the back of the old Kwong Wah Yit Poh building. UPDATE 2019: the basketball is gone, but the mural is as good as new!
I Want Bao! (2014)
Now we're on the famous Lebuh Armenian (Armenian Street). The first piece that we come across is I Want Bao! or I Want Pau! This is one of the commercial murals in George Town.
Murals are a great way to promote your business, so the Ming Xiang Tai Pastry Shop decided to commission this mural.
The kids in the mural are the owner's own children. Kuala Lumpur born artist WK Setor painted this street art for Chinese New Year.
Now, we'll leave Armenian street for a bit – we're turning right onto Beach Street – but we'll return!
Boy on a Bike + Boy with Pet Dinosaur (2012)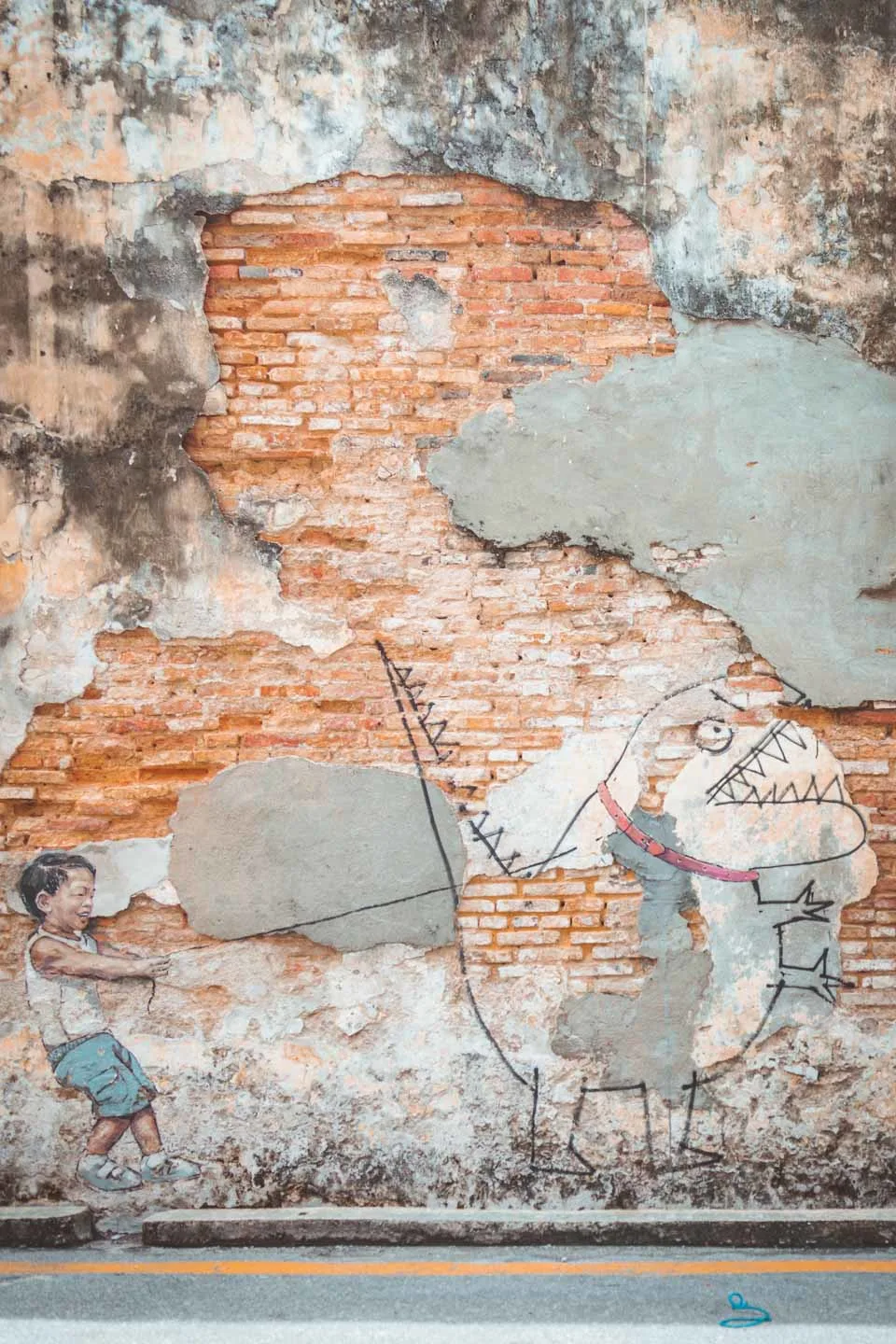 On your way to Boy on a Bike you'll already pass some artworks from the 101 Lost Kittens Project, so make sure to keep your eyes open!
The boy on the motorcycle is one of the original Ernest Zacharevic pieces for Mirror George Town.
Or, it's actually two pieces since there's another mural, Boy with a Pet Dinosaur, right next to it / part of it (but often cut from people's pictures, poor boy).
There's more – newer – street art in this street (and Bruce Lee is right around the corner), so take your time!
Genius Parking Murals (2014)
These works are part of the outdoor-project Urban Xchange from Urban Nation.
4Some Crew (Donald, Black, Fauzan, and Jojo) painted anarchistic, colorful boat and Karl Addison painted the old woman with a monkey, Symbiotic Mural.
Both pieces can be found at the Genius Parking Lot.
Children on Bicycle (2012)
Maybe you've already spotted this artwork before turning onto Beach Street, and the line of people probably gave it away.
It's again one of the original works, but somehow this seems to be the most famous of all. Maybe because it's right in the middle of the main street art area of George Town.
In high season, it can take a while to take a good photo. Our best tip: either go off-season or visit this place early!
Teach You Hokkien (2014)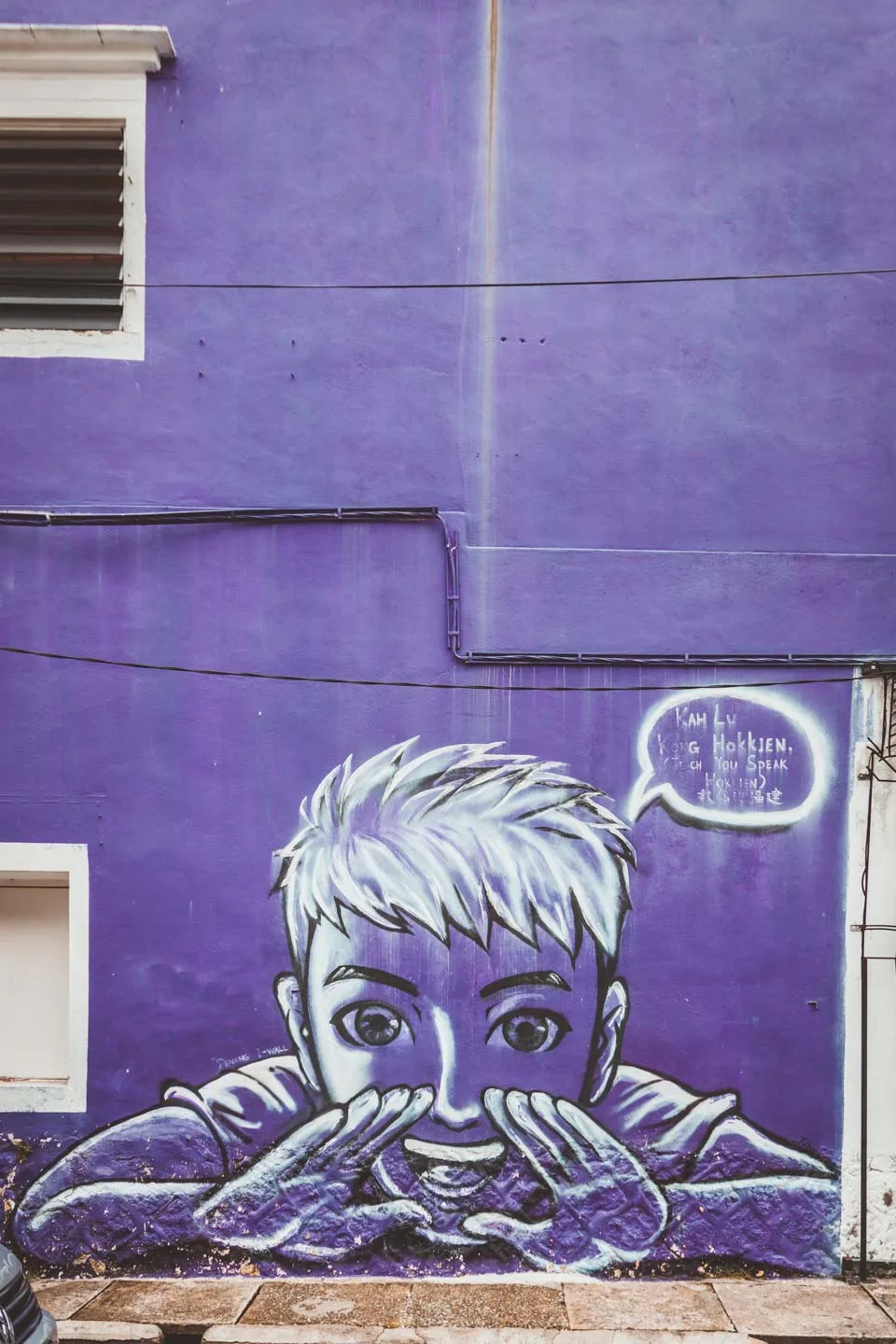 You cannot miss this artwork, as it's about 2.5 m tall (8.20 foot). The boy yells that he'll teach Hokkien (a Chinese dialect).
Wo Ai Nee Chinese Malay Indian (2013)
This mural (also called Cultural Girls George Town) shows a Chinese, Malay and Indian girl. Wo Ai Nee means "I love you", and in our eyes, it's a celebration of the three main races of Penang.
Note: the mural is quite small, so it's easy to miss.
Lion Dance / Chinese Dragon (2013)
The last one of the three 'purple murals'! This famous Chinese New Year lion dance seems to break out of the wall!
Unnamed alley with many murals
As this alley is unnamed, it's a little tricky to explain its location, but if you turn the first right after the purple street art (coming from the kids on a bicycle), you're in the right place.
You'll immediately see many works, including the ones shown above!
Boy on Chair / Reaching Up (2012)
One of the originals by Ernest! When you turn left onto Cannon Street, you'll see this little boy, standing on a chair and reaching all the way up, on your right.
It's easy to miss, so keep your eyes open. On your left is the cat in the blue window.
Indian Woman
This beautiful mural by Russian artist Julia Volchkova is already fading, unfortunately. It's a little hidden in an empty street, but it's absolutely beautiful. The old lady seems to be part of the tree – so special!
Ice Cream Rose (2014)
We're back on Beach Street / Lebuh Pantai! Don John painted this tasty roses ice cream as part of the Urban Xchange project in 2014.
If you're craving ice cream after seeing this mural, TFros Ice Cream is just around the corner!
Little Girl with Cheongsam Walking on Numbers
Turn your back to the big ice cream to see the mural of a little girl wearing a cheongsam (traditional Chinese dress), walking on numbers. It's really easy to miss it – because we actually did haha.
ART LANE PENANG
The newest addition to George Town is a community art space, inspired by lane ways and pop up parks.
It's a project by cafe China House and artists can contribute by simply emailing a proposal! Art Lane Penang is open daily from 9 am – 7 pm.
Recommended read: best cafes in George Town
CATS AND KITTENS: 101 LOST KITTENS
We've hinted to this project before, but all around the famous Armenian Street, you can find 13-ish murals with a specific subject: cats!
Art project 101 lost kittens was part of the George Town Festival in 2013 by Artists for Stray Animals (ASA). The project was meant to raise awareness for stray animals, and ever since, more cat-murals have appeared.
Love Me Like Your Fortune Cat
The Giant Cat Mural / Skippy Comes to Penang
Please Care and Bathe Me
102nd Cat Mural
UPDATE 2019: there's a board now covering half of the kitty
Cats & Humans Happily Living Together
The Real Bruce Lee Would Never Do This + Little Blue Kitty
UPDATE 2019: someone put graffiti letters below Bruce ☹️
No Animal Discrimination Please
Cats Walking for Awareness
UPDATE 2019: one wall is painted over, but at the fire station you can still find a few!
Cat on Tyre
Cat Flying with Heart Balloons
I Can Help Catch Rats
Cat in the Blue Window
BONUS: new cat in the unnamed alley
GEORGE TOWN STREET ART AREA II
Ready for another round of mural-hunting?! Besides the area around the famous Armenian Street, we found another area full of street art in George Town, a little more to the northwest.
It's easiest to start in the farthest northwest corner and head towards the city center.
The Awaiting Trishaw Paddler / Trishaw Man (2012)
So let's start in the farthest northwest corner, with yet another original Ernest piece! It's a huge mural, spread over a five-story wall (15 by 15 m / 49 by 49 ft)! This piece was also part of the Mirrors George Town project.
Big Mouth (2015)
Part of exhibition Different Strokes, a collaboration of graffitiprints.com and Hin Bus Depot Art Centre, painted by artist Gabriel Pitcher from the UK.
We love how this piece uses the arch as a mouth – if you look left you actually see the mouth painted on the wall – kinda creepy, yet interesting.
Kung Fu Girl / Little Girl in Blue (2012)
This 20-foot (6 meters) high mural is again a piece of Mirrors George Town, by Ernest Zacharevic. It's huge and quite high, so make sure to look up!
Girl on a turtle (2015)
This is a collaboration between Ernest Zacharevic and Argentinian artist Martin Ron! You definitely see Ernest was involved. It's high up a building – makes you wonder how they painted it!?
The Tree Lady (2014)
Part of the Urban Xchange project, this piece was painted by Australian artist Vexta. She often paints strong women, and we love you she incorporated a tree in this one!
Blue Creatures
We're walking into the central (touristy) area of George Town now, and here you can find a few Penag street art pieces of which I haven't found the artists of (yet), nor could I identify the year they were painted.
For example, these happy blobby blue creatures playing musical instruments!
Ballerina on an Archway
Another lovely – but small – artwork can be found on an archway: a ballerina!
Indian Boatman (2014)
This mural is painted by Russian artist Julia Volchkova, this was her second piece painted in Penang! It took her 10 days to finish, and it is a tribute to the Indian heritage of Penang.
White Tiger
This giant white tiger is painted by Japanese street artist TwoOne (Hiroyasu Tsuri), on the side of the building of the Tipsy Tiger party hostel. In this area you can find great coffee, so continue your exploration through this area!
OTHER MURALS
There are a few pieces spread out over George Town that we couldn't easily fit into another area. So make sure to grab a moped/motorcycle or get ready to walk, because these are a few artworks that shouldn't be missed!
Nagore Square Murals (2014)
For the Urban Xchange: Crossing Over project, a number of great murals were painted at Nagore Square. You can find pieces by artists ELLE, Karl Addison and Antanas Dubra.
Having a bowl of Cendol (2017)
Cendol is a very famous traditional dessert in Penang. This mural is painted in the street where the most famous Teochew Chendol stall stands and is painted by artist Emmanuel Jarus.
Couple on a bicycle (2017)
Besides kids on a bicycle, there is also a mural of a couple on a bicycle. It's in the same street as the boy eating a bowl of cendol. The mural is painted by local artist Caryn Koh.
Looking Up (2016)
This mural is Caryn Koh, painted by Emmanuel Jarus!
Boy at Prangin Canal (2014)
This is Julia Volchkova's first mural in Penang. This was also a piece of the Urban Xchange street art festival.
HIN BUS DEPOT
This place is amazing! There's outdoor street art, there are exhibitions indoors and there's a lovely pop-up market every Sunday.
Hin Bus Depot is a former bus depot but is now all about art. This art center has set up the art projects Urban Xchange: Crossing Over and Different Strokes.
Art is Rubbish is Art (2014)
Ernest's first solo exhibition, powered by Hin Bus Depot! Not all (indoor) pieces are there anymore, but a few pieces last until now:
Thoughtful Girl
Upside-down girl/Ernest Zacharevic's Backbend Girl
Traffic Cone Boy
This is another tiger by Japanese-Australian artist Hiroyasu Tsuri aka TwoOne.
This Penang street art is by Spanish artist Sabek
Woman looking up & Fly swatting guy
The first piece is by Australian artist Rone, and the second by Taiwanese artist Candy Bird.
This mural by Tank Petrol is a street further than Hin Bus Depot but was also part of the Urban Xchange program like the artworks above.
Penang Street Art Map
Want to walk around easily without missing a mural? Tap the "view larger map" icon and the map will be added to your Google Maps. Click the icons to view the picture of the work, so you know what to look for!
BALIK PULAU
Once you've seen all the George Town murals, the fun doesn't have to be over! Route 6 is a gorgeous ride around the island.
Enjoyed best on a motorcycle! You must definitely stop in Balik Pulau to see some more murals, there are four amazing pieces by Julia Volchkova.
The Silat Master is a portrait of Johari Omar. Silat is the traditional martial arts practiced in the Malay Archipelago and Indonesia!
This is a painting of Pang Yi Chuen, a local Hakka girl. The traditional dancing caught Julia's eye in George Town. Since Balik Pulau has a big Hakka population, she decided to paint a tribute to the traditional dance.
Rubber is the main export product of Malaysia, which is why Julia decided to paint the process of extracting latex from the tree.
This Penang street art is a portrait of Yeoh Choon Seng, a local fisherman from nearby Teluk Kumbar.
This isn't a piece by Julia and is, unfortunately, dissolving quickly. It's a piece by Ernest again! It's a portrait of local silversmith Fong Ten Sent. Sadly, he passed away in 2016.
Balik Pulau Street Art Map
That concludes our VERY detailed list of all Penang Street Art! Did you manage to find them all? We'd love to see your pictures! Tag us (@onceuponajourney) on Instagram in your photos.
And comment below if anything needs to be updated – we can't keep this article up to date by ourselves!
PIN THIS ARTICLE