If you're planning on taking a trip to Iceland soon (how exciting!), it's likely you are searching for an Iceland packing list. Lucky for you, this blog is a guide to what to bring to Iceland!
Iceland is a stunning country, truly one of the most beautiful in the world. It is the country of fire and ice. Many years ago, Iceland was created by volcanic eruptions and in the country you can find many glaciers (hence the nickname). Iceland has so much to offer: from black sand beaches, thousands of waterfalls and stunning mountains to cute churches, whales and geothermal pools. Iceland has it all!
Which season you visit Iceland will form your Iceland experience. To see Iceland covered in snow you have to visit Iceland in winter (November-March), but that's also the season with little sunlight. Iceland in summer (June-August) is warmer, more sunlight and perhaps you will see puffins! But it's good to know: whenever you visit Iceland, the weather is always unpredictable and often very windy. So it's important to bring the right clothes for Iceland!
Continue reading for the ultimate packing list for Iceland!
IN THIS ARTICLE
Weather in Iceland
General Packing Tips for Iceland
What Luggage to Bring to Iceland
Iceland Packing List All Year
– Summer Extras
– Winter Extras
– PDF Checklist
Different Regions of Iceland
Weather in Iceland
As said, the weather in Iceland is unpredictable and changes a lot. When in Iceland you might hear the joke 'if you don't like the weather, wait 5 minutes'. It changes constantly!
In general, South Iceland gets more rain, is windier, and is warmer than North Iceland. But it's the sunniest in East and North Iceland. So don't worry if you have bad weather in one part of Iceland, as it can be totally different in another part.
When you hear Iceland, you probably think 'freezing'. But the temperatures aren't too cold in Iceland (even in winter), thanks to the Gulf Stream bringing warmth all the way from the Caribbean. Be aware that summer temperatures are colder than other summer temperatures around the world.
General Packing Tips: What to Bring to Iceland
What to pack for Iceland? A few things are very important when you go packing for Iceland!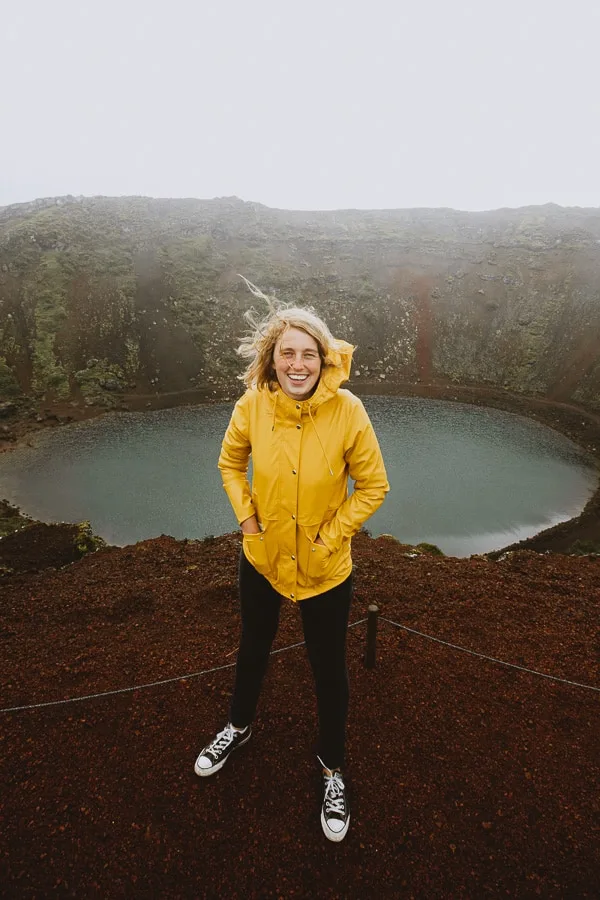 Pack Layers
Whatever time of year you are visiting Iceland, the weather can be unpredictable! You may experience all the seasons in a single day. Pack lots of (light) layers, for greatest flexibility. This way you are prepared for everything.
Consider Your Iceland Itinerary
When checking your packing list for Iceland and packing your bags, consider what activities you will be doing in Iceland before you go. Use this to plan what clothes to take to Iceland.
Blue Lagoon / Geothermal Pools
Are you going to visit the Blue Lagoon or other geothermal pools? Then you will need swimwear. Towels are included in ticket prices for the Blue Lagoon, but you'll want to bring one for exploring the smaller geothermal pools around the country.
Northern Lights Tour
If you plan to seek out the Northern Lights, be sure to bring extra layers and thermal clothing. Tours often can be three or four hours, and in the bitter cold night time. You don't want to ruin a magical experience because you can't feel your toes.
Organized Bus Tours
If you are taking an organized coach tour, of the Golden Circle for example, you will want to pack many layers, to adjust for a longer time sitting on the bus, and then stepping outside into the often harsh Icelandic weather.
Diving / Snorkeling
Despite the temperatures, Iceland has some incredible diving and snorkeling opportunities. Snorkeling in the Silfra fissure for example! In that case, you need warm undergarments. You will get a dry suit, but as the water is very cold, you want to wear thermal underwear underneath it. Preferably fleece or wool, and no cotton.
It would be also a great idea to pack a GoPro or similar adventure camera to capture the experience. Good to know: because of the cold water, the battery won't last for a very long time. If you put your action camera in a water case, the battery will last longer.
In case you were thinking of bringing a waterproof phone or phone in a waterproof case while snorkeling in the Silfra fissure: don't do it. The battery of the phone will die quickly because of the cold water.
Go Silfra snorkeling in the clearest water on earth, in between tectonic plates!
Iceland Clothing: Comfort Over Style
What to wear in Iceland? Comfort definitely goes over style when visiting Iceland. And depending on your fashion taste and style, this one may be harder for some folk. However, Iceland is a very outdoors-y type country, with a lot of nature and adventure activities. Flowy dresses and heels may be acceptable for a night out in Reykjavík, but aside from that, prioritize comfort and practicality. Hiking shoes or comfortable sneakers are necessary in Iceland.
Make sure to check our ultimate Iceland itinerary!
What Luggage To Bring To Iceland
The age-old question – Suitcase or backpack? Of course, this is up to personal preference in the end. However, if you can bring a backpack to Iceland it can make your life easier. It's likely you will travel around the country and stop off in several hotels and locations. Backpacks make this a lot easier compared to rolling a suitcase.

Not to mention, if you visit Iceland in the winter, you may be battling against ice and snow on the ground as well.
Iceland Packing List For All Year Round
Further down this article you can find a complete checklist for Iceland in summer and packing list for Iceland in winter. However, there are some things that you must bring to Iceland all year round.
Electronics
Have you seen how gorgeous Iceland is?! Well, maybe not yet, but you soon will! And you'll probably want to capture some of those moments. That's why a camera is the top of the list of things to bring to Iceland. Whether you take 1000 photos on your trip, or you just want to snap a couple of memories to show friends and family, you absolutely must bring a camera (or two!) to Iceland.
The regulations of traveling with a drone are always changing, so be sure to check on this with your chosen airlines, and the countries you will be passing through, prior to departure. However, if you're lucky enough to own a drone, you will have a field day in Iceland.

The architecture, dramatic landscapes and waterfalls are a cinematic movie waiting to happen. Happy flying!

Thinking of buying a drone? Check out the brand DJI!
There's nothing worse than getting to your photo location, and your phone or camera battery just died. Be sure to prevent this with a battery pack or two. If you are visiting Iceland in the winter, this is particularly important, as battery life spans can often be shortened in the cold temperatures.
Iceland uses a European style two-pin plug. So, if you are travelling from out with mainland Europe be sure to pack a couple of adapters to ensure all your chargers and appliances work in the country.
Other Electronic Accessories
Remember the little bits and pieces that you'll also need for your electronics such as memory cards, cables, chargers and headphones.
Check out our complete list of travel camera equipment!
Clothes For Iceland
As mentioned above, in the general packing tips for Iceland, the winning combination for any Iceland packing list is lots and lots of layers. The weather can change 3-4 times in any single day, so having the ability to take clothes on and off throughout is essential.
Take some t-shirts, some thin long-sleeved tops and a few thicker jumpers or fleeces to mix and match.
Jeans are fine for days in Reykjavík or if you're driving around, but you'll be more comfortable in sports leggings or outdoor trousers for the more adventurous days. Prioritize materials that dry quickly and are comfortable to walk in.
The best jacket for Iceland will depend on the time of year you visit, but either way you'll certainly need something waterproof, windproof and cozy. If pictures are important to you on trips, perhaps pack 2 jackets, or prepare to look the same in every snap, because you'll be wearing it most days!
No matter what time of year you visit, you must have sturdy walking boots on your Iceland clothes packing list. The best sights in Iceland are natural and often involve crossing uneven terrain to get to. This also means your feet will stay dry if the weather gets cold or wet, making it a much more enjoyable trip. Check out the best boots for Iceland.
It probably won't get super hot, but it may be bright! And in winter, the sun stands so low, you need to protect your eyes and jazz up your outfit with some shades.
Whether you've booked a unique Airbnb with a hot tub, are headed to the Blue Lagoon or exploring the thermal pools, you'll definitely want to pack something to swim in.
One of our absolute favorite spots in Iceland is the Stuðlagil Canyon, which was only discovered recently!
Iceland Packing List Summer
In addition to the above things to pack for Iceland all year round, there are some specific things to bring to Iceland in summer.
Bugs aren't a major issue in Iceland, but there can be some midges in the summer in the countryside. And if you visit the Myvatn area (lots of black flies), then definitely bring (sustainable) insect repellent!
If you're packing for Iceland during the summer solstice (midnight sun), it's a good idea to bring a sleep mask to help sleep on those very bright nights.
It may be summer, but it's likely you'll still need a rain jacket for Iceland. The best jacket for Iceland summers is something light weight with space underneath to add and remove layers. Pockets are a bonus to protect your electronics from the rain too. And rainproof pants can be handy too, otherwise you keep changing pants! See all rain clothes.
The evenings can still get a little cool in Iceland in summer, so pack some light gloves and a hat if you're someone who gets cold easily.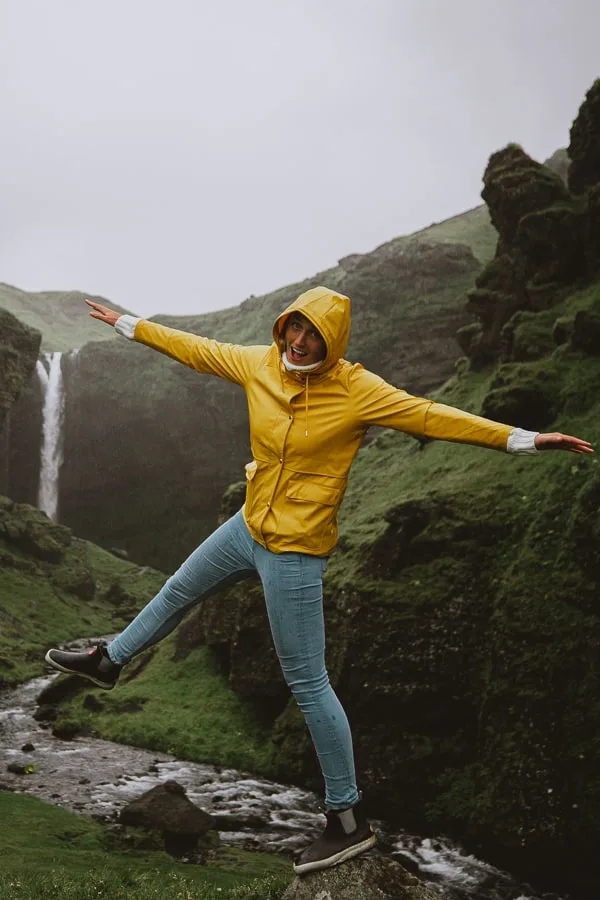 Iceland Packing List Winter
In addition to the above things to pack for Iceland all year round, there are some specific things to bring to Iceland in the winter.
Stay nice and cozy with some thermal base layers underneath your clothing. Quick dry, moisture absorbing and insulating are all great qualities to look for when shopping for thermals. They're perfect for daytime under your clothes, but also as sleepwear.
As well as being waterproof, the best jacket for Iceland winters is thick and insulated. Down jackets are wonderful for dry and cold days, but if you're taking one, be sure to also pack a waterproof as they can be damaged in rain or snow.
If you can buy a long jacket, this is even better as it will keep your legs warm and dry too.
Iceland in winter can be pretty dark, until as late as 11am and again by 4pm. To make it easier to navigate around, add a torch/flashlight to your Iceland packing list.
Warm and dry footwear is important to take to Iceland all year around. However, in the winter be sure to pack shoes with a strong sole for walking on ice. Whether the streets have frosted over or you want to be adventurous on the mountains, ice shoes (or highly grippy boots) will make life easier.
It may seem like one of the most obvious things to pack for Iceland in winter, but cozy hats, scarfs and gloves are essential items. Fingerless gloves with a fold-over mitten top are perfect for photographers who need to use their fingers but want a quick way to get cozy again.
Invest in one of the Iceland essentials and take some reusable hand (and feet) warmers for the coldest days and nights. These little packs can go toasty in a click of a button and are reset by boiling in water, making them eco-friendly and a must-have essential for Iceland.
In case you are still cold during your Iceland trip or want to bring a warm souvenir home, buy an Icelandic sweater. Icelandic wool sweaters are made from the wool of Icelandic sheep and are incredibly warm. The patterns and designs of the sweaters are traditional Icelandic.
In Iceland the sweaters are known as Icelandic lopapeysa, which means sweater made from unspun yarn.
Download the complete checklist (PDF)
Download A4 or download US Letter
Different Regions Of Iceland
During your trip, it's likely that you will visit the city, and nature. You should be sure to pack for Iceland with both landscapes in mind. And different regions in Iceland bring different weather. In general, South Iceland gets more rain, is windier, and is warmer than North Iceland. But it's the sunniest in East and North Iceland. So don't worry if you have bad weather in one part of Iceland, as it can be totally different in another part.
The City (Reykjavík)
This is the capital city, and main hub of the country. Generally great for sightseeing, hotels, shopping and transit in and out of Iceland.
When packing for Reykjavík, you may want to include a couple of smarter clothing options if you fancy checking out the high-end restaurants and bars.
Check our guide to seeing Reykjavík in one day for all must see spots in the city!
South Iceland
The South of Iceland includes the Golden Circle, and some beautiful south coast. These are accessible all year round, whether you are visiting Iceland in summer or winter. Depending on the temperature, you may need to pack a little differently, but on the whole, take comfortable clothing for hiking, waterproofs and layers.
North Iceland
This area is harder to explore in Icelandic winters. The roads can become very covered in snow, and sometimes are too dangerous to pass. If you are visiting Iceland in summer, you may wish to explore the north. Your North Iceland packing list should include comfy shoes, swimwear to explore the natural thermal pools, some bug spray and the same comfy clothing you'd pack for the south.
Enjoy your trip to Iceland! Do you have any questions about this Iceland packing list? Drop them below or send us a message. Find us on Instagram, YouTube, and Facebook.
If you enjoyed our blog post, don't forget to share it with all your friends and family!
PIN THIS ARTICLE