It's funny how we're so focused on travelling and blogging about all of our destinations, we forget our own country is a great place for travelling too! To us, food is one of the important factors: it can really make or break your experience. So if you visit the Netherlands, we want to be sure you have the best food experience. Here's our very elaborate list of traditional Dutch food and recipes!
IN THIS ARTICLE
Dutch Homemade Meals
Dutch Snacks
Sweet Breakfast
Coffee Time (a.k.a. Cookie-time)
Special Occasions
Dutch Homemade Meals
This is food you can't find in any restaurant. Traditional Dutch food is made at home, and let's be honest: it doesn't look very serveable for a restaurant! We actually love to cook these meals when we're abroad when we're Couchsurfing! Note: these are petty much winter dishes. Dutch cuisine doesn't have particular summer-dishes, but that's maybe because there barely is summer in the Netherlands.
Boerenkool
While kale is often seen as 'superfood', in the Netherlands it's the base of the most traditional dish in the country: boerenkool. The name of the dish is simply 'kale' in Dutch. It's best eaten with a smoked sausage from the Dutch shop HEMA.
Hutspot
If you're short on kale, do not worry. The Dutch actually have a great variety of 'stamppots' (mashed potato dishes). This one is called hutspot and is made with onion, potato, and carrot and is officially served with klapstuk!
Snert
Erwtensoep (pea soup), or also 'snert', is a kind of soup. It's really thick though, so it definitely looks more like a puree of some sort. This dish is perfect after an afternoon of ice skating on the frozen canals!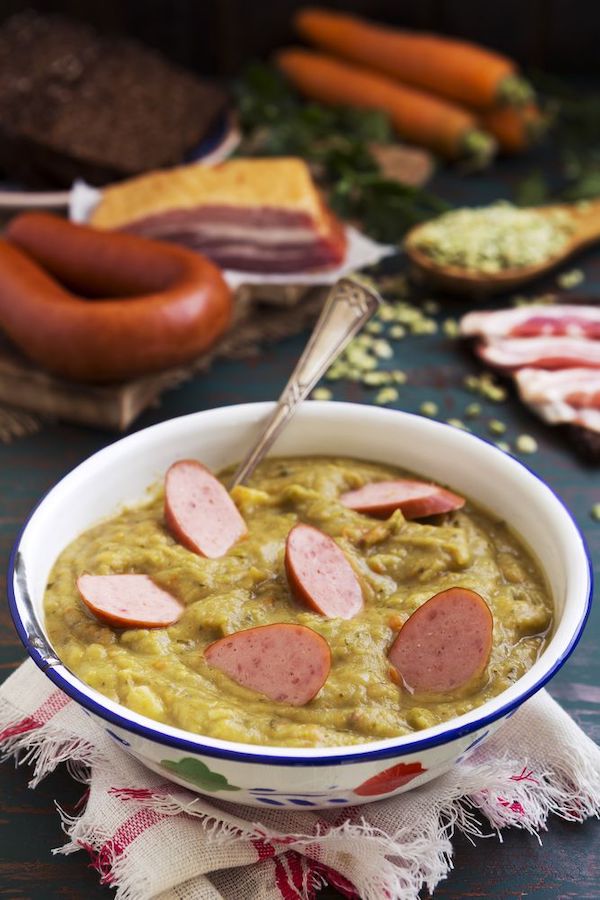 Hachee
You know it's a Dutch dish when it has potatos, meat, and vegetable (we call it AVG: aardappel, vlees, groente). Here's another example: hachee. A beef stew traditionally served with potato and red cabbage.
Dutch Snacks
Surprisingly, we have much more 'signature' snacks than meals. There's also a very funny concept you can find only in the Netherlands: eating out of the wall. Try it out in any FEBO fast food shop in the Netherlands!
Kroket
We actually never tried making these, but this snack is probably the most famous Dutch snack. It's a deep-fried, breaded snack with a soft meat filling. Best eaten with mustard!
Bitterballen
Basically the Kroket, but ball-sized!
Patatje Oorlog
Translated to Engish this is called 'War Fries'. It's a combination of French fries, mayo (Dutchies eat more mayo than ketchup), raw onions and Indonesian saté sauce (we have an extensive history with Indonesia). Let us assure you: you want to try this!
Frikandel (Dutch sausage)
Do not try to look up what's in a frikandel. There are many horror stories about the leftovers of animals that go in here. So no recipe for this one, but you should totally try it!
Kibbeling
Deep-fried fish: yummy! Since the Netherlands is so close to the sea, you can find many fish shops (Maartje used to work in one of them!). Kibbeling is definitely our favorite fish snack.
Haring (Dutch herring)
A must eat in the Netherlands: herring with onions and pickles. Either on a sandwich or just like this (eat it like a roman eating grape!). We think it's gross by the way haha.
Kaas
Everyone knows Gouda cheese, right?! Make sure to visit one of the Dutch cheese cities and experience a traditional cheese market. Maartje is actually from a town near Alkmaar, and they have a great cheese market every Friday morning! The typical Dutch way to eat cheese: on a sandwich (Dutch people eat bread for breakfast and lunch!).
Sweet Breakfast
Okay, you can also eat these things for lunch or even dinner. It's simply delicious.
Poffertjes
This is the best EVER. It's like pancakes, but small and fluffy – like a pillow. With lots of butter and powdered sugar definitely not the most healthy, but it's heaven so who cares? Wanna try the best ones in the Netherlands? Go to Poffertjeskraam de Haan in Laren.
Pannenkoeken (Dutch pancakes)
Okay, while creating this article we found out Norway also has these, but these pancakes are pretty Dutch. Not as thin as French crêpe, not as thick as American pancakes: right in the middle & so perfect. Best to eat with 'stroop' (the much better version of maple syrup).
Wentelteefjes (Dutch French toast)
You probably think: wait, isn't that French toast? And well, yeah kinda! Our name is much better though: it's translated as 'turnaround bitches'! Also, forget about 'semi-skimmed milk', in the Netherlands we normally use whole milk.
Hagelslag (Chocolate sprinkles)
In the Netherlands, we don't use chocolate sprinkles for cupcake-decoration only. It's our very typical bread topping actually! Make sure to cover your sandwich with a thick layer of butter first – otherwise, it all falls off your bread. Also really tasty with a layer of peanut butter! It's possible to make chocolate sprinkles yourself, but we have never tried it!
Coffee Time (a.k.a. Cookie-time)
Dutch people are one of the biggest black coffee drinkers in the world. Of course, you have to eat something sweet with it, much like Swedish fika! We actually have so many (especially cookie-things), but we chose our top 6!
Stroopwafel
A caramel, molasses filling is sandwiched between thin, crispy layers of dough that have been baked between irons. The best fresh ones in the Netherlands can be found at the Albert Cuypmarket in Amsterdam!
Appelflap (Apple Turnovers)
No clue why we couldn't find an easier recipe in English, but we usually just mix some diced apple (peeled!), raisins, sugar & cinnamon, fold it into puff pastry, cover the top with more sugar/cinnamon and (optional) some beaten egg to make it nice, crunchy brown. But you could give this fancy version a try!
Appeltaart (Dutch Apple Pie)
Dutch traditional apple pie is the best. With a lot of whipped cream and – surprise – coffee! Yummy. Best apple pie in Amsterdam: Winkel 43.
We created the absolute best Dutch apple pie recipe over at our food blog!
Tompouce
We're actually very excited to have found a recipe for this! You will get sticky while eating this, but man, it's good. In the Netherlands, you should try one at a real bakery (or at the HEMA).
Check out our best (orange) tompouce recipe!
Bossche bol
When in the Netherlands, do yourself a favor and go to Den Bosch (south of the Netherlands) and go try a Bossche bol at Jan de Groot, near the train station. If you can't make it to the south, try a moorkop in a bakery.
Drop (Dutch Licorice)
You can find this in any supermarket and candy store. It's licorice and in the Netherlands, we have so many options: sweet, salty, hard, soft and much more!
Special Occasions
There are some things we eat on special occasions. And although there are many many more regional traditional things, we want to share three of our national traditions.
Beschuit met Muisjes
Literally translated: rusk with little mice. That doesn't sound very appealing haha. When a baby is born, everyone who comes to see the newborn is treated on a rusk with butter (again: makes it stick) and "muisjes" in either blue or pink (depending on the baby's sex). It's made of aniseeds with a sugared, colored layer.
Kruidnoten/Pepernoten (Dutch Ginger Cookies)
You might've heard about the Dutch Santa Claus: Sinterklaas. The North American Santa Claus is actually based on the Dutch Santa Claus: Dutch people in New Amsterdam – NYC – reinvented the Dutch tradition and made it an American one. So in December (and actually months before already), we eat pepernoten, small round cookies!
Oliebollen (Dutch Doughnuts)
We actually made oliebollen last year during New Year's Eve in Bangkok. It's literally translated as 'oil balls', and it basically is just that: deep-fried dough balls. Incredibly delicious though.
That was it! We hope you liked this list. Did we miss something? Let us know! Have you tried one of these already? Tell us!! We'd love to hear what you think of 'our' food!
PIN THIS ARTICLE